...but we prefer that it remain hidden. =) Actually, it isn't terrible but it's just been neglected. We had planned on doing a light kitchen remodel this year, but now I think that's off the list. We can't put in the new wood flooring and redo the kitchen, but that doesn't mean that our kitchen has to look like what it looks like now.
Aren't you jealous? Ha. I was telling Luke the other day that I couldn't believe that we have lived in this house for two years with this wallpaper. On the other hand, we have de-wallpapered five other rooms that made this wallpaper look like diamonds. This is by far the newest wallpaper that our house has and I think that's the reason we have lived with it for so long. Well, that and we've been busy with other things.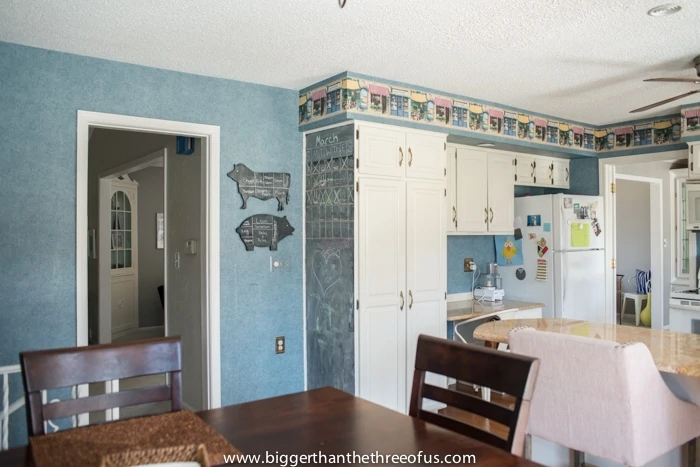 Pretty soon after we moved in, we painted the end of the cabinet with chalkboard paint. It has been and still is a huge hit with all of us. Other than that, I picked up the two barstools for a steal (I think $40 each) at HomeGoods. Since then, we haven't touched this room and it shows.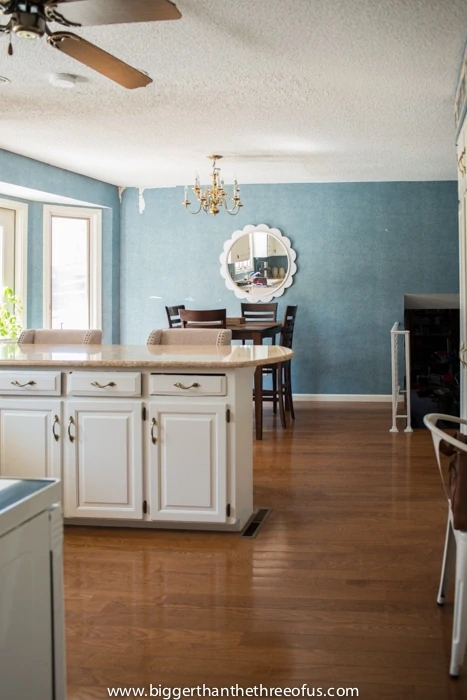 Alright, so where am I going with all of this? Well, before we put in new flooring  in our formal dining room (and the rest of the rooms that we are doing), I want to open up a doorway in the kitchen.
See below: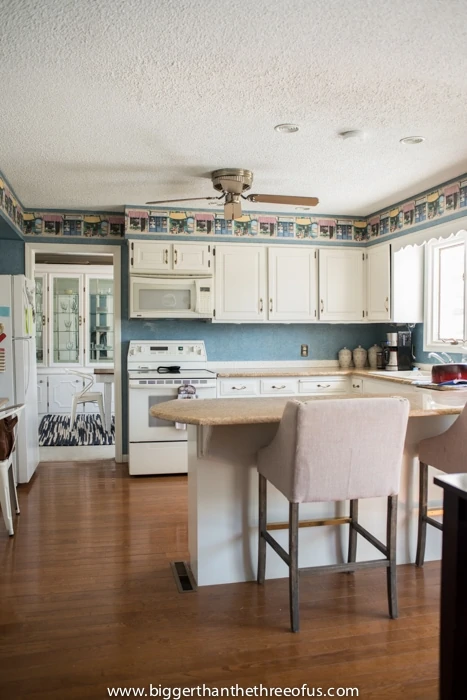 I want to move the stove and microwave to the left by the fridge and open up that doorway that leads in to the formal dining room. I know that moving the stove further away from the sink is probably not the best idea, but I really don't think it will bother us. I think we will gain more by having a more open kitchen/formal dining area. When we entertain, the fact that the formal dining room is closed off is a major annoyance and I just feel like our house would feel less choppy with that doorway opened.
We need to do this before we put the flooring in, because we are going to have more floor space to cover.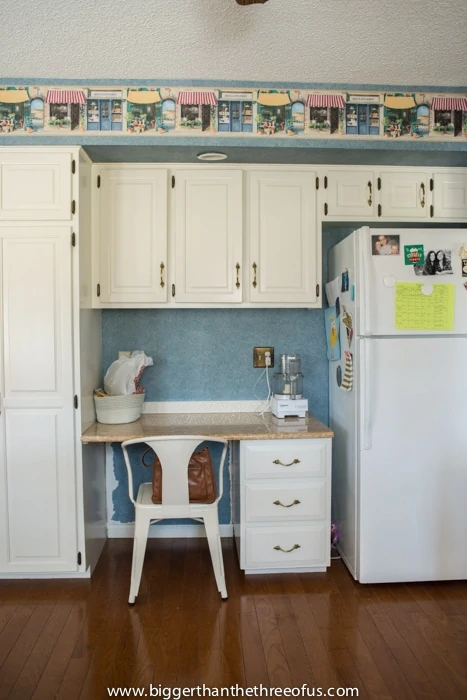 To move the stove by the fridge, we would be losing the desk (hip hip hooray). Seriously, I hate having a desk in the kitchen. It's a clutter trap!
Since we are doing a few changes in the kitchen to prep for those floors, I might as well rip that wallpaper down, right? Right!
So, instead of finishing up the bathroom cabinets that I'm STILL working on, you may see snippets of wallpaper removal. That's just how I roll.
Oh and today was supposed to be a "Pinterest Made Me Do It" post, but to my utter annoyance the concrete glue did not dry on time. So, be on the lookout for that on Wednesday.