Another month-long blogging challenge. Can you guys handle it? "Can I handle it?" is the question... YES!! When groups of bloggers come together to tackle projects, we hope that it's fun for YOU guys to click around and be inspired because it's so much fun for US to participate. The camaraderie is great and it's just fun to be a part of something, especially when blogging and renovating is generally a one-person job.
So, yay! It's time for another $100 Challenge. The challenge is hosted by Erin over at Lemons, Lavender and Laundry and the goal is to makeover/refresh a space during the month all for under $100.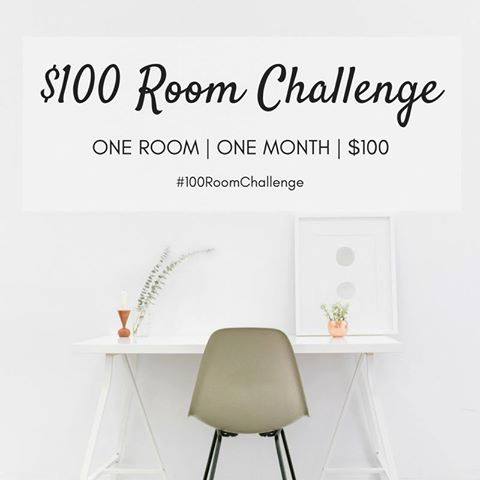 $100 is not a lot at all so creativity rules here. Reselling to make more money, repurposing, thrifting... it's what it's about.
Last time around, I refreshed my master bathroom nook.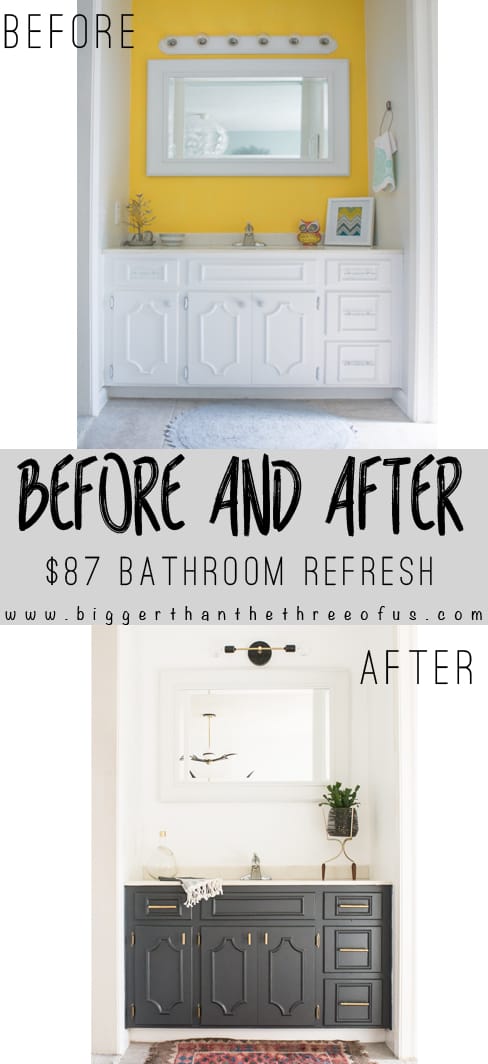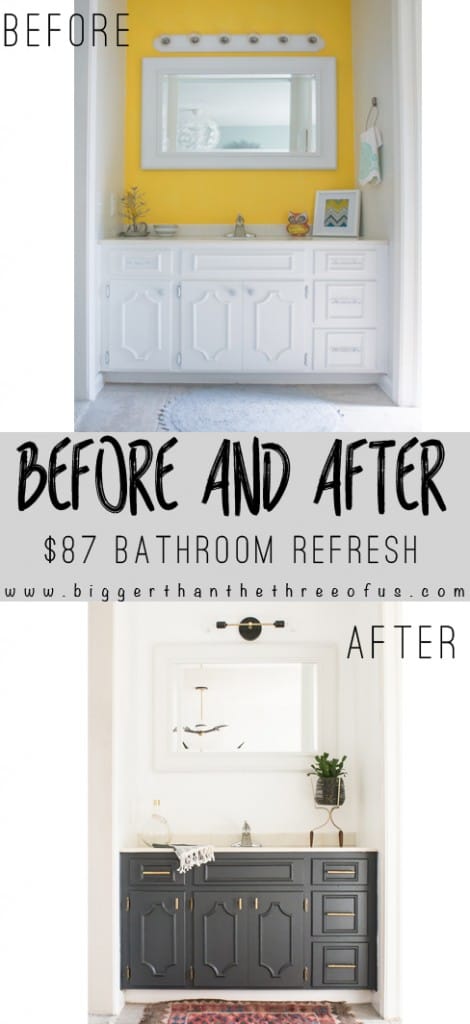 See the reveal for all the details including that DIY light.
That space was tiny so $100 went decently far; but the next space, well, it's going to be a challenge.
Ready to see the space?!
It's our sunroom. It's a space that hasn't been touched. Well, it's a space that hasn't really been touched anyways. We've thought it might serve different purposes over the past few years but now, I think it can really serve the need to have a crafting table and video/still photograph area for the blog. Right now, it's a cluttered area with holes in the ceiling where the ceiling fans used to be (we took them down last year), bugs everywhere and cracks in the brick. It needs lots of love, but mainly cleaning, patching, caulking and painting. I don't have any wild plans to decorate it. I need it to be a clutter-free/organized area though.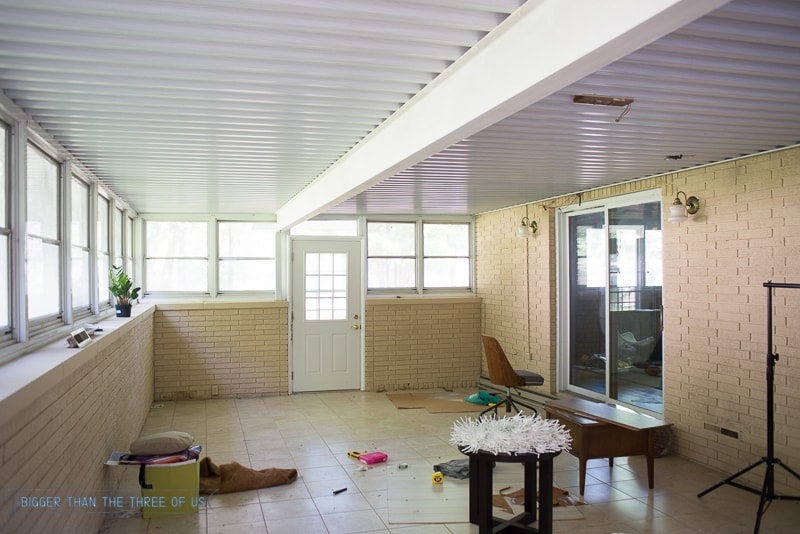 As far as the decorating goes, to be honest, I'll probably add some plants and call it a day. We also have a few furniture pieces in the basement that will help round out the space. Will it be cohesive? I hope so, but I'm not sure.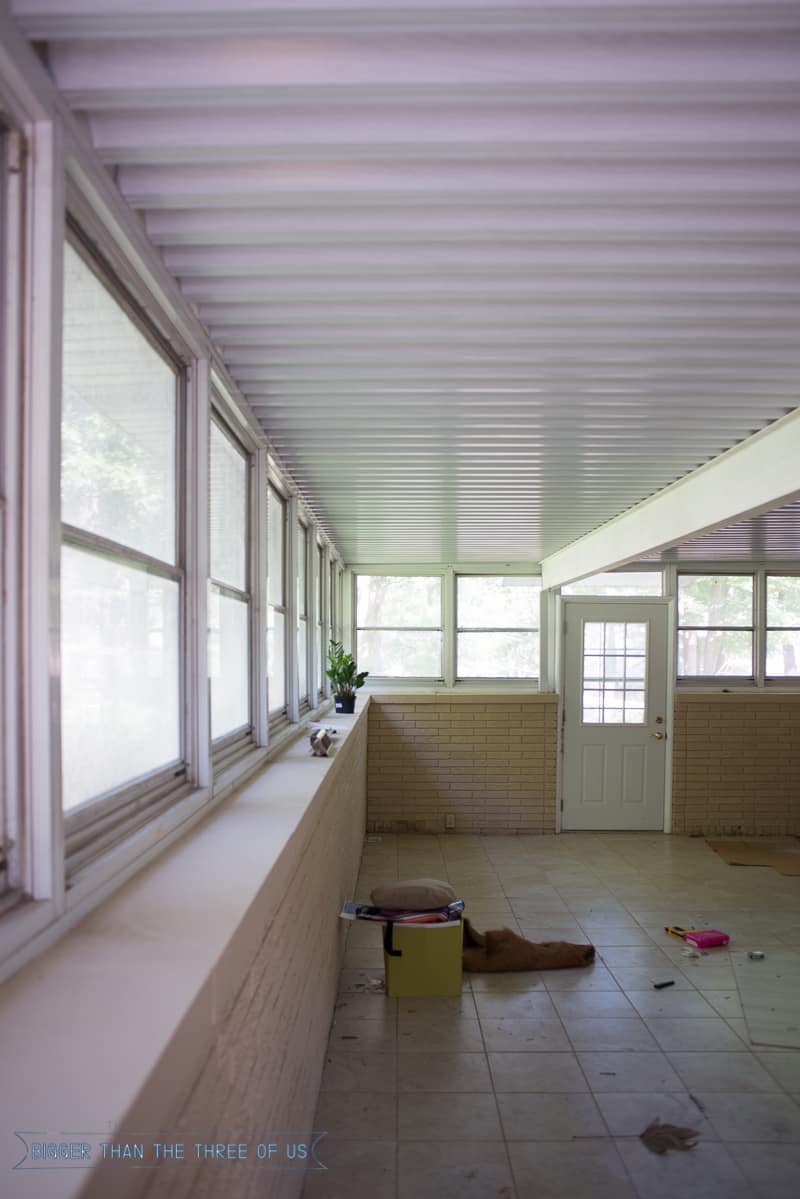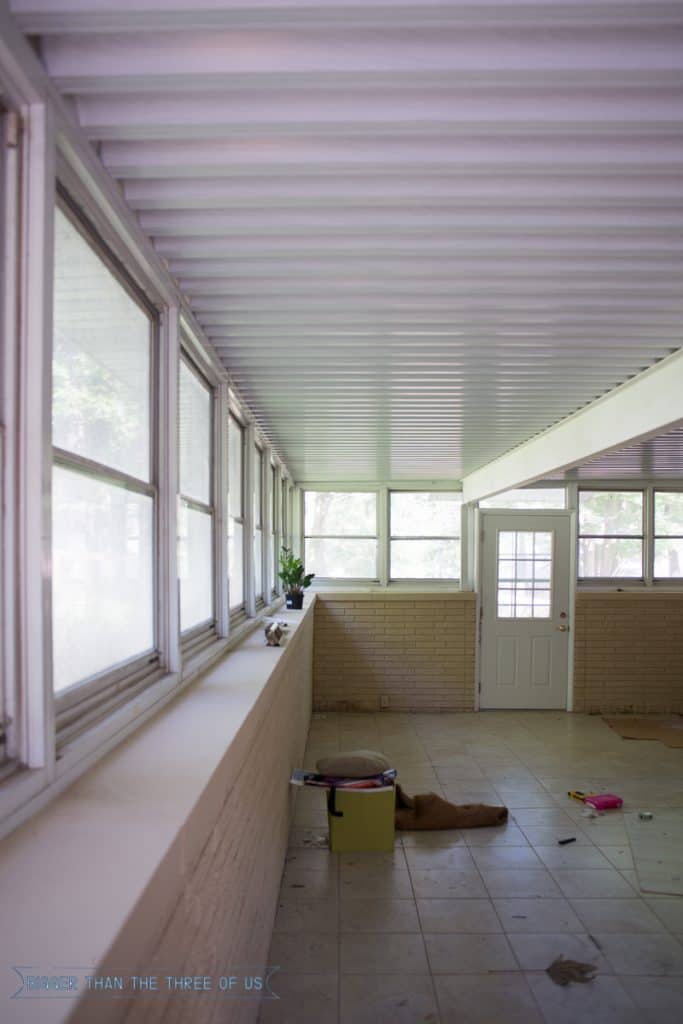 So, here's what I have:
I already have the paint. I bought it two years ago and just never got around to painting it. All the brick is going to be painted white. I have two lights that I bought 4 years ago for our hallway and never installed so those are going to go in the sunroom. They aren't my favorite, but I have them so they'll work.
I hope to change out the shades on the sconces. I think that's an affordable change that can modernize the lights to help the space.
So, what am I buying with my $100?
Well, I need caulk to fill in the cracks between the brick and the flooring. I'd say this will run me around $15.
I think we are going to spray the brick. I have quite a bit of sheeting (for the floors, doors and windows) to project them from the paint spray but I'm sure I'll need tape and possibly more.
I'm going to estimate that I'll spend $25 there.
The glass shades for the sconces should run about $7 each or so. So, there's another $15ish.
We are at $55. I'm going to leave it at that because I know some things will be less and some more. If I have extra at the end, I might try to make it cute with a piece of art or something. We'll see!
So, are you excited to follow along on this? Make sure to hop around on the link-up and follow-along with some of the other bloggers. I guarantee that you'll be inspired.