*Originally, I published this post back in 2012 but wanted to revive it a bit. Since this makeover, the chair has had another makeover, so I'll make sure to share that at the end. If you've ever seen a beautiful mid-century or vintage chair at a flea market, garage sale, estate sale, etc., but weren't sure how to refresh it… then this post is just for you. New upholstery can transform a chair but there are other things you can do as well. Follow along and learn How To Update A Mid-Century Chair!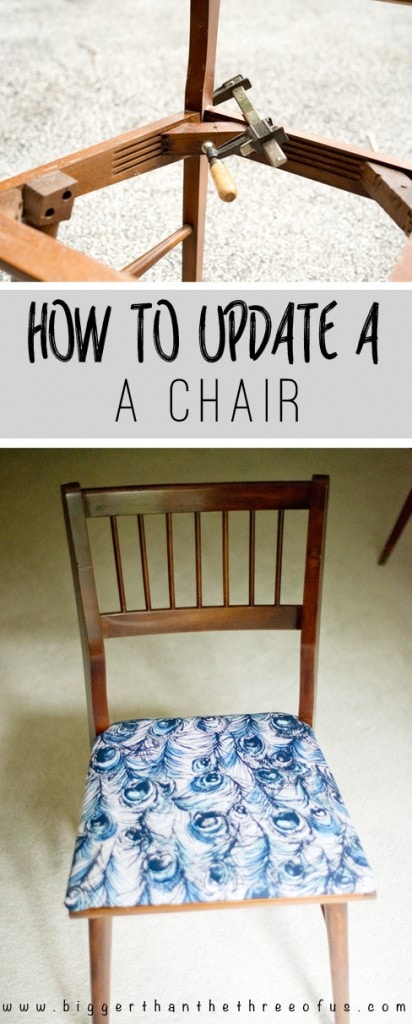 I spotted four awesome chairs on Craigslist. They have a Mid-Century/Danish/Vintage feel to them. The guy wanted $10 for all of them ($2.50 a piece). Crazy cheap, right? I thought so. I asked Luke to go with me after work one night to pick them up.
*I checked online to see if I could find anything out about the chairs. They were stamped on the bottom and I was able to see that they usually go for $30-50 a piece. Impressive!
The chairs came home with me (of course!).  They have been well-loved yet still have lots of life in them. The upholstery was stained and the wood had nicks, but to me… that just adds something to the piece (when you are buying vintage anyways).
Here's what they looked like.
BEFORE:
I took all the seat cushions off and I was hoping to find gorgeous wood underneath, but no such thing happened. I knew I would have to recover the cushions so I started looking for some fabric.
My Grandpa said he would help me fix the chairs up a bit. I hauled them in my car to his house. Only one of the chairs had a connection (not sure what to call this) issue. We put some wood glue in the corner and then put the corner bracket back on. We then clamped it together until the glue dried.
We used sanding pads to sand the chairs down where there were major issues. We didn't bother sanding down the scratches throughout, just the big nicks.
We then put on a spray stain in places where we had sanded. It was close enough to the original that we could just spray it on very lightly.
*With stain, make sure to test your color in an nonconspiculous area first.
After the stain dried, I brushed on poly.
While the poly was drying, I grabbed the old chair cushions and found some fun fabric to reupholster them in.
To reupholster, flip your fabric right-side facing the ground. Put your cushion on your fabric so that you know where to cut. Give yourself two inches on all sides when you cut your fabric. Using a staple gun, staple a few staples in on all sides and then go back and forth, pulling each side and stapling tightly.
PIN FOR LATER: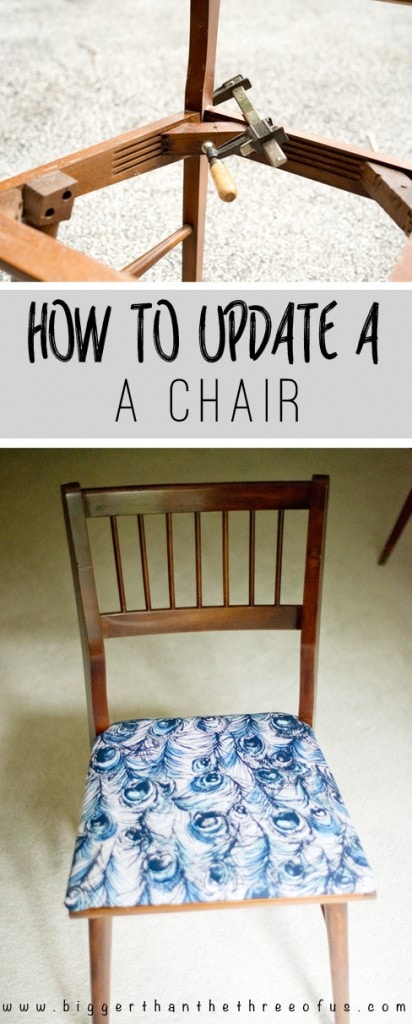 *Affiliate links below. Click to read my disclosure policy. Thanks for supporting this blog!