Do you remember the post a few weeks back about me trying to "Embrace the Imperfect"? Well, this post is all about me doing that. You see, I have this weird space in our house...let's call it the "Entryway Loft".  When we first moved in, Luke and I decided to have some large photo canvases of a recent family session printed. When I say large, I mean large. The canvases as a group span about 6ft by 5ft. Because our ceiling height in this particular area is about 20ft, and the wall space is ample, this was a great option for us. So, we got our canvases and hung them up.
Before (I don't have a true before picture without the canvases):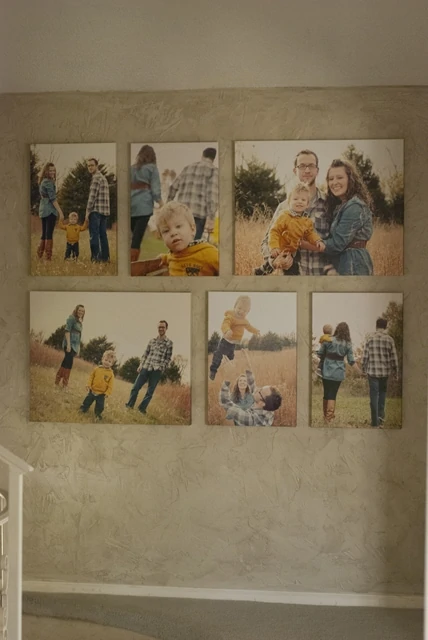 Check out that textured wall! Yep, heavy texture. Not my favorite thing, but neither is that wall color.
So, we proceed to paint; and by "paint" I mean: almost kill ourselves. The angle of the walls with the half circle entryway on the floor level below is crazy. Maybe this picture will better describe it.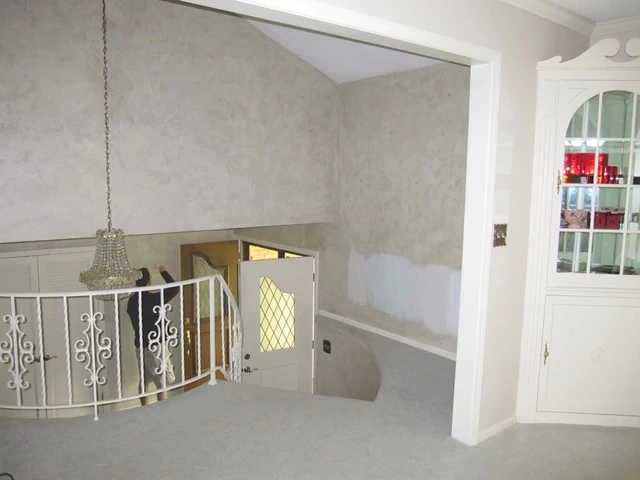 It is much scarier than it looks, you will just have to believe me. It took about twelve sample pots before we found our color. We went with a milky-light gray white.
It took almost two gallons to paint the whole entryway. The texture and the fact that it was some type of "aged" looking texture just ate the paint right up. Putting the white over all that disgustingness was like a fresh of breath air. Well, that was until we were done (like two weeks' later) and then I realized that the white looked like dirty bath water!
Well, the painting was done about 18 months ago and it is still the same...let's just call the color dirty bath water. We haven't had the energy to repaint and I think we are both scared that we will pick the wrong color again. It's a funky room because it gets almost no natural light. Once we replace the dingy glass with clear glass in the front doors, then we can reevaluate the color on the walls.
Anyways, on top of hating the paint color, I haven't found my style with decorating the small corner space that I have. But, in keeping with my new mantra of wanting to start embracing the imperfection, I thought I would show you what I have going on.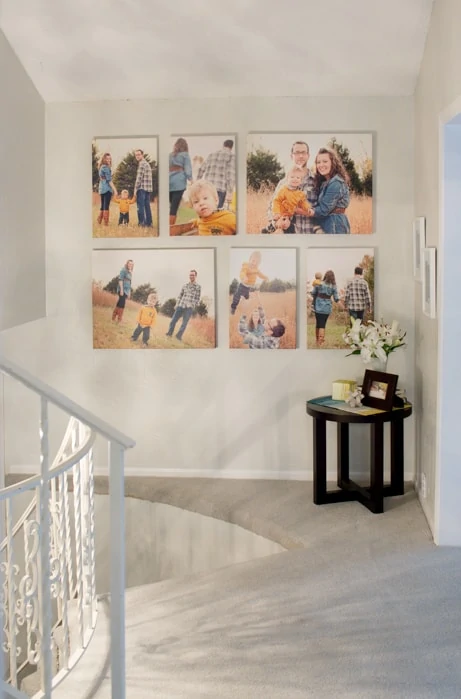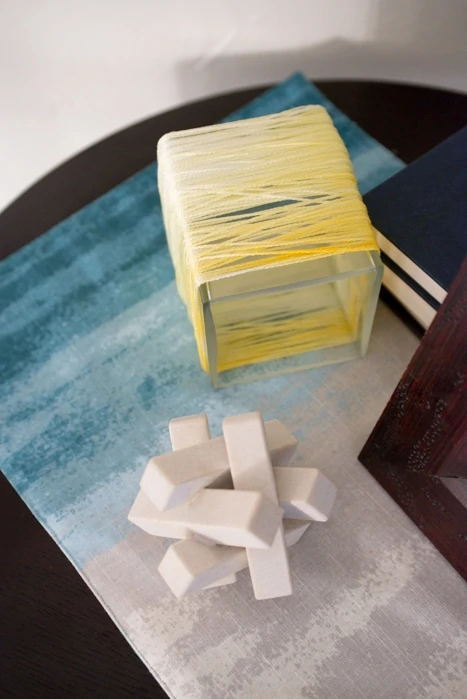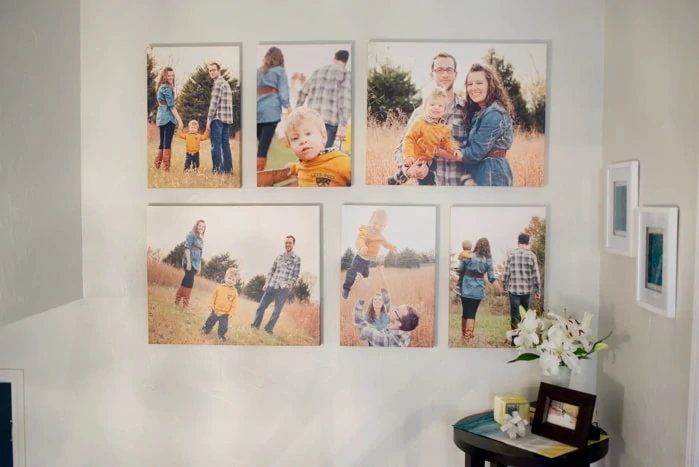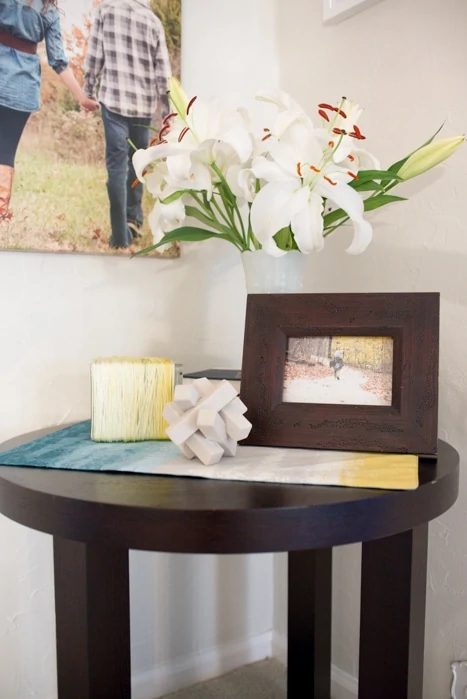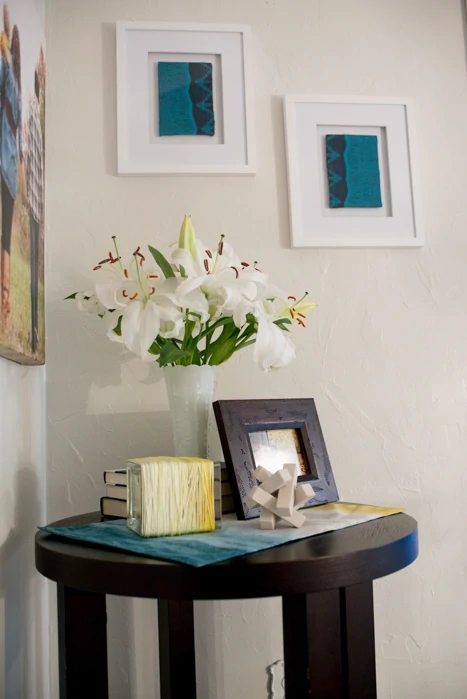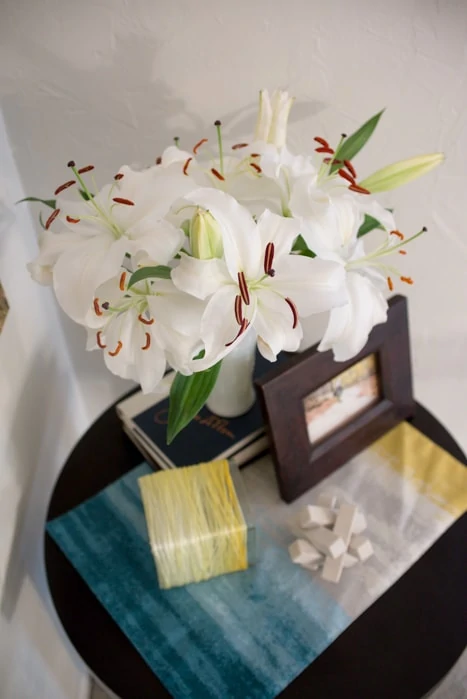 At this point, I know we hate the paint color and the carpet. The carpet is staying until we can afford to replace quite a bit ($$$$) of our flooring.  I think I might keep a lookout for a nice runner to "hide" some of the carpet.
Long post, sorry guys! If you have any ideas for me in this awkward area...I would love to hear them!