You guys are in for a treat today, I have Ursula from Home Made by Carmona sharing her Master Bedroom Gallery Wall along with tips to help improve your gallery walls!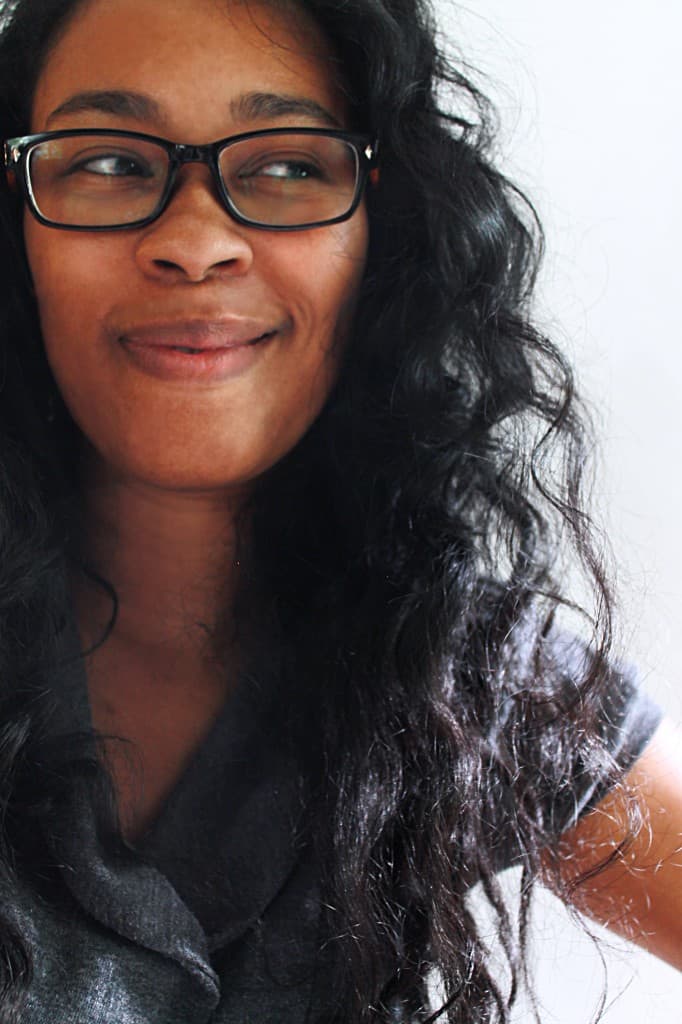 Ursula has the unique ability to create high-quality DIY pieces. Seriously, she is a rockstar at it. If you don't believe me, check out her door-turned headboard and her linen tufted headboard. Both are amazing! I gawk at her tutorials because not only is the end-product amazing, but her design and creativity in how she writes the tutorials are amazing. Seriously! Stop by Home Made by Carmona and see what I mean.
Ready for gallery wall envy? Ha.
Here's Ursula!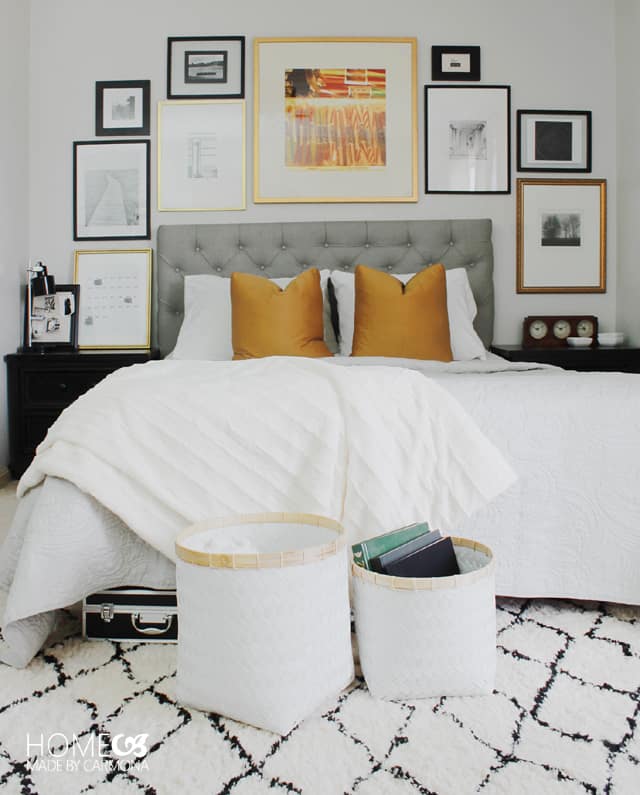 What's your number 1 must-have item in a gallery wall?
Well, I don't know about "must-have", I try to keep each and every gallery wall unique… but I admit I do have a weakness for pinboards and you'll often find one somewhere in the room as part of the art. I also love the idea of one large scale piece of art surrounded by smaller ones to bring big impact. Yet another gallery wall focal point is a mid-sized mirror surrounded by art!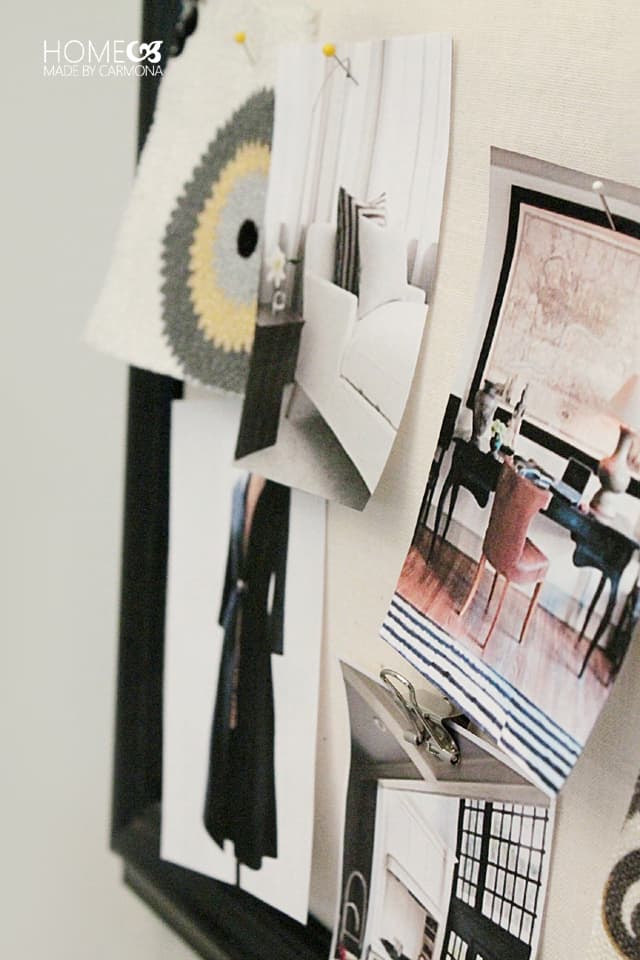 What's your process for planning and putting up a gallery wall?
The popular method is often to use craft paper to show where each picture will go, I admit that strategy does absolutely nothing for me. I have to see the actual frames up to know if it is the right fit or not. Every frame has a different style and tonality that it brings to the space, so it is more than simply shape and size that have to be worked in. I arrange my pieces on the floor, snap an above photo, and hold my photo up to the wall until I get the right arrangement. Next I try the pieces on the wall with adhesive putty to see it in action. Finally I use command strips so that I can change my mind later. =)
What type of room do you think works best for gallery walls?
Any and every type of room! Hahaha! I'm a gallery wall fanatic! I have employed a mini one in my coat closet, one in my laundry room, and ,truthfully, just about every other space in my house. Remember, a gallery wall can be tons of small photos just as readily as it can be large photos, and fill up any open wall space desired for great impact!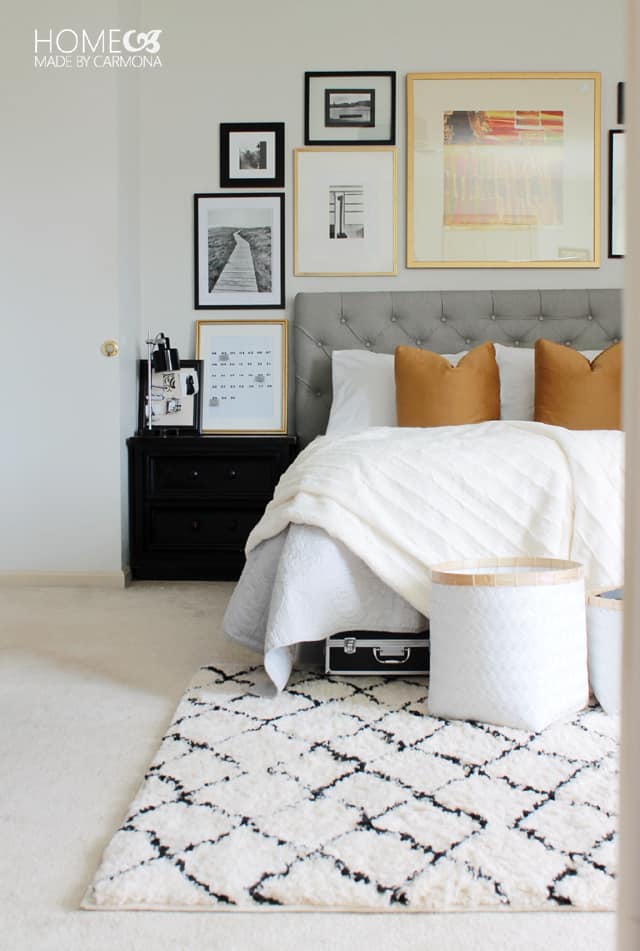 Sometimes, I feel like gallery walls can look cheap or dorm-like. How do you avoid that?
I agree! First consider the quality of the frame. It can be cheap (I use lots of cheap frames (but it can't LOOK cheap). I up the "glam factor" by spray painting certain cheap looking frames, adding embellishments, also be sure to double matte to dress it up more. The style and quality of the picture employed also make a huge difference. You can't know what pictures fit best together until the frame is up… and remember, you can change out the art of even the pre-filled frames with just a little effort.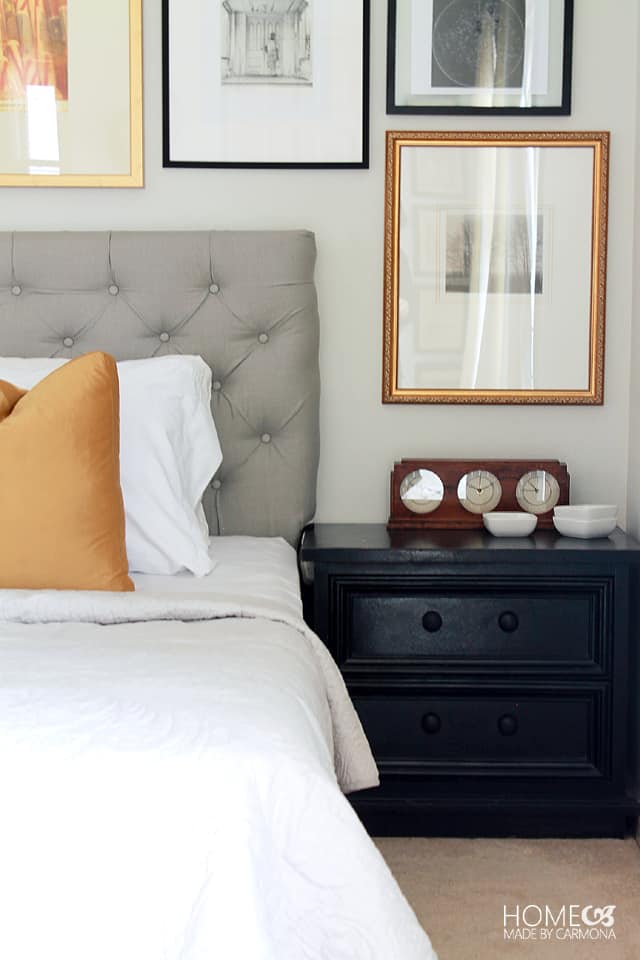 How do you define your style and stay within your style while decorating?
First of all, your style is whatever draws you most. I'm an eclectic person, I joke that my style is a little bit country and a little bit rock and roll. Well, actually, it is a little bit traditional, a little bit mode, a little bit Scandinavian, a little bit mid century which… basically a little bit of whatever draws me, and that's ok. I don't feel like you need to stay within a single "style"… if it works in the space you've created, great! If you emphasize a slightly different aesthetic from room to room, that's ok too. It is simply embracing all the parts of you.
Don't you just adore Ursula's style? That gallery wall in her bedroom is just fabulous, but she's got other amazing projects as well. I love her laundry room reveal (with gallery wall!), DIY Tufted headboard tutorial (it's the one in the above pictures!), and her chore system for kids.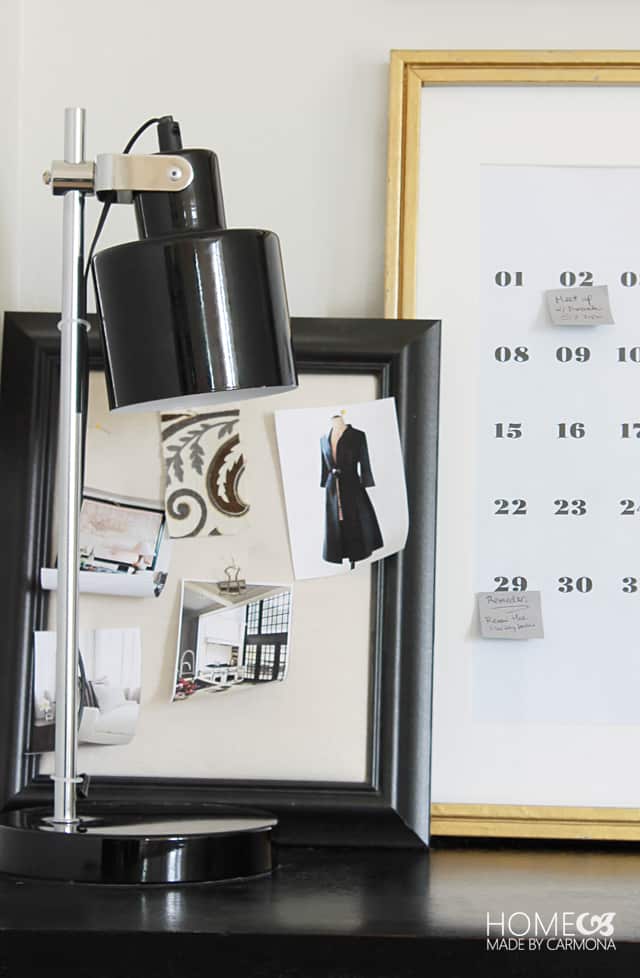 She's offering that calendar as a free printable. Hop over and get it here.
Ursula's gallery wall is so good! I hope you loved it as much as I do.