My birthday is April 10th and this year, I hadn't planned on doing my usual shopping trip. Every year for my birthday, Luke takes me shopping. We usually go to Kansas City or St. Louis and just spend the weekend. You know the phrase, "Shop till you drop", well that is exactly what we do. It is the only time of the year that I can expect Luke to do a whole bunch of shopping and not complain (AT ALL). I love it. This year, Luke is going to be in London for work and we decided that I would follow him over there a few days later. Together we are going to explore London and then go to Scotland for a week. The trip happens to fall over my birthday. Is that a great birthday present or what? Actually, I was stoked to be on a trip on my birthday and I really thought I would be fine and dandy with calling that my birthday present. I thought that until, Caroline Wright (my favorite artist ...hmm, the only real piece of art that I have is from her), was on One Kings Lane.
I'd been eyeing this piece of art on her site, but just couldn't justify the cost. Well, this piece was originally $600 and it was marked to $220. I quickly shot Luke an email that pretty much went like this:
Luke, That piece of artwork that I am in love with from Caroline Wright is on One Kings Lane today. I really think that the Scotland trip shouldn't be my birthday present. Just because the trip falls on my birthday, doesn't mean its my birthday present, right? I think you should get me the art as my birthday present. What do you think? Yes? Please, yes?
I think he quickly replied that it sounded good. So, I had to tell you that whole story  to tell you that I am in love with my new art. I originally thought I would put it in the formal dining room to tie in the curtains with the recovered chairs.  I quickly realized that I wanted to look at it everyday and it would have to go in the living room. I think we found the perfect spot. I just love it.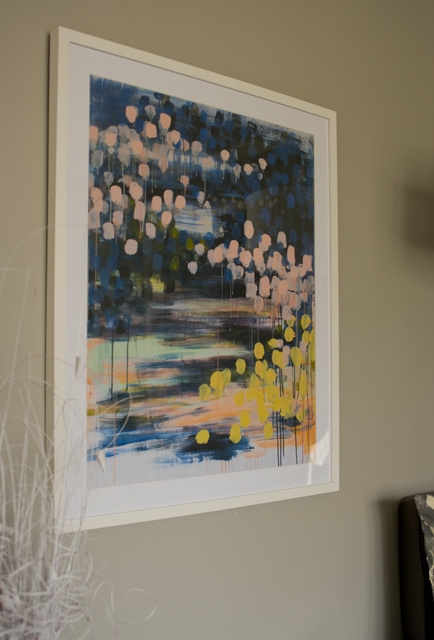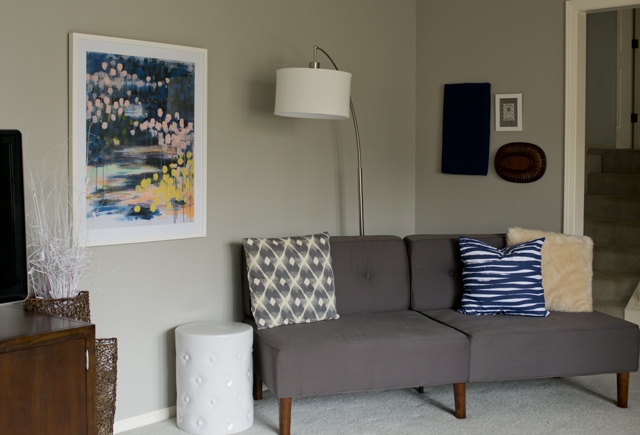 Do you see the white garden stool next to the futon? I finally found one at a great deal. We were in Branson last weekend, and I was shopping at TJMaxx. They had it sitting by its lonesome, for $32.99. I quickly rushed to the front of the store and grabbed a cart. No one was getting between me and that stool. I haven't seen one for less than $60 and it had to be mine.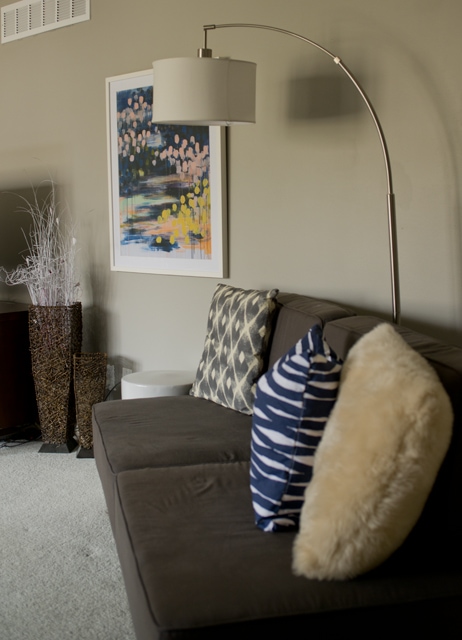 p.s. If you don't know about One Kings Lane, you should totally check it out. They have designer sales that start everyday and the sale prices are generally about 50-75% off retail. They have artwork, luggage, decor, furniture, etc. Amazing deals!
You can use my link to open a (free) account: https://www.onekingslane.com/invite/ashleymayes