It's been months since we've had a happy hour chat. What's wrong with us? To be completely honest, I kinda forgot about them. Then, the other day as I was reading another blog, I got to thinking about the last time I just shared what was going on and what I was loving. So, let's get back to chatting a bit here and there. K?!
Since, this is a Happy Hour Chat, grab a drink and sit back and relax. Over the weekend, we had a family Christmas get together and at the party there was a Christmas margarita. I'm a HUGE fan of margaritas and this one was pretty darn good. I didn't get the recipe but this recipe looks to be really close. I'm usually a fan of frozen lime margaritas only but was really surprised that I genuinely liked the on the rocks cranberry one. Give it a shot and tell me what you think.
On the home front, we've been having annoying (like $5,000+ ) home issues. Septic, electric, tree issues... you name it! If I spend money on the house, I definitely want to spend it on things that you can see - not maintenance. Have you had anything big like that recently? I hope not because who wants to spend money on things like that around the holidays. Annoying!
On a fun front, we booked a trip to Spain! I'm getting excited. A few weeks ago, we came across a deal that was too good to pass up. It will be the first time Greyson travels internationally so it should be an experience. Do you have any trips planned next year? Or do you have any must-see things for us to do? I'd love to cross over into Morocco while we are there but I'm not sure we have enough time to do that.
On a personal note, I've had a hard-time being active lately. We dropped our gym membership over the summer and have just been keeping ourselves active outside. Luke's been really into running/biking for a year or two now and I wouldn't say I'm into anything really... but I do like to stay in my same size of jeans. Ha! I do have a Fitbit and usually try to get my steps daily which means that I have to take a brisk 30-40 min walk to accomplish that. But lately, it's been cold and I've just been slacking. I don't really have an excuse. I'm just not motivated. Do you have anything that keeps you motivated during the winter months? I keep trying to tell Luke that having a treadmill will help. It would, wouldn't it?
On the design/blogging front - I've figured out something to keep me in line with design. I love Pinterest but sometimes get overwhelmed with how many different types of pins that I have and love. So, I decided to make a board strictly geared to what my current home design is (basically what's attainable in our home and still things that I love). I shared the reason behind that board and my thoughts on it on IG stories a few weeks back and got quite a bit of good feedback. So, I thought you all might like to hear about it as well.
One more thing on the blogging front - you guys, Luke and I are blown away by how popular our taco print has been. We both loved it when we made it and I thought you all might love it too.... but seriously, you guys LOVE it. It's totally encouraging me to try my hand at more posters/prints. What do you think?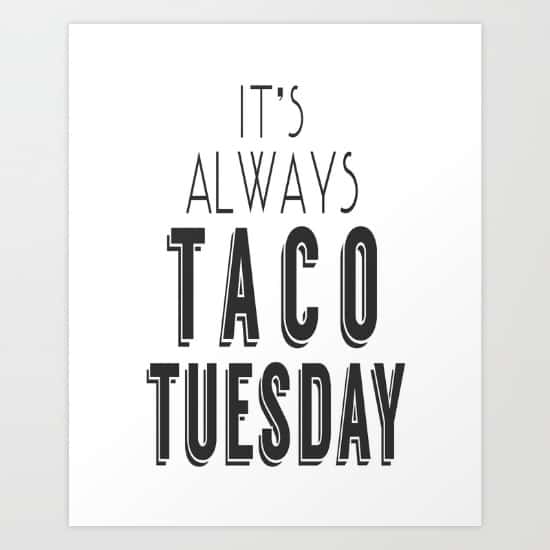 Ok, I could keep chatting, but I won't. I know we are all busy - 'tis the season.
Leave a comment and let me know what you want to chat about next time around!