The past two months have been a bit of a whirlwind. Between our son finishing his swim season, hosting family, traveling to NYC and just general life stuff; I feel like April is going to be the month to pause. To resettle and to sit and enjoy the coming Spring.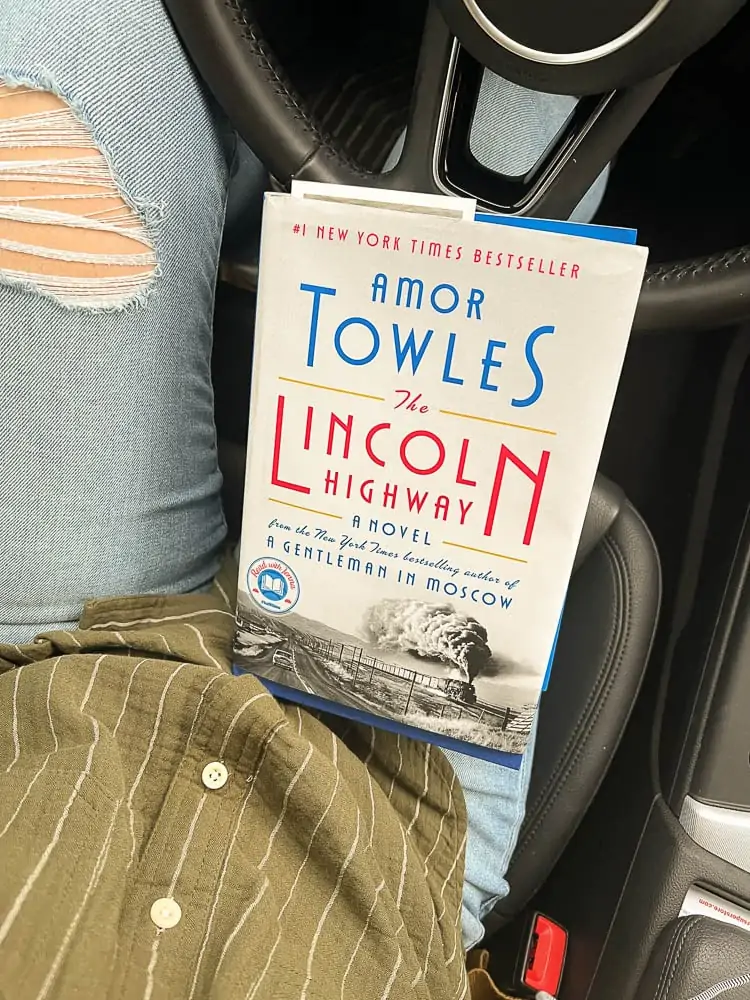 Let's start with books that I read in the last 8 weeks. There were some really good ones!!!!
Affiliate links below. Thanks for supporting this blog.
Books I read in February and March:
BUYING INTENTIONALLY WITH HOME DECOR RECAP
I feel like I added quite a few things to my list this month. With trying to stay at 20 items or less this year, I'll really have to watch myself over the next few months, but I'm so happy with what I did buy.
Ready for this one..... I bought electrical plates. =) I upgraded to a gorgeous brass wall plate in the living room.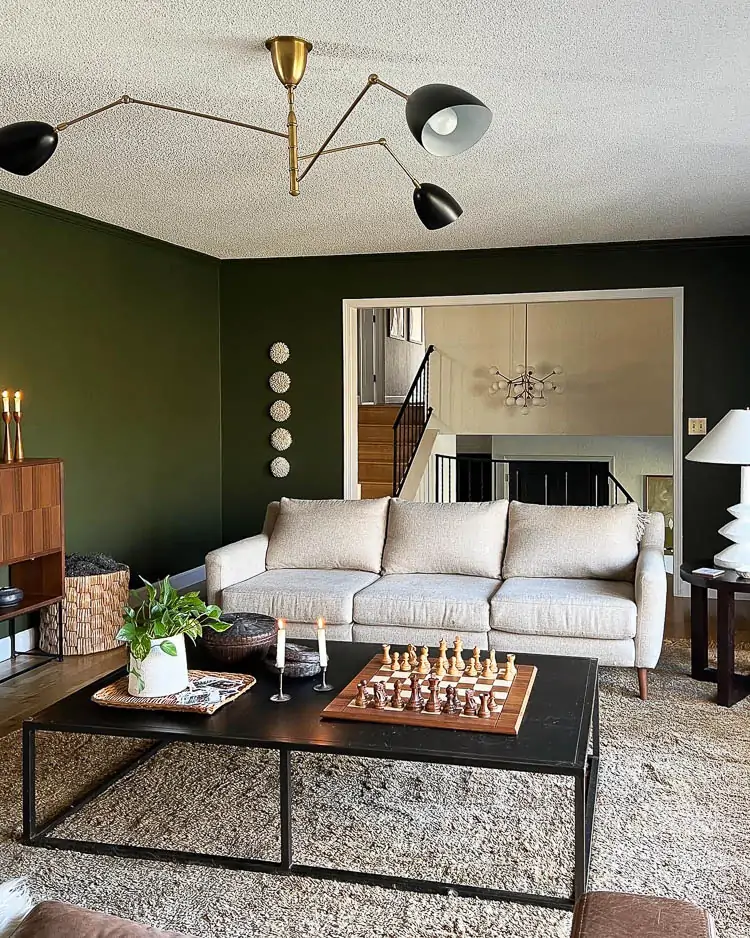 Then, as I was prepping for the laundry room shoot, I realized that the wall plates in there stuck out like a sore thumb.
So, I bought paintable outlet plates and painted them. I've used the paintable plates in a few of our rooms with darker walls and really love how seamless they make everything! Here they are in action.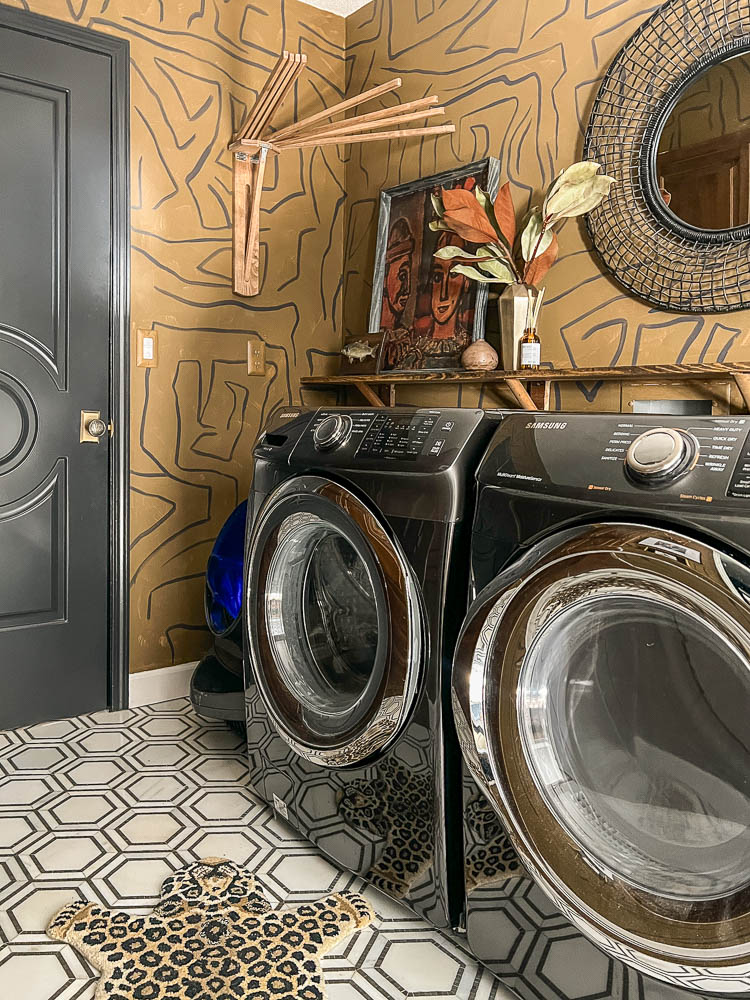 I spent quite a bit in February - sometimes, that's just how replacing and refreshing areas of our house tends to go. In March though, I was restrained and just found a few things while thrifting two different days. I'll share a before/after of the vintage basket find below!
Here's my list for the year.
20 or Less Thoughtful Purchases for 2022
Kitchen Shelving Units (Jan) $650
Wall plates  - Paintable outlet plates for Laundry room and Brass Plate for living room (Feb) $55
Couch foam and Feathers (Feb) $155
2 FB marketplace pieces: Kansas City Sketch + Tiger Painting (Feb) $215
Guest bed upgrades : 2 Coop pillows + 2 Quilts (Feb) $620
Towels (Feb) $304
Handmade Walnut Plate found thrifting (March) $4.99 (Photo Below)
2 Vintage Baskets and Handmade Pottery Candle found thrifting (March) $22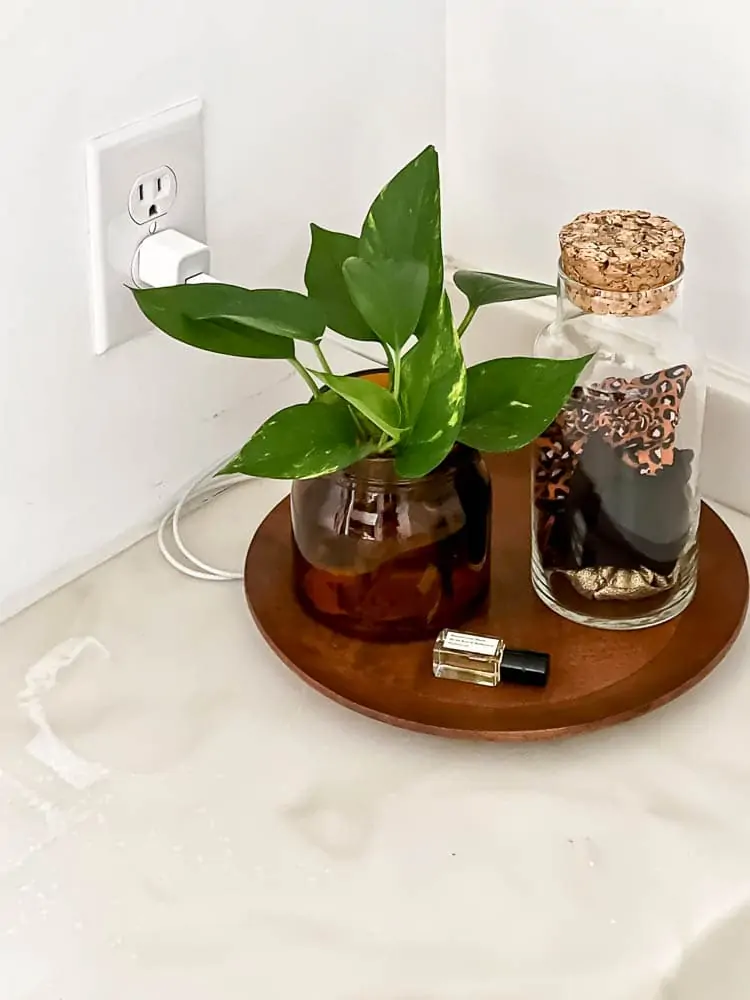 Personal Tidbits - This and That
Since we got back from NYC, Luke has been interested in continuing to learn graffiti. He set it up last weekend in our backyard and it was a fun, family activity. The class that we took in Brooklyn shared that there is a newer product on the market for spray paint and that they have water-based spray paint now. Luke bought a set of cans which feels like a lower barrier to entry (because of the permanence of the real stuff). It's easier to be low-key about clothing, etc., with the water based spray paint (just FYI if you didn't know that there's that type on the market).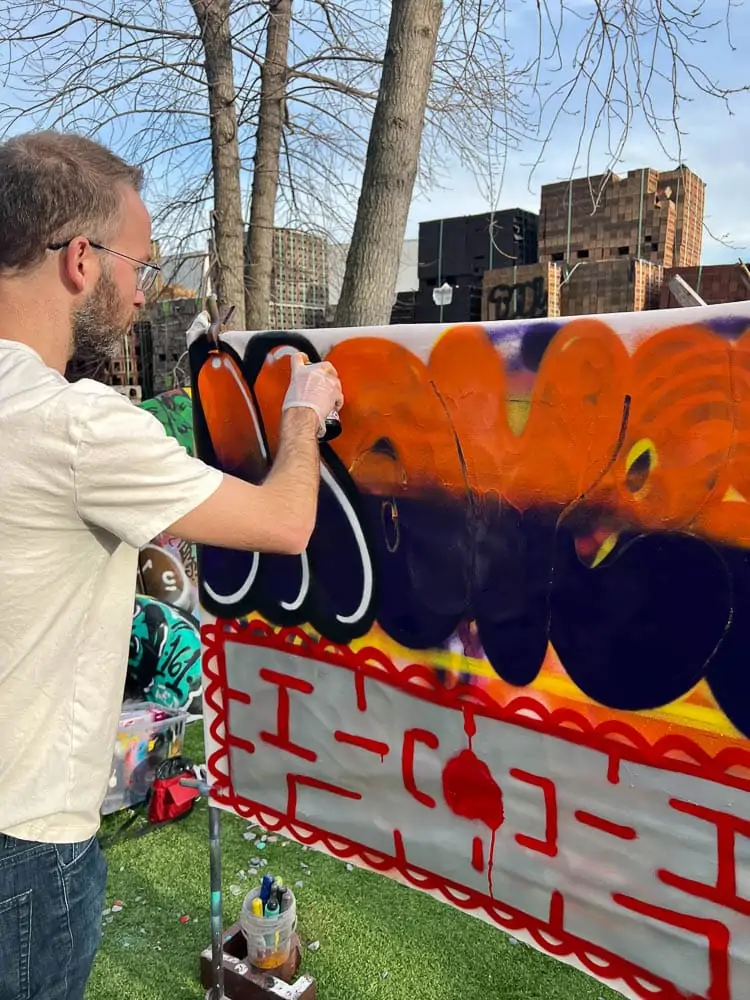 We are running a 5K as a family in a few weeks. I don't love to run but this 5k is at the Chiefs' stadium, where you run all around, in and through it. You end up running out of the tunnel that the players come through at the end where the finish line is. We did it a few years ago (pre-pandemic) and had a good time. I'm expecting it to be similar. Challenging for me but fun.
My birthday is this month. I tend to always do a bit of clothes shopping for my birthday. I think it's partly just routine and partly just because we are coming out of winter and it always feels good to switch over the heavy knits for lighter shirts and jumpsuits. If I end up finding anything amazing, I'll be sure to share.
Basement renovation projects are coming to a close. Yay! I've been in contact with the woodworker who is going to build the built-in bar. Unfortunately, I think the date for install for that is June. At least I have a potential date now. Luke and I have made some recent progress in the bathroom down there, too. Once those two projects are done, there's a few tiny decor-related projects and then the space is DONE. It feels so good to be getting close. I'll share more on that soon.
Anyways, appreciate you being here and thanks for reading.
p.s. Recent Projects you may have missed: Our Laundry Room Makeover and How to Change Picture Mats with Paint.