Last month, Luke, Greyson and I went to Hawaii for two weeks. The first week, we spent in Kauai (which spoiler alert – was our favorite week) and the second week, we spent on the Big Island. We had a terrific time and got to see and do lots of fun things. Luke and I love to travel and we work really hard to instill a love of traveling with our little guy. But anyways, we had a terrific time and I wanted to share some of the things that we did and loved with you all.
Oh, and I totally get that you come here for DIY projects/Home Renovations, so if this isn't your thing… no worries. Skip it and come back another day. =)
We got to Kauai super late on Saturday, so we had a quick and easy hotel for that night. The rest of the time we stayed in an ocean front condo in Kapa'a (on the East Shore). The condo itself was great for our family. It had lots of room, where Greyson could grab a nap if he needed or go to bed early. We cooked dinner a few nights (or half-cooked – picked up parts at nearby restaurants and cooked some veggies) and ate most dinners on the lanai. Every morning, I got up for the sunrise and had coffee out there… it was relaxing.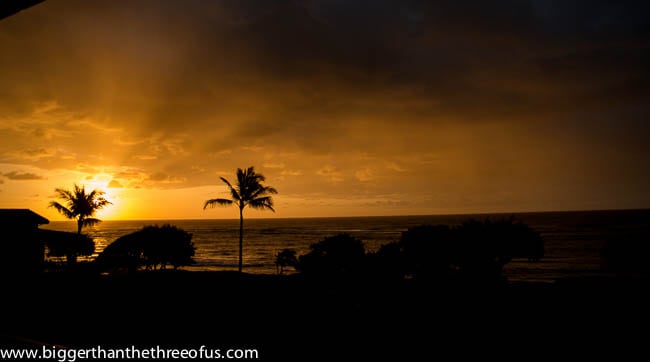 Day 1:
The first day we were there was a recoup day. We wanted to get settled into the condo and get the lay of the land so to speak. We  hit up Lydgate Beach Park which wasn't a pretty beach but a perfect place for learning how to snorkel. There was also an amazing wooden play structure there (actually, we found out later in the trip that there were two different ones and both of them were amazing)!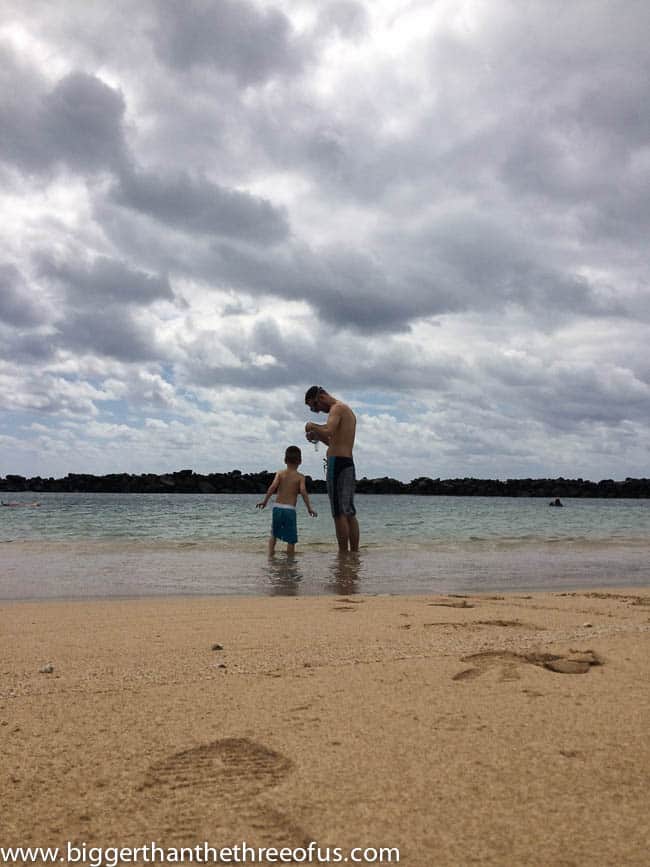 After we swam for a bit at Lydgate, we decided to see what else we could find around the area. Opaeka'a Falls was close so we decided to go there. It was super easy to get to and you could basically just gawk at it. We wandered right past it looking for some sort of treat and happened onto Kamokila Hawaiian Village. We didn't pay to get in to the village (which is basically some manicured lawn with old huts and peacocks), but we had the best time from there. First off, there's an amazing Mediterranean food truck that sits right on the property. I can't remember the name, but I had a greek burger and Luke had fish tacos. They were both killer. So, definitely eat there. Then, instead of buying tickets to get in the village, rent a kayak (go unguided) and take it to Secret Falls. This was so much fun. They gave us a map and all the equipment and then we got in the kayak and went downriver about 15 min. From there, we had a 45 min hike to get to the Secret Falls. The hike crossed over a small river (where they had a rope to get you across) and up and over lots of boulders. We took some snacks and drinks and hung out and swam a bit. This was the perfect excursion for the whole family.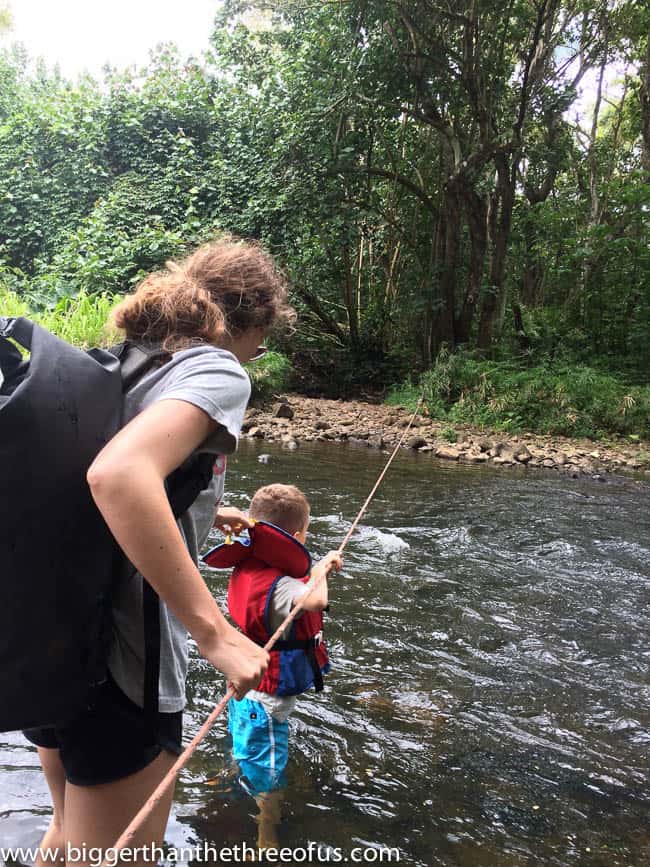 Day 2:
 Today was my favorite day and it was so good, that we repeated it later in the trip (but more on that later). We drove to the North Shore in the morning and had breakfast at Village Snack and Bakery Shop. It's a total no-frills place but it was good. We would recommend the breakfast burritos and coconut pie (and yes, we did have pie for breakfast!). After breakfast, we meandered along and stopped here or there to gawk at the views.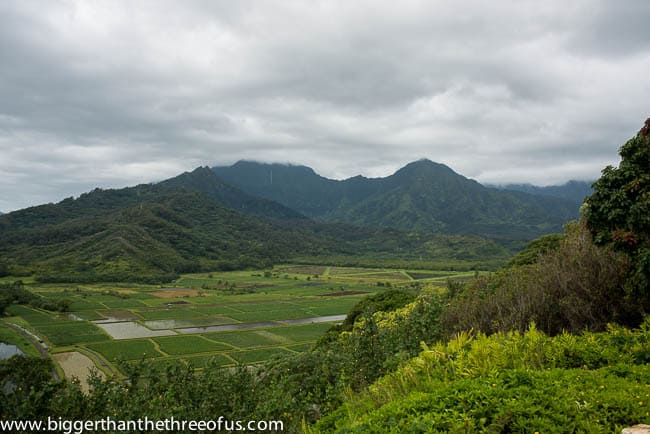 Around mid-morning we ended up at the BEST place on the island…. Kalihiwai. If you take a dirt road here about a mile, it dead ends. There's a trail around to one side. You hike down the trail to get to Secret Beach. Secret Beach itself if gorgeous (but dangerous to actually swim in).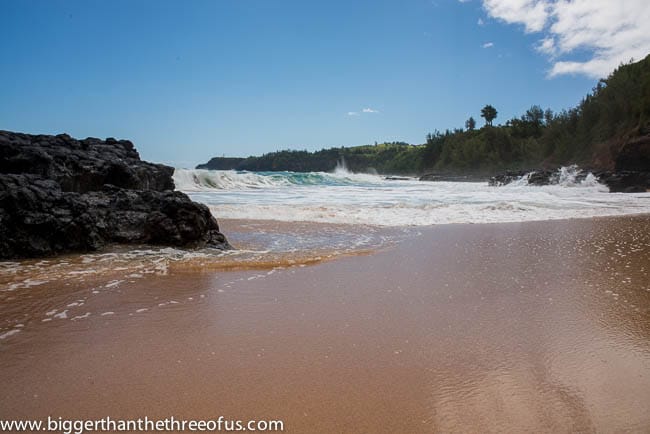 From Secret Beach, you can hike to the left about fifteen minutes and get to the Secret Lava Pools and a waterfall. When we went the first time, we didn't check the tide and we happened to be there at high tide. Getting to the lava pools and the waterfall looked extremely treacherous and especially so, with a young kiddo. So, we decided to hangout on the beach in one of the inlets instead. #bestdecisionever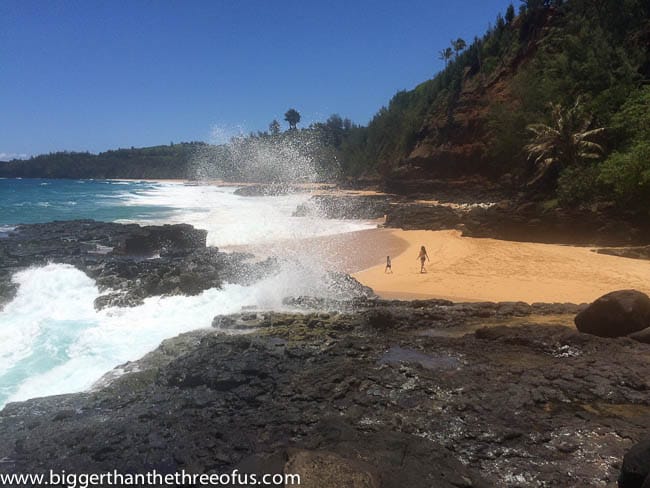 The high tide caused a small waterfall and protected pool to form higher up on the beach. It was crystal clear with some small fish. The waves would crash over the rocks and provided hours of fun for all of us. It was truly magical.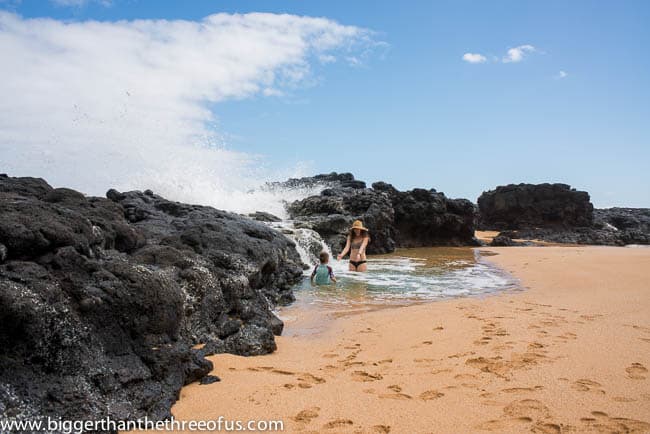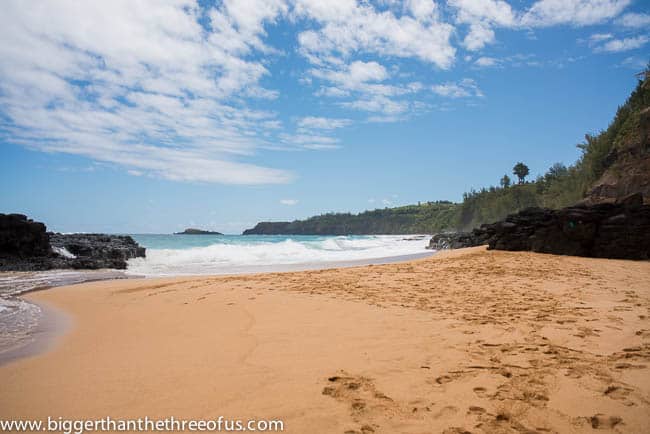 That night, we ate a Mexican place  in Kapa'a called Verde. It was pretty good and had large portions (pass on the guac though… definitely not the best).
Day 3:
We had breakfast near our condo at Art Cafe Hemingway. It was fantastic. We would definitely recommend the croissants, crepes and any of the speciality drinks. We ate here twice for breakfast and stopped in once more to get croissants to go. Seriously, don't miss this little place.
We decided to go to the South Shore and see some of the sights. Our first stop was Polihale Beach (rated as one of the top in the world by Travel + Leisure).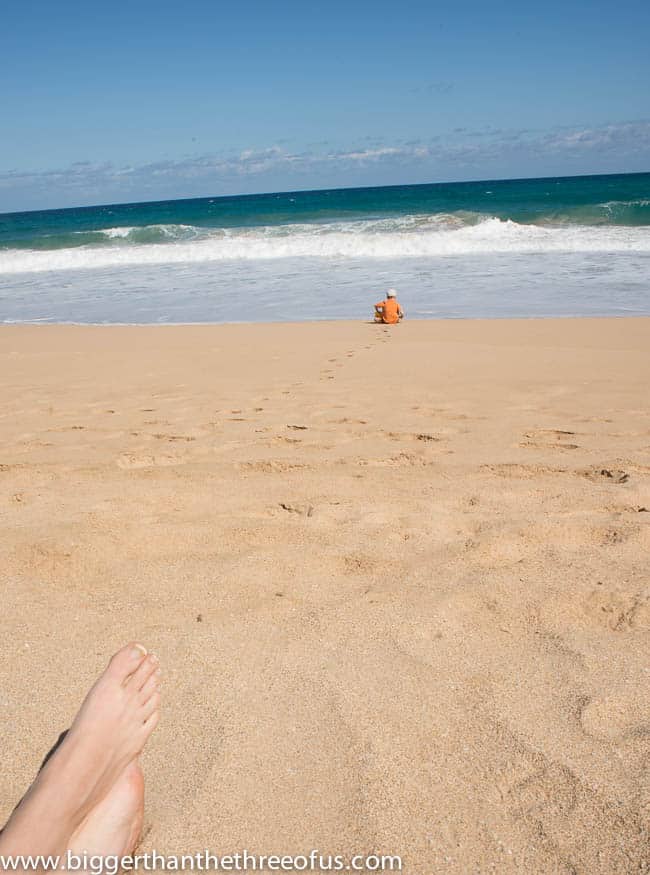 The recommendation is that you have a 4×4 to get to it. We managed with a car but the roads had been dry for a few days. I don't think I would try it if they had a lot of rain. It was totally worth the drive though.
Because of the remoteness, there were very few people there.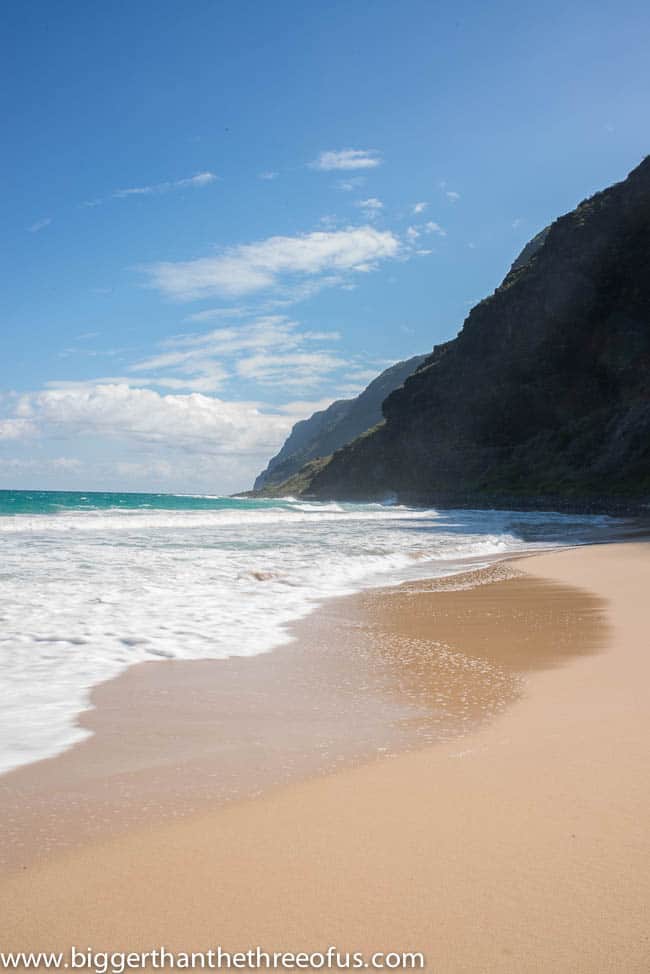 This was another non-swimming beach, but it didn't matter.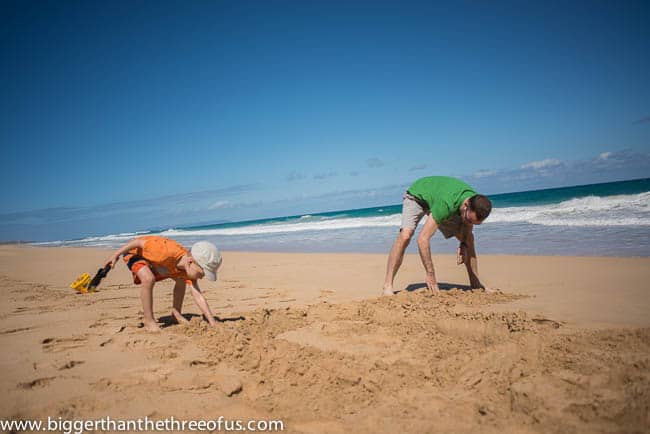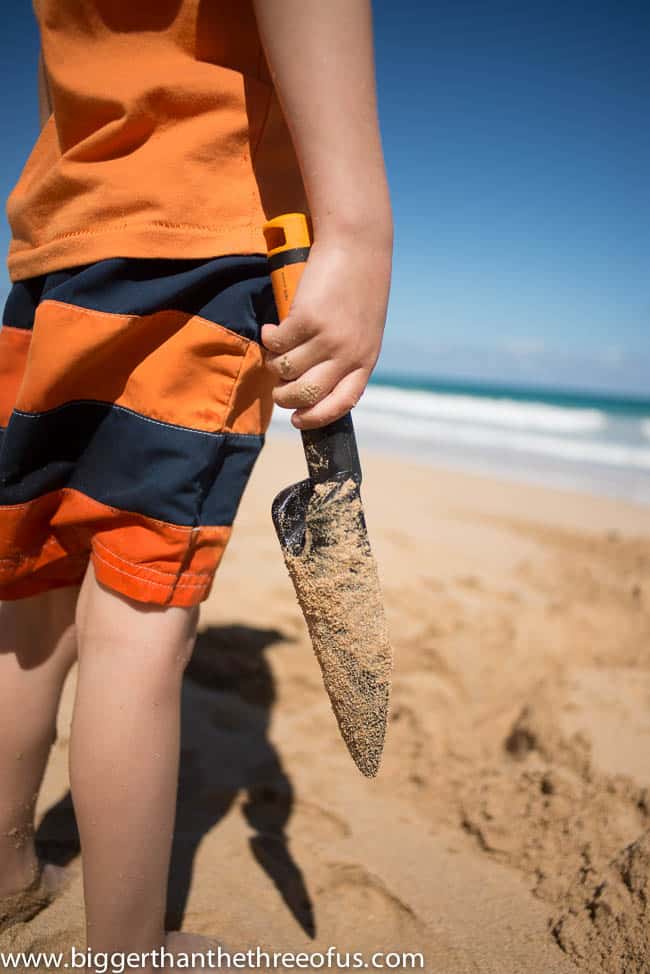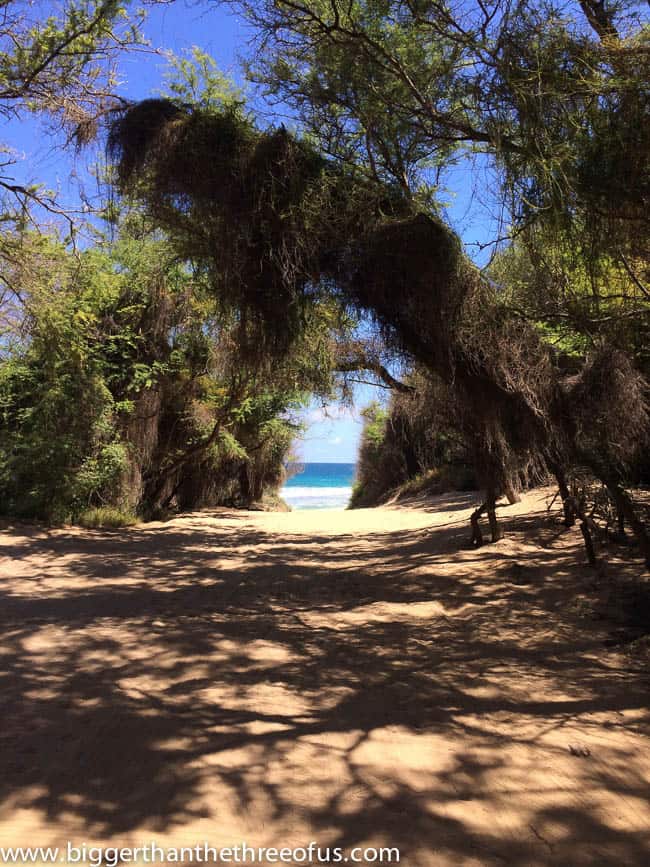 After spending a few hours there, we headed back to the Hanapepe area and ate at Bobbie's. All of us really liked it and would definitely recommend it. The owner recommended we get it to go and take and eat it at Salt Pond Beach. We did that and it was fun.
After that, we headed to Glass Beach. It didn't have as much glass as it does sometimes, but it was there. I think all of us were more interested in the color of the sand. It was definitely the darkest sand that I've ever seen.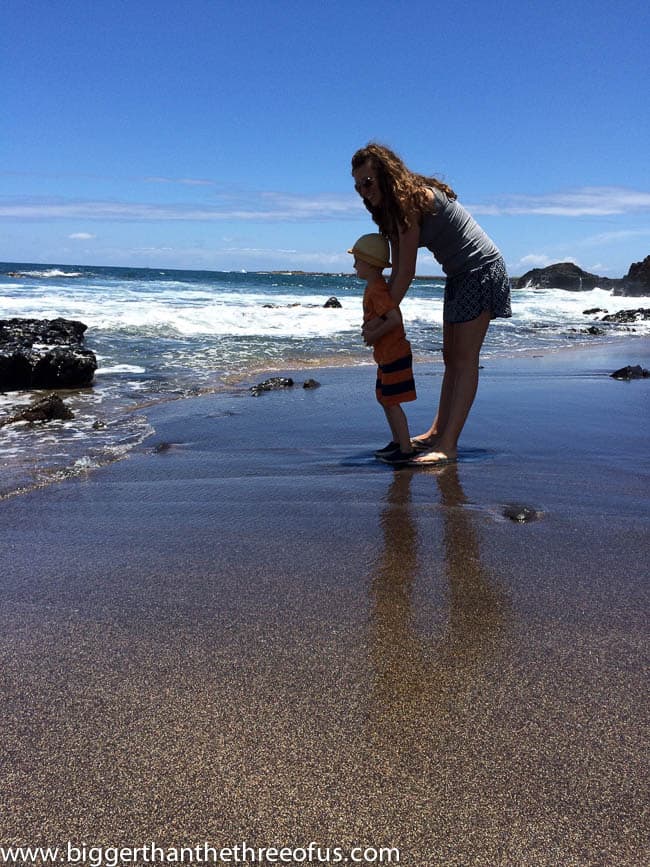 Day 4:
Luke went surfing in Princeville this day. We've both been surfing a few times and have really enjoyed it, but I decided to stay back with Greyson at the condo. We had a lazy morning at the pool, which the little man loved. Luke really liked the surfing and he would recommend Kauai Surf School if you want lessons.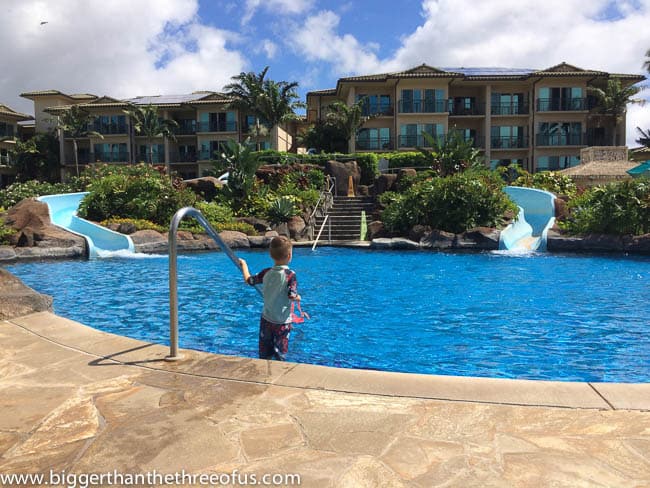 The condo had a lazy river, multiple slides, a sand bottom pool for kids, multiple hot tubs, waterfalls and a kids hot tub. I think we swam in it every day, but Greyson probably would have been just as happy to stay around the condo for most of each day. Not me, but we did enjoy it.
We ate dinner again on the lanai.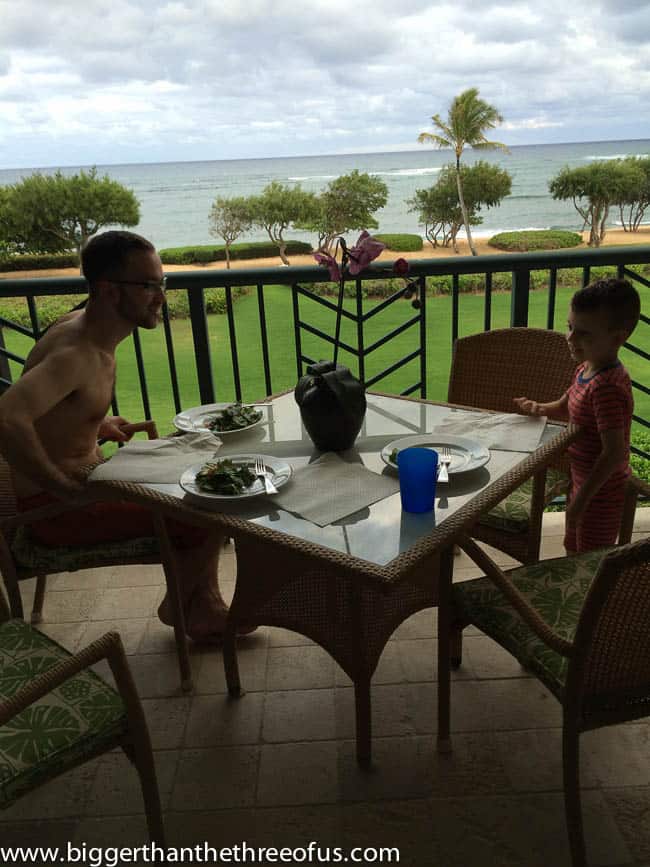 Day 5:
We headed to the South/West Shore sights again on this day. We had breakfast at Kalaheo Café & Coffee Co. Luke and I both loved this place. They had high quality baked goods and great french toast. Just a good-all-around, fresh breakfast. We hit up Salt Pond beach (to swim this time) in Hanaapepe at low tide. Greyson really loved it. It has a protected barrier so the water crashes over pretty perfectly for little ones.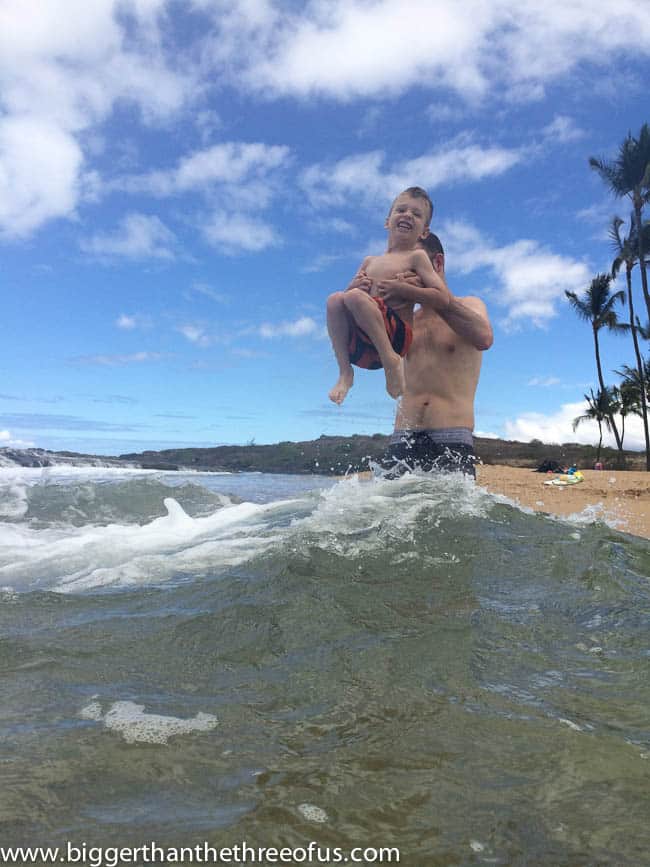 After that, we changed into dry clothes and decided to drive up to Waimea Canyon. This was gorgeous.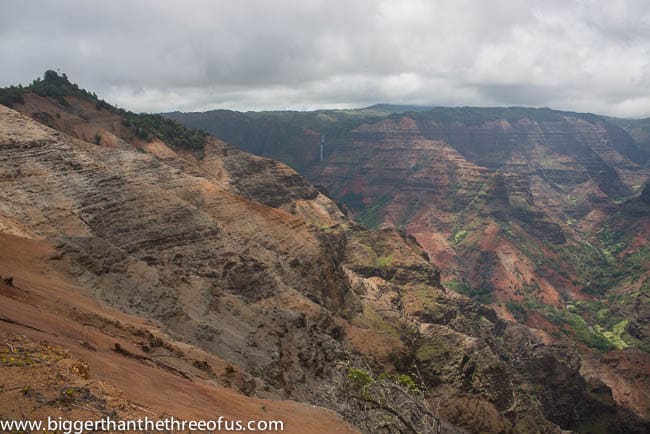 There's lots of parking lots and extra spaces along the whole drive to get out and gawk. There were also lots of trails that you could hike, but none that really looked amazing for a distance that we could do with Greyson.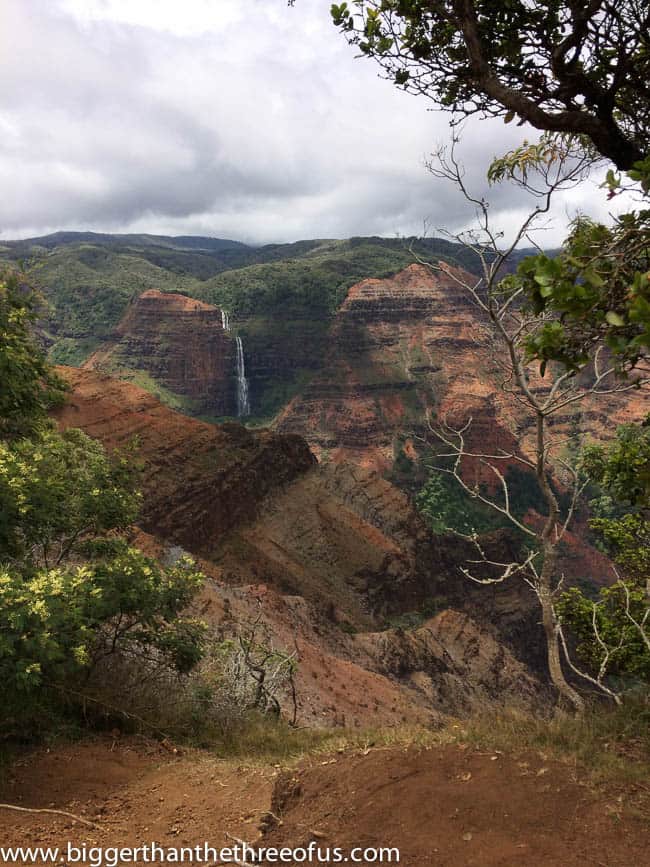 We drove and hopped out here and there for a few hours. It was fun and really beautiful.
On the way back to town, we stopped at Jo Jo's Clubhouse to have some shaved ice with ice cream. It was terrific! I'm not a huge fan of the shaved ice by itself but when it's mixed with ice cream it's just fabulous. This is a must-stop.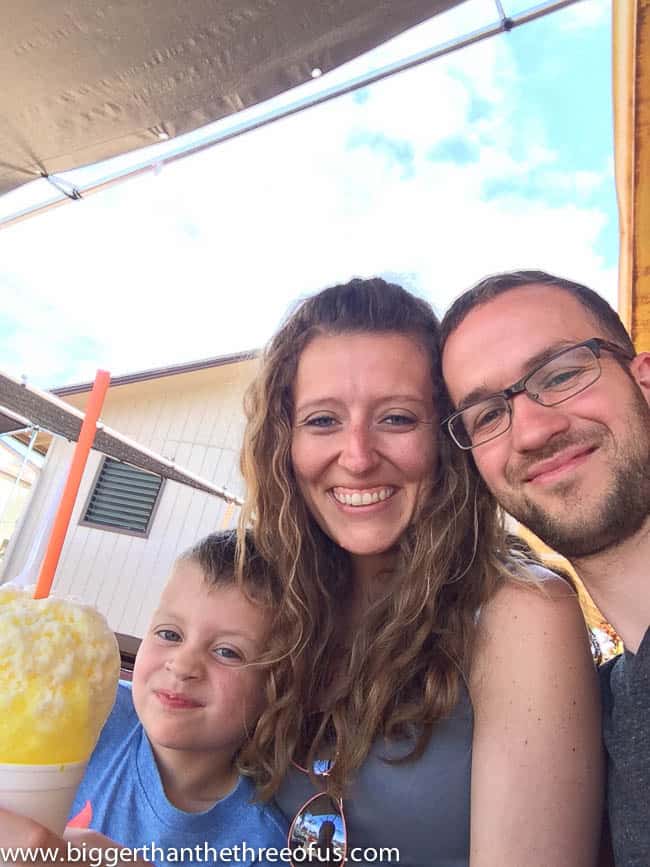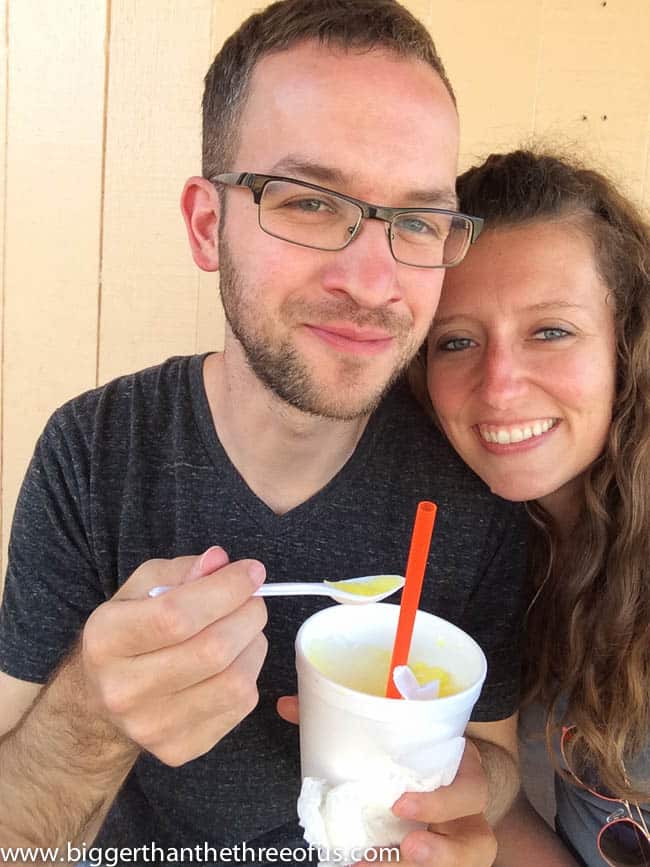 On our way back to the East shore, we stopped in the Princeville area to see the Sprouting Horn. That was a pretty cool little stop.
Day 6:
We ate breakfast at Kountry Kitchen (not a chain) and I had the tamale breakfast special. Man oh man, probably one of the best breakfast meals that I've ever eaten. The boys liked the macnut pancakes as well. Add this to your list if you go, because the food is so good (decor not so much).
After breakfast, we headed back to Secret Beach (at low tide) in hopes that we could hike to the Secret Lava Pools and waterfall. Guess what, we made it! It was so amazing. I could have spent my whole week exploring this area.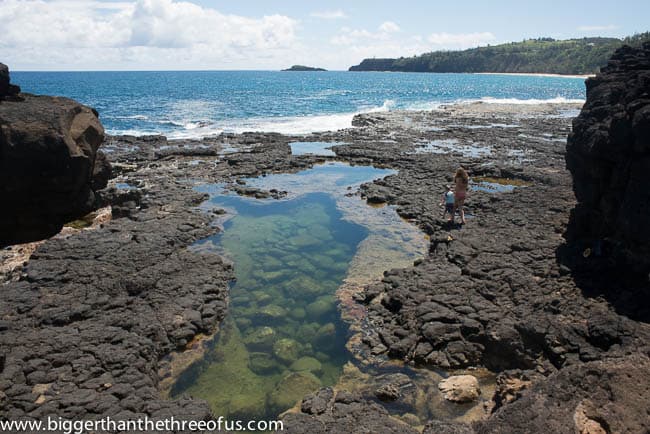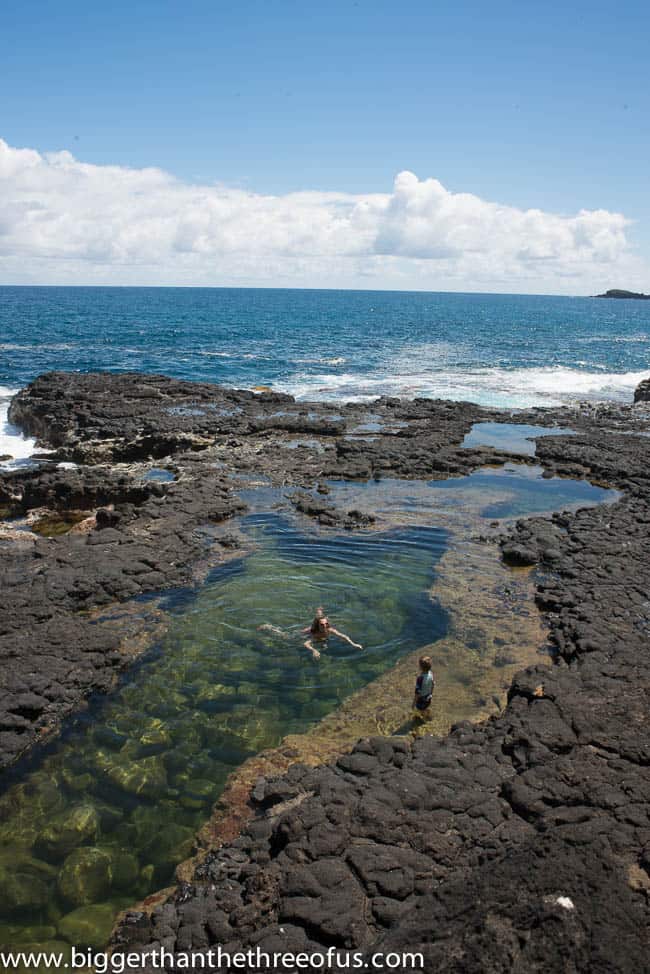 The water is crystal clear and about 12 feet deep in the larger pool that we swam in. Some areas are shallower and there are a few pools that you can hop over a boulder or two and get to from the larger pool. It was so much fun.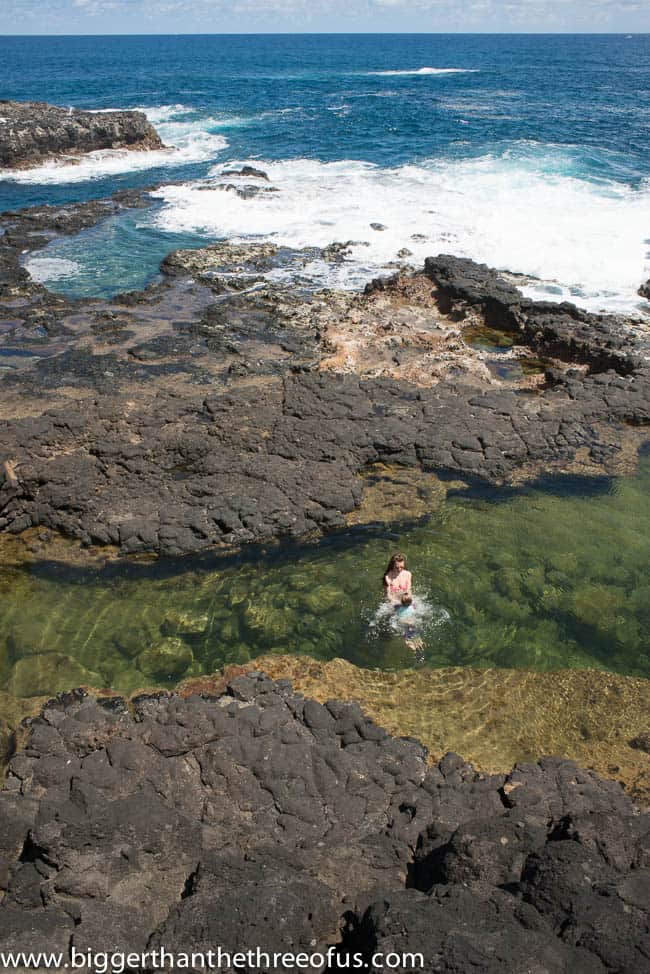 Past the lava pools about ten minutes, is a large waterfall with more pools underneath and also a protected area on top where you can swim. We swam on top for awhile before coming back to the lava pools.
We didn't think about packing a lunch, so we stayed just a few hours with the snacks that we had on hand… but seriously, we could have had fun there all day.
Day 7:
This was our last day in Kauai. We hungout at the pool at the condo all morning, grabbed lunch and then rented bikes to take to the bike trail that goes right along the ocean.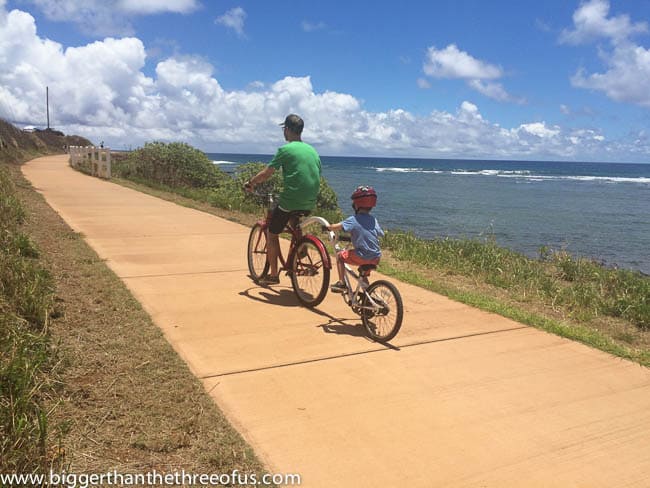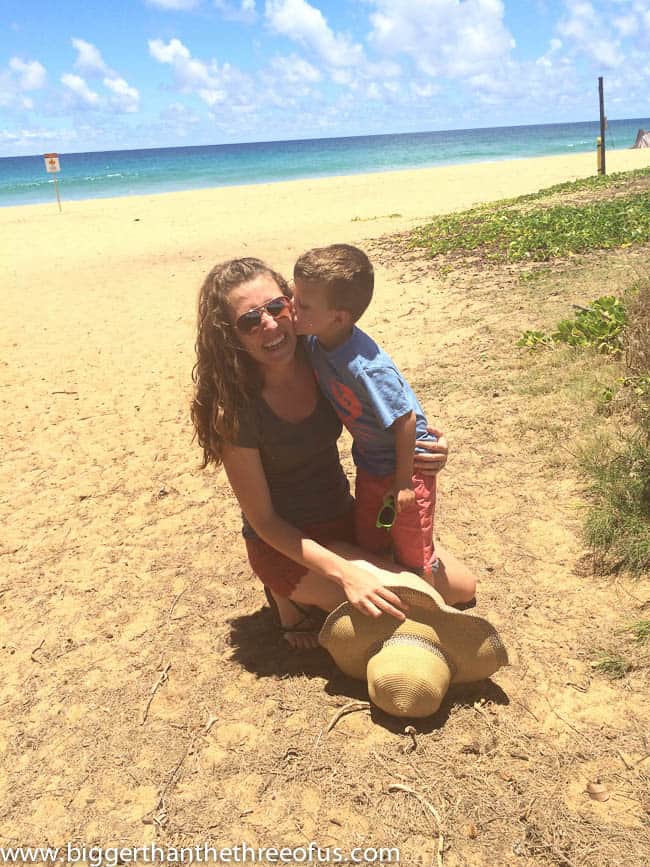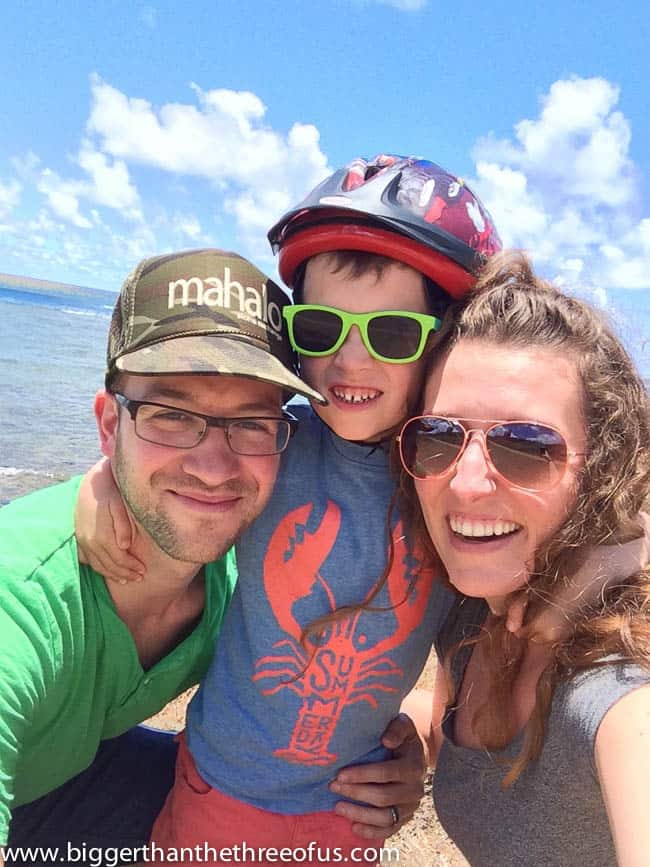 Greyson loved renting bikes on Catalina Island when we went last year, so we knew that he would love it again and he did.
After riding for awhile, we grabbed lunch and drove to another waterfall. We ended the day at Lydgate Beach Park (with the amazing wooden playgrounds) before grabbing our plane to go to the Big Island.
Kauai was just magical. We loved the vibe with lots of local shops, restaurants, wild chickens and un-commericalized land. We would definitely go back, because there was lots we didn't have time for or couldn't do because of Greyson's age.
I hope to be back next week with the post on the Big Island. Have a great weekend!