I've been buying and selling on Facebook Marketplace over the past year and have figured out the best way to sell on Facebook Marketplace. Learn photography tips for making your inventory sell as well as must-haves for every listing, when to list an item on Facebook and more.
Years ago, I sold bigger items on Craigslist and did pretty well on there. We've sold multiple cars, bought multiple pieces of outdoor furniture, etc. When Facebook Marketplace came around, I was tired of buying and selling and just didn't use it. Then, last year, I tried to use it and found it to be really annoying. But, after Suzannah and I did a whole podcast episode on Buying and Selling on Facebook and Craigslist, I got the urge to try to use Facebook as a selling tool again.
After a lot of trial and error, and dealing with people who have no boundaries for messaging you or the amount of messaging going back and forth over a $15 item, I finally figured out what works best and how to actually make selling on Facebook Marketplace work for me.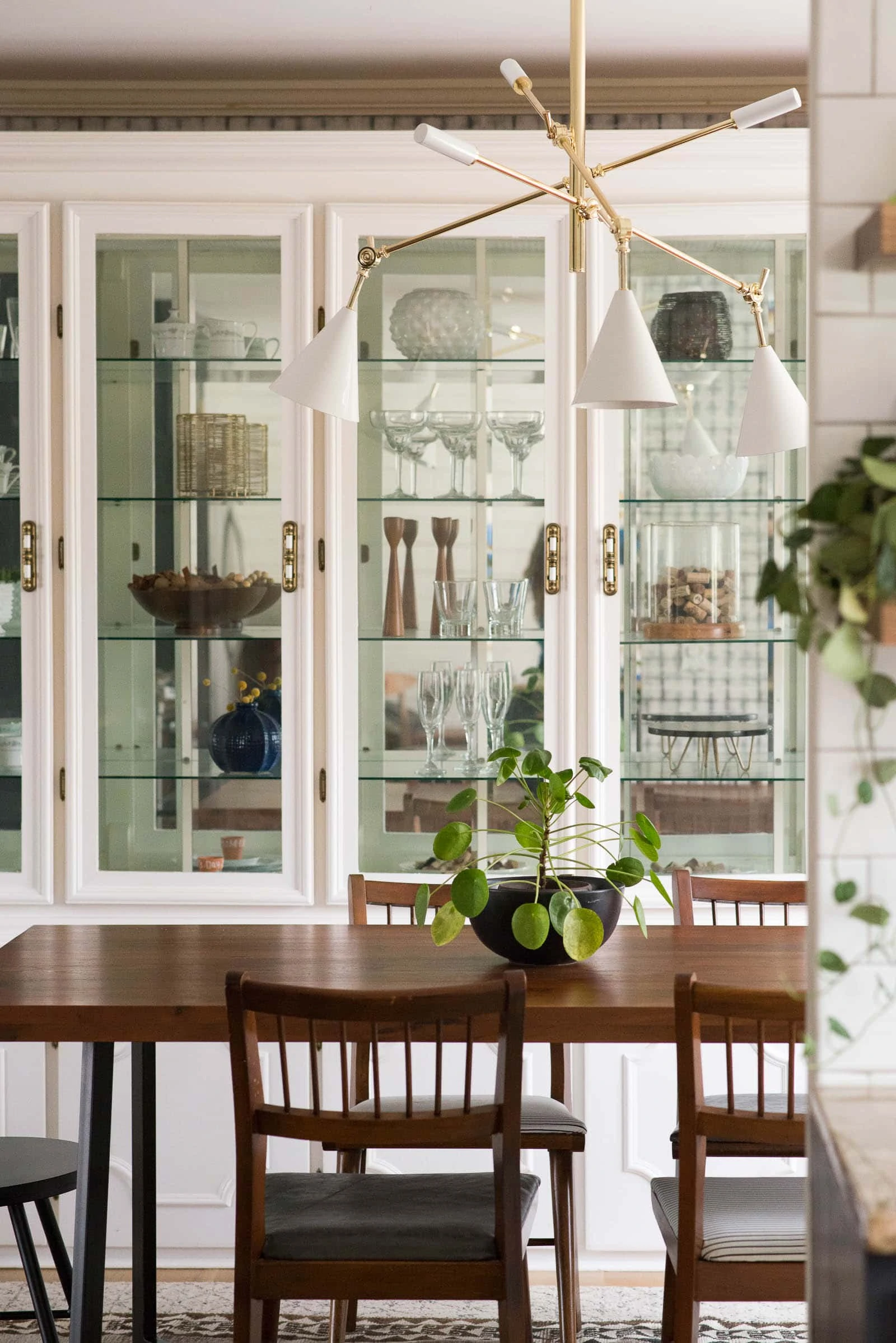 How to Sell on Facebook Marketplace
How to Photograph Items for Sale
You want to show the item in a bright and clear photo. The item should be shown straight-on and with a side angle (or top down, depending on the item). Also, I've learned that a close-crop of the item is great but, also, do a pulled back shot where you show the item in a clean space.
I was thinking about when I actually make the effort to go purchase something used from an online classified such as Craigslist or Facebook and I only make the effort if the product looks like it comes from a clean, well-maintained home. So, trust me, set yourself apart from other sellers and think just a bit more about your photographs and how you take them.
For example, you are trying to sell a light fixture:
If you have the light fixture installed, take a nice, clear photo of it installed (like the above photo). If it's not installed then, instead of photographing the light fixture on the garage floor, take a few extra minutes and do this:
Clear off a clean surface that has a decent background (maybe the kitchen table). Place the light fixture on the table. Take a few different close angles and then step back and take a picture of the light in your clean space so the potential buyer can see just a bit of your house. Brighten and sharpen the photos in your phone. That's it!
Here's some photo examples from a recent listing of mine.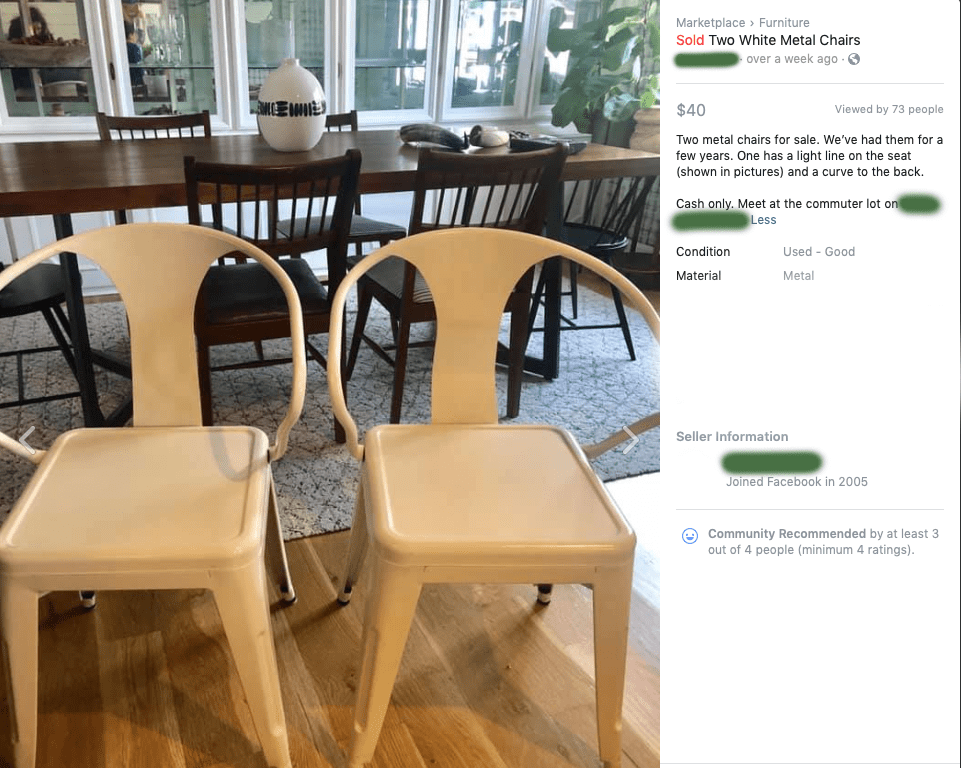 The 1st photo shows the item as well as a pulled back image so that the potential buyer knows they are buying from a clean house.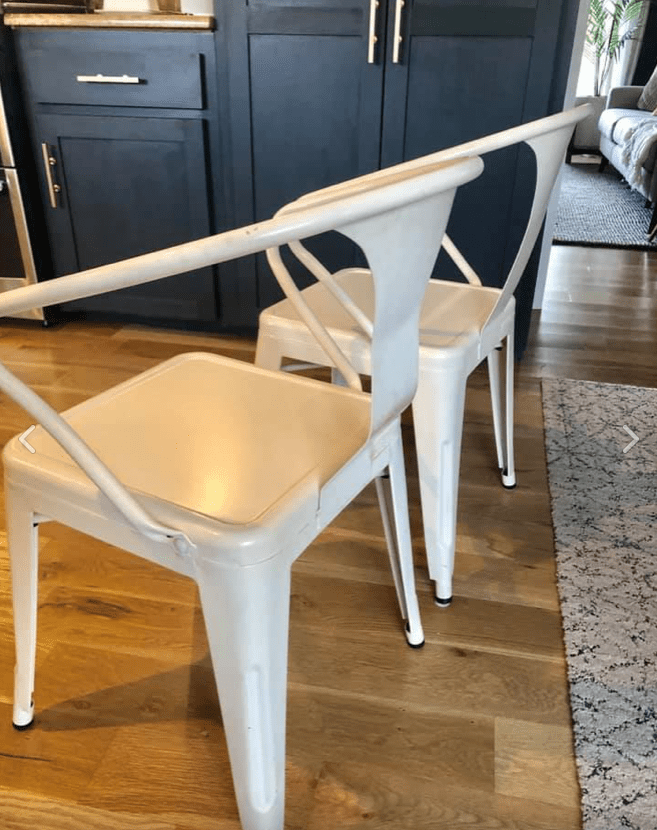 The 2nd photo shows the item from a different perspective.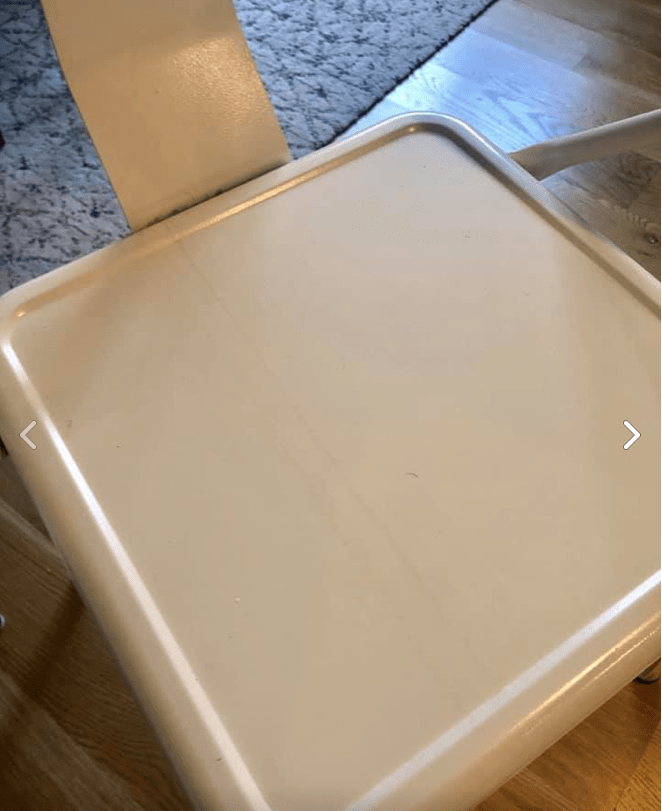 The 3rd photo clearly shows the listed issue with the item.
How to List an Item for Sale on Facebook Marketplace
Don't get cute with your description. Just state what you are selling, clearly. Specify whether it's in good condition or not, what the dimensions are and any other pertinent details that you might ask if you were looking to buy.
The dimensions of items are really important and it's one that you should not forget to list because you are just going to be messaged about it and asked about it.
Other details to make sure to include are: what type of payment you will take (I always specify cash only), if you will hold or not, where pick-up is, if you will deliver and what time you are available for pickup.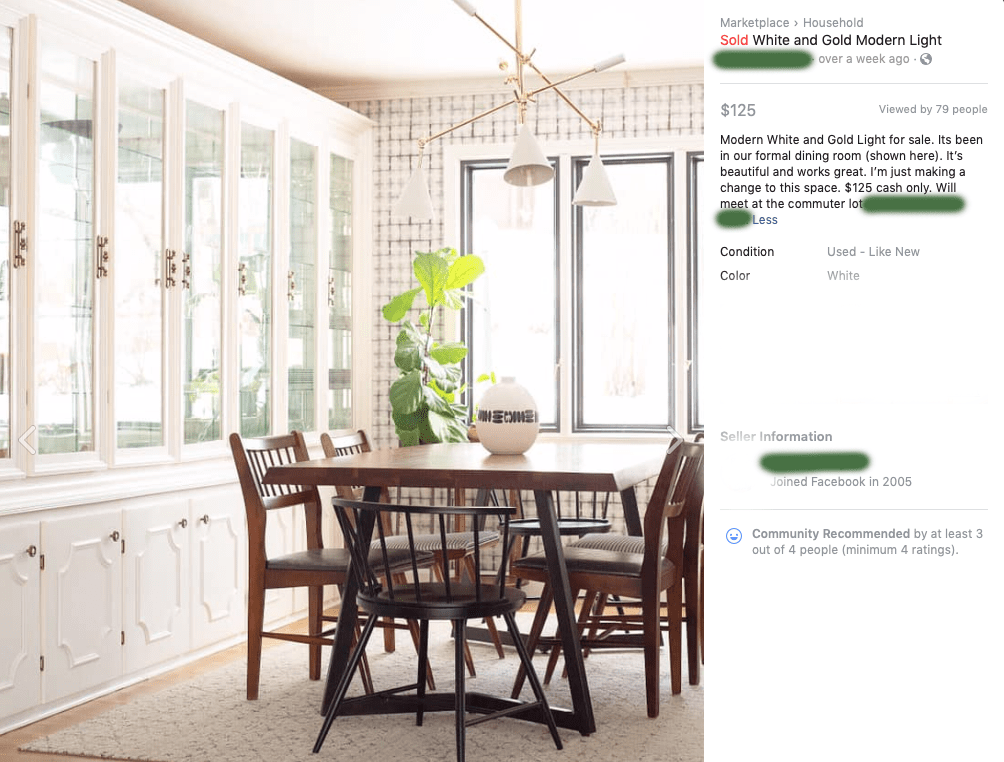 *For privacy, I've blocked my personal information. When you post, you will see who you are under "seller information" as well as exactly where you are planning to meet for drop-off and payment.
Key Tips for Minimizing Annoyances for Selling on Facebook
My BIGGEST tip for selling and moving items on Facebook is to follow all the advice above but then LIST your item first thing Saturday morning and make sure to be around for pick-up that day. Seriously, it's the best day to actually get someone to pick the item up and be done with the communication. Don't post your item late on Friday night because you'll just have a ton of communication waiting for you come Saturday. Post Saturday morning, 8am, answer back to the Facebook messages and get that item sold.
The most annoying thing about Facebook is the amount of people who will just message and message. It really helps to just post when a ton of people are off work and are running errands because they are more likely to commit to coming to see your item ASAP.
The second tip is to make the pick-up location simple for you. Unless I'm selling heavy furniture, I like to have the pick-up location at a public location. I used to drive to a local grocery store that's a few minutes away and that was fine, but I've recently gotten smart and just specify that the pick-up location is going to be at a gas station (it's two minutes from my house).
If an item is heavy and you aren't lifting it, specify in the listing that the item is very heavy and it will require two people to come and get it to carry it. You don't want one person to show up and then not be able to take it. So, again, it's key to provide all the information you can (bullet style, short and sweet) so that it's seamless when it comes to actually selling your item.
I hope this was helpful! Like I mentioned earlier, I'm relatively new to selling on Facebook Marketplace but I've had quite a bit of success with it. If you have any tips that I haven't mentioned, I'd love to hear them. Leave me a comment and let me know.