I'm so excited about this series! Seriously, we have some amazing knockoffs coming your way. I'm sharing a pretty easy one with you today.
We are neck-deep in a kitchen remodel and yet, I keep finding myself looking at kitchen decor items. We definitely aren't anywhere close to the decorating part of things, but that doesn't stop me from browsing and dreaming about how I want to decorate.
*Affiliate links below. Click to read my full disclosure policy.
While gathering my ideas for the decorating part of the kitchen remodel; I fell hard for this West Elm clock: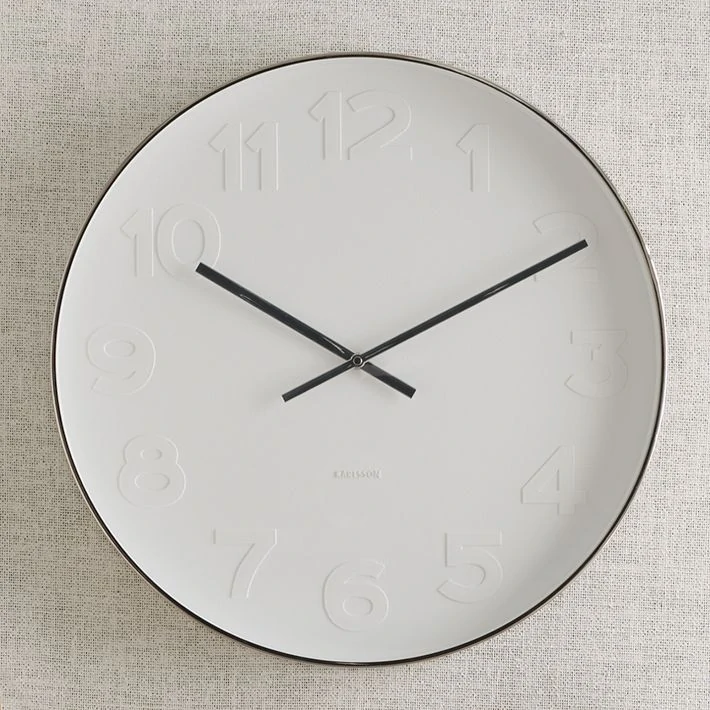 I love the size (it's 20 inches in diameter), but I didn't love the price ($149). So, I decided to make my own; or I had Luke make me one! Lol. Actually, I completely ran out of time this week, so I begged my hubby to make it for me. He delivered!
Here it is: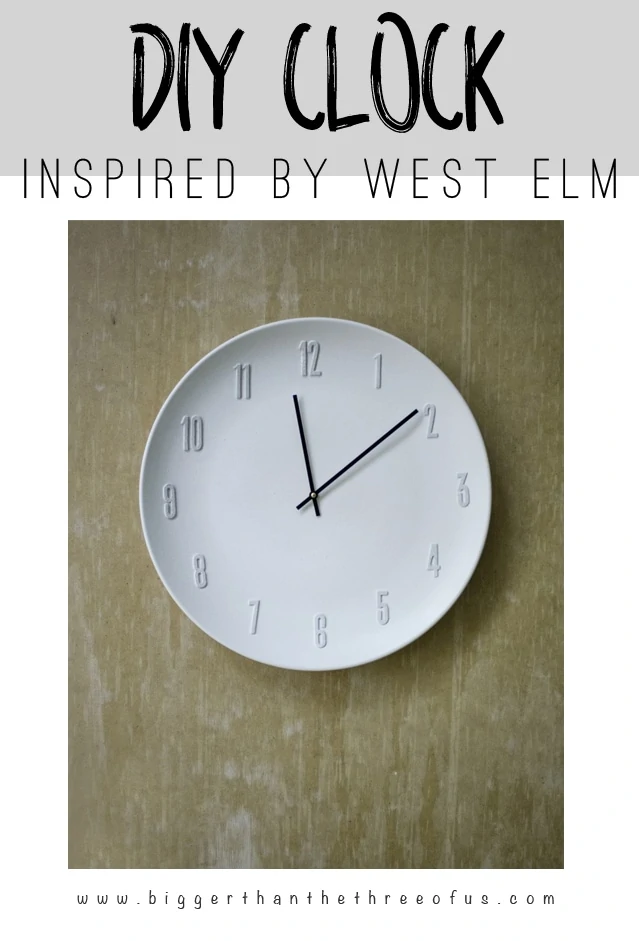 Cute right? We didn't outline the plate (because I haven't decided on the final metals for the kitchen) but you could easily gold leaf the edge or use a metallic sharpie.
Want to know how to make your own for a fraction of the cost of the original? Sure you do!
Gather your supplies.
Scrapbook Numbers
Ceramic Plate ( I found the one I used at TJmaxx but here's a similar one)
Spray Paint (My favorite brand)
1. Find the center of the plate and use a ceramic tile bit to make a hole. We used two different bits, using the smaller bit first to make sure we didn't crack the plate.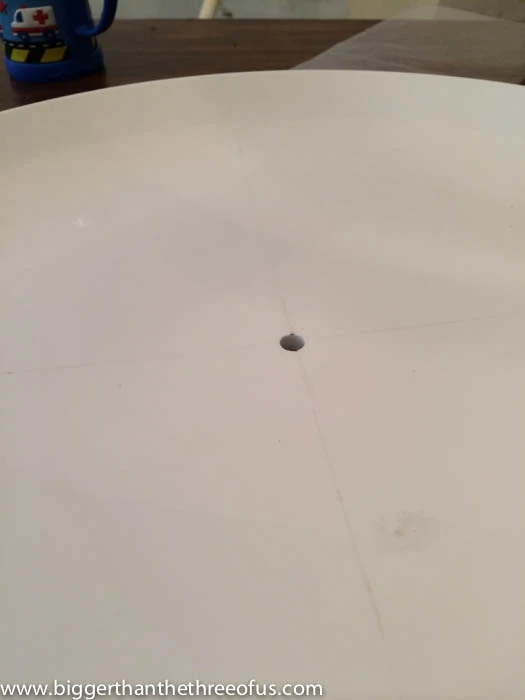 2. Determine the spacing of your numbers. We did this by using string and a nut to keep the string from pulling through.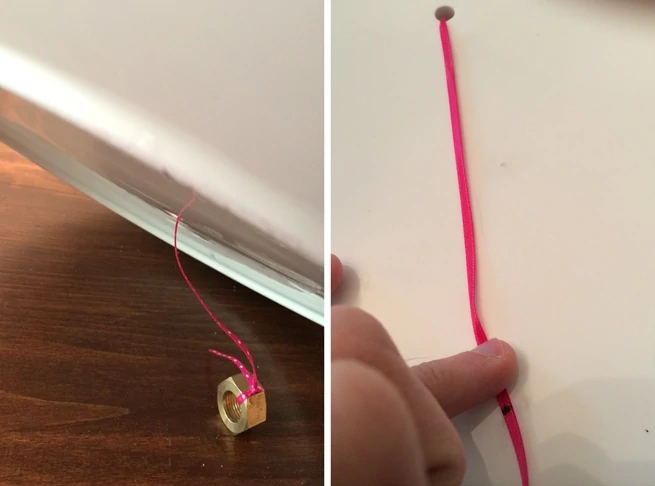 3. Place your 12, 3, 6, and 9 first making it easier to place the in-between numbers next.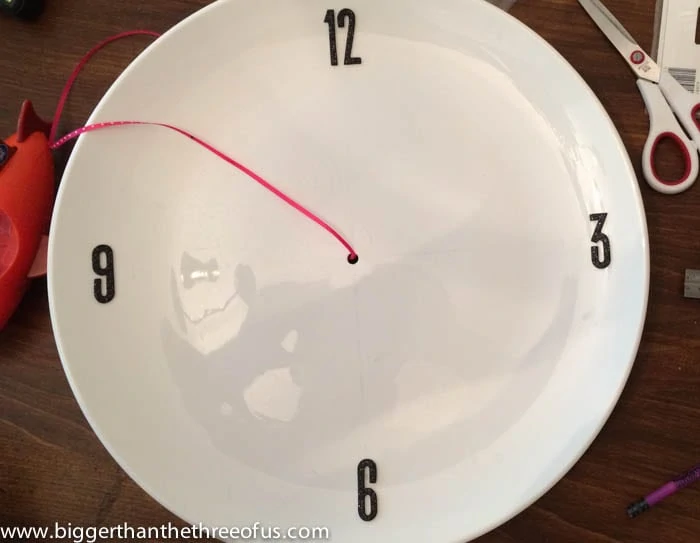 4. Use superglue to adhere the numbers to the plate. We used a clamp to make sure they were extra-stuck. =)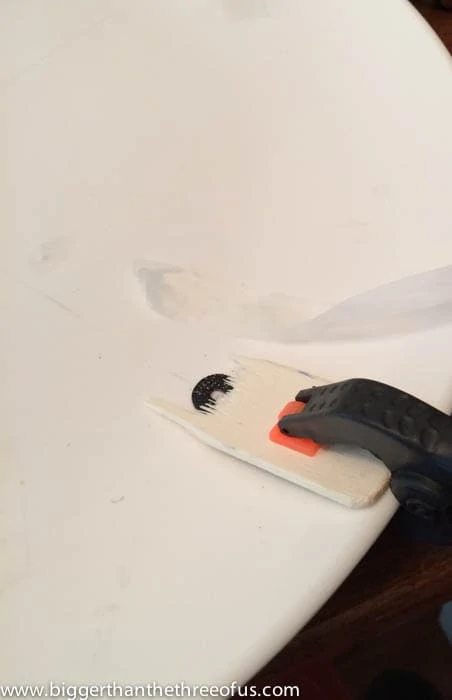 5. Now that all the numbers are on (ignore the wonky  3 - it's not too wonky in person!); spray paint the plate and the numbers.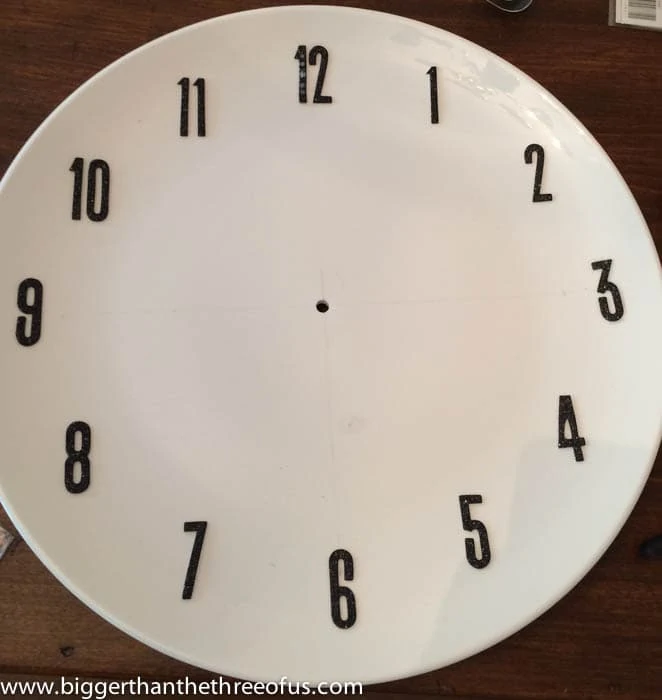 6. Put the clock part together on the plate.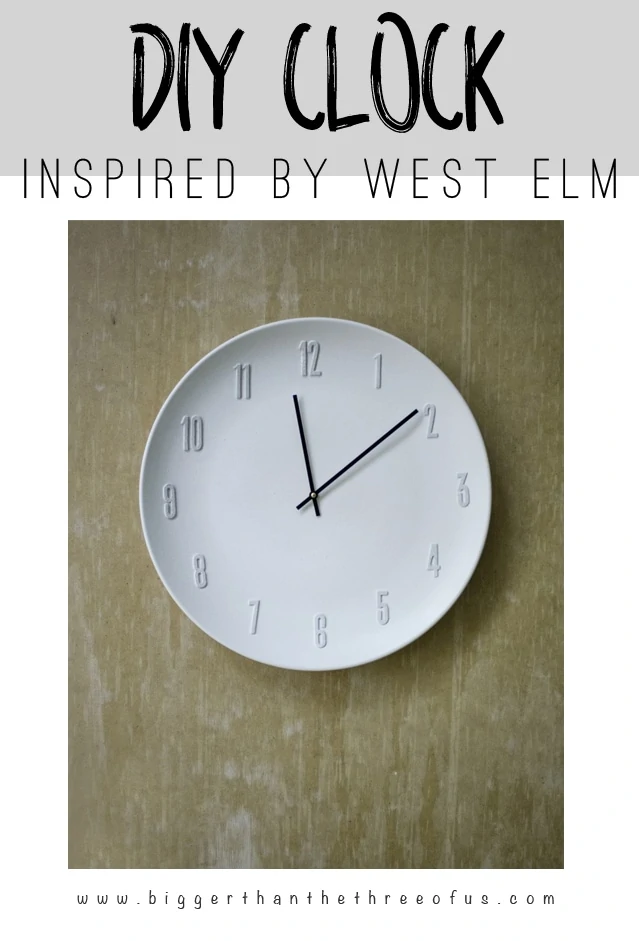 The West Elm clock is $149 and ours came to about $50. We had to buy the ceramic drill bits (which were about $15), the plate and the clock parts.
I think it will be a fun addition to our kitchen!
Want to see what the other ladies of the Knock Out Knock Off's came up with?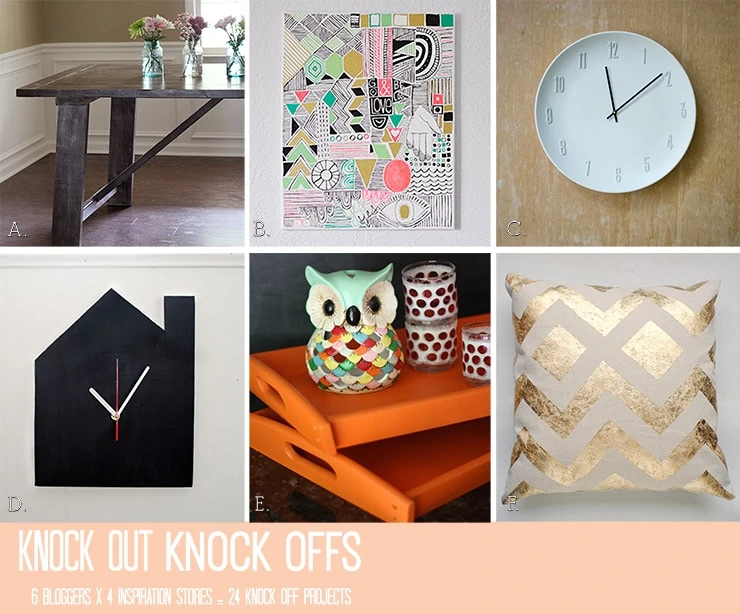 Upcycled Treasures - Wooden Truss Dining Table
Delineate Your Dwelling - Knock Off Art
Designer Trapped in a Lawyer's Body - DIY Trays
The Gathered Home - Metallic Pillows
I seriously can't wait to read all the details on their knock offs. Make sure to hop around and check them out!
Linking up to:
C.R.A.F.T., Project Inspire(d), The Makers, The Winthrop Chronicles, Home Stories A-Z, Hit Me With your Best Shot, Work It Wednesday,  Fry Sauce and Grits, Liz Marie Blog, The Inspiration Gallery, Creativity Unleashed - The Bold Abode, Remodelaholic, Whipperberry, Tatertots and Jello, Link It or Lump It, Sunday Soiree and Frugal Crafty Blog Hop.