Happy Monday! Did you guys have a good weekend? Ours was very full, but in a good way. We were hoping to get the last bit of our "Fall" leaves cleaned up on Saturday since it was so warm (50 in Jan is CRAZY!). We managed to get three trailers full of leaves hauled off but still no bueno. We have at least one more, but probably two, to go. That took up all of Saturday. Sunday, we went to Church and then out for lunch. Greyson opened his own savings account and we decided to celebrate by having a "special" meal out once he hit $50. So, Luke and I spent $50 on the meal to celebrate his $50 savings. Lol. =)
The absolute BEST part of the weekend was that we FINISHED the hallway bathroom. Yep, that crazy bathroom that we started over 2 years ago! It's done. It's lacking a good deal of cleaning and then I'll share the reveal pictures with you. Yay!
Getting to the title of this post, "Pinterest Approved". Have you found something on Pinterest and tried it and it failed? Yep, me too! But, I've recently found two things that have worked and I love.
This tip works for scraping paint off of glass.
Yep, you can use coconut oil for this.
Random, but two good tips.
and lastly, because this post hasn't been random enough...
I've been crushing hard on this chair from West Elm for like 2 years (whenever I first saw it in their catalog).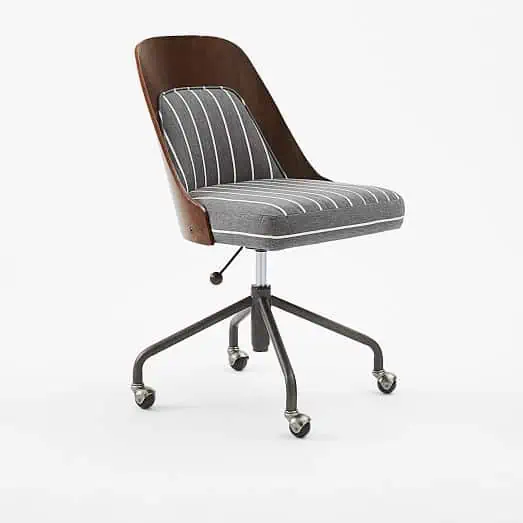 It's billed as an office chair but I want two of them for our kitchen table. Can't you just see them flanking the end? Like, I want them BAD. Luke is even on board, probably because he's sick of being embarrassed every time we go into West Elm and I sit and roll around in them again and again. Ok, so you're asking... "Ashley, why don't you just buy them?" Good question. Here's my problem, our little guy isn't the messiest eater but he is a kid. I would pass out if he was having something to eat on them and spilled red sauce or dropped his peanut butter sandwich on the chair. But, I would feel terrible if I bought something and was like, "honey, I'm sorry but these chairs aren't to be used by you."  Am I right? Any ideas? I just can't get them out of my head.
Alright, I hope to be back on Wednesday with bathroom pictures, but it's rainy so we shall see. =)