How do you know what type of fabric is best for sofas and what type of sofa you even want? Today, we are chatting all about sofas and even about some sofa buying guides that will help you.
Let me be super honest here. I haven't shopped for a sofa for at least 4 years. The current sofas that we have in our living room have all been sponsored by companies. While, I picked each of those sofas, I didn't research or really delve deep into sofa shopping. Nonetheless, on the podcast this week, we are diving deep into all types of sofas as well as common mistakes when buying a sofa. You are going to walk away prepared to search, buy and love your next sofa!
Sofa Buying Guide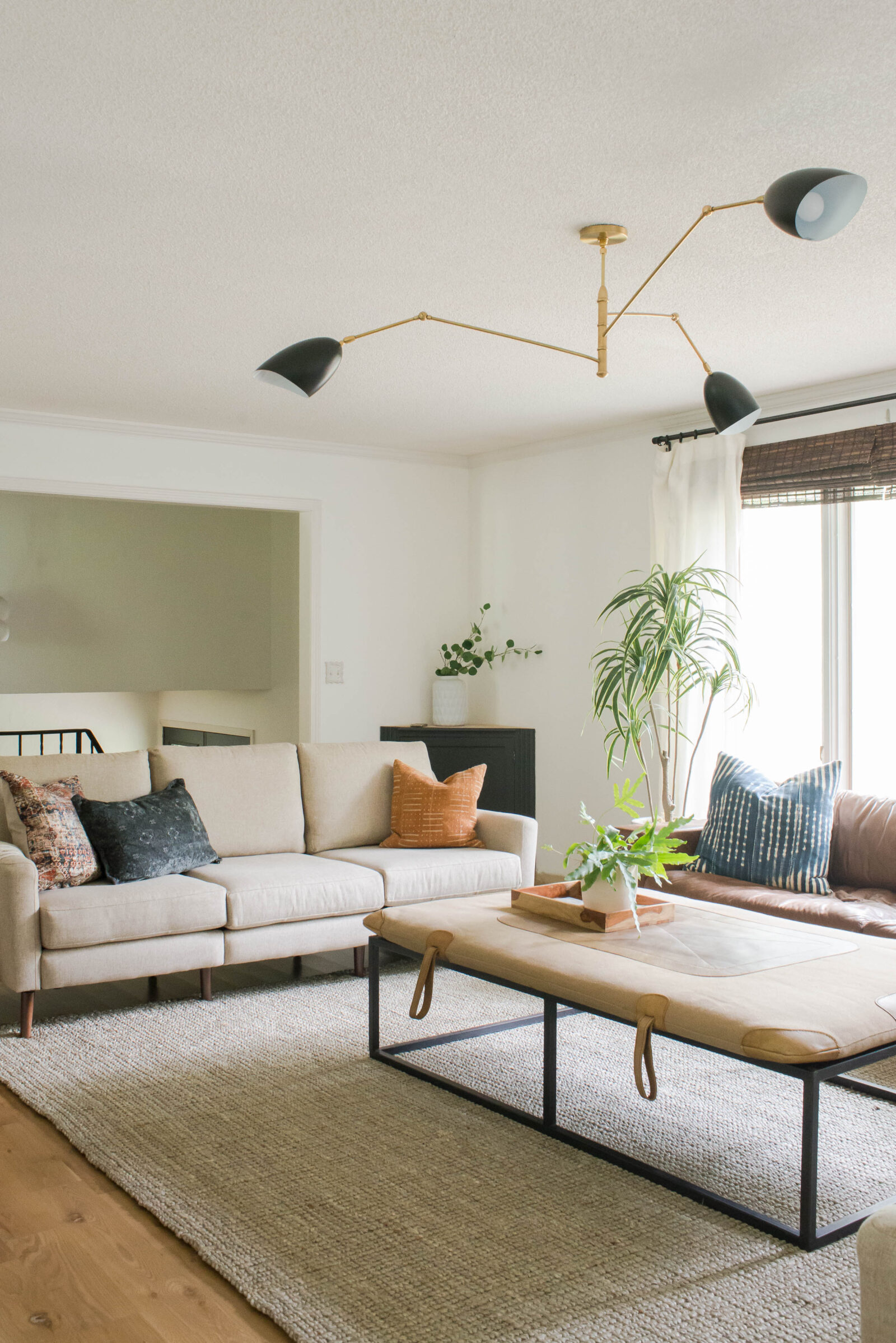 Listen below or find us on your favorite podcast app: iTunes, Stitcher, GooglePlay and Overcast.
I firmly believe that you should take your time sofa shopping because I think sofas can last you a LONG time! Seriously, if you are willing to save for that well-made sofa, it can last you two decades!! I really believe this. I also believe that not all of us (me included) can afford our dream sofa. So, sometimes, we are trying to buy a sofa that will last us the longest for what we can afford.
Let's talk about what you can do to ensure that you love the sofa that you buy. My recommendation is to put together a sofa buying guide. It doesn't have to be fancy. I needed to call it something, so that's what I'm calling it but it can just be notes in your phone that track what you are wanting, why, what the function of the sofa needs to be, etc.
We talked about six different questions in today's show, so I'll use those in our mockup sofa buying guide.
Sofa Buying Guide
Function

Do you need a pull out bed in your sofa?
Do you want a two seater or a three seater?
Does a sectional work for your space?

Dimensions

Sofas are generally 32-40″ deep
A 3-seater sofa is around 6-8 feet long
A sofa seat height is 15-20″

Lounge-worthy or Firm

Do you want down-filled cushions or foam filled cushions
Would you like cushions that can flip?

What Fabric is Best for Sofas?

Leather sofas
Velvet (or performance velvet)
Tight weave

Budget

Smaller budget – Target and Ikea
Middle budget – West Elm and Article
Upper budget – Crate and Barrel and Restoration Hardware

Style

Midcentury
Rolled arms
Chesterfield

Reviews
We hope that by tuning in today, you'll feel much more prepared the next time you go out shopping for a sofa!
You can find us on our blogs or connect with each of us on Instagram:
@suzannahstanley
@biggerthanthethreeofus
@yourhomestorypodcast
We'd love to hear your questions and thoughts! Join our Facebook group here and email us at [email protected]