Back in March, Luke, Greyson and I went to Spain. We went over Spring Break so it was a pretty short trip but it was long enough to see Madrid and Barcelona. It was Greyson's first international trip. We felt like seven was a good age to try to see a new culture, experience a walkable city and be able to take in the beauty of traveling. As with all trips with kids, it definitely had it's ups and downs, but overall, it was really great. Today, I wanted to share about the trip but also give some handy tips for Traveling to Madrid with a Kid.
Luke and I love traveling so we hope to foster that love with Greyson. So far, it's working. When you ask him the best part about the trip, he says the food. He loved the croissants, hot chocolate (which is totally different than hot chocolate in the states) and snacks that you pick up from little shops every time you stumble down a different street.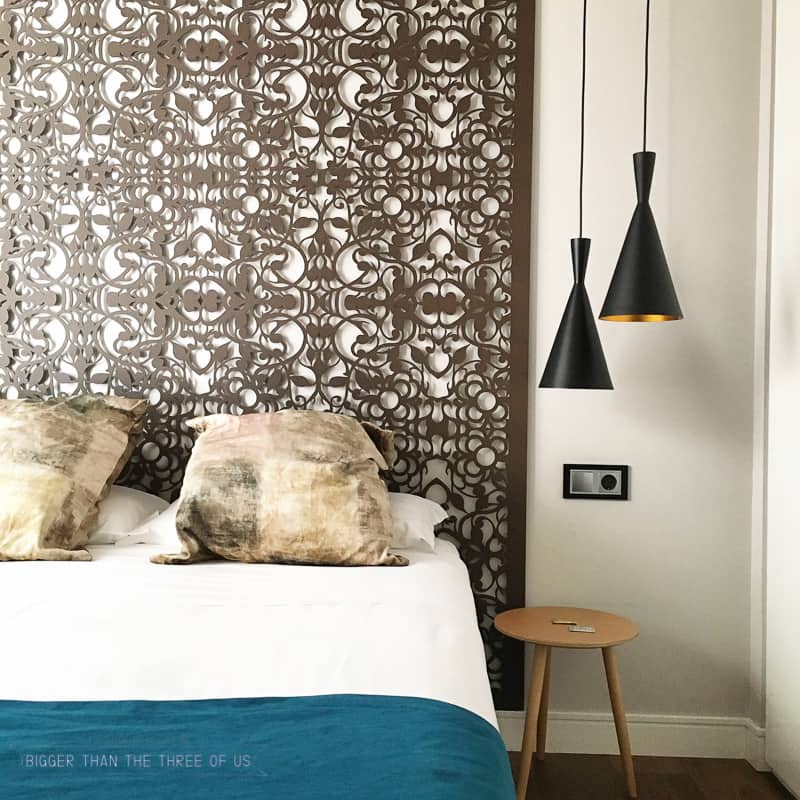 We arrived in Madrid after over 24 hours of traveling. We all slept a bit on the plane and, although we were tired, we wanted to get checked into our hotel and then set off to explore for awhile. The goal was to get on their timezone a bit more.
We stayed at Gran Via Capital and it was pretty nice. When we travel as a family, we definitely prefer apartment style bookings. We like to have a bit more room to move around and have a fridge.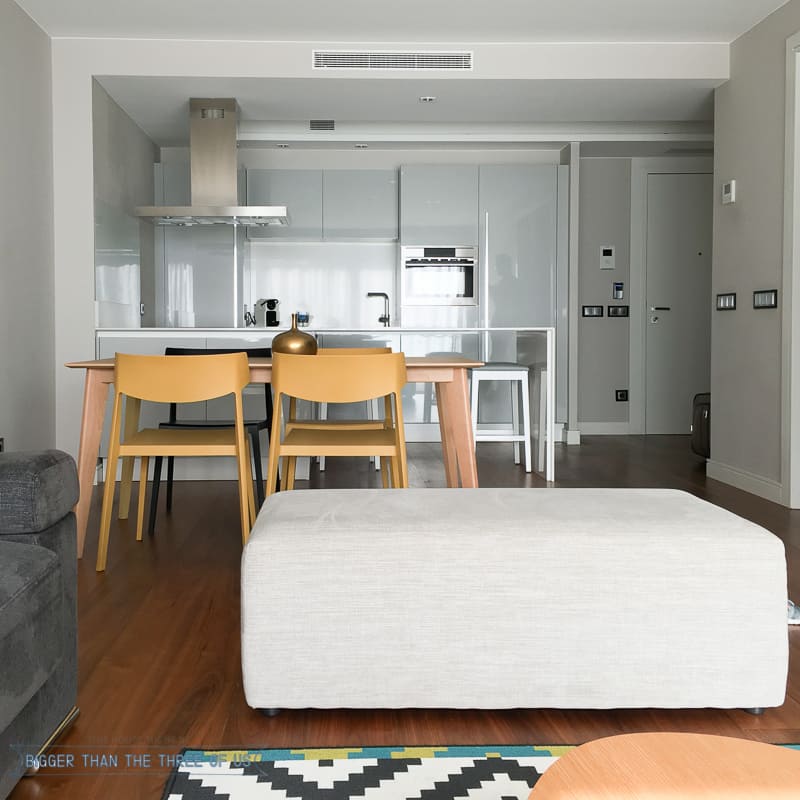 The location of the hotel and size were both great. The rooftop terrance had a pretty view as well.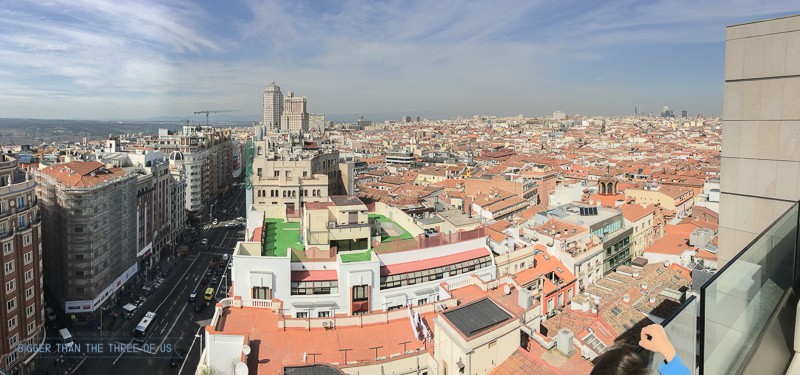 The only downside of the hotel, in general, was it was super loud on the first night we were there. The street noise just carried right up to our floor.
After we got checked in, we roamed for awhile and then went to Mercado de San Miguel. It's basically a food market similar to what you'd find in the states in Philly or San Francisco. To be honest, we were overwhelmed with the amount of people in there so it wasn't high up on our love list. I did get Sangria though, so that was fun. I think if you timed this so that you were going mid-morning, you would definitely be happier.
After that, we went to Chocolateria San Gines. This is supposedly a must-stop. It was definitely fun.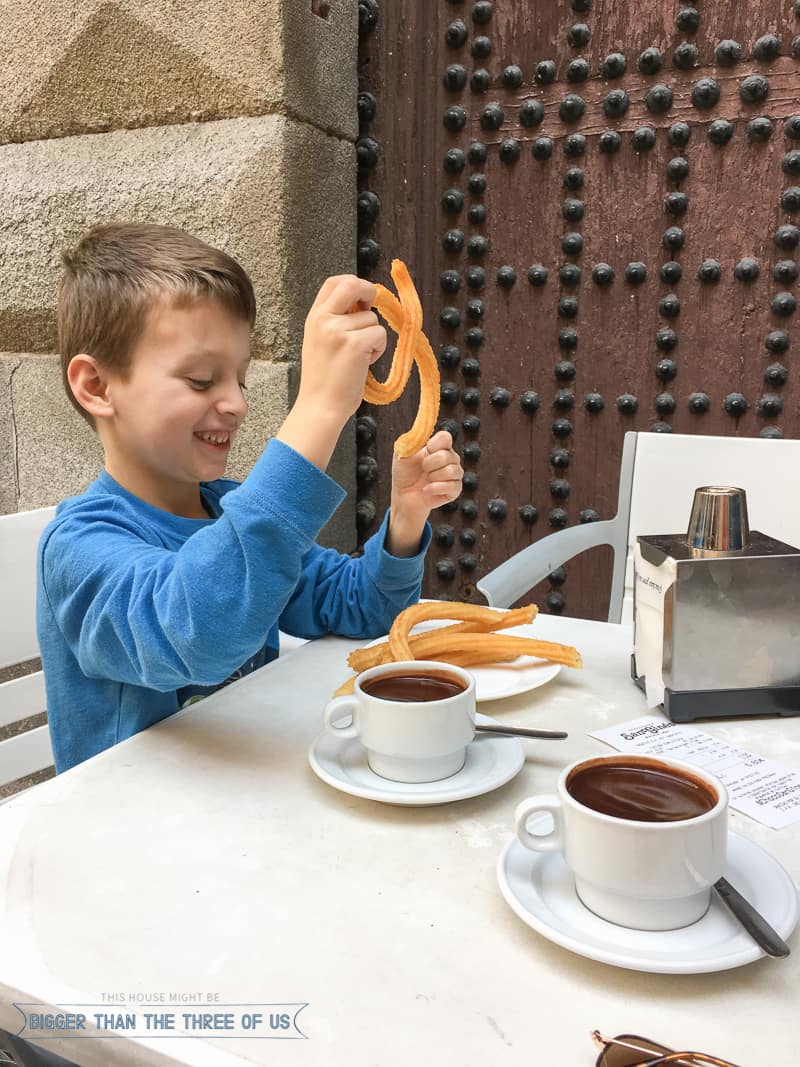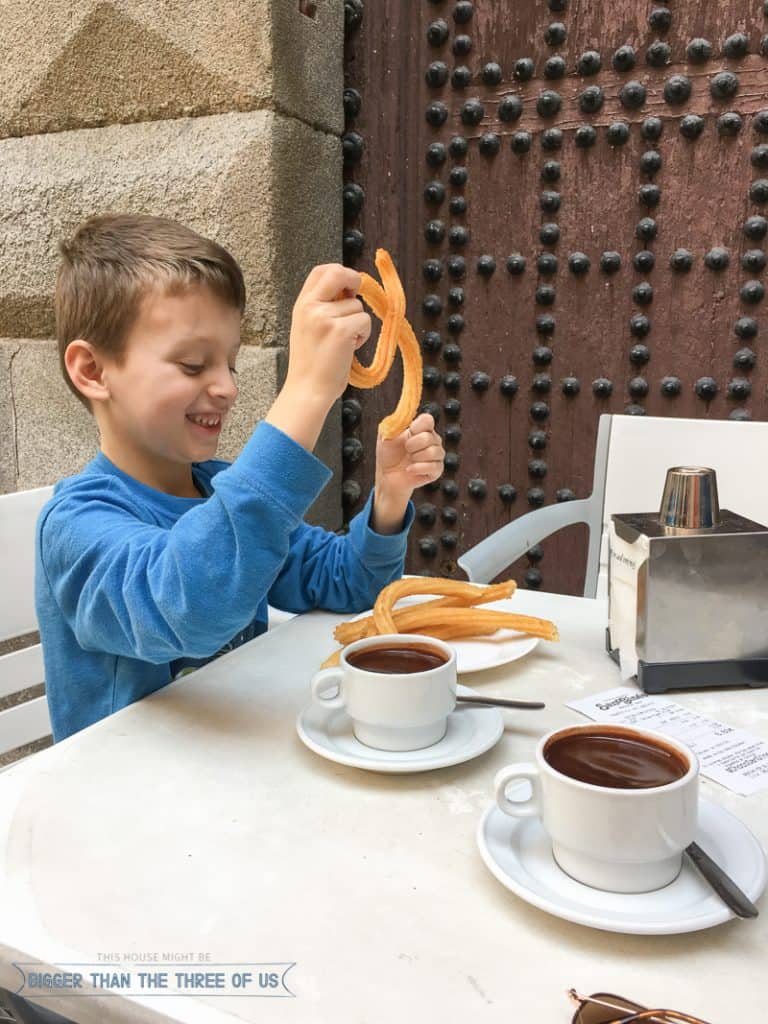 Churros and hot chocolate were a big hit in the little guy's mind. If you're thinking that the "hot chocolate" looks more like melted chocolate in a mug, you'd be correct. This stuff was rich and chocolatey!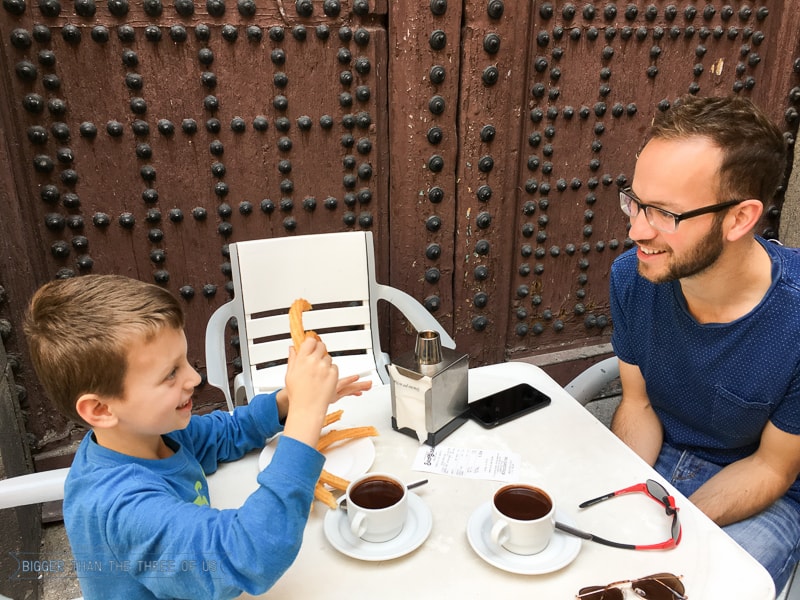 From the perspective of wanting to have a family adventure, this was an easy stop with live music, so it was fun. The churros and hot chocolate weren't the most amazing thing we've had but, for the experience... and the smiles, it was worth it.
That night, we walked around after dinner and I found the cutest little store and art gallery. I didn't grab the name of it, sorry!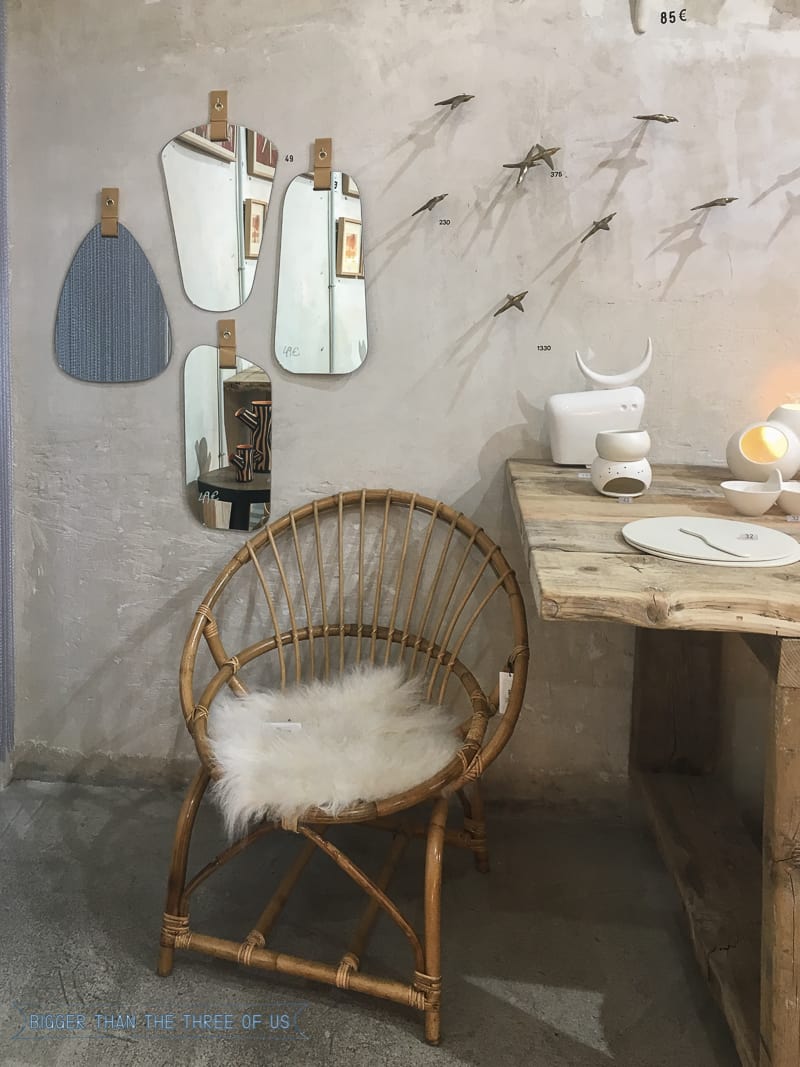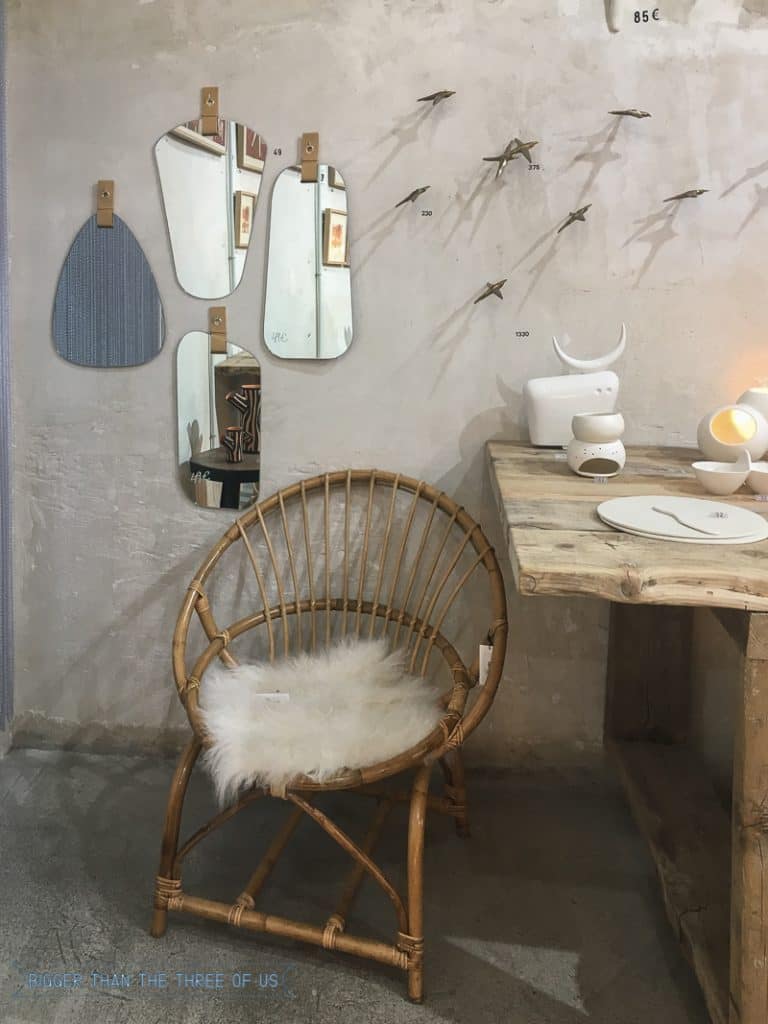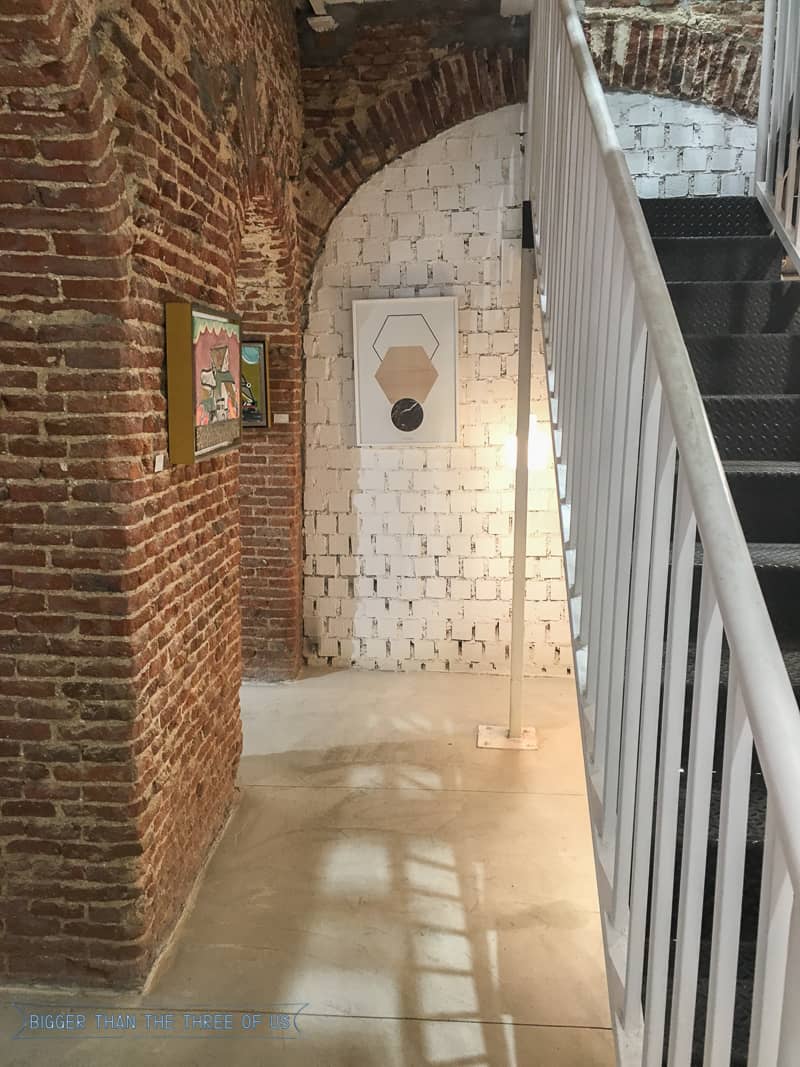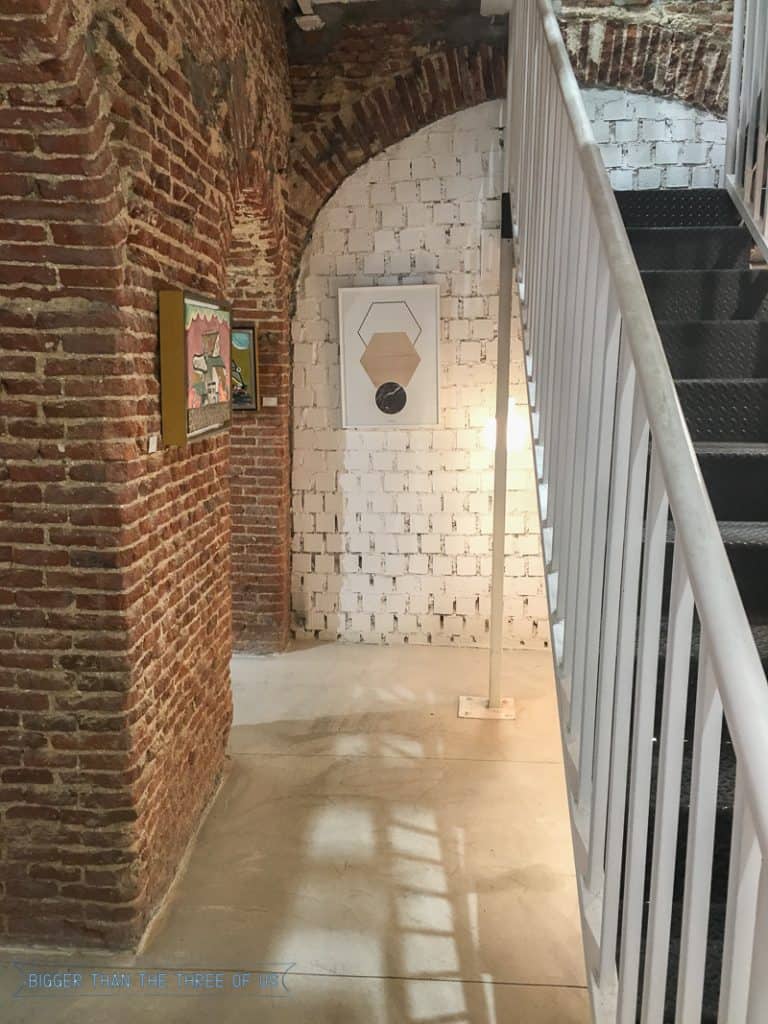 We got a good night's sleep and felt much better on Sunday.
On Sunday, we headed to El Rastro Flea Market. Ok, I'm not trying to be negative, but I'm not sure what the rave reviews on this place are about. It's basically wall-to-wall people outside and the "flea market" is mostly new junk. We walked through this pretty fast and quickly determined that this was not our thing. There were a few booths that had older, unique antiques but not enough to venture out to the madness of all the people (in my opinion).
We walked around for awhile and got coffee and snacks.
Then, we showed up for our tapas tour. We booked a tour through Spanish Tapas Madrid and it was great! Seriously, do this tour. And if you have kiddos, book the kid's tour. We all loved it.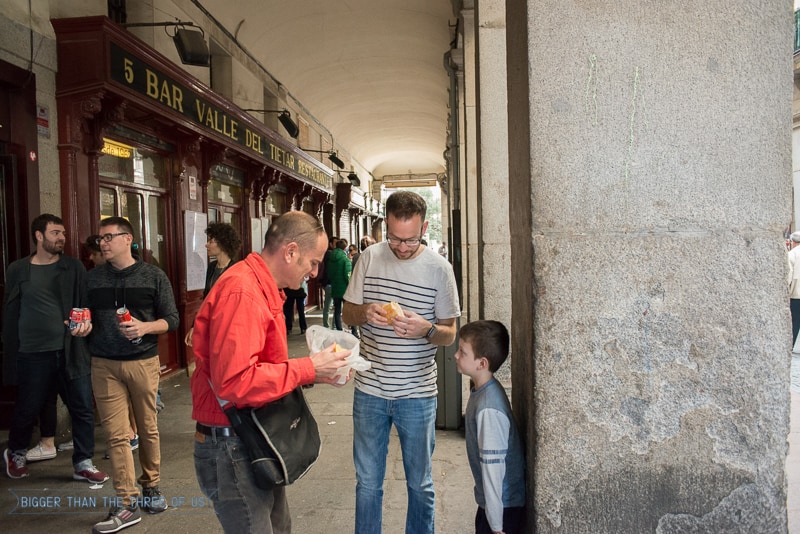 I believe we stopped at four restaurants and an ice cream shop.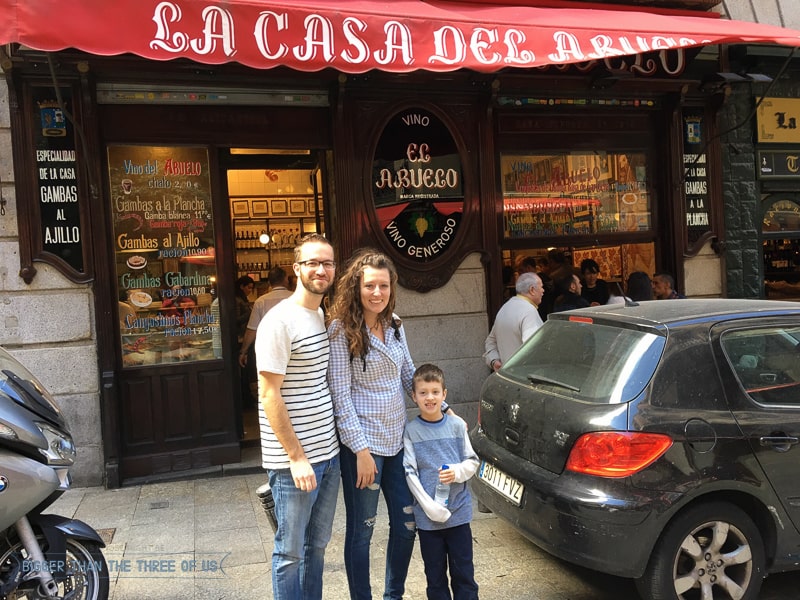 We learned about jamon (ham) and how it's cured. At that stop, we had a tasting tray and wine. Greyson was a bit grossed out by the hanging pig legs everywhere, but it was definitely an experience.
The next stop was the place to go for shrimp. It was packed with locals and only had standing tables. Greyson seriously ate a full meal on garlic, olive oil shrimp.
It was definitely a highlight of our trip.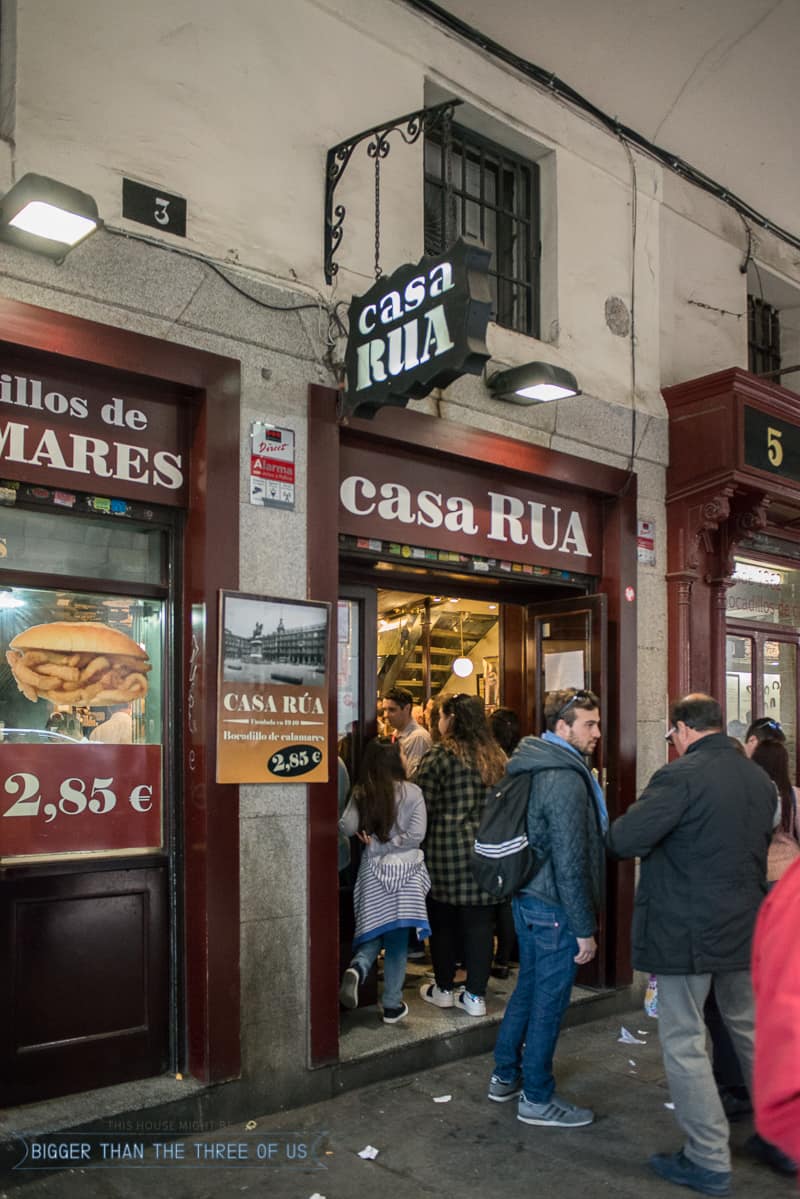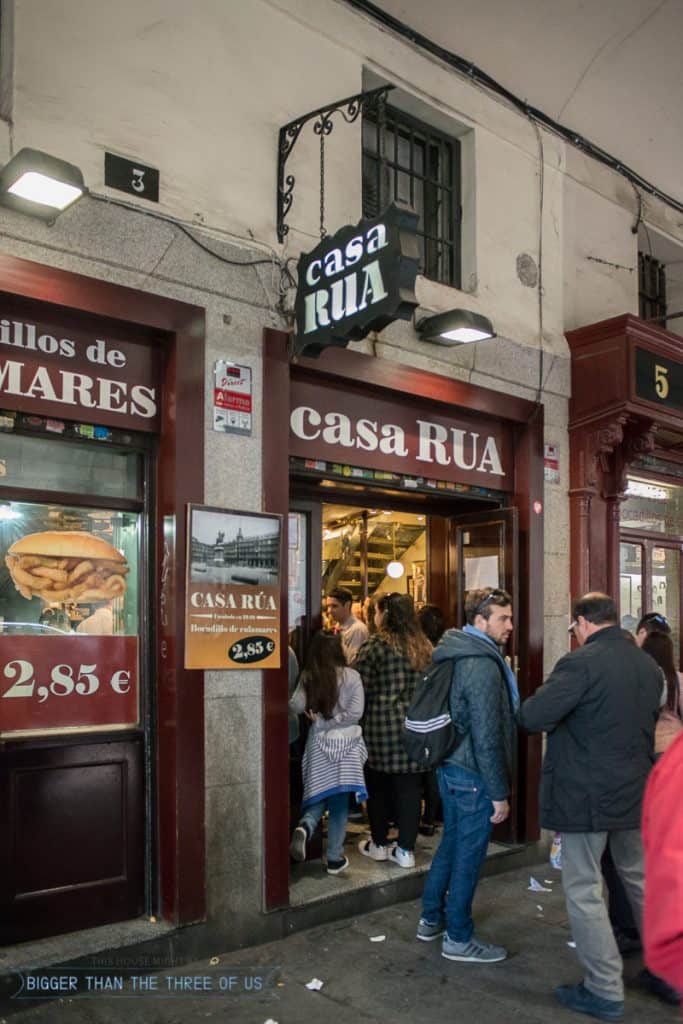 And, not only did we try lots of good food, we learned more about the tapas tradition as well as learned about landmarks from walking Madrid with our guide.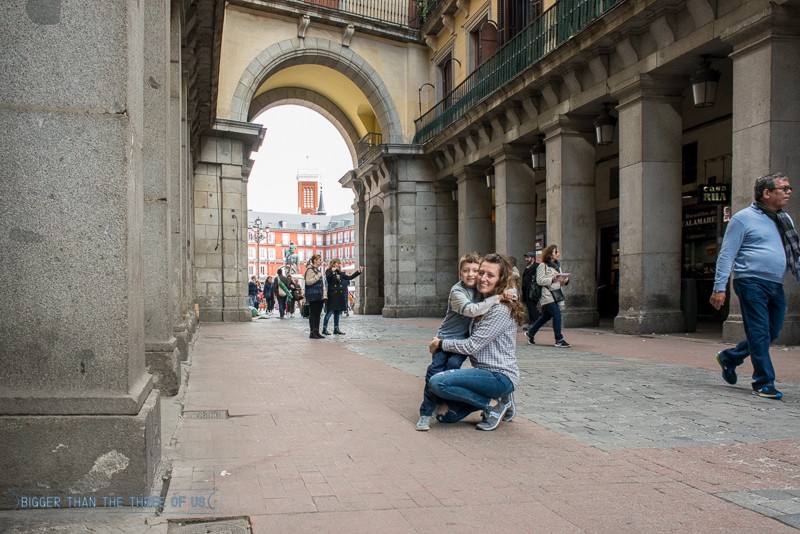 We went back to the hotel and rested after our tour because we knew we had a big night in front of us.
Before we left the states, we bought tickets to see a Real Madrid futbol game. It was an expensive game but we wanted to experience the culture of what futbol means in Spain.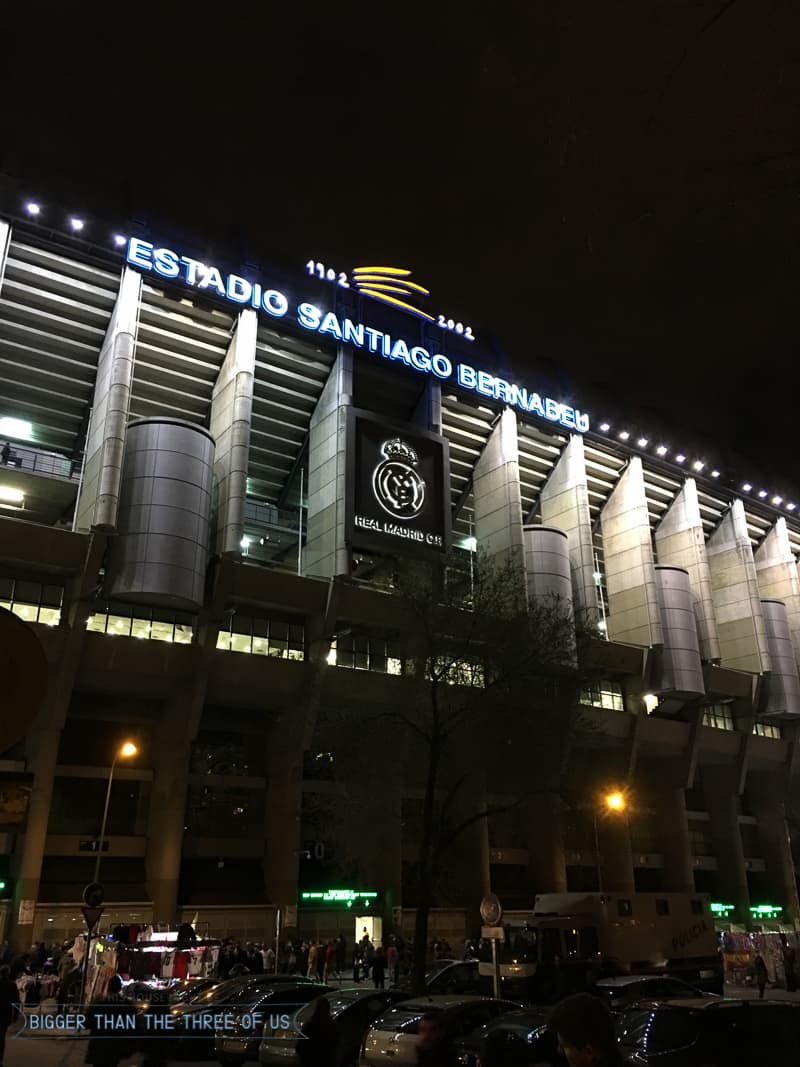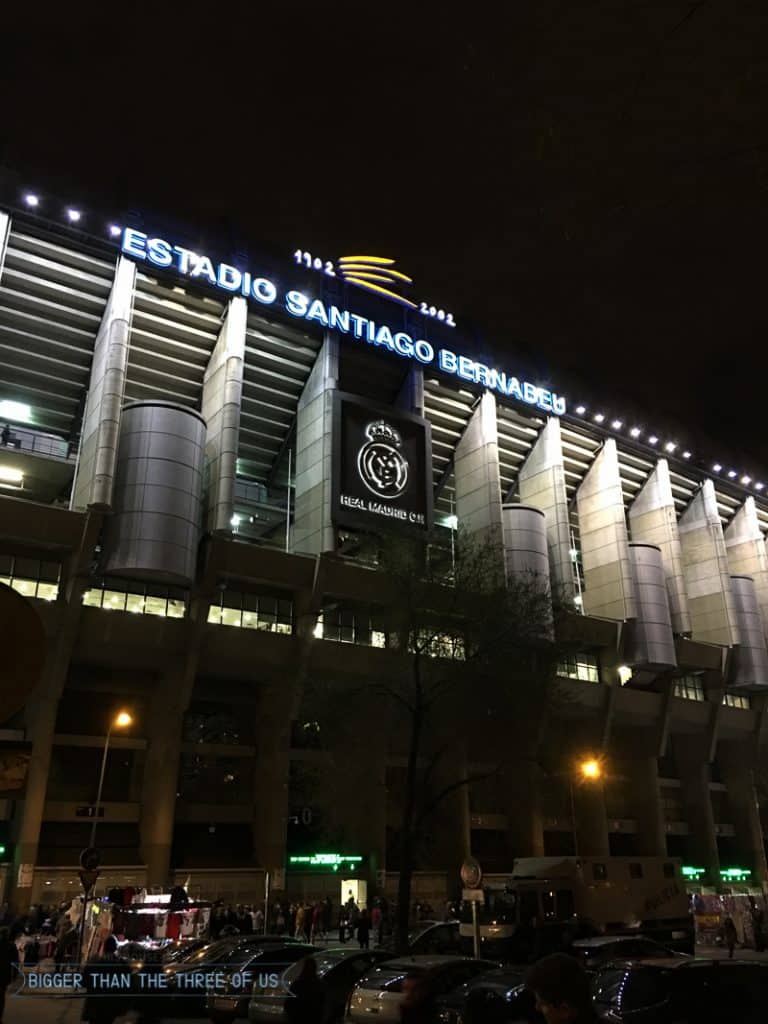 Throughout the city, you see kids playing futbol (or as we Americans, say soccer) everywhere.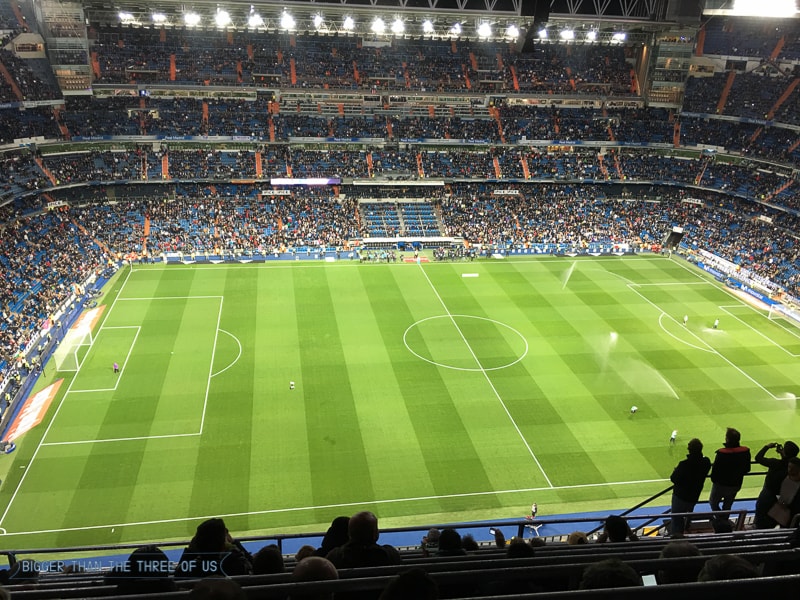 The game was fun and it was definitely neat to see the differences in culture and how we watch and cheer at organized games. You know, I'm a huge fan of the Chiefs who boast the loudest cheering fans in the world, so that part of it didn't measure up at all for me. But, the culture of the game and what it means to Spain was cool to see.
The following day, we hit up a few parks.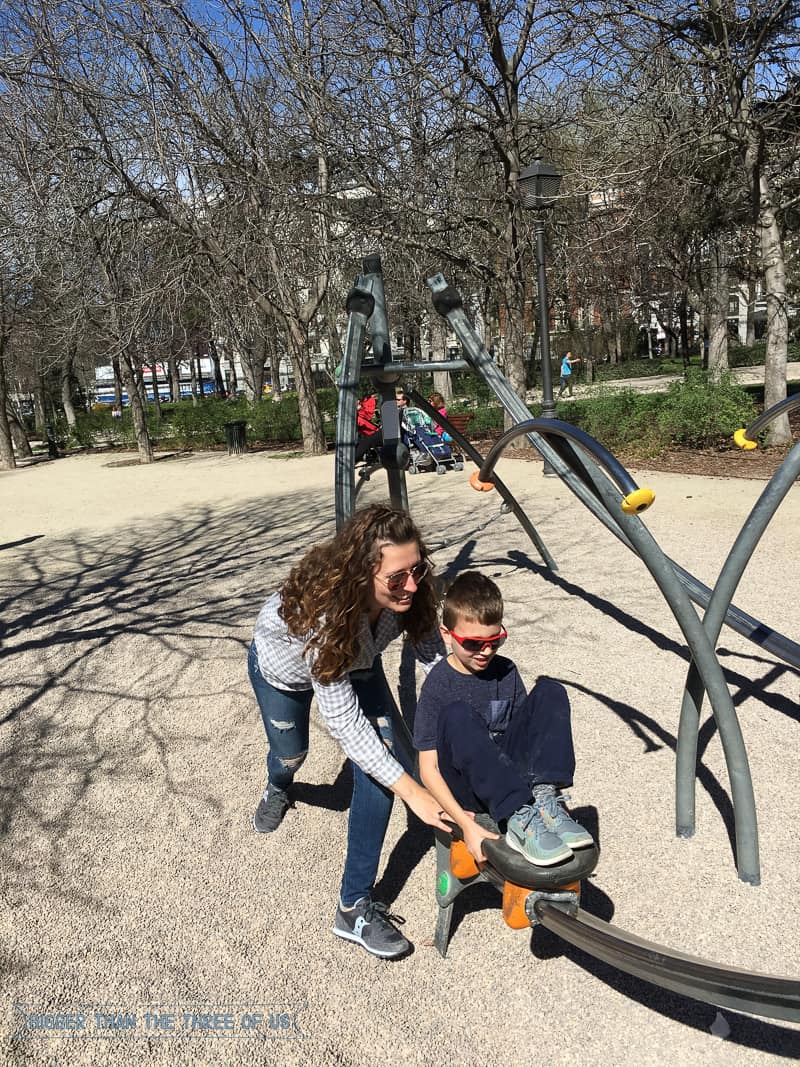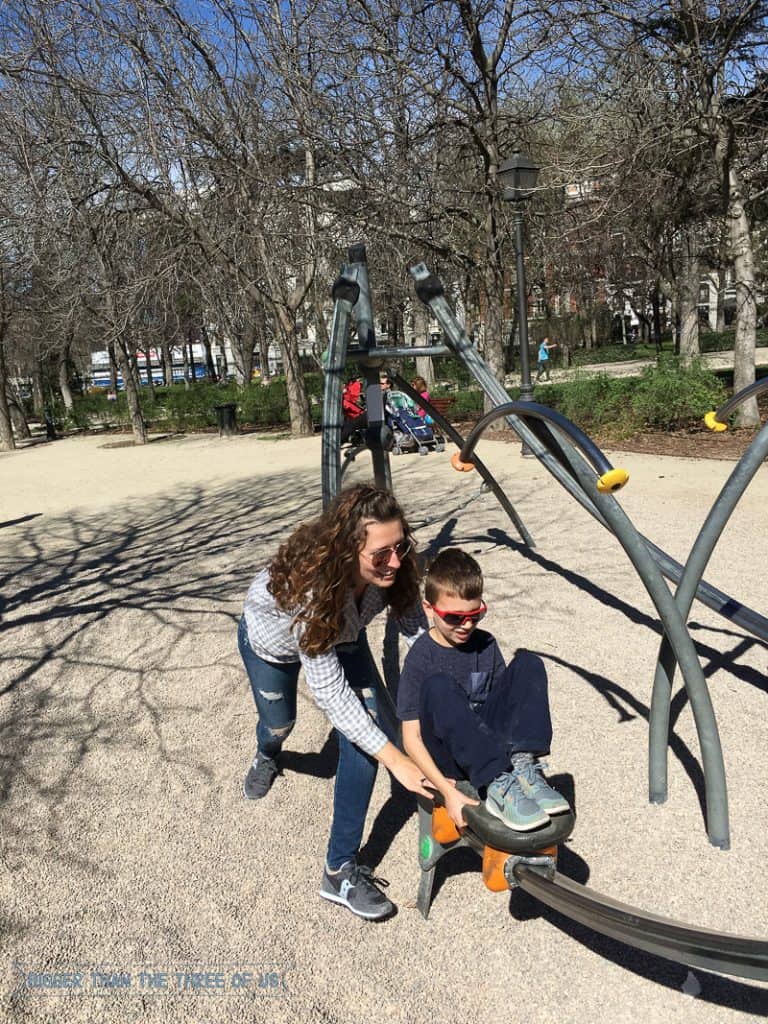 We'd definitely recommend going to Estanque Grande del Buen Retiro park. Plan to stay for a few hours. There are multiple playgrounds, pretty manicured spots, walking trails, a pond with rowboats and a crystal palace.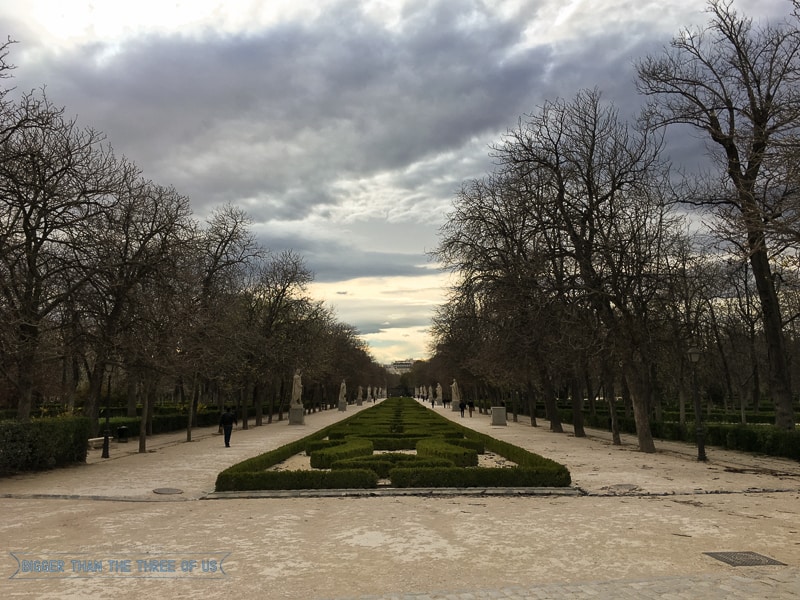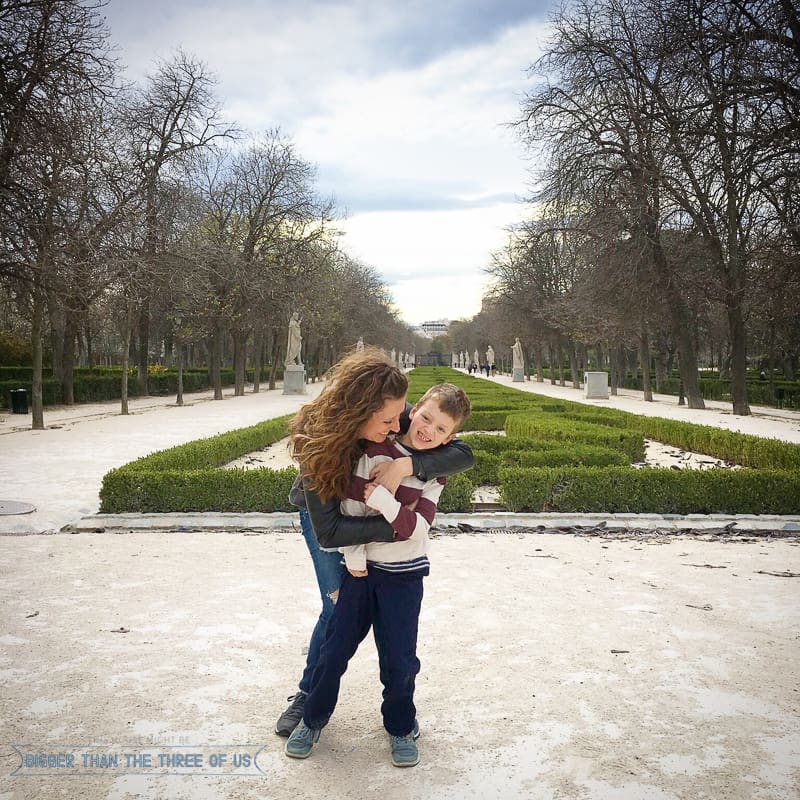 We went back here twice as it was just gorgeous. It's a great thing to do with kids but also, if you are traveling just as adults... I'd recommend it.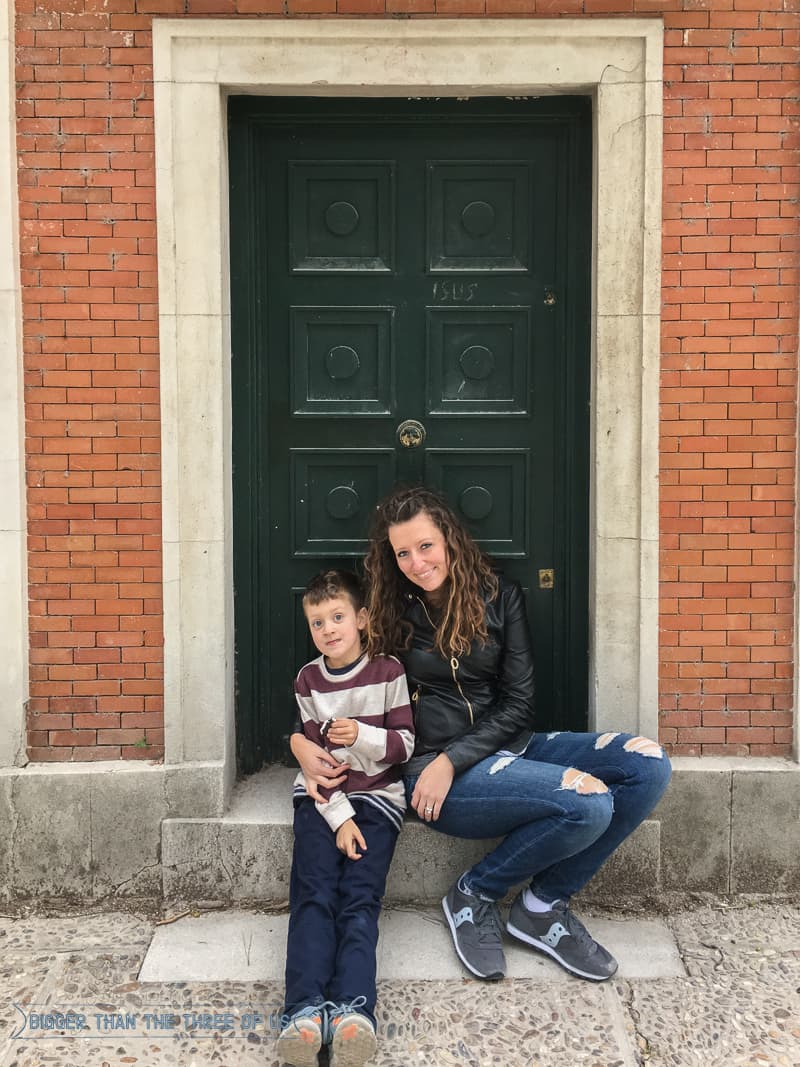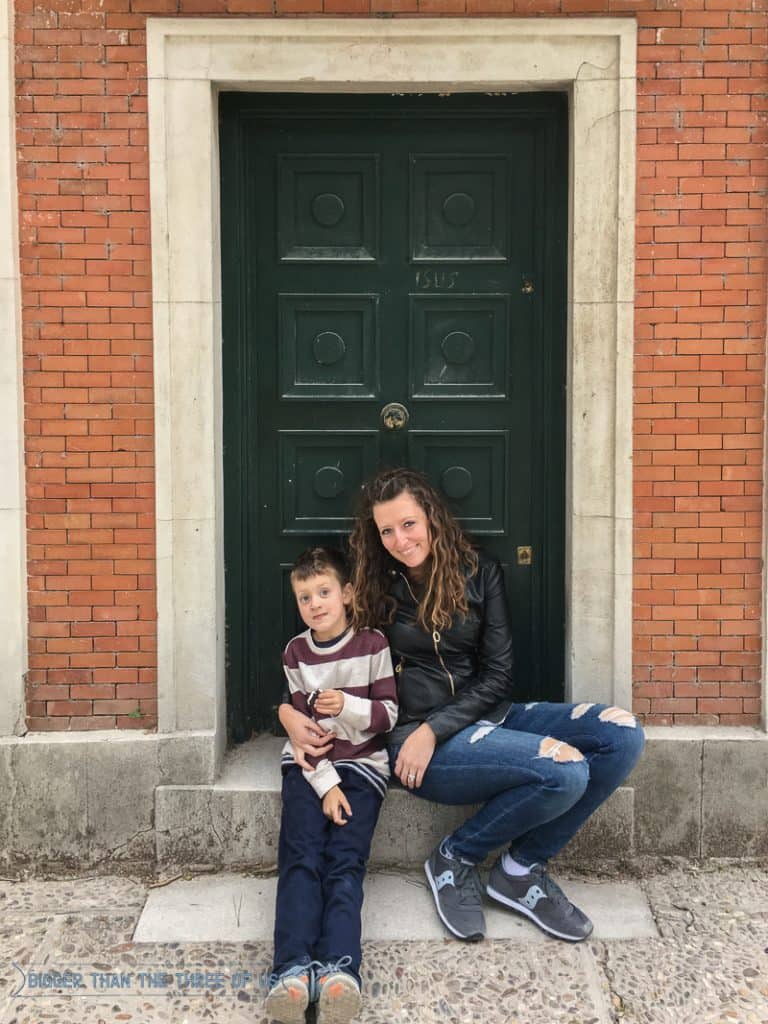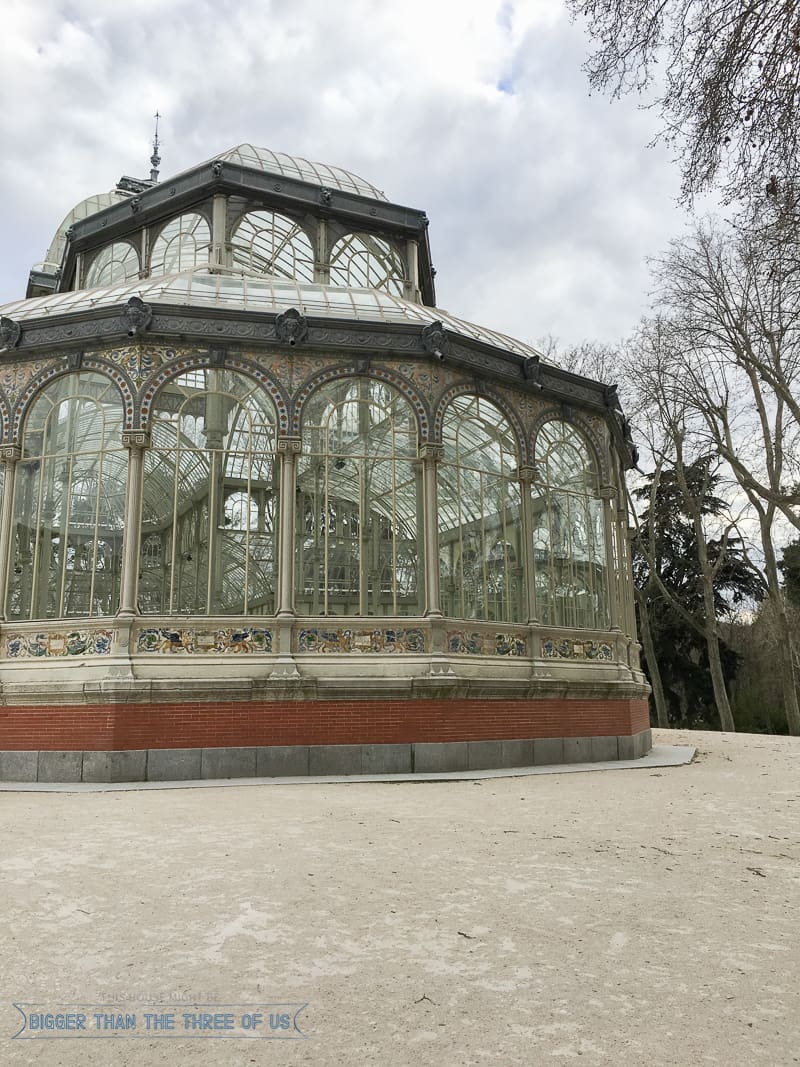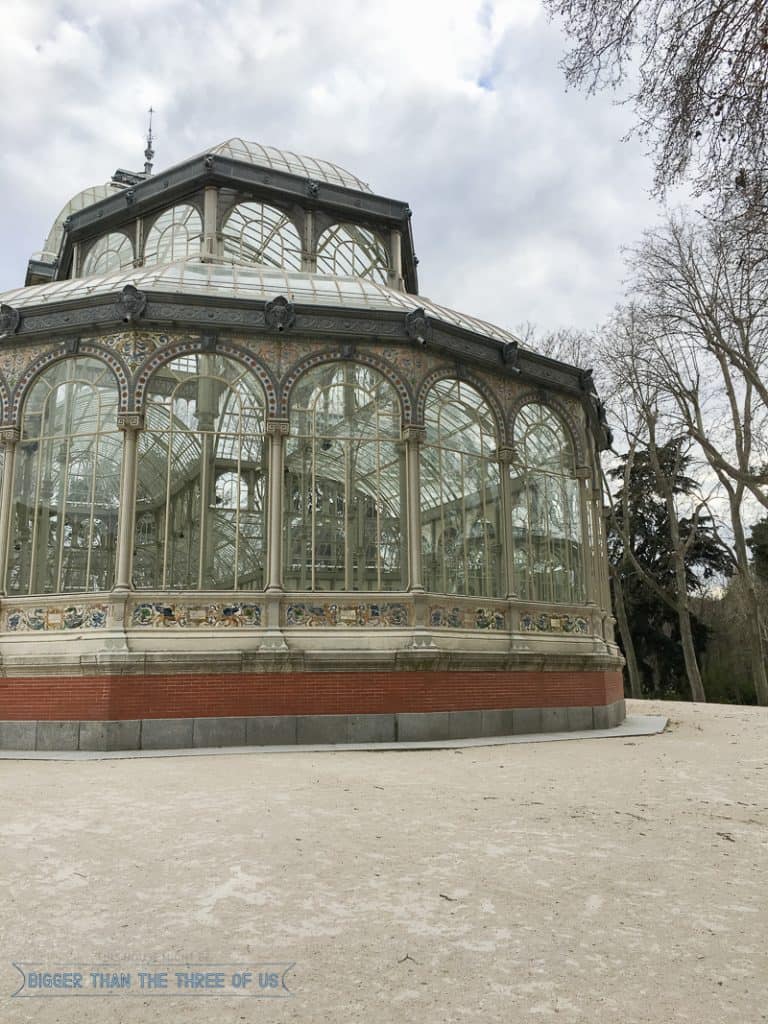 You can go inside the glass building and listen to music that was composed for the building. It's so pretty to listen.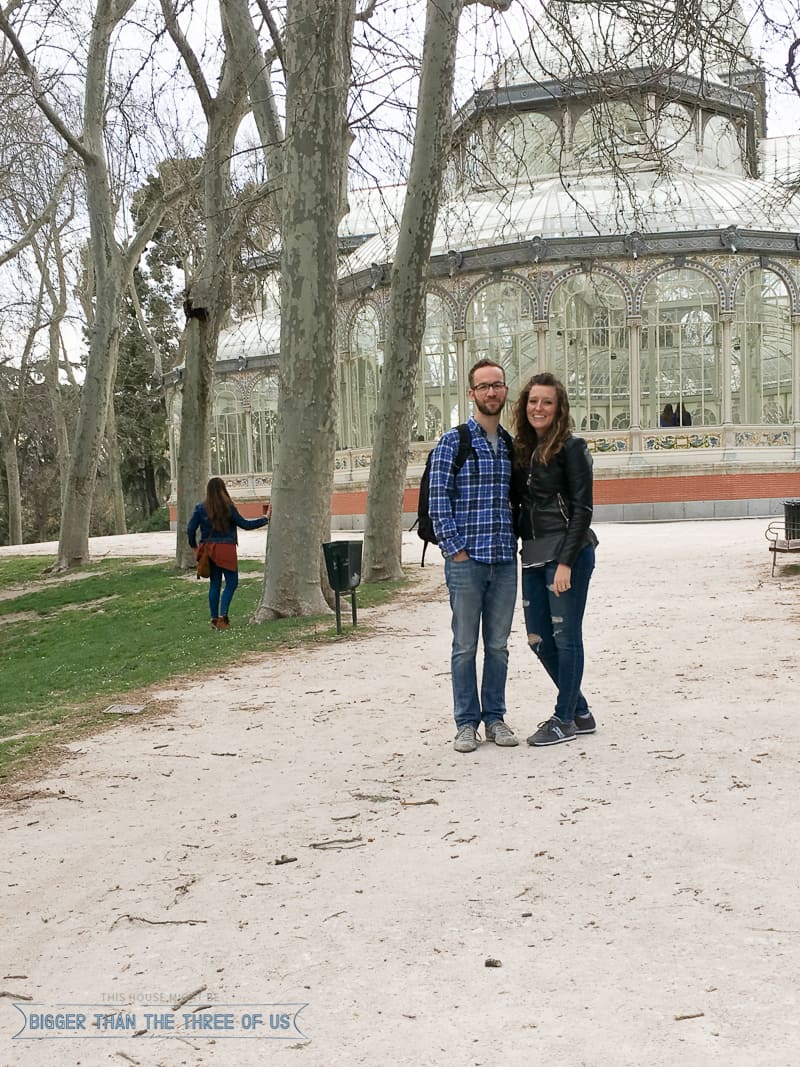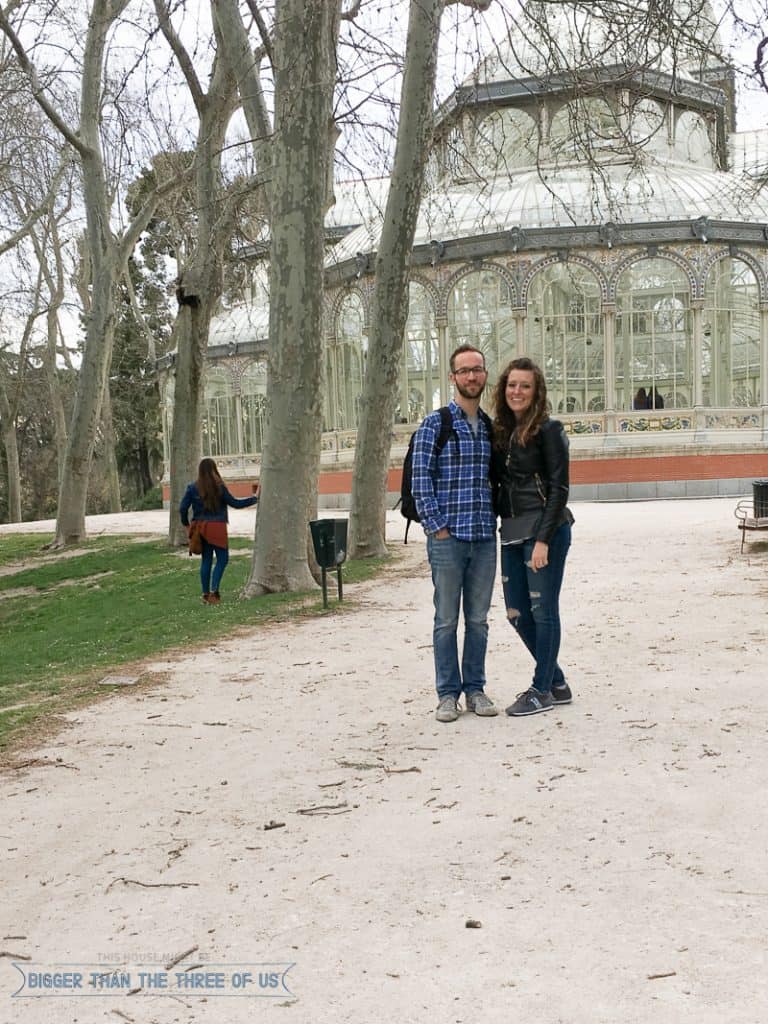 We also went to Templo de Debod. It has an interesting story to it, and boasts a lookout point over the city as well as a park right next to it. I wouldn't plan my day around this but it's definitely something to see/do.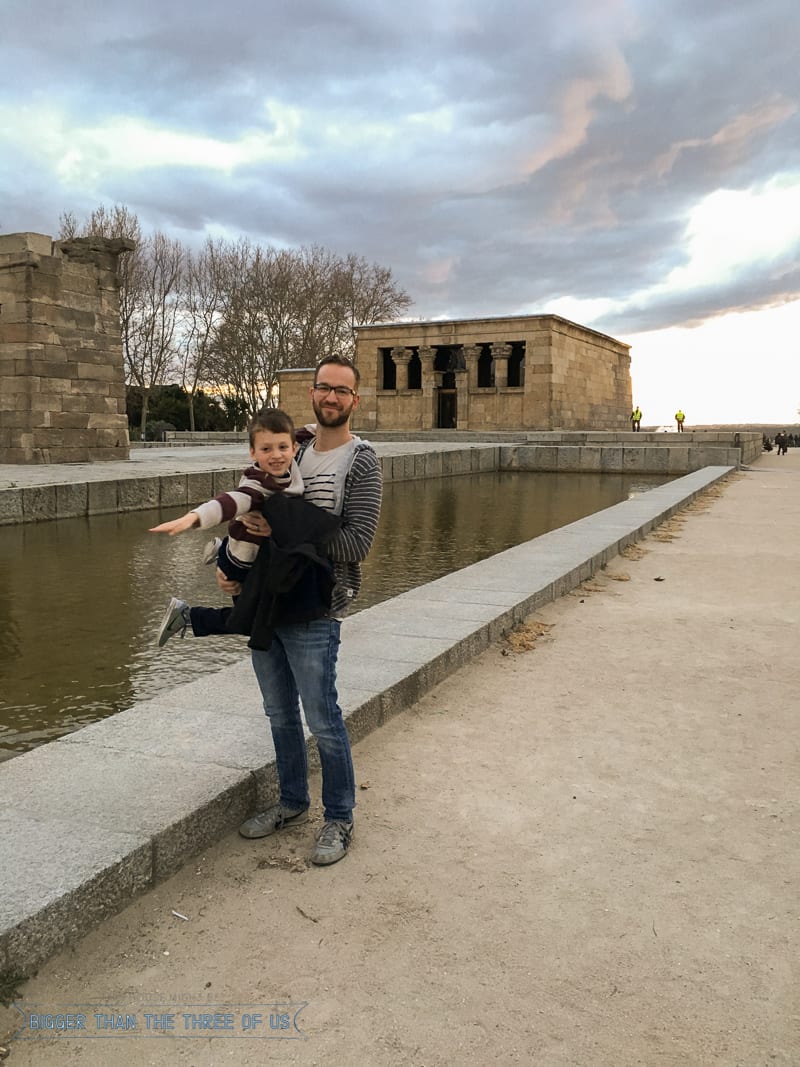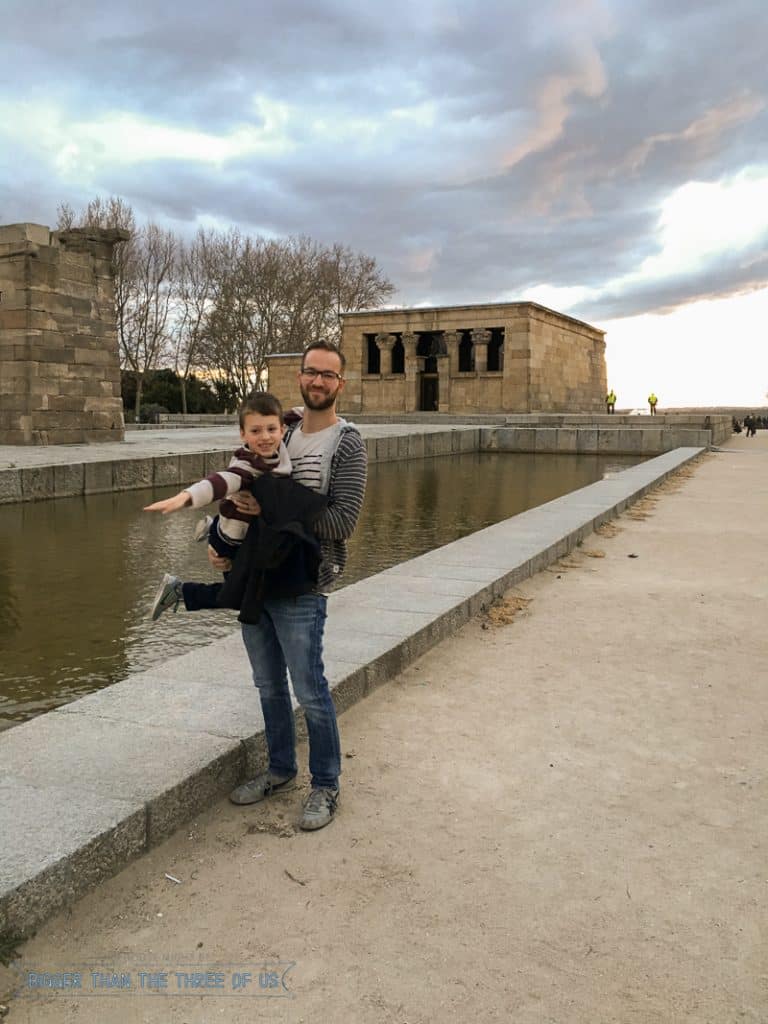 Probably the biggest hit of Madrid behind the Tapas tour was the Madrid Rio park. Definitely add this to your list of things to do and plan on staying a good half day, at least. It used to be an old highway that was converted to walking, bike, and roller skating trails. There are multiple amazing playgrounds, a skate park, fountains to play in and more.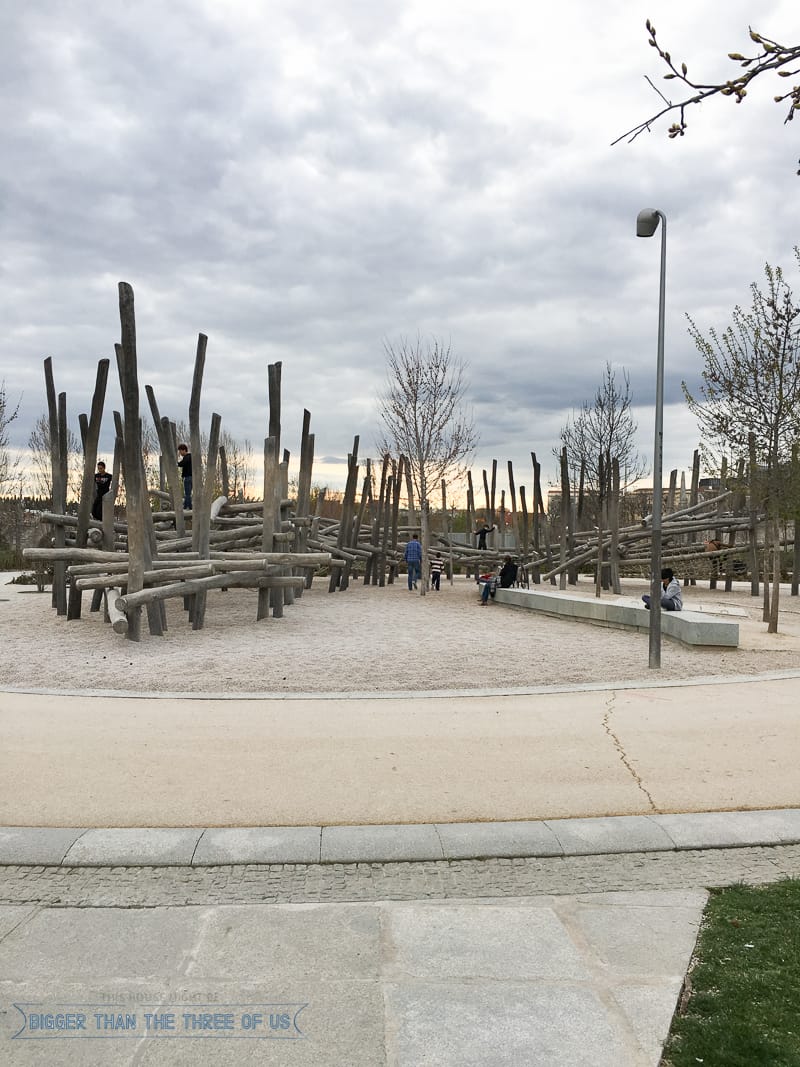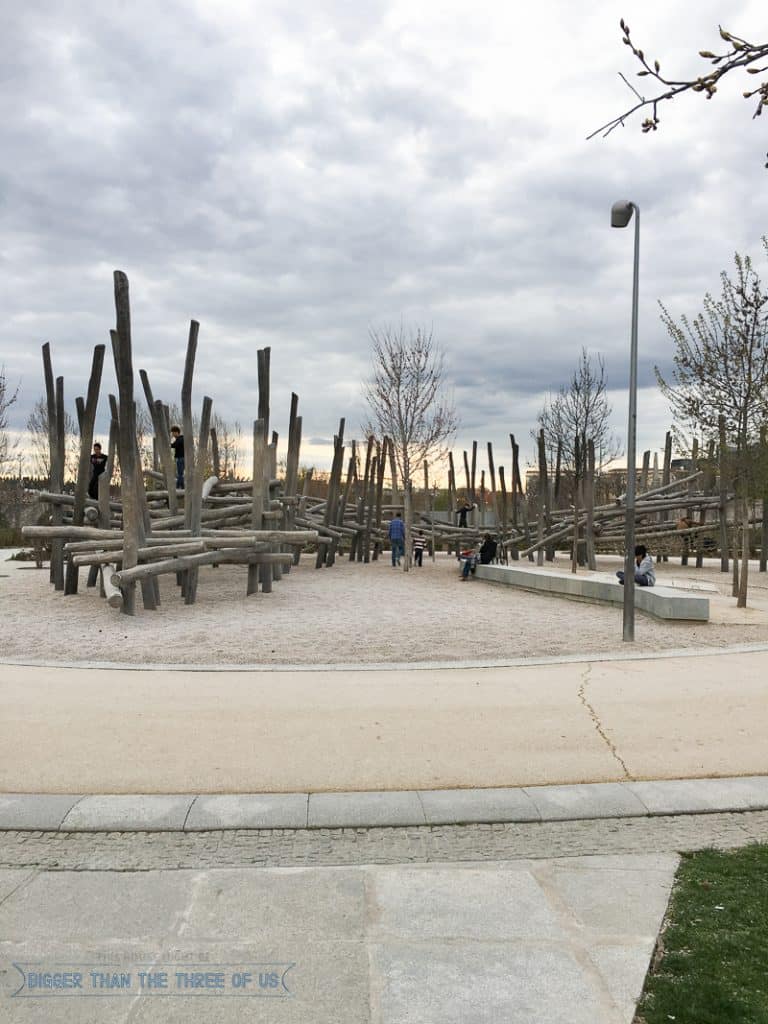 We went twice on our trip because it was just amazing. Local kids were doing acrobatics and free running all over these logs. Like running over the top ones and doing flips off of them. It was really amazing to watch.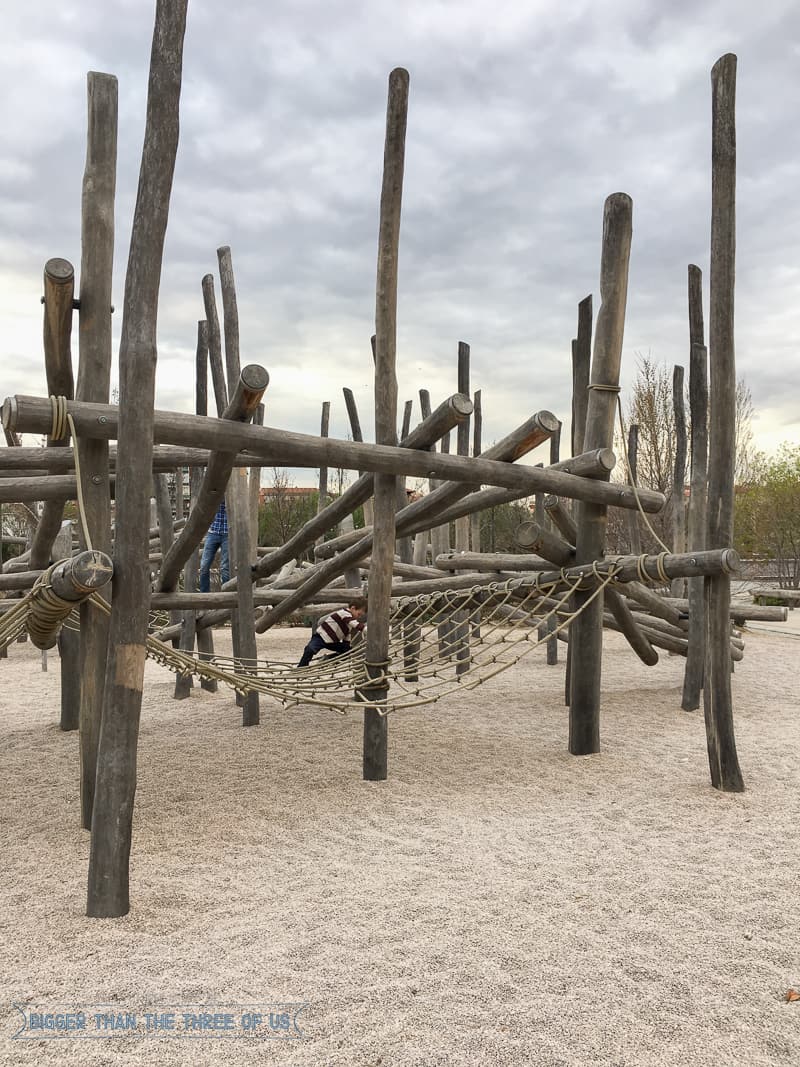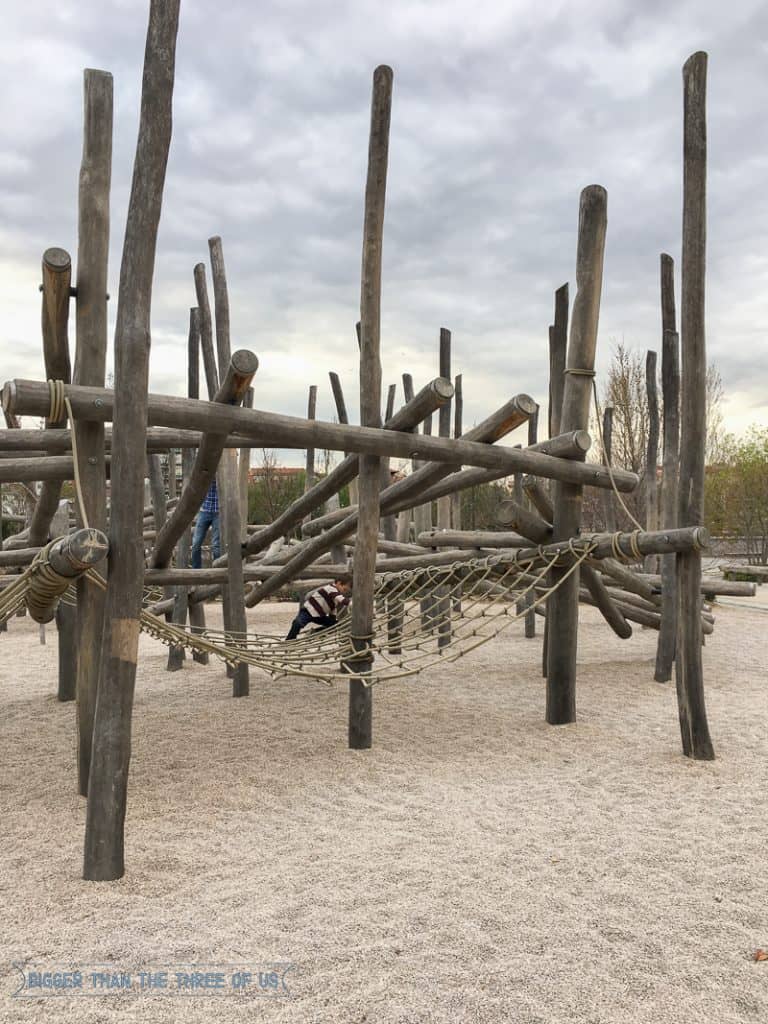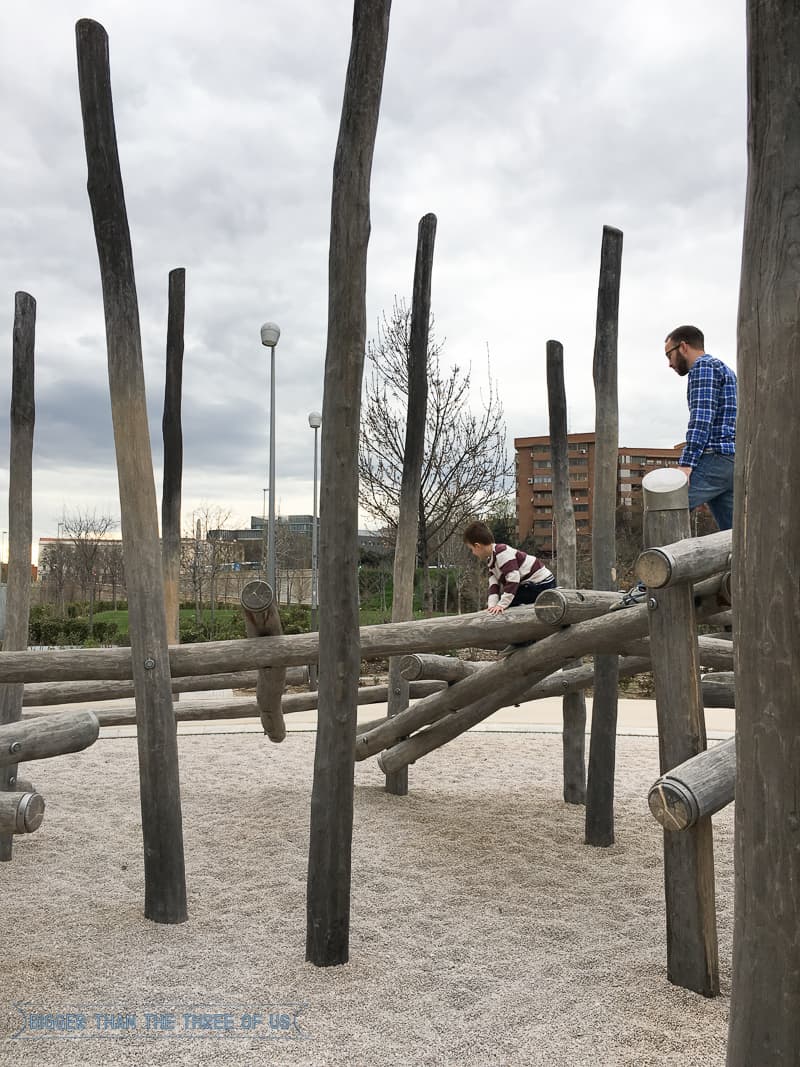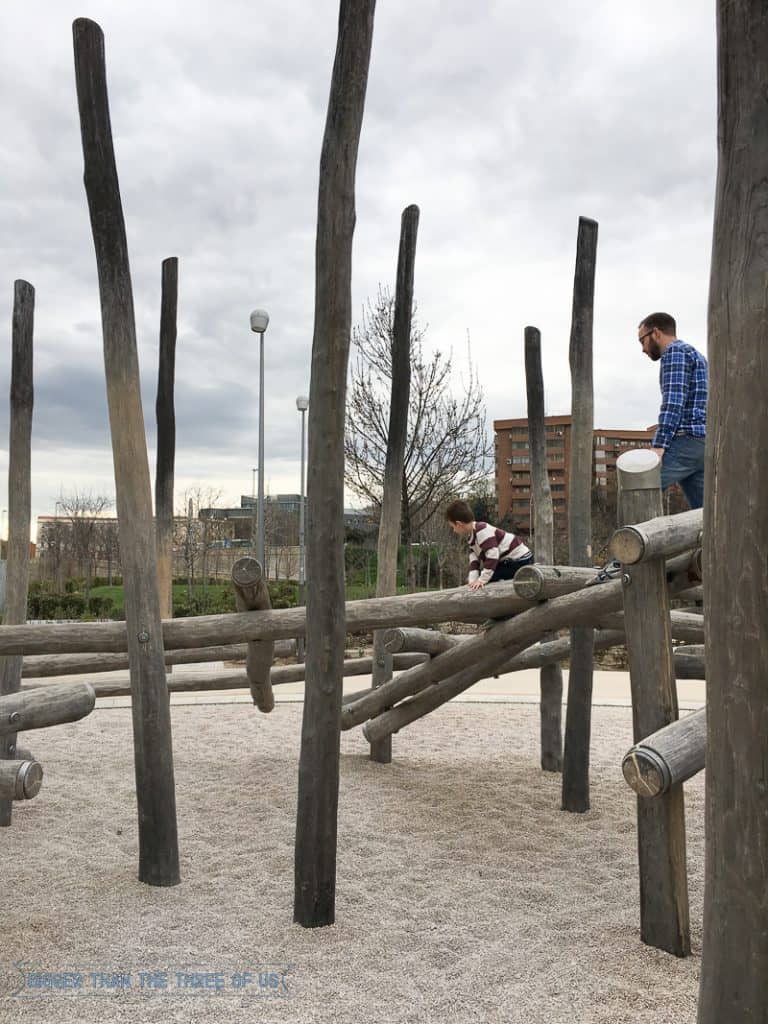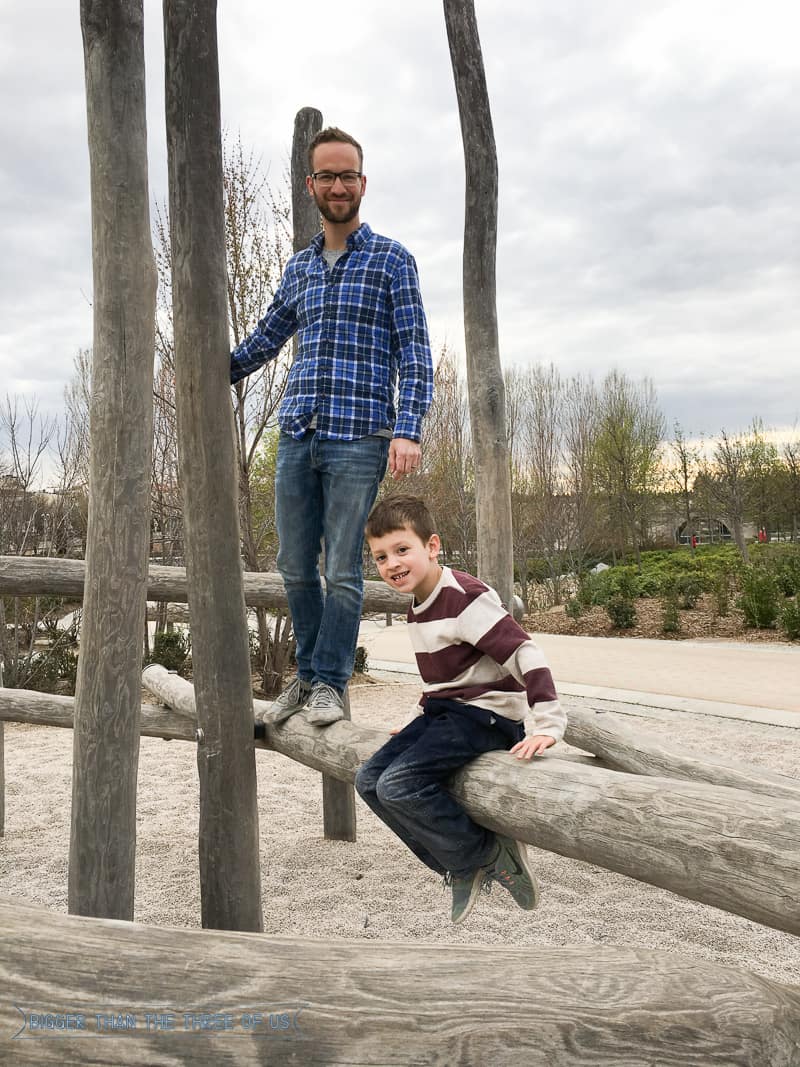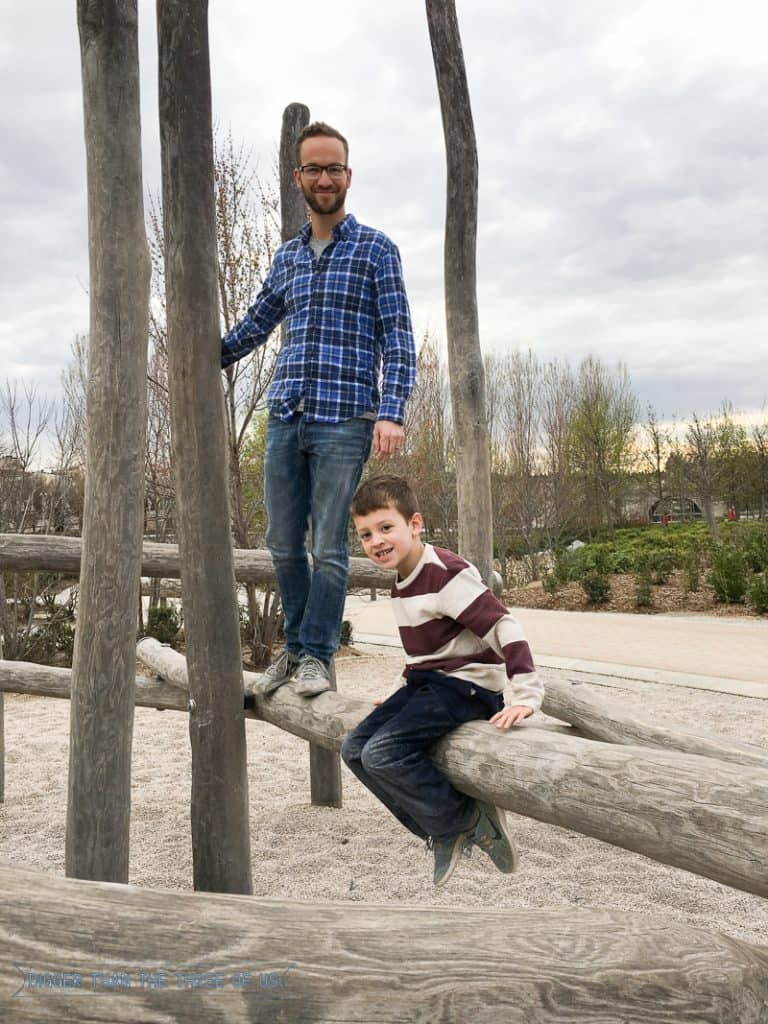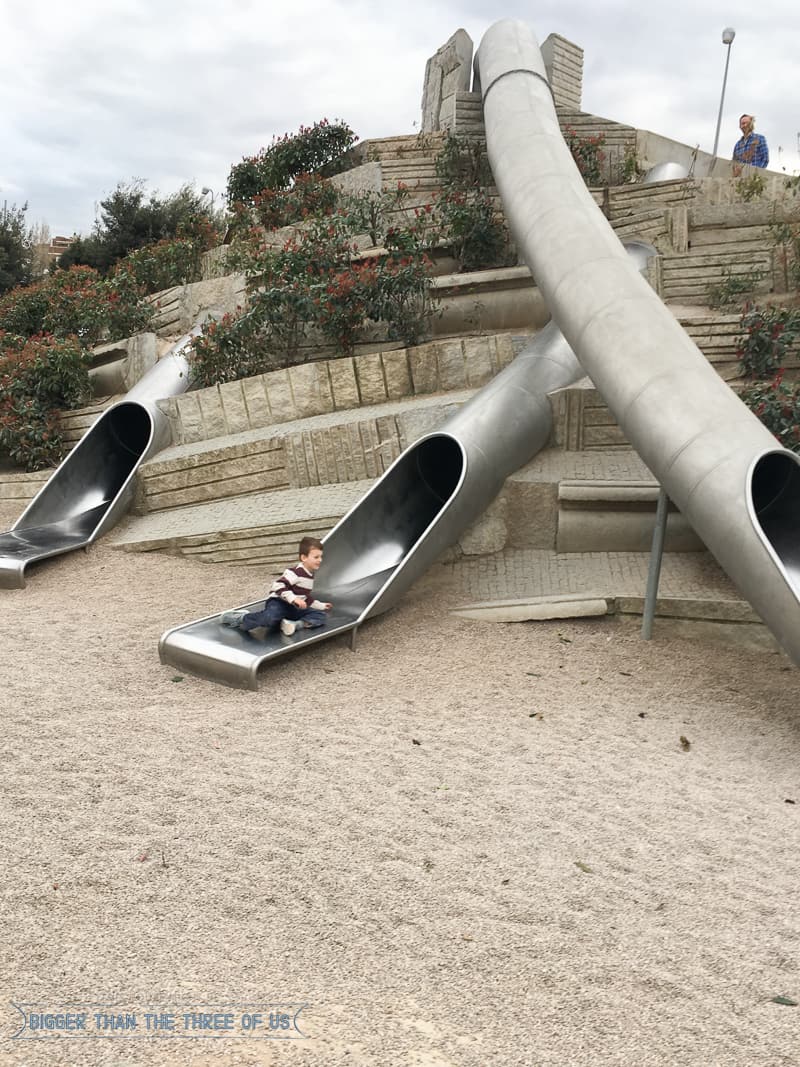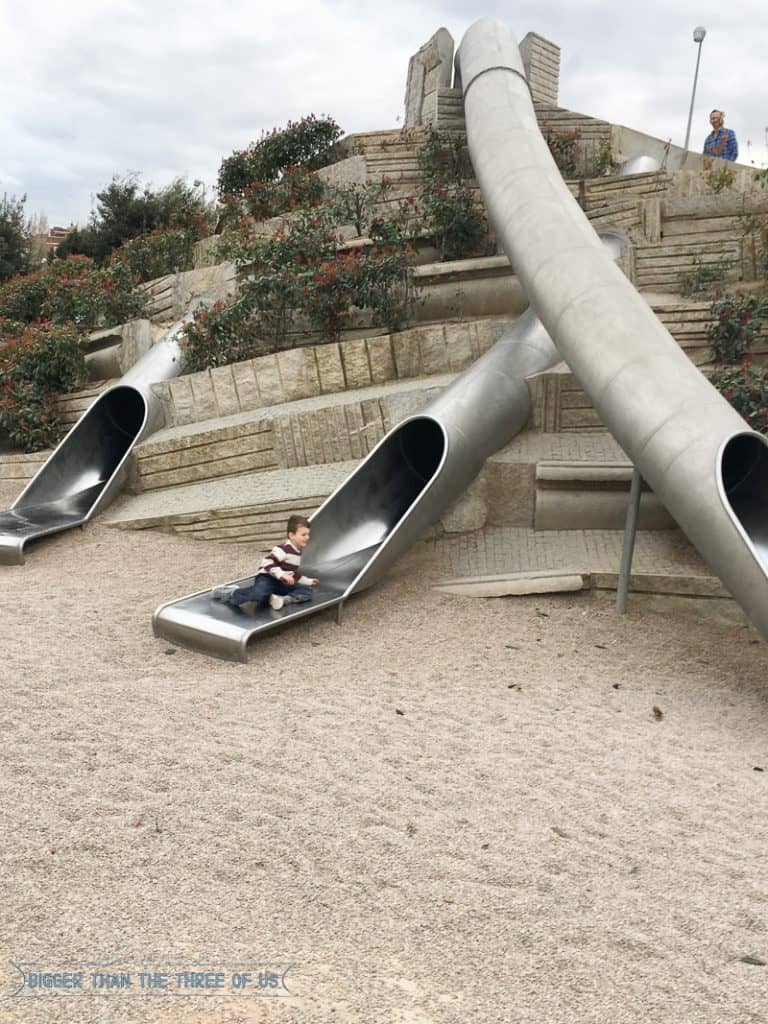 If we would have had more time, we would have rented scooters or bikes and started at one end and went to the other to do it all. It was a great family adventure.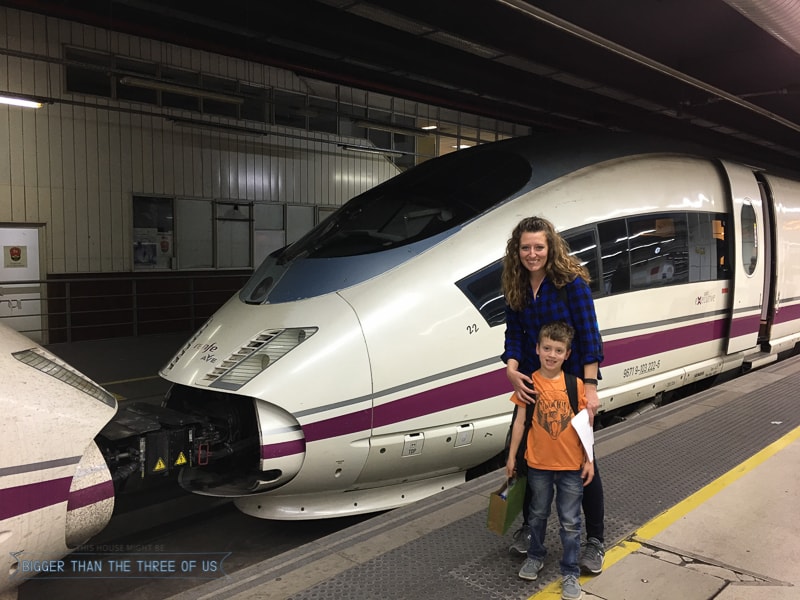 Recommendations:
Tinto de Verano is what locals drink instead of Sangria. It's basically red wine and lemon Fanta. It's so good!! Seriously, I'm replicating that asap!
If you are trying to keep your kids on an early bedtime then you are going to have a hard time finding good food. Tapas are popular in the afternoon and then most restaurants don't open for dinner until, at least, 7.
We ate at La Pescaderia around 6pm and snagged a patio table. They were able to accommodate dinner then but we were the only one's actually eating a dinner. I'd definitely recommend the croquettes there. They were amazing! Actually, I recommend trying croquettes everywhere. They were very good everywhere we tried them in Madrid.
Cafe de la Luz was a quaint cafe that we had brunch at. They had menus available in english which was good and the light brunch was good as well.
Mistura Ice Cream is in a good location around many of the sites. Definitely stop in if you are wanting a sweet treat.
Seriously though, you have to book the Tapas tour and go to Madrid Rio and El Retiro Park. Those were our top three things!
Next up, is our train trip to Barcelona. I'll be back soon with more details!
PIN TRAVELING TO MADRID WITH A KID FOR LATER: