The ultimate dream would be a travel blogger. That would be the life, right? I know we'd love it for sure. But, until that dream comes true, I'll just continue doing what I'm doing and sharing little snippets of our travels with you guys. =) We escaped to Tamarindo, Costa Rica two weeks ago. We had our heart set on going to Thailand this year, but the timing just didn't work out right. In April, I came across a fabulous deal on a Costa Rica trip (last minute deals on Expedia). We jumped at the chance to see a new country. Costa Rica had been on our horizon a few years back, but we ended up going to Italy. This time around though, it was a perfect fit.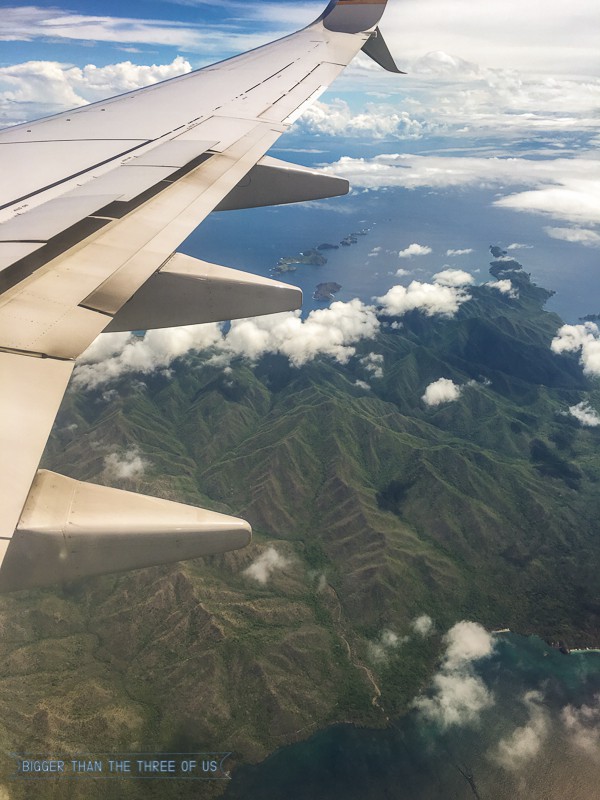 We flew to Liberia, Costa Rica. About an hour from landing, the views from the plane were just amazing. Once we landed, we rented a car and drove two hours to Tamarindo. Tamarindo is a surf town sandwiched in between other costal towns. We went during rainy season, so there weren't mobs of people everywhere. I don't think I could handle the area during the peak season (dry season), it would just be overrun with people. During rainy season though, it felt fine.
We stayed at Hotel Capitan Suizo. It was part of the package deal through Expedia but when I did some research it came up as one of the top rated boutique hotels on Trip Advisor.
Luke and I have traveled quite a bit and have stayed at some really nice places (because I'm an awesome deal finder). So, upon first view... I was a bit disappointed. It wasn't as pretty as I had expected, but I ended up really loving it. Throughout the trip, I think we came to realize that Costa Rica is a quite a bit like Hawaii but a ton different as well. It has all the fun things: the beaches, zip lines, surfing, etc. Yet, it's not as developed of an economy. So, things are definitely different. I definitely think there's things to love and enjoy about all places though - that's the beauty of different cultures.
After our two hour drive from the airport, we arrived at the hotel. You check in to the lobby which is an open air lobby.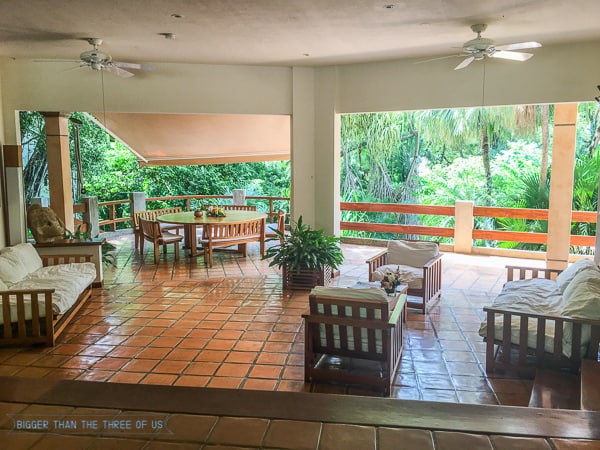 While checking in, their were monkeys swinging around right outside the lobby. That was pretty cool!
We walked just a short way down an open air walkway to our room.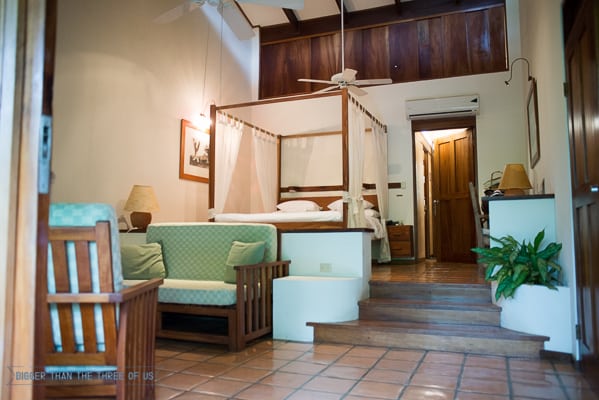 The room had a pretty little balcony that wasn't necessarily completely private but there was so much greenery around that it felt like it. You could see monkeys from the balcony.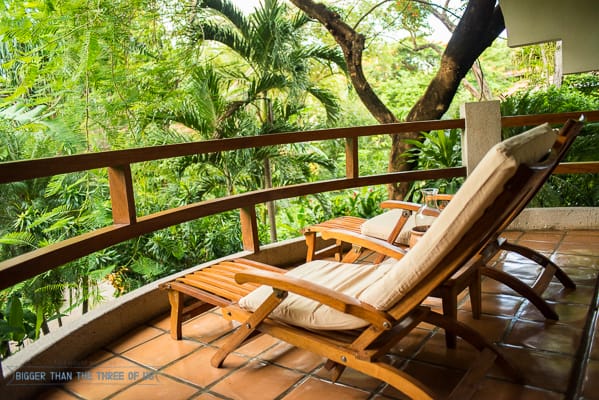 We hung out a few different times at the pool but we didn't just lounge there all day.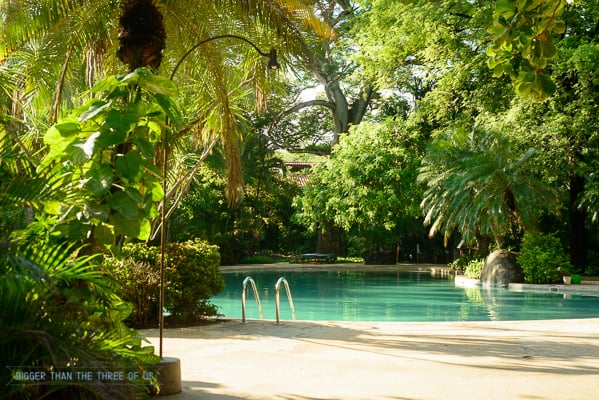 I saved my lounging for the beach.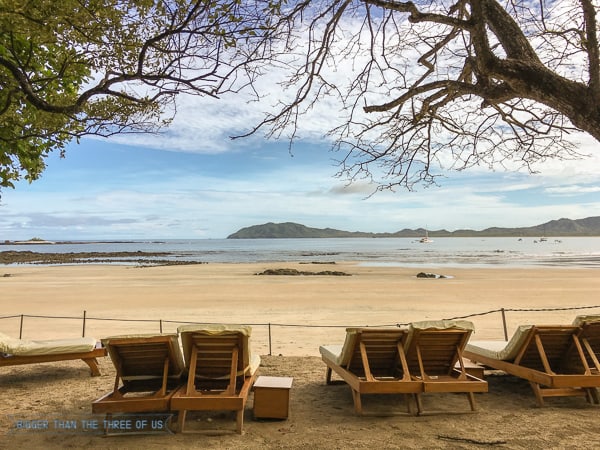 The beach was so interesting because the tide brought it all the way in to just below the chairs and quite a ways out. I've never seen the tide pull such a difference back and forth. In high tide, you could surf (which we did) right in front of the hotel. In low tide, you could walk 5-10 min to town down the beach. The location of the hotel was pretty great. It was on the end of the beach so it was out of the hustle and bustle of the rest of the beach yet it still offered what the other side of the beach offered.
The goal of the trip was just to hang out together and relax. I'm usually an over-planner but this time around, we had no agenda.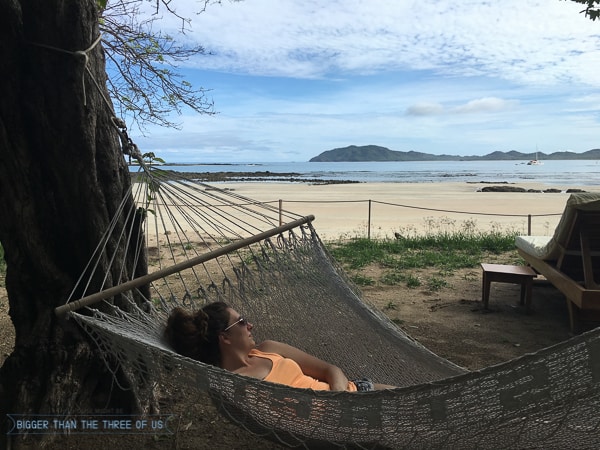 The first two days, we hung out by the beach. I think I ended up reading a book a day. The only break from books was to grab a drink or be startled by these guys: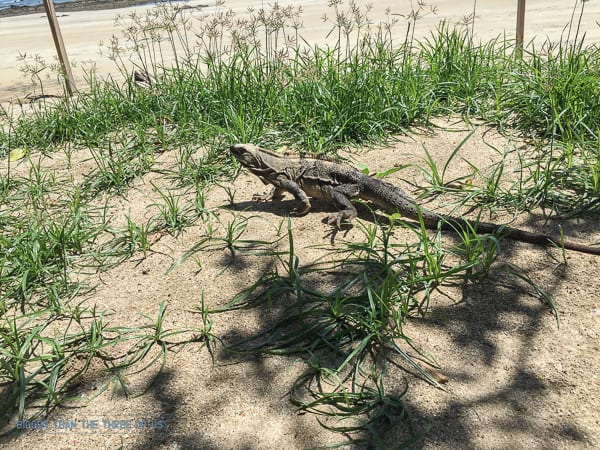 They walked right next to you. It freaked me out the first time I saw one, but after that, I kinda grew accustomed to them roaming.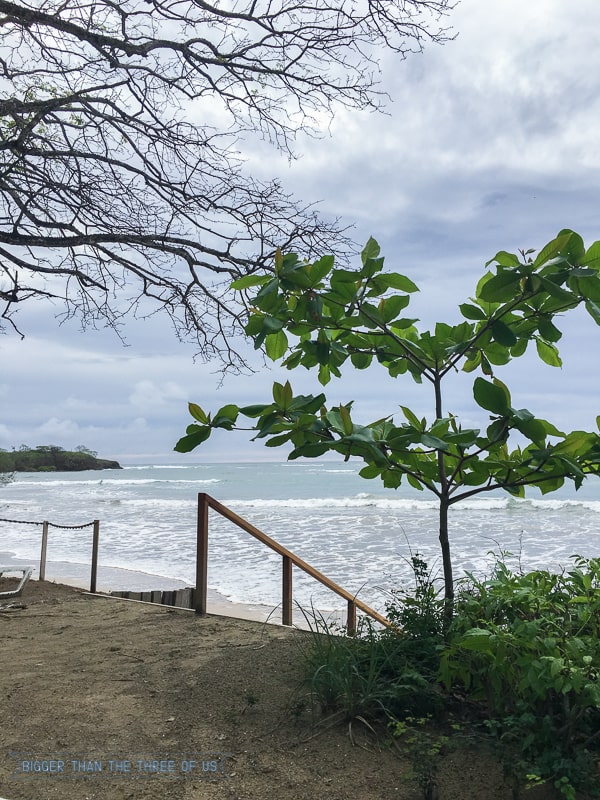 We threw in some surfing lessons early in the trip. Tamarindo is known for it's prime surfing location. The time we were there, they were having uncustomarily low breaks. It worked for us, but I think some people would have been disappointed with the waves. We've both surfed quite a few times and find it to be fun. Luke likes it more than me, but that's just because I can be a bit lazy. Later in the week, at high tide, we grabbed a board from our hotel and went on our own. It was so nice to not have to haul a board way down the beach. A huge perk of the hotel was it having boogie boards, surf boards, sea kayaks and more that were super inexpensive to rent. All you had to do was walk down five steps to get to the water.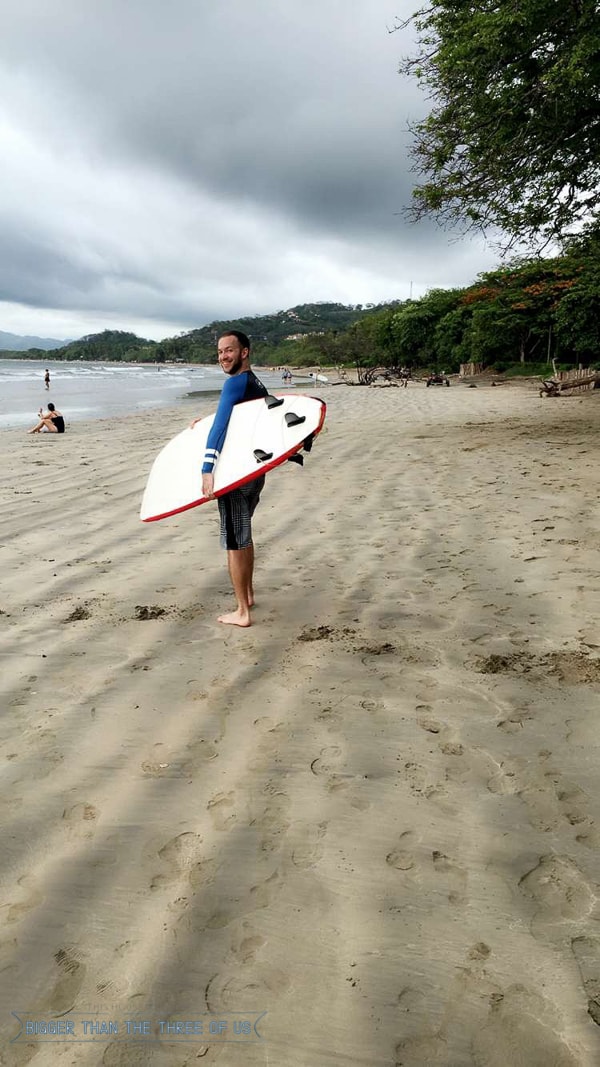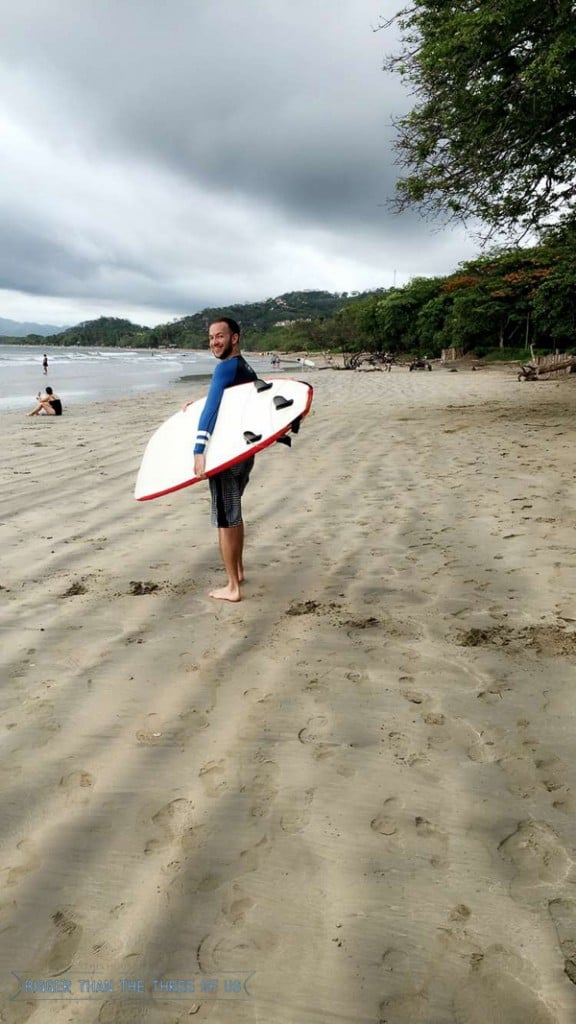 Doesn't he look so cute? Ha!
My form was pretty perfect here, so I had to show you.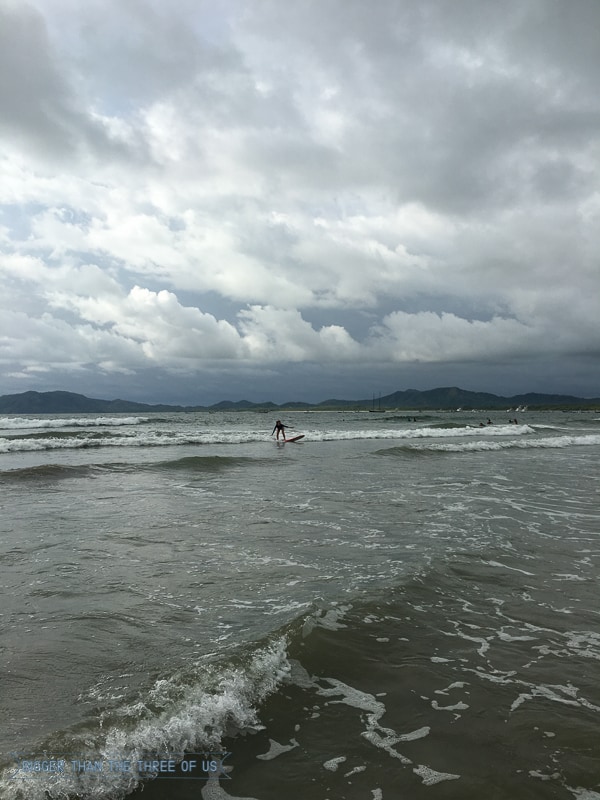 One morning, we took out the sea kayak to a small island. We've never rented a sea kayak before and it was a bit scary at first! Once we got the hang of it, and I realized we probably wouldn't tip... it got better.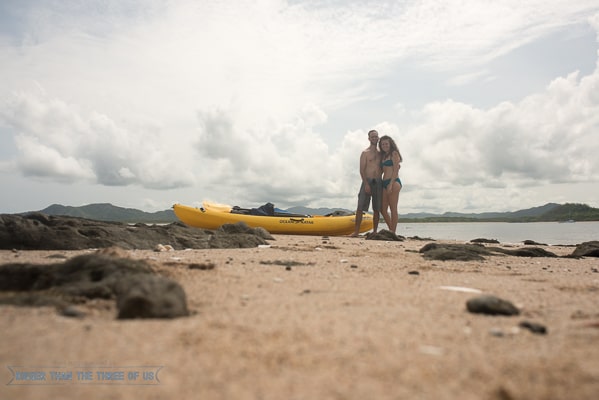 We had the island to ourselves most of the time. We docked the kayak and walked all around.
The hotel had warned us to wear appropriate shoes because there were lots of shells. I think that was an understatement. I had never seen so many shells before.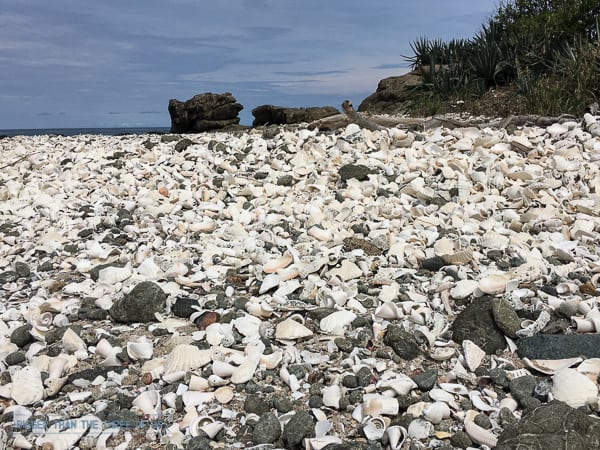 One side of the little island, was perfect for snorkeling. We didn't snorkel but we did watch the pretty colored fish swim around for a bit.
By the fourth day, I was bored. Can you believe it? I guess my tolerance for relaxing is about four days. =)
We decided to drive 2.5 hours to Rincon De La Vieja National Park. There's all sorts of things to do there: hiking trails to waterfalls, hiking to steam vents around the volcano, mud baths, water tubing, horseback riding, etc. I kinda had my heart set on hiking to a hidden waterfall so that's what we set out to do.
When we got there, the ranger told us that the better waterfall hike was about 4 hours round-trip. That's way more intense than anything I've done before. I'm so not a hiker, but I do like waterfalls that you don't have to share with people and that you can swim in. We prepped our gear and set off. We did the La Cangrejo Waterfall hike and it was pretty intense but the views were pretty! It was part rainforest which had monkeys overhead, part river crossings, part lava rock hiking and part agave forest (this was my favorite).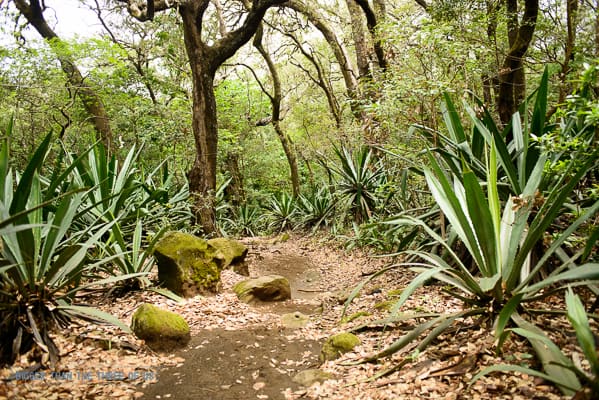 At the end, we were rewarded with a gorgeous waterfall.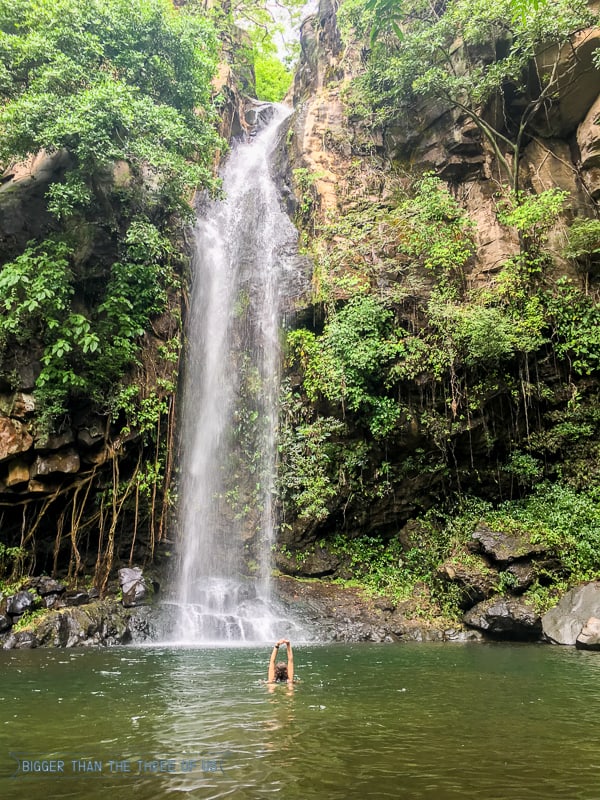 I jumped right in and swam.
I'd say the hike was well worth it.
Once we got back from the National park, we were exhausted. It was a full day! The next two days were full of more beach time, picture taking and eating.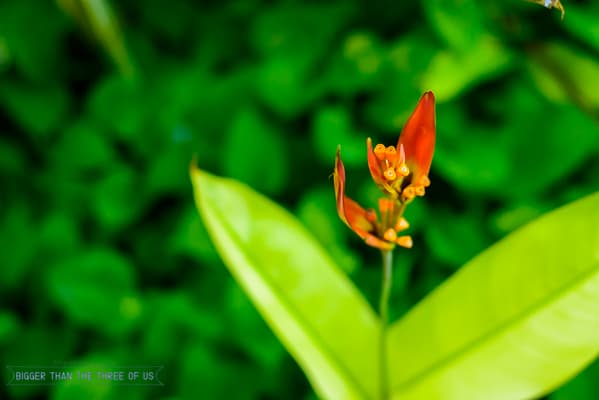 Overall, the restaurants in Tamarindo weren't amazing. Although, I did love some of the decor. Swings are definitely my favorite! =)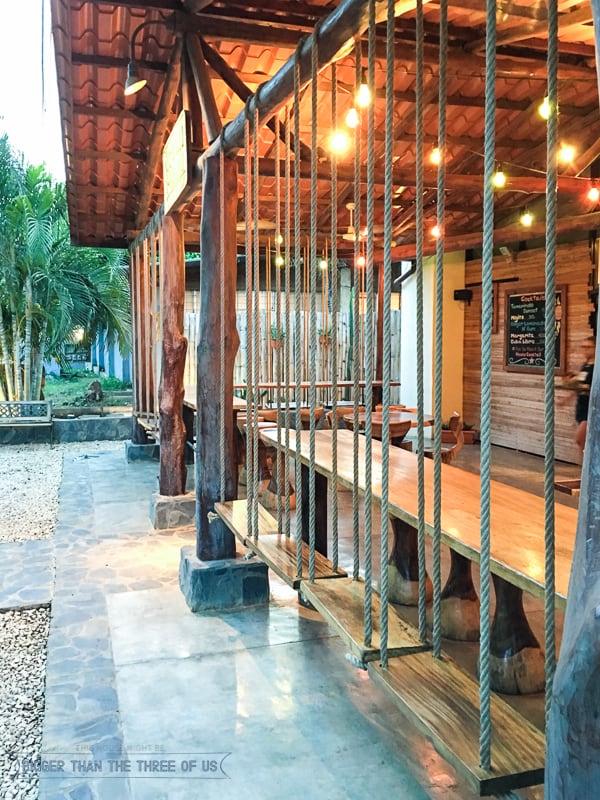 All in all, we had a great trip and plan to go back with Greyson. I'd like to rent a car again and go for two weeks and see the whole country. Maybe next year!