Do you guys remember last week or the week before, when I said that I found this table?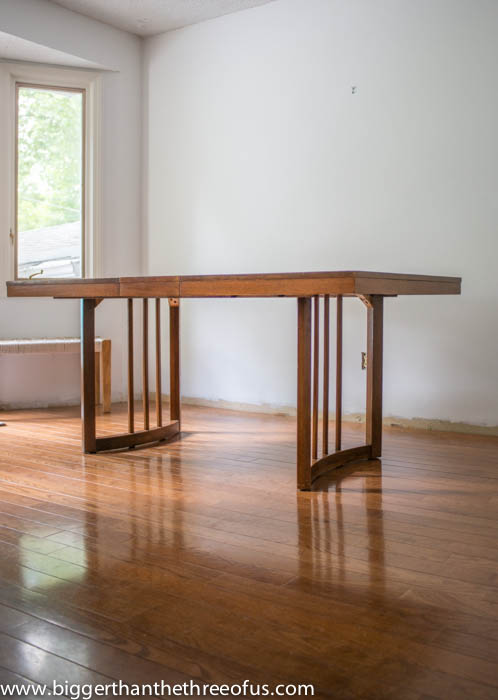 Luke and I were both happy with the table. I had been searching online for some mid-century chairs to go with it and had finally narrowed down our choices. Well, then I decided on a whim to pop in to Habitat for Humanity. Oh boy, did I score.
I posted this on Instagram: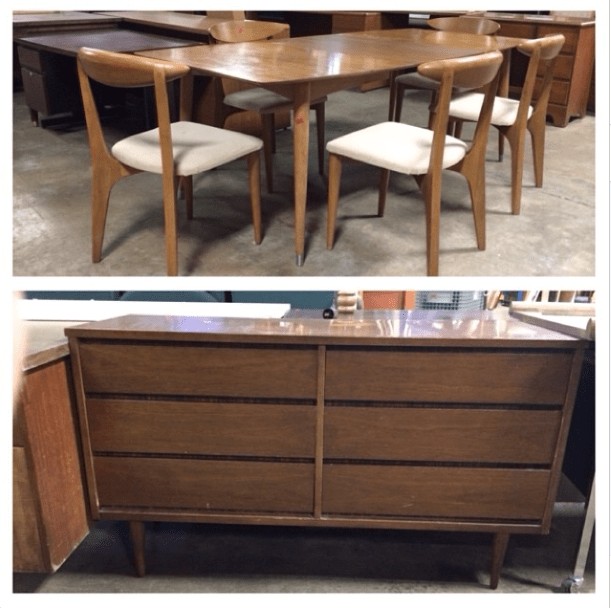 The table and chairs were $125. Seriously, the chairs that we were leaning to originally (for the first table) were almost identical to the chairs that I picked up. The new chairs would have cost about $175 a piece, so I got a fantastic deal.
*I bought the dresser as well, but I'll tell you about that another day.
I thought Luke might think I was crazy, I mean who buys two kitchen tables within ten days? Ha. But, he totally understood and loved the table and chairs. In fact, he loved them so much that he suggested they go in the kitchen. So, we moved the previous table to the dining room and moved the table and chairs from Habitat in the kitchen. I would have loved to keep the upholstery on the chairs, but they were all stained. The upholstery was original which was cool, but not cool enough to mess with getting stains out. =)
I tried to take the seats off the chairs because I think it's easier to reupholster that way, but they are glued and screwed in. So, I used a small chisel and hammer to get all the nail brads out from underneath.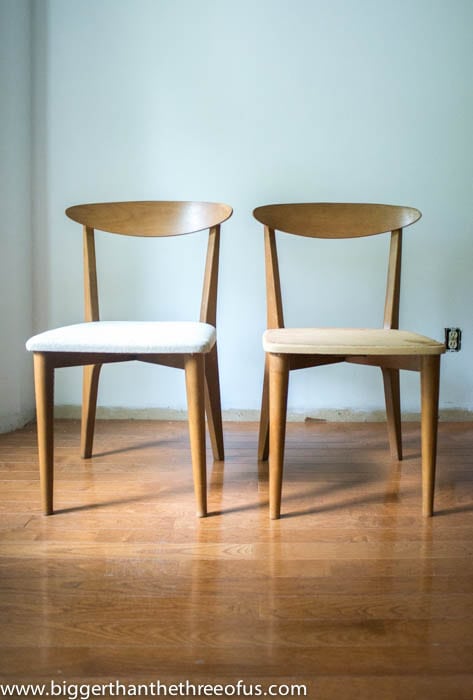 The foam was in good condition, so I put it back on the chair after using it as a guide to cut out the fabric. I lined the lines on the fabric up with how I wanted it and then reached under and put a staple underneath in the front.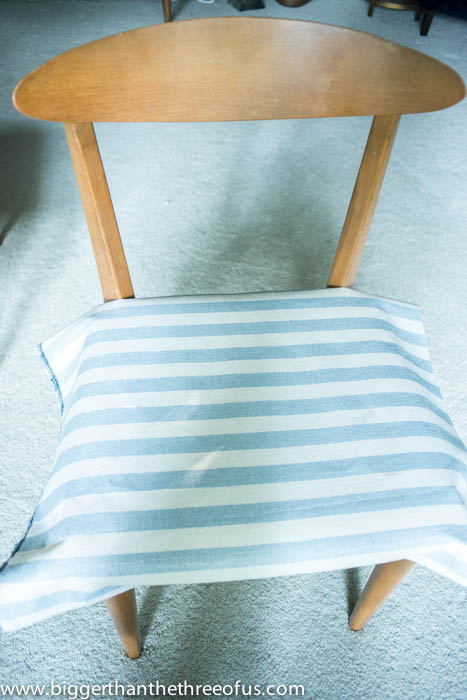 I ended up putting four staples (one on each side) underneath while the chair was upright. I wanted to do that so that I made sure the fabric lines were straight.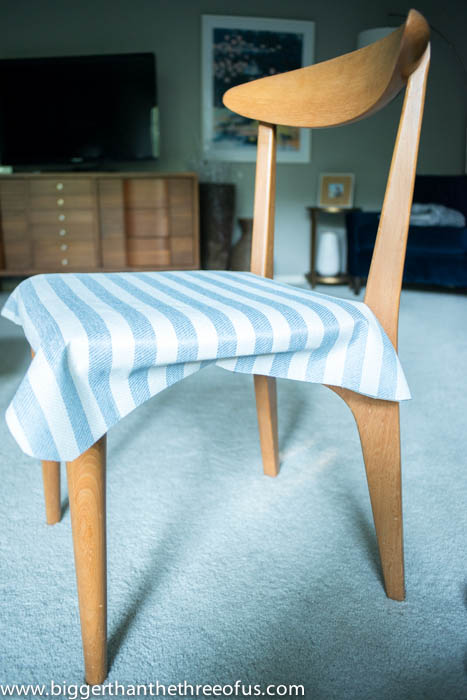 I flipped the chair over an ottoman and continued stapling all the edges.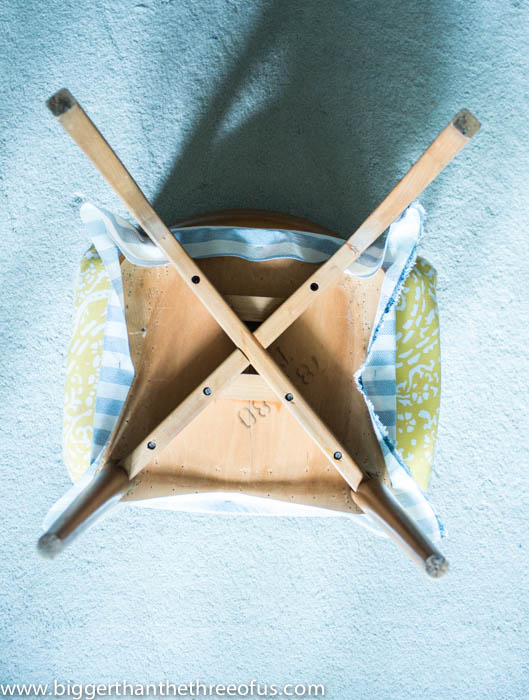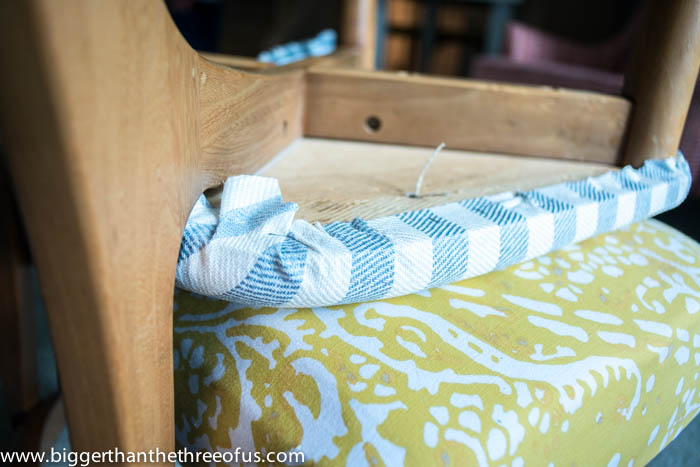 I didn't do the chairs in one session, but from start to finish each chair probably took around thirty minutes.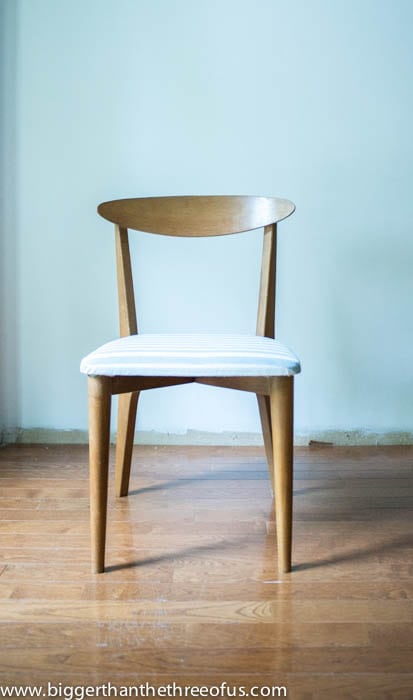 The fabric is an indoor/outdoor fabric, which I hope will wear well.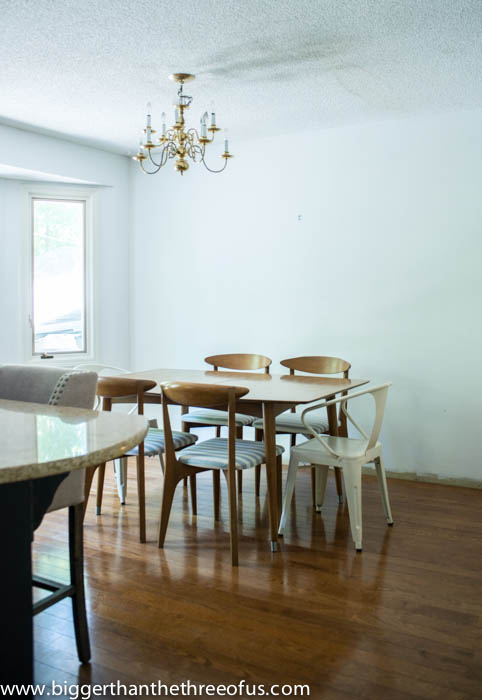 I can't wait to keep adding layers to the kitchen eat-in area. I'm hoping to add a bench by the wall with some pillows to break up the hard lines of the flooring and table, but we'll see.