Looking for ways to hide cords and manage cable clutter? You've come to the right place! In this blog post, we'll share some great cord management ideas for hiding those pesky bedside table lamp cords, controlling the cable clutter under a dresser, and more. So let's get started!

Organizing cords in your house is one of the CHEAPEST things that you can do to really elevate the look of your space. I think one of the most annoying issues with pretty decor and furniture is having cords underneath and around things. Can we agree on this? I think most of us deal with cord clutter laying around and underneath things because we don't realize how easy it is to actually fix the problem. The need to hide lamp cords, phone charging cords, TV cords, etc., is something that we all deal with.
Hopefully, by the end of today's post about cord control, you'll feel empowered to start tackling one space in your house and get the cords hidden; or at least looking better than before. 
Cord Management Ideas for the Bedroom
Cable management in the bedroom can be a challenge, but there are a few simple ways to control the cords and keep them hidden. One way to manage cords is to use cord covers. Cord covers can be found at most hardware stores and come in different colors to match your decor. Another way to manage cords is to use zip ties or Velcro strips to keep them together and out of sight.
If you have lamps on your nightstands, you can use cord management clips to keep the cords tidy and hidden. These clips attach to the underside of the table and keep the cords from dangling down. You can also use cord wraps to keep the cords together and tidy. Cord wraps are available in different sizes and colors to match your decor.
These simple ways to hide the cables can be used on nightstands, media cabinets, dressers and more. I'm going to show you some of the ways that I've been hiding wires for years so you can easily control cord clutter in your bedroom and create a neat and tidy space.
Let's start off by talking about media cabinets/dressers and what type of cord organization you need based on what style furniture you have. I will include tips for using the dresser as a media console as well. If you have a media cabinet that's actually meant to be used as a media cabinet then you may have some built-in cord control options. If you are like me and use dressers or buffets as your media cabinet, then you'll have to be more creative and use these cable management ideas.
Hiding cables behind a dresser or media cabinet
Let's look at my original media cabinet (a.k.a. dresser) in my old bedroom first. This may be a throwback photo for some of you.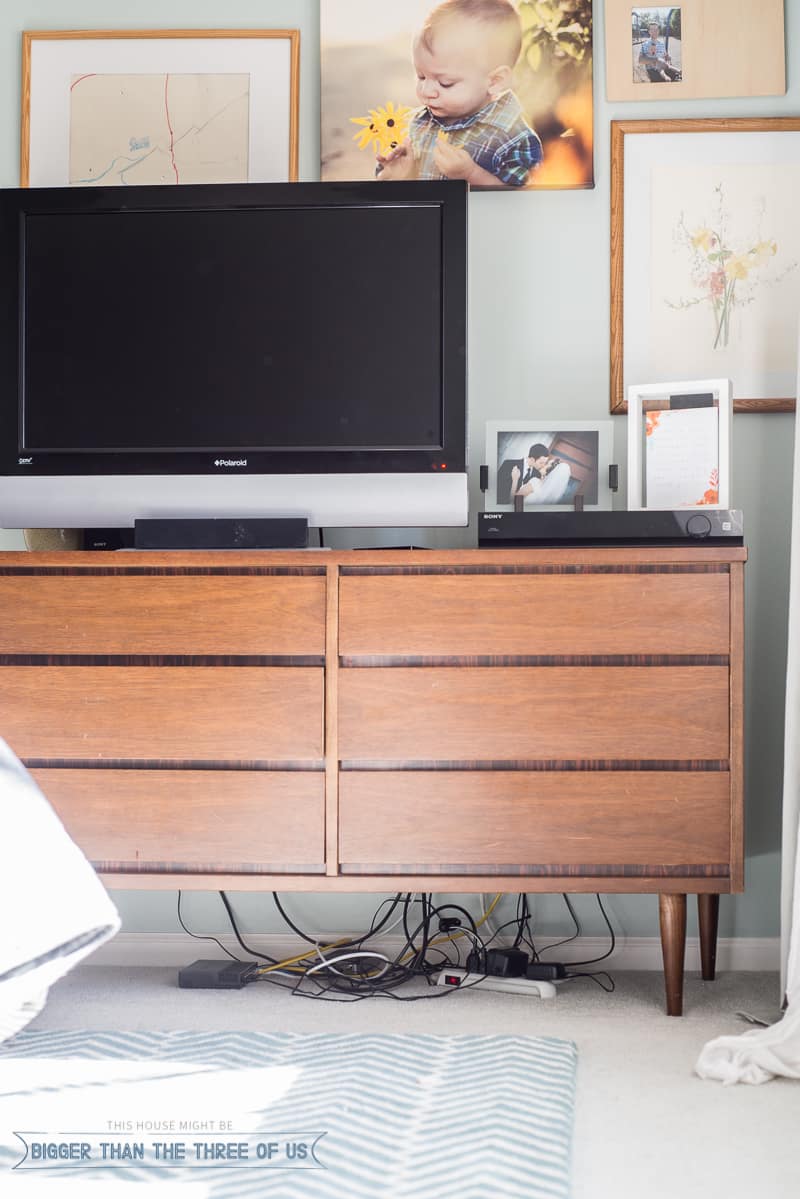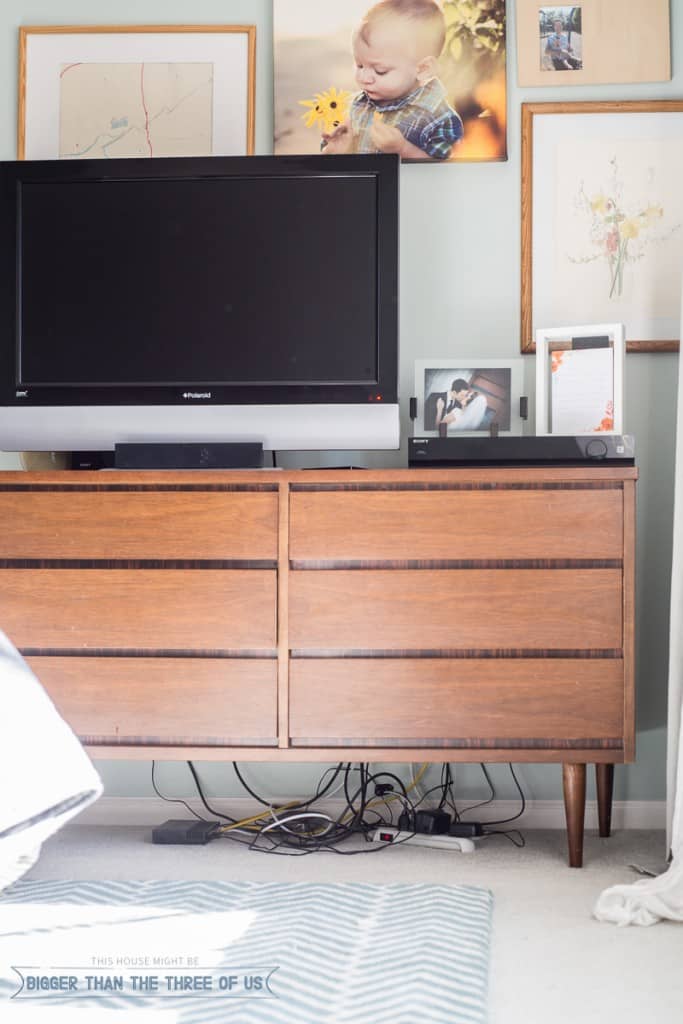 That was my first rodeo at making over our bedroom. Check out my Calm, Layered and Minimal Master Bedroom if you want to see more of this space. But, anyways, you can definitely say that we didn't know anything about how to hide cables. Oops!
We used to have a low to the ground dresser and that particular dresser hid all the cords and wires. When we changed to this mid-century dresser, and I just ignored the rats' nest of cords for quite sometime. Eventually, I just had enough. 
Cable management can be a real headache - especially when it comes to media cabinets. With all the different devices and cables required to connect them, it's easy for cords to quickly become a tangled mess. But there are a few simple strategies you can use to keep things under control.
Tips for how to hide the cables for all furniture
One of the most important things to do is to keep your cords organized from the start. That means untangling and labeling them before you ever start hooking up your devices. Once everything is plugged in, take a step back and assess the situation. Are there any cords that are too long or too short? Any that are in danger of being pulled out or tripped over? Trimming excess cord length and tucking away stray wires can make a big difference in the overall appearance and safety of your setup.
If you have multiple devices that need to be plugged into an outlet, consider using a power strip with built-in cord management features. This will help you avoid creating a tangled mess of cords behind your media cabinet. You can also use Velcro strips or zip ties to tidy up loose cords and prevent them from getting tangled together.
Finally, don't forget about hiding those unsightly cables! There are a number of ways to do this, including running them through hollow furniture legs or along baseboards. You can also buy special cord covers or wrapping materials that blend in with your décor and make it easy to conceal cords without having to completely reroute them.
With just a little bit of effort, you can achieve neat, tidy cord management for your media cabinet - and finally put an end to that frustrating tangle of wires!
*Affiliate links provided below. Click to read my disclosure policy.
Let me show you how I hid the cables in my original setup!
How to hide wires
The very first thing I did was unplug everything and get all the tangles out. Then, I wrapped the extra cord length, for each cord, in on itself and bundled it together (making sure to leave enough slack for all the connections). You can use zip ties to bundle your cords together or reusable Cloth Wire Organizers.
The next thing I did was to switch the electrical power cord from one that lays on the ground to one that has the sockets close to the electrical outlet on the wall. We had a couple networking/internet devices that I creatively hid behind the TV.
Then, I plugged everything back in. A few of my cords still dangled too close to the ground and weren't hidden by the cabinet. I unwrapped those cords and wrapped them a bit tighter so that they had less slack.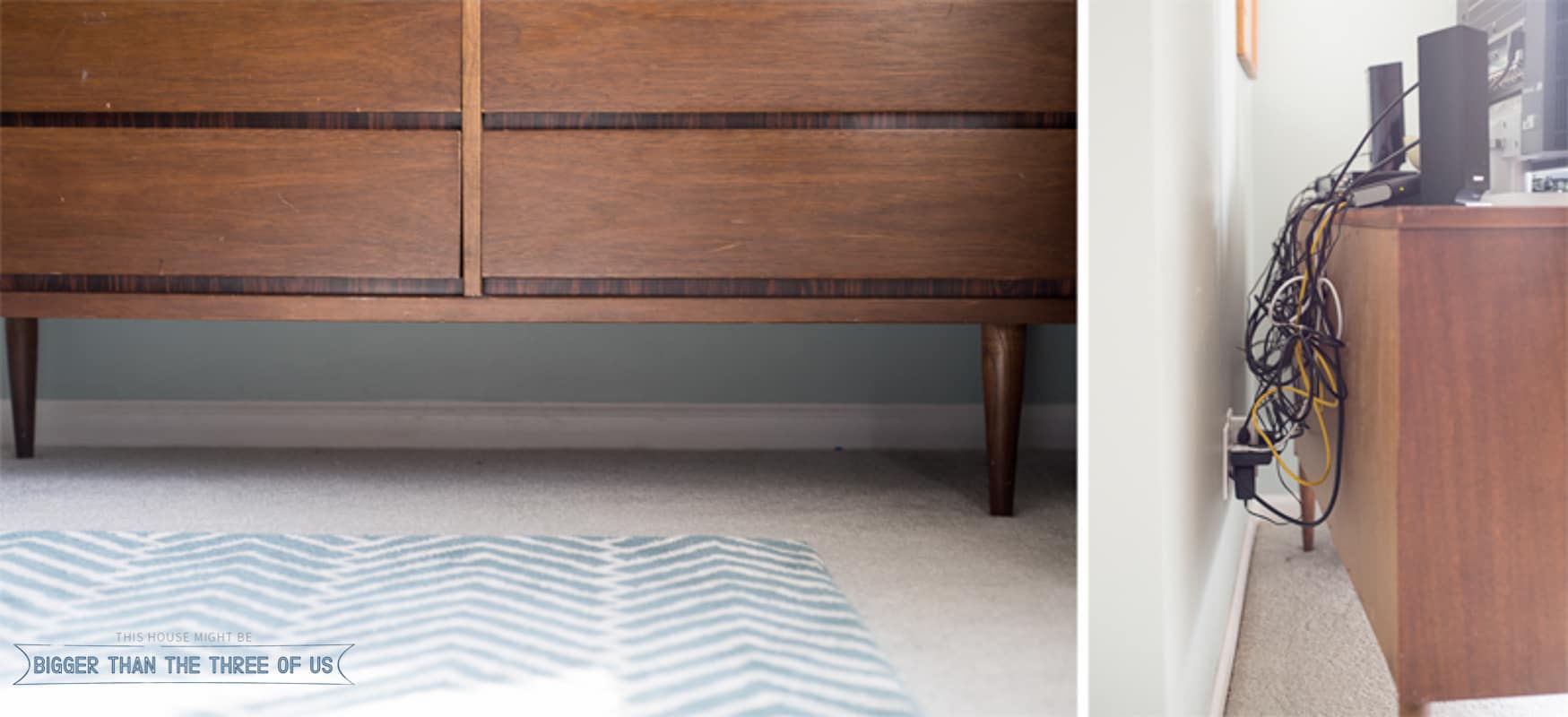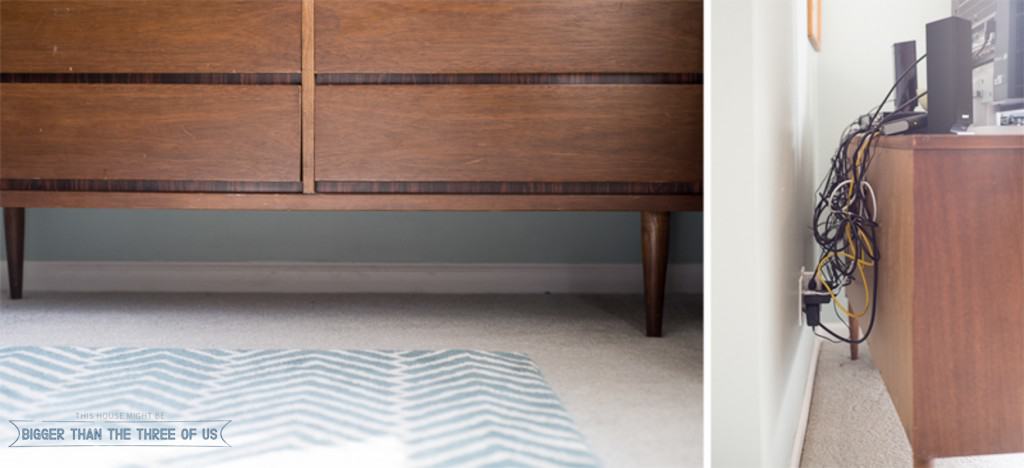 The back of the media cabinet looks crazy with all those cords, but when the cabinet is pushed back you never notice it.
For a few dollars and just a few minutes, this was a huge win in my book.
Cord Management Products

With changes over the next few years in our bedroom, we needed changes to the TV cable management as well. We got rid of a few of the electrical systems up there, which helped. We also ran wires through the wall and mounted the television, which I would highly recommend. But, I did need to work on hiding the cords underneath the dresser this time. 
Cable Management Underneath A Dresser
This time around, I'm using a zip tie and a nail. I put a nail underneath the dresser for the zip tie to loop on. Ignore my GREAT cutting in on the baseboard in the next photo (LOL).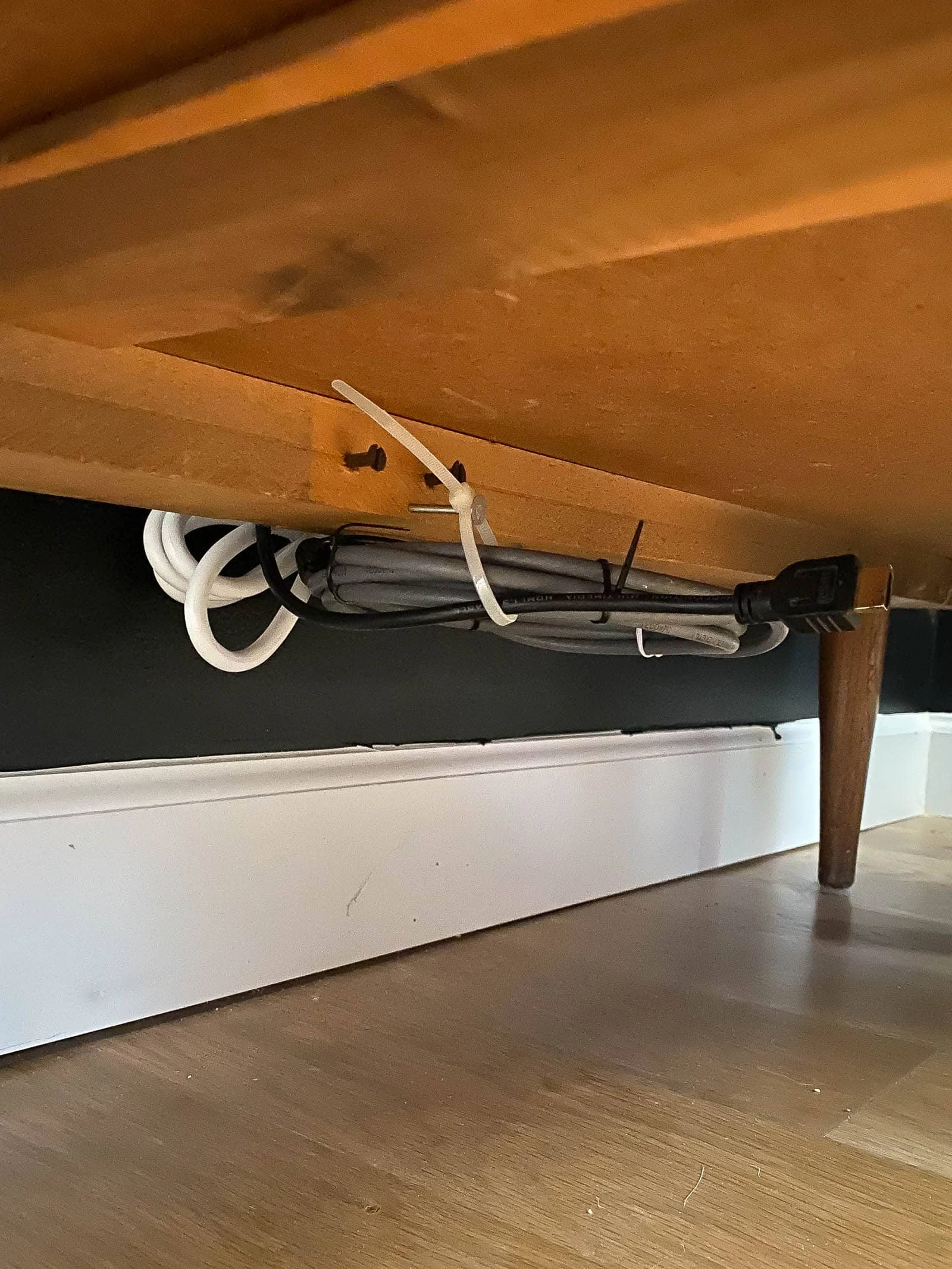 How to Organize Bedside Cords
For nightstand cord control, you really have to think about what type of nightstand you have and what system or cable management tools would work best for your particular nightstand. 
In the past, our nightstands were pretty sad; or shall I say, the cord control issues around the nightstands were pretty sad.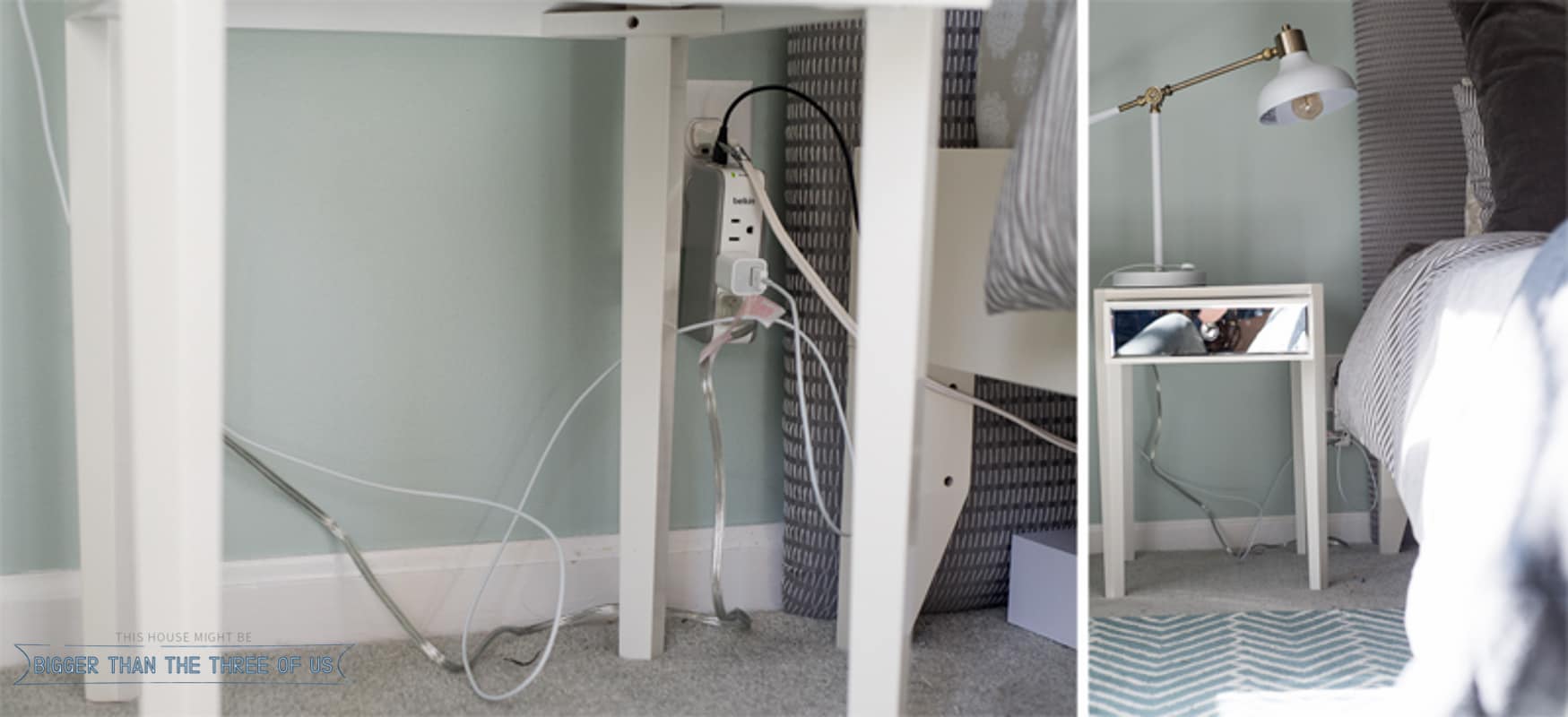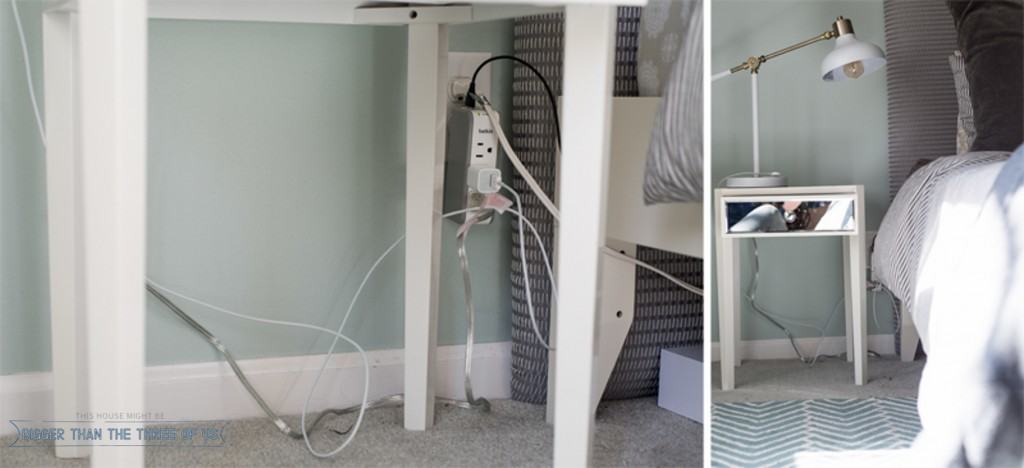 The first thing I did was unplug all the cables and trace which cord went to what. From there, I evaluated what type of electrical outlet I needed. To help simplify this particular setup, I needed another wall mounted electrical outlet and needed one with USB sockets.
As you can see, I made a huge impact just by tucking some of the extra cord you see, above, behind the headboard. If you have a more open-type headboard and you can't tuck like I did, use one of the cord adhesive keepers and stick it on the bed frame to keep the cord off the ground. You can still hide it by sticking the cord keeper on the backside of the bed frame (where the frame faces the wall).
For the rest of the cords, I just needed to gather up the extra cord length and tie them together. Then, I used more adhesive cord keepers to adhere them to the back of the nightstand.
After all my "hard" work, if you get on the floor and look underneath the nightstand you see this: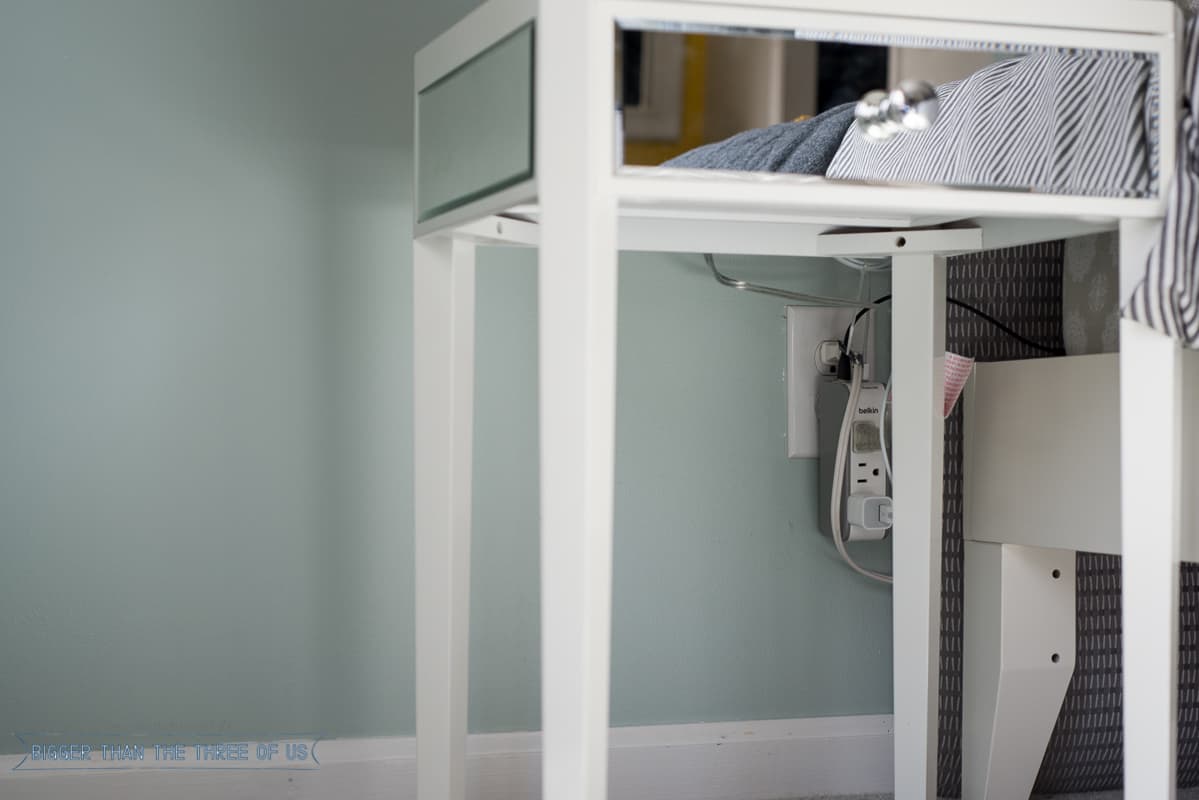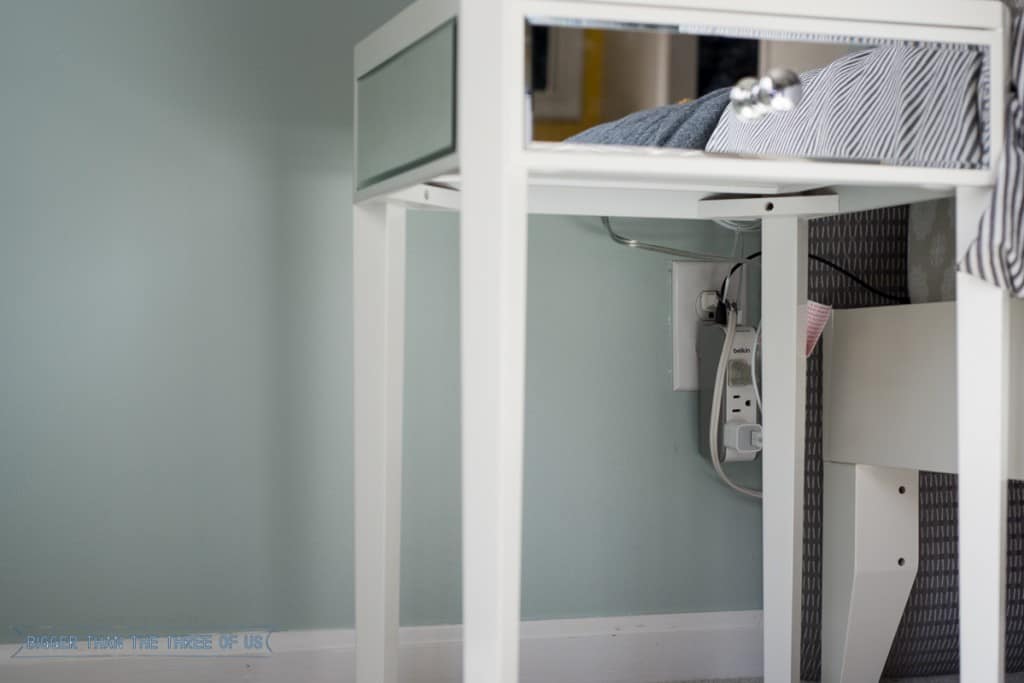 Not the prettiest right? But, if you are eye-level with the nightstand then most of that is hidden.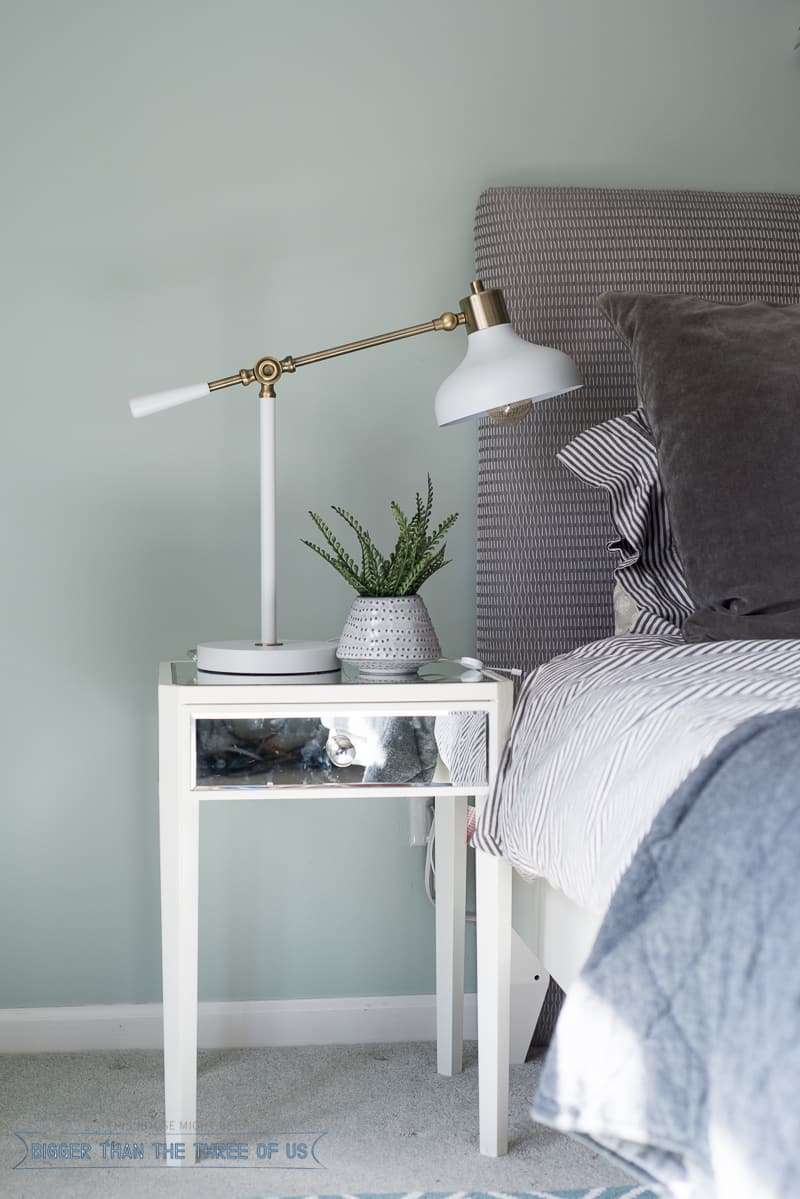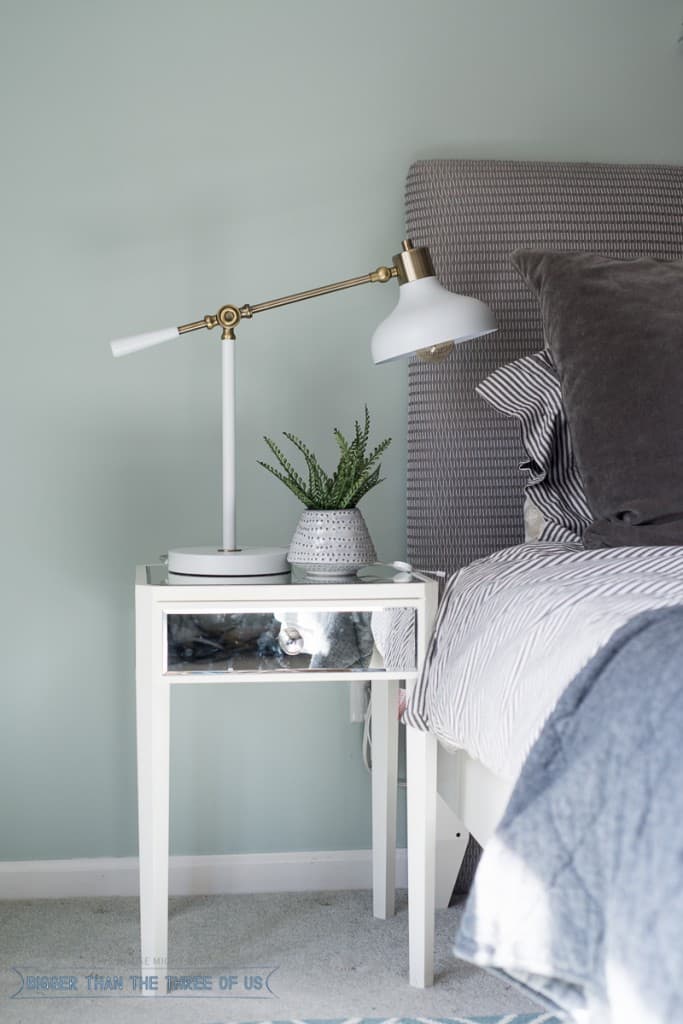 Based on how little the nightstands are and where the electrical outlet is located, I think this is a win.
That last one was my husband's nightstand. My nightstand had way less wires to work around.
I used one cord keeper and then tucked the extra length of the lamp cord behind the headboard and I was good. I'm seriously kicking myself for not having done all of this sooner!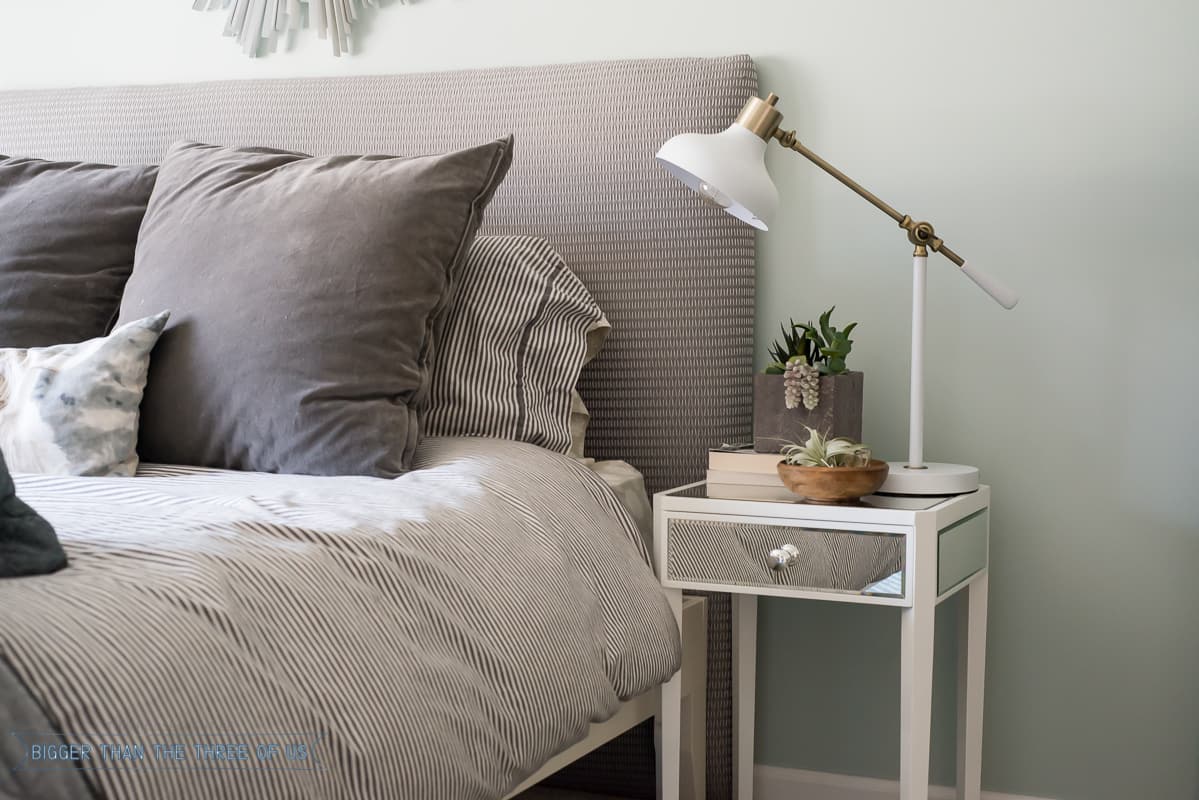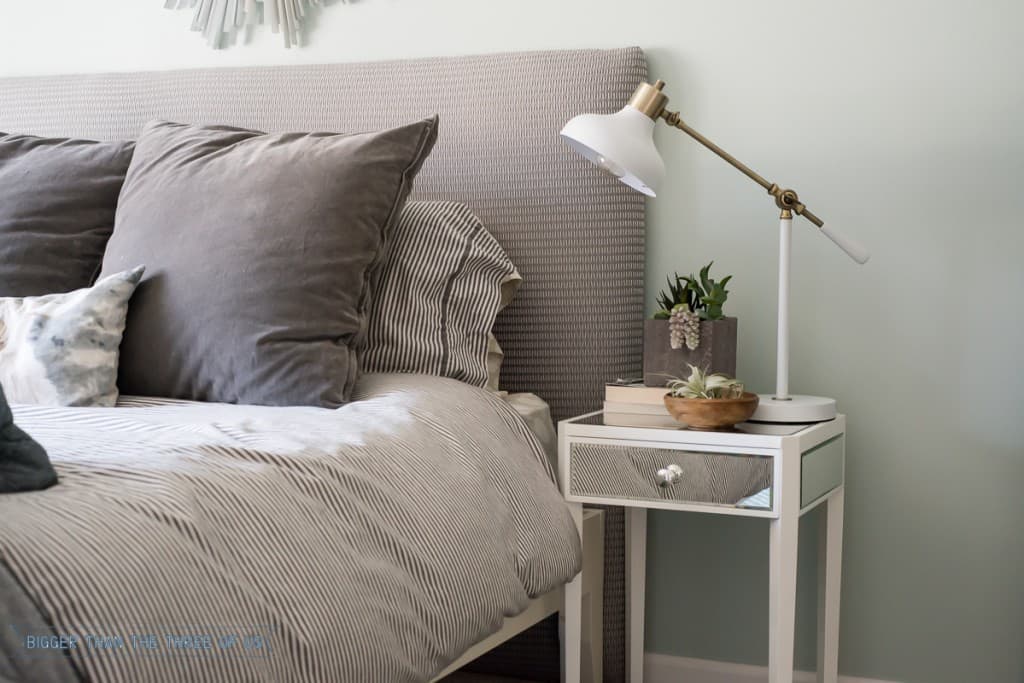 Supplies for Cord Organization on Bedside Tables

Cable Management Hacks for Different Styles of Furniture
Let's look at three other nightstands and talk about how to hide lamp cords for each.
This is a much chunkier nightstand than the ones that I shared above. Nightstands that have more substance to them (like this one) require less cord organizer products because you don't see as much open space. This particular nightstand would probably need some simple cable ties and that would be all. If you wanted to have a phone cord that stayed in place, then you could add one cable drop clip to the back of the nightstand.
Let's look at another one.
This nightstand could definitely be challenging. If you had a lamp and needed to have a phone charger, then you would need to use the sticky cable drop clips along the backside of the spindle to keep the cords directly on the backside. You would see the cords along the baseboard, but they could be pushed back between the carpet and the baseboard a bit. They do make moulding or quarter-round that you can run your cords through. 
The last one is my current nightstand.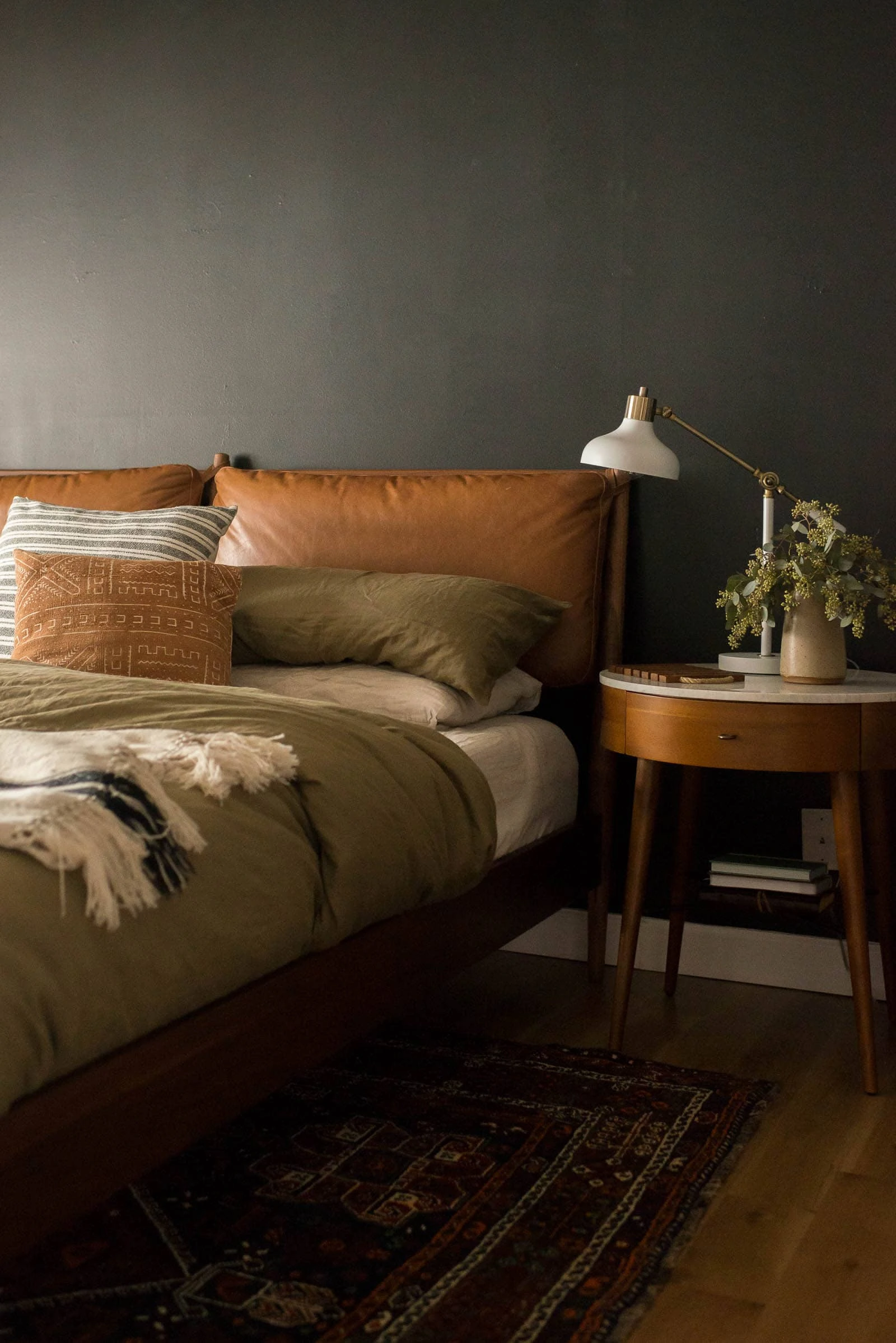 My nightstand is very leggy and, honestly, the wall outlets are not in the ideal place. I could help the look by using a sticky clip on the back of the nightstand leg to help hide the lamp cord. I could also paint the phone plate (on the wall) black to help it blend in. 
How to Hide Power Strips
I don't have any current photos of this but, in the past, I've placed plants or baskets in front of power strips. They draw the eye away from the strip and make everything feel homey.
All in all, I think having options on hand for hiding your cords is the best thing. You won't know exactly what is going to work until you just start trying to hide the cable clutter. Honestly, buy a few things and spend ten minutes working on it. I PROMISE YOU, you will immediately see a big improvement with your cord management issues.