I think one of the most annoying issues with pretty decor and furniture is having cords underneath and around things. Can we agree on this? I think most people deal with cords laying around and underneath things because we don't realize how easy it is to actually fix the problem. Cell phone chargers, computer cords, TV and other media cords, lamp cords, etc. I think we all have some of these cords in our house if not all of them. Today, I'm going to try to give all the resources you'd need for any type of cord issue. Be prepared, this is a long post but it's super informative (or at least I think so!). Let's jump right in today with Cord Control and Cord Management for Nightstands, Media Cabinets and More!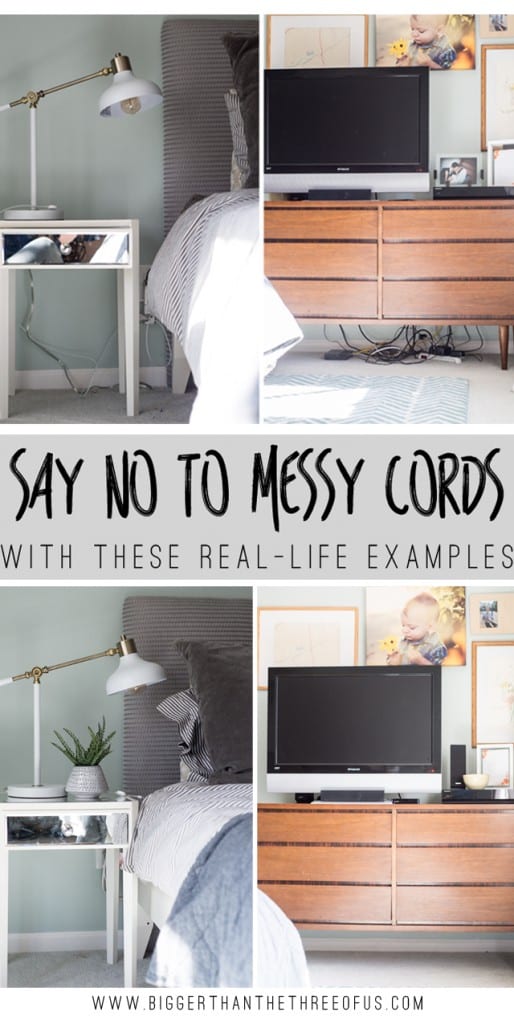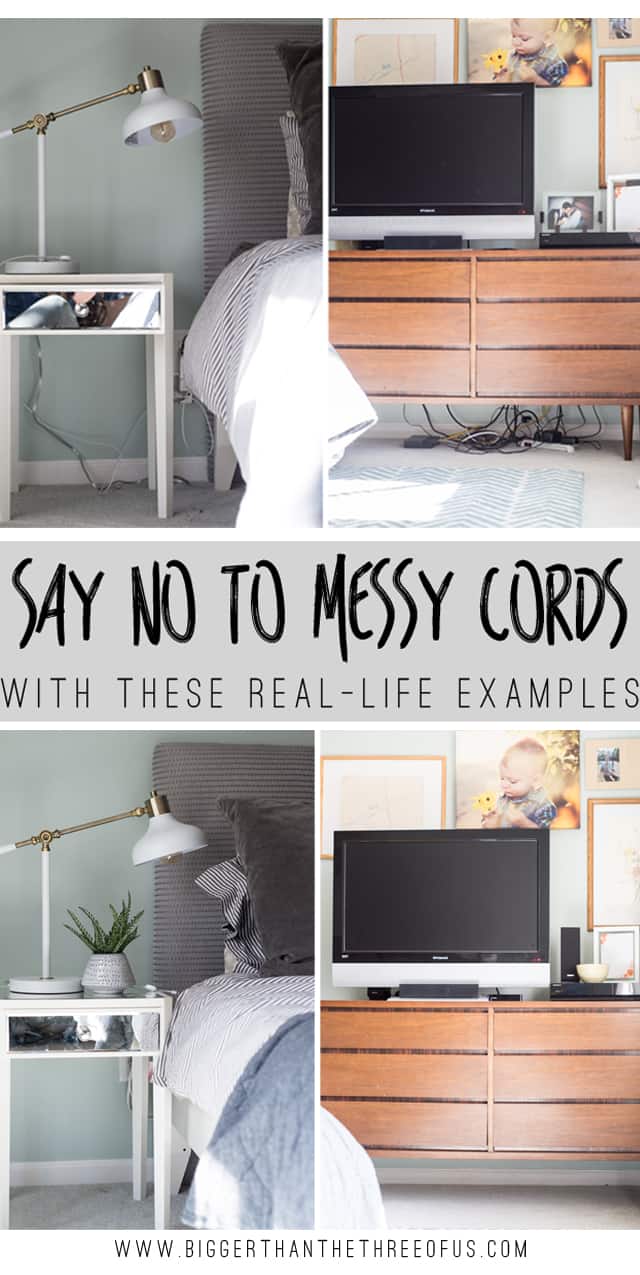 Let's start off by talking about media cabinets. If you have a media cabinet that's actually meant to be used as a media cabinet then you may have some built-in cord control options. If you are like me and use dressers or buffets as your media cabinet, then you'll probably need to use these cord control ideas.
Cord Control for Media Cabinets
Let's look at the media cabinet in my bedroom first.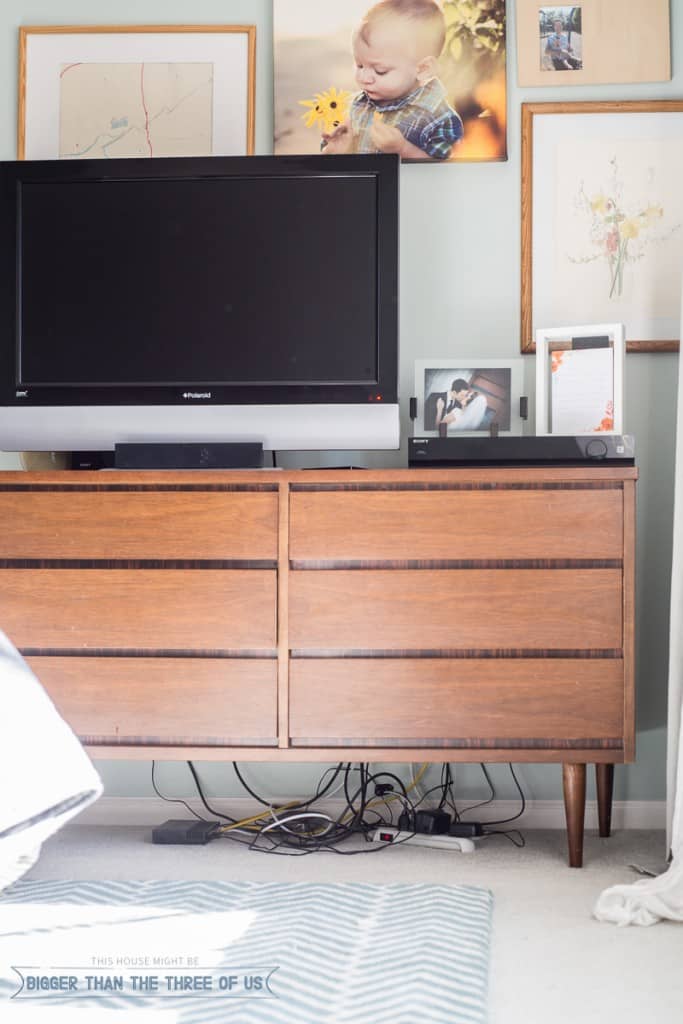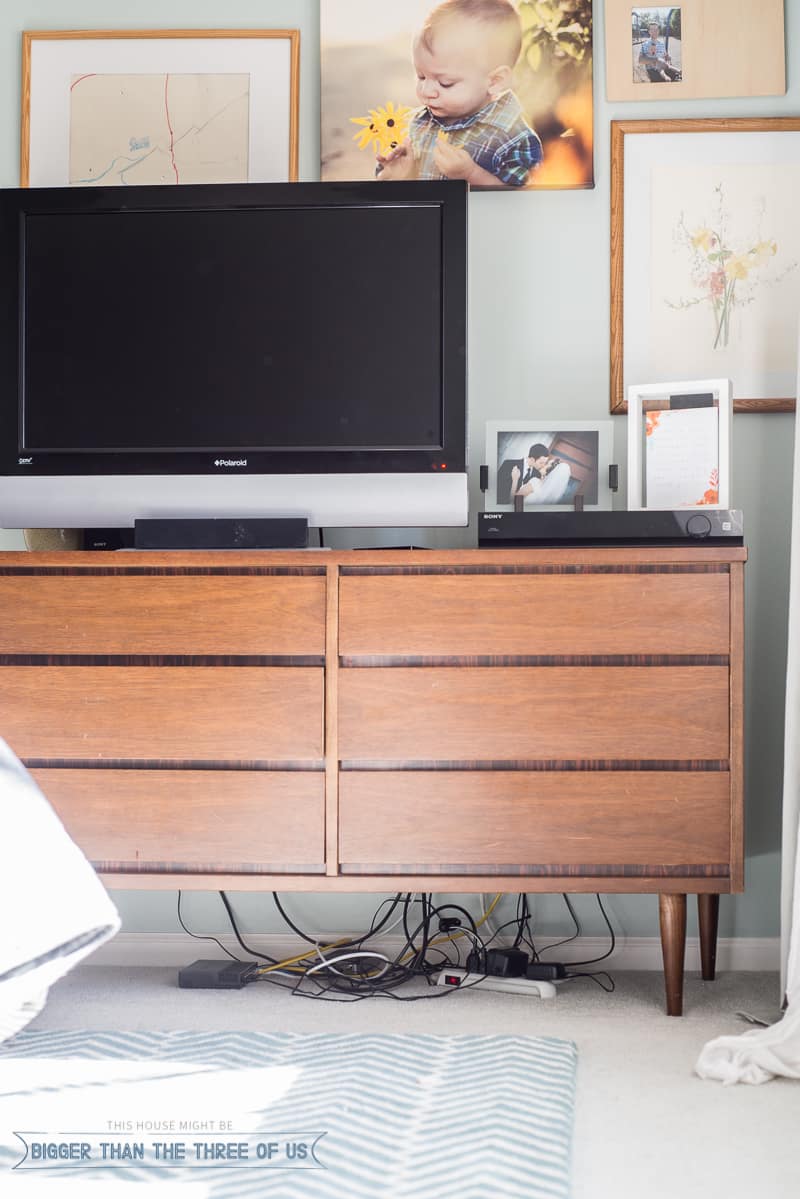 Can you say that we have a major cord control issue? Ha!
We used to have a low to the ground dresser and that particular dresser (original dresser in the Master Bedroom Reveal) hid all the cords and wires. When we changed to this mid-century dresser, I just ignored the rat nest of cords. But, I found it extremely annoying to have them so I got my butt in gear (for like 5 mins!) and transformed that mess to this: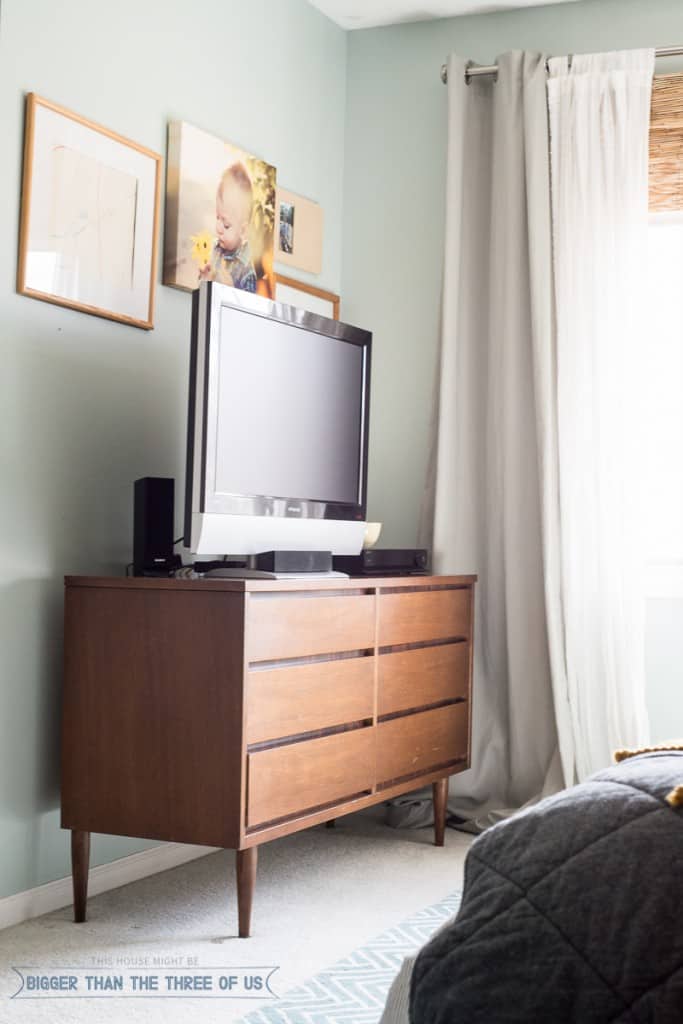 Ok, so let's take a step-by-step approach to managing this rat's-nest.
The very first thing I did was unplug everything and get all the tangles out. Then, I wrapped the extra cord length, for each cord, in on itself and bundled it together (making sure to leave enough slack for all the connections).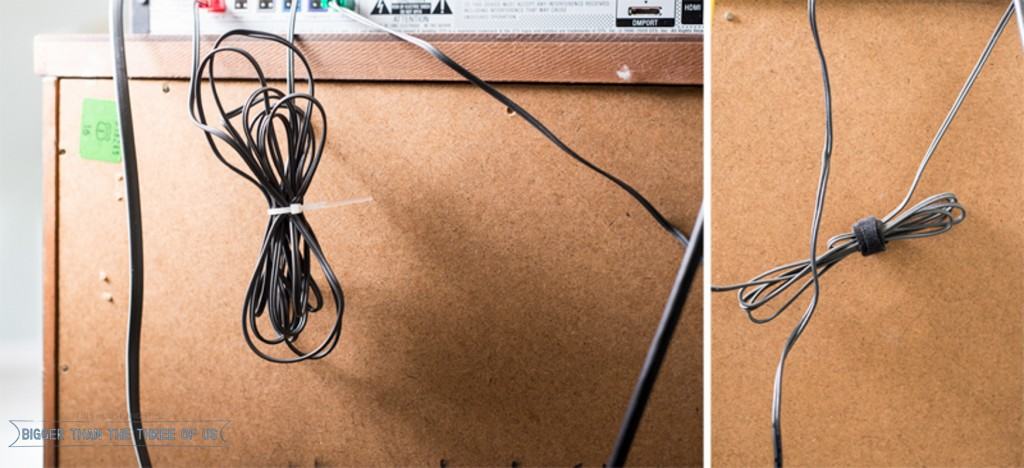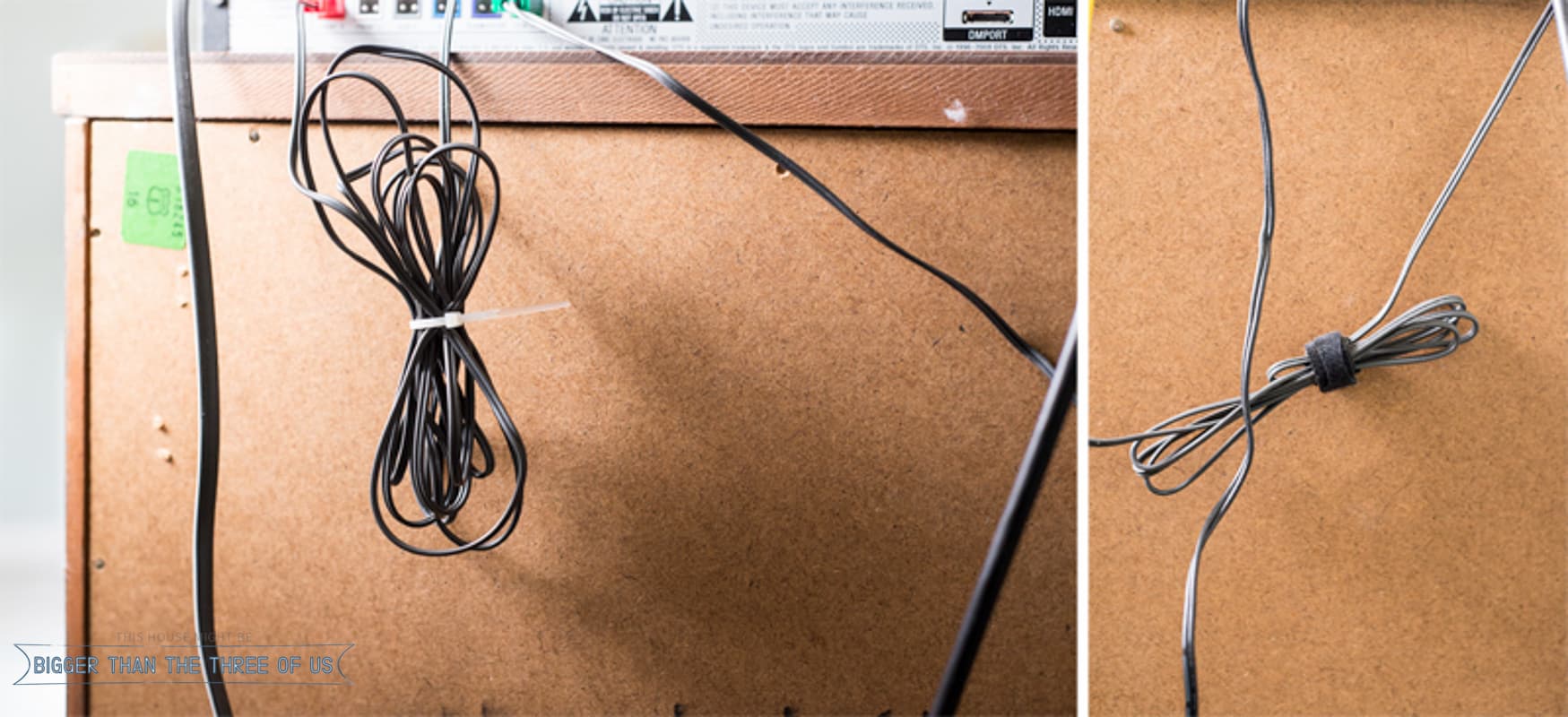 The next thing I did was to switch the electrical power cord from one that lays on the ground to one that has the sockets close to the electrical outlet on the wall. We had a couple networking/internet devices that I creatively hid behind the TV.
I then, plugged everything back in. A few of my cords still tangled too close to the ground and weren't hidden by the cabinet. I unwrapped those cords and wrapped them a bit tighter so that they had less slack.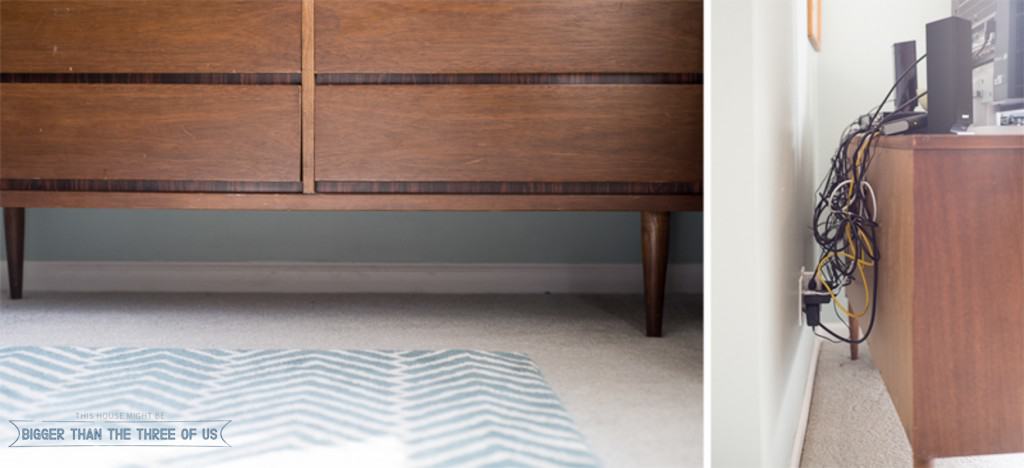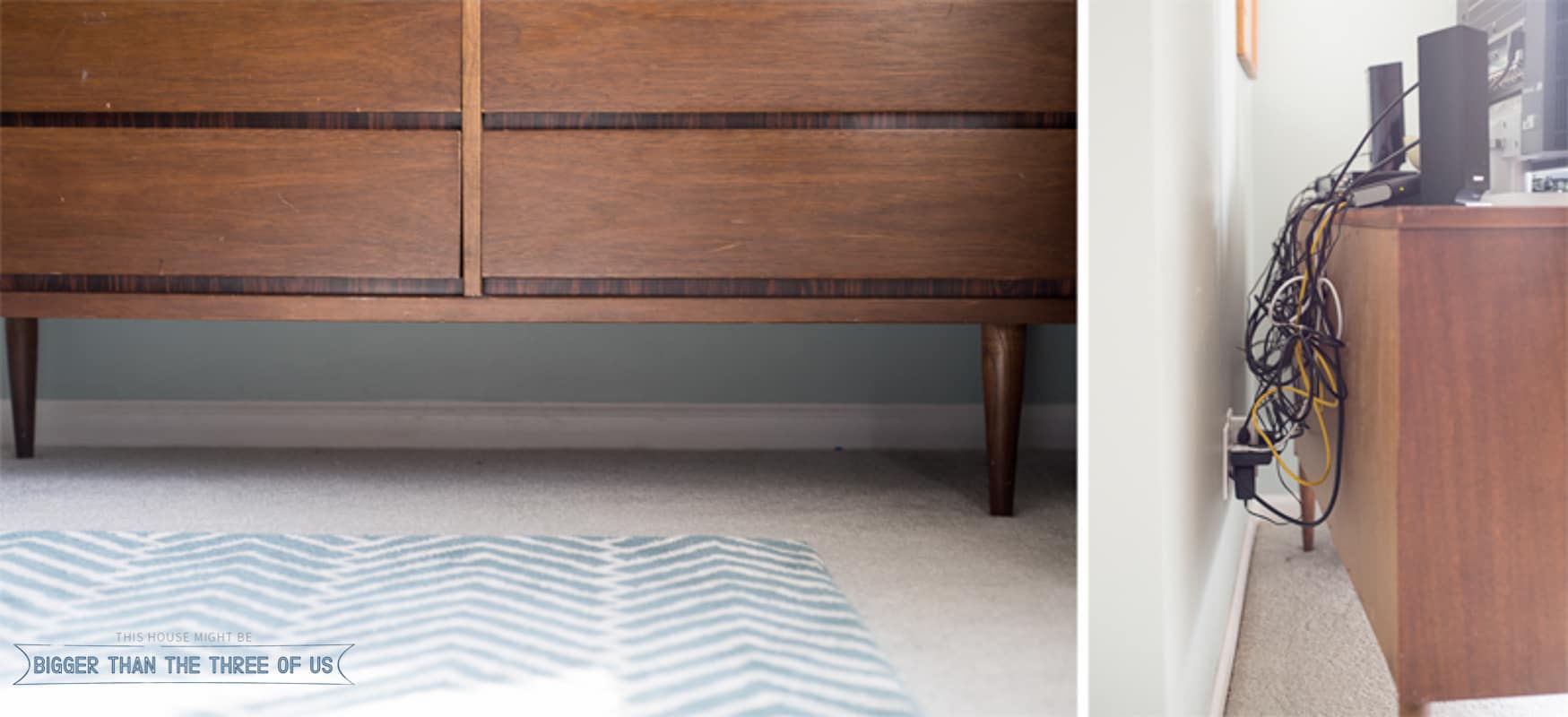 The back of the media cabinet looks crazy with all those cords, but when the cabinet is pushed back you never notice it.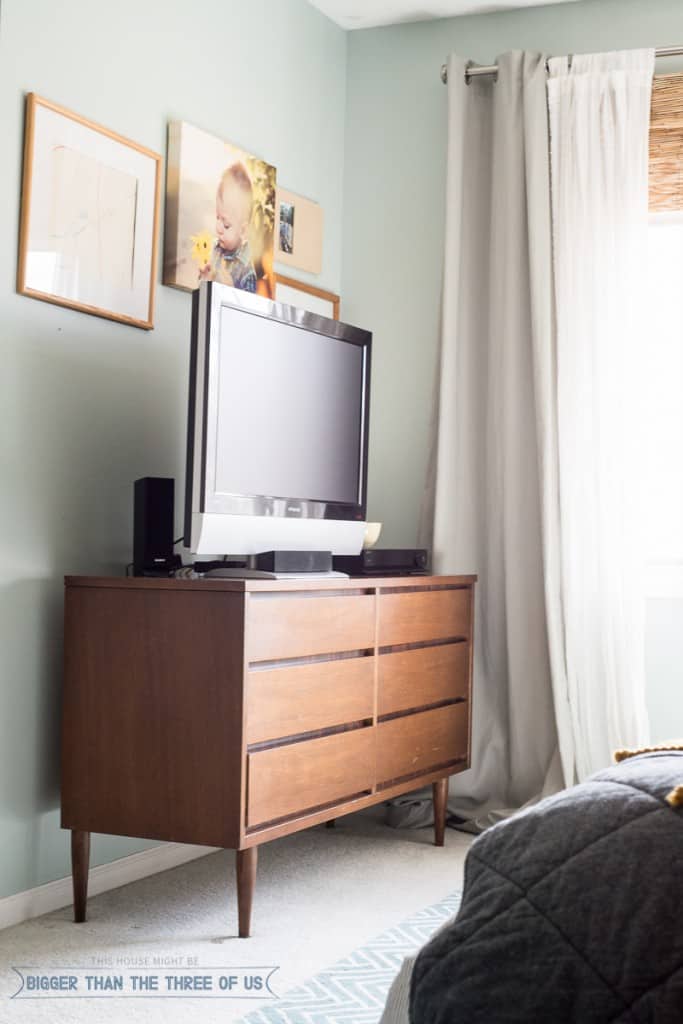 For a few dollars and just a few minutes, this was a huge win in my book.
I used these products for this specific cord control issue:

I showed a similar media cabinet in our living room last year and also shared how I hid those cords. You can see the living room, Hide Those Cords, post if you'd like to see another similar cabinet.
Some of you might have a more open type of media cabinet, such as this: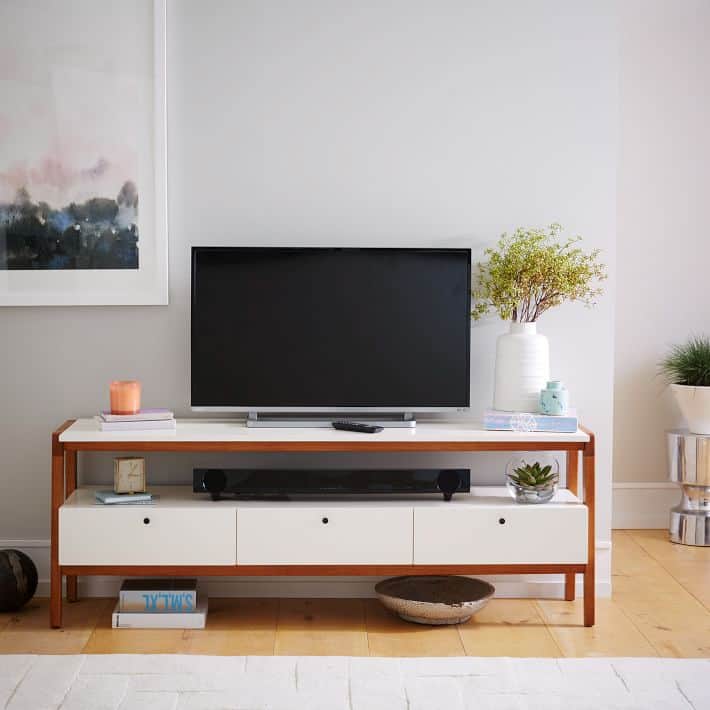 There are basically two ways you can have hidden wires on this more open-type media cabinet. You can run them through the wall, similar to if you were mounting your TV to the wall. The other way is to use a cord adhesive keeper to run the cords along the back lip of the media cabinet down the side of the legs. That way you don't see any cords dangling through the open shelf. This particular media cabinet would be a bit challenging but you can definitely do it.
If you are looking to buy a media cabinet and love the one that we have, I rounded up a few of my favorites that are similar.

Cord Control for Nightstands
Ok, so let's switch gears and look at cord management for nightstands.
Before putting together this post, our nightstands were pretty sad; or shall I say, the cord control issues around the nightstands were pretty sad.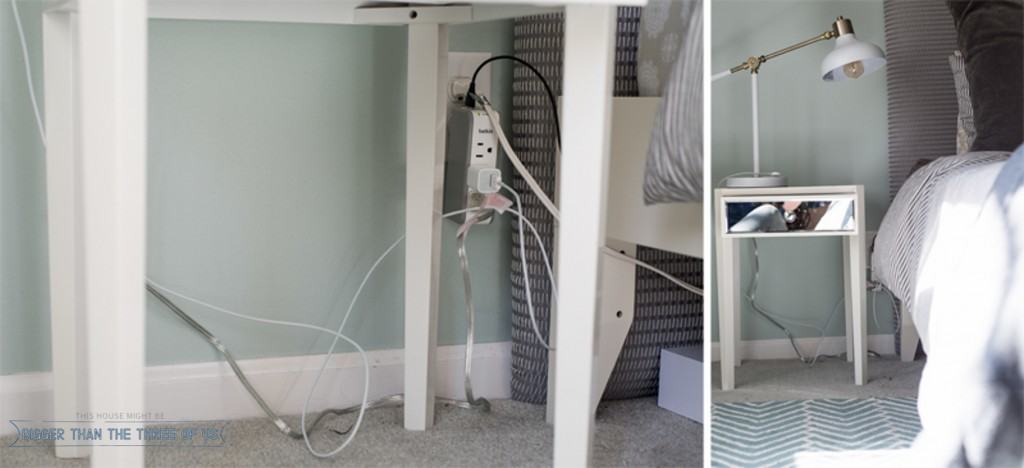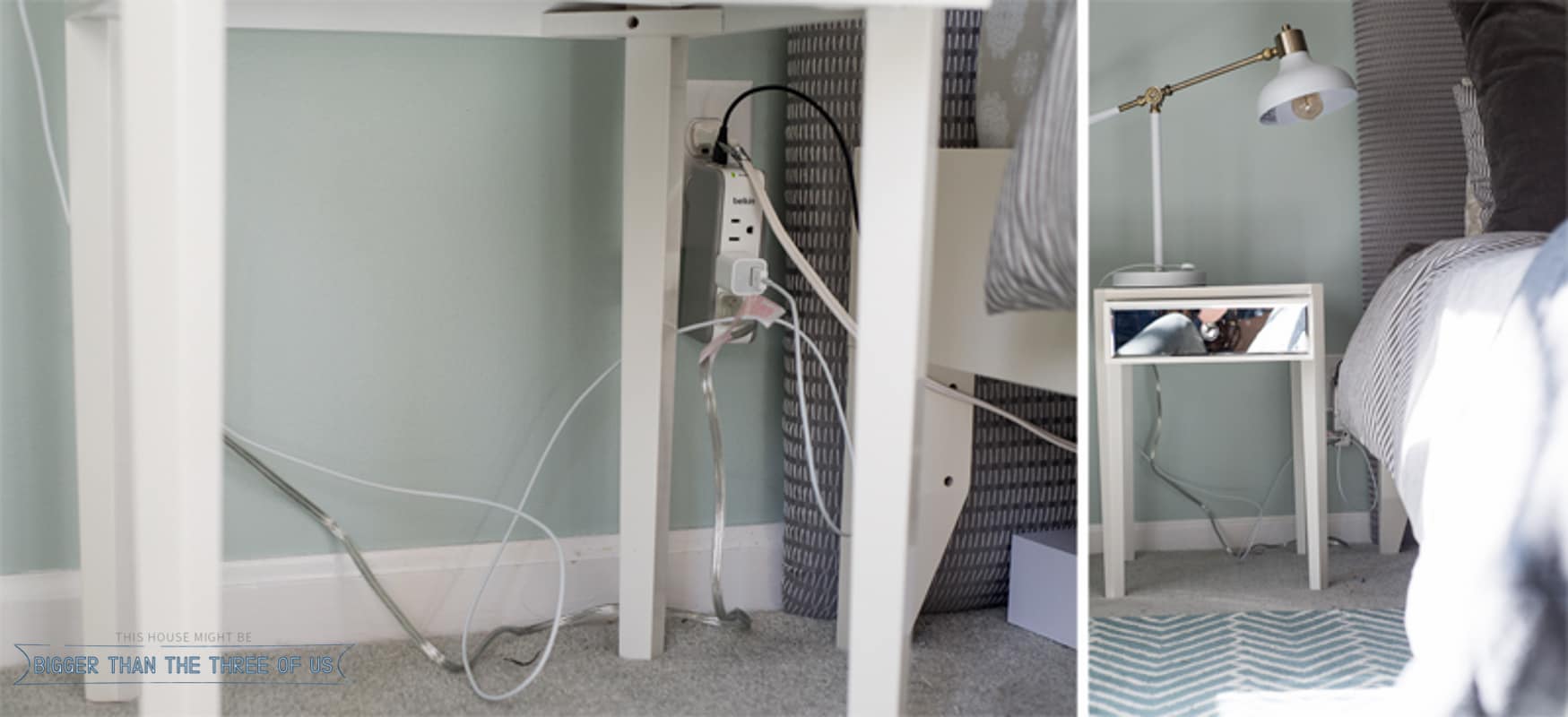 The first thing I did was to take everything out and trace which cord went to what. From there, I evaluated what type of electrical outlet I needed. I needed another wall mounted electrical outlet and needed one with USB sockets.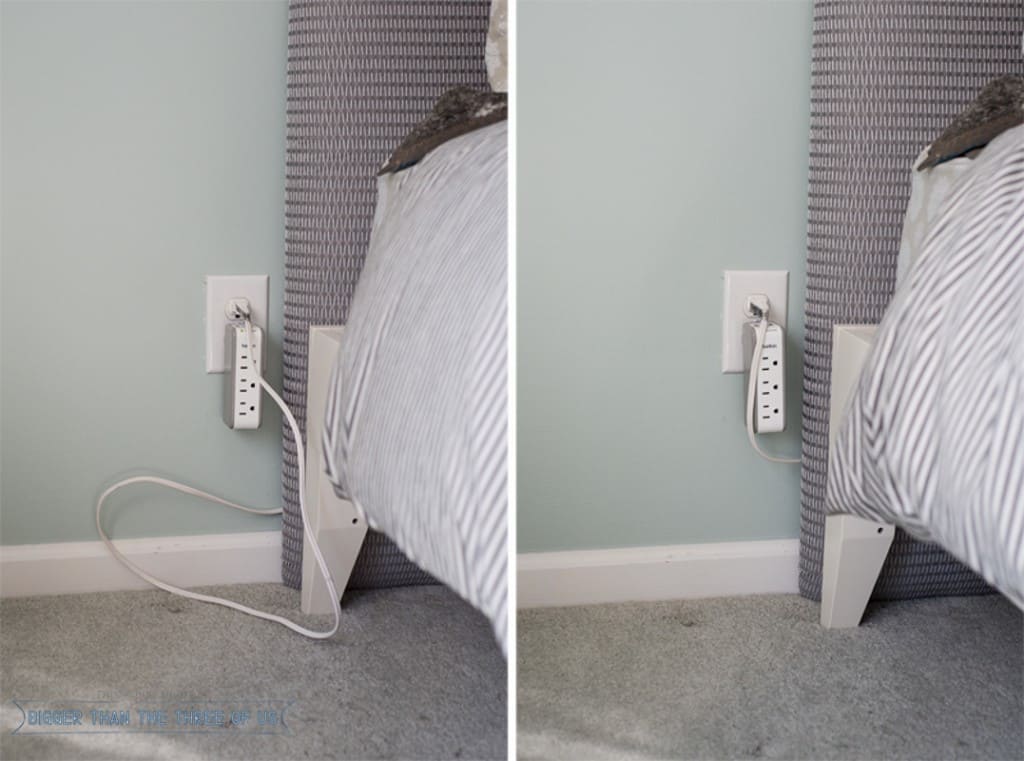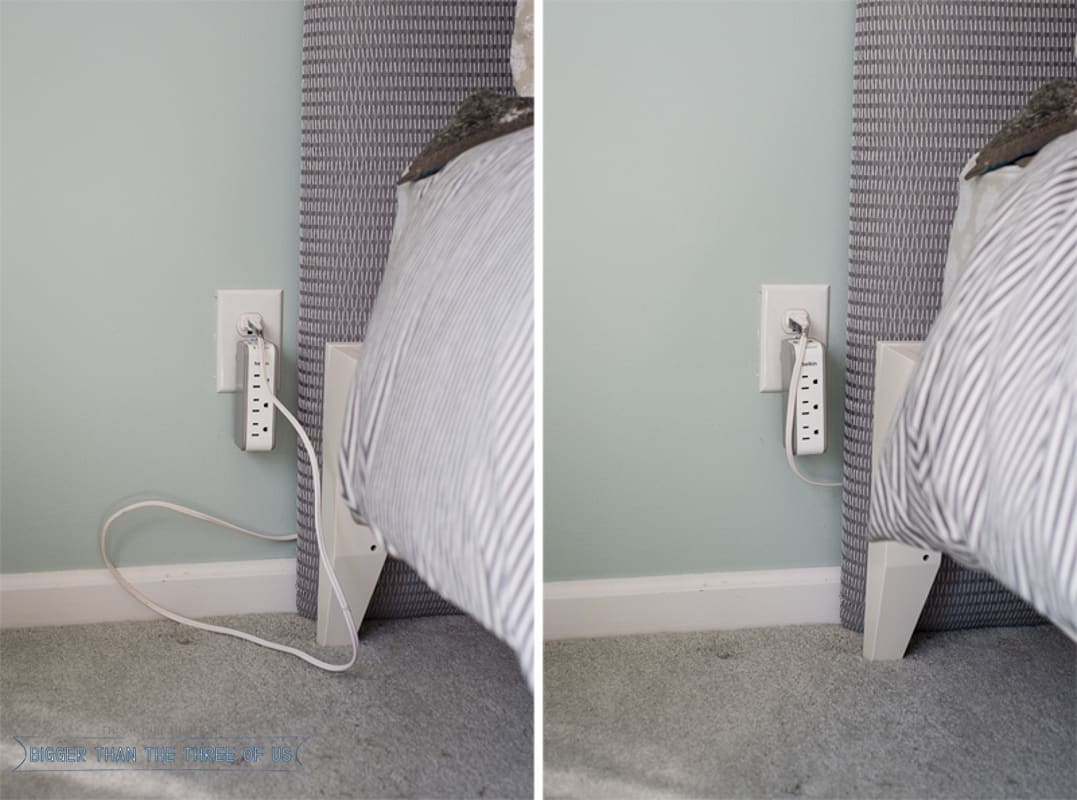 As you can see, I made a huge impact just by tucking some of the extra cord you see above behind the headboard. If you have a more open type headboard and you can't tuck like I did, use one of the cord adhesive keepers and stick it on the bed frame to keep the cord off the ground. You can still hide it by sticking the cord keeper on the backside of the bed frame (where the frame faces the wall).
For the rest of the cords, I just needed to gather up the extra cord length and tie them together. Then, I used more adhesive cord keepers to adhere them to the back of the nightstand.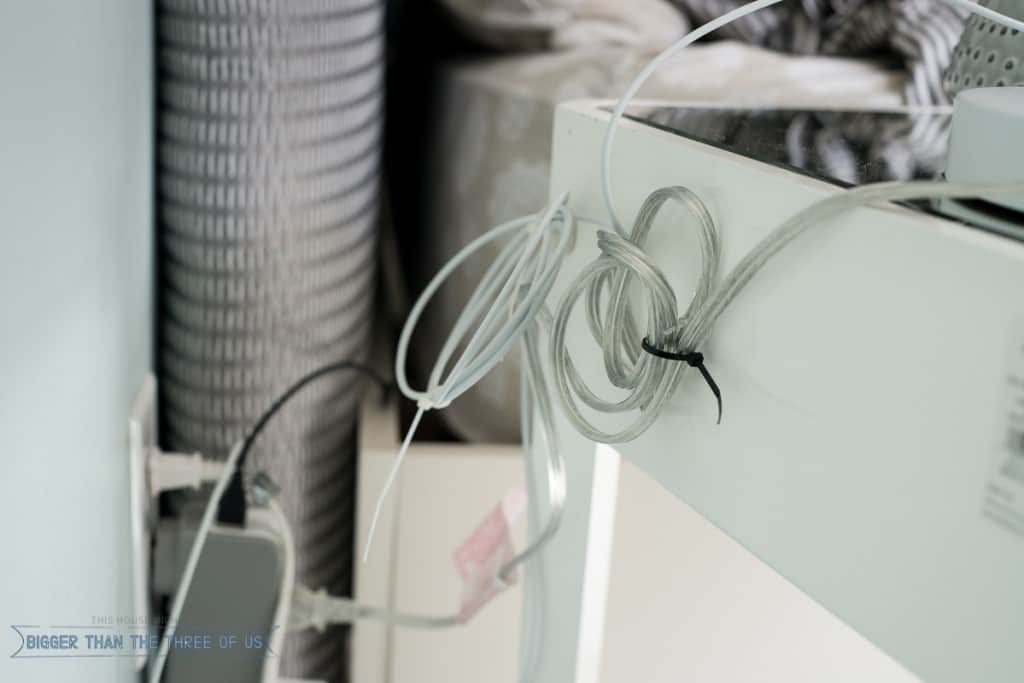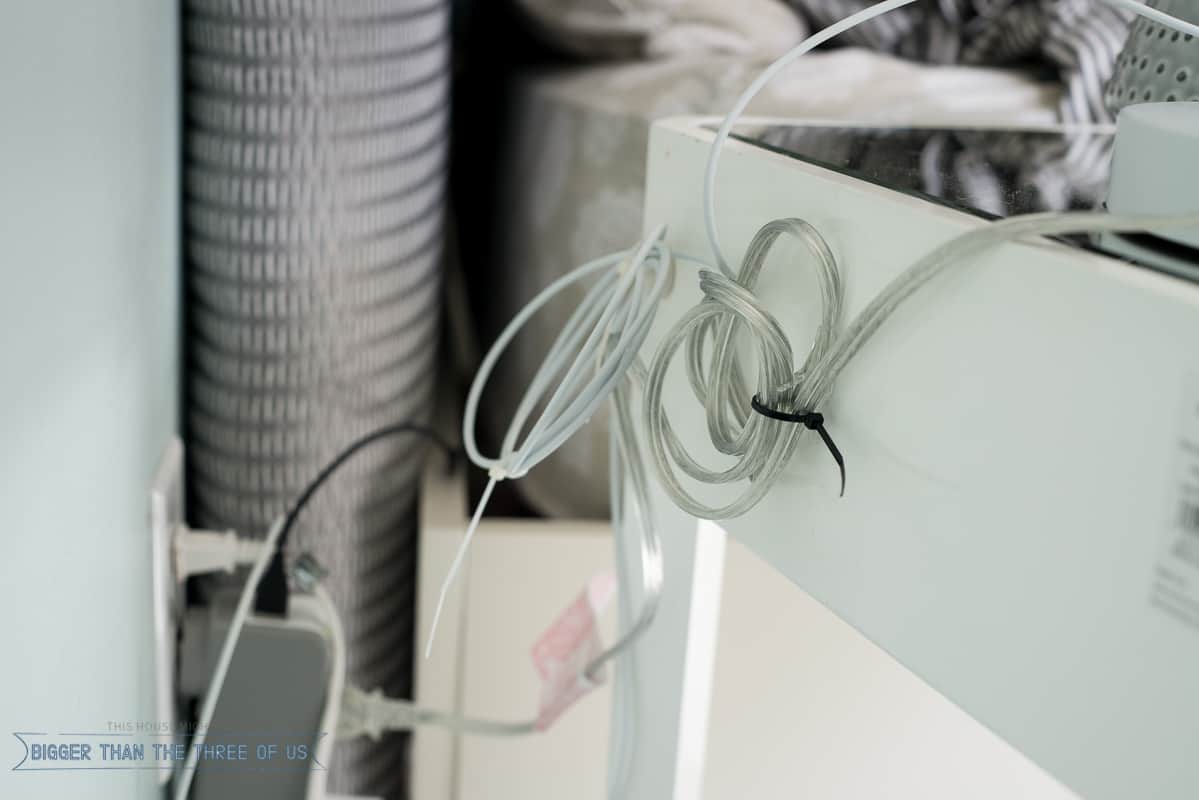 After all my "hard" work, if you get on the floor and look underneath the nightstand you see this: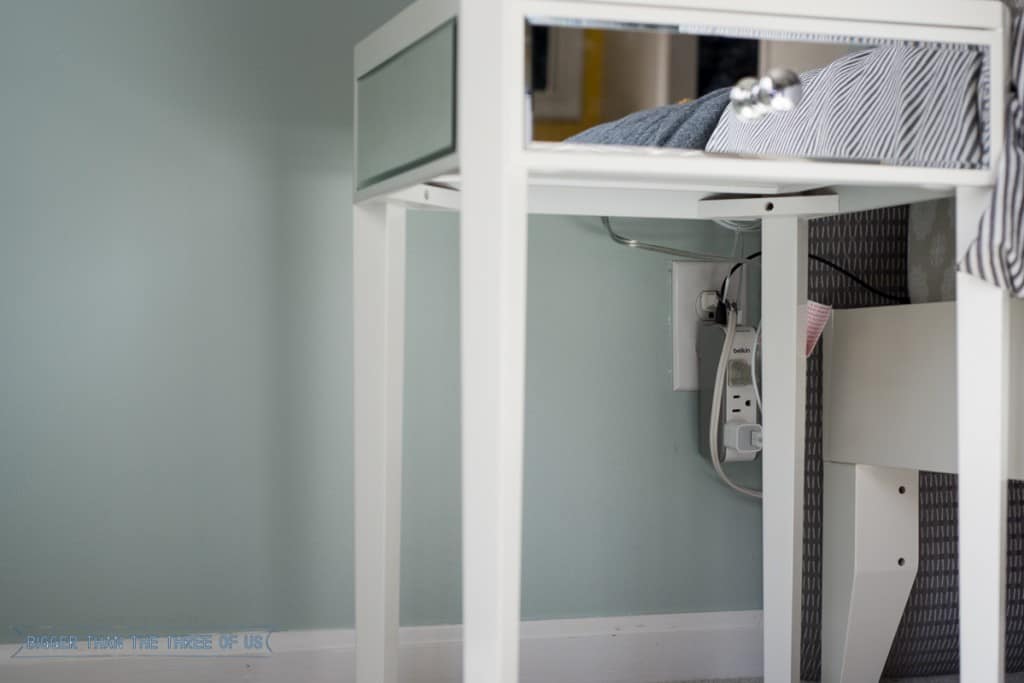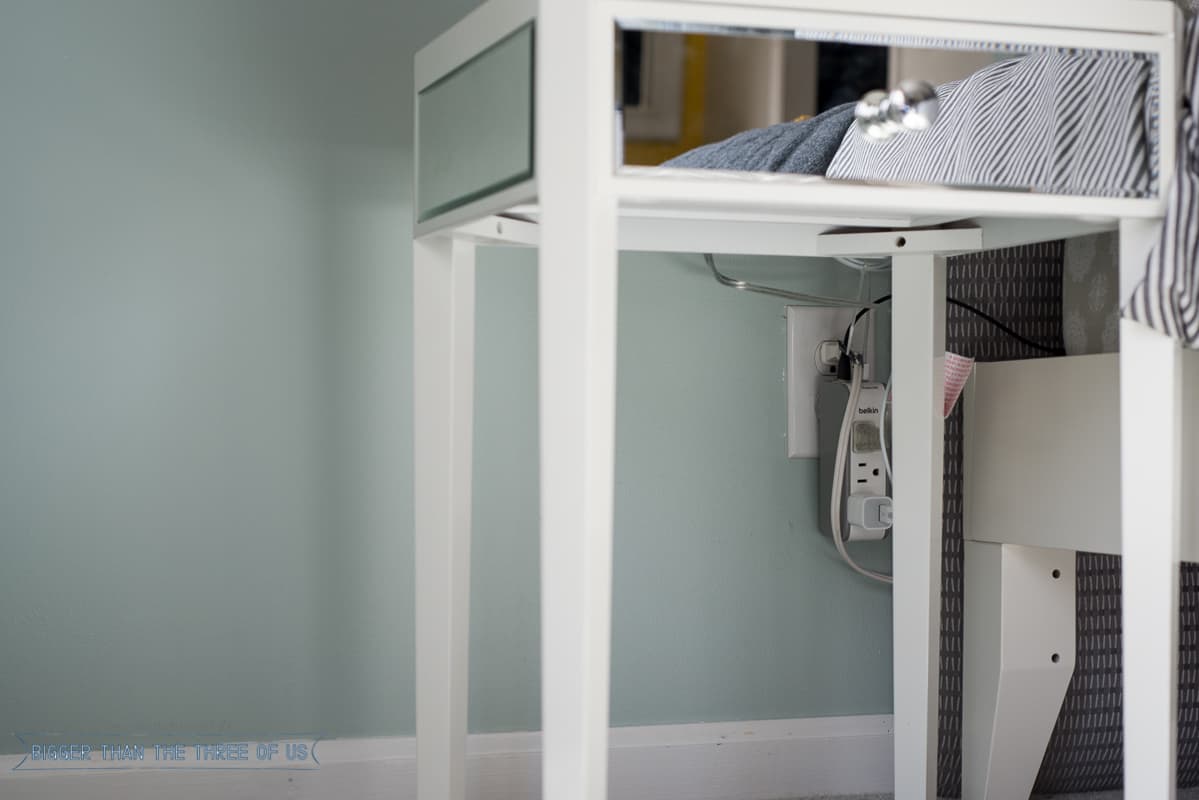 Not the prettiest right? But, if you are eye level with the nightstand then most of that is hidden.
*Ignore the dirty glass on the nightstand. Oops!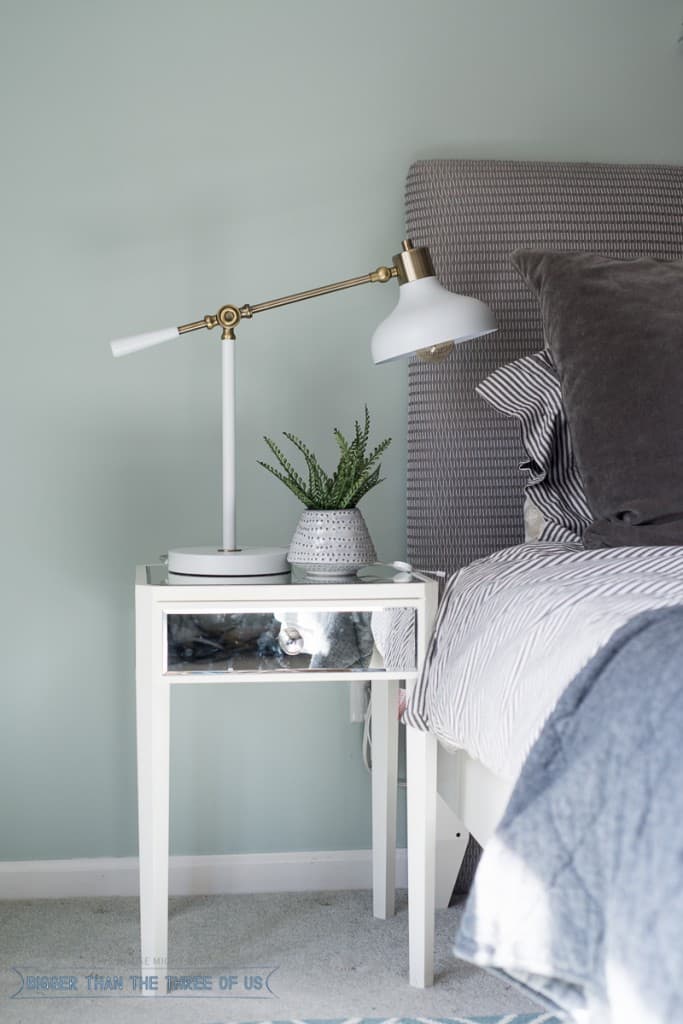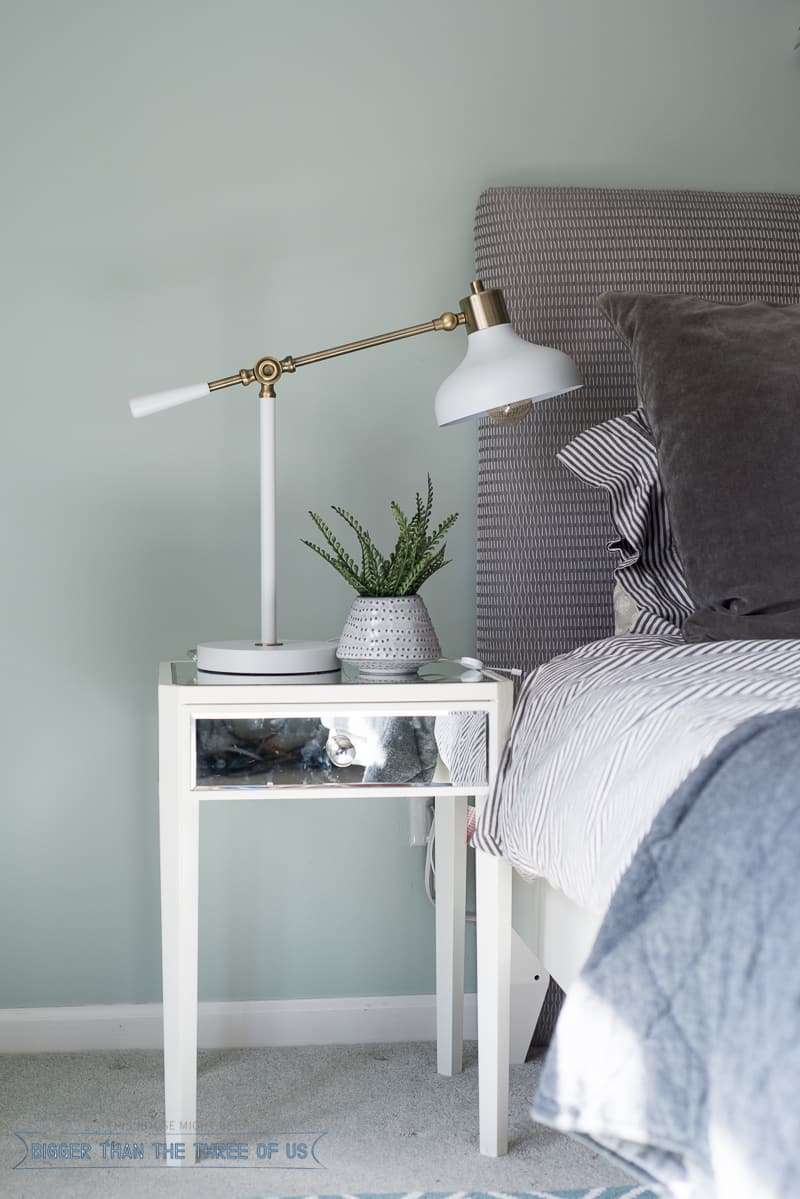 I'm thrilled with how the cords are hidden here. Even though they are still there, based on how little the nightstands are and where the electrical outlet is located, I think this is a win.
That last one was my husband's nightstand. My nightstand had way less wires to work around.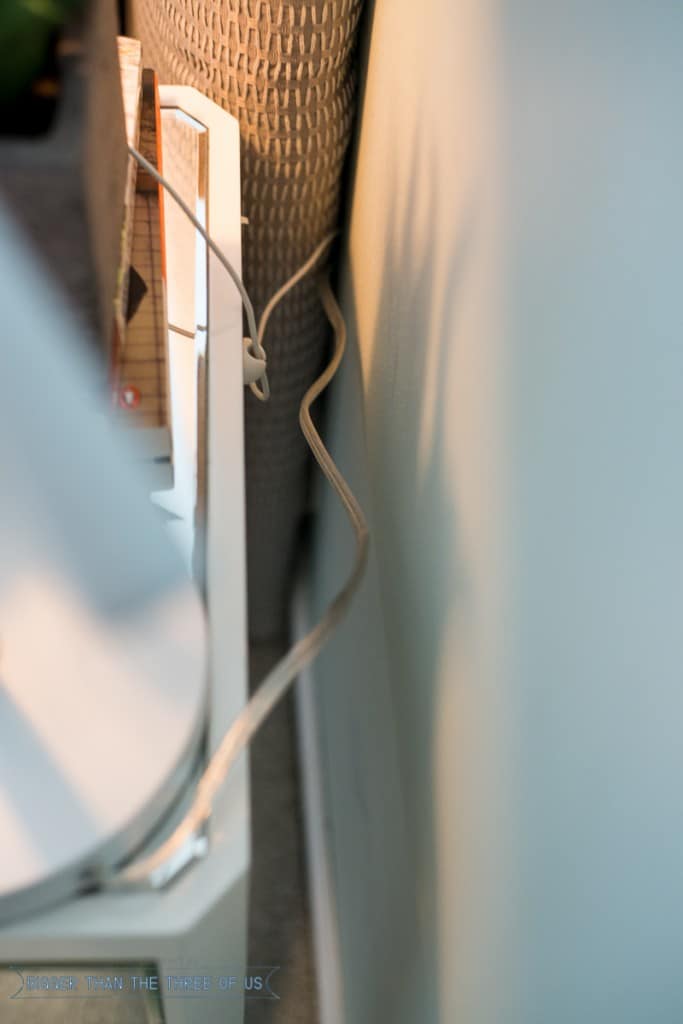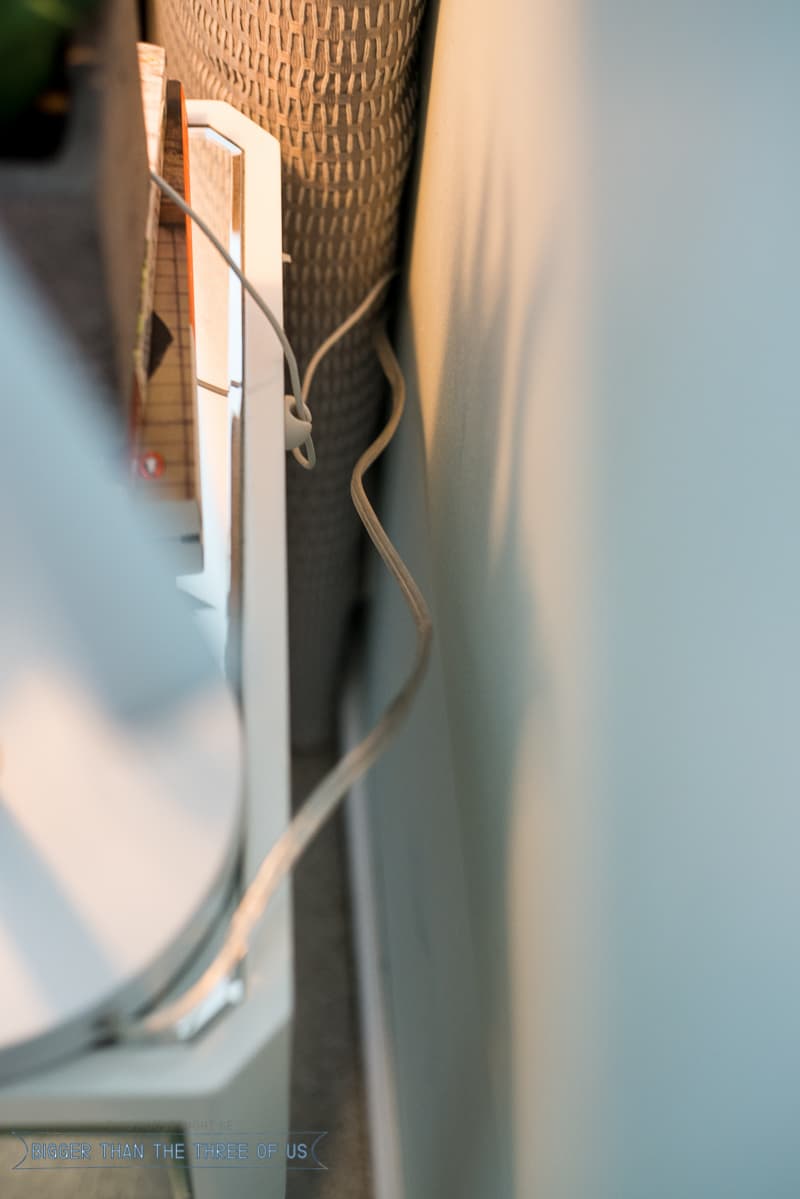 I used one cord keeper and then tucked the extra length of the lamp cord behind the headboard and I was good. I'm seriously kicking myself for not having done all of this sooner!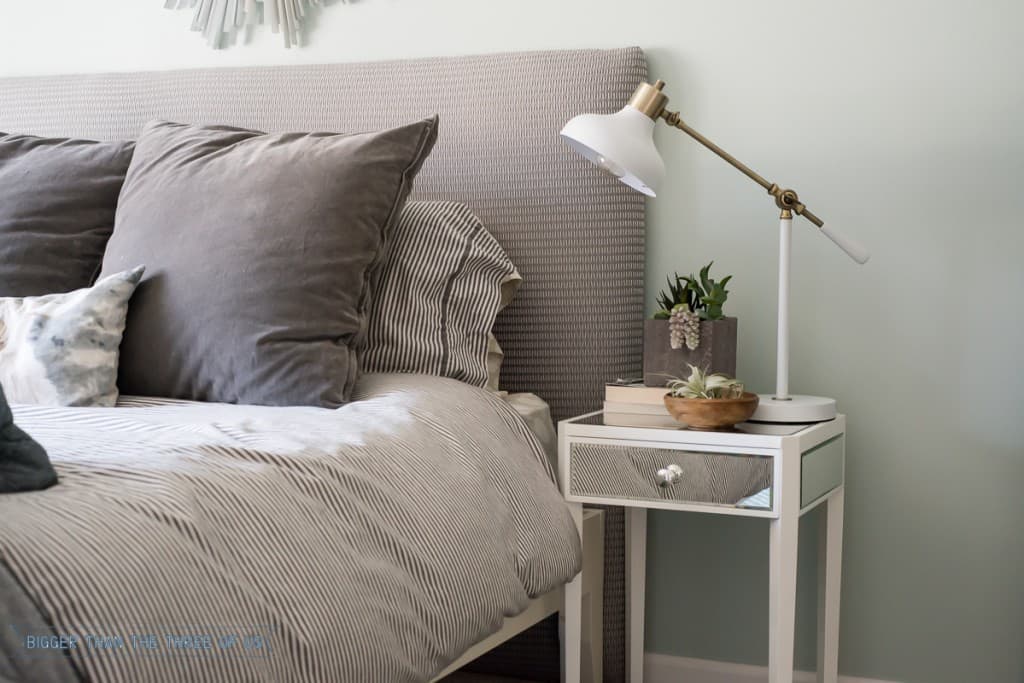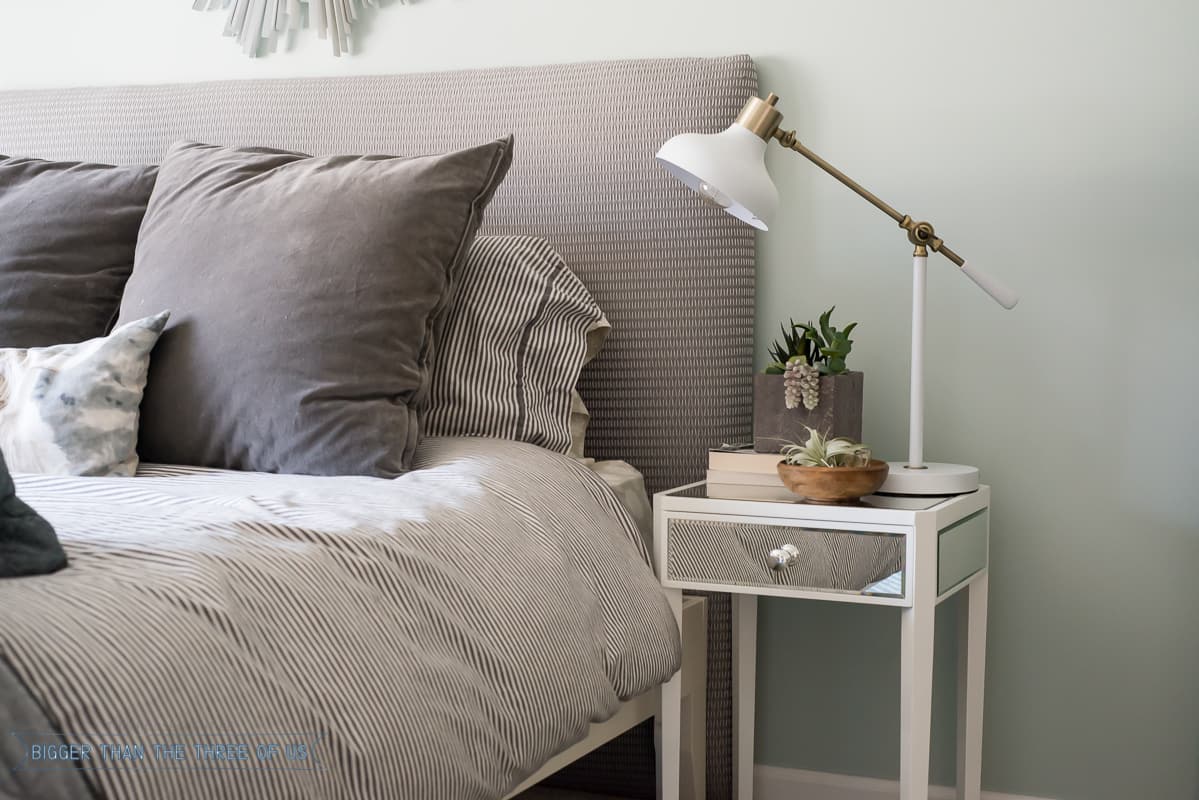 I used these products for this specific cord control issue:

Let's look at two other nightstands and talk about how you would hide the cords on each one.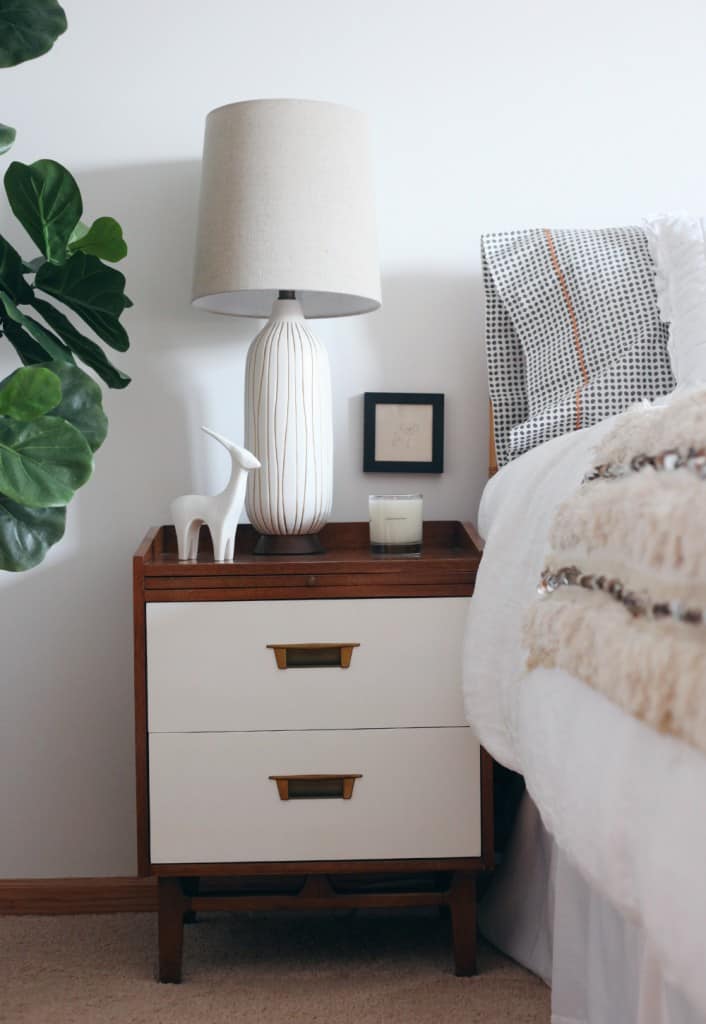 This is a much chunkier nightstand than the ones that I shared above. Nightstands that have more substance to them (like this one) require less cord management because you don't see as much open space. This particular nightstand would probably need some simple cable ties and that would be all. If you wanted to have a phone cord that stayed in place, then you could add one cable drop clip to the back of the nightstand.
Let's look at another one.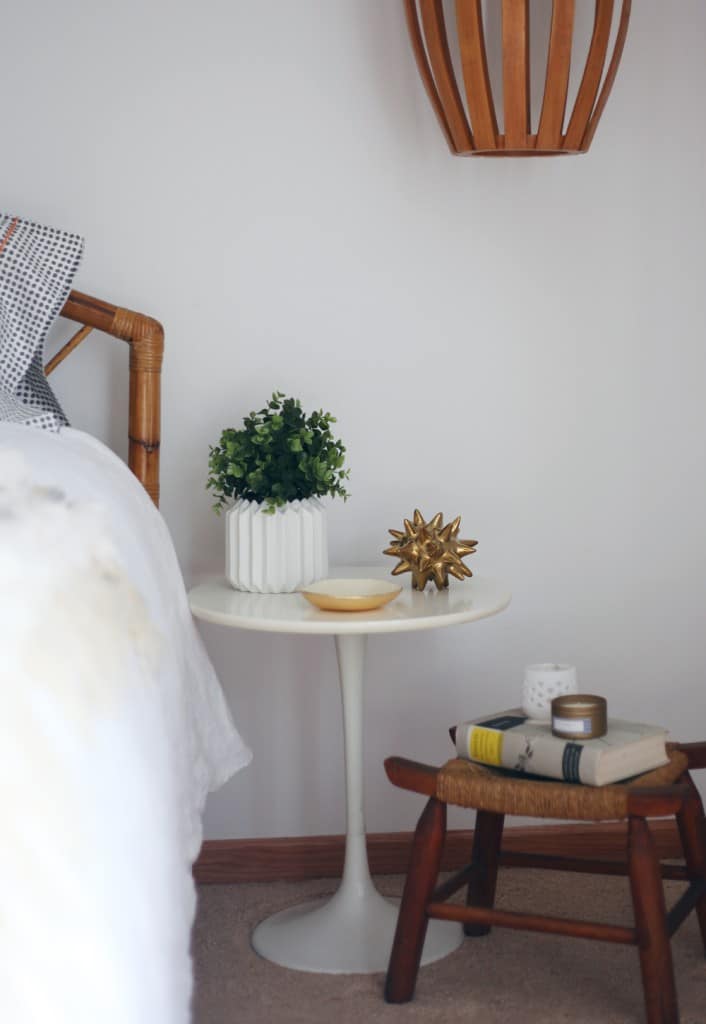 This nightstand could definitely be challenging. If you had a lamp and needed to have a phone charger, then you would need to use the sticky cable drop clips along the backside of the spindle to keep the cords directly on the backside. You would see the cords along the baseboard, but they could be pushed back between the carpet and the baseboard a bit. They do make moulding or quarter round that you can run your cords through. Here's an option for that.
All in all, I think having options on hand for hiding your cords is the best thing. I didn't know exactly what I wanted to use until I was in the middle of it. You would use the same concepts for a desk or open shelving; or really, I think, just about anything.
If you need products to get started, I'd recommend some of these: