Learn how to decorate with Halloween Art Prints and simple decor such as paper bats, spider webbing and more to help embrace the spooky season of Halloween.
When Luke and I got married, I wasn't really into holiday decor except decorating for Christmas. I had one or two things for other holidays, but I didn't find joy in getting that decor out. As our kiddo came along and became interested in holidays, I started to find more joy in putting a bit of effort into holiday decor.
I'll be honest and say that I never used to think Halloween decor was cute and if it wasn't for our son showing me it through a child's eye, I'm still not sure I'd think it was cute. There's something kitschy about it, in almost all cases and that's just something that I don't tend to like.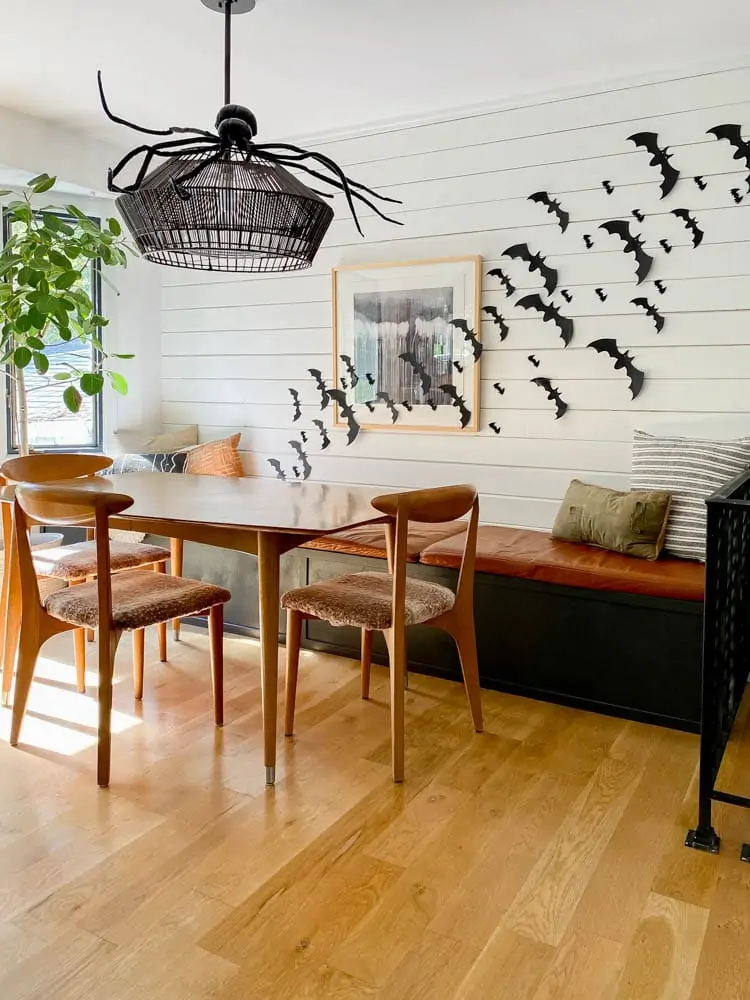 Five years or so ago, my mindset on decorating for holidays in general and specifically, decorating for Halloween, seemed to change. In trying to see it from a child's perspective, I grew to embrace the semi-cute bats, spiderwebs, ceramic pumpkins, etc.
There's still a big part of me that has to keep holiday decor minimal and budget-friendly. I thought I'd share some of the ways that I'm able to evoke the spooky feeling of Halloween in our house without having boxes of decor or buying items that are going to end up in the landfill.
And, after reading through this or listening to the podcast, check out my post on our favorite Halloween at-home activity (Pumpkin rolling).
Affiliate links below. Thanks for supporting this blog. Click to read my privacy and disclosure policy.
Halloween Art Prints and Under $5 Halloween Decor Ideas
If you came here looking to listen to the podcast episode on Halloween decor, click here to be taken directly to the podcast.
If you are here for the blog post today, you are in the right place. On to the good stuff….
I saw a theme in my Halloween decor this year and it was basically things you could do for Halloween decor that cost around $5. I'll share the list with you and then share pictures of how I used each item.
$5 Halloween Decor Ideas
Make a ghost out of a vase
Printable Halloween art
Add Spider Web Decorations
Spider webbing looks great wrapped over art and vases. Add a few spiders and you have a creepy and quick spooky set-up.
Last year, I added a big spider web and paper bats on my kitchen shelves.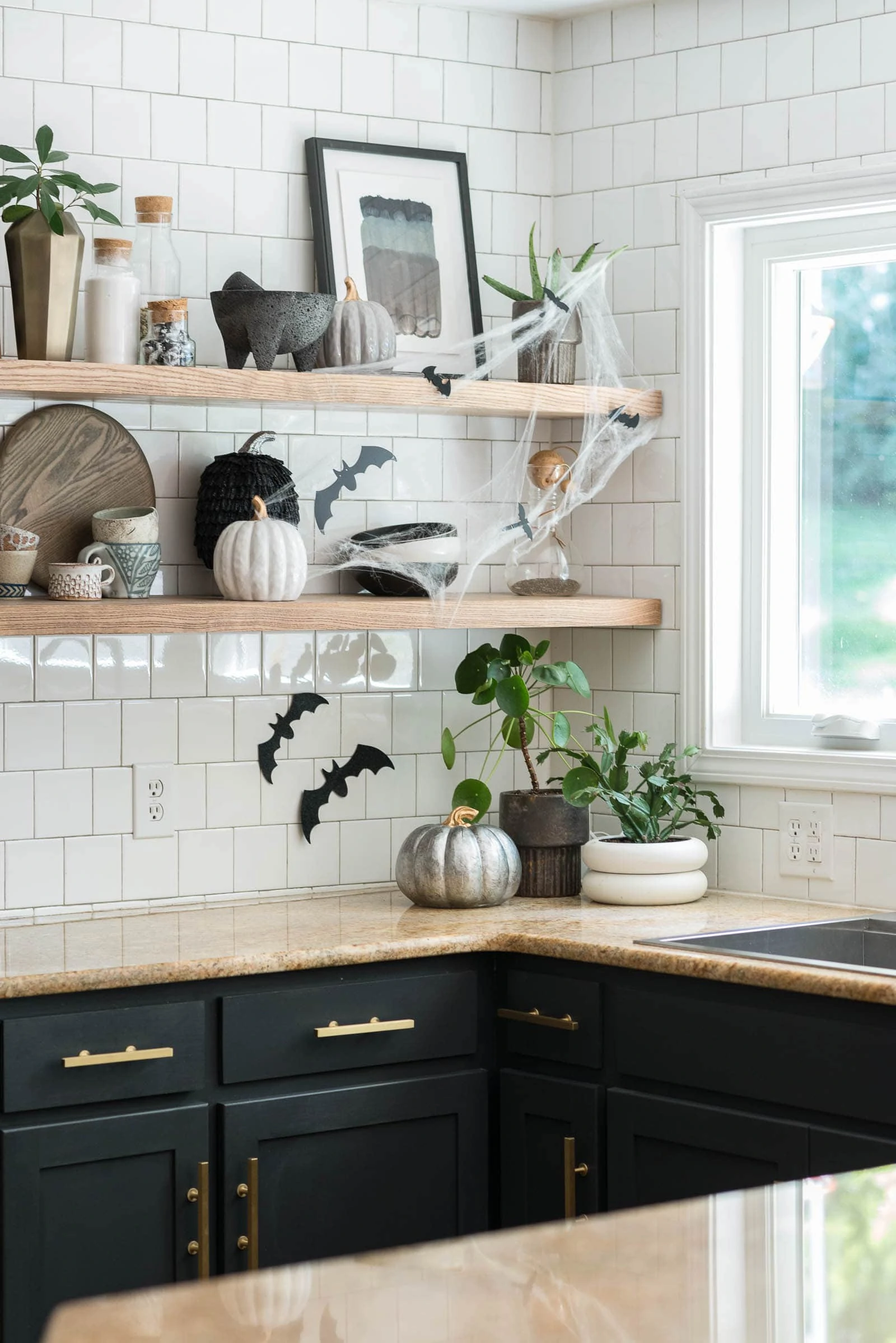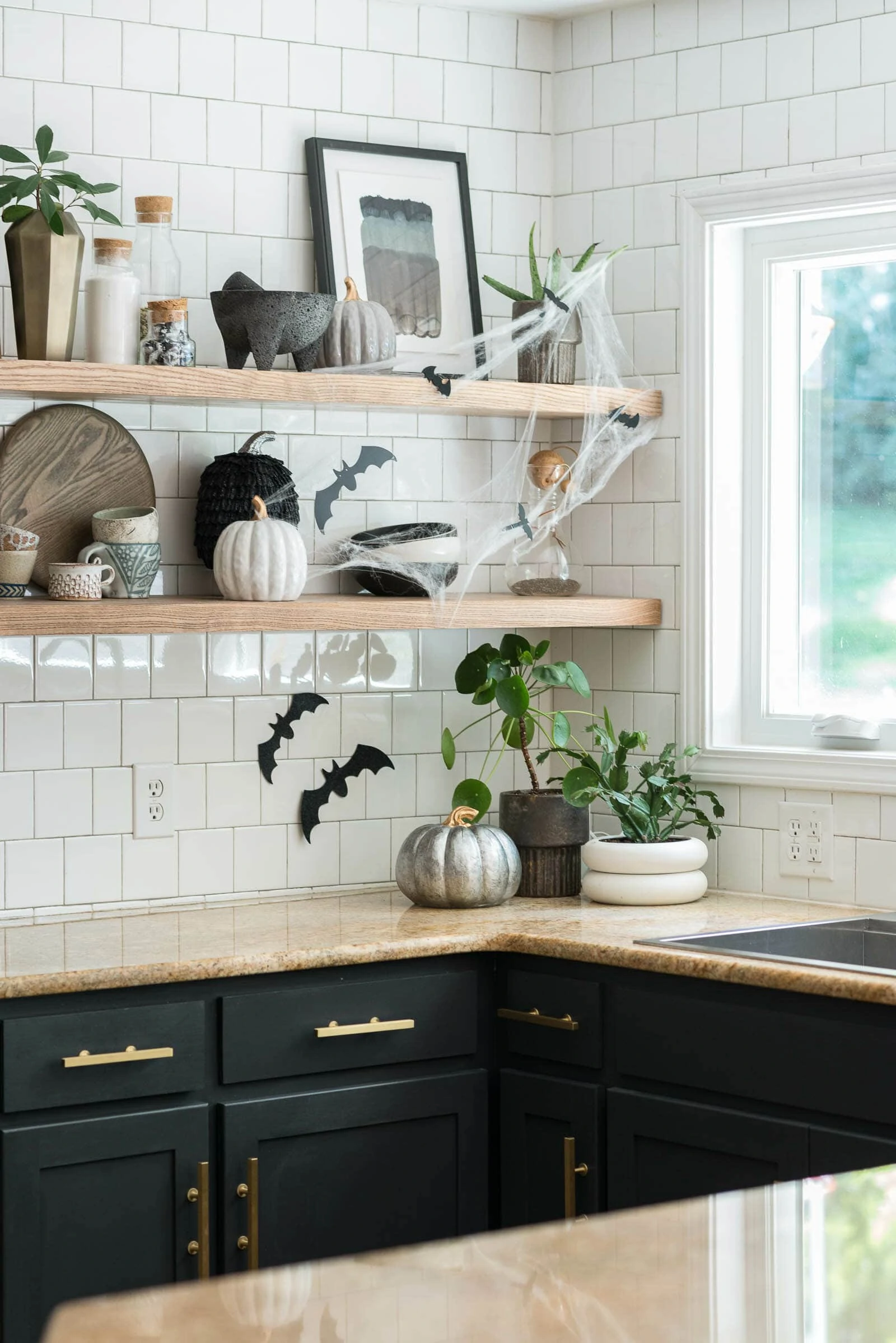 This year, I wrapped spider webbing around a crackled vase and added a few spiders in the web, too.
Add Paper Bats on Wall for Decor
Paper bats can be used on walls, vases, windows, etc. I've used them in the past on my kitchen tile (see above), but this year I put the paper bats on the wall in my eat-in kitchen. They are easy to take off and store. You can even keep the tape on them and reuse the same tape for next year!
If you are wondering how to arrange the paper bats on your wall, I think a mix of sizes for the bats looks the best. Let the bats have a flow on the wall instead of trying to make the bats look uniform.
Make a DIY Ghost Vase
With half a package of spider webbing and some black construction paper, you can make a clear vase look like a ghost. Stuff the spider webbing inside the glass vase. Cut out two eyes and a mouth for the ghost and stick it on the vase.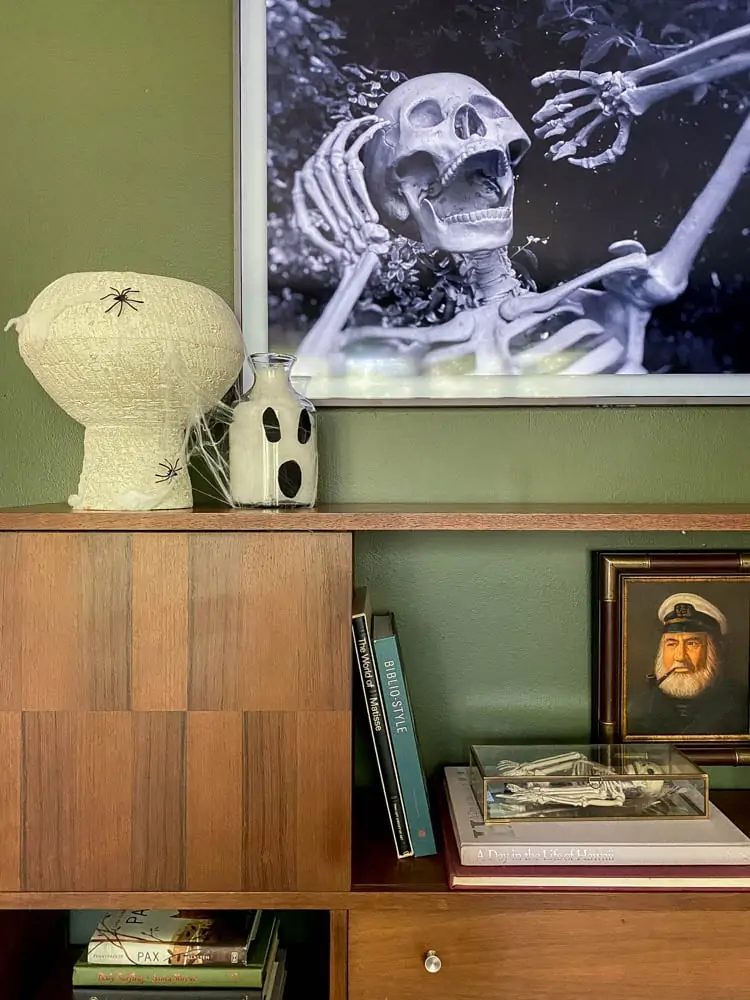 I'm such a fan of ideas like this because they take very little time and very little space to store for next year.
Add Tiny Skeletons to Year-round Decor
I love glass boxes in general, but how fun is this one with a small skeleton inside of it?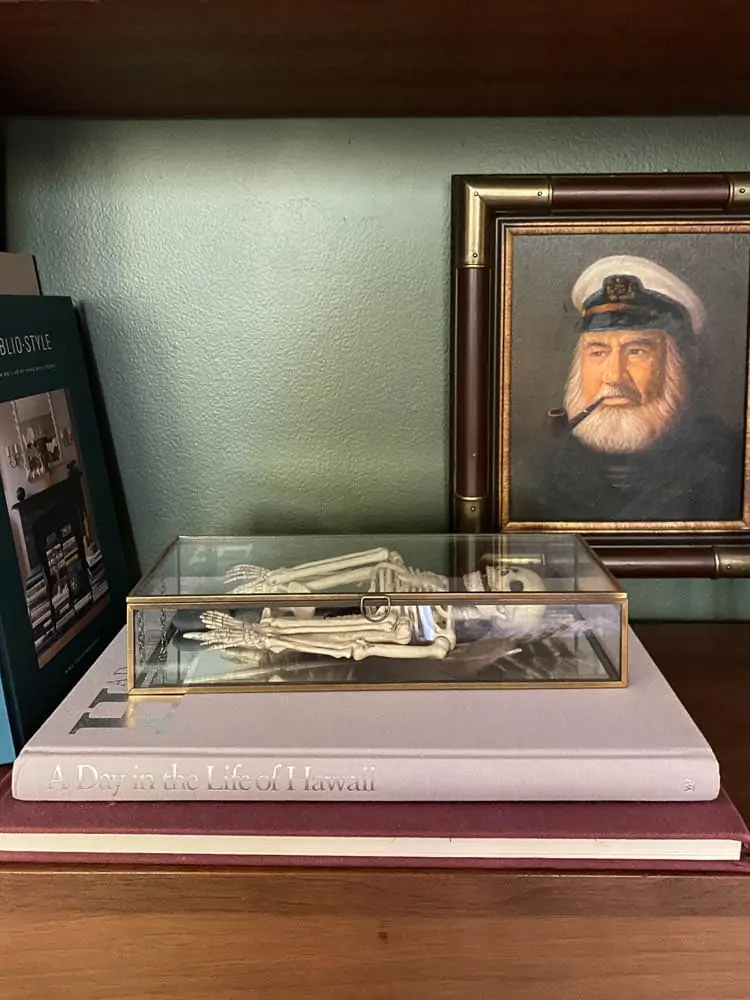 Lastly, adding inexpensive seasonal art prints to your home can bring in the festive mood. I've shared about Unsplash before (see this roundup of 10 Modern Free Art Prints). If you are new here, it's a site where photographers submit their work (on all types of subjects) and you can download and print their images for free.
Halloween Art Prints
My recommendation for adding Halloween art to your house is to see what size frames you already have up. Are those frames easy to change the art? If so, print a few seasonal art pieces off and replace the original art with the seasonal piece. Instant Halloween decor and it didn't break the bank nor take a lot of time.
Here's a few Halloween Art downloads that caught my eye.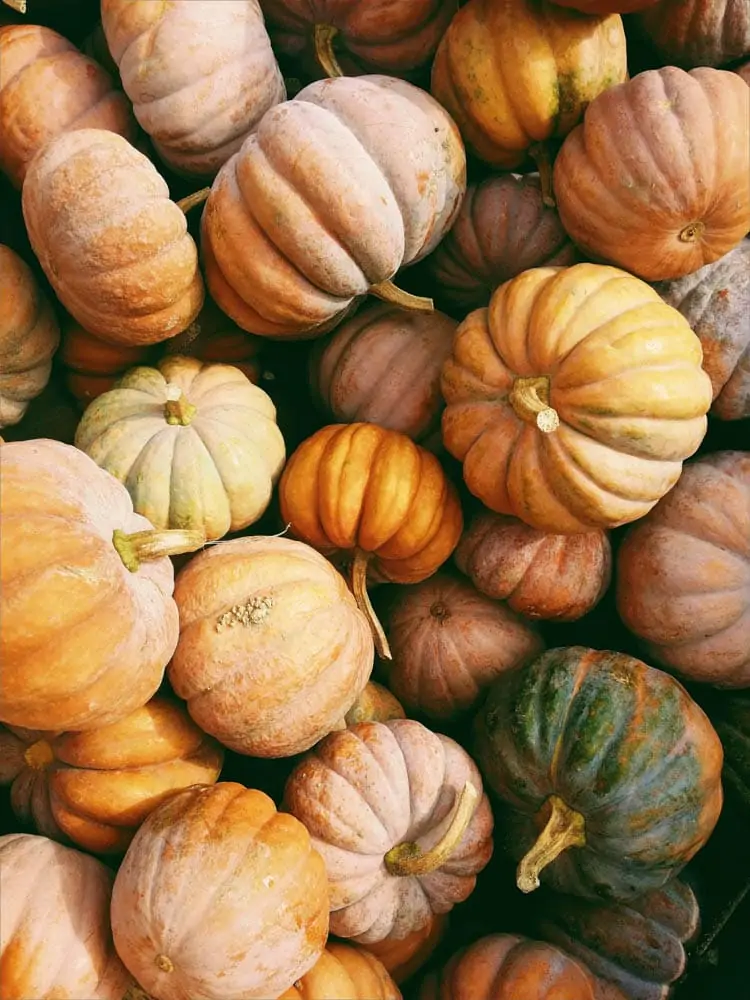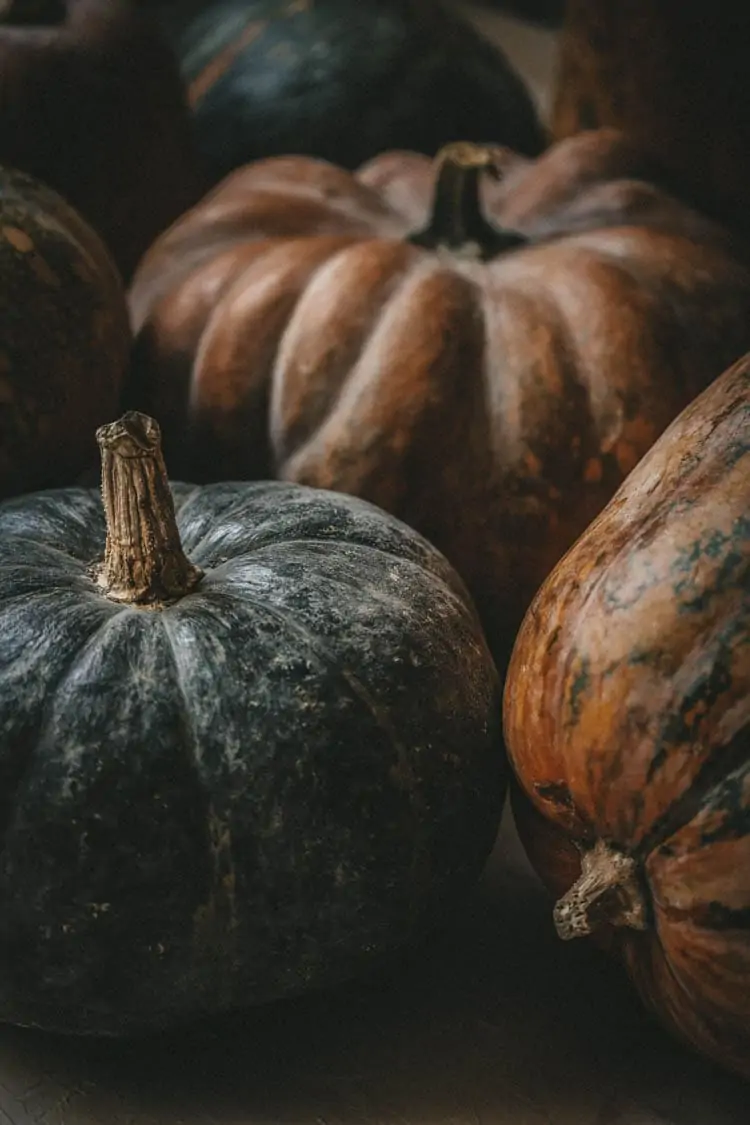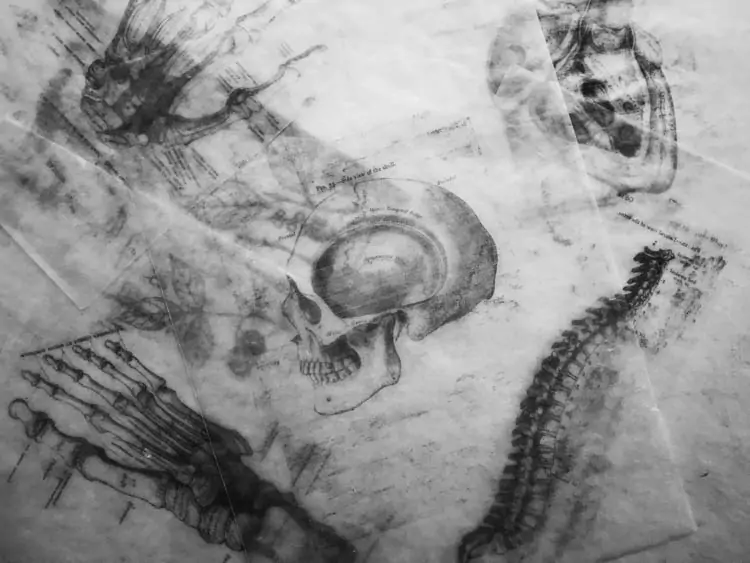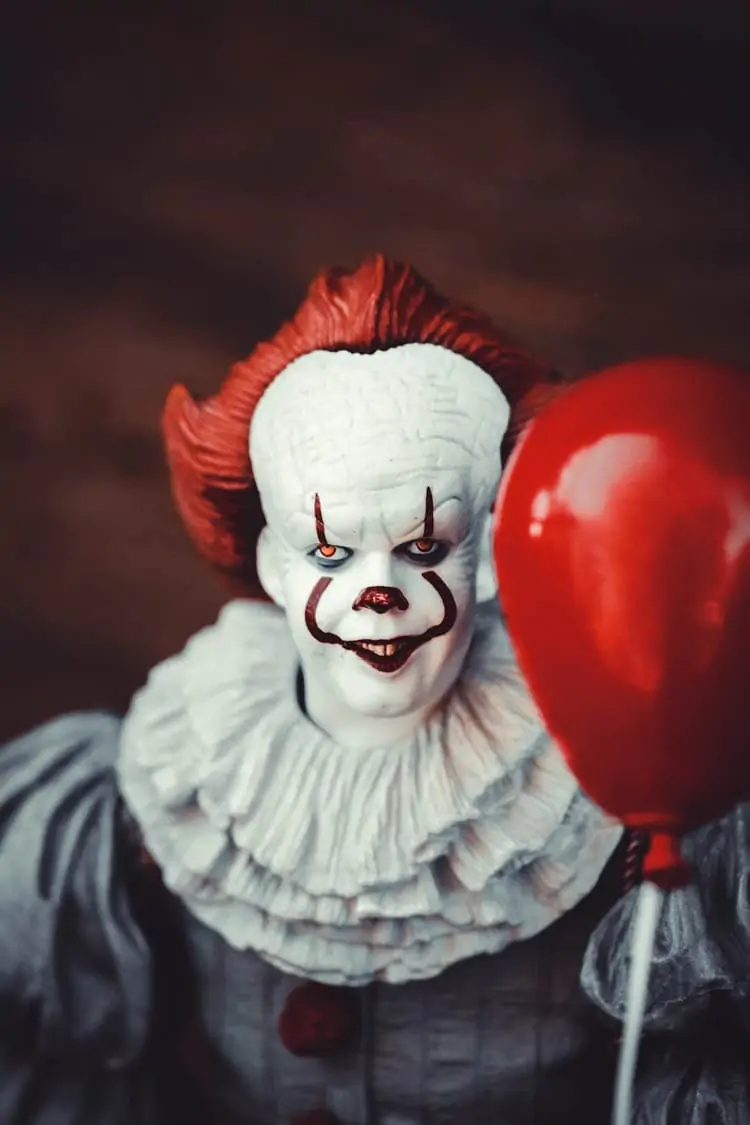 I downloaded this creepy skeleton art and put it on our TV for art this year. Super simple yet effective, right?!
I hope I was able to inspire you to think a bit differently about your Halloween decor. If you are looking to buy a few new pieces, here's some that are really budget-friendly and similar to what I own.

Halloween Decor Podcast Episode