Happy Monday. Hope you all had a great weekend. We celebrated Father's Day on Saturday by going to a waterpark and just hanging out. On Sunday, we celebrated both of our dad's with dinner and pool time. All of that is to say, that it was very DIY project light this weekend. #oops Anyways,  it's about time for me to get my act together and start blogging agin, right?! I thought I'd share a little "before" of our living room gallery wall. While we were on our trip, I had some friends share their gallery walls and how they go about making them. I also asked each one of them to critique my wall to see what they would say. They were all much nicer than they should have been! You see, I did a gallery wall in our living room awhile back and, while I liked it on it's own, I never loved it with the room in general. It just bugged me. You know those things that you can't quite put your finger on? That was it! So, today I want to share the "Before" of our living room gallery wall.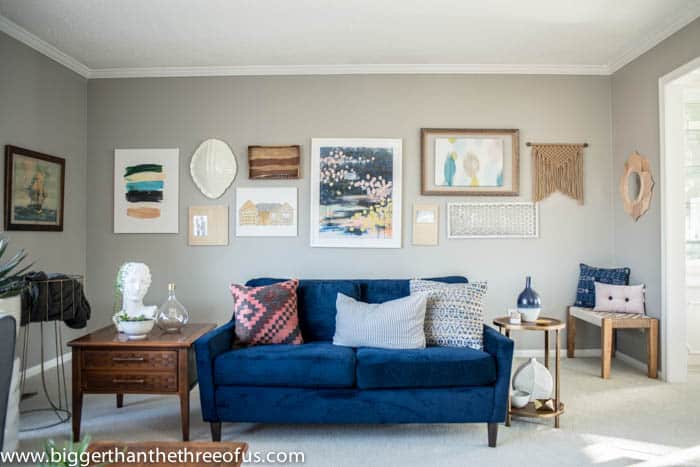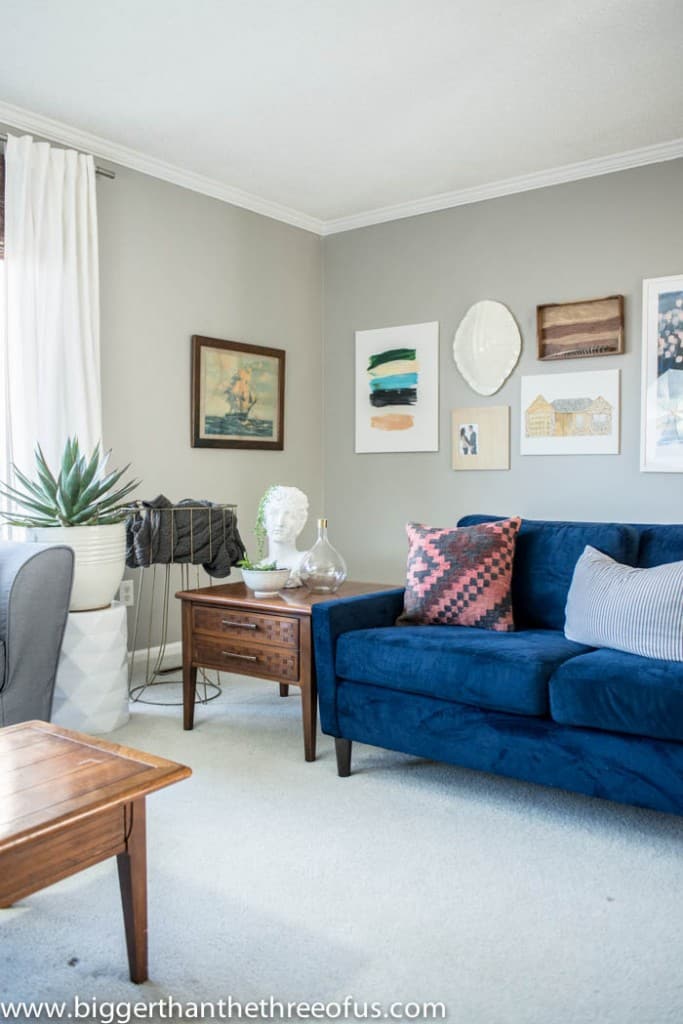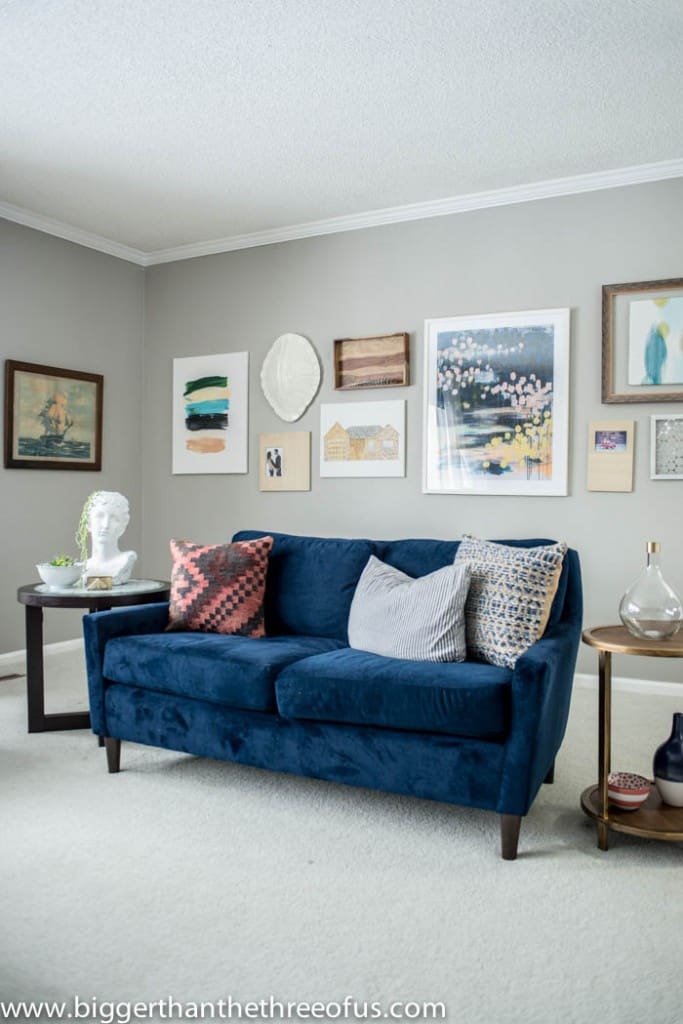 To be honest, I kinda loved the wall by itself. Take away all the decor and couch in front and I think it's pretty good. But, add back everything and it's not my favorite. But, until I had the amazing idea to get design advice from my gallery wall expert friends, I couldn't figure out what to do with it.
So, ready to hear what they said?
If you were going to up the ante on my wall (which it needs) how would you change it?
"I really like your gallery wall as-is. But I also like the yarn hanging in the newly made guest room, so I guess I can entertain switching things up just a bit. What I think makes this gallery wall so successful is the mix of objects, arts and textures, the repeating elements (like the white and natural woods) and drawing in color inspiration for the surroundings (like the blue couch). Going back to one of my prior answers, I would try sticking in a black and white print to just see how it feels."
Ursula from Home Made by Carmona:
"I think you've done a lovely job! You've kept it interesting with various tactile arts. I say never be afraid to really expand your gallery wall to take up the full height of the wall. It has this amazing ability to make a room look bigger, smaller, longer, shorter. Think of it like an outfit, we often wear pieces to flatter our figure and make up for any shortcomings. Do you want to elongate the room, make the place look taller, draw the eye upward? The same design principles you use in fashion you can employ in home decor."
"It already looks great! I love how it stretches the width of the wall, but to up the ante you could also take it from floor to ceiling  as well. All the colors look so great together but I would't be afraid to add in another bright print to go with the bright, happy pillow you have on your couch."
"I LOVE items you used and if I was going to add a little drama I would bring them in tighter together away from the sidewalls and then I would add some items that that the gallery wall spans from the top of the couch to the ceiling. Great job so far!"
"I'd remove 3-4 pieces so that it doesn't span the entire width of the wall — you need some breathing room on the sides.  I love the turtle shell and the weaving though — definitely keep those!"
So, I've taken all of their recommendations in hand and have been looking back through their gallery walls for my inspiration… BUT, you will have to wait till Wednesday to see. =)