Shopping for a modern bar stool or stools for the kitchen counter? I'm sharing about bar stool height, counter stool height, about my swivel bar stools and more in today's post!
In the last five years, I've purchased both wooden barstools for the basement pub table and counter height barstools for the kitchen. I've had to double-check and triple-check barstool height and feel like I have a great grasp on what height works for adults as well as kids.
So, if you are looking to buy boho bar stools, modern bar stools, counter-height kitchen stools, etc., you are in the right place!
I'll share details on how to make sure you are buying the right size stool for your space as well as a roundup of good transitional stools that will work in a lot of spaces.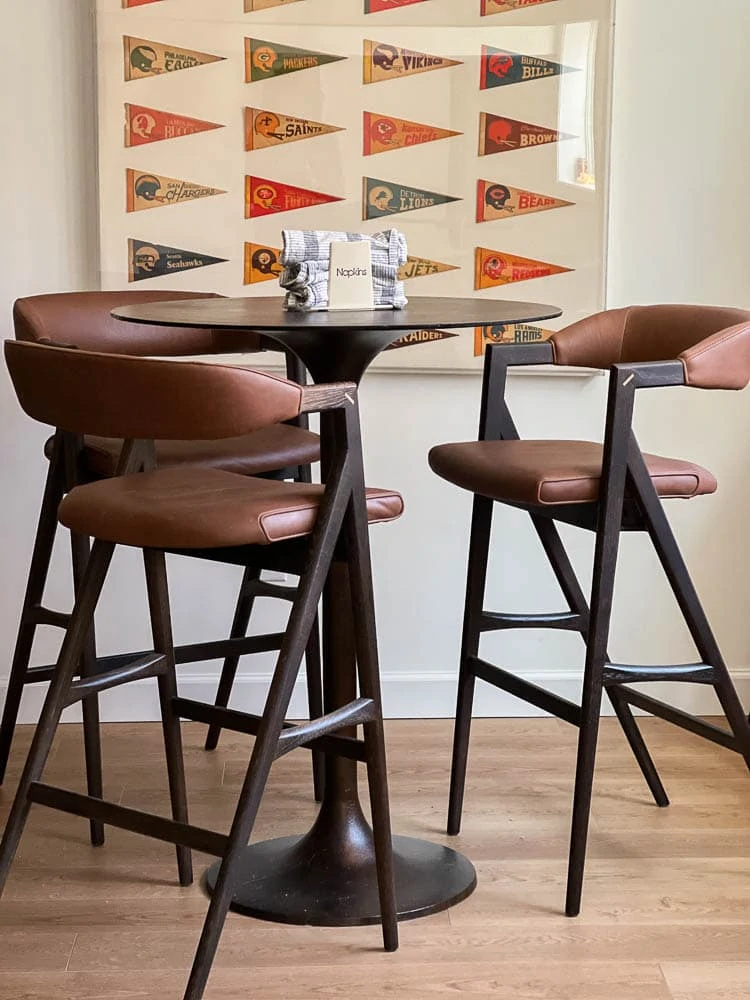 Bar Stool Height versus Counter Stool Height
I often get asked about the leather barstools in our kitchen. Interestingly enough, the two swivel barstools are actually counter stools. Do you know the difference?
I think most of us use the terms "barstool" and "counter stool" interchangeably but you really do have to know the difference when you are shopping for them. Let me explain and then I'll share more!
What is the difference between a bar stool and a counter stool?
A bar stool has a seat height that is usually 28-32" tall. A counter stool has a seat height that is between 24-27" tall.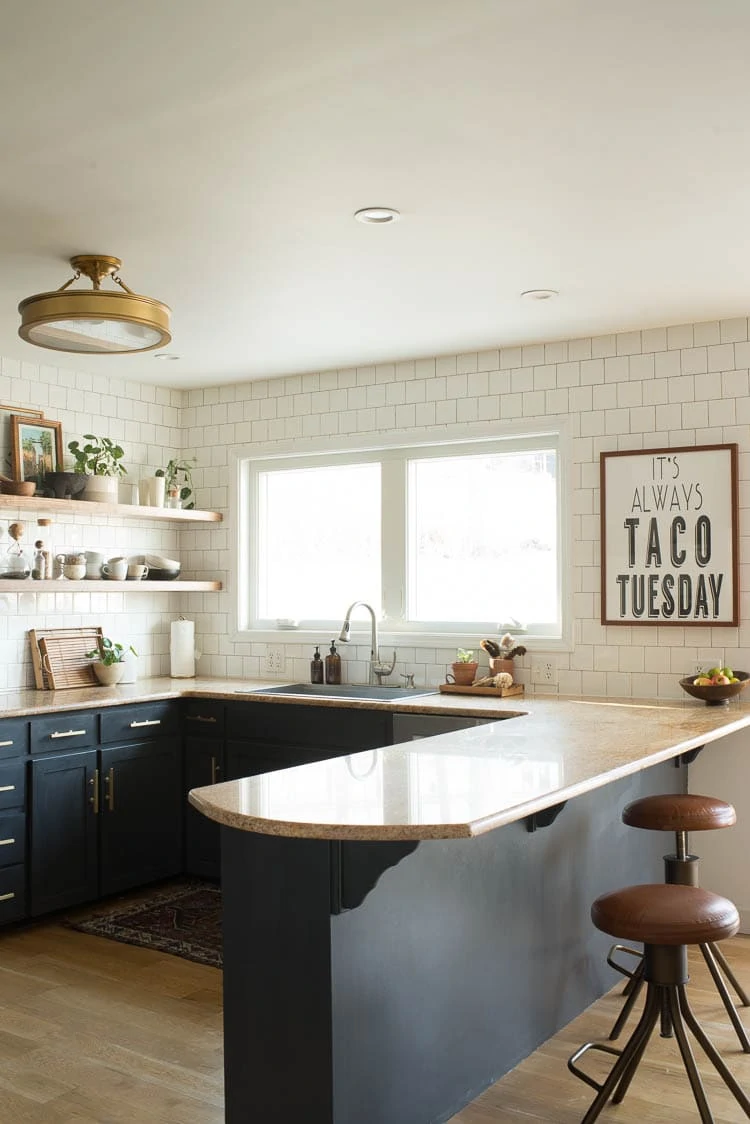 Adjustable Height Stools and Counter Swivel Stools
I will say that the difference in the range of height across the stools can be a lot for smaller kids and even adults.
We've found that our family prefers the higher end of the range in heights across both the stools for the kitchen counter and the bar table and stools downstairs. To make your life easier, finding an adjustable height stool could be a great fit. We have adjustable height stools in our kitchen and really love them. We actually often find ourselves changing the height on the stools depending on what we are doing on them.
Another thing that I love is that our stools are also swivel stools. For a space that has people in front of the counter but also has a table behind the stools, it's nice to have the option to swivel the stool to turn to chat with people no matter where they are in the kitchen.
Last thing I will say about our kitchen counter stools is that they are low-profile with no back. They sit right under the counter so they don't take visual space. Our kitchen is on the smaller side and it's nice to not have the visual clutter of a seat back that sits higher than the countertop.
All three of these things are things that I'd look for again if I was buying stools for a kitchen similar to ours.
How do I know if I need bar stools or counter height stools?
If your table or counter is around 35-38" in height, then you are looking for counter height stools. If your table or bar is 41-43", then you are looking to buy barstools.
Unfortunately, my counter stools for my kitchen are no longer available but I did round-up other options that I think are just as great.
*Affiliate links below. Thanks for supporting this blog. Click to read my privacy and disclosure policy.
Shop Modern Bar Stool and Counter Stools for the Kitchen

A lot of the options I linked, above, like the metal and wicker barstools, come in both counter height and bar height. I actually think most of the options that I linked have both options.
I chose to link mostly leather and metal barstools because we've had really good luck with both of those types at our house. Leather is so durable as upholstery and we've really been pleased with having it in our house.
If you aren't sure on what type of modern bar stool to buy, take a look at my Kitchen pinboard to get inspired. I have a bunch of different types of kitchen inspiration images on there and there are lots of stools within the photos to help you decide what type of look you like.