It's time for another "Repurpose, Recycle, Reuse" project post. I really do love these posts that we do on the first Wednesday of each month. It gives me the extra boost to get something done and it's inspiring to see what you can do with so-called "junk" items.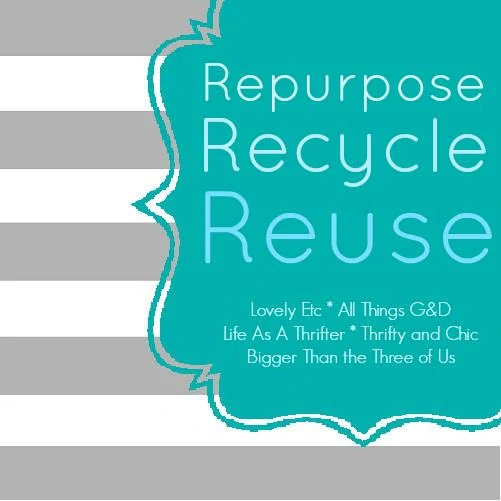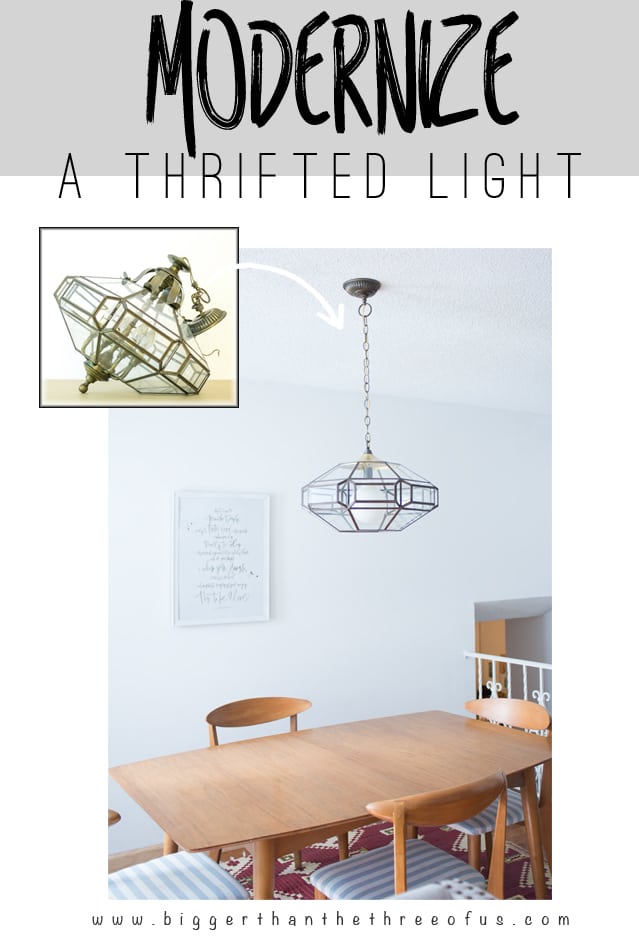 This month, I tackled this $5 pendant lamp from a thrift store. Originally I had thought to use upcycled kitchen lighting in our kitchen remodel, but then I stumbled onto this beauty.
I've had this light on my mind for the kitchen table since day one. At $600, it just isn't happening right now. While walking around a few months ago at a thrift store, I spotted the pendant above. It kinda - like squeeze one eye and hop on one foot, and try really really hard to see - might resemble the gorgeous $600 one. Ok, well no, probably not. But they are both glass, right? Actually, I did see something in the $5 pendant, so I snagged it up.
I knew right away that the top part (vase cap) would have to go as well as the candelabra part in the middle.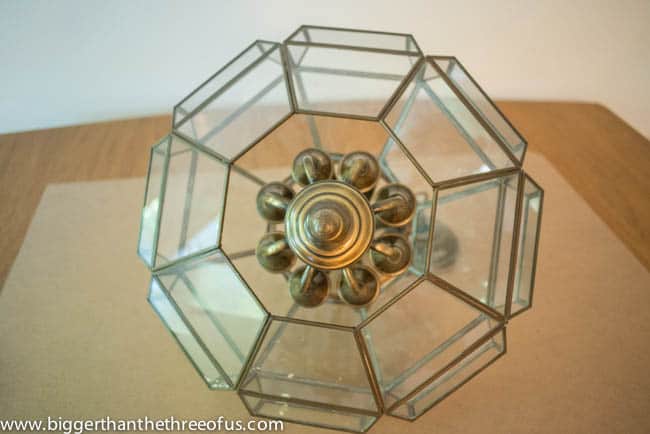 First thing that I did was take it all apart.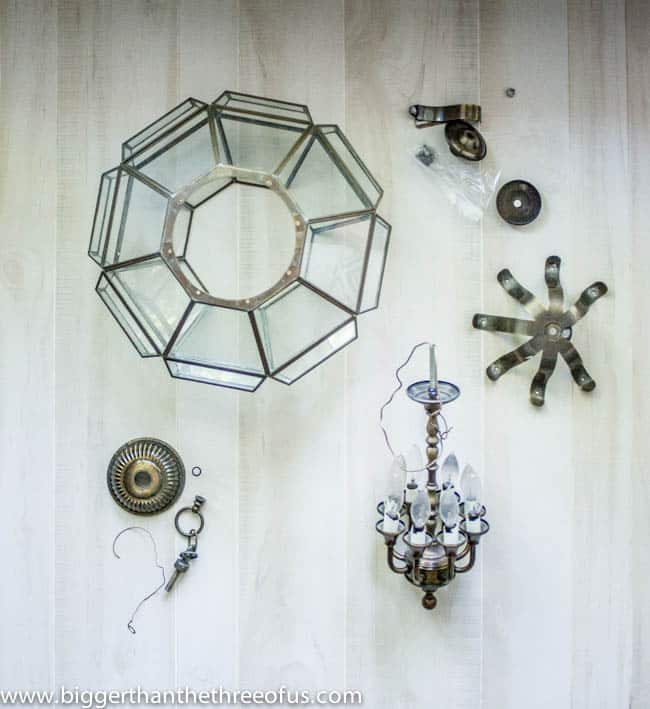 Then I measured the opening on the top so that I could order another cap (actually called a "vase" cap) to fit. I found the piece on Ebay and, because it was so large (17 inches), it cost me about $16.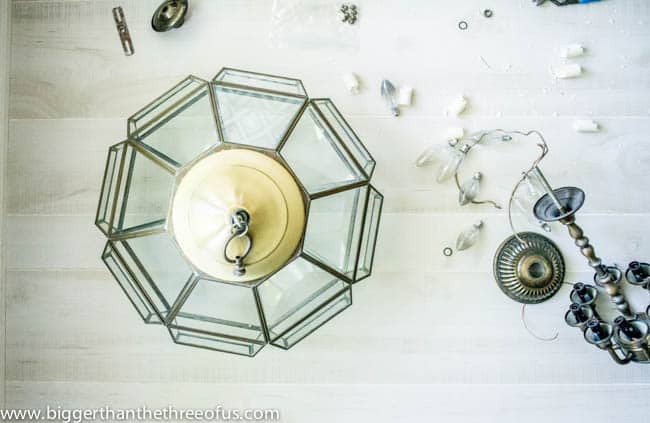 In the above picture, it's sitting on top of the pendant just to see how it fits. When we hung it, we had to slip it in from the bottom and then the pendant hung on it.
I also ditched the spiral holder thing (see below) for a more stream-lined one that I took off the existing chandelier that hung above the kitchen table.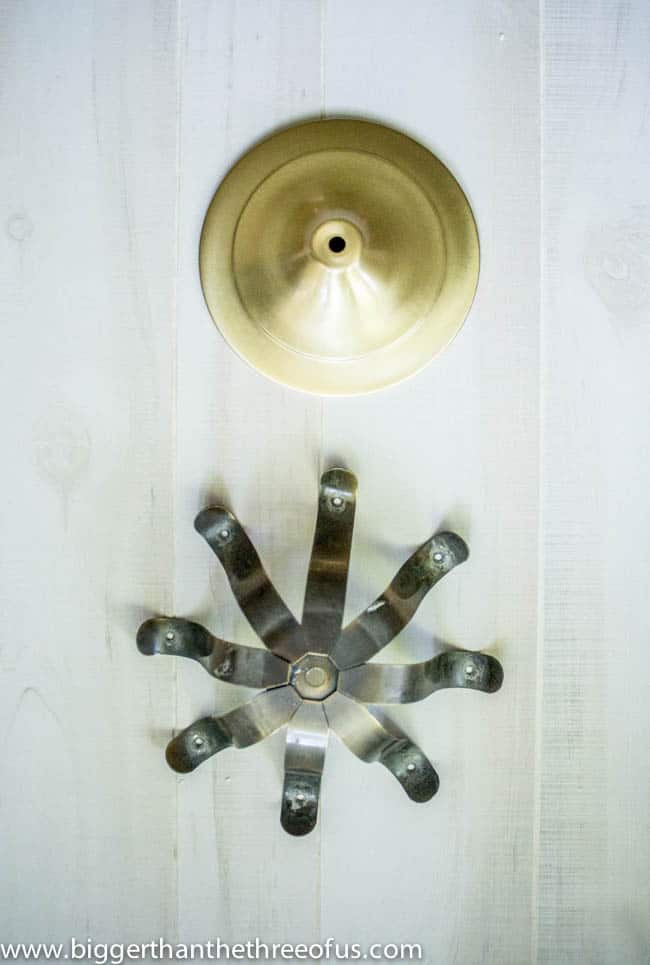 We also took the chain off the old chandelier and added it to the 'new' chandelier. Just to jog your memory, this is what the old chandelier looked like and what our kitchen looked like about 6 months ago: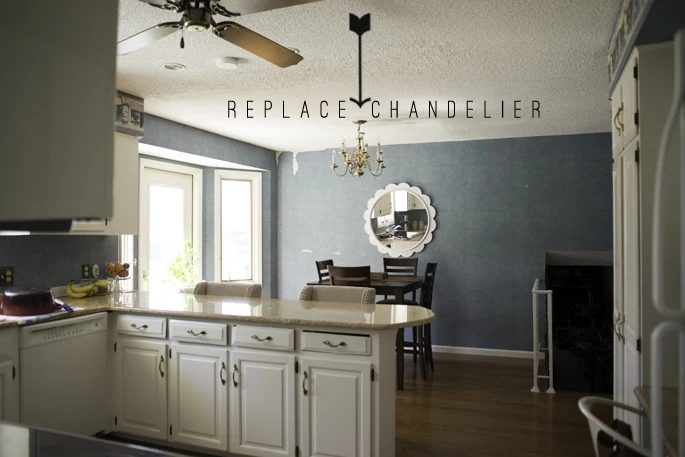 I had to pick up one socket and a spool of electrical wire to finish off the new light. We wired it all up and then hung it back up. It's off center right now, which will get changed a bit later. I have a few more plans for the room and don't want to move the wiring in the ceiling just to move it again if some of the plans don't work out.
But, people, look how far we have come: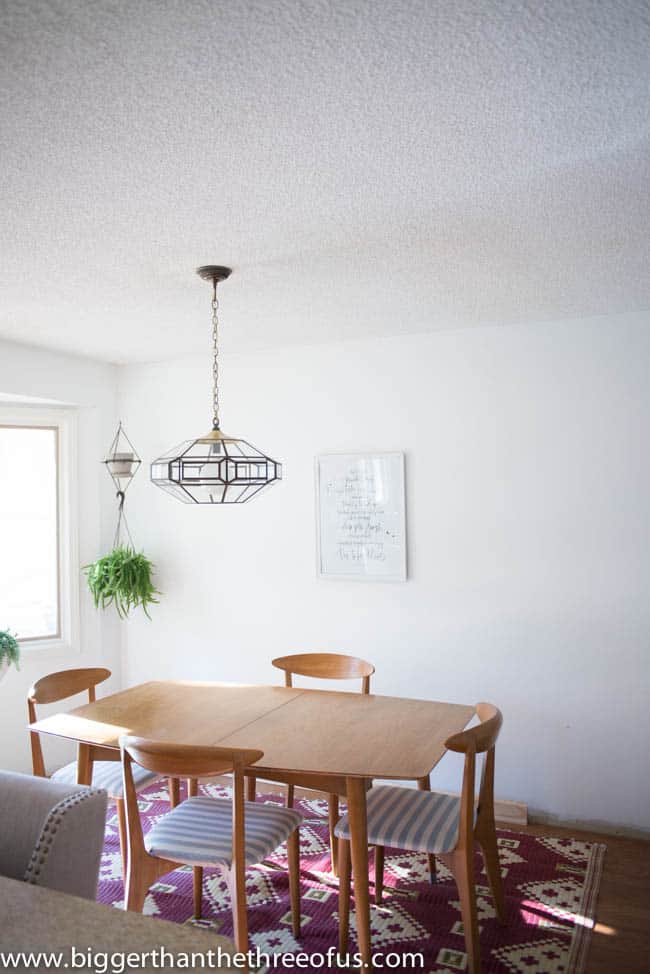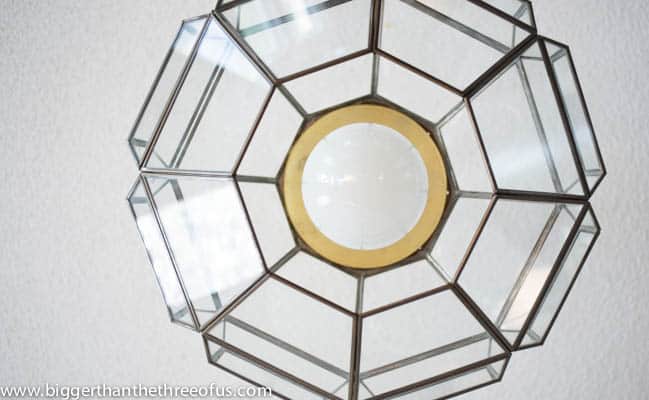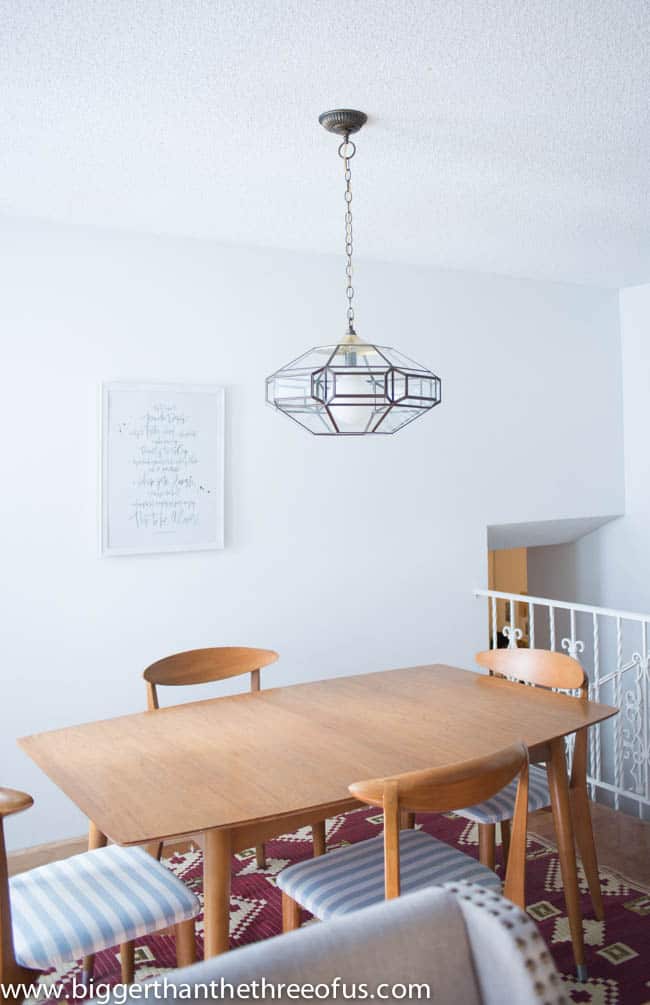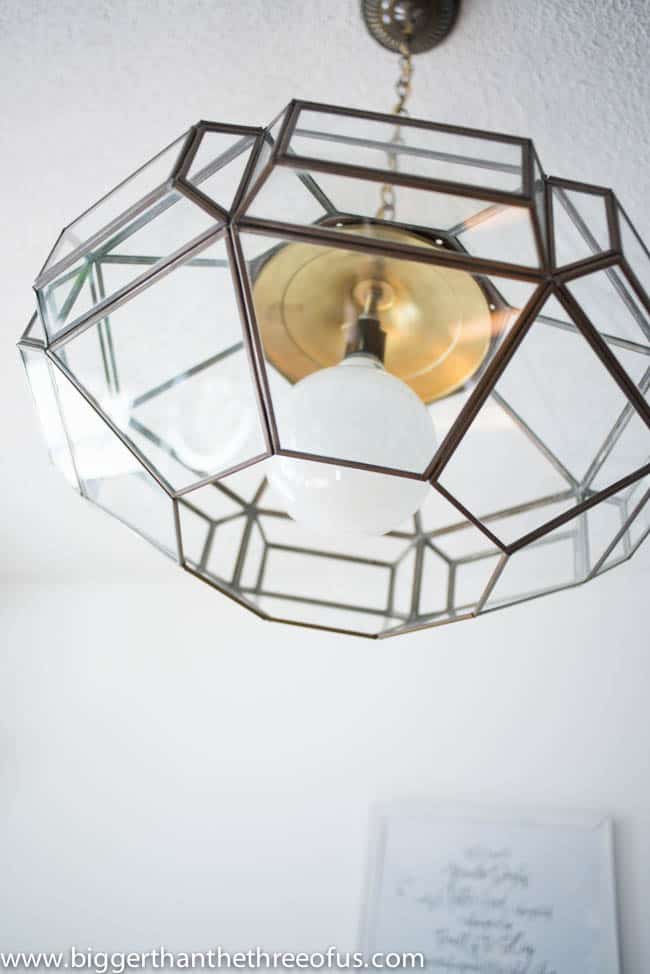 I'll admit, Luke and I weren't blown away when we hung the pendant. We've had it for about 6 weeks now and it totally fits in there. It's not my dream light, but it's definitely growing on me and, for under $25, I totally love it.
*Edited to add: Here's the light against the plank wall.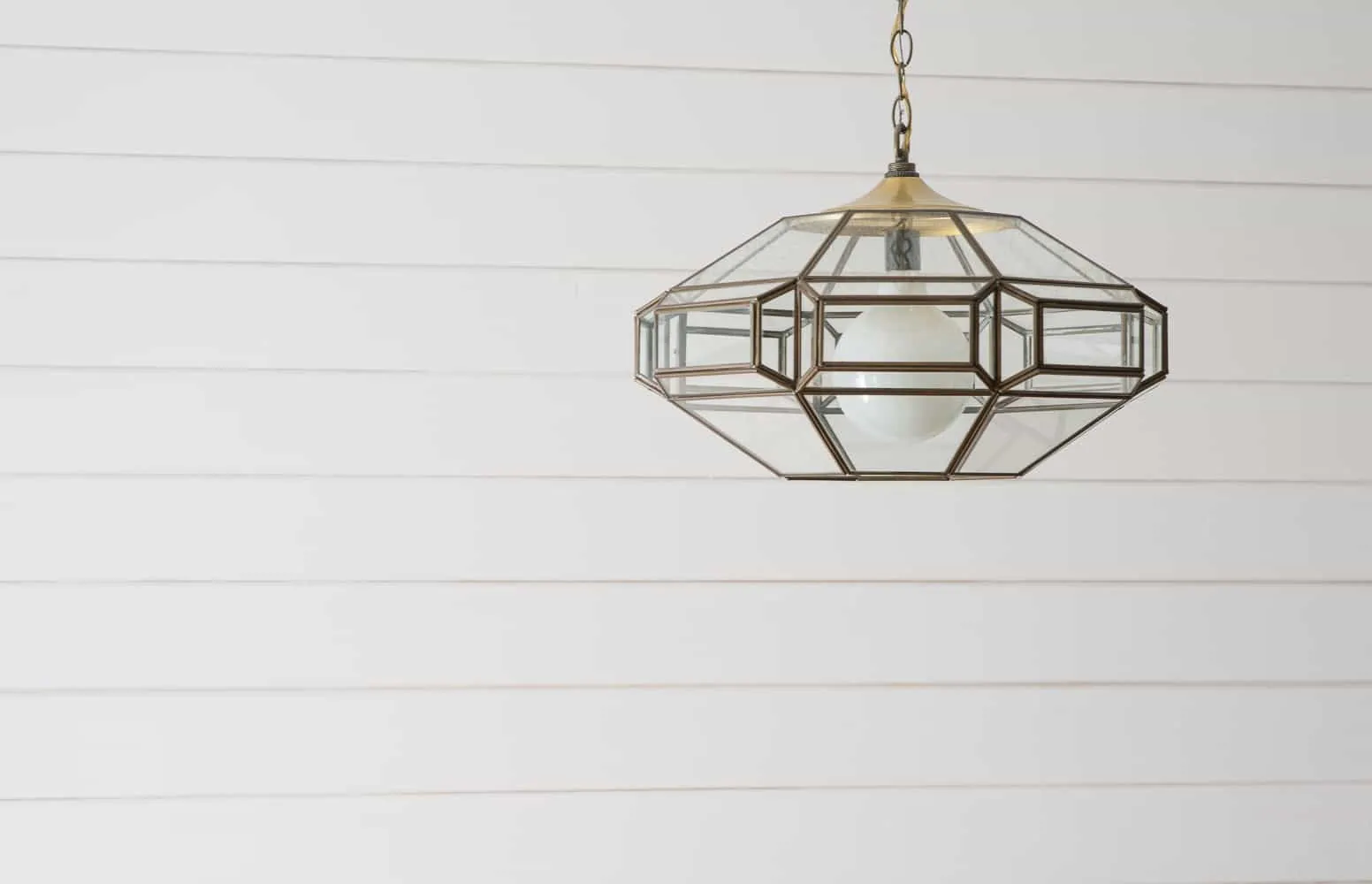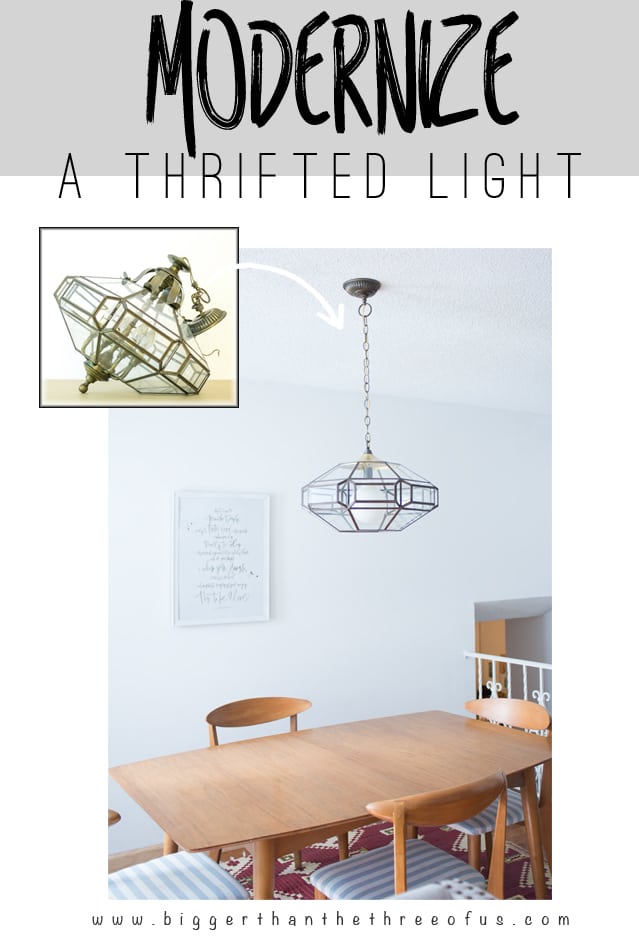 As always with this monthly collaboration, you have to check out what the other ladies came up with!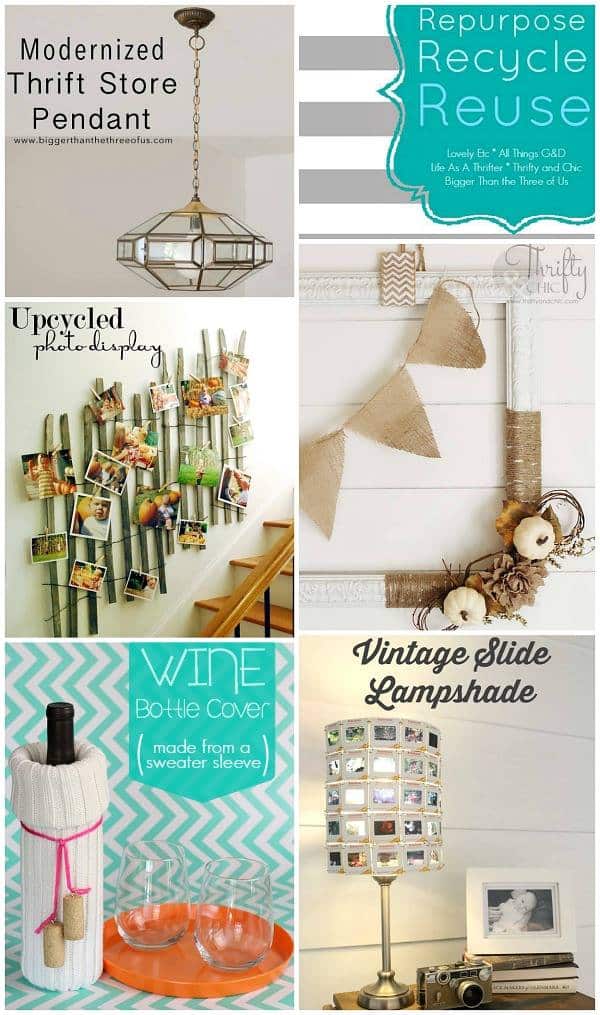 Linking up to:
Found and Foraged, C.R.A.F.T., Your Designs This Time, The Makers, The Winthrop Chronicles, Home Stories A-Z, Hit Me With Your Best Shot, Outside the Box,  Work It Wednesday,  Think and Make Thursday, Fry Sauce and Grits, Liz Marie Blog, The Inspiration Gallery, Creativity Unleashed - The Bold Abode, Remodelaholic, Whipperberry, The Creative Collection, Tatertots and Jello, and Frugal Crafty Blog Hop.