We have come a long way in getting the Formal Dining Room liveable.
This is what we started with: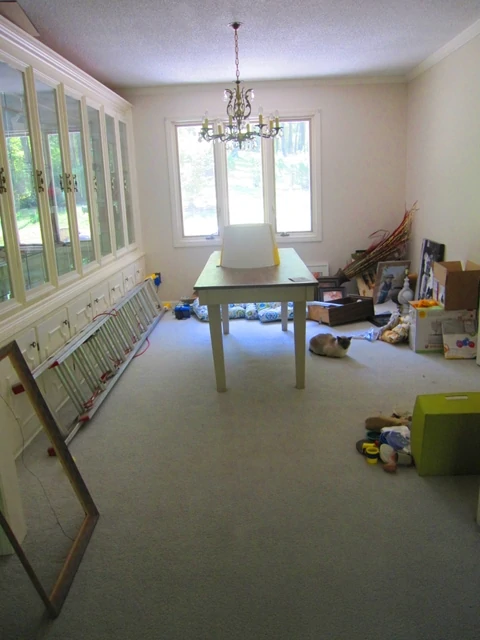 We lived with the room piled with boxes of crap for over six months. In August, I scored that beautiful (to me) table and decided to get off my rear and start decluttering.
After refinishing the farmhouse table, recovering the dining room chairs and updating the chandelier, we were here: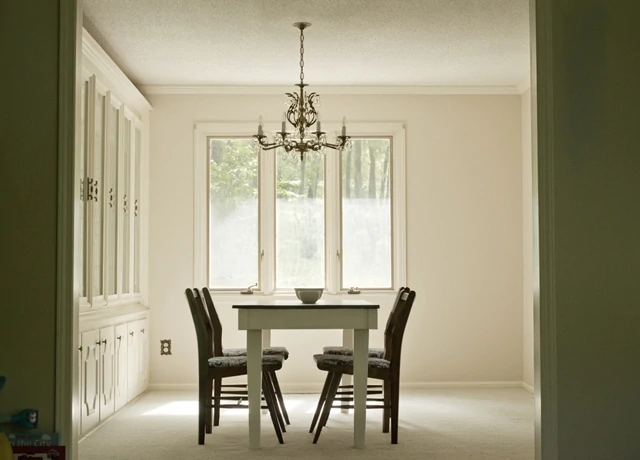 It looked pretty good, but the table felt a bit empty and I wanted a more fresh modern look. We decided to buy a set of white metal chairs from Overstock. I love the pairing of the antique chandelier with the danish chairs and then with the metal modern chairs.
My grandma gave me china to put in the china cabinet. The china looks really good. It pulls the blue from the chairs and gives the room a more finished feel.
We had a little bit of paint leftover from the living room and I decided to use it again on this room. Both of us love the gray paint. We seriously tried about fifteen different samples, but finally found the perfect one in Benjamin Moore's Gray Husky.
We still have a lot to do in here (paint all trim white, paint built-in white, hang artwork and get curtains), but I am enjoying it as it is right now.
So, as of today....this is what the room looks like:
Linking up to Tatertots and Jello.