I couldn't let January get away from me before I wrote down our plans for this year. I meant to do this weeks ago, but better late than never, right? We started and finished quite a few projects last year. I'm so proud of the loft, magnetic wall, Greyson's room, eat-in kitchen and guest bedroom. Those rooms feel like us and feel fresh compared to the other non-tackled rooms in the house. So, what's on the agenda for this year?
I've told Luke over and over that this is going to be the 'year of bigs.' What does that mean exactly? Well, it's our 10 year anniversary so I want to take a really cool trip, get a really cool gift (not kidding! #unfortunately), buy seating for the living room, install wood flooring and buy a zero turn with a bagger!
Luke asked me if I was going to win the lottery. I told him he just needed to pick up a few programming side jobs and we would be fine. lol.
Actually, to be honest, if we cut down on all the little decor items and 'extra' things that we spend money on… then that list probably isn't too far off.
Let's get on to what is on our house renovation list.
1 :: The kitchen absolutely tops the list.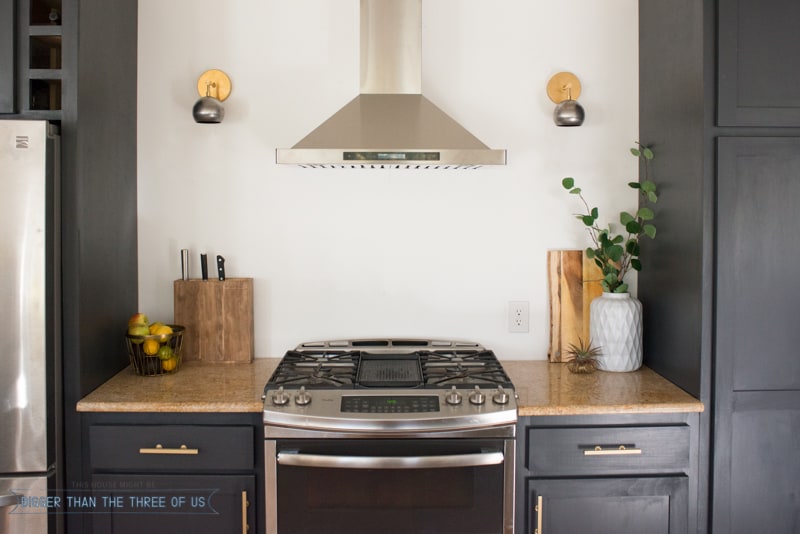 We still have to tile, replace the dishwasher, replace the sink/faucet, install open shelving, replace the flooring and figure out the ceiling issue. It doesn't seem like a lot, but it will probably take us 'till summer to get it all finished.
I'm excited because, today, we are going to a custom wood store to look at shelving options. I've gone back and forth on wanting something live edge (see this inspiration for what I'm talking about) or something more stream-lined (see this example). I guess we shall see once we see some in person.
…