From birdseed balls to bird seed ornaments, learn more about making all kinds of bird treats.
We have lots of birds in our yard and I got to thinking about them. During the summer months, they all gather at our fountain and fly right into our windows (seriously, I hear a crash every week)! But during the winter months, what are they doing around here? It's cold, dreary and wet.
So, I picked up some birdseed and decided to use some things in our pantry to make some homemade bird food.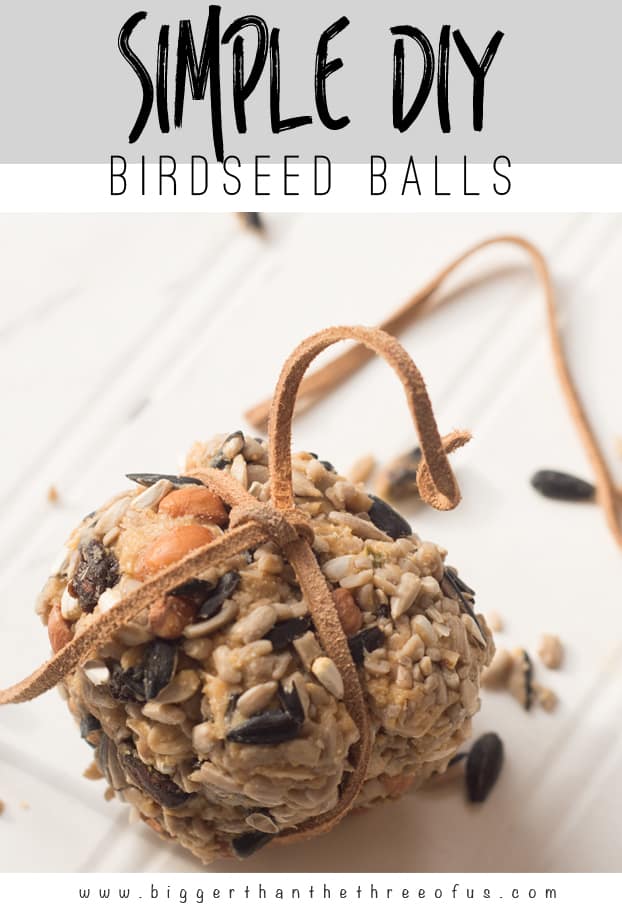 Make All Kinds of Birdseed Treats from Birdseed Balls to Birdseed Blocks
To help feed those birds during the winter months you can make all kinds of bird treats. I'm going to round up a few below but for most of them you just combine birdseed and a few pantry items, like peanut butter and lard, to make the bird treats. I think this is such a perfect kid's project on a rainy afternoon.
Affiliate links below. Thanks for supporting this blog. Click to read my privacy and disclosure statement.
Shop Bird Treat Supplies
*If you want to know more about bird seed before we get started on these DIYs, I found this quick guide to seed types that looks helpful!
DIY Bird Treats including Bird Seed Balls, Birdseed Ornaments and Bird Seed Blocks
With any of these bird treats or even if you wanted to make bird seed wreaths, just add twine or string and you can easily hang them from a tree.
Looking for other kid-friendly outdoor activities?
My little helped me clean our siding without a pressure washer and it was a fun project to do together. Or, a more crafty DIY was adding a bucket and pulley to our wooden play set.