How to Keep Backyard Water Fountain Water Clean is the next step on how we are sprucing up our patio on a budget. A backyard fountain can be a fun addition to any patio space but the key to loving it is keeping it clean. 
I'll be sharing all my tips on how to keep a fountain's water clean, but before I get to that, let me just tell you where my mind has been when it comes to the backyard patio. I've been working on making our space more functional and pretty without spending lots of money. I'd love to drop a few hundred dollars on new decor, cushions, plants and more but it's just not in the cards right now.  So instead, I'm focusing on sprucing up a few areas for a small amount of money to help our space be enjoyable and pretty.
Let's get right into the post today, but fair warning… some of the fountain pictures are DISGUSTING and a bit embarrassing. No judgement, k?!
It doesn't look that bad, right? Think again, and look below.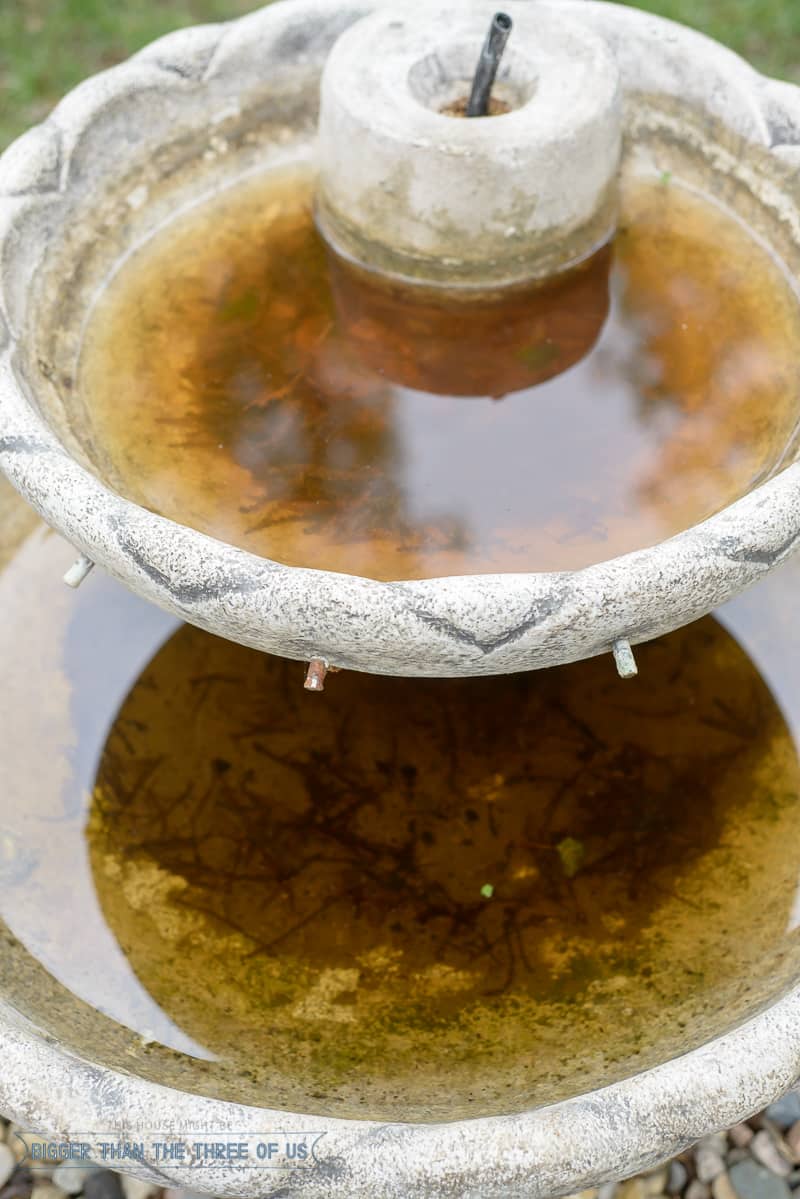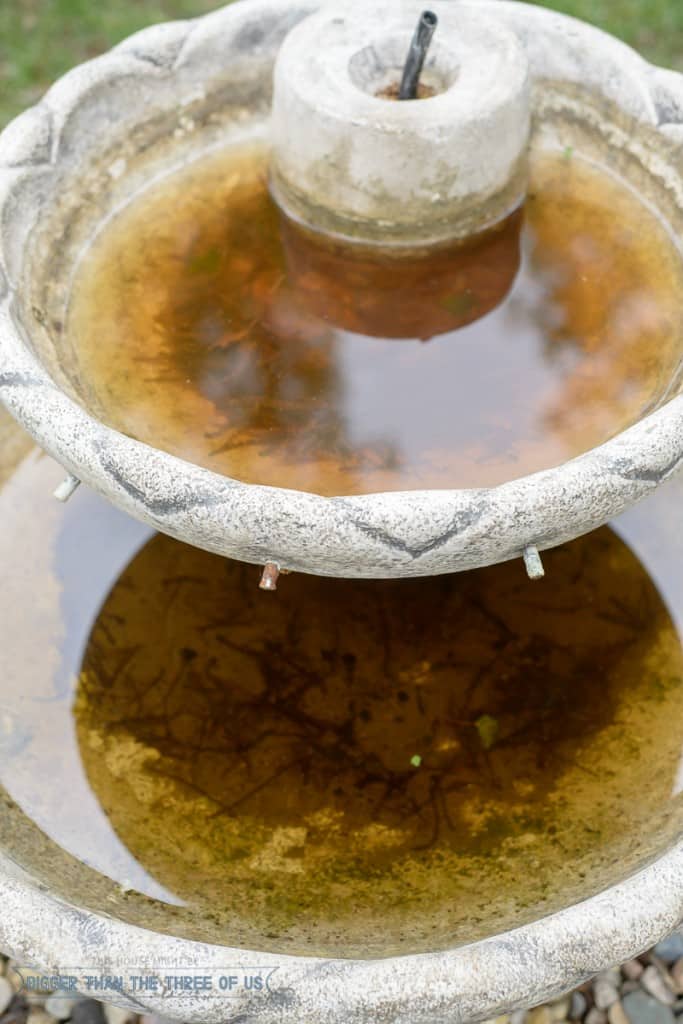 Yikes, right? So, we pulled the fountain tarp off awhile ago and it did an amazing job at protecting the fountain through the winter. BUT, things got piled on here and there and we didn't get the fountain pumping soon enough. So, the debris and general disgustingness added up.
Finally, we prioritized and got ready to clean the fountain!
First things first, these types of backyard fountains are beasts! They weigh a freakin' ton. So, make sure you have someone to help you. Luke and I can barely lift the top piece together and the few times that we needed to get the bottom bowl off… we've had to have extra help.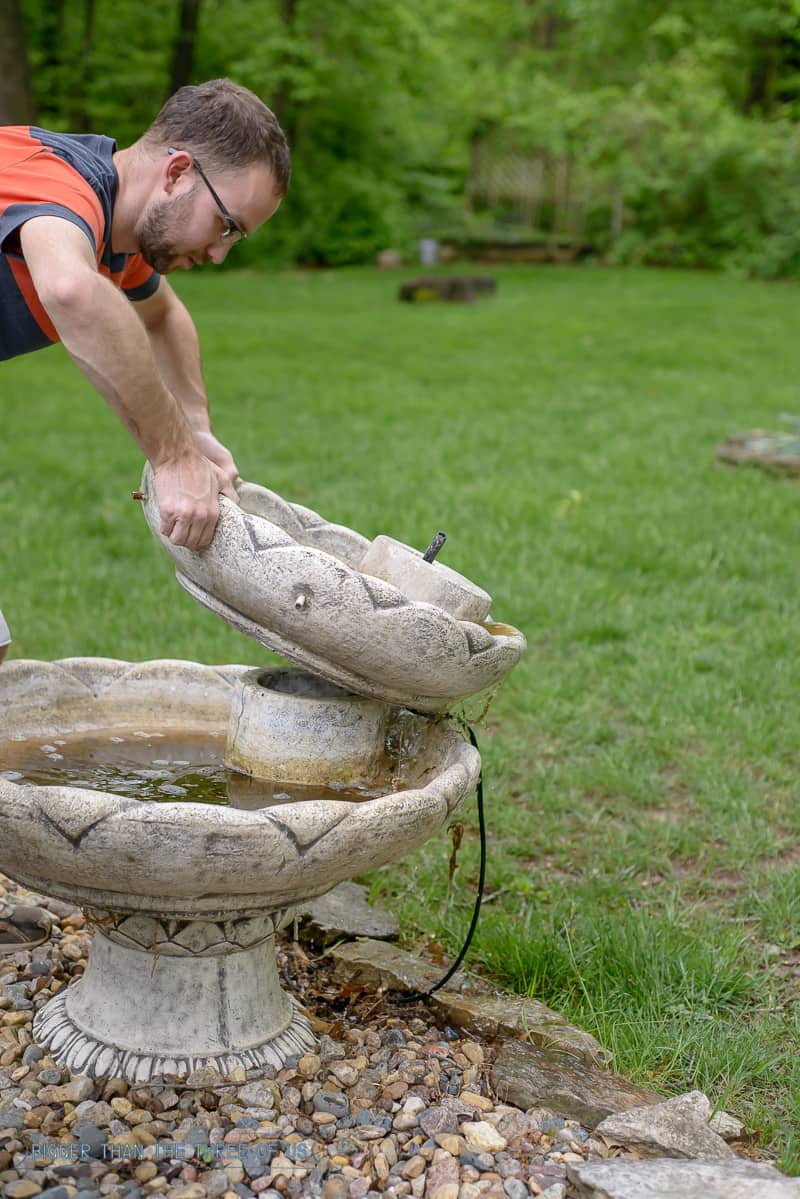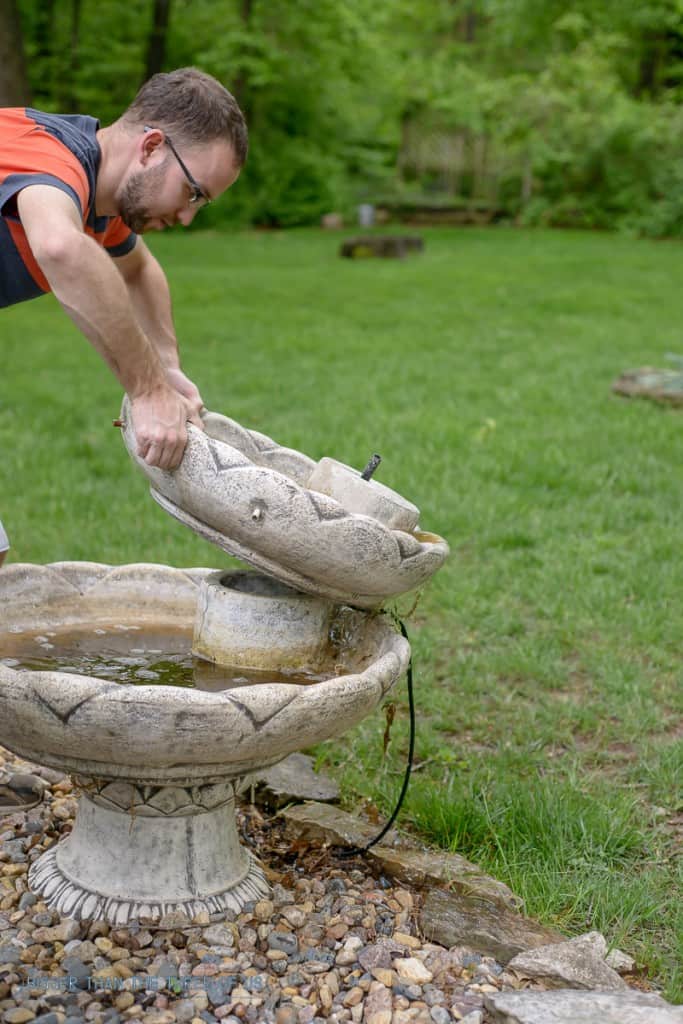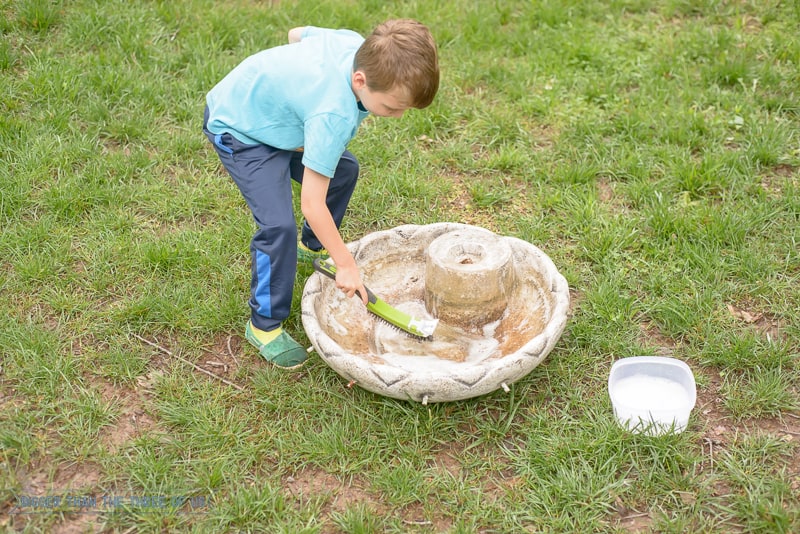 How to Clean a Backyard Fountain
Dump the water out of the bowls first. If you can tilt the bowl, then let the water pour out that way. (If you can't tilt the bowl, then you can use a bucket and just scoop it out. Last year we used a suction pump with our hose and that worked as well. Just work with what you have.)
Using a hard bristle brush and soapy water, scrub! For harder stains, you can add in some Simple Green.
Shop Fountain Cleaning Supplies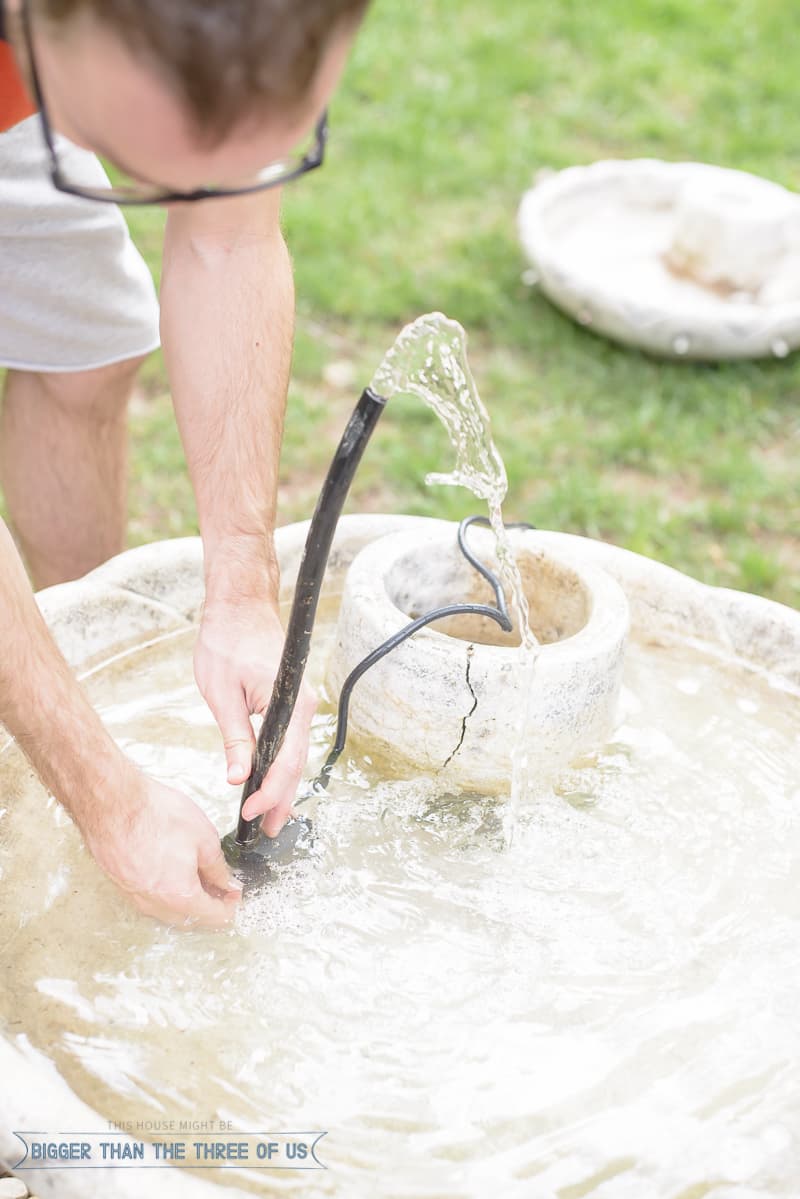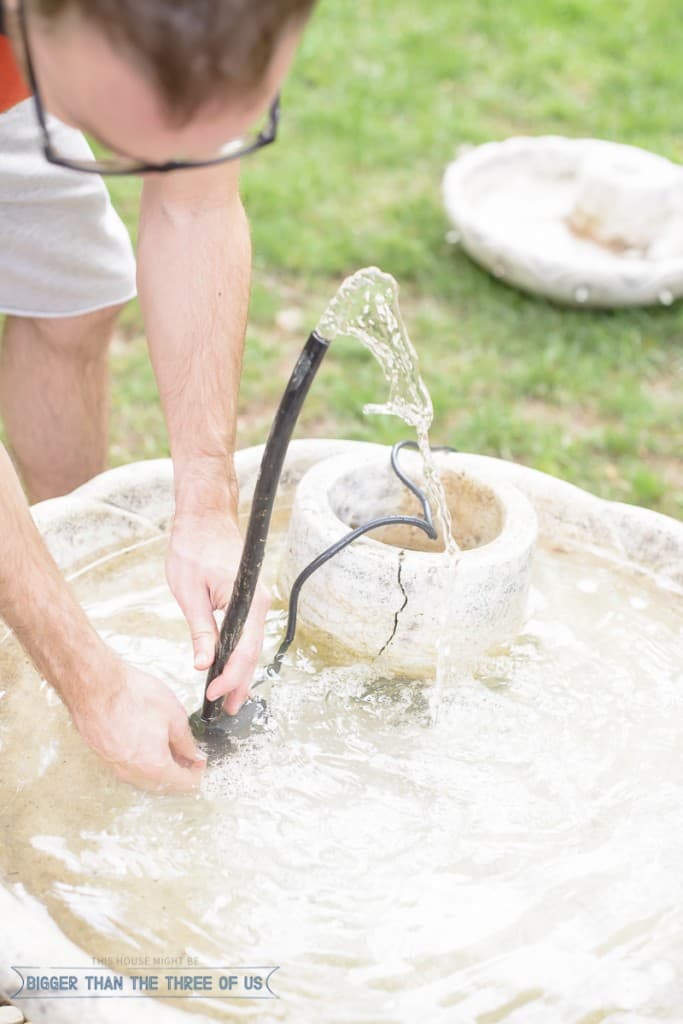 How to Keep A Backyard Fountain Water Clean
There's three main components to keeping your fountain water clean:
Cleaning the fountain to begin each season
Keeping the water flowing in your fountain using a pump
Adding an algaecide to the water to keep it looking nice
Now that we've chatted about cleaning your backyard fountain, let's talk about pumps next. 
There are lots of different types of fountain pumps. For our fountain, we needed an outdoor fountain pump that was submersible and electric. Different pumps can only pump water up to a certain height, so if you needed to pump water up from a chamber where your pump sits, make sure to really read the details on a pump before you buy to make sure it will pump the water up high enough for your fountain. 
Also, most pumps come without the hosing for the spout. Make sure to buy that while you are at it.
Once the pump was tested and we knew it worked, we put it inside our fountain.
We placed the small bowl back on top of the big bowl of the fountain and fed the hose up through the hole in the top.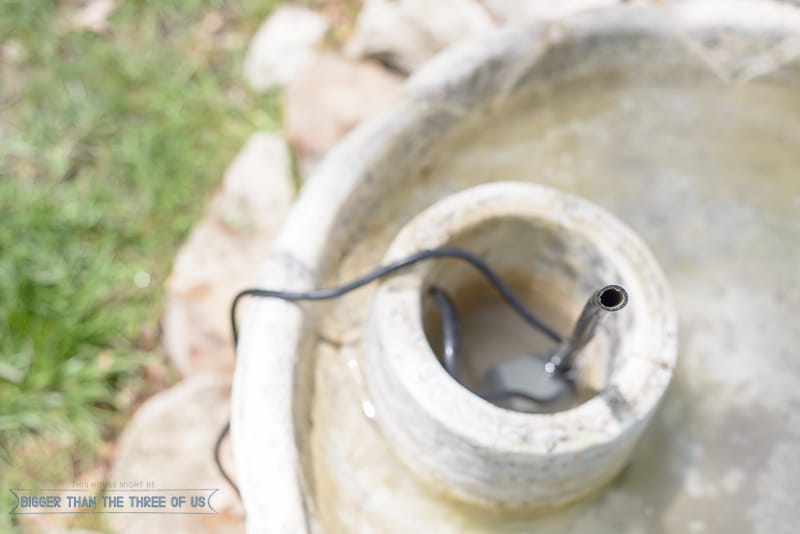 Since our pump is electric (we get too much shade in our backyard to have a solar pump), we have a cord that runs out the back to a box in the rocks below. The box holds the connection for the pump to the electrical line. From that box we have an electrical line (which we ran last year) that runs underneath our rock patio to an outdoor electrical outlet. The outlet has a timer on it so we can have the fountain come on just during the daytime.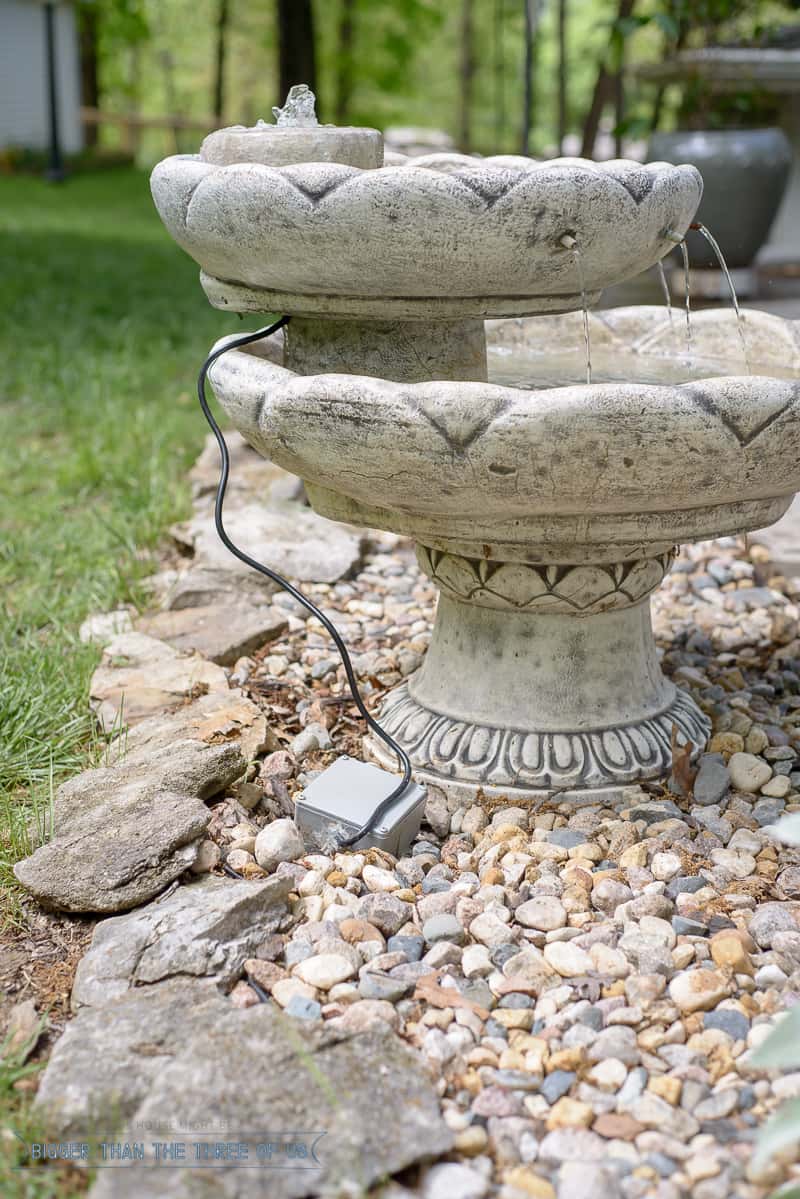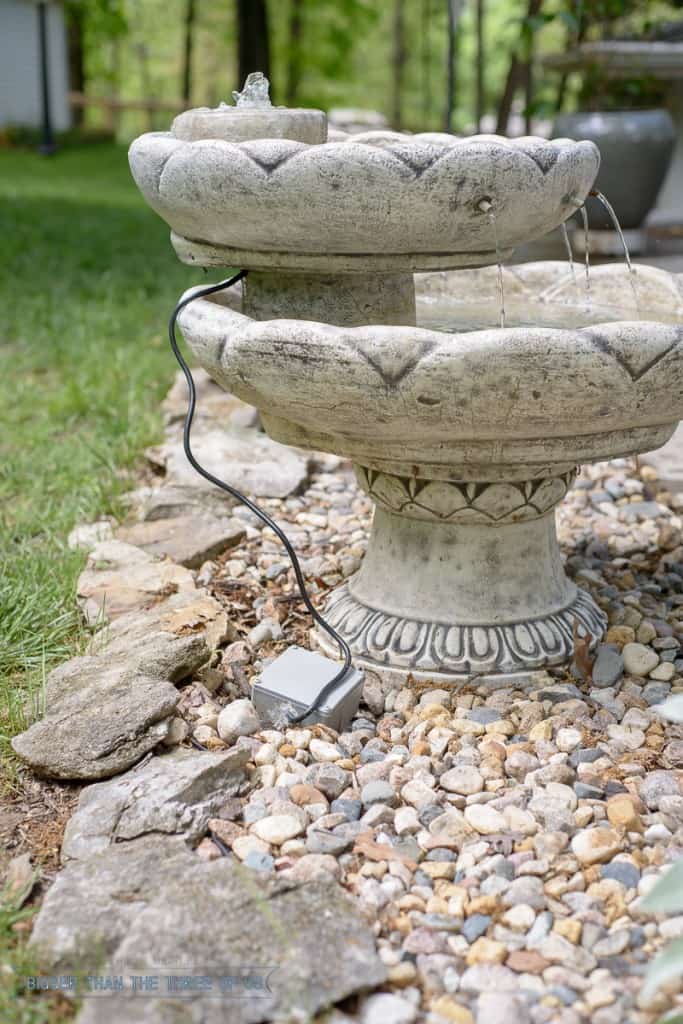 Add Algaecide To Keep Fountain Water Clean
Even with a timer on our pump, we found that the backyard fountain water got hazy after about a week. To keep it clean, we started adding an Algaecide to the water.
We bought the FounTex Algaecide because it was safe for birds and pets and was meant to clear out algae and clarify the water. It's really easy to use and works great. The cleaner comes out blue but dissolves and doesn't stain anything.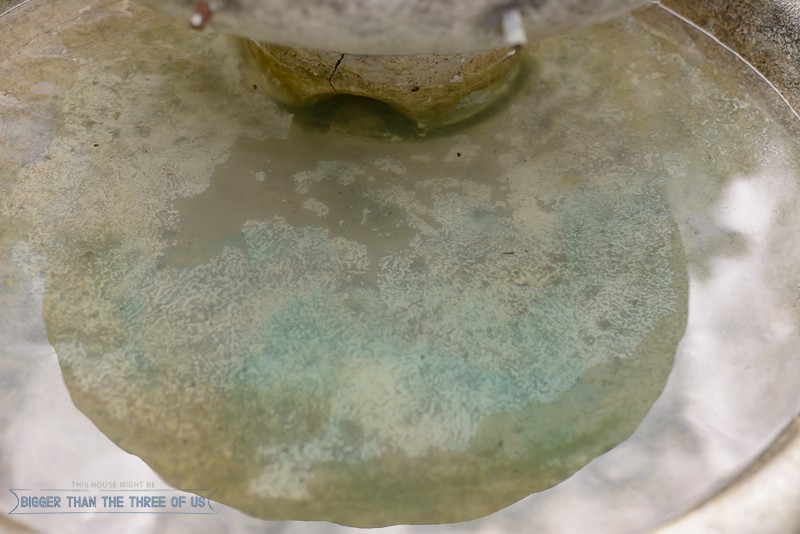 One other little thing about maintaining the outdoor fountain: if you have a bowl that has waterfall holes (see below) like ours, they tend to get plugged occasionally. We've found that when this happens, you can grab a small twig and poke out whatever is clogging the hole.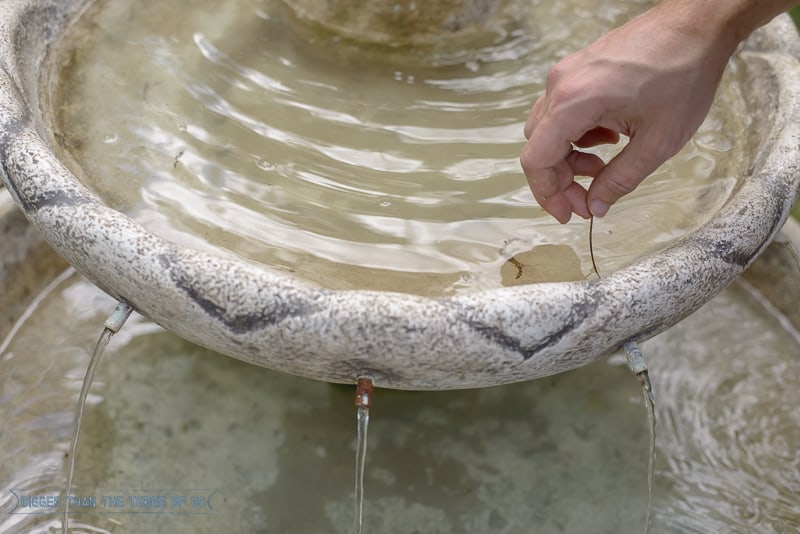 Honestly, with just a bit of care and maintenance the outdoor fountain works great. As with everything else in our house, we know that the fountain could even be a bit better. It has a crack on the "neck" and that crack has been there since we moved in. Eventually, that is going to crack completely and then we will have to figure something out. But until then, we are just going to enjoy having this as a water feature on our patio.
p.s. Don't forget to winterize the water fountain! Winterize the fountain by taking the water out of it as well as the pump. Put a weatherproof fountain cover over the top and, when it rains or snows, scoop the water off the fountain cover every so often.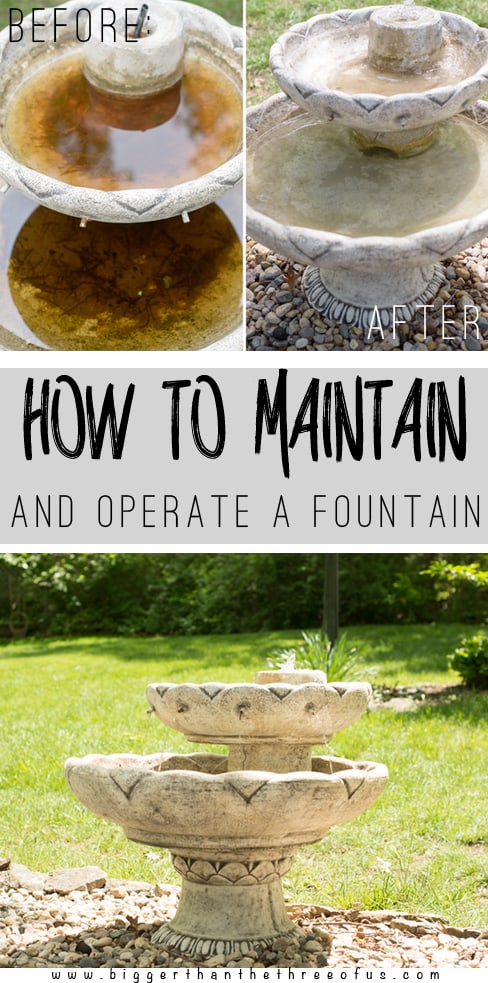 If you enjoyed this post, then you might like: How to clean siding without a pressure washer or How to add a bucket and pulley for the kids!