I looked back through my posts to see when the last time we completed something in the upstairs bathroom was. Get ready for it...JUNE. Ha. Then I told Luke that I think I might have said (jokingly) on the blog that we could possibly get done with the bathroom in July. Well, we are now past July, people, and the bathroom is nowhere near close. I'm now saying that I hope to have the bathroom done by Christmas. =) It's always good to set goals you know. Lol.
Anyways, joking aside, we have definitely made progress. As with any progress, you start on something and, when you get into it, you take two steps back and one step forward. You know what I mean? Seriously, anything that has to do with plumbing is a crap shoot (no pun intended).
Ok, let's get on to what I want to show you. We have sinks!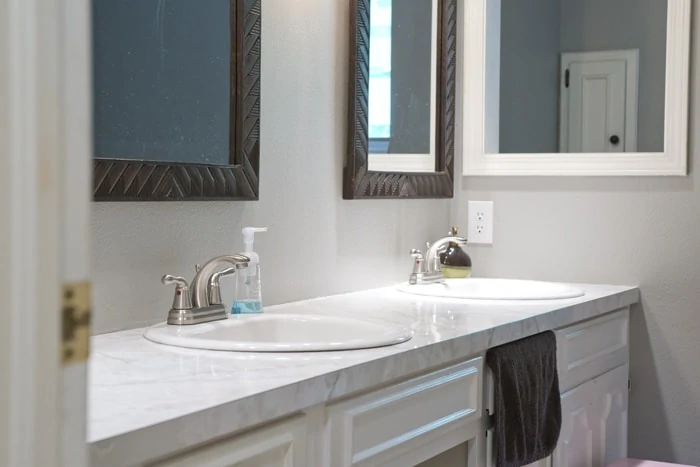 Looking good, right? They are looking downright amazing compared to the before picture, but I'll get to that in a second.
So, we picked up the $39 sinks at Lowe's. They are just the standard drop-ins. Nothing fancy there. The faucets came from my mom. She has some extra, random stuff (brand new stuff) because a store in town went out of business and her husband bid on certain aisles. Basically, he got everything on the aisle (that he bid on and won) for a certain price (a DIRT CHEAP price). So, the faucets were free to us.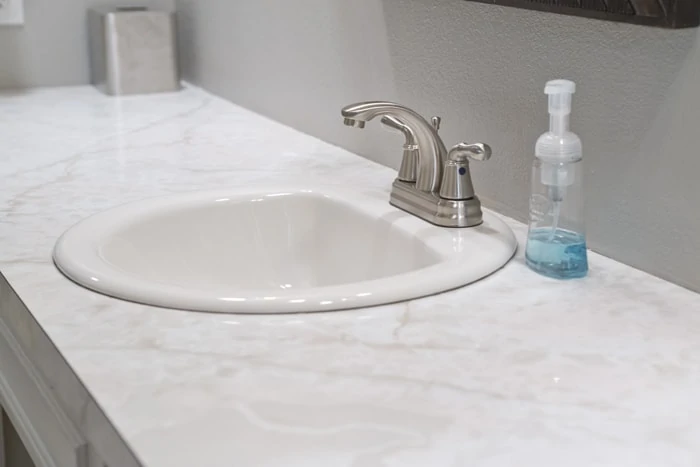 This picture clearly explains my excitement on the bathroom progress: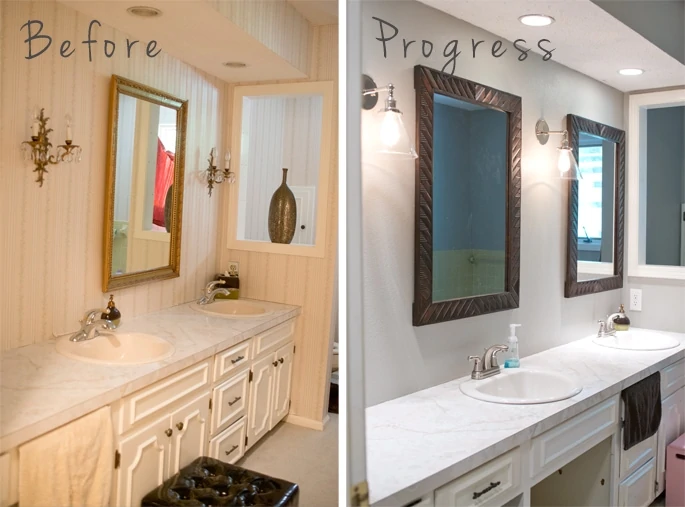 During the sink and faucet installation, Luke came up with a great way to get off old caulking and glue. I thought I would share it. Use a mallet to bump the end of a putty knife and the caulk comes right off. We tried doing it a few other ways and ended up scraping the countertop, but this way worked great.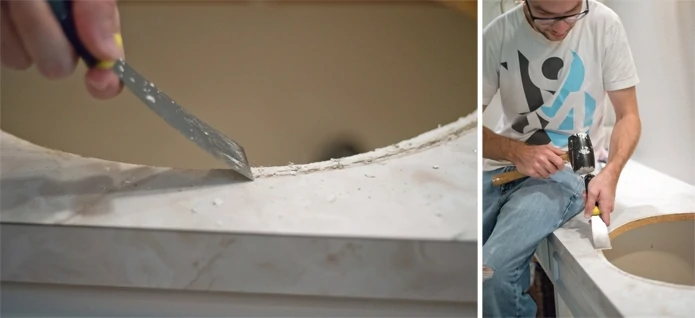 Our to-do list is getting smaller...
 To-Do list:
-Update Can Lights
-Tile floor
-Decide on what to do about bathtub and do it
-Decide what to do with tile around bathtub and do it
-Put water shutoffs on sinks
-Update sinks/faucets
-Put new return in
-Add decor
-Finish cabinets (paint and add new pulls)
-Finish lining cabinets