What is the cabin design? How is the cabin layout being upgraded? I'm sharing my modern rustic take on what our cabin in the woods will look like after we get through renovations.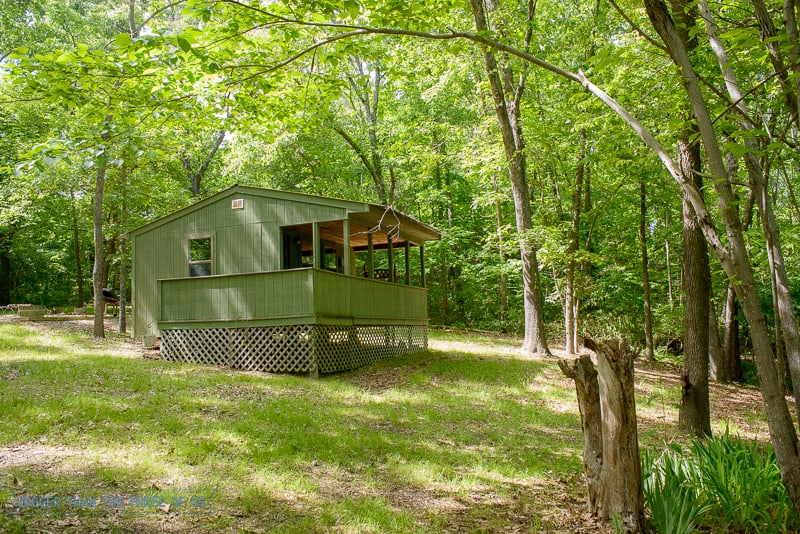 Some of you may remember when we worked on the small cabin makeover a few years ago. We really transformed the one room cabin from a gross and dingy space to a space that is light and airy.
BEFORE CABIN PHOTO: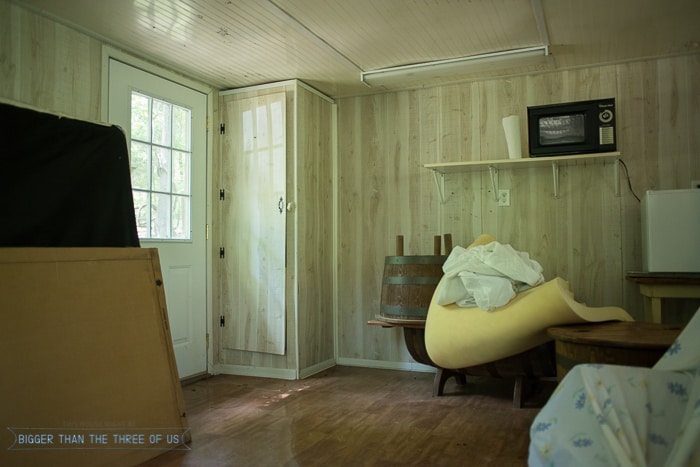 AFTER CABIN PHOTO: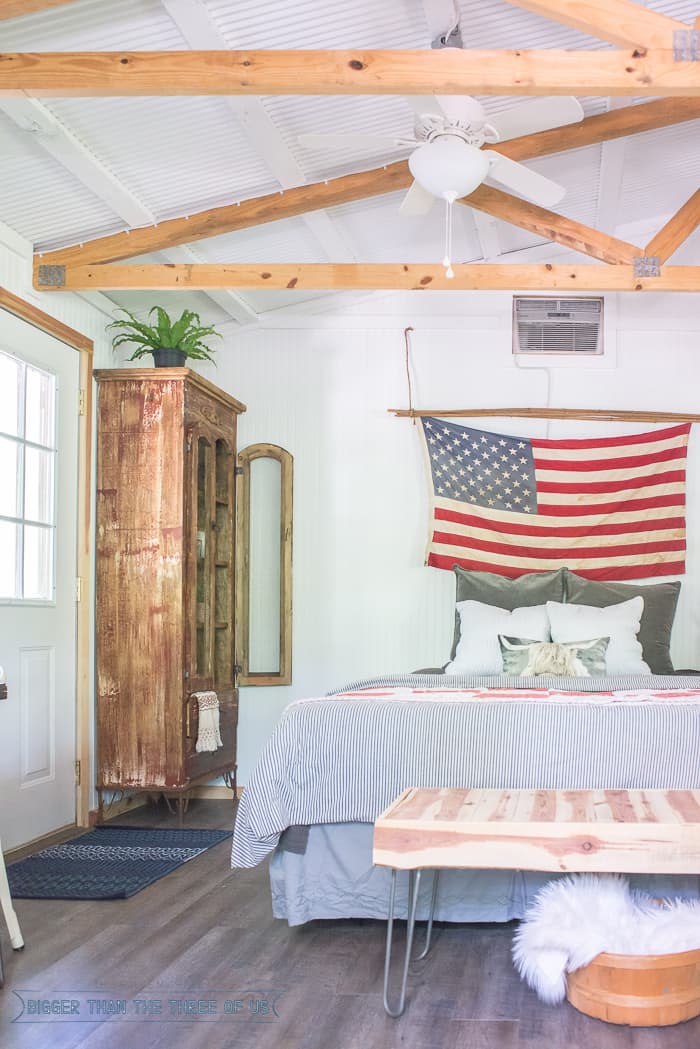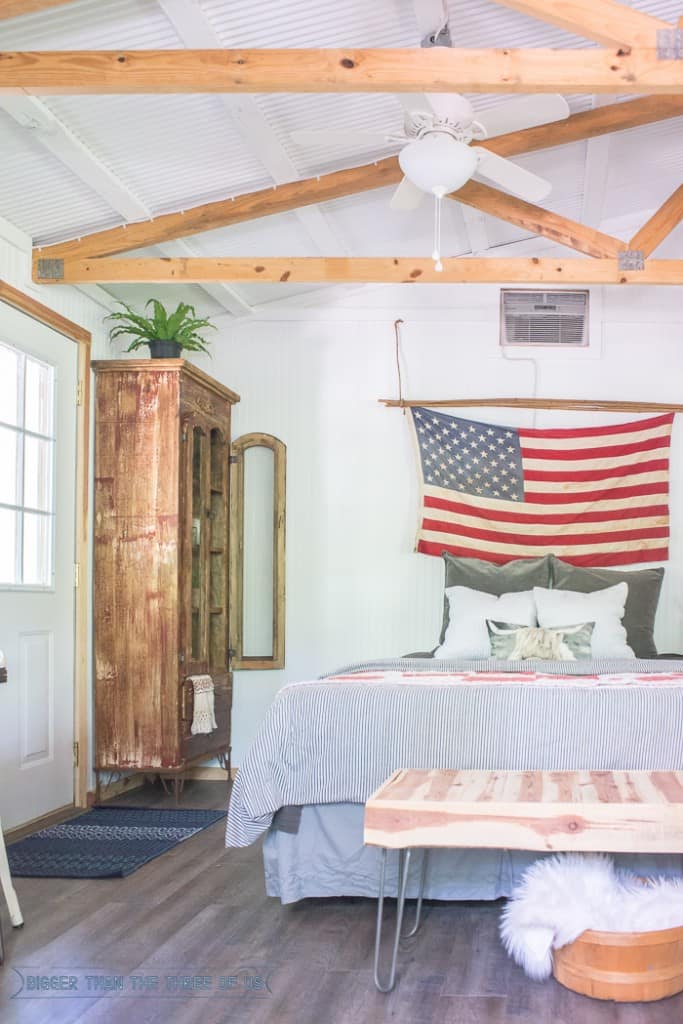 From extending the cabin roof to installing paneling, flooring, painting and more. We really felt like we made the most of the cabin space that we had. Check out the modern cabin renovation for more details.
After trying to use that space well over the past few years, we all just felt like it was way too small. The one room measured about 15.5' x 14'. There's a porch along the front of it, yet that didn't give us enough usable space.
After lots of chatting about cost and DIY projects, we came up with a cabin layout expansion that was doable and would meet a bunch of our needs.
By the way, I use Floorplanner to make these types of plans. It's a free program that takes about 15-20 min to figure out, and then you are good to go.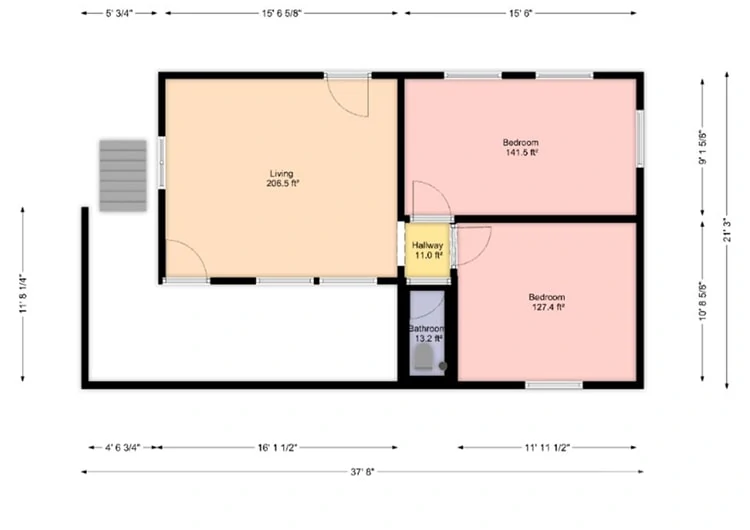 Ok, so the "living" area is the space the current size of the cabin and what we've been using. What we will be doing is adding two bedrooms (one is pretty long and skinny).
For pricing and ease, regarding trees and how the lot is shaped, doubling the size of the cabin just made sense. The bathroom and part of the square bedroom might seem like they are floating but, in reality, the big "L" shaped white space to the left of the bathroom is a porch. So, visually, when you are looking at the porch (which is the front of the cabin), the bathroom and bedroom there will be a continual wall across the front.
So, I'll be sharing more progress on the cabin soon. The framing, roofing and electrical have all been hired out. When those things get done, we will take on all the indoor/outdoor finishing work like adding the flooring, walls, trim, painting (inside and outside), adding DECOR (yay) and more!
Affiliate links below. Thanks for supporting my blog. Click to read my privacy and disclosure statement.
Let's talk about the decor side of things now. Here's my simple cabin design board.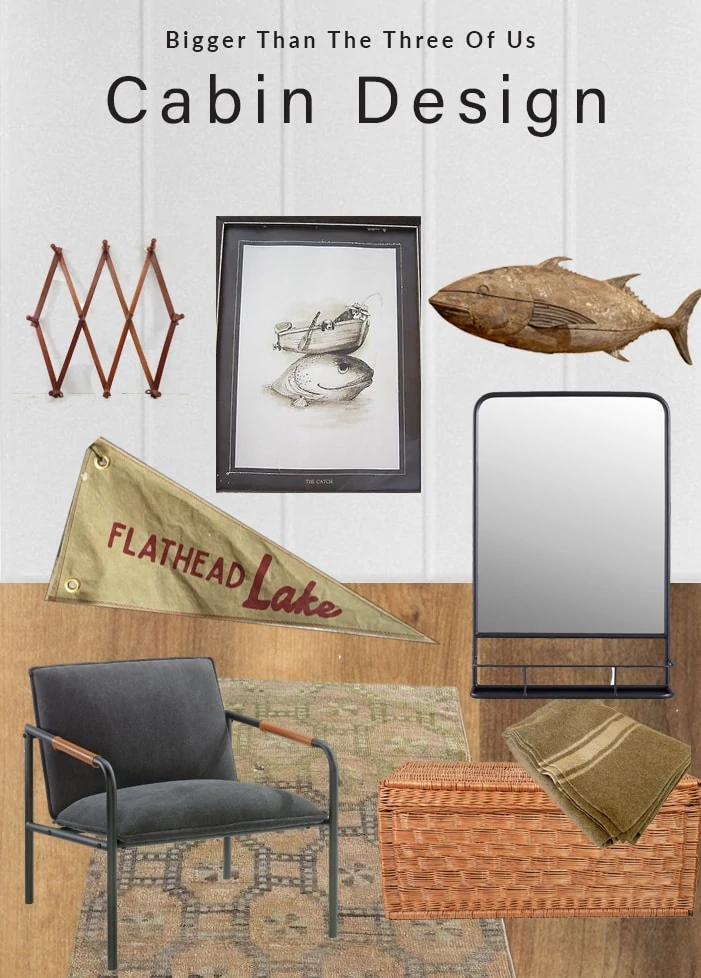 Coat Rack (similar) | Fish Print (similar) | Chair | Rug | Wicker Chest (similar) | Wool Blanket | Mirror | Hand carved fish (similar) | Pennant
The walls will be headboard and the floors will be a wood-look sheet vinyl. After doing lots of research for non-regulated climate cabins, I think the sheet vinyl is the best option for us. We will only run the heater/air conditioner while we are there so a big portion of the time, the cabin will not have heat and air running which takes a toll on flooring.
For the decor, I plan to keep it simple. I've been thrifting specifically for cabin decor pieces lately and have found some great things. Most of the items on the mood board, I have already or plan to use. Wicker, black and brass will be on repeat but not too much of any of it. The goal of the design of the cabin is that it will feel a tad empty and not as homey as our house, but will still have a good style.
It doesn't make sense to spend a lot of money designing a space that won't get used all the time, so there's definitely a balance to decor/design for this space.
I plan to share lots of the DIYs that we do out there. We've never sprayed an exterior of a house, so that will be one project. And we've never laid sheet vinyl, so that will be another. Oh, and I think we are going to be building a retaining wall and adding guttering (all by ourselves) so that will be an adventure, too.
I told Luke the other day that I'm excited about this project because I'm burnt out with having projects going on at my house... I'm ready for the mess, the tools, all the construction things to be elsewhere. So, this seems like it'll be a perfect fit for that.
Ok, project updates and tutorials will be coming soon-ish. I'm guessing I'll do semi-regular updates on my weekly email list so, subscribe to my list if you aren't. Lots of good things happen each week over email. =)