Today is the day!! Are you ready for the Simple, Rustic and Modern Cabin Renovation? I can't wait to share it with you guys. For those of you who are just joining in, my family has a one room cabin that we decided to renovate this year. Last year, my Dad renovated his cabin (on the other side of the lake) to make a bunk room off one side. This year, we decided to work together on what we call "the green monster" to get it functional for weekend uses.
I'm happy to say that we achieved our goal! My sister and her husband have stayed out there since we finished it and had a great time.
Let's look one more time at the before pictures before I show you the after!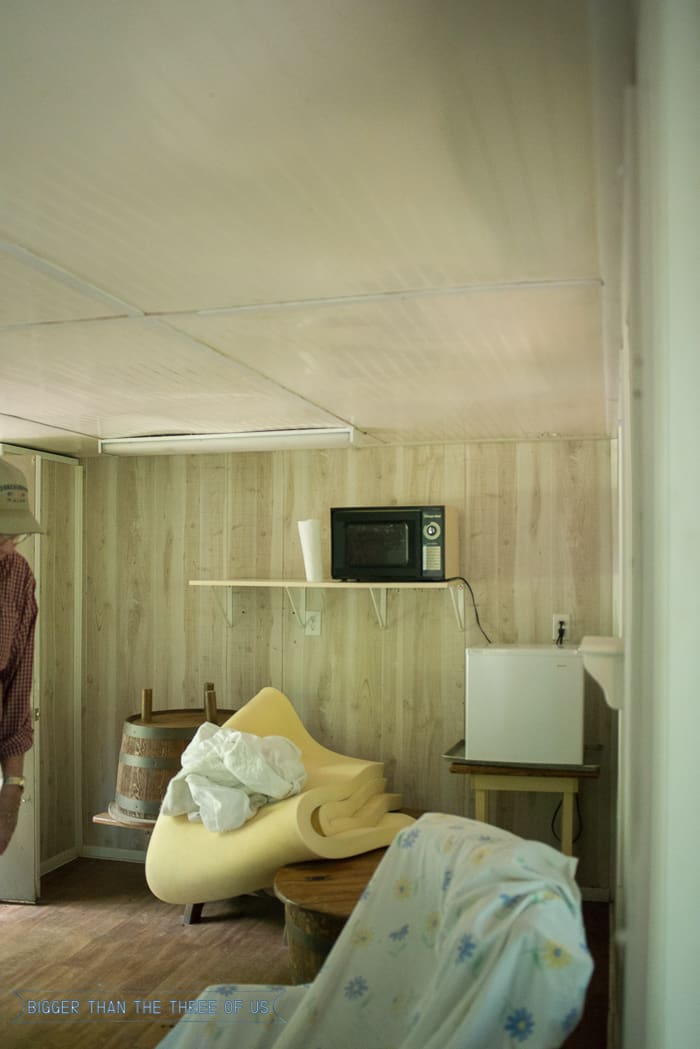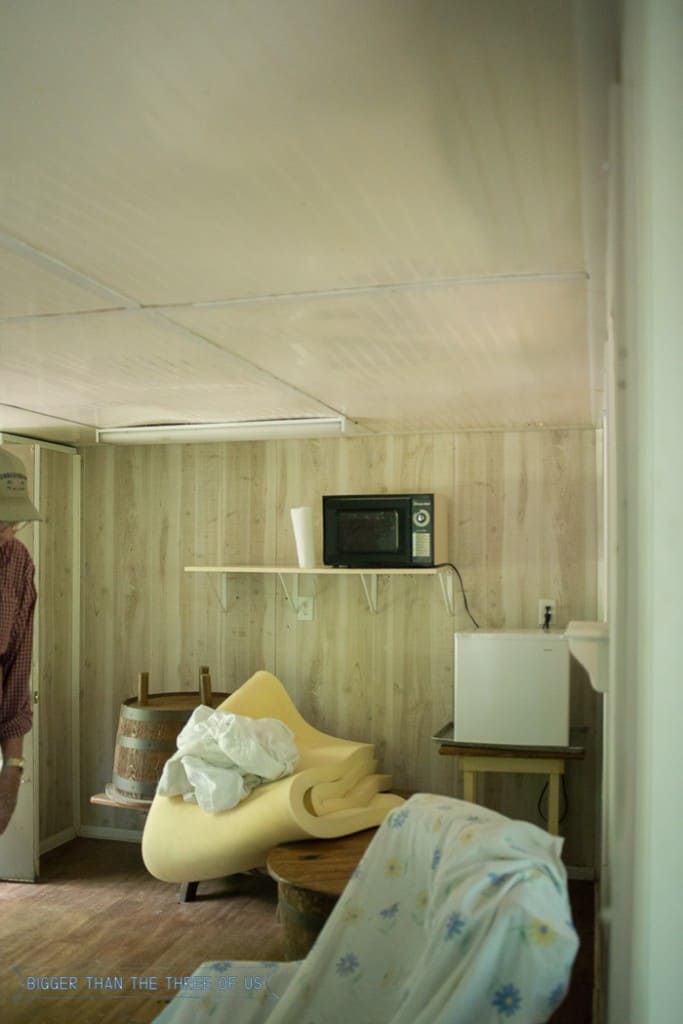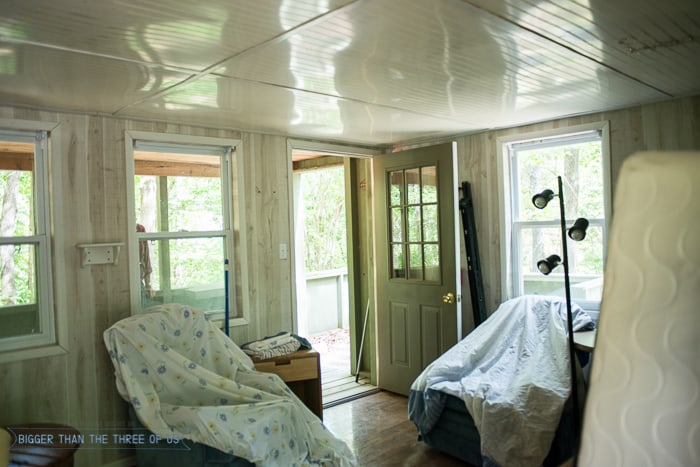 Ready to see the after?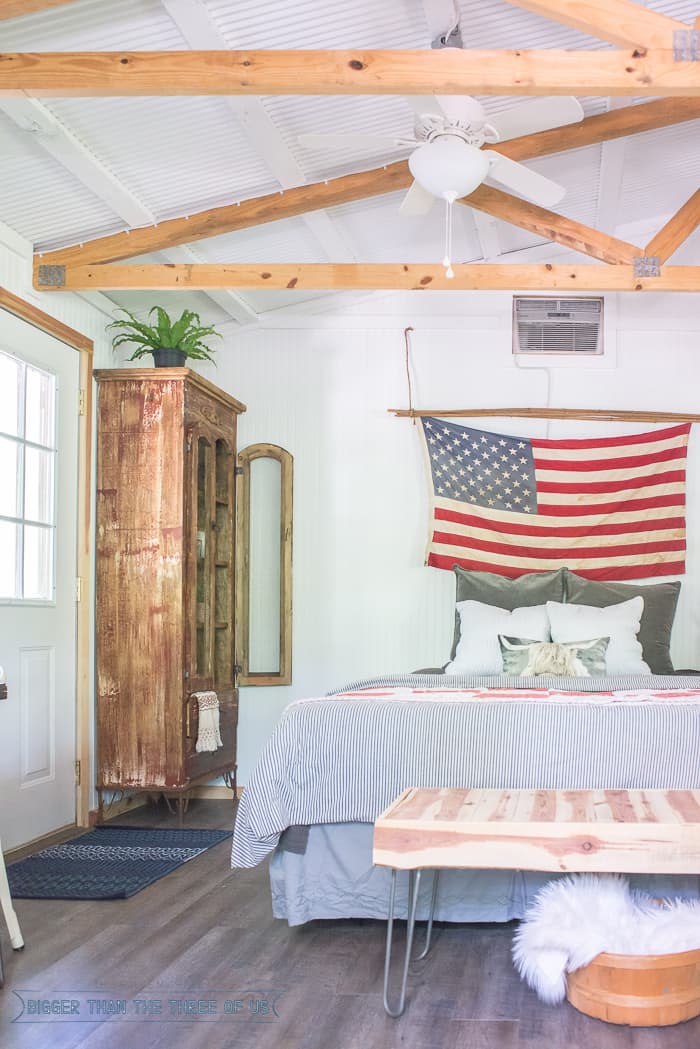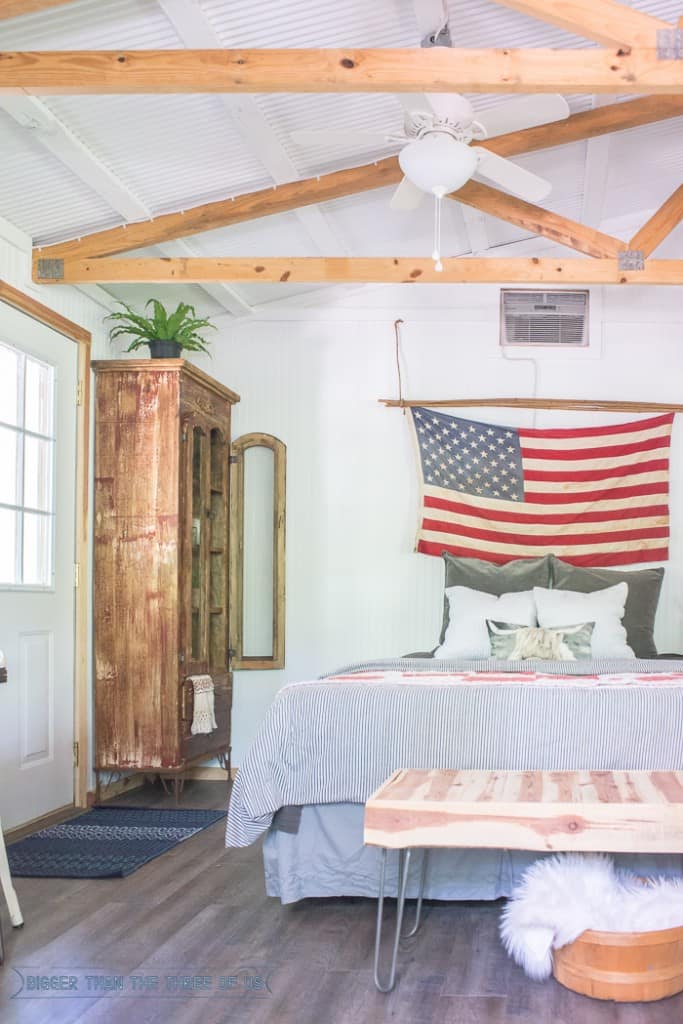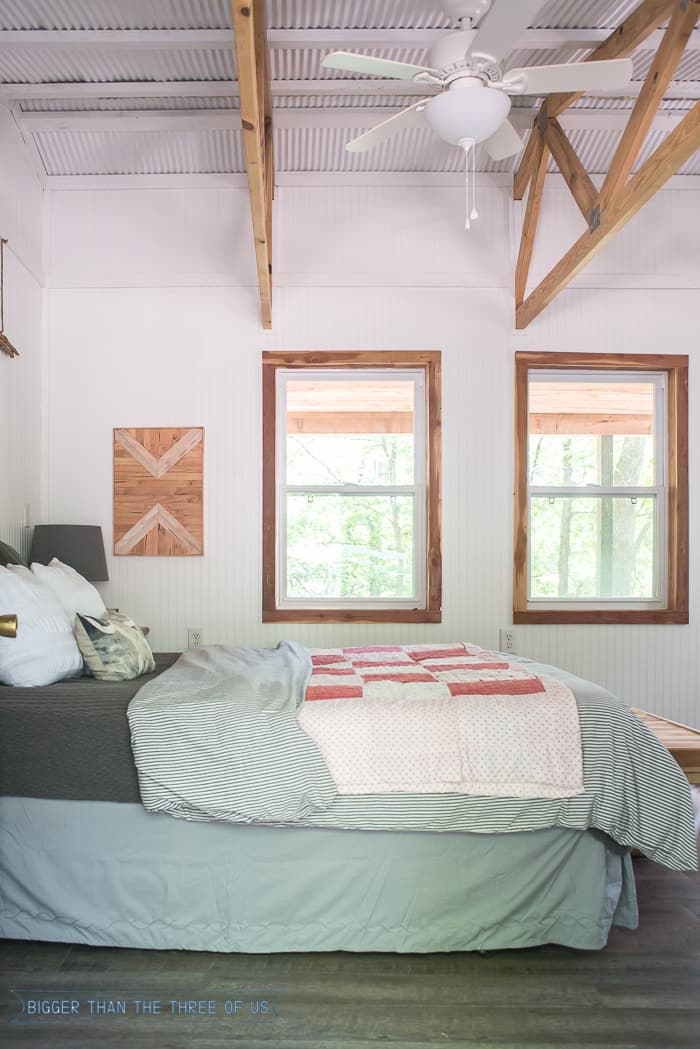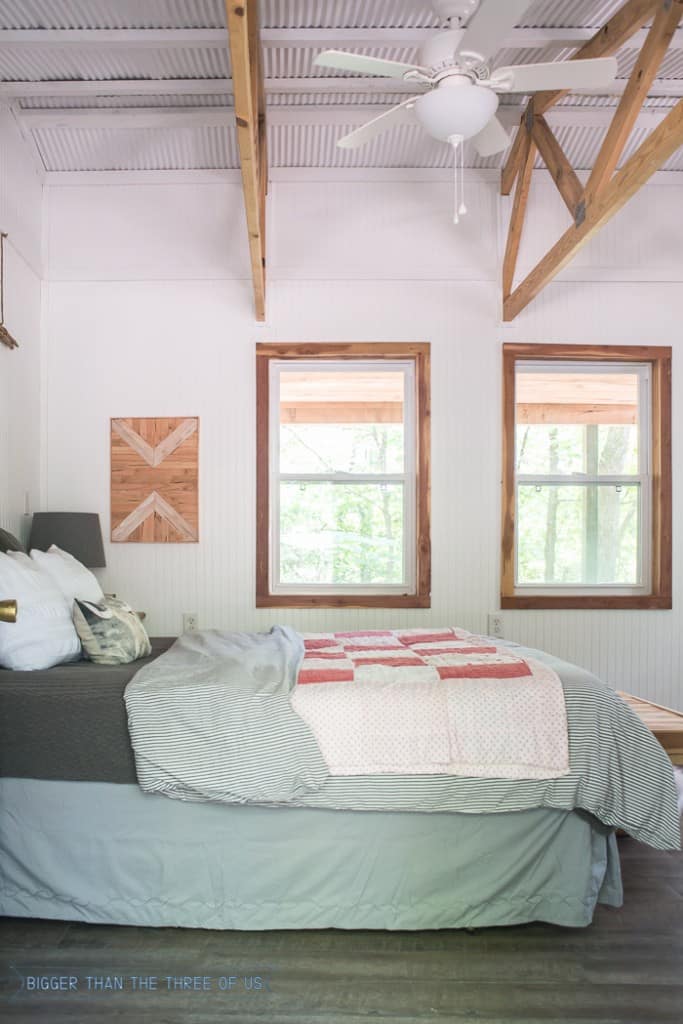 Does it feel like a drastic difference? I feel like it does!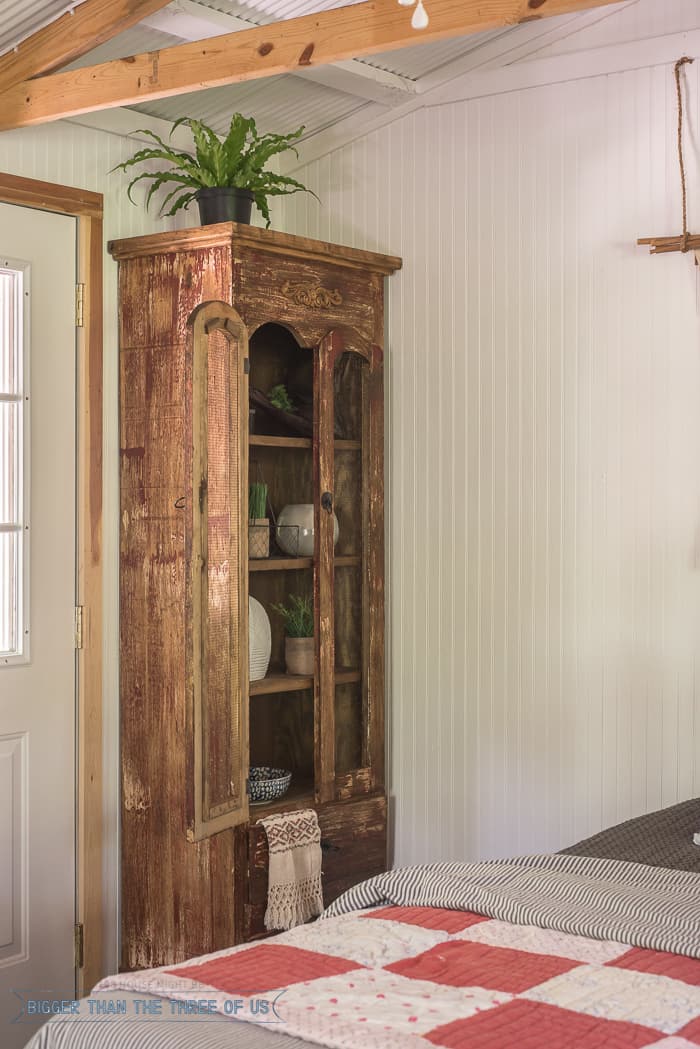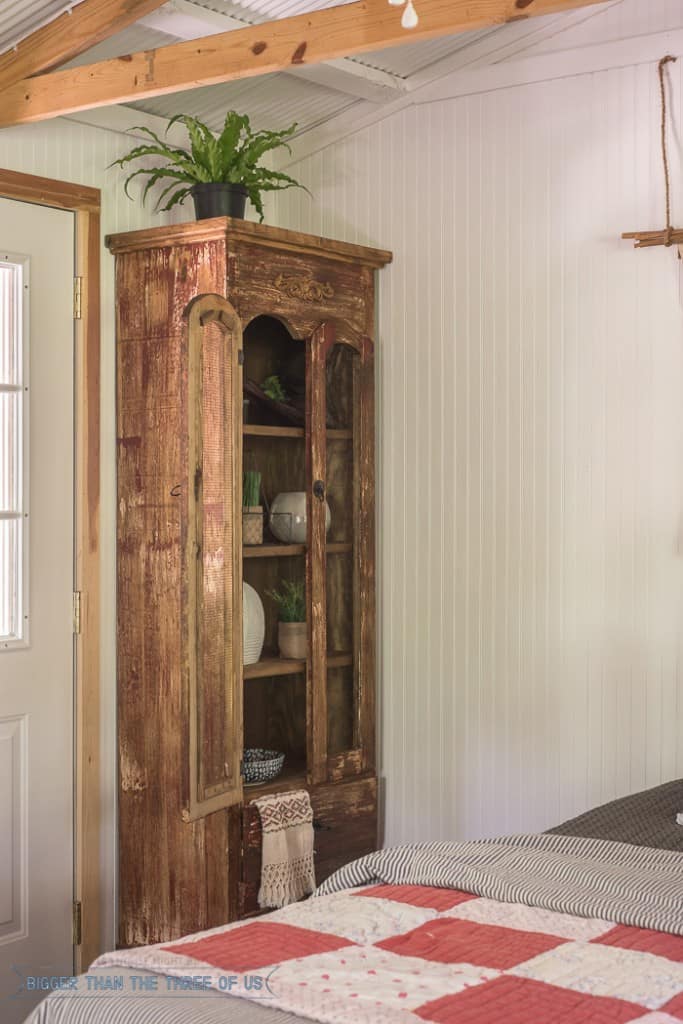 As far as decor items go, most were collected (found in my dungeon basement) or DIY'd.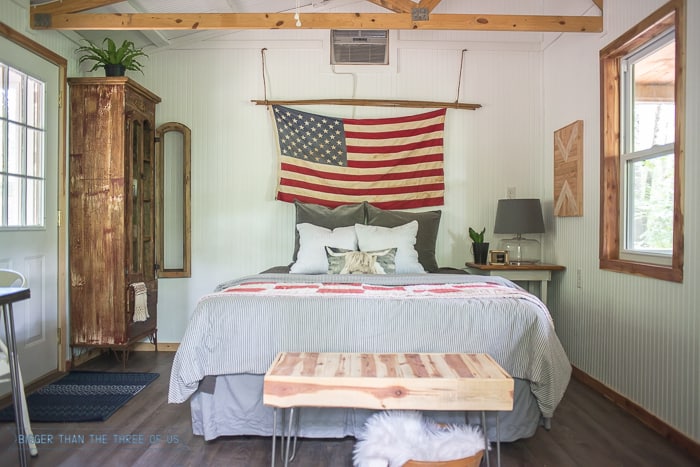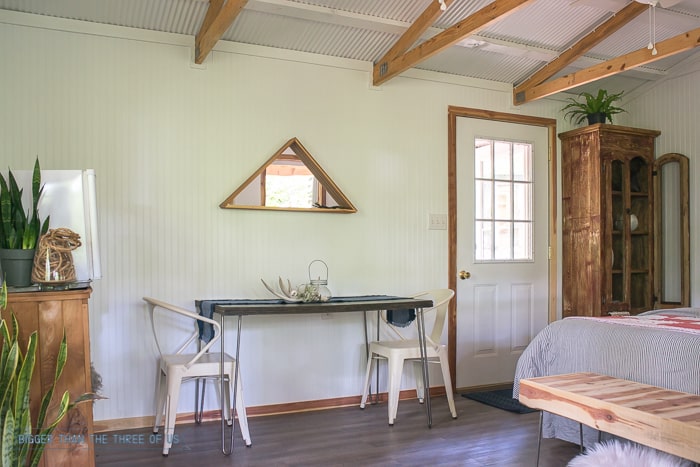 The table was one of the first DIY projects that Luke and I tackled together. It's been living in our garage for the past two years as the table for our miter saw. We needed a table at the cabin, so it worked out to move it out there. Those white chairs were some that we had as well. We originally bought them when we first moved in to our home to have for extra seating. Over the past four years, I've found a few sets of vintage chairs so the white chairs were given the boot.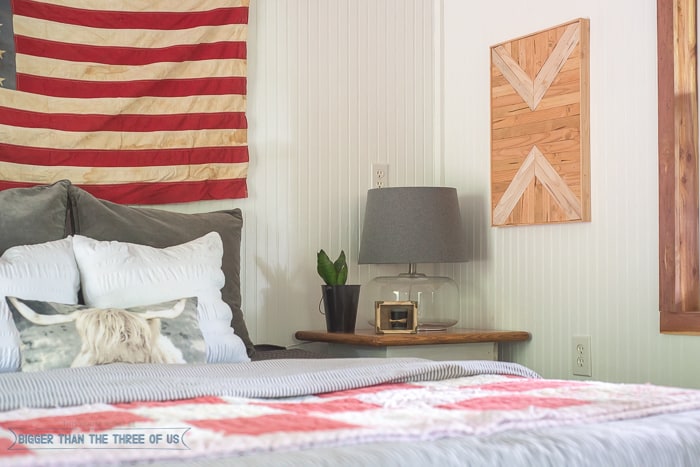 The flag used to fly at my Grandparents' home. It got too dingy for them so they gave it to me a few years back. I just happened to be over there one day and my grandpa mentioned that he was taking the flag to the boy scouts for them to correctly dispose of. First off, I had no idea there were rules concerning the disposal of a flag. Secondly, I couldn't believe he was getting rid of it. I snatched that up real quick. It's been sitting at my house for a year or two and I've been sad that I've never found the perfect spot for it. I'm not sad any longer though, because it was meant to live at the cabin.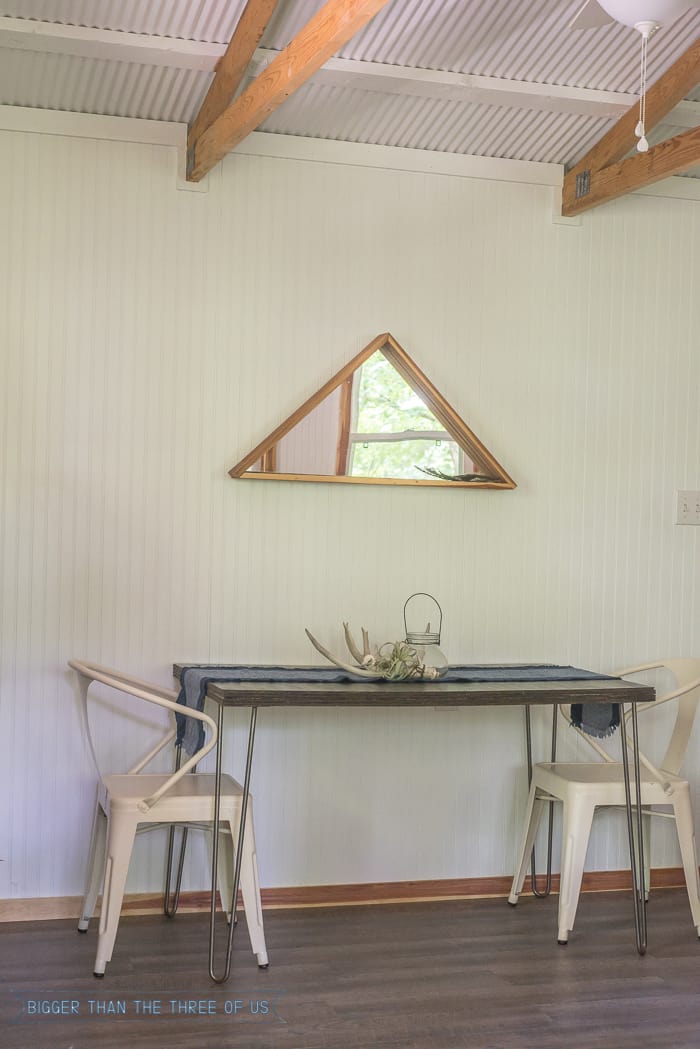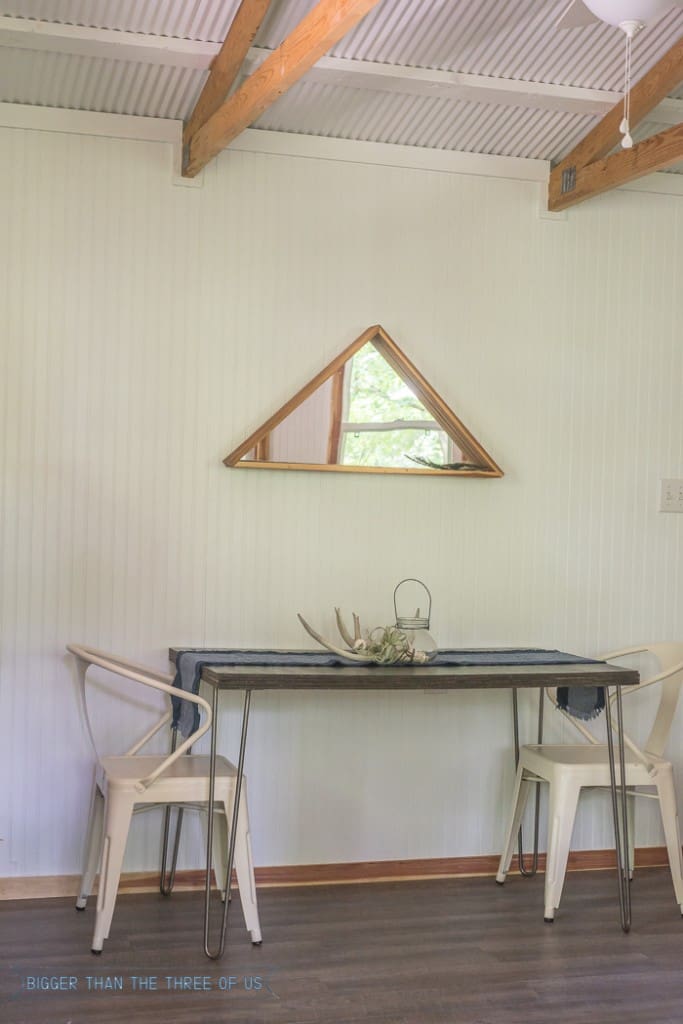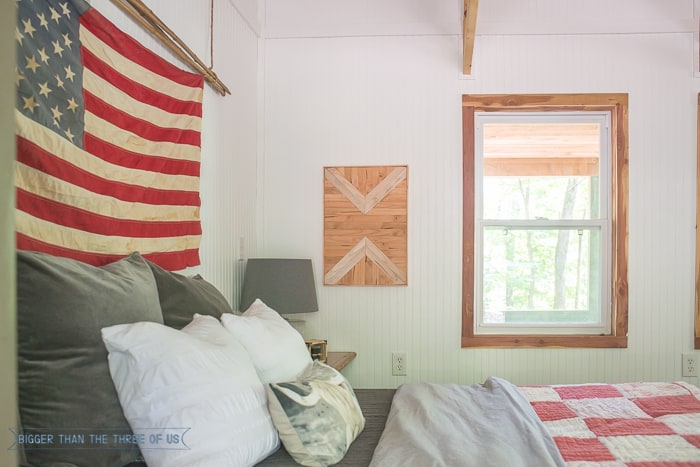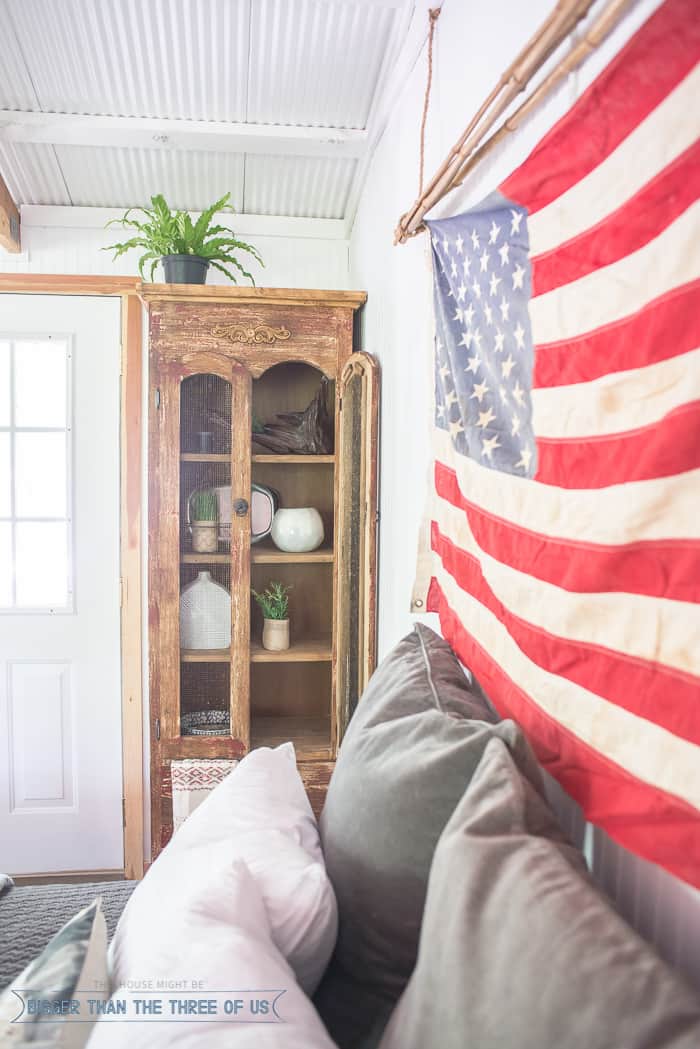 My dad wanted to get some storage for the little nook between the door and the wall. He happened onto the perfect piece at a flea market. Can you believe how great it fits there?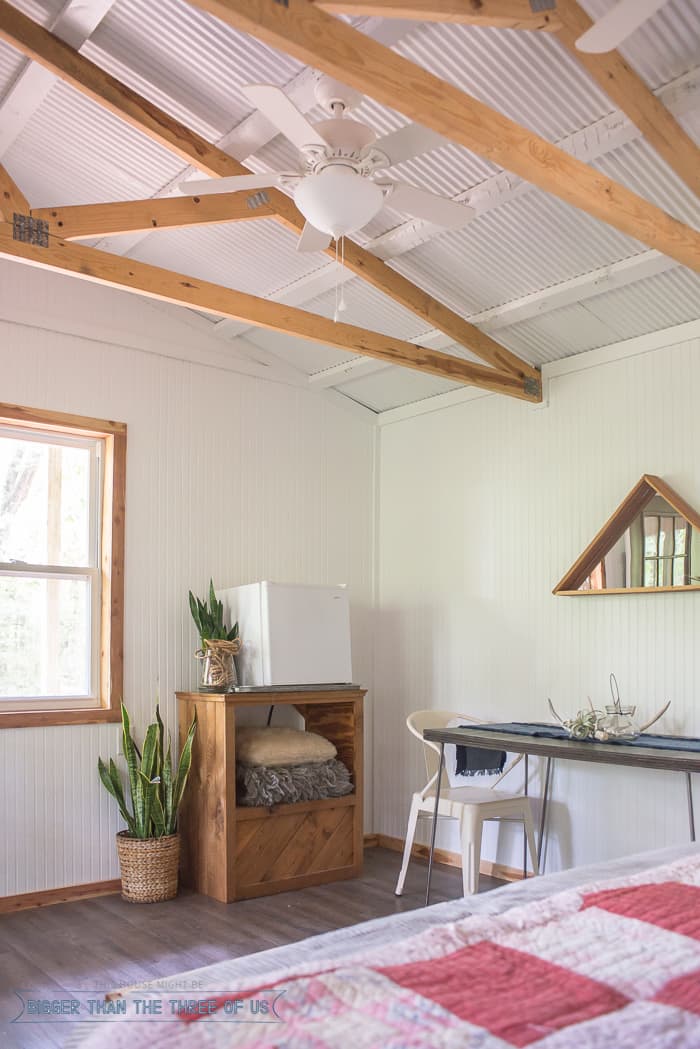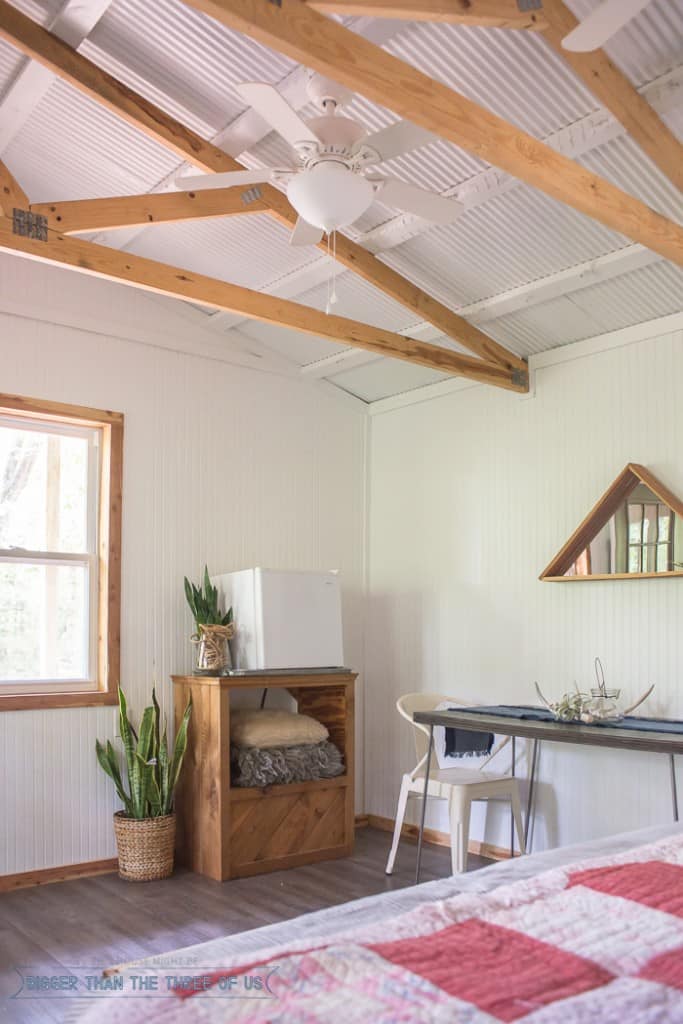 This angle is one of the angles of the room that hasn't quite come together yet. A microwave and a TV will go over here. We were trying to work with pieces that we had and just really hand't gotten around to figuring out what to do with this little corner.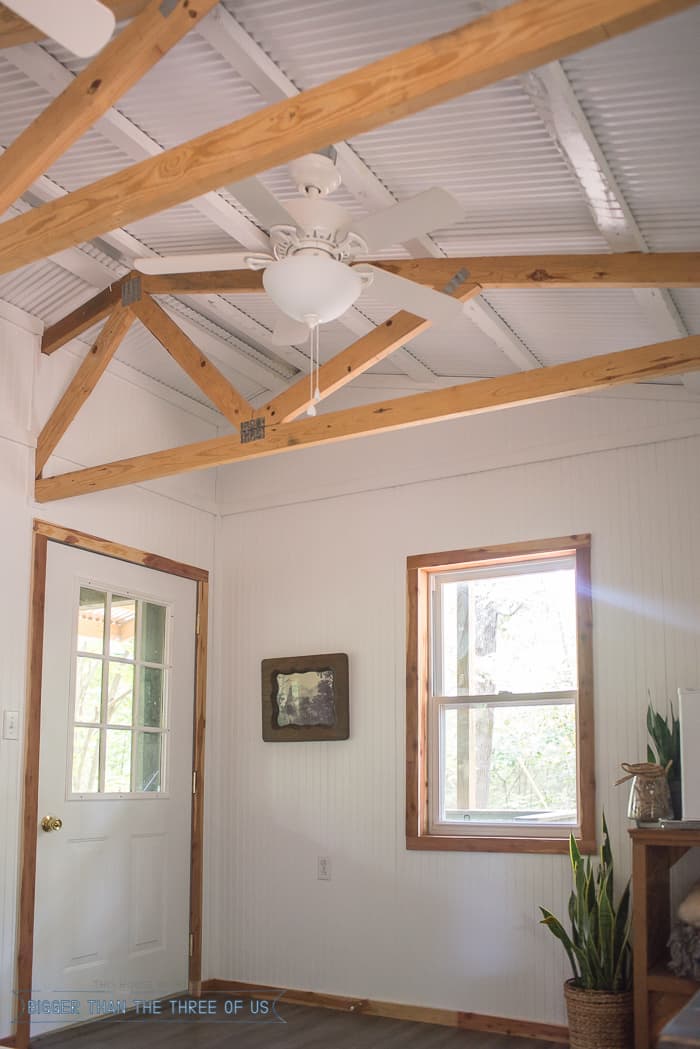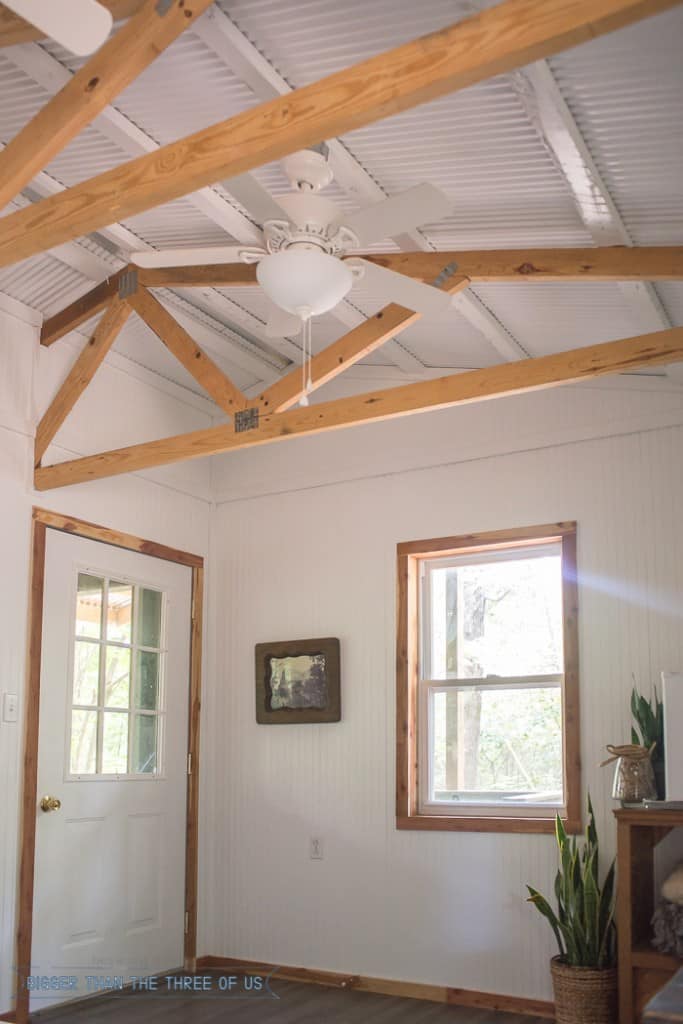 I think that just about concludes the cabin. It was a fun project to do and definitely a much-needed one.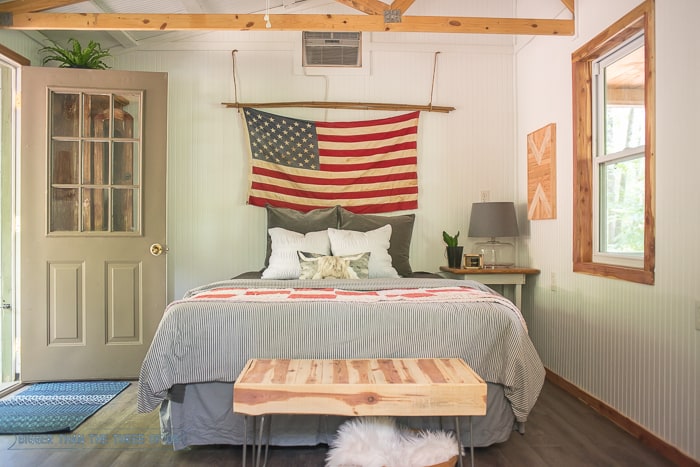 If you want to see specific details on a project in the cabin; here are the other cabin posts:
Building Walls and Finishing the Ceiling
Extending the Roof To Help With Water Control
How to Install Paneling without it looking like the 70s!
Install Laminate Flooring In Just Three Hours

Shop the look:
*Affiliate links below. Click to read my disclosure policy.

Stay in the know with everything we're doing by subscribing by email.