Checkered rug inspiration and shopping options for your home.
I've been on the hunt for a rug for our sunroom for a few months. I have the idea to get another tribal vintage rug (which is always a fit for me) but also, in the back of my head, I keep thinking about a checkered rug. I think a cozy checkered shag rug could be really amazing in the sunroom to help bring some warmth and texture into the space.
I thought it would be fun to round up some inspiration for you in case you've been curious about this rug style as well. The inspiration images represent a variety of different design aesthetics which I think can be really nice when trying to picture how a certain piece would look in your space.
Checkered Rug Inspiration
If you are looking for a trendy yet timeless rug option, definitely consider a checkered area rug. I think going with a black and white checkered rug is definitely an option that will work with most spaces, yet being bold with a green checkered rug or pink checkered rug could be amazing in a hallway, too!
Personally, I like more of a brown checkered rug option, so I've rounded up some great inspiration images of checkered rugs that are what I consider neutral-colored rugs.
Photo Credit: With Sarale
The black and white checkered rug in this space draws the eye to create interest under the kitchen table. The jute rug grounds the space while letting all the other warmer aspects of the room play together in harmony. I'm very inspried by this look!
Photo Credit: Style It Pretty Home
This dining room shows how a checkered jute rug can be a timeless, classic addition. Jute rugs can take a beating so I also like the idea of using a jute rug under the table but with a pop of interest in the pattern.
If a modern checkers rug if your thing, I know you'll be inspired by this space. Everything in this room is kept very neutral, so even with the brown checkered rug being a neutral, it still pops and stands out in a good way.
Photo Credit: Martin Morrell for HouseandGardenUK
You have to look closely to spot the checkered runner rug in this bathroom but I just adore the use of it and the patterned wallpaper.
Photo Credit: Eternity Modern
When I mentioned earlier how I was considering a checkered shag rug to help warm up my space, this is the vibe that I was imagining. I love how the texture of the checkered rug invites you to take a seat and relax. It definitely makes this space feel luxurious but in a non-pretentious way.
My thoughts for my space
I'm still on the fence on what I want for my sunroom. I love the layered look of a vintage rug over a jute rug so I might be leaning a little more that way but only time will tell. I have to remind myself that rooms take time and it's ok not to just rush decisions. So for awhile, I'm just going to sit on the sunroom as it is and let that be ok.
I do think that it's clear that I want more hygge in my space (read more about layers and learning how to create a feeling of home to understand what I'm talking about). From either adding another layer to the rug that I already have or adding a shag feature... I want all the cozy.
But until I figure out what I'm looking for exactly, I'll enjoy where I'm at.
A look at our home sunroom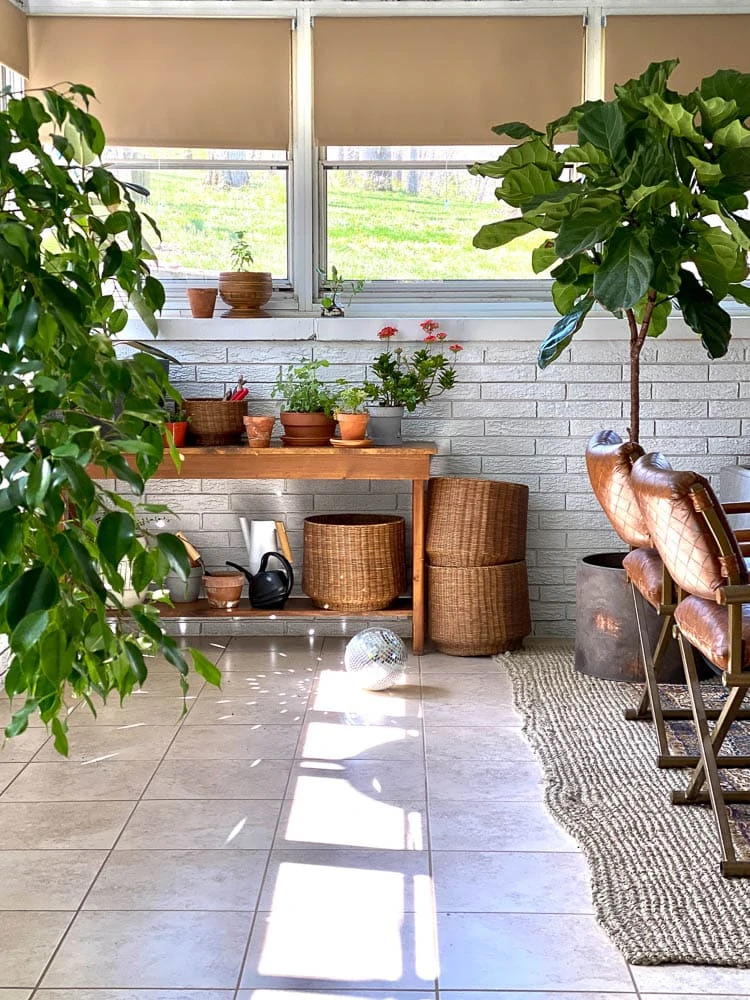 I do think a shag rug would really help warm up the space but I just don't know if it's the right fit with all the plants. I do seem to track potting soil around a bit so that could be a mess. I'll keep you updated on what I end of finding. In the meantime, I did round up some great checkered rug options if you are in the market for a new floor cover for your home.
Affiliate links below. Thanks for supporting my blog. Read my privacy and disclosure statement.
Shop Checkered Rug Options for All Spaces

Black and White Checkered Rug

Green Checkered Rug and Pink Checkered Rug Options

Curious to know if you'd consider one of these for your home? Too trendy or do you think it could be classic enough to work? I definitely think it can go both ways for sure.
p.s. Want more inspiration? Check out my Pinterest rug board to see other options you may like.