We are officially in Week 2 of the $100 Challenge and this time, it's all about the demo. You would think that I could have gotten a bit done during the week but, to tell you the truth, getting the demo out, cleaning up and then trashing it all took quite a bit of time from start to finish. But, I did manage a bit of online shopping for the space, so I will share that in a bit.
If you missed Week 1 of the Bathroom with all the original pictures, make sure to check that out!
Demo Day in Bathroom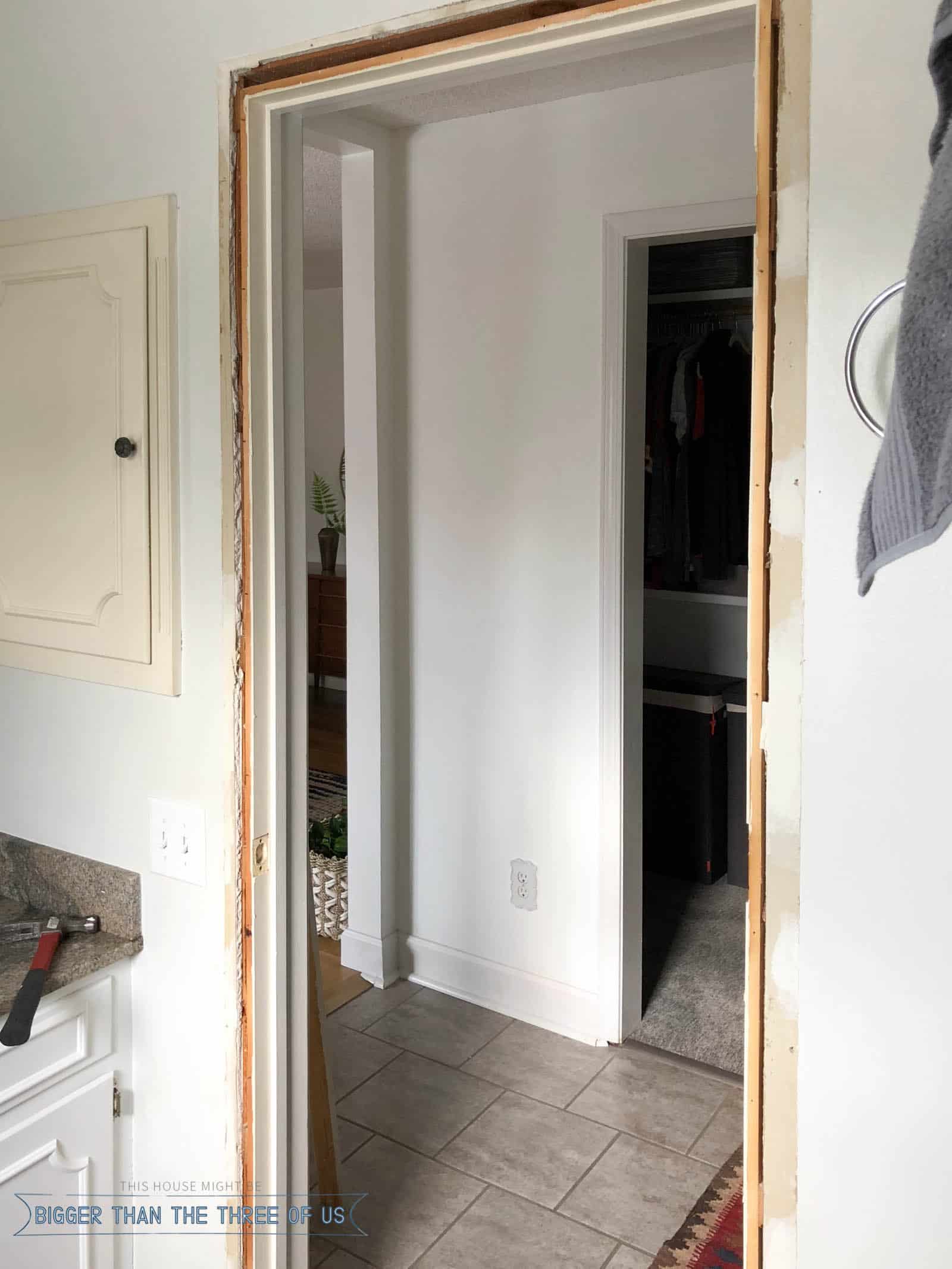 The main portion of the demo was removing the wood pieces (the door trim, the frame and the baseboards). But, I'll stop yapping and let you watch the video and then I'll catch you up on a few more things.
So, as you can see, the demo went pretty well but some parts were a bit slow-moving (talking about you old caulk). The door trim was easy to get off and then that left us with the frame itself: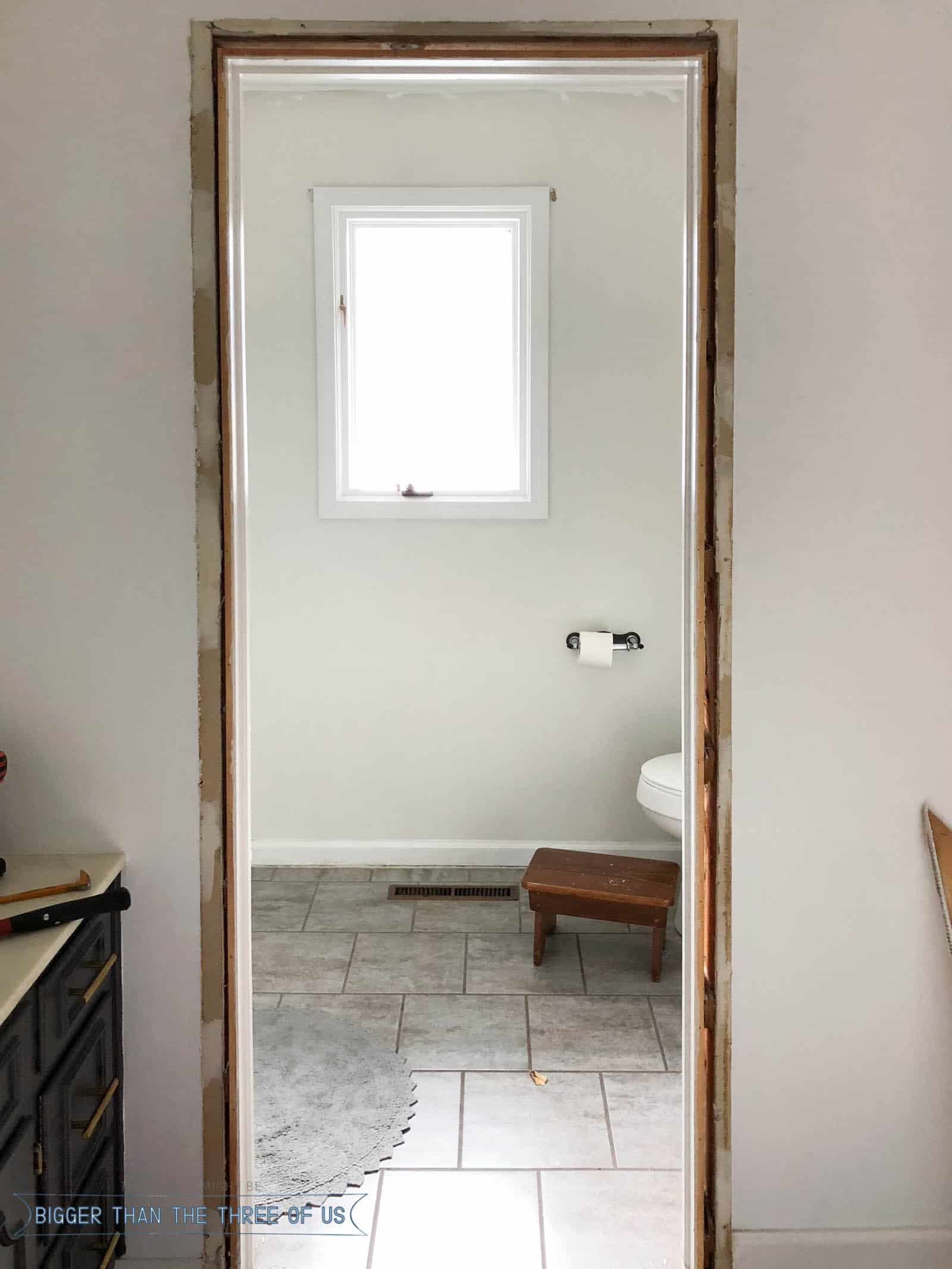 A few hard hits with the hammer and it just popped right out. I'm not going to lie, I do really enjoy demo work! So, after the frame was out, we were left with the studs exposed.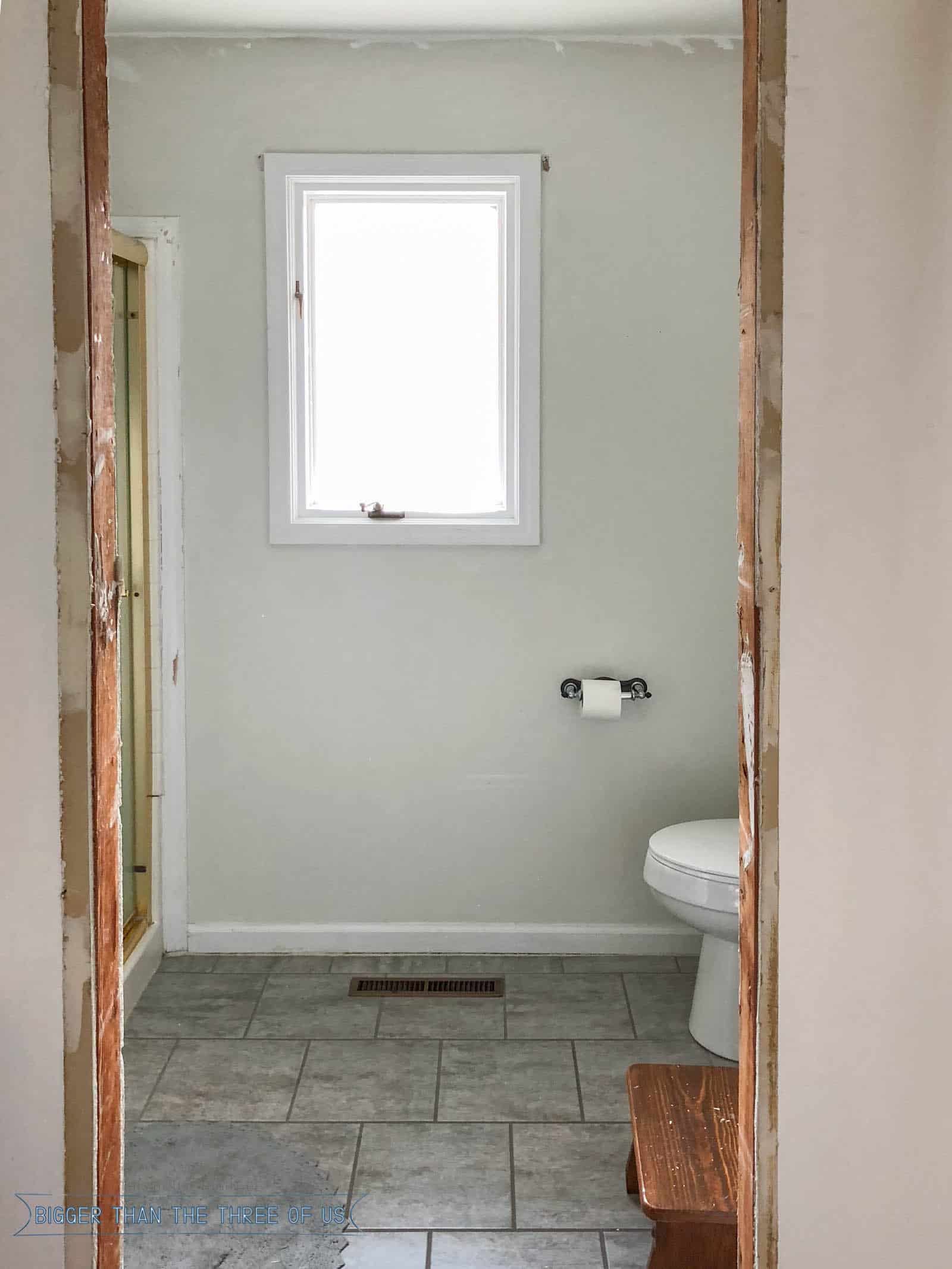 Those will be getting drywall this week. The drywall repair is the messy part of this makeover. I'm really not looking forward to it, BUT I know it will make a huge difference in the overall look of the space.
In the video, I talked about how we used to have carpet in all our bathrooms. As a "let's do something to get by" project back in 2013, we installed peel and stick groutable tile. It was an easy project even for us at the time (we had seriously no DIY skills then). I'm happy to say, that it's still in great shape. So, we aren't touching the floor but we are going to install new, chunkier baseboards so that you don't see cracks between the baseboard and the flooring. That project will happen after the drywall gets installed and I've painted.
*Affiliate links below Thanks for supporting this blog. Click to read my disclosure policy.
Like I mentioned earlier, I've been doing a bit of shopping and a bit of browsing. I'm hesitant to pull the trigger on decor pieces yet because with DIY work... you always run into a few snags and I want to have extra money available for when that happens. That being said, I do feel like I need a few things to make the bathroom come together and these are some of the things that I'm looking at.
My Budget is $100 
So far, I've spent:
Light Parts $30.33
Drywall Supplies $22.43
= $52.76
So, who is scared about what's left to do with my budget? I'll admit... I'm going to need a really good thrifting day to make it happen.
Make sure to check out all the other rooms that are in this challenge!
SaveSave
SaveSave
SaveSave
SaveSave