Be inspired by these DIY headboard ideas to transform your bedroom inexpensively. Whether you want to add a floating headboard, just want a great padded headboard or want to flex your woodworking skills to make a DIY wood headboard, take one of these ideas and make it your own!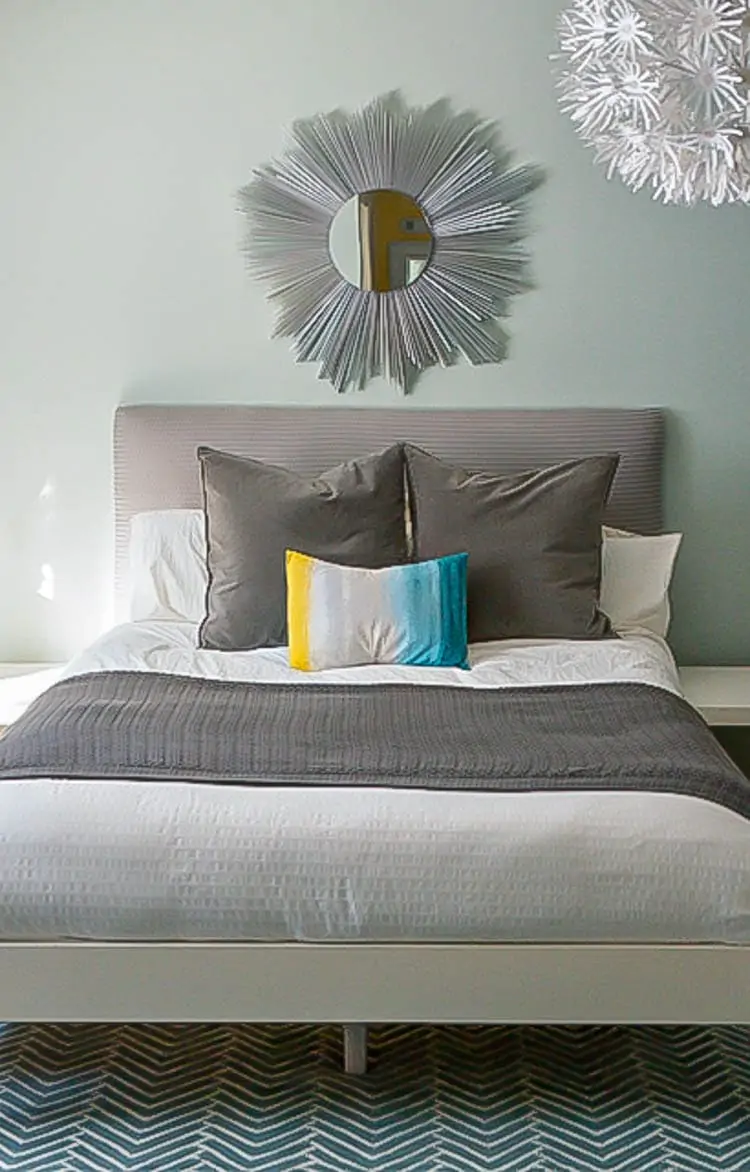 10 DIY Headboard Ideas
Cushion headboard the length of the wall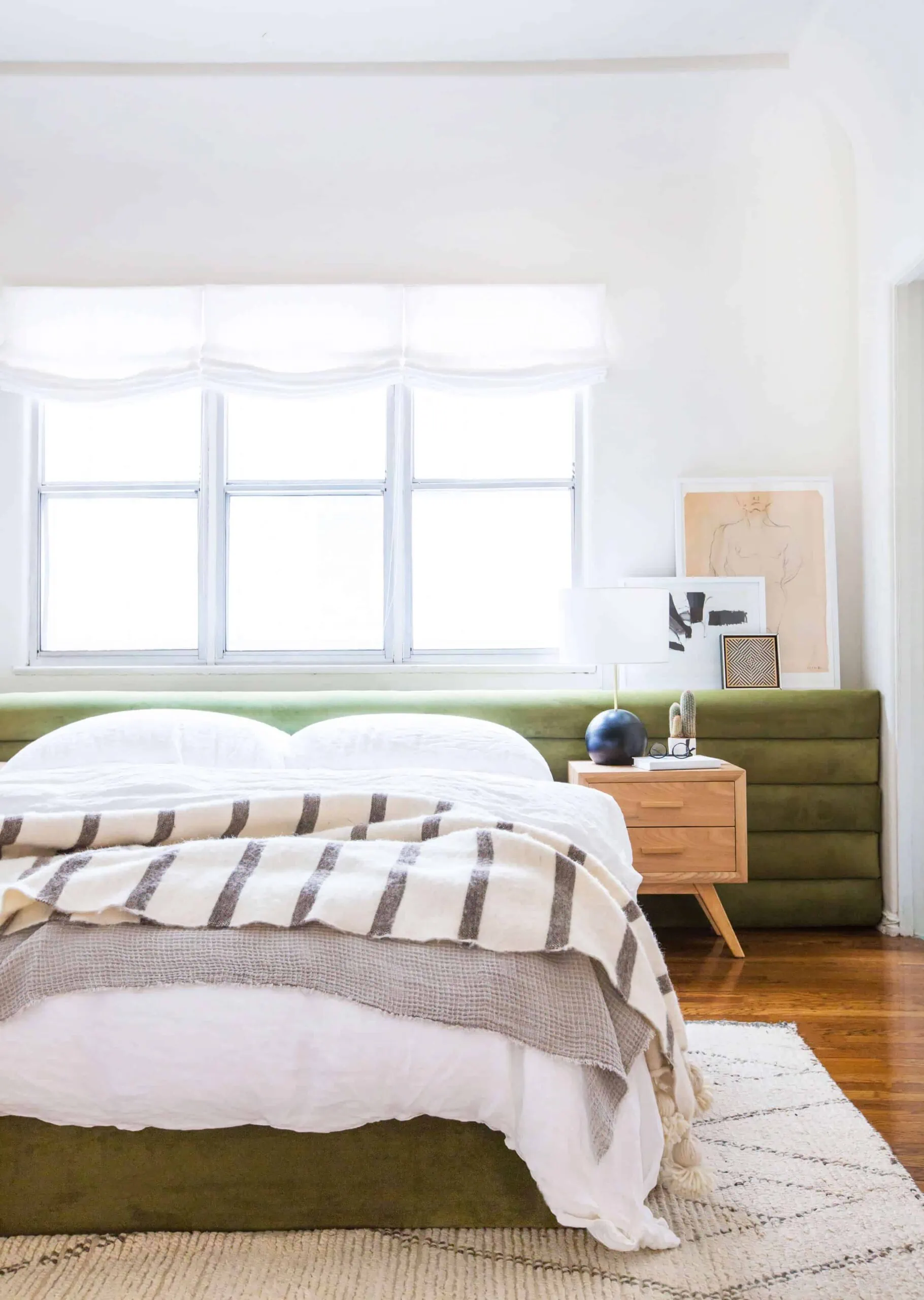 I love that this DIY soft headboard doesn't look even remotely like a DIY project. It's honestly so fantastic and looks so high-end. I also really love that it solves a common problem of a having a bed in front of a window and still having a headboard underneath that window. Because you can customize headboard sizes when you are DIYing, if you have a situation where the bed has to go in front of a window, a low platform bed with a custom low headboard is just the ticket! Check out the DIY Channel Tufted headboard tutorial for all the details.
DIY wood headboard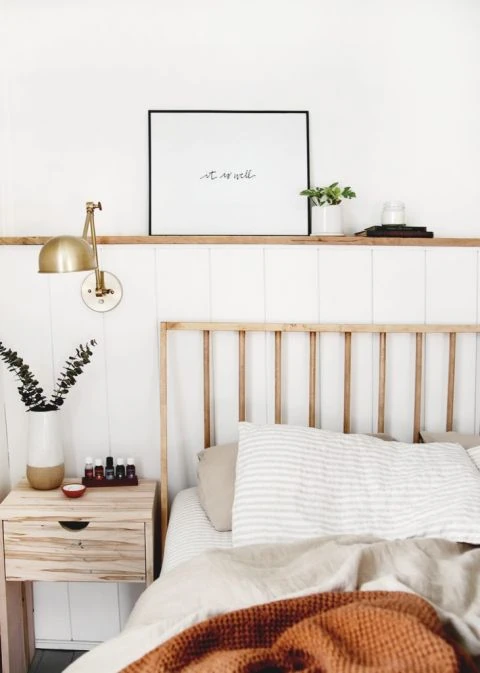 For many years, I've seen a gorgeous walnut midcentury-esque bed frame that had a very similar wood headboard to this one. I love when people can get creative and figure out how to make similar projects to a dream version to fit their budgets. This DIY wood headboard is made out of dowel rods, which is so unique! I would have never thought of that, but it's so smart. If you are looking for a beginner woodworking project, check this one out.
Floating wall cushions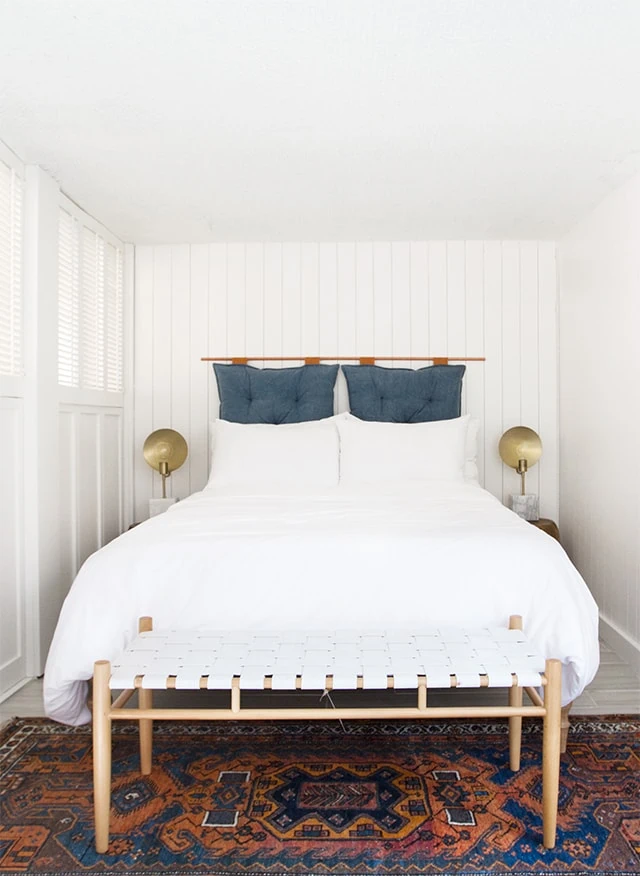 I'm filing away this simple padded headboard idea for a room at our cabin. Pre-bought floor cushions make this project easily doable in just an hour or two.
Upholstered padded headboard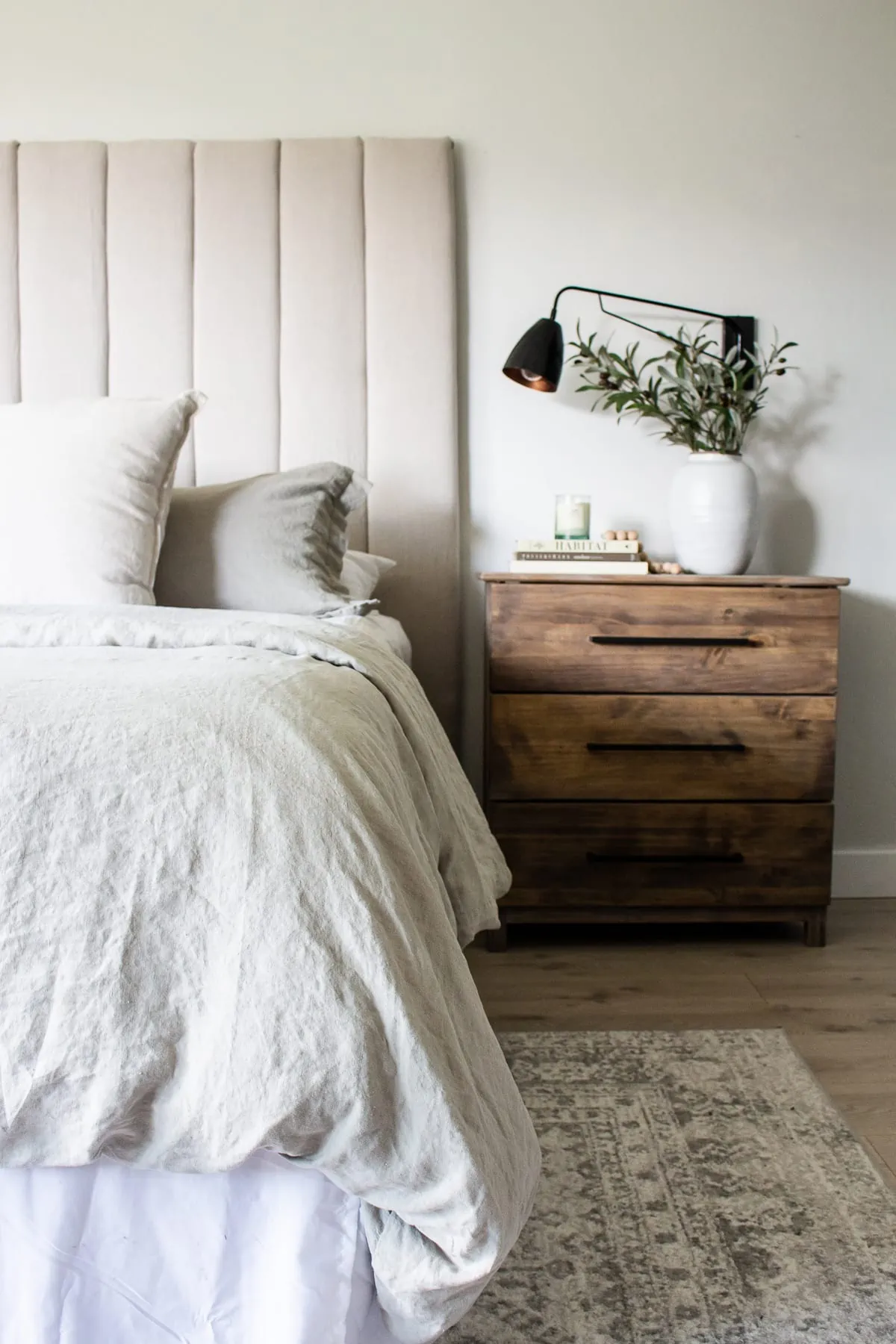 This slightly traditional soft headboard is one that could work with so many different styles. Change the fabric to a plush velvet and you can make it glam. Use a modern fabric and it would work in a style similar to my Tricorn black bedroom. I think this type of padded headboard is great because it's simple enough to make and it could be made to go with whatever bedroom decor you have. Get the full tutorial and start making over your space.
DIY king headboard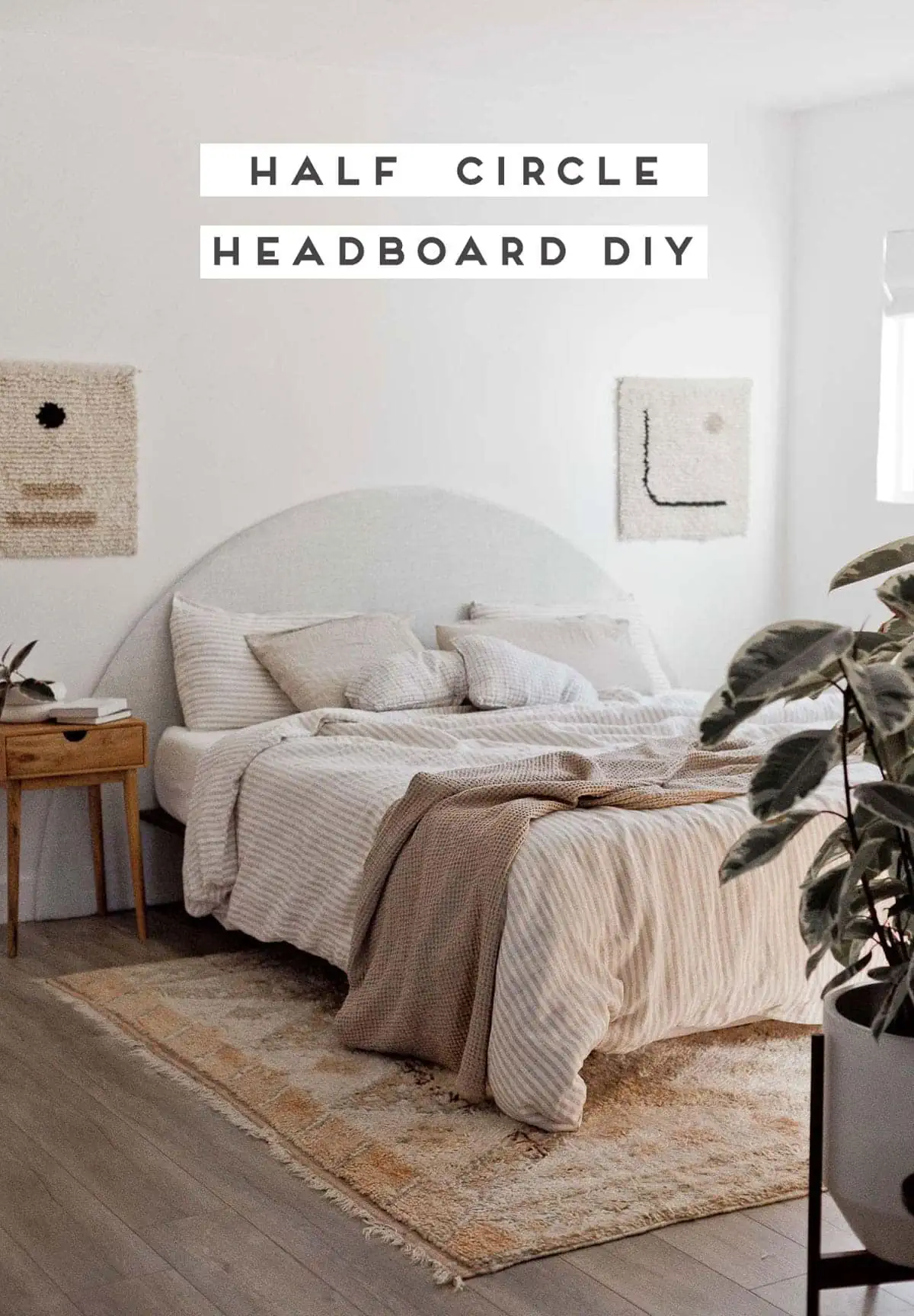 If you are looking for a modern DIY king headboard then this might be it. The way this king headboard is constructed is similar to how I made my DIY headboard in my bedroom years ago. The difference, of course, is the shape, but also, they used furniture straps to attach it to the wall. We didn't have any problems with ours moving but I do think the furniture strap idea is smart. Check out the half circle king headboard for more information!
Cane project for your bedroom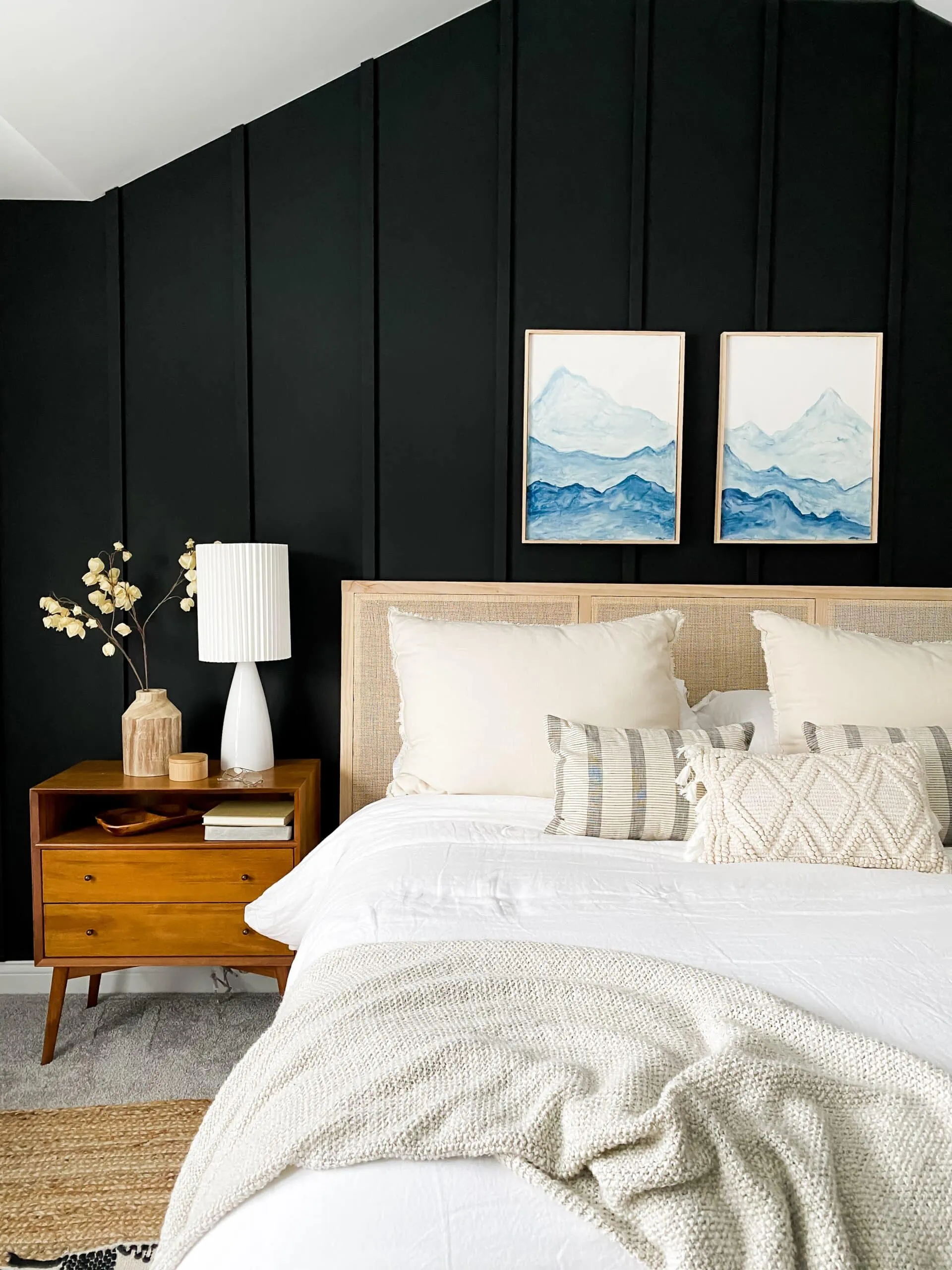 This DIY headboard really turned out fantast! I'm actually shocked that the cane headboard is a DIY because when you first look at it, it looks exactly like something I've seen online. I read through the tutorial and she says that she's a entry-level woodworker but, for this project, you do need a few extra tools. I think it's every doable though!
Budget-friendly soft headboard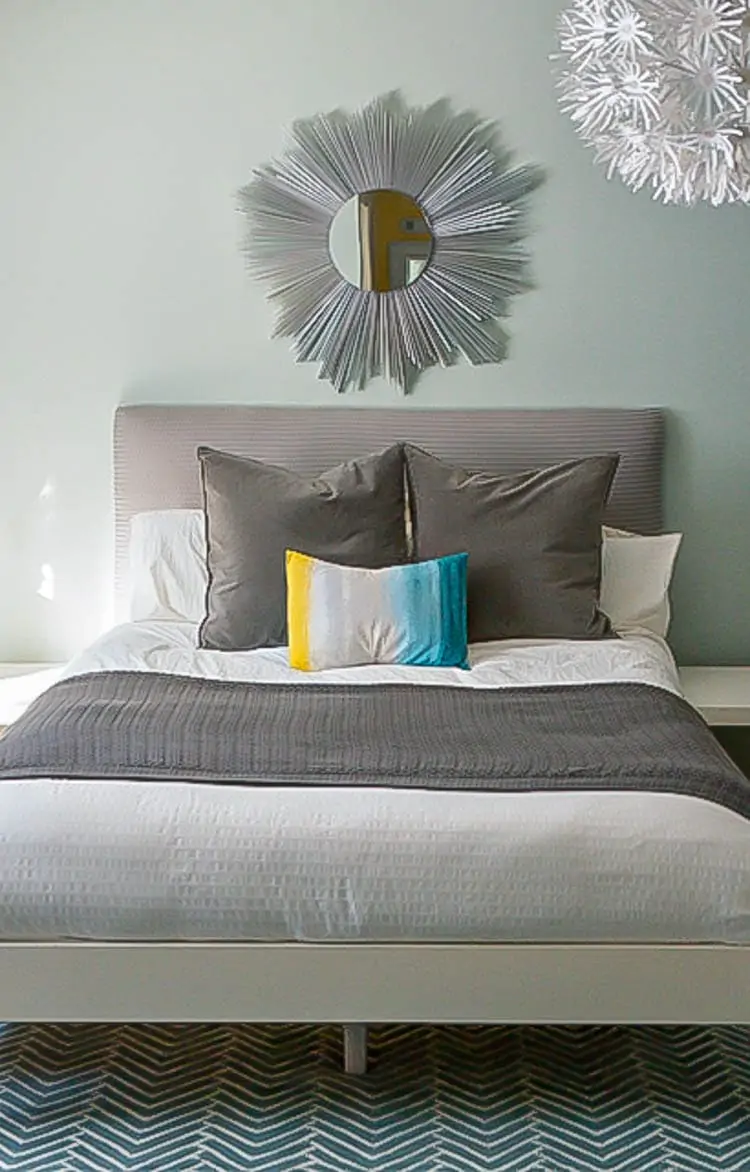 When we first moved in to our current house, money was extremely tight and we more than doubled our square footage from our previous house. I started experimenting with my style and getting into easier DIY projects. When money is tight, you get creative with projects and this soft headboard was born out of those things. My grandparents were giving away some mattress foam and I decided to see if I could make a very simple cushion headboard out of that and some wood. The headboard turned out great and, in the process, I was able to learn new skills as well as experiment with style in a very budget-friendly way. If you are looking for a very simple project and are wanting a soft headboard for your space, check out $30 DIY headboard for more information!
Pool noodle headboard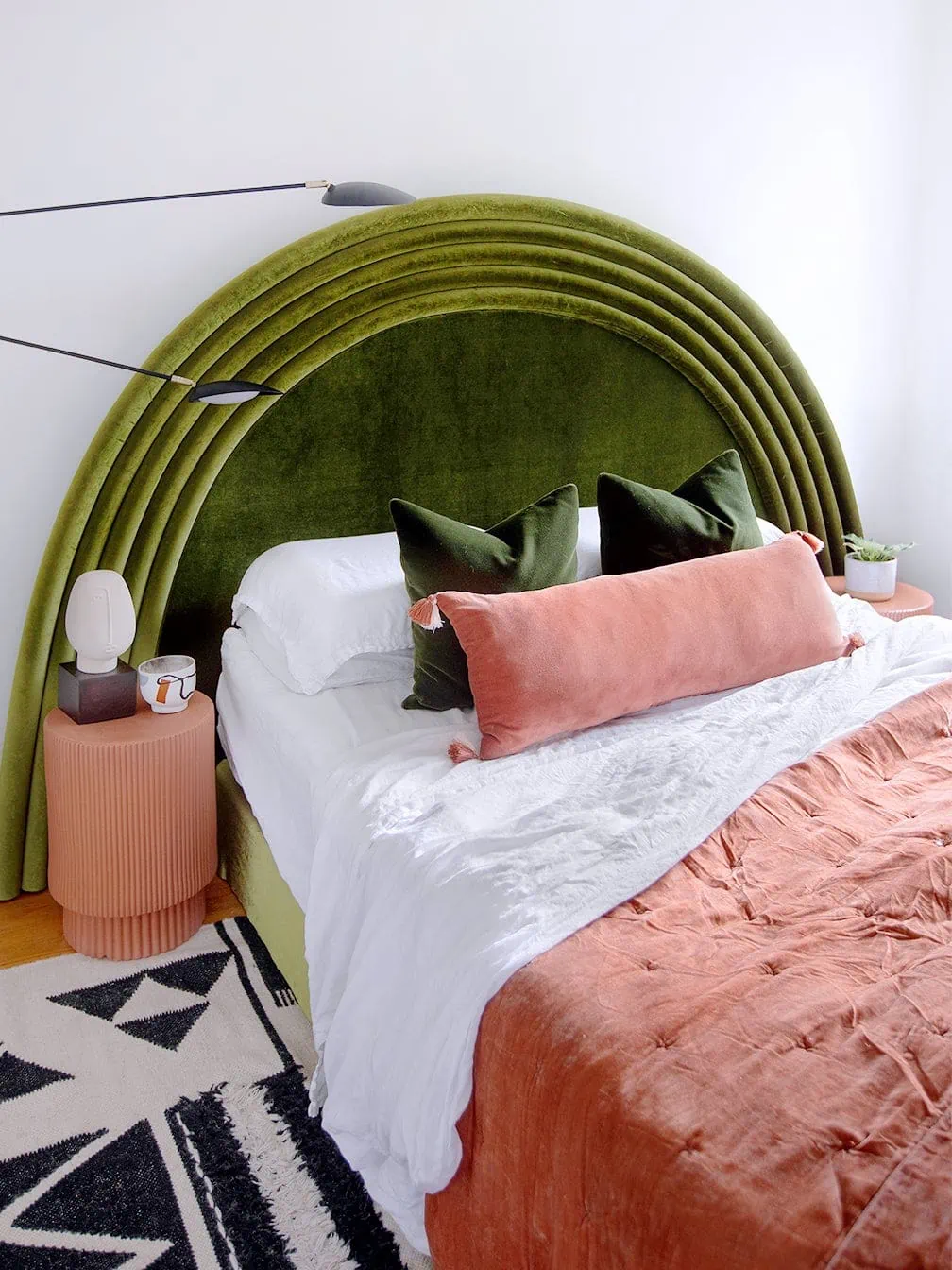 Years ago, I tried a pool noodle wreath and it was a complete fail but this pool noodle headboard DIY is anything but that! How chic and vintage-y does it look? I think it's got a vibe for sure and won't work for everyone's space, but I do think it's pretty great. Check out this pool noodle arch headboard for more information if you are looking to DIY something similar.
Blue headboard
Tufted headboards used to be really popular and I think they'll come back around again because they are truly timeless. My friend, Aniko, did an amazing blue headboard and I'm still shocked at how great her tufted headboard turned out.
I hope you are inspired to tackle one of these DIY headboard ideas for your space. Most of these are entry-level projects when it comes to woodworking and upholstery. If you want more tips for upholstery (corners can be a tiny bit tricky), then check out a tutorial of mine on how to upholster a chair. Also, if you are wanting a soft headboard, you are going to need upholstery foam. I've done quite a number of projects with upholstery foam and have rounded up my go-to sources for cheap foam.