Learn how to make a DIY headboard on a shoe-string budget. A padded headboard can really improve your nightly reading session and also add so much interest to your space. This upholstered headboard tutorial is perfect for beginners, so grab some tools and let's make a simple headboard!
As I've been sourcing and planning for the cabin renovation, I've been thinking about doing a DIY padded headboard in the main bedroom. I'm a reader in bed, so I really like having a plush headboard to sit back against. The trick in the cabin bedroom though is that the bed frame is going to go up against a window. I've been thinking about king headboard ideas that are lower to the ground. I don't want to block much of the window, but still would like a plush bed frame that feels good when you want to sit back and read.
Anyways, in thinking about headboard plans for the cabin, it reminded me of this simple foam headboard that I made years ago for our main bedroom at home.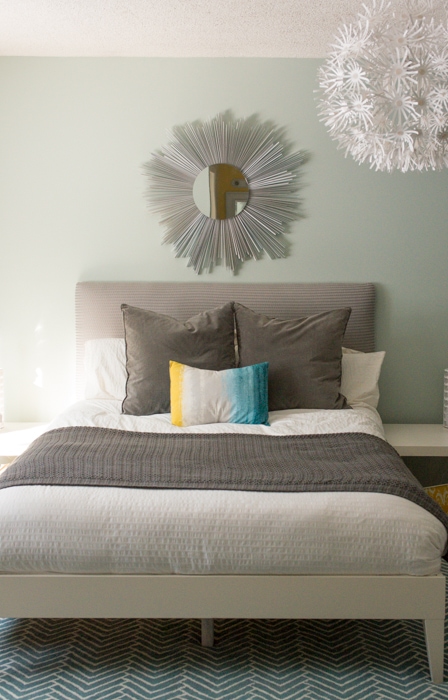 Can you believe our main bedroom used to look like that? I revealed that space in 2014 and, since then, my style has definitely changed. The paint color was Rainwashed by Sherwin Williams and it was gorgeous. The bed frame we still have in our guest bedroom, which makes me feel good! There are a few other pieces in that bedroom that have stuck around in other rooms, which is always interesting to see for sure.
Anyways, I scored a great queen bed frame without a headboard but then was stumped on headboard ideas. This was a quite a few years ago, before you started seeing floating headboards or other hanging headboards with wood, pipe, etc.
With a very small budget, I knew that we weren't going to be able to afford to buy a tall upholstered headboard, so making a cheap DIY headboard was our plan.
Homemade headboards have been popular for quite some time. There are tons of gorgeous padded headboard tutorials such as this DIY Channel Upholstered Headboard and this Arch DIY fabric headboard.
To be honest, when thinking about making our headboard, we just went with what we had on hand and didn't follow a diy tutorial. I've upholstered a chair and reupholstered a bench. I figured that making a DIY queen headboard would be pretty similar to both of those projects and just winged it. I get winging projects isn't always the best idea though, I'll share a little tutorial for how to build a headboard so you feel more confident!
How to Make a DIY Headboard
*This do it yourself headboard tutorial is for a queen sized headboard. You can make this cloth headboard for any size bed, you'll just need to adjust your dimensions to fit your bed size.
DIY Upholstered Headboard Supplies
Tools Needed to Make Your Own Headboard
Manual Stapler or Air Compressor with Nailer
Utility Knife
Fabric Scissors
Circular Saw or Table Saw
How to Make a Headboard
Decide on headboard size (twin, full, queen or king). We chose to make our queen headboard 62″ wide.
Cut a piece of plywood to headboard size (we had our plywood cut at the hardware store but you could cut your wood at home).
Staple foam on to plywood. If you are using thin foam, you can double the foam for a soft headboard.
Upholster fabric to headboard.
Carry the handmade headboard inside and place on floor between bed frame and wall. Or, if you want, attach cleats to the back of the headboard and then you can do a wall-mounted headboard.
If you are new to upholstery projects, I like to start in the top middle of the headboard. Pull fabric tight (but not so tight that seems appear) and put in a few staples a few inches apart. Next, go to the opposite side and repeat. I flip back and forth on the long sides until I have finished them. I repeat the process on the shorter sides of the piece that I'm upholstering. When you get to the corner, it's a combination of folds to make the corners look nice. Once you get going on it, you'll understand what to do. Just make sure to check the front of your fabric as you are upholstering the headboard to make sure the fabric is not pulling too tightly.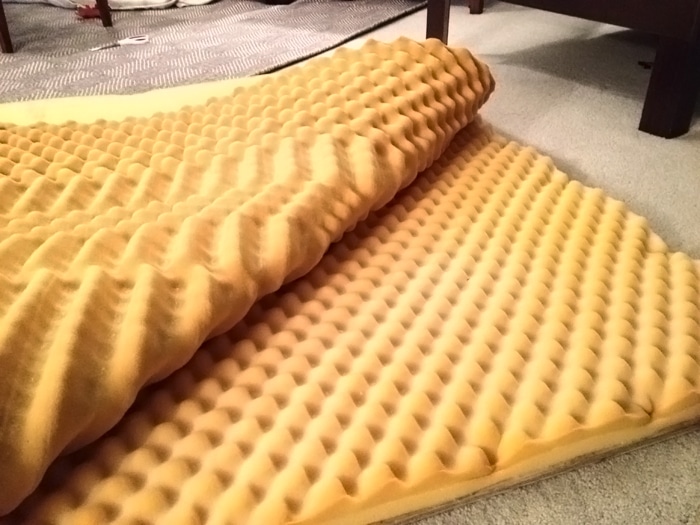 Before I started this project, my grandparents were getting rid of extra foam that they had on hand. It wasn't the perfect depth to make a padded headboard, but I decided to use it to save money. I doubled the foam, placing the egg carton shapes facing each other so that I didn't have any ridges in my simple headboard.
Since making this diy queen headboard, I have found some great options for cheap upholstery foam and did a blog post on it.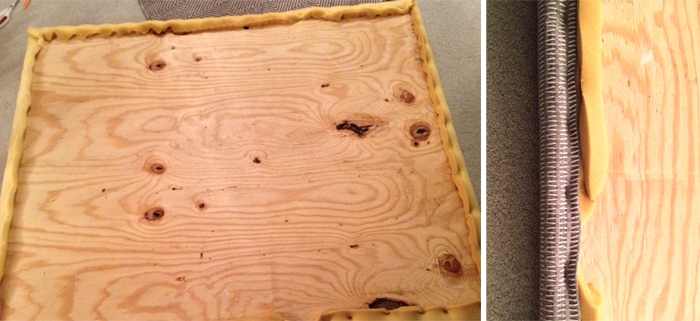 You could easily reupholster a headboard if you had one that you don't like. It would be the same steps and would be such an easy project.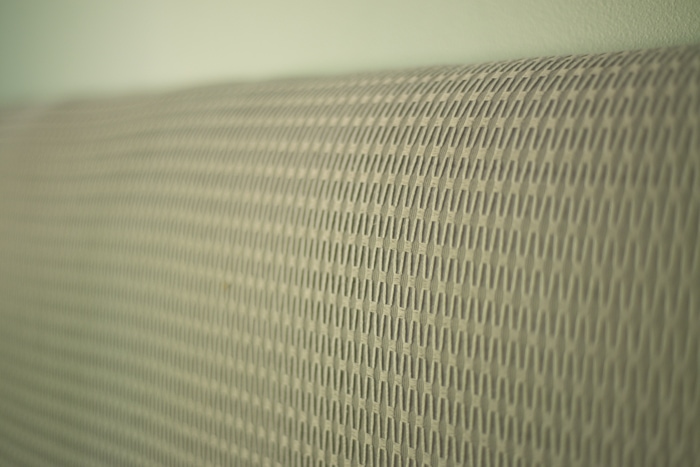 Luke and I were so proud of this DIY upholstery project. There are so many fancy headboards out there and this definitely isn't one of those, but this project felt really rewarding.
We both remember thinking that we waited way too long to make it. We were used to having just a wall to lean against at night with no headboard. For under 1 hr and less than $30, this handmade headboard should have been a no-brainer to start a long time ago.
DIY Fabric Headboard Cost Breakdown
Our "fabric" which is actually a Target Threshold window curtain was snagged at the Goodwill for $3.99.
We didn't use any hardware to attach the headboard to the wall. We had bought hardware to do this, but realized that because of the size of the headboard it fit on the ground between the wall and the bed frame perfectly. This was actually a mistake on our part (headboard size is too big), but a good mistake to make because it saved us money.
We were able to get our foam for free.
Total cost this this DIY bed headboard: $23 plywood & $3.99 for fabric
Let's chat about a few questions that you might have before you get started with your DIY headboard.
What are king size headboard dimensions or other bed sizes?
King headboard sizes are usually around 80″ but can vary just a bit. Here's a good guide to get you started on headboard sizes.
What type of wood should I use when making a headboard?
If you are planning to upholster a headboard, then using plywood is a very good option to make your headboard. Plywood is cheap and, like us, you can have it cut at the hardware store.
Ready for a before/after of the room? Remember this is from quite a few years back but I'm still so proud of how our fabric headboard turned out.
Bedroom without a cushion headboard: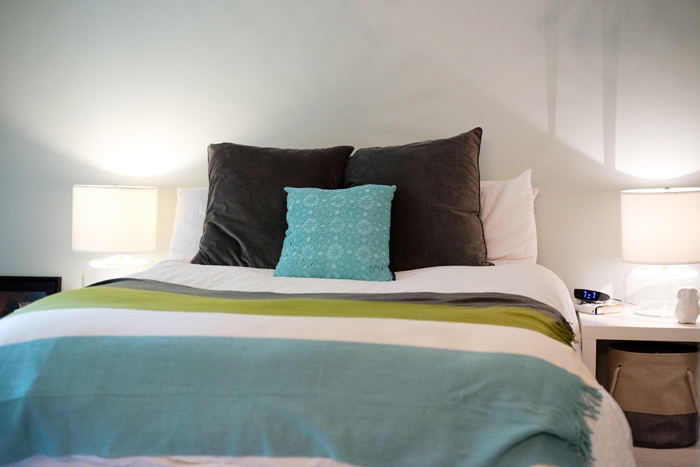 Bedroom with a cushion headboard: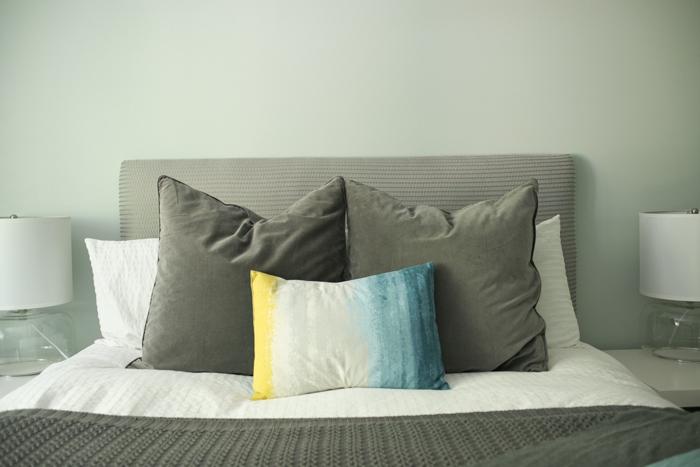 Hope you all feel inspired to get creative with resources, time and energy in your bedroom. Even though we don't have this headboard any longer (we passed it on to my sister), I can still feel good about this project and be inspired to tackle something similar for the cabin!