I can't believe we are to the half-way point in the One Room Challenge! I'm half excited and half terrified! I'm much further in my room this time around than I was during the guest bedroom. So, what's new or going on this week with the eat-in kitchen you ask?
Well, this happened: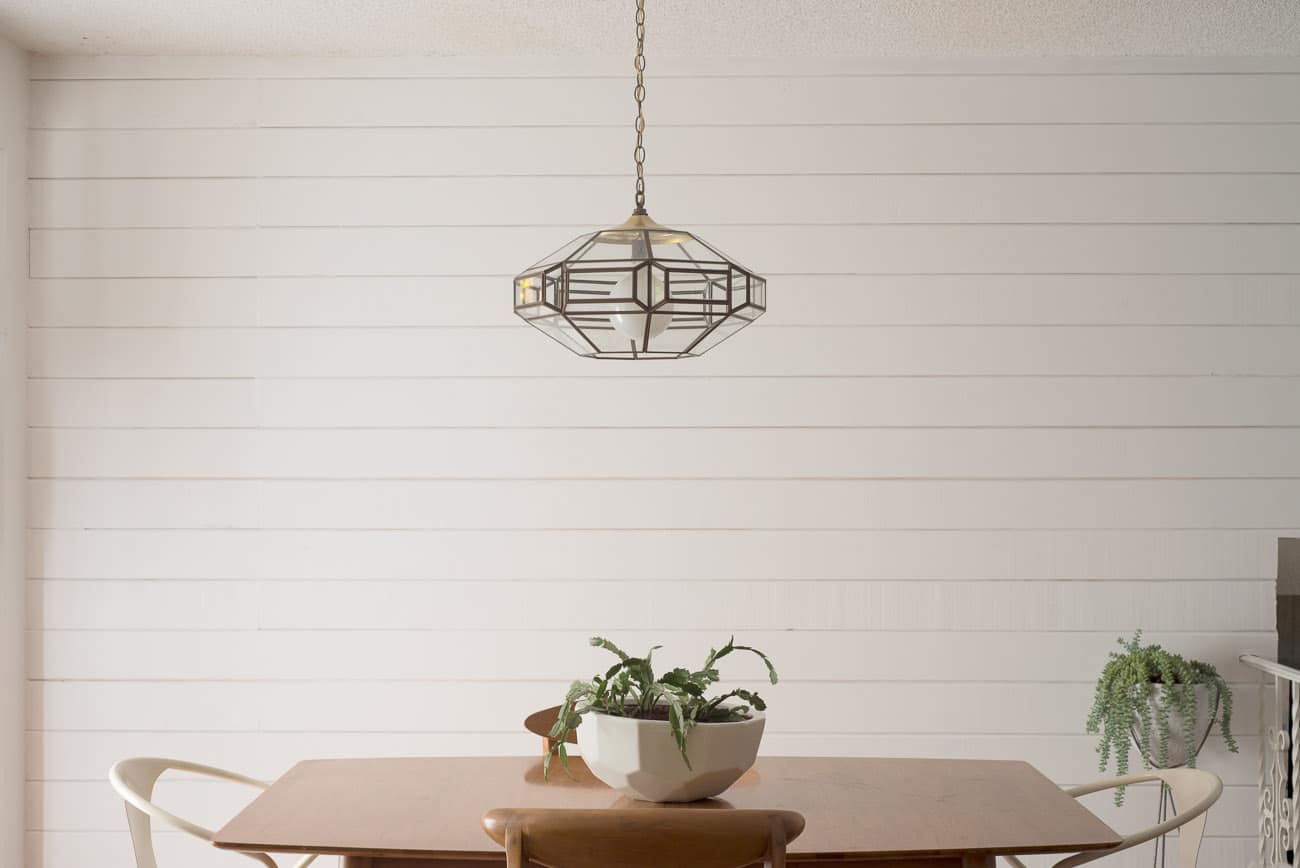 Yep, I finally got my modern plank wall. You can read all about the DIY Modern Plank wall if you'd like to have one as well. It was a pretty straight-forward project.
I kinda want to continue the plank wall to the two partial walls that surround the kitchen. Here's one of the walls (an old picture but you get the point).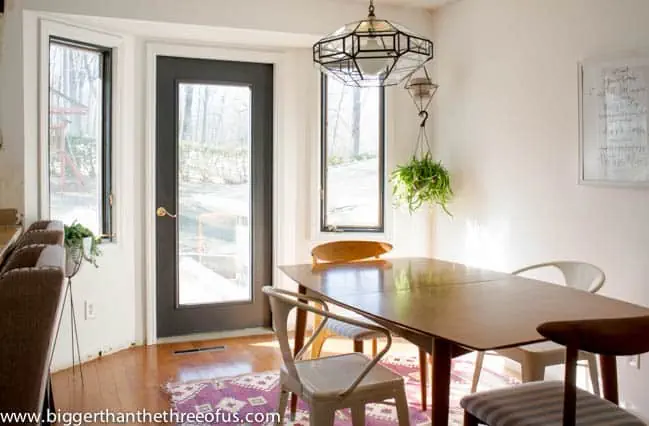 The angles on that bump out would be a nightmare for the planks though. So, I'm going to finish the makeover and then decide if I think the planks would really add something.
Other than the plank wall, I started on our last building project for this room... the built-in banquette.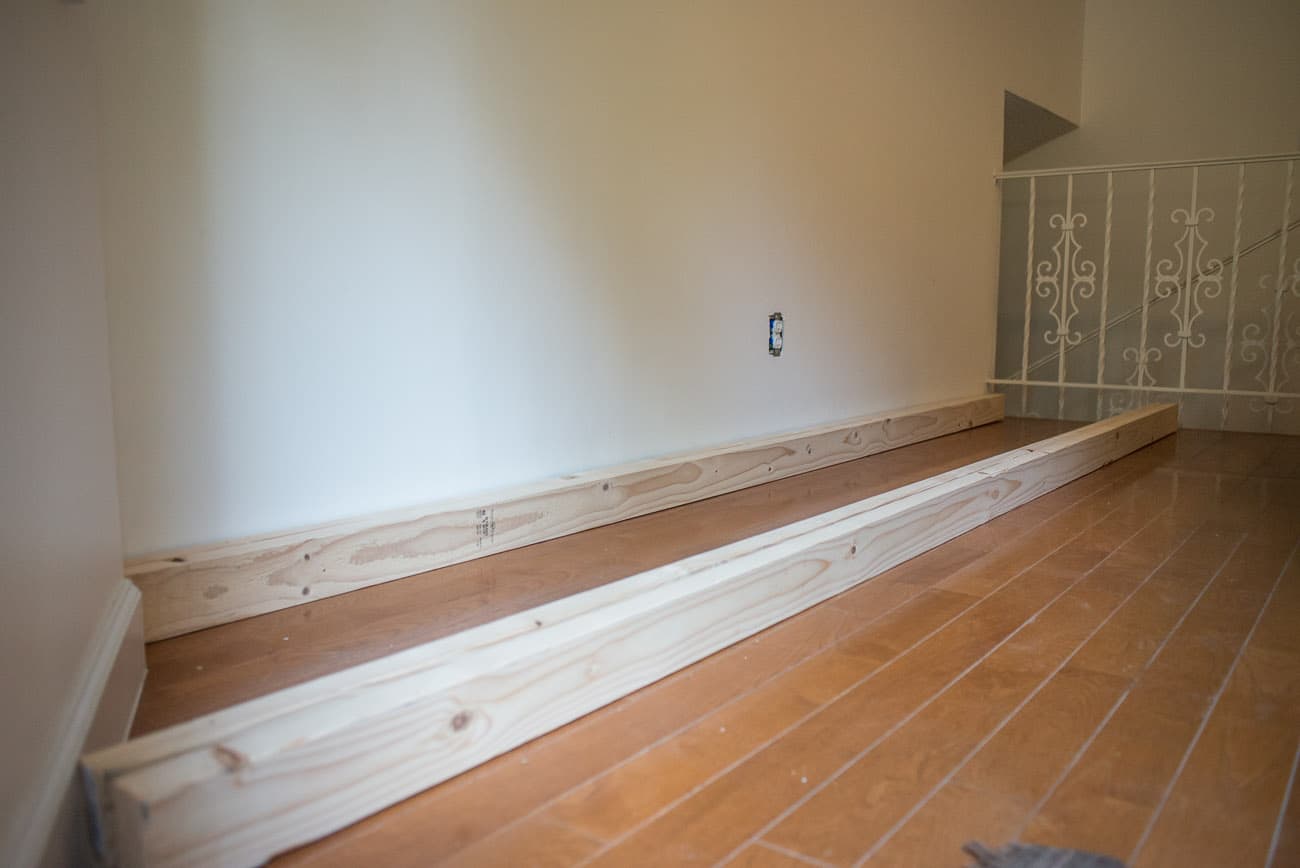 As you can see from the picture, I started cutting the boards for the built-in before I started the plank wall. I've made a bit more progress than what I've shown, but not by much. This is definitely on my to-do list for the rest of the week.
I don't have a particular plan for the built-in. Can you believe it? I'm kinda winging it. I know I want it to have storage and for the lid to open but that's all I've got so far. Call me crazy, I know Luke can't believe I'm just making it up as I go along.
Want to see some inspiration for the look that I'd like to have?
I really like the hanging back on this: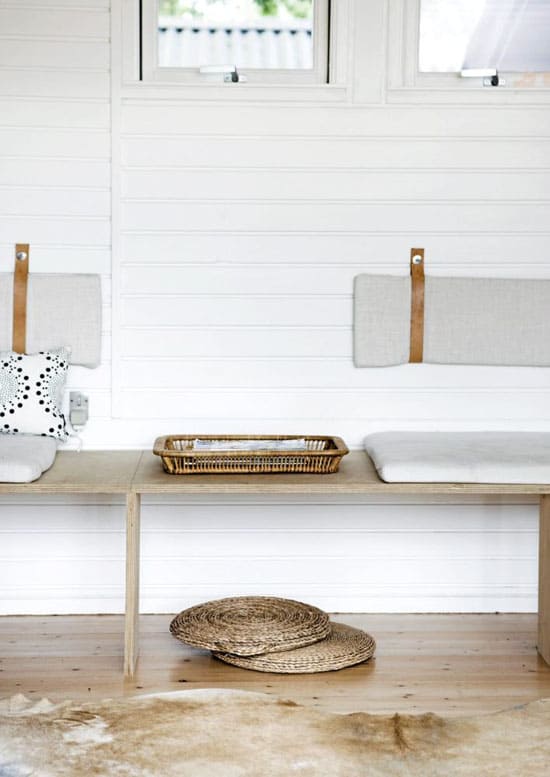 But, I'm set on having quite a few throw pillows so I'm not sure if those two jive.
My second inspiration image is a complete 180 from above.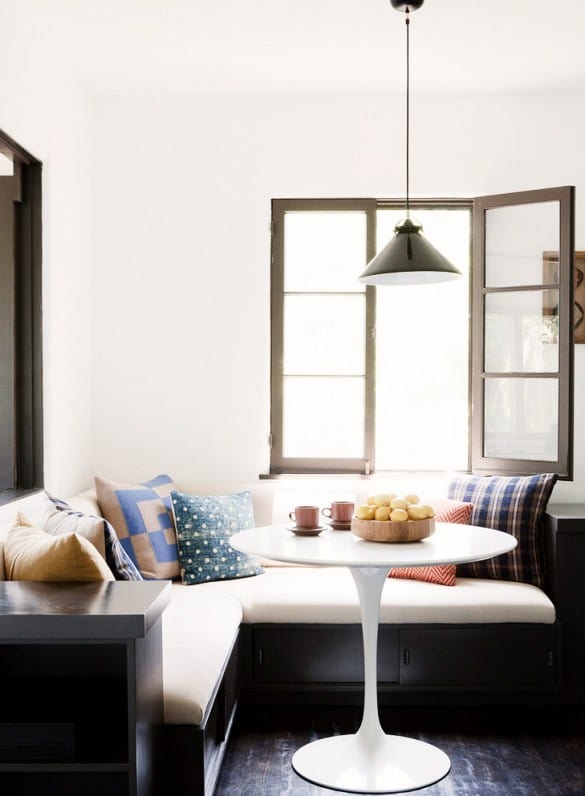 I adore the dark built-in. By painting the built-in the same color as the base cabinets in our kitchen, I think the overall look would be so cohesive.
Now, if I could only wrap my head around how to marry the two looks.
I better start a to-do list before I forget what I still need to do.
1.  Finish Banquette
2. Sew Pillows (did you see my fabric choices?)
3. Make Cushion Pads for Metal Chairs
4. Reupholster Dining Chairs
5. Get Rug (I ordered this hide rug and I'm hoping it's fabulous!)
6. Find/Make a Textural piece of art
7. Hang artwork above stairwell
8. Hang Highland Cow Painting above bench
9. Install new light
10. Accessorize
Whew, I think that's it. Now, that I'm looking at this I'm getting a bit nervous. I only have three weeks left to get the whole list done! Wish me luck.
Also, if you want to play catch-up:
Eat-In Kitchen Week 1 - Before
Eat-In Kitchen Week 2 - Design Board