Happy Friday, friends! I made it through another week of summer... I'd call that an accomplishment. Ha! It seems like the dishes have been piling up, laundry is overfilling all our baskets and we have clutter everywhere! We are trying to squeeze in the last few days of summer fun and our house definitely shows it. Well, most of our house minus our bedroom, the living room and our guest bedroom (that was just cleaned for this post!). Our living room stays clean most of the time. Is that weird? We hang in there quite often but it's usually reading books, which we do a few times a day; or watching the tv, which we do in the mornings and at night. Greyson is old enough that he doesn't have toys scattered all around anymore. Most of the time, he's playing with legos in his room or he has art strewn across our dining room table. The table is one area that DOES NOT stay clean. Anyways, today I wanted to chat about Freshening up the Guest Bedroom. 
It hasn't been all that long since I decluttered the space. I had to look back to see the date, but it was over six months ago. I guess it has been longer than I thought. Since I'm constantly decorating, rearranging, and making new projects, decor pieces move in and out of rooms. So, most rooms change pretty frequently. This room has been through small changes since I revealed the space back in 2015 for the One Room Challenge. I'm the kind of decorator that reveals a space and then constantly tweaks it. After a few tweaks (or a year or two), I finally have something I really like. Today, I want to share a few new adds to the rooms as well as a few takeaways.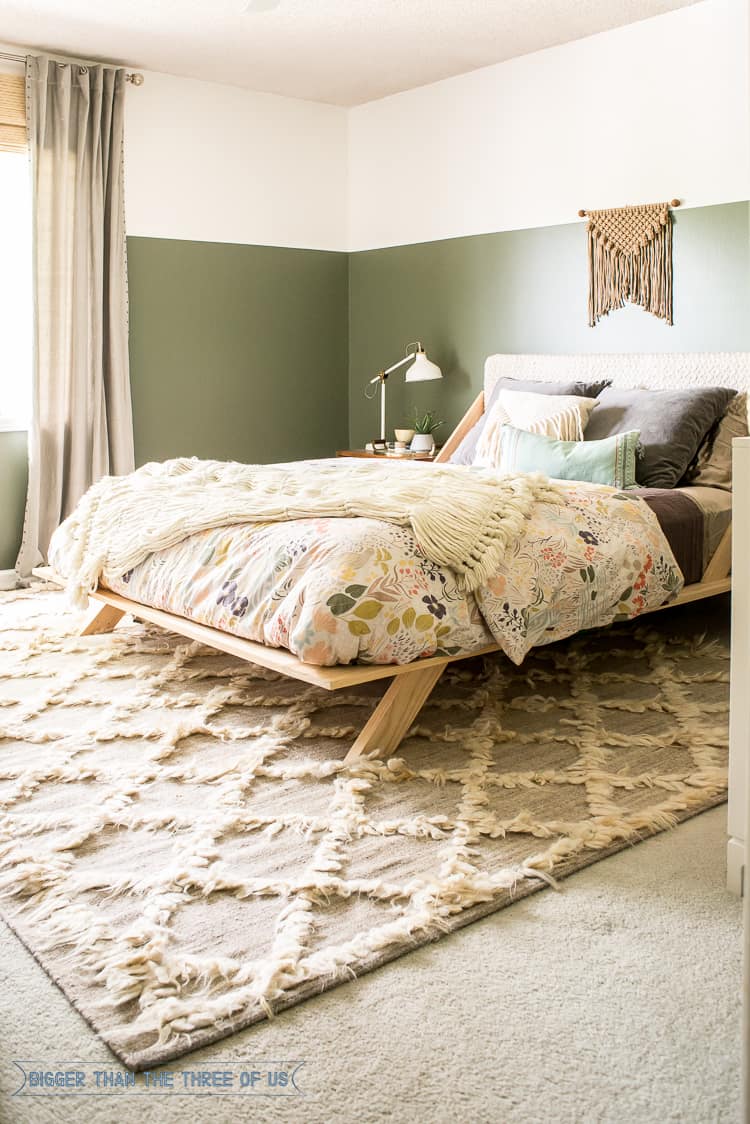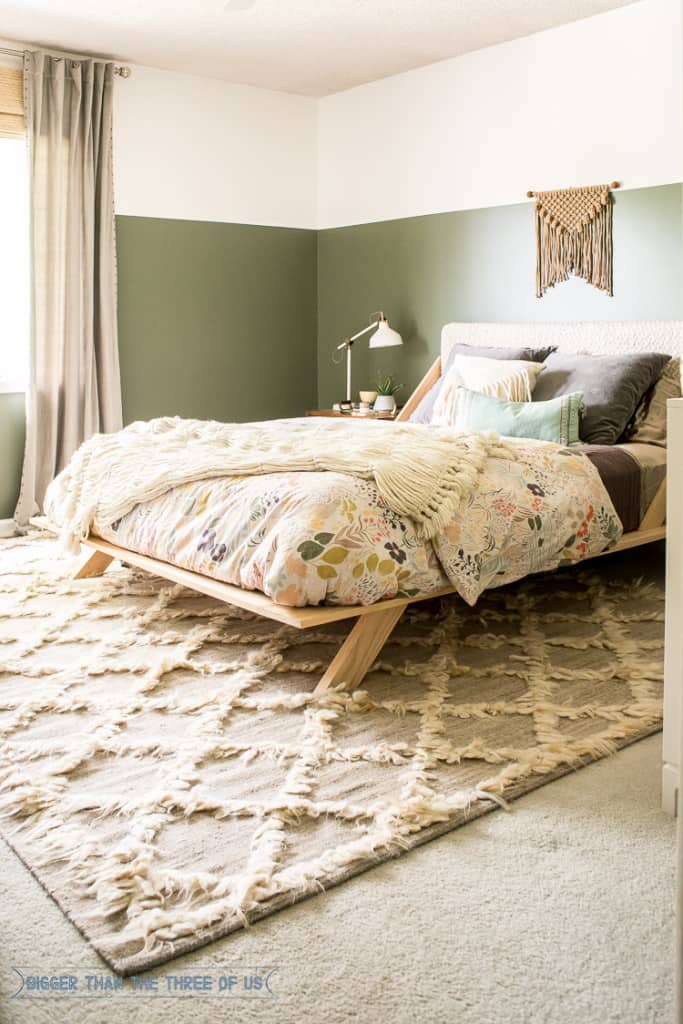 I tend to over-decorate. Trying to fit too many things in one space - I'm guilty of that. I think it looks good and I live with it awhile and then it just starts feeling overwhelming. So, the first thing I did was take things off of the dresser, nightstands and the walls. I had this beautiful vintage painting to the right of the curtains and, although I really love it, I love the space even more without it. The nightstands got a more minimal look and, again, I feel like less is more here. This room has a lot of texture and visual interest, so maybe the "less is more" approach here is what works.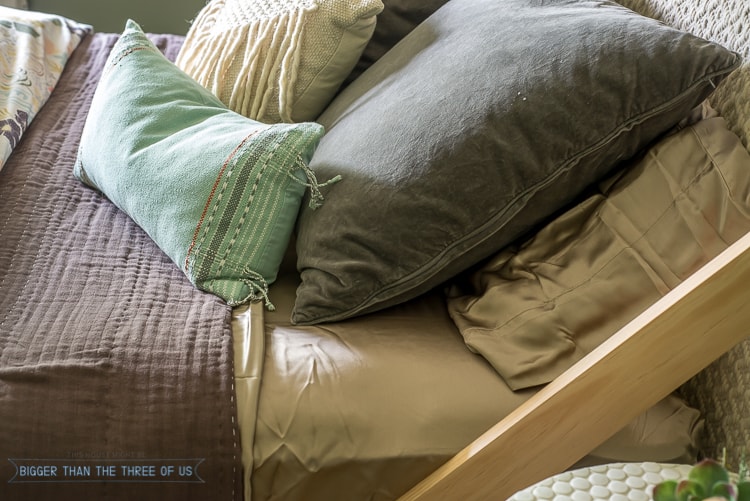 One of the things we added was new silk sheets from Orose Silk. They offered to send me sheets to try out and I really wanted them for our master bedroom but I knew they wouldn't work. Luke is going to love me for sharing this... Luke is using Rogaine and it stains sheets, pillows, etc, so there was no way I could put something so amazing on our bed just to get stained.  So, our guests will get to live the life of luxury by sleeping on these sheets. Or maybe, I will when Luke is gone on work trips. =)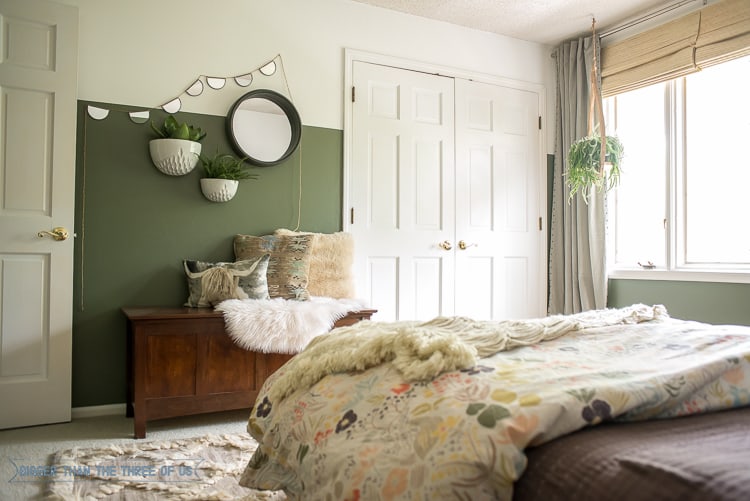 Besides the new sheets, I did some switcheroos with the throw pillows. I bought that middle pillow for our master bedroom but I ended up going with my tried and true navy blue in there. I love how the pillows play so well together.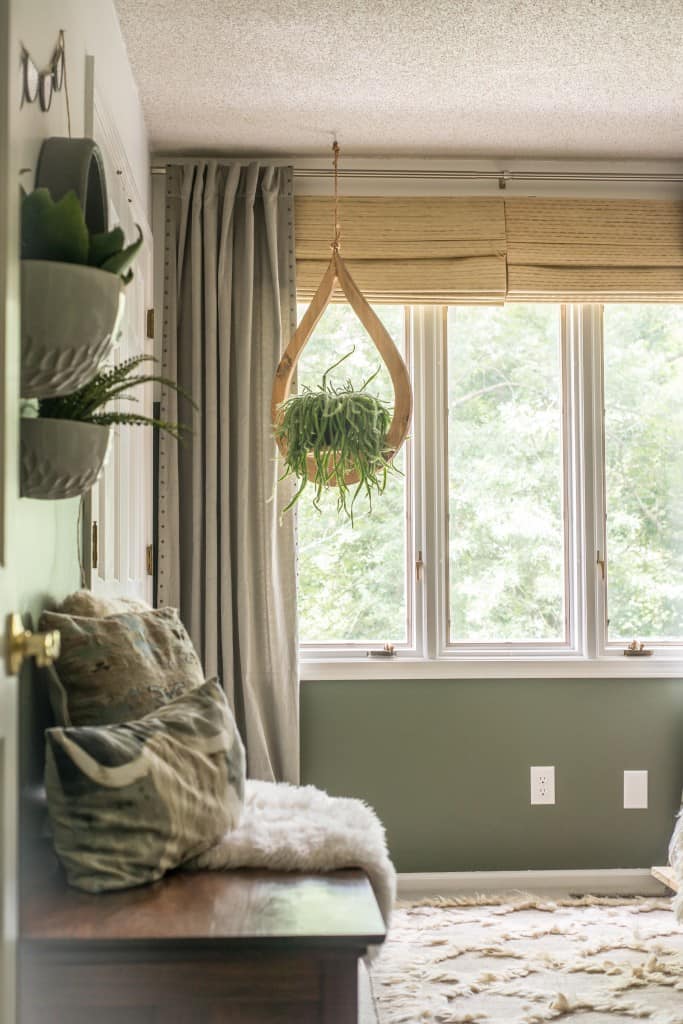 That DIY hanging planter is still a favorite of mine! I thought for a moment that it would work in the master bedroom but it didn't, and I'm not surprised, because it's just so perfect here in this spot.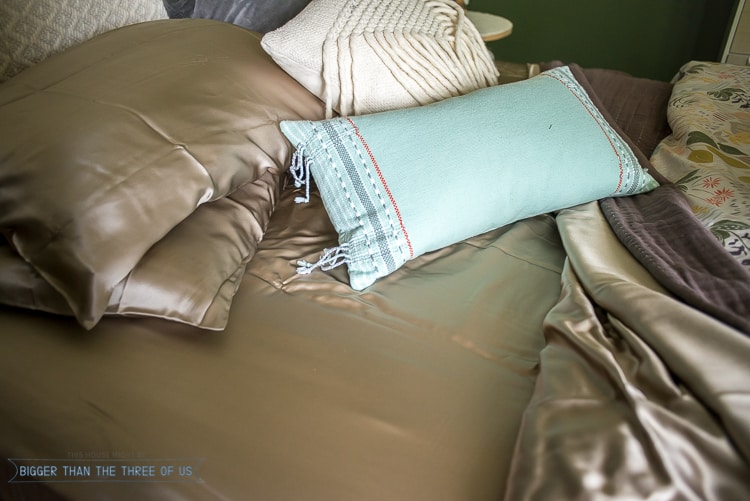 I guess a few of the bed throw pillows where changed out as well. I actually love how the taupe silk pillowcases pair with the rest of the colors on the bed.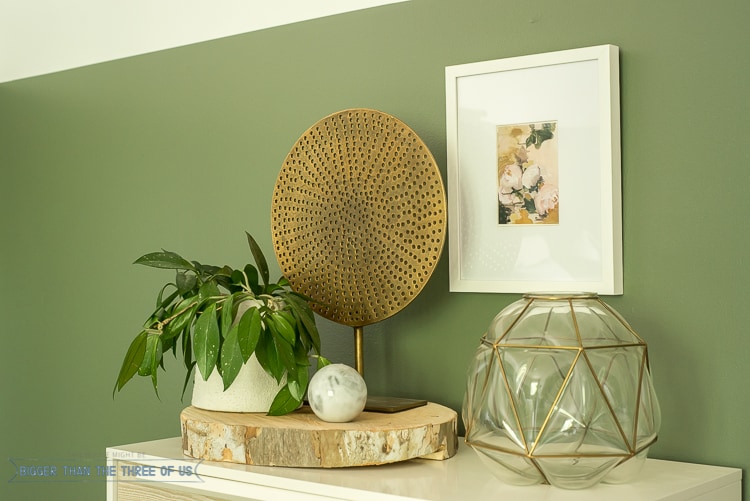 The dresser pretty much stayed the same. Dresser styling is not my thing, but I'm liking this setup.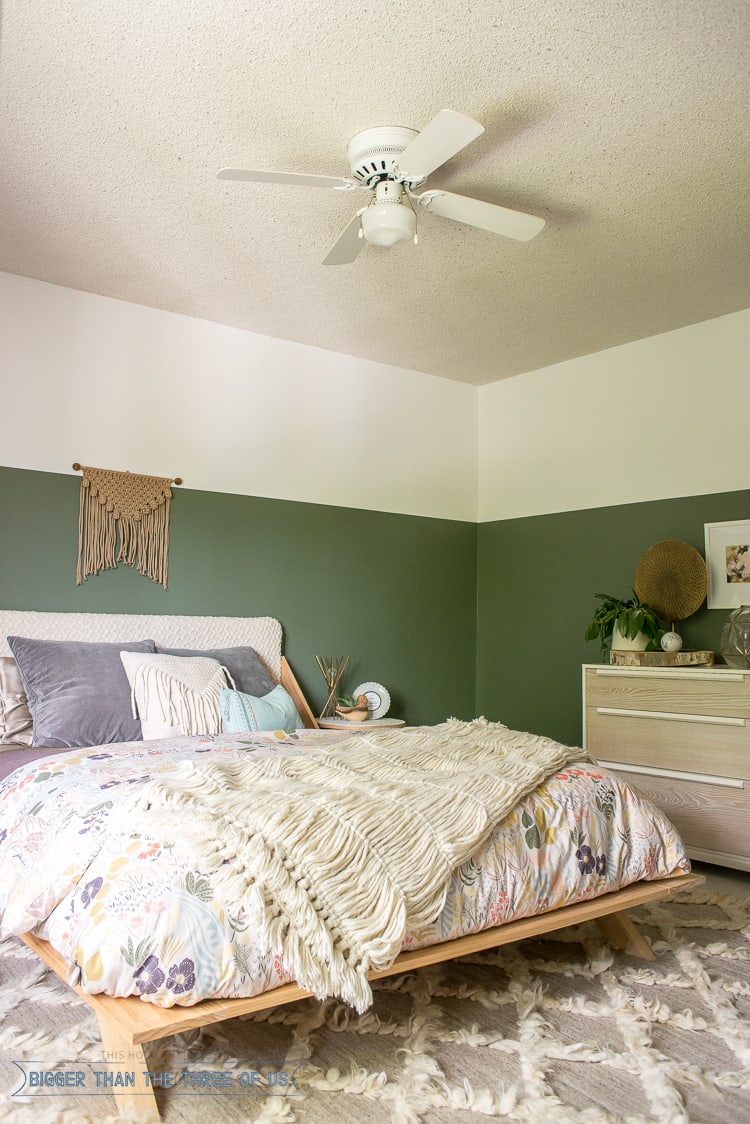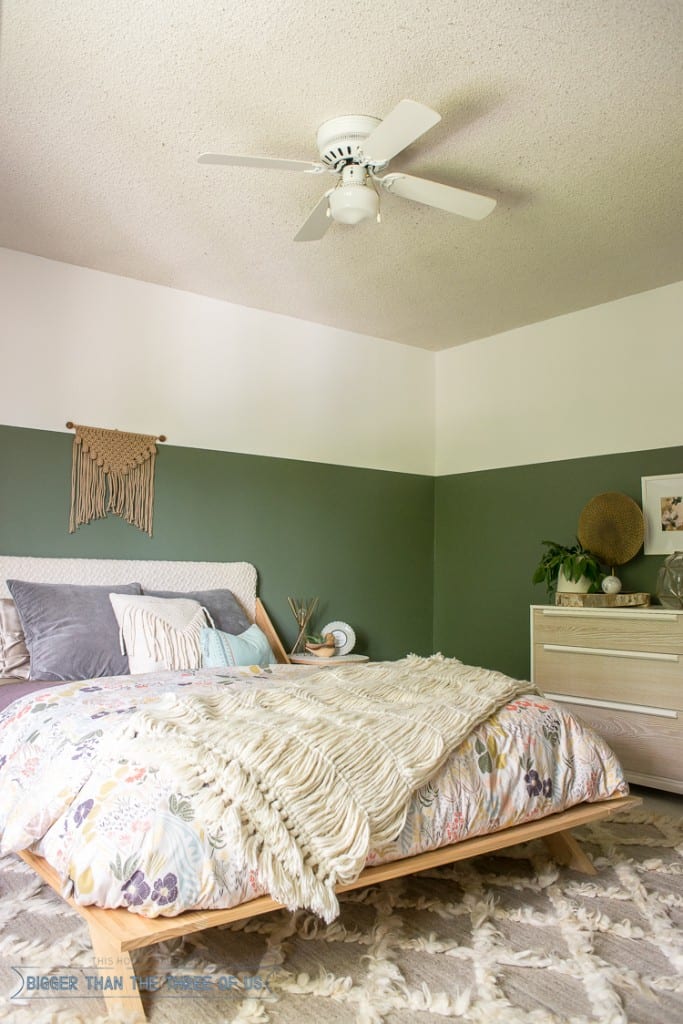 I'd love to get an upgrade for the fan. Something more modern and larger would be great for this space. This room has the worst ventilation and when guests stay over they close the door (which is totally normal) but it makes it hotter than usual in there. A new, modern fan would be a huge plus. I'm putting that on my wishlist.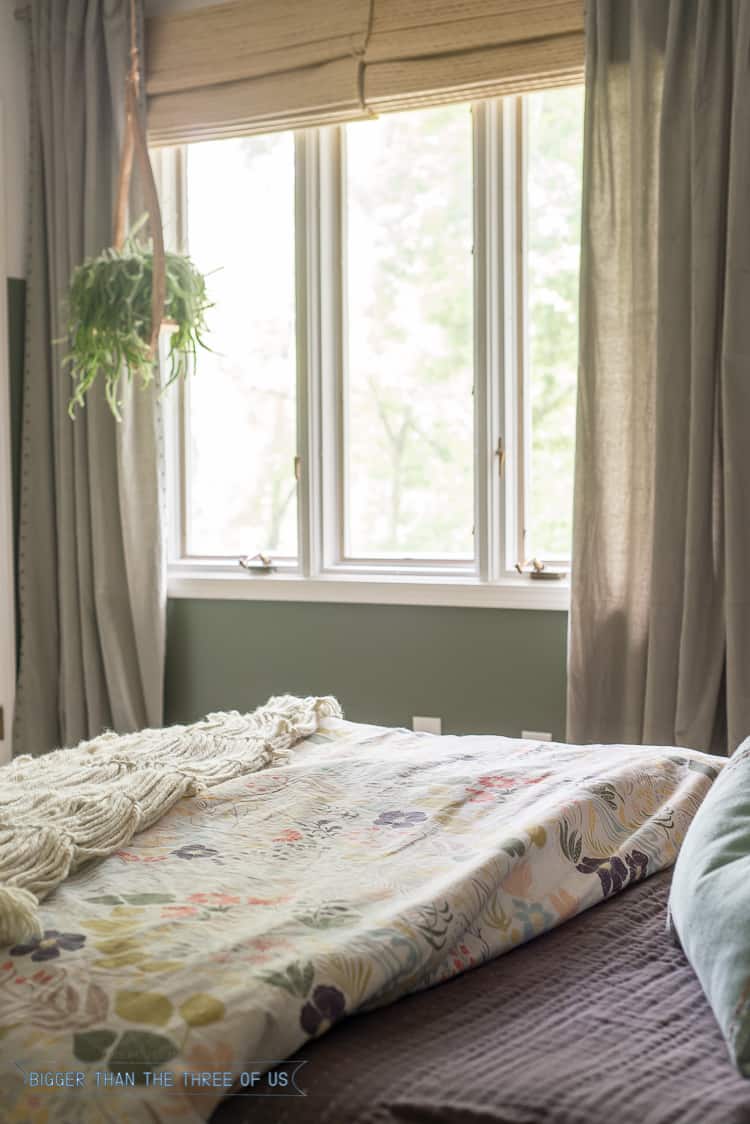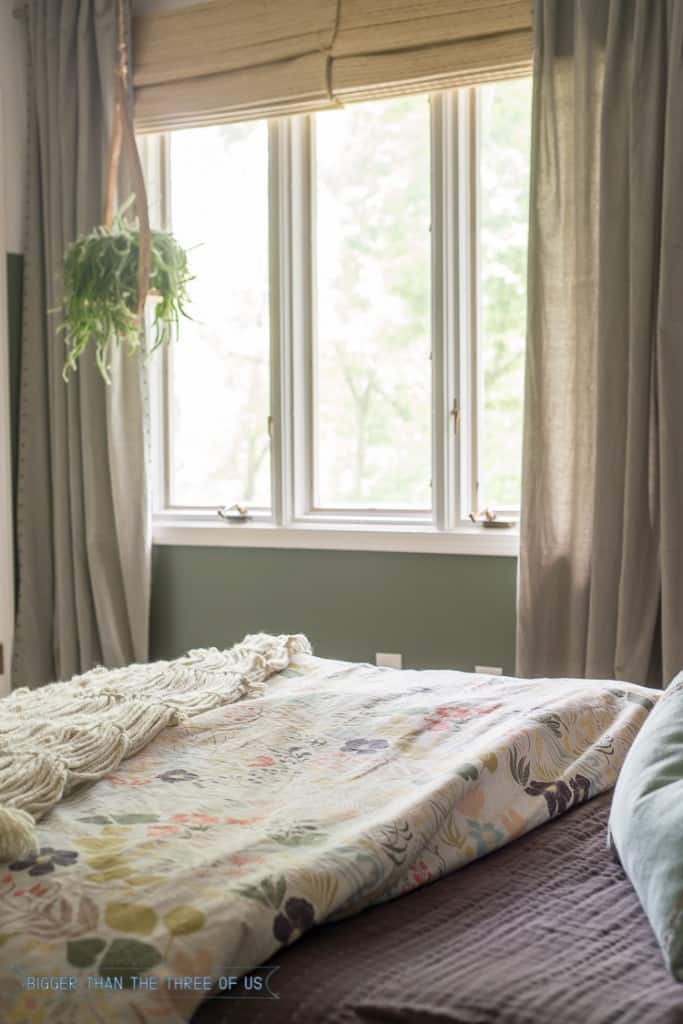 Oh and another add to the space was adding the throw blanket. That was another purchase for the master bedroom but it works so much better in here.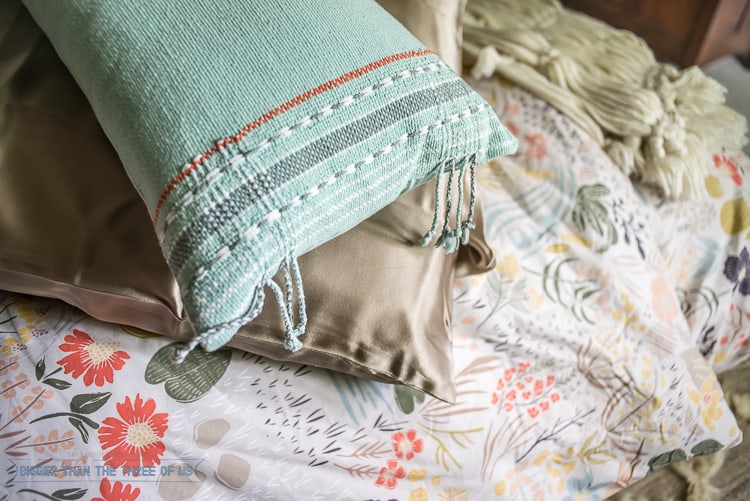 Have I inspired you to declutter a bit? I'm looking at the rest of my spaces with a new eye and am thinking about what else I can take off the wall or off a shelf. Luke is delighted, by the way. He'd be a minimalist if he was married to someone who could hack that. Haha.
*A special thanks to Orose Silk for sending me to the sheet set. I've never had quality sheets before and am amazed at how luxurious they are.
If you are in the market for sheets - make sure to go and check them out. I got this exact set and really love them.
Also, if you are looking for sources... Go over to "Shop Our Home" and you'll find most of what's in this space.