Well. It's good to be back, and yet, I didn't get all I wanted to get done accomplished over the break. So, that's a bummer. But, on the flip side, we did make some major progress on a few things that I'm so excited for. Yay! Before Christmas, I did a post on what to do about Greyson's weird closet issues. Well, I was surprised when Luke proofread (yep, he does that for every...single...post) my post that he was all for the loft/reading nook idea.
This is pretty much what we are trying to achieve: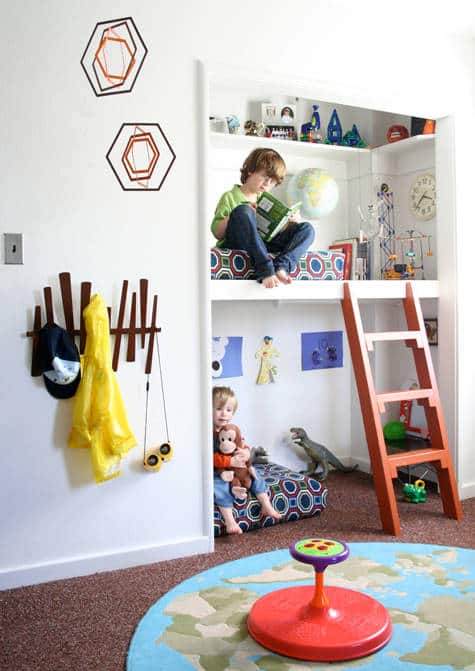 (via Design Sponge)
In the above image, there aren't any clothes hanging from under the closet loft. We have to have that still, but we are channeling the modernness of their loft.
Our closet had two shelves in the top and I wanted to keep the highest one (mainly to store extra toys and clothes in storage boxes).
The weekend before Christmas, I demoed Greyson's closet. Call me crazy!! Who takes out all their storage space in their kids room right before the onslaught of toys comes? For us, it's even worse, because Greyson's birthday is 12/29. So double the toys and stuff. Anyways, I got all the shelving ripped out, walls patched, primed and painted before Christmas. I tried to tidy up the room as best as I could, but you can only do what you can do.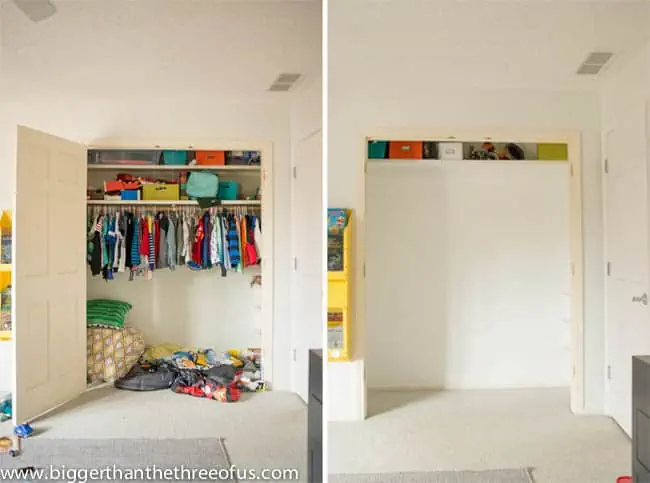 (Left - Before and Right - Progress)
Last weekend, we started the loft build. I don't want to jinx ourselves but this is basically our first semi-involved wood build and it has gone great. I'll definitely have a good tutorial coming for you.
We do have a few delays right now due to waiting on a few things to get here. I ordered this light for the closet, which I think will be the perfect little accent. I also ordered foam for the loft area and that is also in transit. I think I got the deal of the century on the foam, but I'll wait to inspect it before I send you guys off to buy some. =)
After the electrical (changing the light and installing a switch) and the ladder, then comes my favorite part... decorating! I'm going to keep it pretty simple so that there is plenty of room, but I'm sure a new print or two will make it on the wall.
I'll leave you with a sneak peek.