Happy Monday! Hope you all had a great weekend. Ours consisted of work, family-time and some DIY projects. I always wish we accomplished more than what we did, but we have to live life, right? So, let's talk about house projects. Yay! We are neck-deep in our kitchen remodel which is, for the most part, a joint project (meaning Luke and I work together). I was telling Luke the other day that I was feeling just blah with the house projects and the blog. Not that I wasn't motivated or don't enjoy it, but we are just doing HARD (time consuming) projects right now. The ones that don't look good or photograph well until they are done. The grunt work type projects. Get my drift? I've actually taken on some of those by myself, but still, they just aren't rewarding. So, my sweet husband said, "Why don't you tackle something that you can do by yourself and is a project that gives you immediate gratification".  I'm pretty sure he meant that I should update a planter pot or make another upcycled blind mirror. But, I took that as "You should definitely design and buy/make stuff for the guest bedroom". LOL.
So, yep… it's on. I have pinned LOTS to my "guest bedroom" board over the last few months. I love all of it, so it's super hard to narrow down the look. But, basically, I came to two similar looks. Help me decide! I really love them both.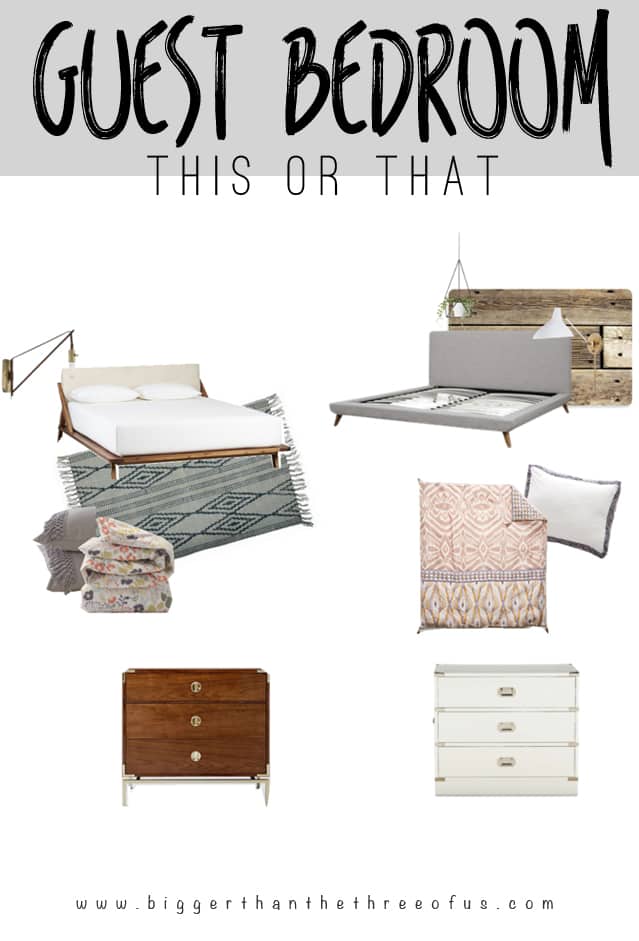 The only thing that I have is the campaign dresser. It needs some work but it's a keeper. Everything else would be new. I'm definitely going to DIY the bed. I've had that on my brain for awhile and I'm just itching to try it.
I'm going to try to post guest bedroom updates in real-time. I'm hoping to have an update for you each week! Wednesday will be the "before" pictures and, seriously, I'm cringing thinking about posting them. Until then. =)