I posted this on Instagram last week: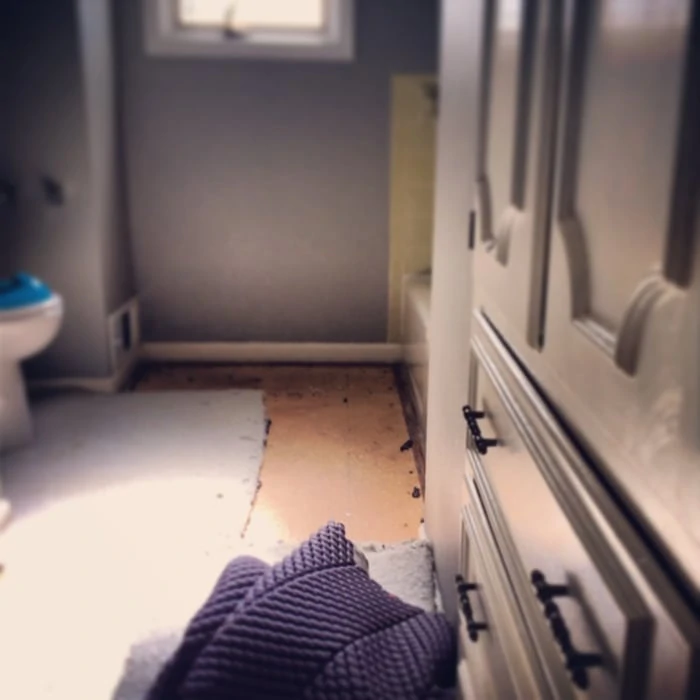 I decided one afternoon to take some of the carpet out of Greyson's bathroom. We've been talking about tiling his bathroom, but have been wavering back and forth on when...well I decided to go for it. I only took a strip of the carpet out the first day because I wanted to: A). See what Luke thought and B). Be able to use the bathroom.
Well, all was good with Luke (as expected) so the next afternoon I took the rest of it out.
Then, the boys helped get all the staples and carpet tack strips up. After that we gave it a good vacuuming.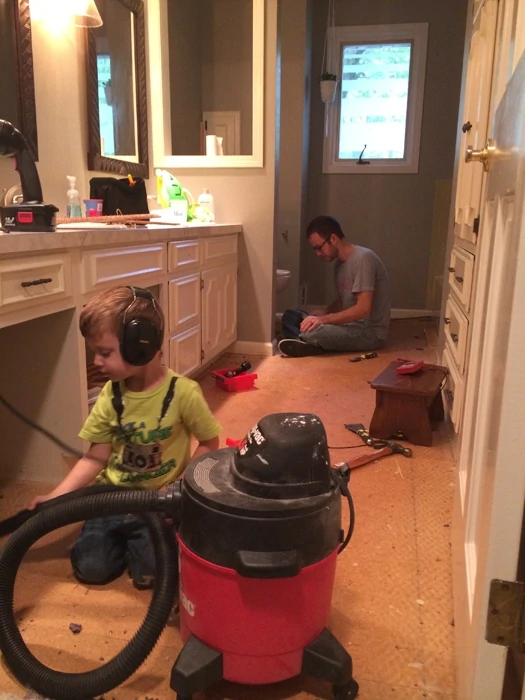 Because we had carpet in our bathroom, we had to take out the particle board that was under the carpet. While working on that this happened:
I didn't even realize that could happen. Call me crazy, I guess. We had to make a trip to Lowe's to get a jigsaw, another hammer and a chisel.
We took the toilet out and then got busy taking up the particle board. After we had the right supplies to take the particle board up it went pretty fast. As expected, our subfloor was rotted underneath the toilet area (skip the next picture if you don't want to see it).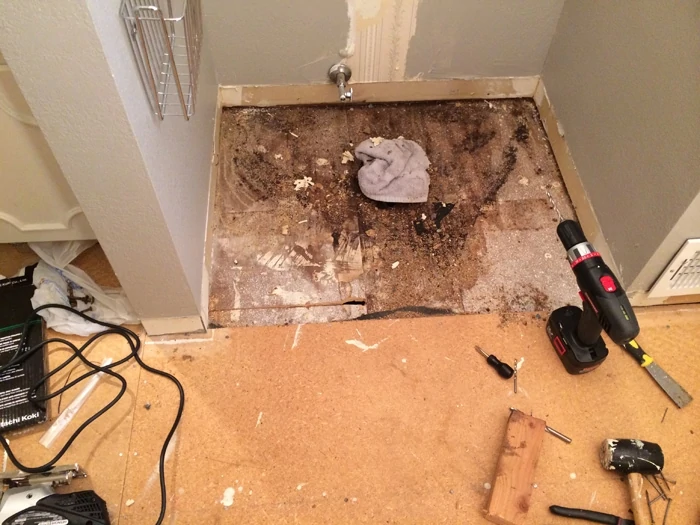 But, the rest of the subfloor looked great. So, Luke cut the rotten subfloor out and then we had to go get new plywood to replace it with. Well, this should have taken one trip to the hardware store but it actually took three. We misunderstood, at first, and thought we need to replace the ½" particle board. So we bought ½" plywood (our first trip to buy wood). The plywood we needed was 9/32" but we decided to try the ½" before buying something else. Then, after measuring it and putting it in we realized that it wasn't level. I went to Lowe's to get the right one and told them that I had ⅝" plywood (we missed the measurement by 1/32"). They sold another piece to me. Come to find out it was too thick. After all that, we found out that Home Depot actually caries the correct measurement. So, another trip to the hardware store yielded the right piece of wood. Apparently it's good to measure plywood in 32nds of an inch. Who knew!
Once we got the right sized plywood, Luke measured it and got it cut.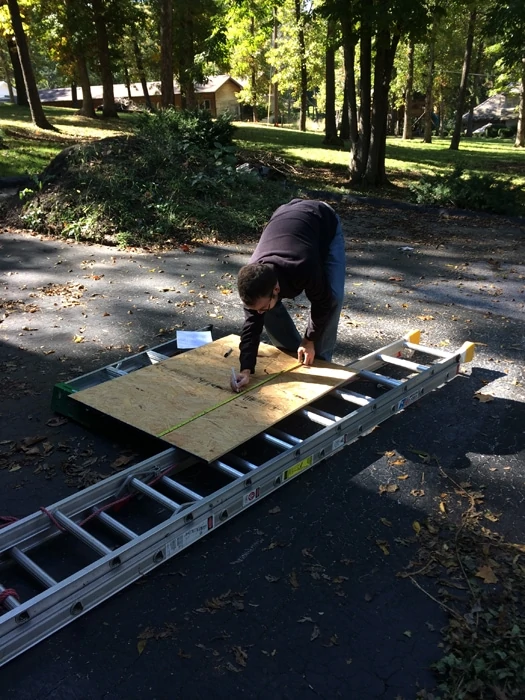 He reinforced the support beams around the new plywood. Then we placed the original water barrier back down.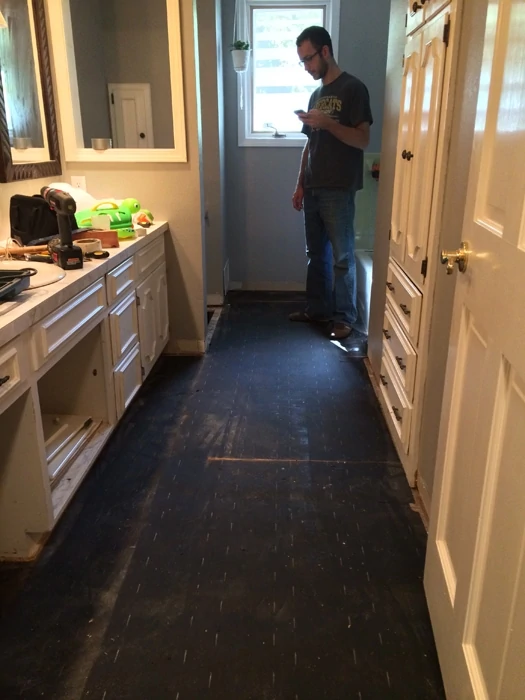 Then we started measuring and putting in the cement board. The cement board was pretty easy to do after we got the hang of it. All we did was make sure the seams of the board didn't go directly on any seams of the plywood.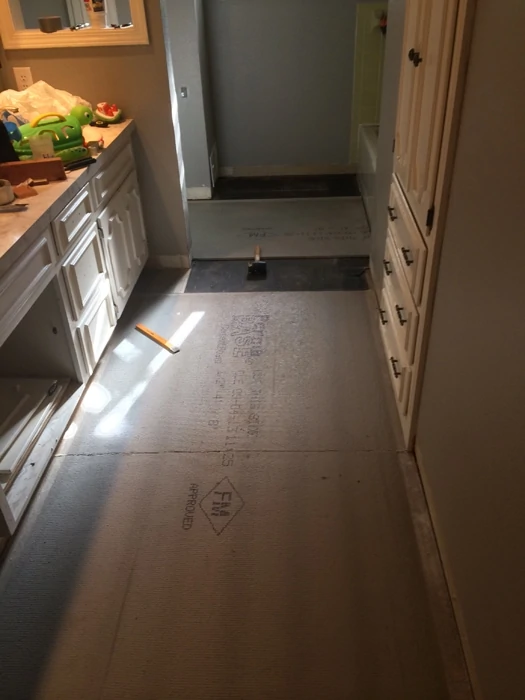 12 hours later finished with part 1....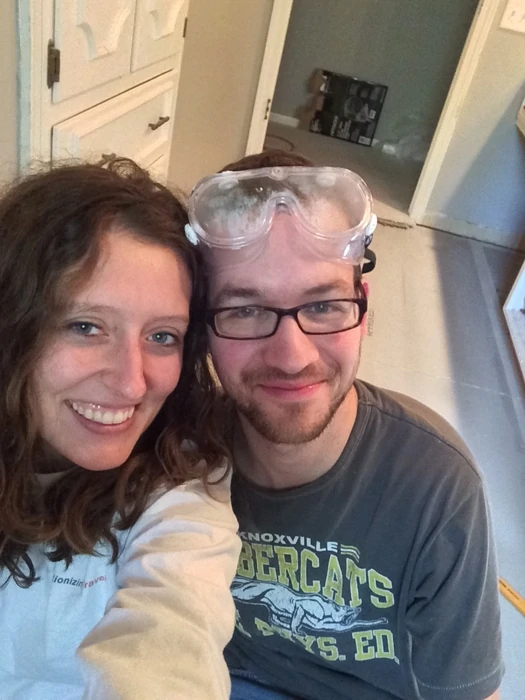 So, I think if you knew what you were doing this part of the process probably would have only taken 4-5 hrs. We had to do multiple trips to the hardware stores and also went in circles with putting in the new subfloor. After all was said and done though, we learned a lot. Next time, it won't be too bad.
Stay tuned for Part 2.