How's your week going? It's been a bit dreary here, so I'm a bit behind with my projects. You can't exactly shoot a pretty patio garden project when it's pouring rain. =) But today, I want to talk about something that I get asked about quite frequently... How To Find Time To DIY with Young Kids. That's the million dollar question, right?!  In all seriousness, life is about family and making memories and cherishing the times that we have together. I get that, and we do take time to focus on being present and in-the-moment. But, how about those times when you just need or want to get a project done? Today, I'm sharing 10 ways to help you get your DIY on even with young kiddos around.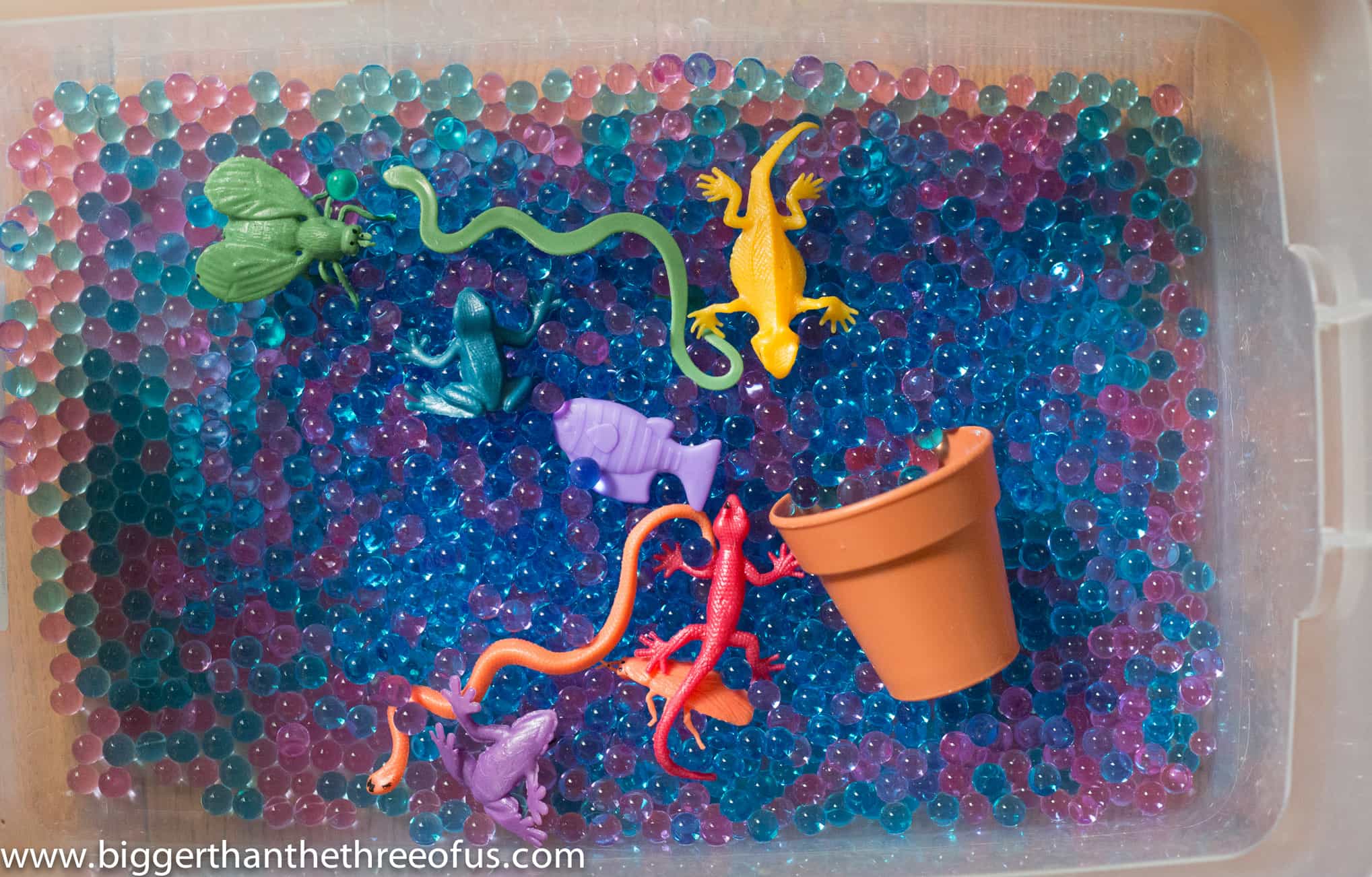 *Affiliate links included. Thanks for supporting my blog. Click to read my full disclosure policy.
Water Beads with Creatures - Create a sensory bin and fill it with water beads. Water beads basically absorb water and are a fun sensory activity. We keep them stored in a plastic container and add some plastic creatures  (buy for $1)and/or scoops to the container.

DIY Together - Some projects are the types where you can just take a little longer (or a lot longer) and DIY with your kiddos. This is such a learning opportunity for them; and just think about the skills they will have when they get older. A lot of times, we ask Greyson (our little guy) to help us with a specific part of a project. Like, we might ask him to unscrew screws or shopvac the mess in the kitchen. We've found it easier to ask him to help with something specific than to help with an overall job. We haven't bitten the bullet and bought a tool set for our little man but definitely plan to.

Moon Sand or Regular Sand - Being a stay-at-home mom has allowed me time to find things that really work for our family. The sensory bins are a huge hit. Having moldable sand with some diggers is just something that works all the time. You can change out the diggers to kitchen utensils, or any other toy that will fit in the container. Also, when we get sensory bins out I usually only get them out for instances when I need him to be contained (so specifically for DIY projects or when I'm sick, etc.) and I always put a plastic tablecloth underneath the bin. This helps contain any spills.

TV/Movie Time - Most of the time, we plan out our DIY time. Luke and I know what we want to accomplish and if the project needs both of us then we save our little guy's "screen time" for the time that we are planning to do the DIY project. We hardly ever let him watch full movies, but if it's a bigger project we occasionally let him watch a movie while we are DIYing.

Inventor's Box - Luke is a software engineer which means that we always have computer parts and cables around the house. We put a whole bunch of random stuff in a box and let Greyson go at it. He sticks the cables in the modem and pretends he's doing missions or building a robot. It's another thing that I have tucked away that I pull out when we want to get something done.

Ipad/Computer Game - Again, this is pretty similar to the screen time above. If we know we want to work together on a project, then we allow very little screen time during the other parts of the day and let Greyson play some games on the iPad or computer.

Blanket Time - We started this when he was young (like 2 years old). Basically, what I do is spread out a blanket in the living room. On the blanket, I place 3-5 toys (my pick), a book, a puzzle and something else. For 30-45 min, Greyson sits on the blanket and just plays with those toys.

Playdoh, Markers or Other Creative Medium - We have a container full of art stuff and I'll get it all out and spread it on the table. I just let him go crazy with it and he loves it. Another thing to add is that if you do woodworking projects and have wood scraps ... they can be really fun to let your kiddos decorate as well.

            So, what do you think? Can you use some of these to give yourself time to DIY or, for that matter, clean or cook? Care to share any ideas that work well at your house? I'd love to hear!