It's officially the fourth week of the One Room Challenge hosted by Calling It Home. I'm afraid to say this, but I'm terrified that it's just not going to happen. As in, I'm not going to be able to get this room finished. Seriously! I had to come up with a catchy title for this post, It's All About That Paint, because seriously, that's the only thing that this post is about. I don't have anything else to show you today. So, prepare to be blown away by how adorable our room looks today and how GREAT (or not) the paint looks.
Actually, we did do one other thing. I'll get to that in a bit. Here's were we were at the beginning of the weekend.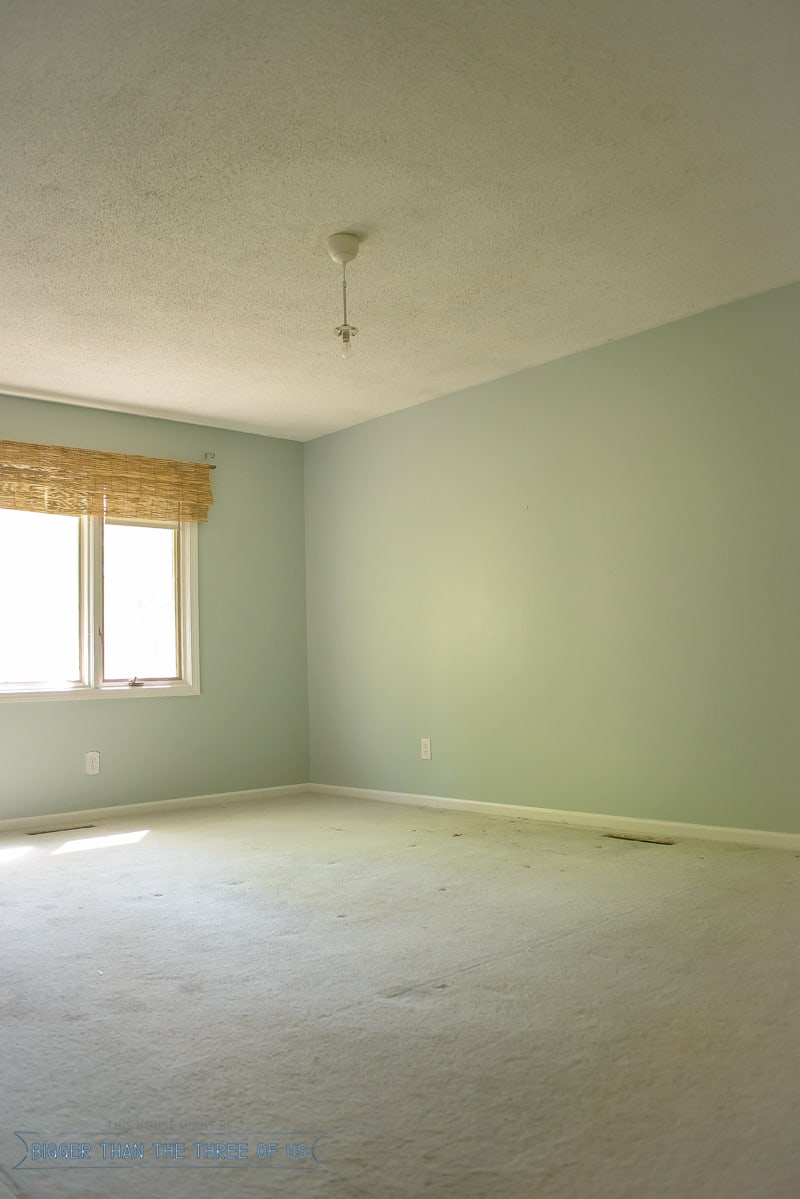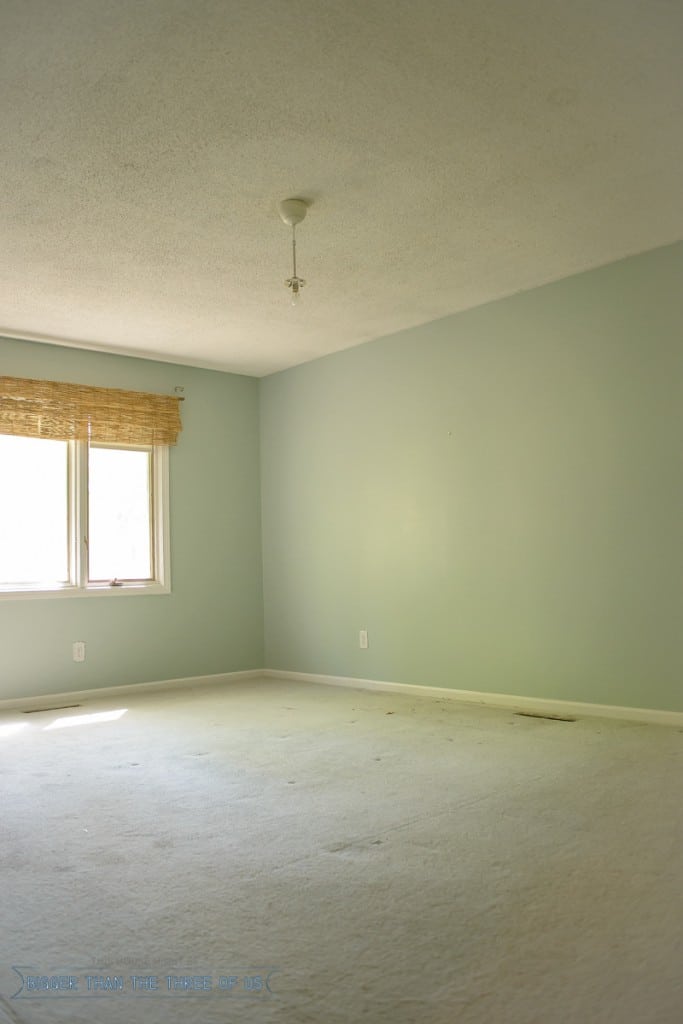 What's not shown are the millions (ok, hundreds) of nail holes. I'm a crazy, non-measuring type person when it comes to hanging pictures. Luke and I used to get in arguments over the picture hanging process, so I took it over a few years ago. Anything that goes on the wall (that is not a curtain) I hang. It's so much better that way. The method to my madness is: Oh, just try it here. Nope, it needs to go up a bit. Take out the nail and try it again.
I don't worry about the nail holes. You can't see them unless you are right on the wall looking for them. Since we were painting though, it was time to fill the holes. I grabbed some spackle and went to town.
My preferred method is just to put the spackle on my fingertip and rub it in. No need to dirty a putty knife. =)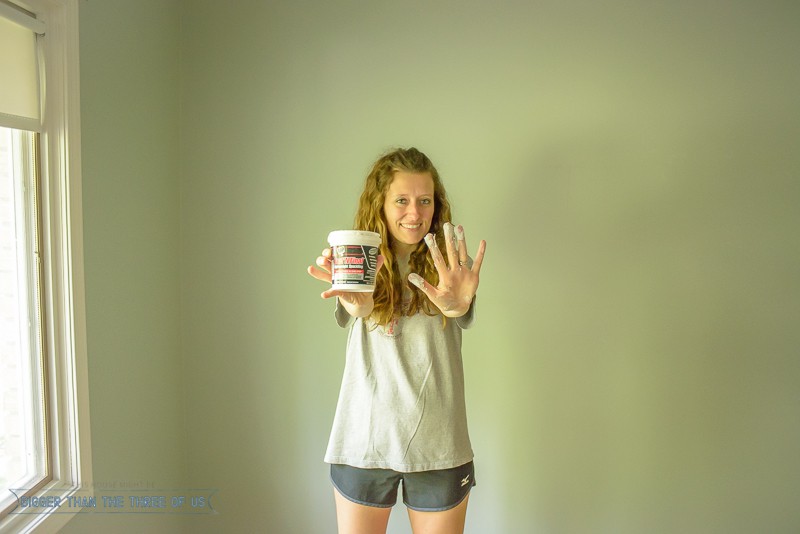 On a side note, look at the monstrous hands! They are huge! Actually, I do have pretty large hands but not that big.
Once the spackle dried, it was time to get my paint on.
Purdy was nice enough to send me a box of paint goodies for this project.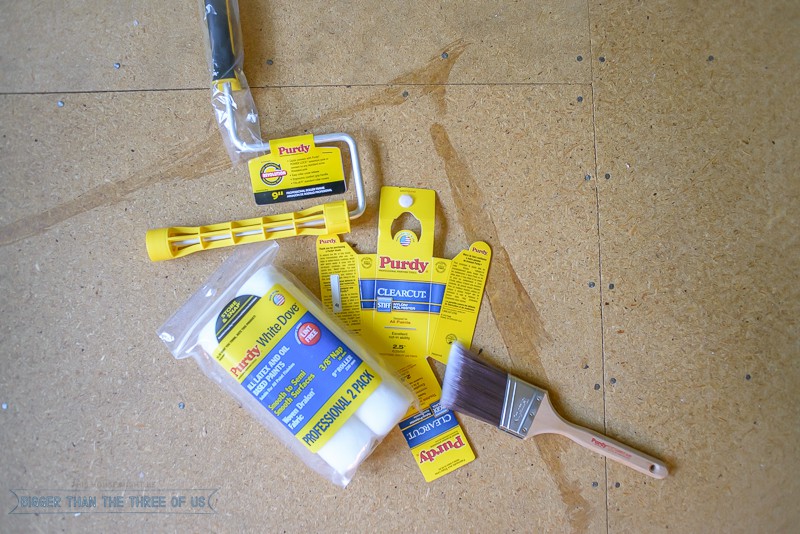 When you paint, it's important to actually have brushes and rollers that work well. A huge issue in the past that we've had is just trying to make do with what we had. Well, this time around, we definitely didn't have to make do. The stiff brush and rollers were amazing. Head to your local hardware store to pick-up a few of your own.
Once we got everything together, we went at it.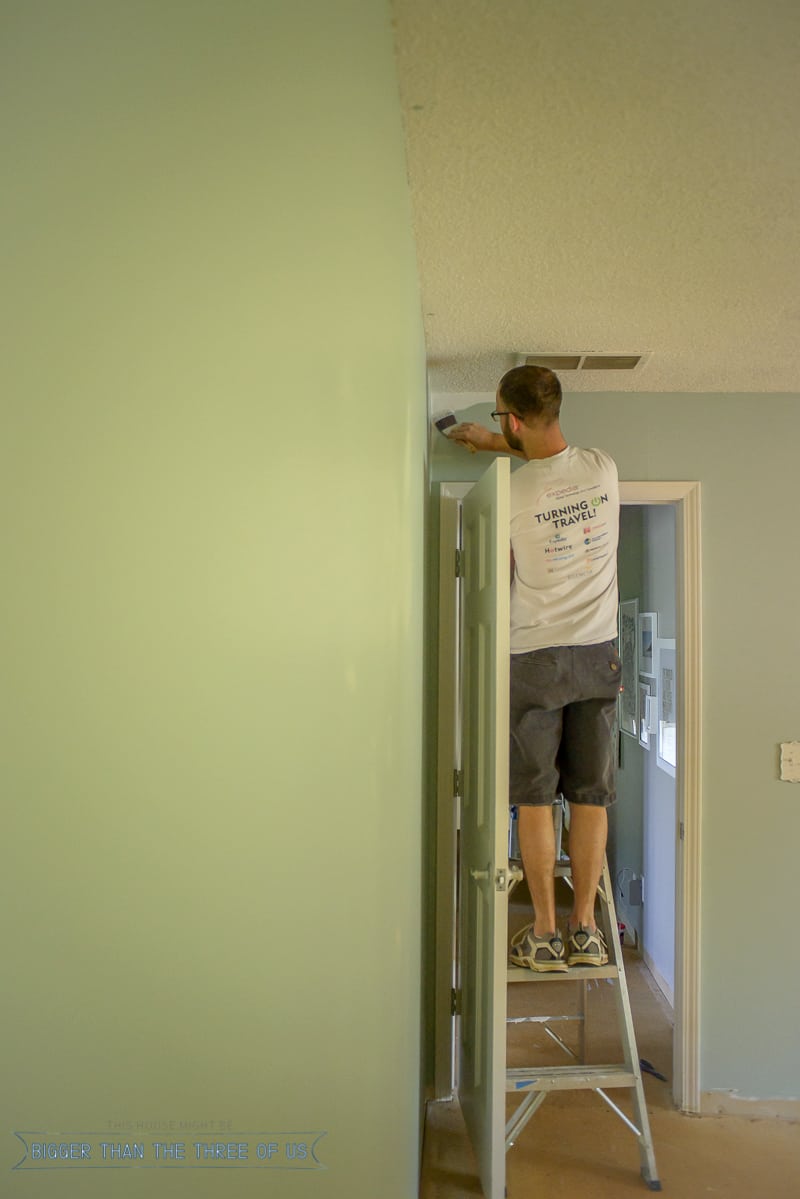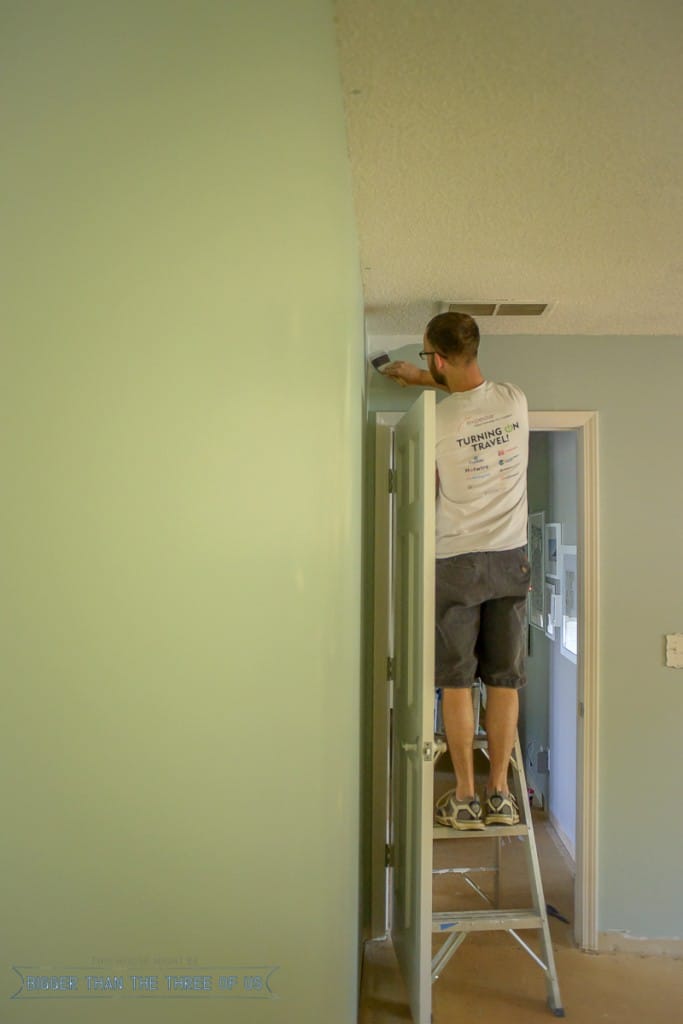 Luke is pretty much always the edger. I don't have the patience for it. Even if I try to do a good job, I hit the ceiling or the trim. It's just frustrating.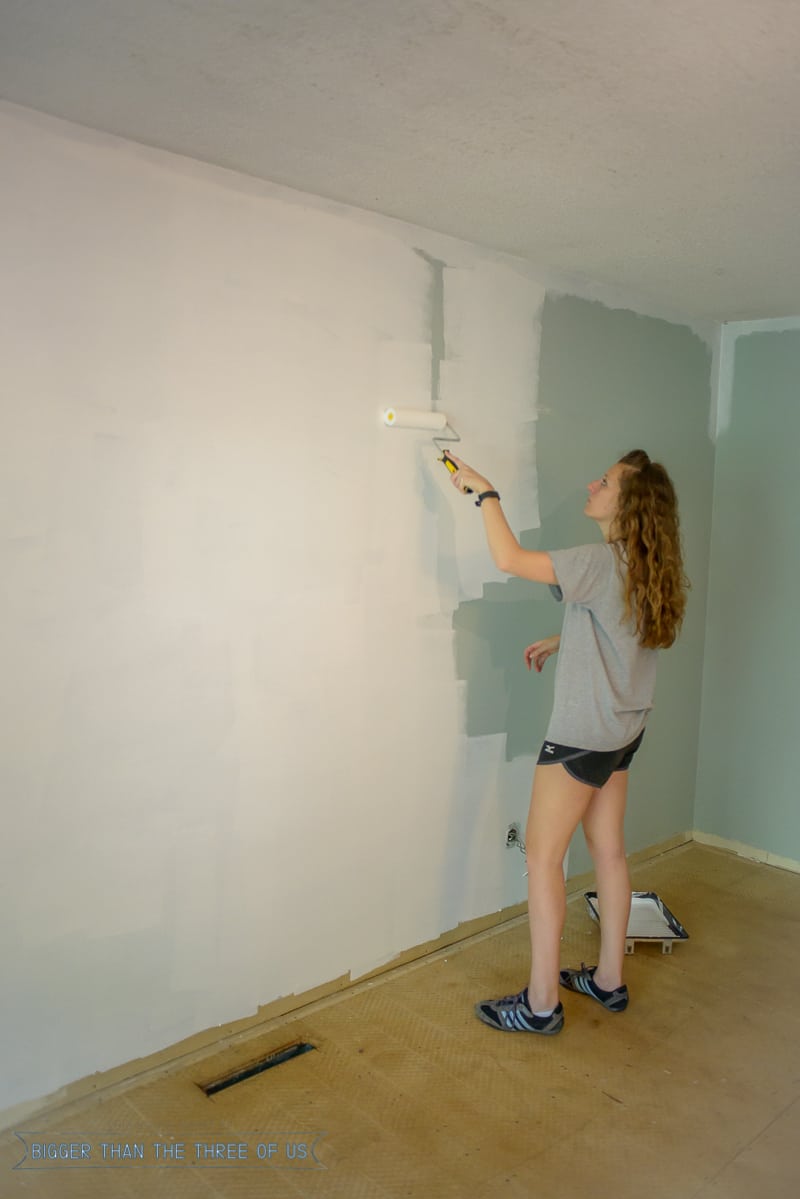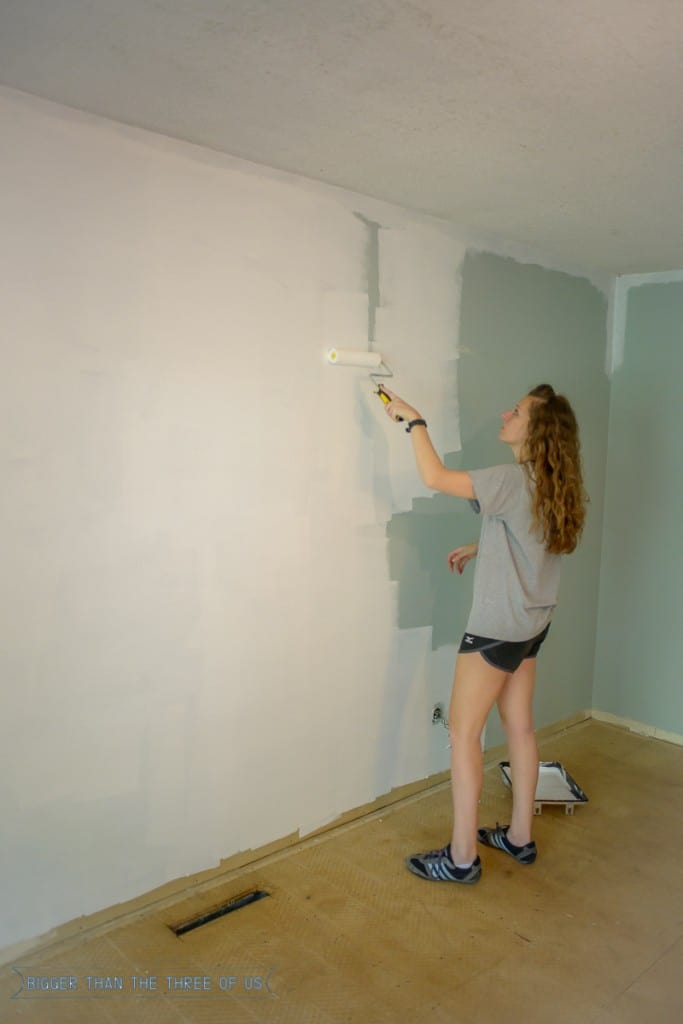 I'll stick to the no-brainer – rolling.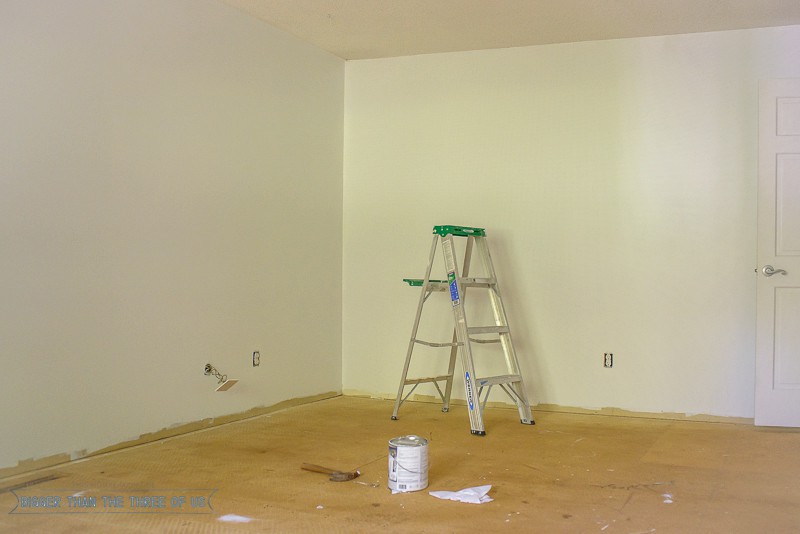 Excuse the grainy pictures, we've had some dreary weather lately and it's been hard to get accurate pictures of the color.
Surprise, surprise: we went with white. I used to hate white, but ever since we put it in our kitchen, I've been craving it.
Oh and did you notice what else we had accomplished? We pulled the carpet up, all the staples and tack strips. The installers are here as we speak but they haven't made it up to the master bedroom yet.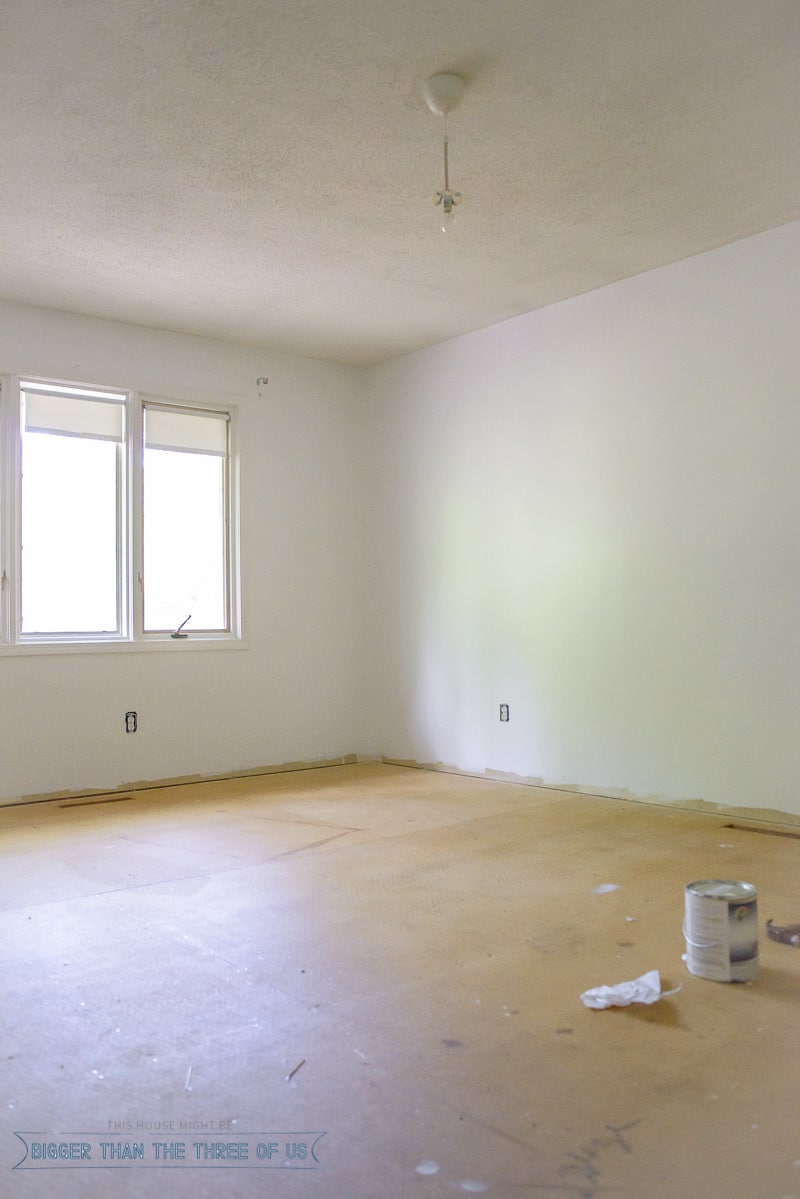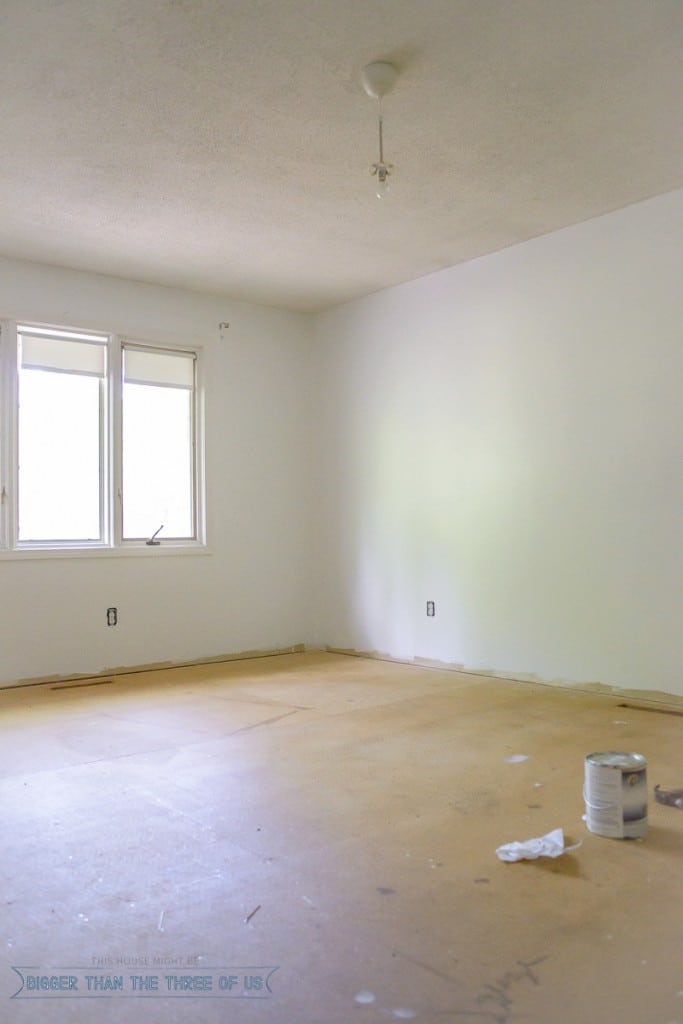 What do you think? Do you think I'm playing it safe with the bedroom?
If you missed the previous weeks, make sure to check them out: Week 1, Week 2, and Week 3.
Now, head back over to Calling It Home to check out all the amazing link participants and designers.
*This is NOT a sponsored post. Special thanks to Purdy for supplying the amazing painting supplies.