It's the third week of the One Room Challenge hosted by Calling It Home, which is exciting but scary as well! We are half-way to the finish line and my room has gone from cute to OH MY GOSH. 'OH MY GOSH' in a scary, what-have-I-done way! We have back-peddaled hard but I still have hope for it.
Before we jump into what we've done/not done this week let's look at the schedule.
Thursday, April 7th (week 1) – Introduce your space, and tell us your plan. Check that post out to get started!
Thursday, April 14th (week 2) – Show us your progress. What have you accomplished? I rounded up some Modern Nightstand Options for week 2. You guys chimed in on your favorites and most of you said that you loved quite a bit of them. It was fun to hear what each of you liked and what you thought I might have picked. You'll get to see my pick below. =)
Thursday, April 21st (week 3) – Have you encountered any setbacks? Any happy accidents? - That's this week!
Ok, so let's jump right in. I haven't shared my design concept for the space yet. I finally got it put together so I thought today would be a perfect time to share.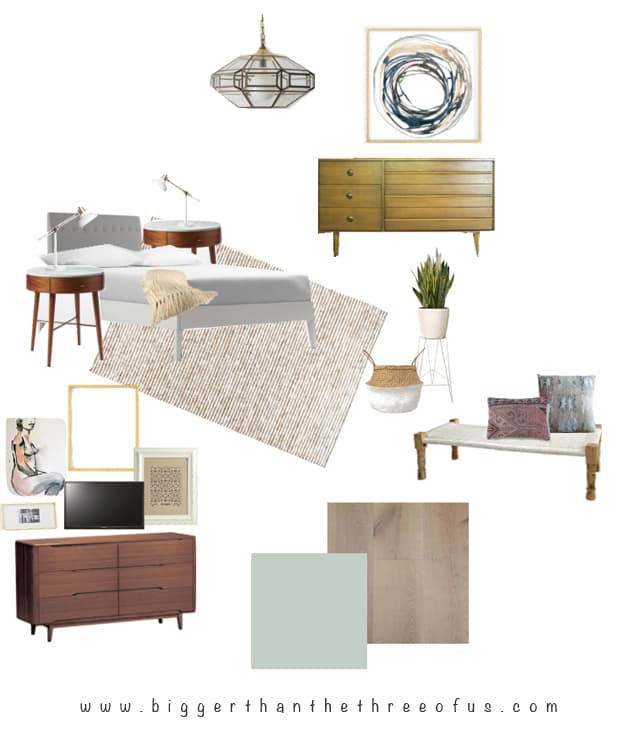 Do you like it? Does it feel different than before? Let me remind you how the room was decorated before.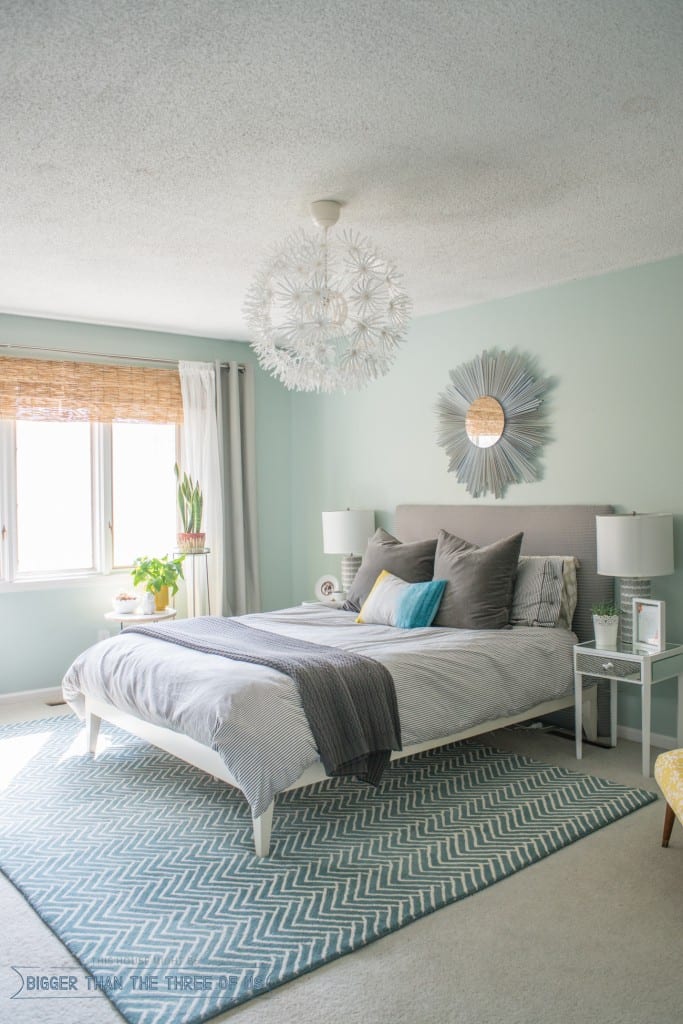 Basically, I've added in more wood tones, texture and brass since the reveal a few years ago. I've done some major purging on what I didn't love and am now starting off with a blank canvas.
I'm still on the fence about the wall color. I truly love the color and it's so calming, BUT I don't think I love it for my space. To me, it pulls a bit beach-ey. Did I just make up that word?! Oops. Basically, I love the color but it just doesn't feel like it goes with the room anymore. I've been craving more neutrals. So, the jury is still out but don't be surprised if you see the paint go bye-bye.
If I decide to paint it, it will happen this weekend before the new floors are installed. Did you catch the sneak peek that I posted on Instagram? I seriously can... not... wait to get the floors installed and stained. The installer comes on Tuesday and said the house would take about a week. That doesn't give me much time to get the room whipped back in to shape.
So, just to sum up how productive I've been. Basically, I've demo'd the room and shopped. That's about it.
Care to shop with me?

So, do you like where the space is going? Does it feel like it goes with the rest of my house? That's always my concern!
Now, head back over to Calling It Home to see all the other participants and their amazing progress on their One Room Challenge Rooms.