Get your jewelry organized with these jewelry organizer ideas, plus implement some of these ideas for other accessory storage (like those hair ties, bobby pins, etc.)!
I'm personally inspired by making my home beautiful, but doing so in ways that solve organizational nightmares that I'm facing. I was brainstorming content ideas for both my blog and the podcast recently and was really trying to key in on solving problems that you might be facing.
In thinking along those lines, I got to thinking that I bet there's a lot of people who could use some jewelry organizer ideas.
Even though I'm not one that has a ton of jewelry, I still enjoy having a few jewelry organizers that serve different purposes in my space. Today, I'm going to share more about how to organize jewelry, including how I use wall mounted jewelry organizers versus jewelry drawers and boxes.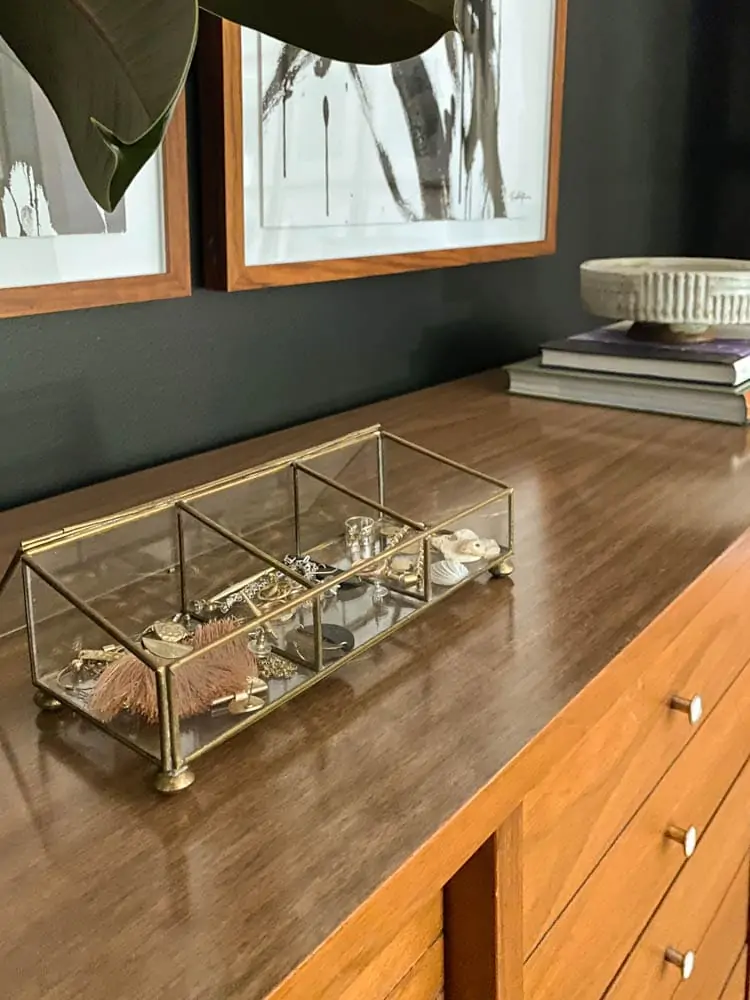 Jewelry Organizer Ideas
If you came here looking to listen to the podcast episode. Click here to be taken directly to the podcast. It's a conversational episode on how what I think the best jewelry organizer is for me, ideas for others, etc.
If you are here for the blog post today, you are in the right place. On to the good stuff....
I'd like to start talking about what I personally use to sort and organize and store jewelry.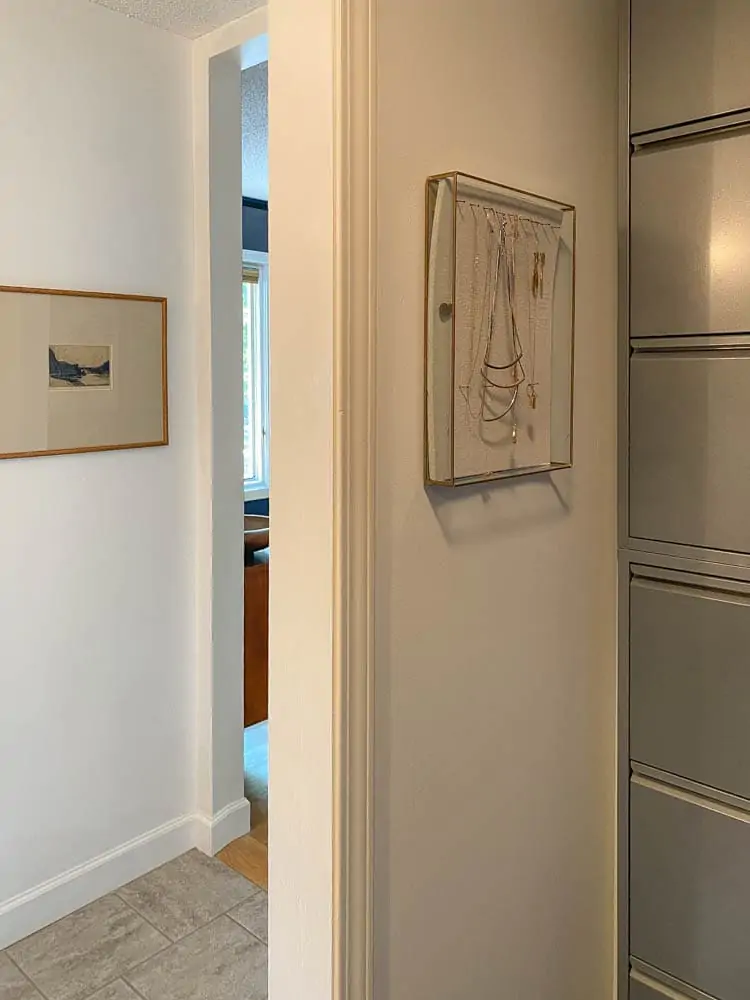 Wall Mounted Jewelry Organizer in Closet
For necklaces and a few pairs of earrings, I love having a hanging jewelry organizer. The wall jewelry organizer that I have, has a slim profile (meaning it doesn't stick out on the wall very far), stores enough necklaces for my needs and matches my aesthetic (in being minimal, brass, and glass).
I only have one wall-mounted jewelry organizer, but two would look adorable with one hung over the other. If you have a larger collection of necklaces and love this look, I could definitely see multiple wall jewelry organizers working together.
*Affiliate links below. Thanks for supporting my blog. Click to read my privacy and disclosure policy.
I got my brass and glass wall jewelry organizer at Target a few years back and, unfortunately, they don't carry it any longer. West Elm has two hanging jewelry organizers that are almost an identical match. So, if you like the look... definitely check those out.
Jewelry Organizer Box on Dresser
I keep a small vintage glass jewelry organizer box on my dresser for rings and studs that I wear. I don't have a big collection of these, so I don't mind looking in the three compartments of the glass organizer that I have.
I remember buying the glass jewelry organizer box at a flea market and was originally intending to use it in our living room to display curiosities. One day, I had the idea to use it for jewelry (maybe it was always intended to be used as a jewelry tray?) and the rest is history.
I'm such a minimal accessories type person that these two options might not work for you but they work so well for me. I think having a pretty, small jewelry organizer that you can sit on your dresser and keep your everyday jewelry in is such a good way to style a dresser and be able to easily keep track of the jewelry that you have.
Let's chat about a few other options for organizing your jewelry!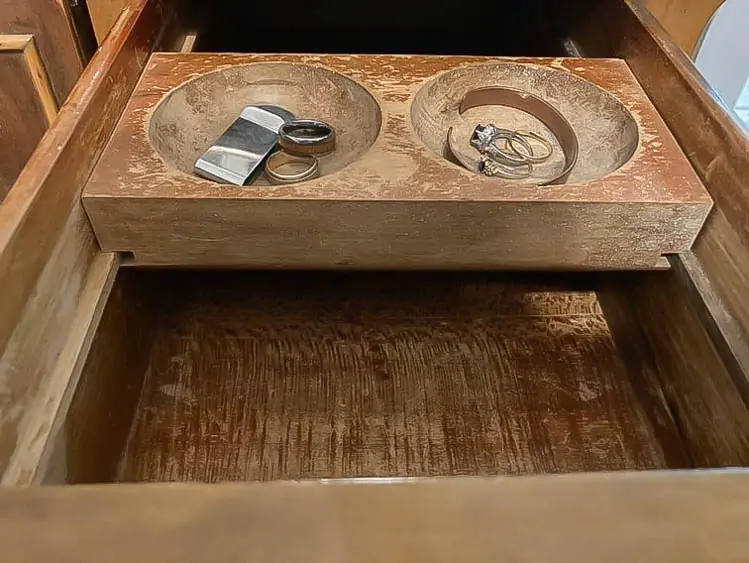 Jewelry Drawer Organizer
I've seen three different options for jewelry drawer organizers and they are all so cool. Let's chat about them!
Wood Trays for Jewelry
In some older dressers, you will find some that have different types of wooden trays built right into the dresser. Some are larger than others and definitely the larger ones would be great for other accessory storage (like belts, gloves, etc.).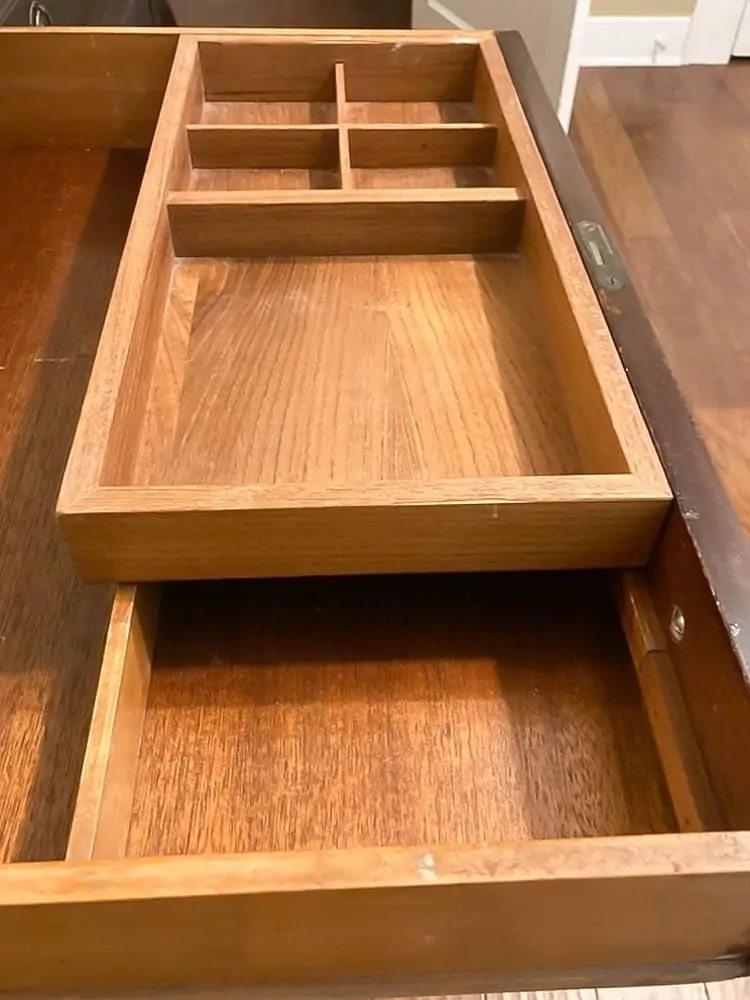 So, if you are lucky enough to have an antique, or even new, dresser that has built-in jewelry and accessory storage... yay for you! That's honestly amazing.
Repurposed Jewelry Organizer Ideas
Any type of small vessel that will fit in your drawer and not get knocked over can help you corral jewelry and other tidbits. From antique china that was just collecting dust in a hutch to wood bowls or ceramic dishes that you love... why not use those pieces to add some joy to a otherwise, unorganized drawer?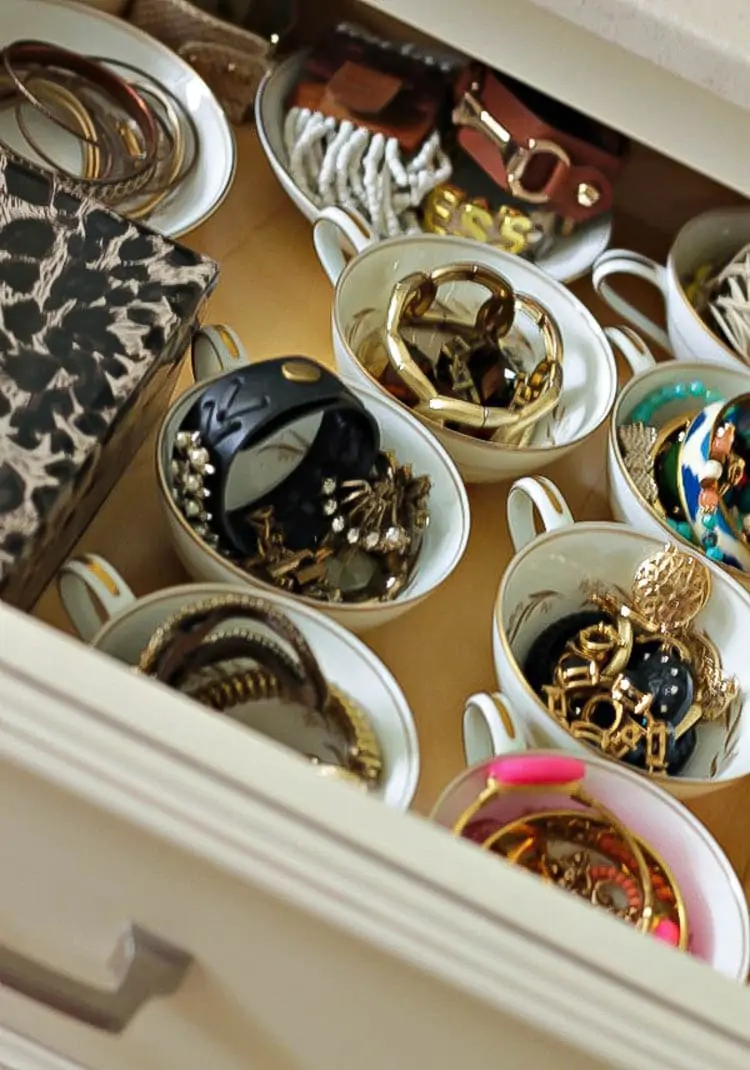 Jewelry Drawer Tray Organizers
Last, but not least, when we are talking about storing your jewelry inside dresser drawers, know that you can buy jewelry storage containers for dressers. Pay attention to measurements, if you go this route, but there are lots of options on the market!
Displaying Jewelry in a Catch-All
A collection of beautiful earrings and bracelets can be corralled using any type of tray, ceramic dish or platter. I wouldn't recommend storing necklaces in a tray because they will get twisted, but other types of jewelry work perfectly.
Place a jewelry tray organizer on a dresser, in the middle of a bathroom vanity or even a small one on the top of your nightstand.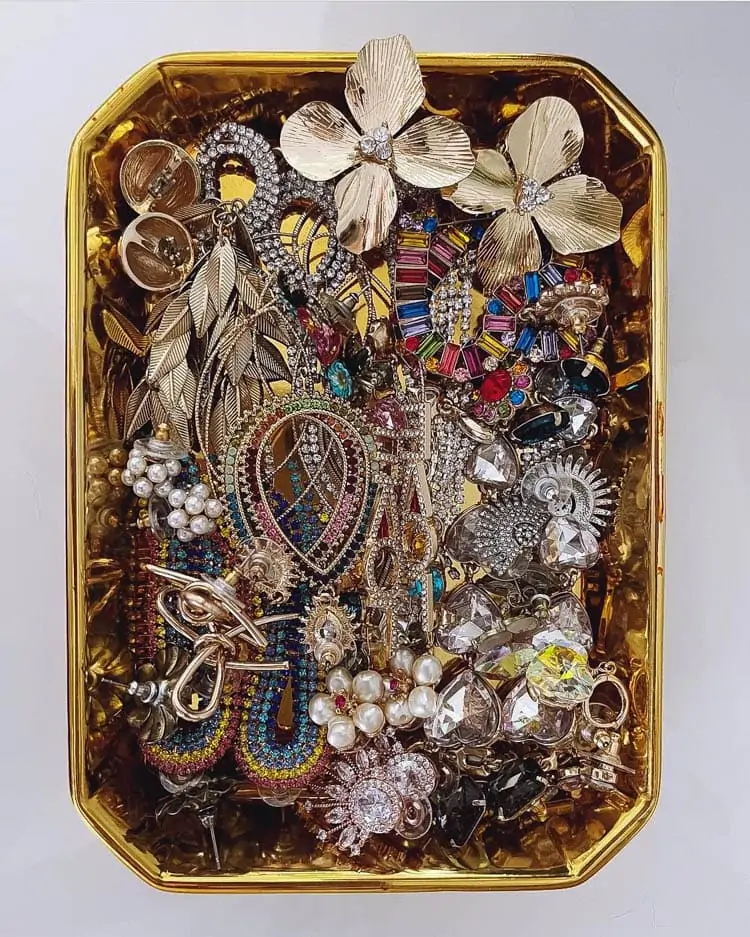 Jewelry Organizer Stand
A local friend of mine shared this beautiful photo and I really liked seeing how her jewelry organizer stand just blended in with her gorgeous lamps and plant. Don't think you have to hide away your jewelry. Find a beautiful jewelry stand and display it proudly.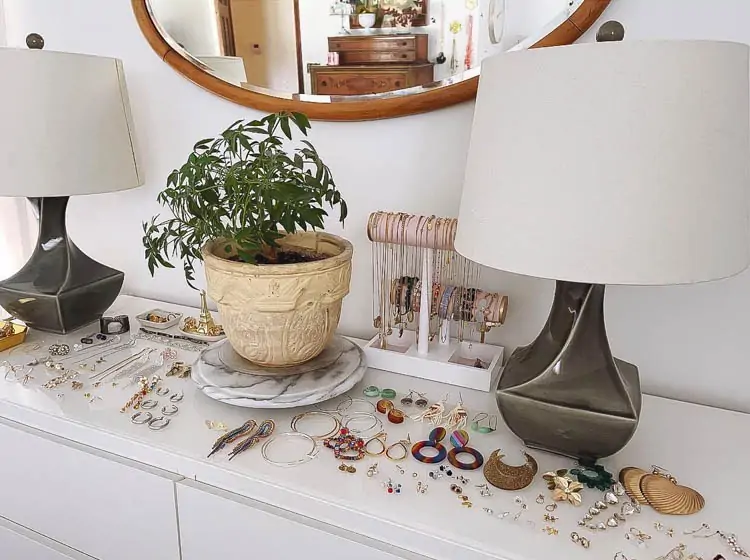 I hope you feel more inspired to tackle whatever jewelry you have laying around. Finding ways to display or organize your jewelry in ways that work for you are key anytime you are organizing. Get creative and just go!
Shop Jewelry Organizers

Jewelry Organization Podcast
What type of jewelry storage do you have? I used to have a stand-up jewelry organizer but as I've become more of a minimalist, I paired down so much that I didn't need it.