The living room... that funny place that we spend lots of time yet has just started to come along. Ha. Do you ever feel like you just can't figure a space out? Our living room has stumped me for the longest time. It's pretty large yet not quite large enough to have two separate spaces. Yet, still too large for having furniture (the furniture that we have anyways) to fill the space. Let's walk back through memory lane and then I'll share my thoughts as well as some new pictures of where we are at currently. And, if you have a longer living space... please share in the comments. I'd love to hear how you decorate it!
2012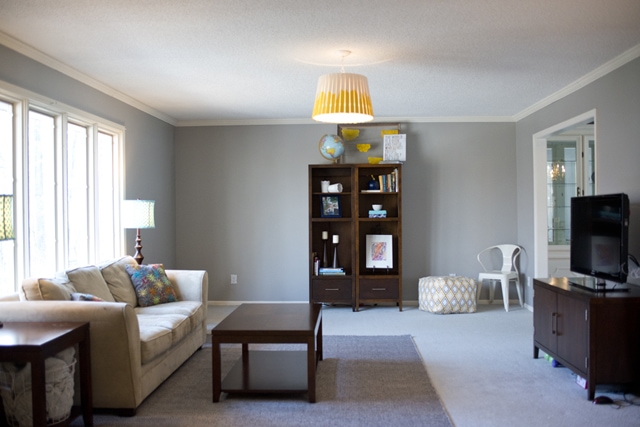 It's so interesting to look at old pictures!
*Affiliate links below. Click to read my disclosure policy.
We had painted the walls gray and arranged the furniture (arranged and rearranged some more), bought a cheap futon at Target and made a DIY light.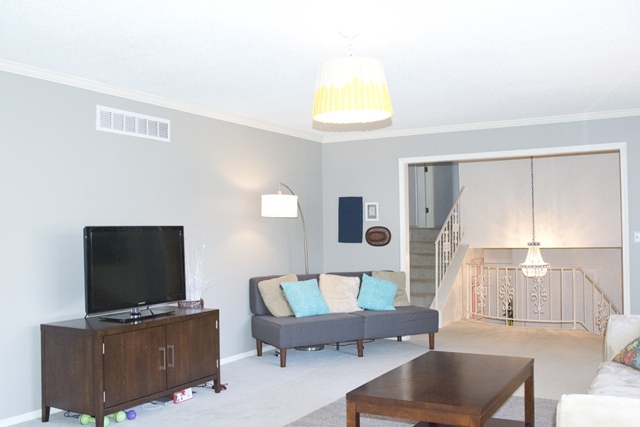 2013
To say it looked empty would be an understatement. I knew I needed some large art but didn't have the budget to buy some. So, I covered a bulletin board with fabric and hung it on the wall.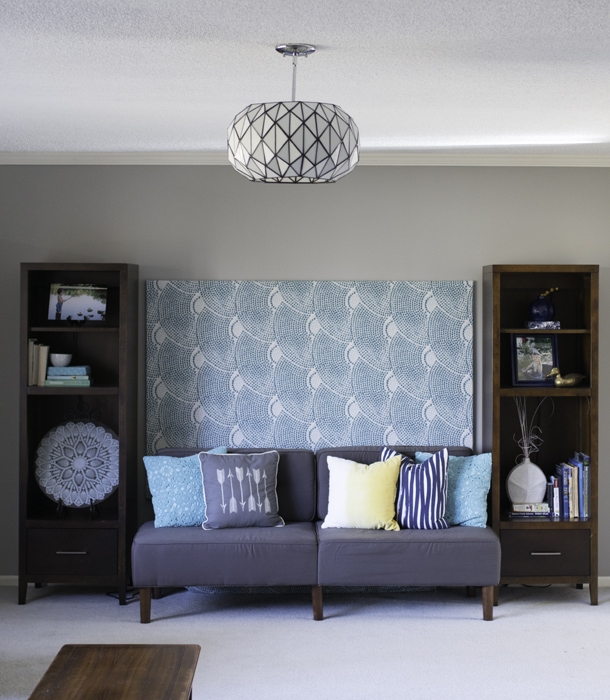 I also upgraded the light with one that I loved and found some inexpensive pillows.
Then I shared my design plan for the space.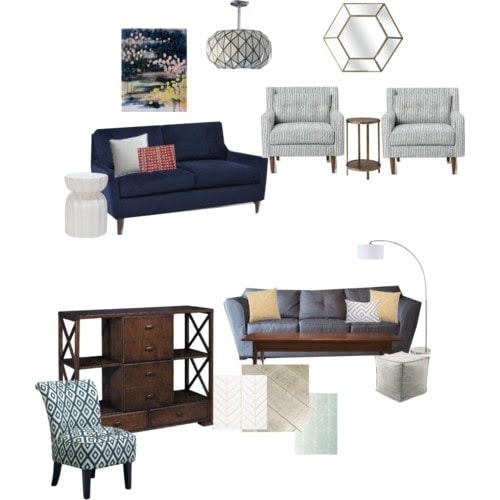 2013-2014
We painted all the trim bright white which got rid of the dingy cream-colored trim. Decor pieces and small extra furniture pieces were brought in and out.
We bought the blue loveseat from West Elm and rearranged the living room a few more times.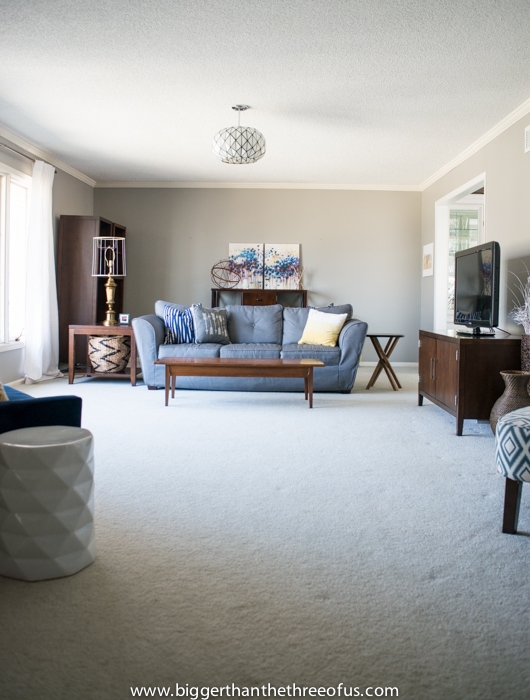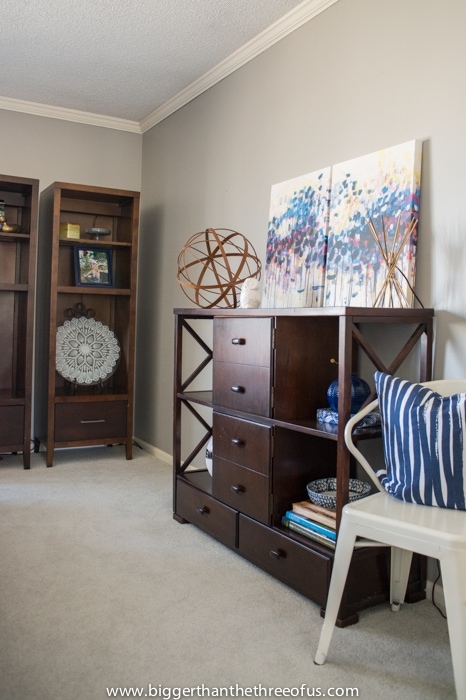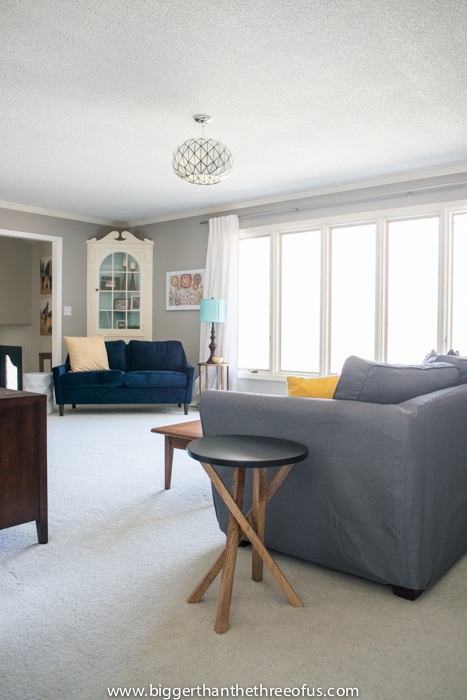 It was basically a hodgepodge of stuff. To add more to that feeling, I found a vintage chair at the Goodwill. It was so dang comfy and cool, that I had to have it. I had it recovered in some bright fabric (which, in hindsight, was a mistake).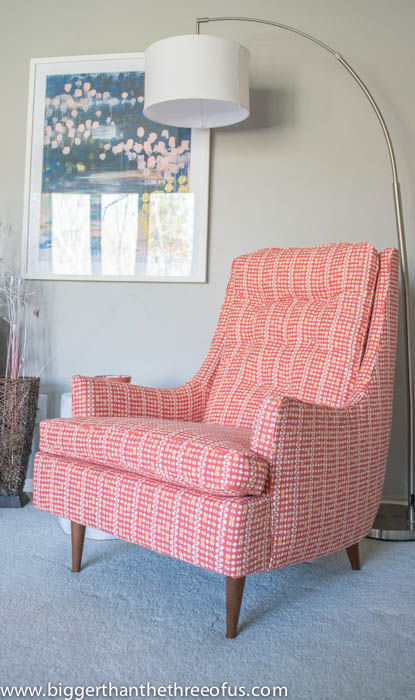 Somewhere around that time, we had an anniversary and decided to buy ourselves that piece of art (in the picture above). It's by Caroline Wright and we just adore it.
The chair moved around a bit. I found that I really liked it by the window, but hated the view with the built-in corner shelf.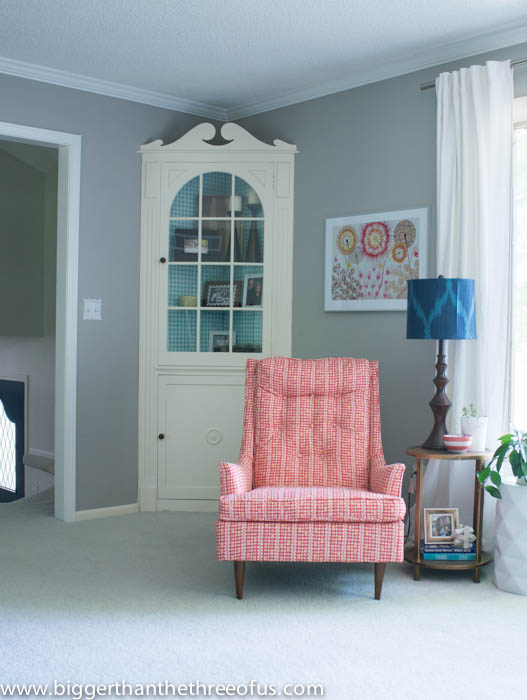 So, the built-in got a makeover.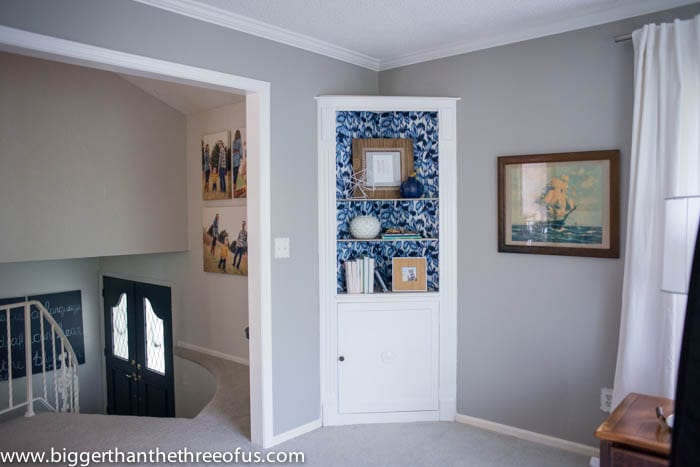 Around that time, we settled on a layout that we kept for a while.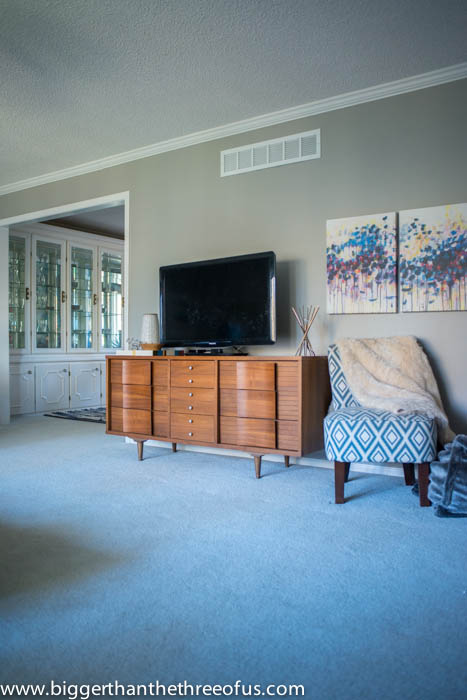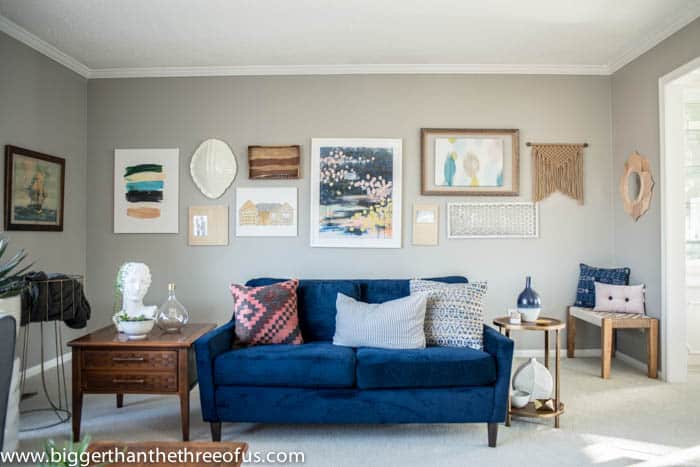 Then, I decided that although I really liked the gallery wall idea... I didn't like how I arranged it.
2015
After much deliberation and some help from blogging friends... I arrived at this: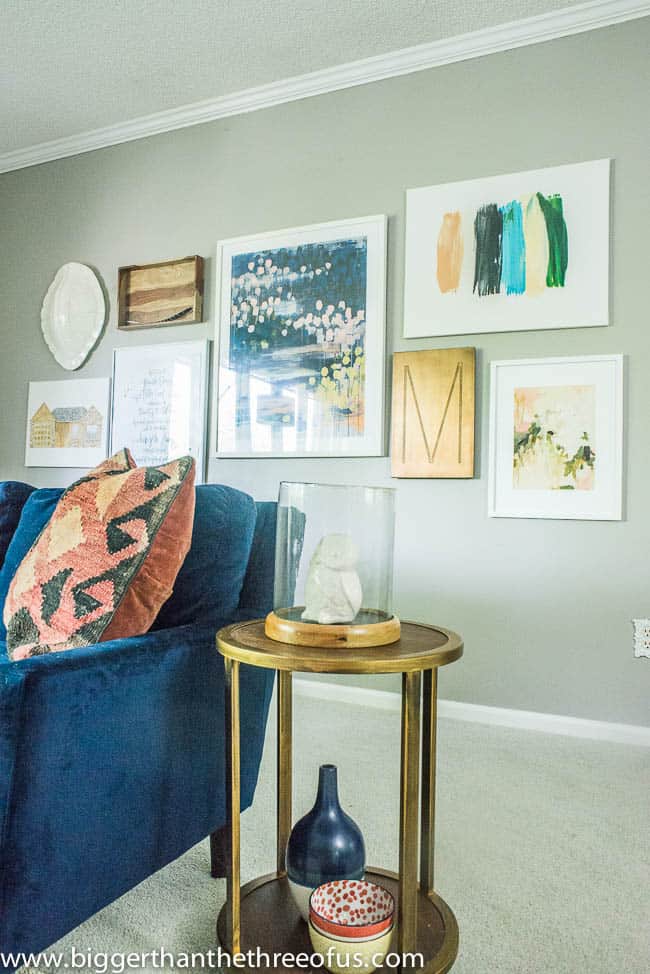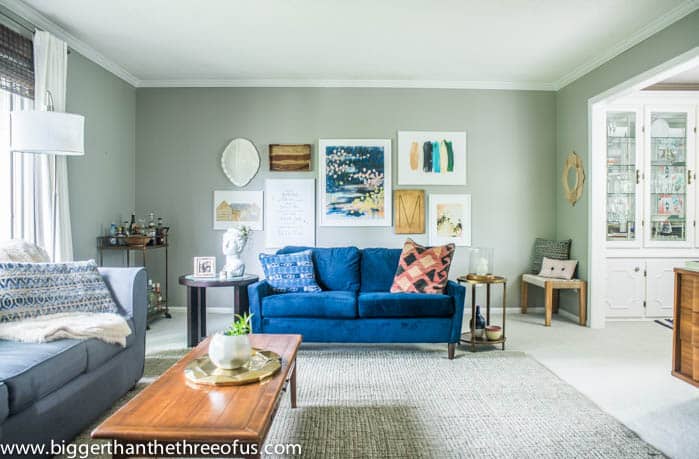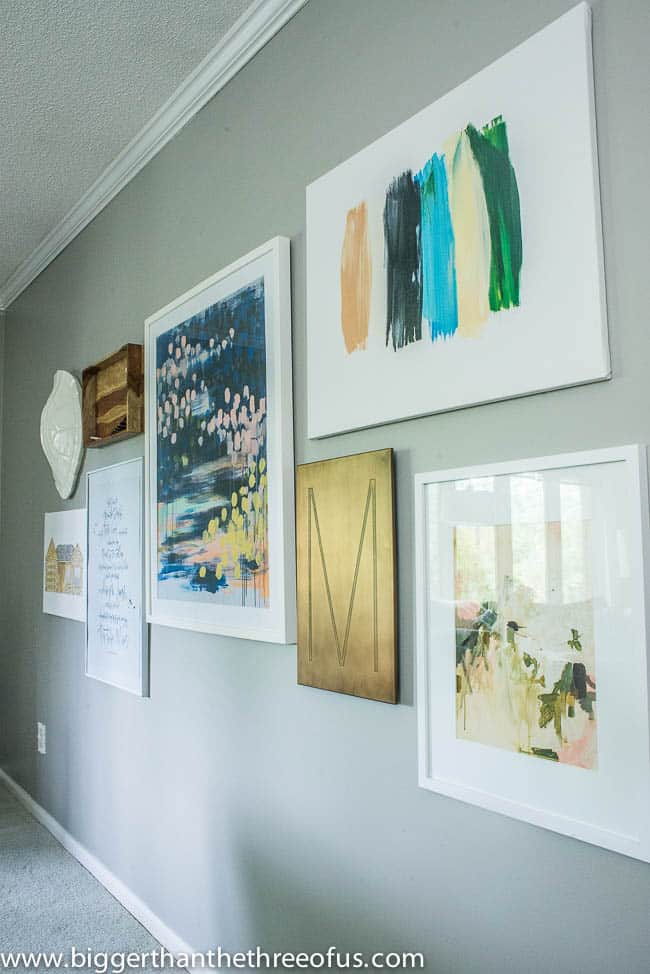 That brings me up to date with what I've shared on the blog. I think the gallery wall change happened early summer 2015. Since then, I've gotten the living room even closer to making it feel like us.
Ready to see?
Summer 2016
In April, we had white oak hardwood floors put in. That set the tone for the space. We still haven't installed baseboards, but that will come eventually.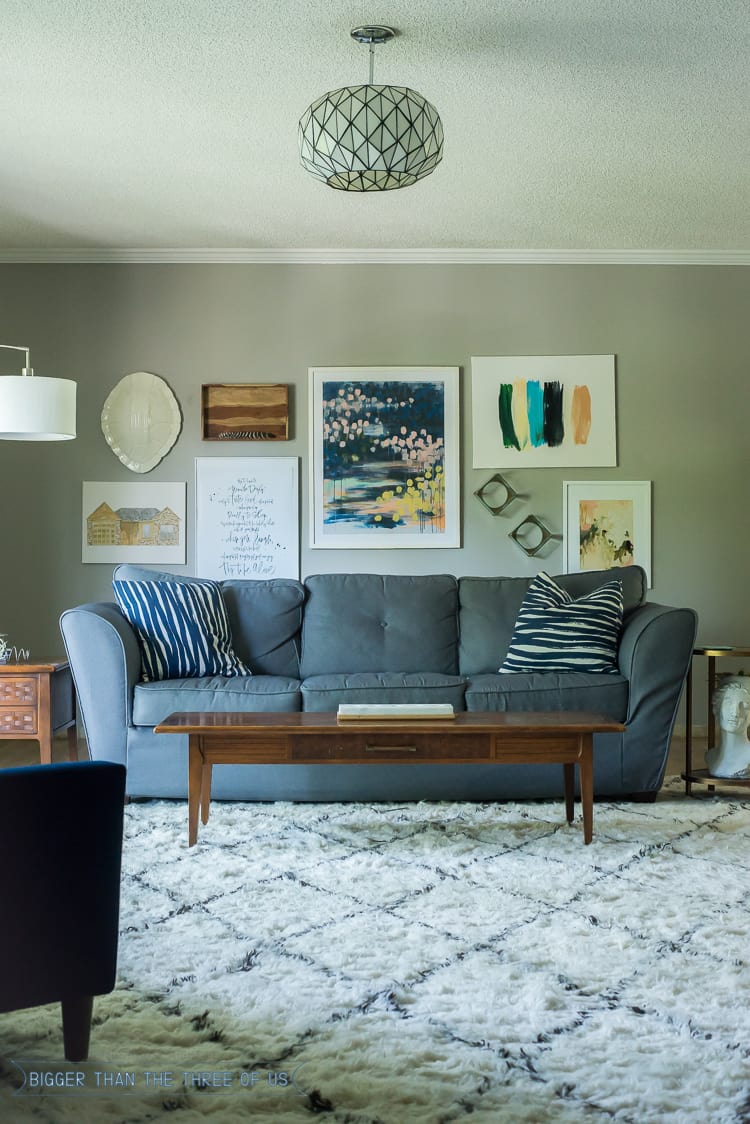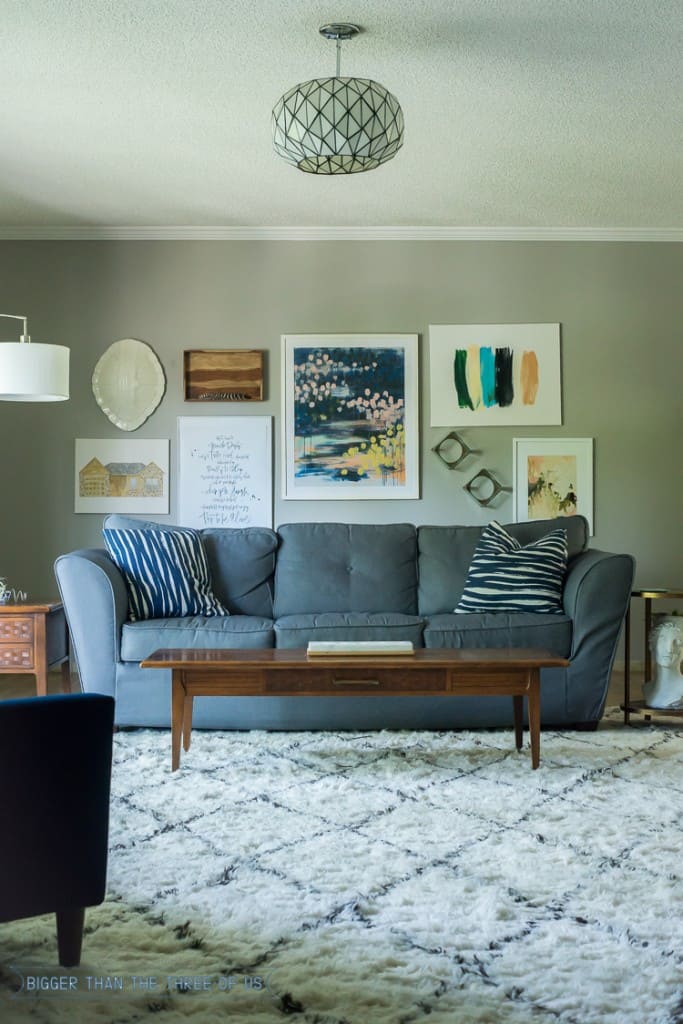 The gallery wall hasn't changed that much, but I did add DIY Wall Planters to it.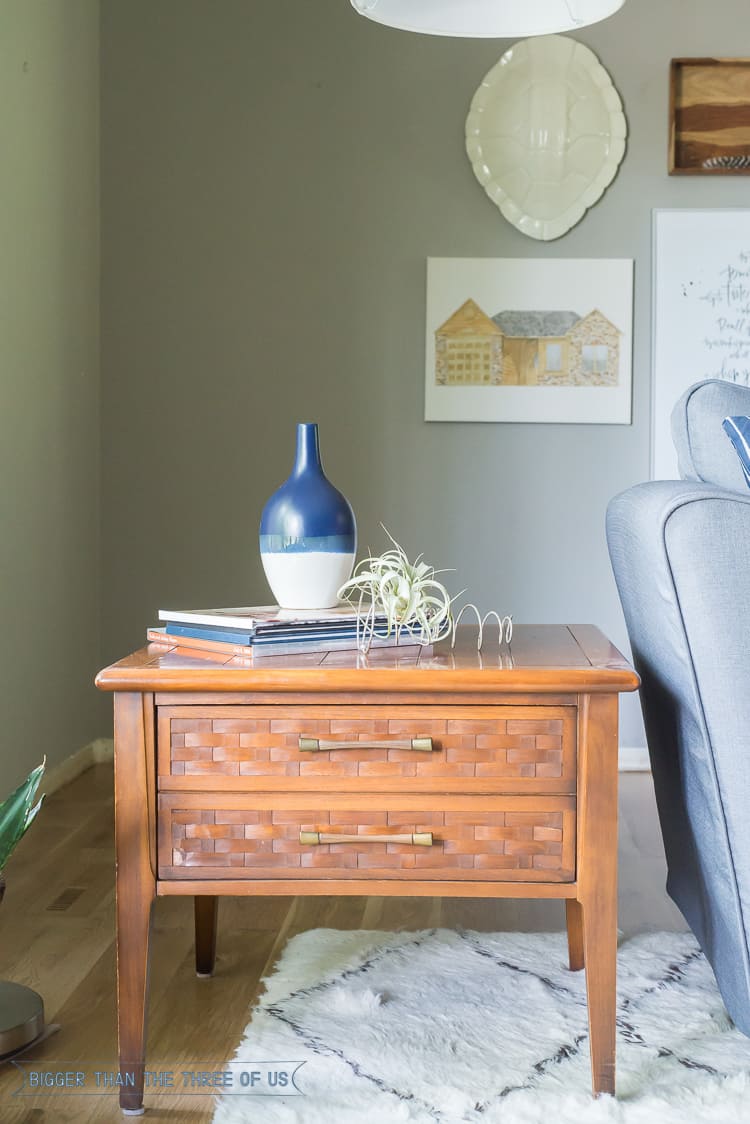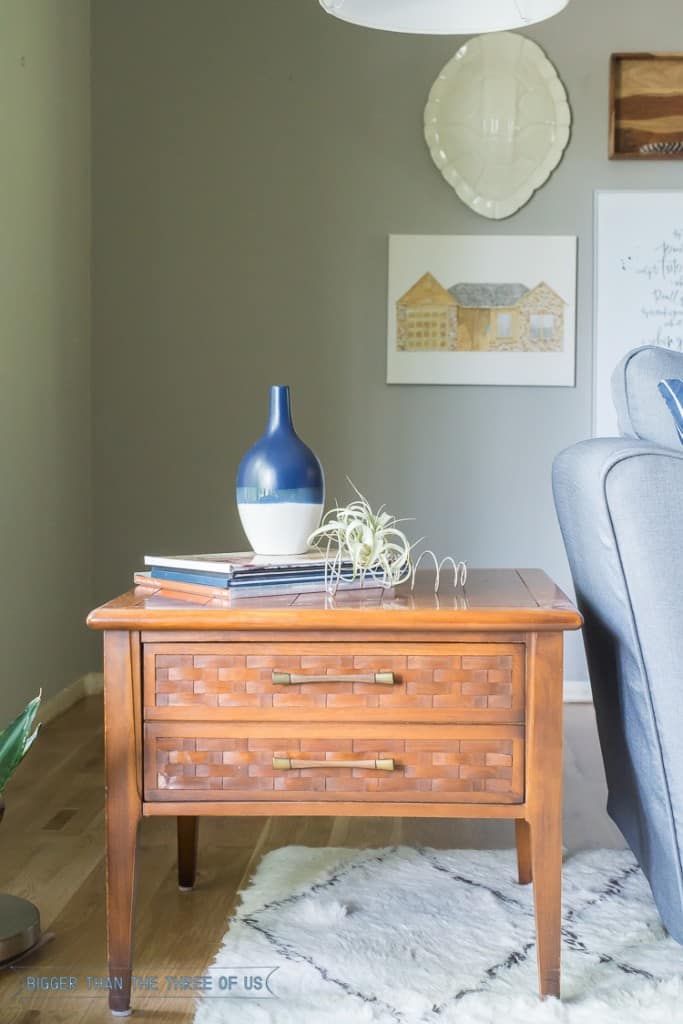 I'm currently working on the corner built-in; or contemplating doing more to it than just taking everything out of it (like it is right now).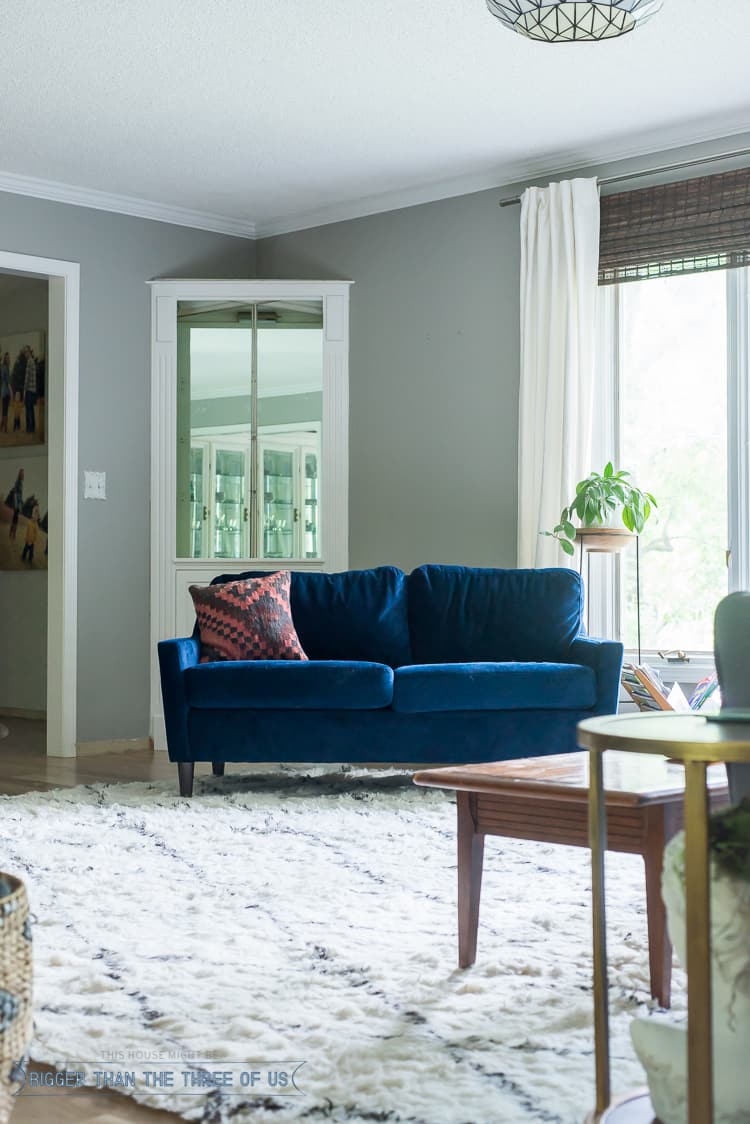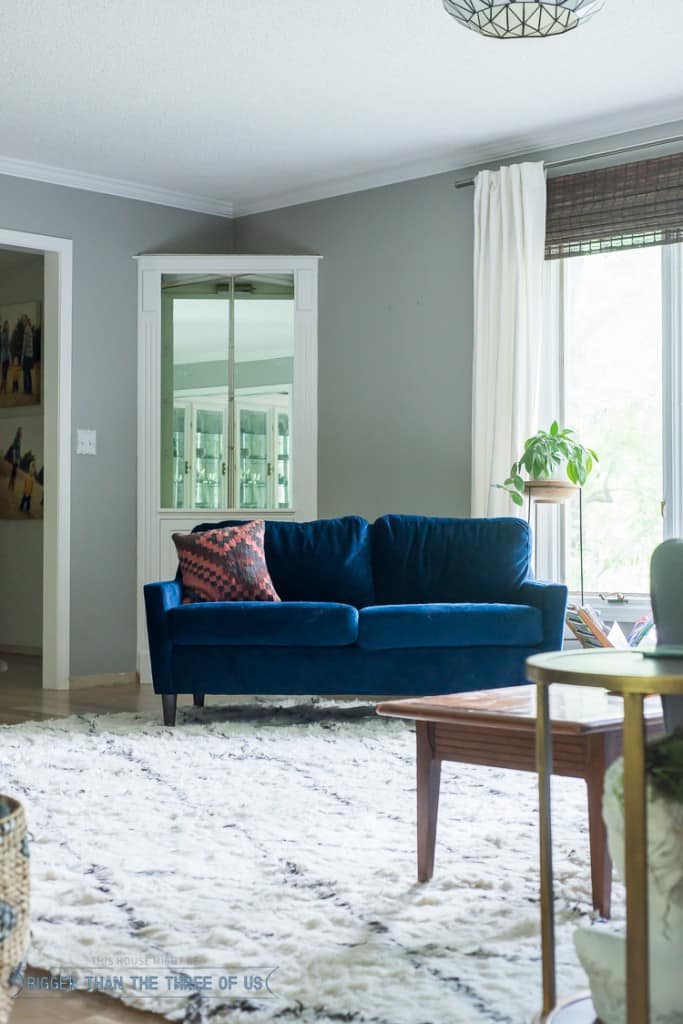 The rug was a purchase that I made in May. We LOVE the rug. It adds so much softness to the room and bounces light like no other!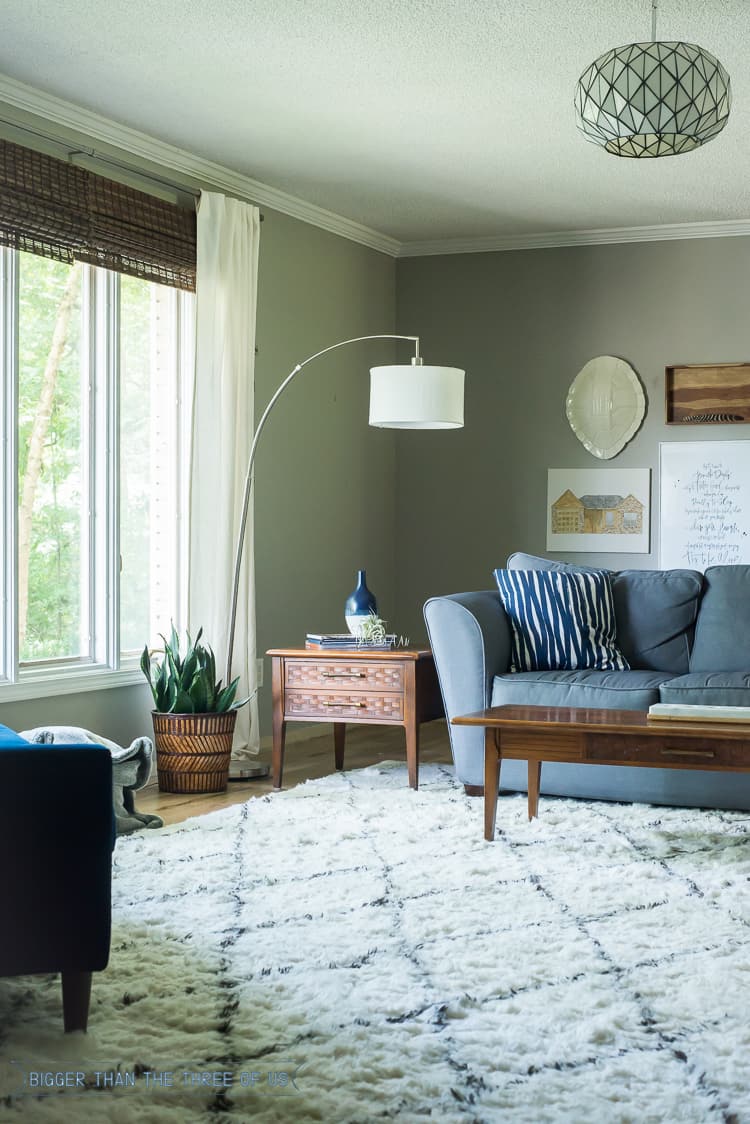 The corner gray chair is a chair we bought 4 years ago on a deep, deep discount at West Elm. We had it in our bedroom but never used it in there. We needed more seating in our living room and, although I'm not in love with it in there... it works and provides the seating that we need.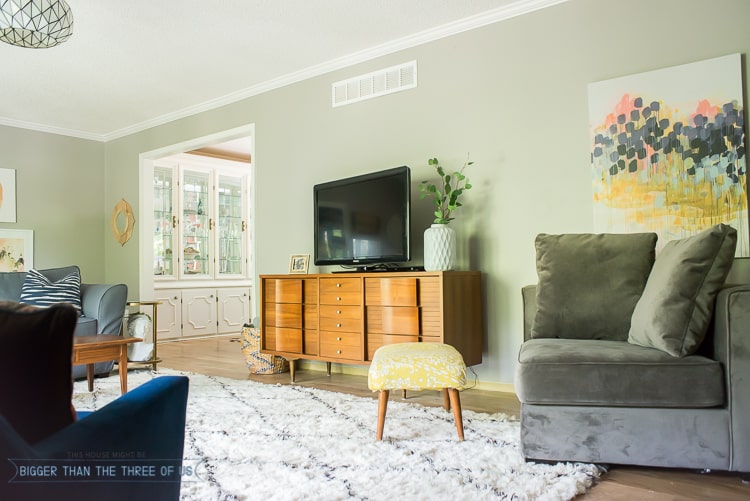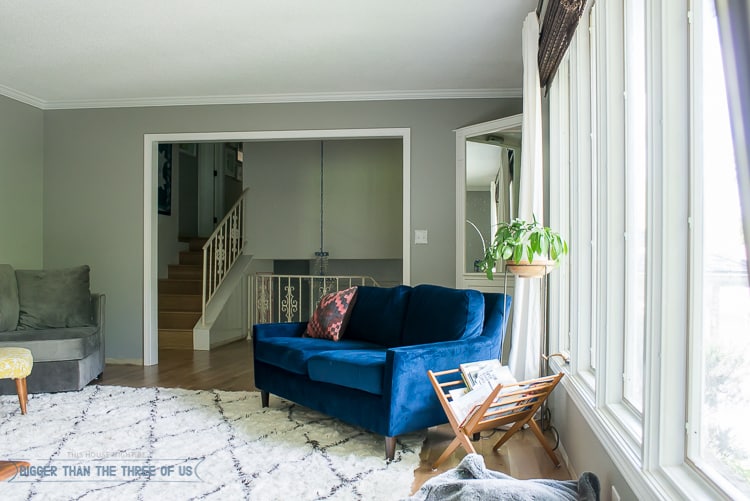 The railing is still an eye sore. I waver back and forth on what to do with it.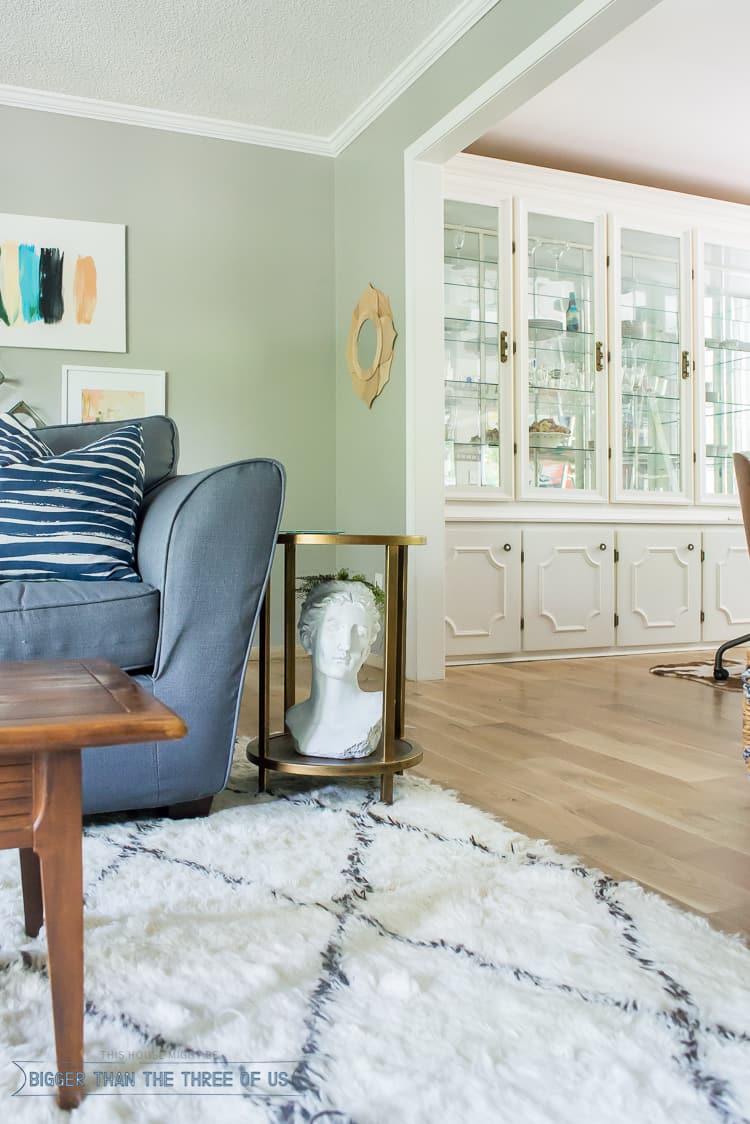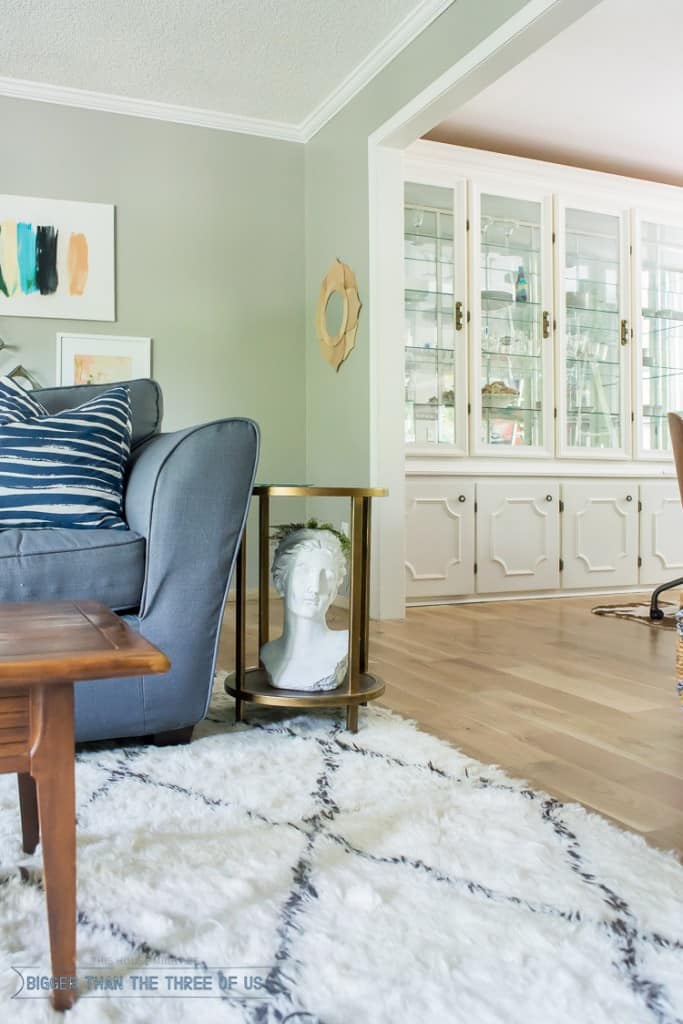 Overall though, I think the room is coming together. It has never felt more like us nor more welcoming.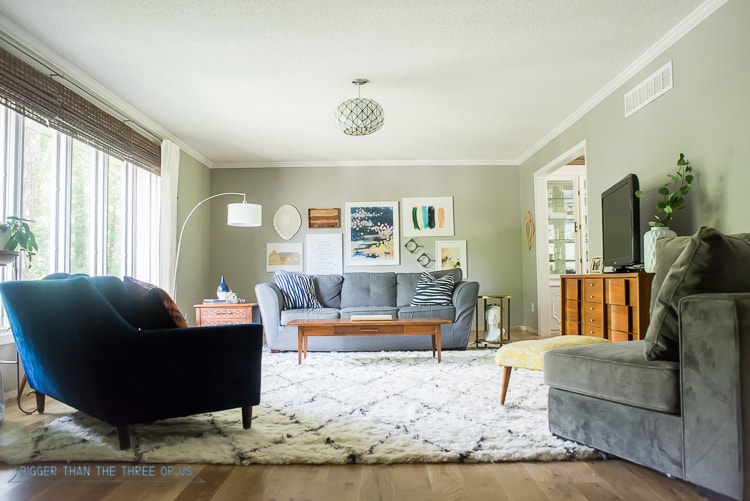 Oh, and I've rounded up items that we have if you'd like to shop them: