Today is the day. Yep, it's the day for the Living Room Gallery Wall Reveal. The funny thing is that I did a living room gallery wall reveal back in September. Since then, I paired down and looked through some amazing inspiration. I've nit-picked and really tried to figure out what was working and what wasn't. So without further adieu, here is the new and much-improved gallery wall.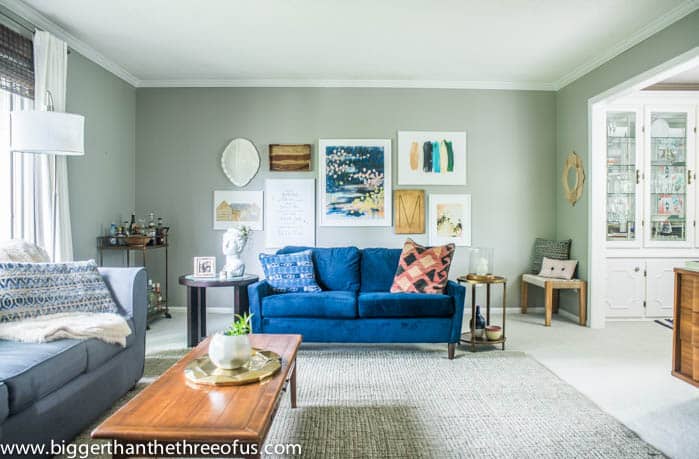 So, how did I come up with these changes and what advice did I take or would I offer? Ok, so here goes:
1. Take into account your whole room.
For example, our room is pretty large and long. When I first put up the gallery wall last year spanning the whole wall… I liked it because it drew my eye. But, with the whole room, it looked cluttered. So, my advice here would be to allow your room to have some breathing space. Some rooms can pull off that floor to ceiling gallery wall. For example, Summer shared a gorgeous floor to ceiling gallery wall that looked fab! But other walls, when taking in account the room, need some breathing room. So, if you have one of the latter rooms… let it breathe.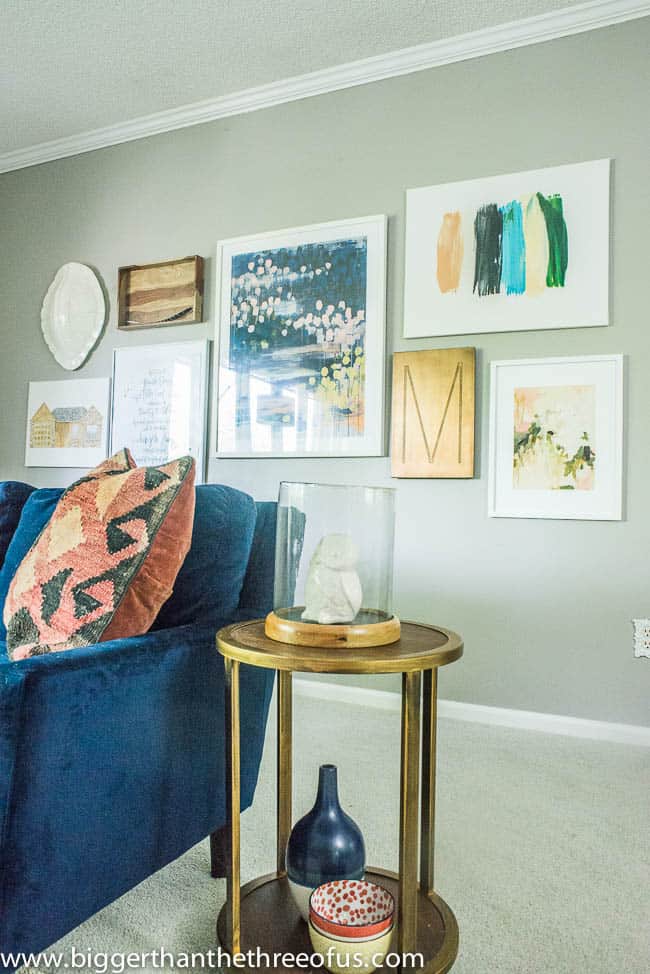 2. Invest and Showcase Art You Love
In trying to fill larger wall spaces, sometimes you just throw things up there that you have on hand or you search for a good deal. I'm majorly guilty of this (and in more than one room as we speak). But, part of the dissatisfaction with the art or pieces on the original wall was that I didn't love them. They were just space holders. So, why should we have something on our walls or in our homes that are just space holders? It's just another thing to collect dust. Get rid of it. I did that with a few things and it feels so refreshing.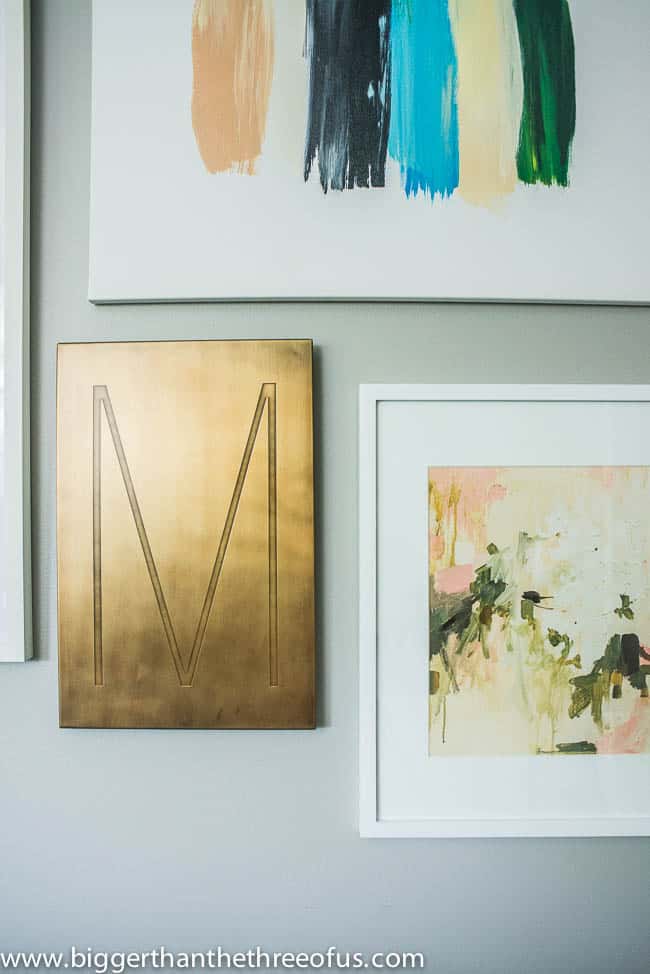 3. Mix Black and Blue
I have Jennifer from Brave New Home to thank for this one. I always shied away from incorporating black in my home, because I am a lover of navy blue. BUT, I think in a lot of instances, and gallery walls are one of them, black can be used as a neutral. So, use it as a neutral and embrace the black.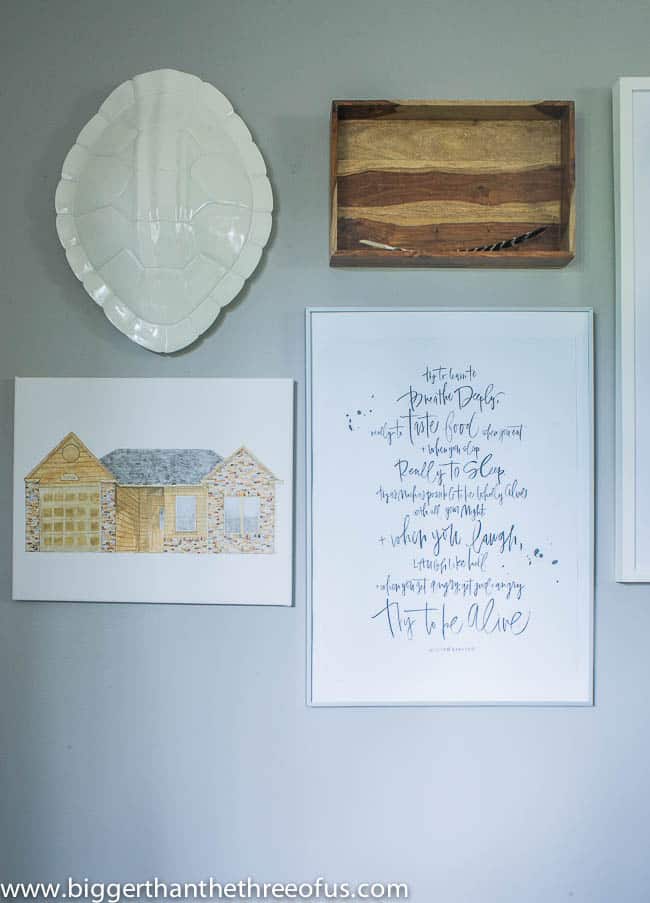 4. Find Your Happy and Your Design
This is the hardest thing to do for me. One reason is that I like all kinds of design and another reason is because the design I think I want to have makes me feel boxed in. Does that make sense? Basically with this, I'm trying to say to free yourself. If you love it, embrace it. If it makes you happy, display it. Find your you!  Ursula from Home Made by Carmona does this well. She has a bit glam, modern, rustic all going on and she's embraced it. Your home should be a reflection of yourself and your family. So, forget the rules and embrace the many sides of you. Finding the harmony between them will be a ride (I'm still on mine!), but learn to enjoy it.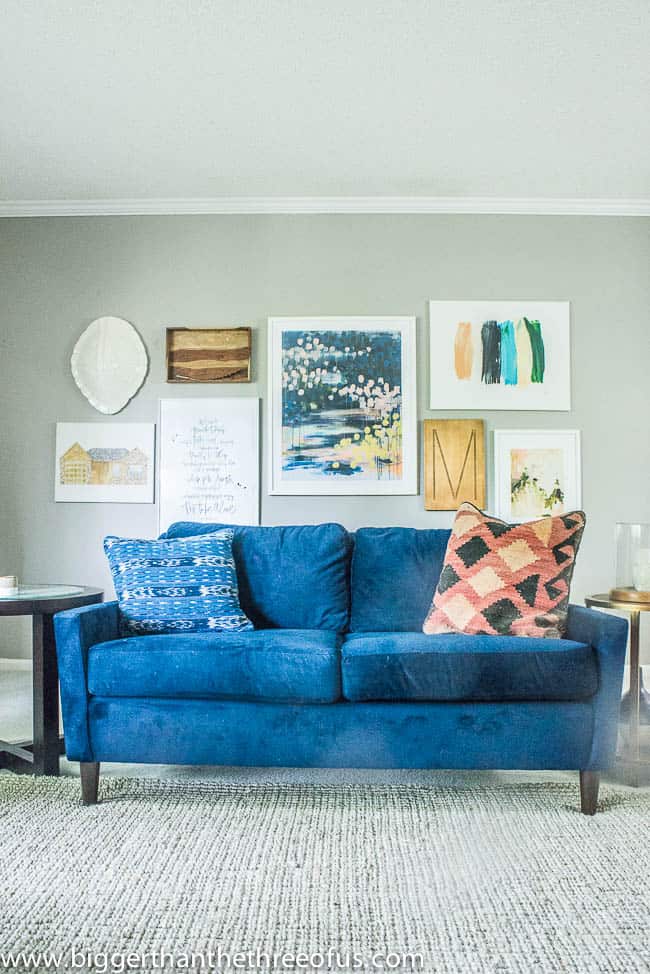 5. Highs and Lows
I think the greatest thing you can do for a space is mix high and low-end pieces. Invest in pieces that matter and that you know you'll have in the long-run but be willing to take in things that are cheaper that you like in the moment. For example, see that paintbrush art below? Luke painted that and it was super cheap. Do I love it? Yep! Do I always think I'll love it? Hmm, maybe, but I don't know. On the other hand, I adore the large scale reproduction art in the middle. Even though it is a reproduction it came professionally framed. So, for us that was a high or a splurge. Those "splurges" give more class and sophistication to some of the other cheaper items. So, don't be afraid to include cheap items with your splurges.
I hoped you got something out of this and if you want to read more about gallery walls, make sure to check out some major gallery wall inspiration and design from Summer, Jennifer, Anna, Ursula and Brit.
Sources: Brushstroke art (DIY), Metal M Letter, Abstract Painting, Caroline Wright Night Lights, House painting (DIY), Wood Tray (Similar), Turtle Shell (Similar) and Quote Art
Linking up to: Remodelaholic