I don't know about you guys but we are four weeks in on Summer break and Greyson is already bored. The first week of break, we chilled at home and did a few playdates. The second week, he went to Florida and did the whole Disney thing. The third week, he did superhero gymnastics camp from 9-12, Monday-Friday. The fourth week (this week) we've been to two swimming pools (on two different days), the lake with my family, the library (twice), regular errands (grocery shopping, etc. ), and have another lake day planned with friends on Friday. All of that is to say... we've been going places and he tells me he's bored. Are you serious? Yep, he's totally serious. So, to combat boredom, I looked for new toys. Then, I thought... I'll make a new toy and make it an outside one. That's where this tutorial - How to Make a Tightrope for Your Kids comes in.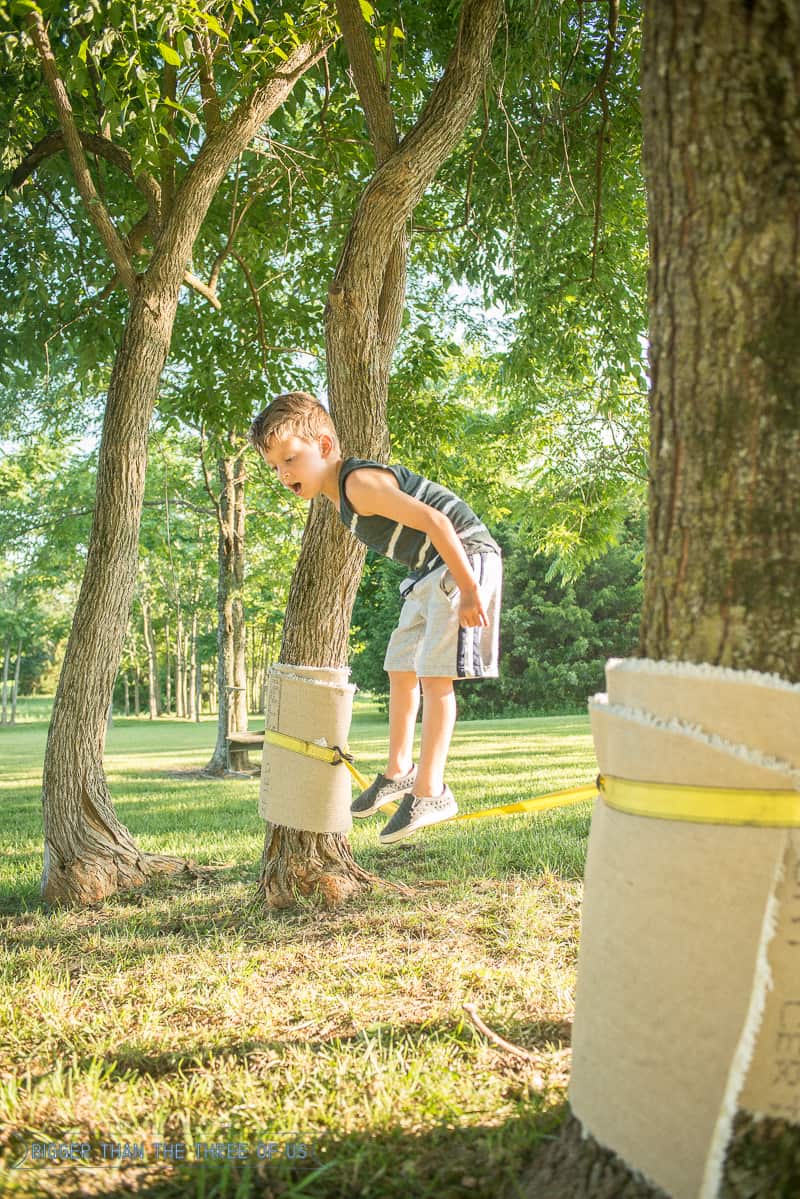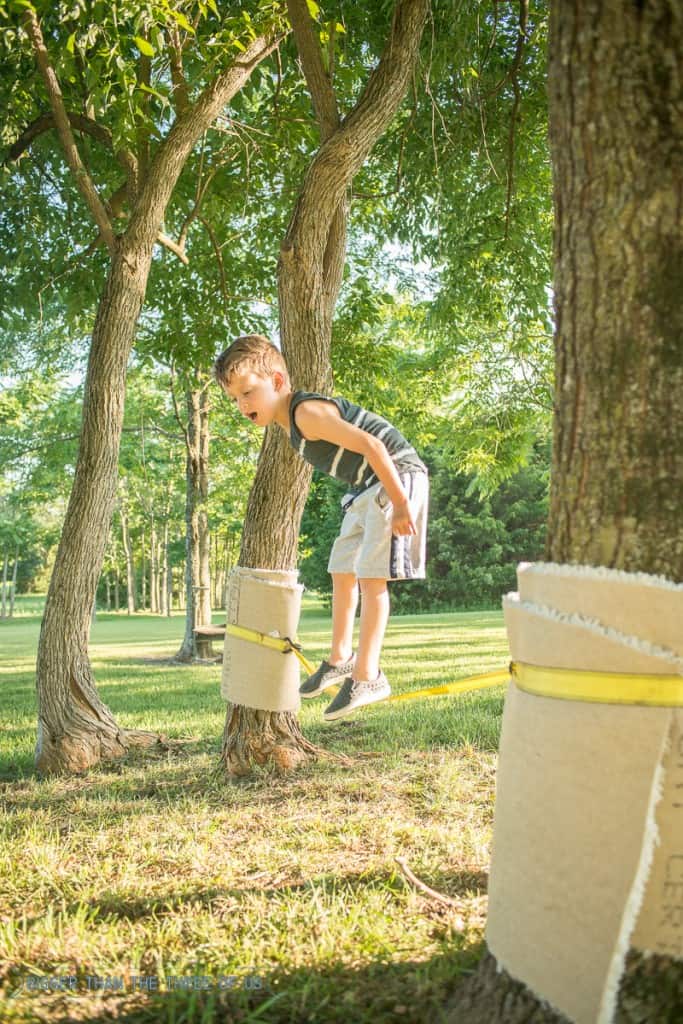 Guys, it was so simple! Like I bet you have everything you need in your garage and, guess what?! You only need THREE things!
You will need:
Carpet scraps (enough to go around two tree trunks) or (2) old towels
(1) Ratchet Strap
(2) Trees (anywhere from 5ft-10ft from each other)
That's it! Seriously, the setup on this takes 5 min!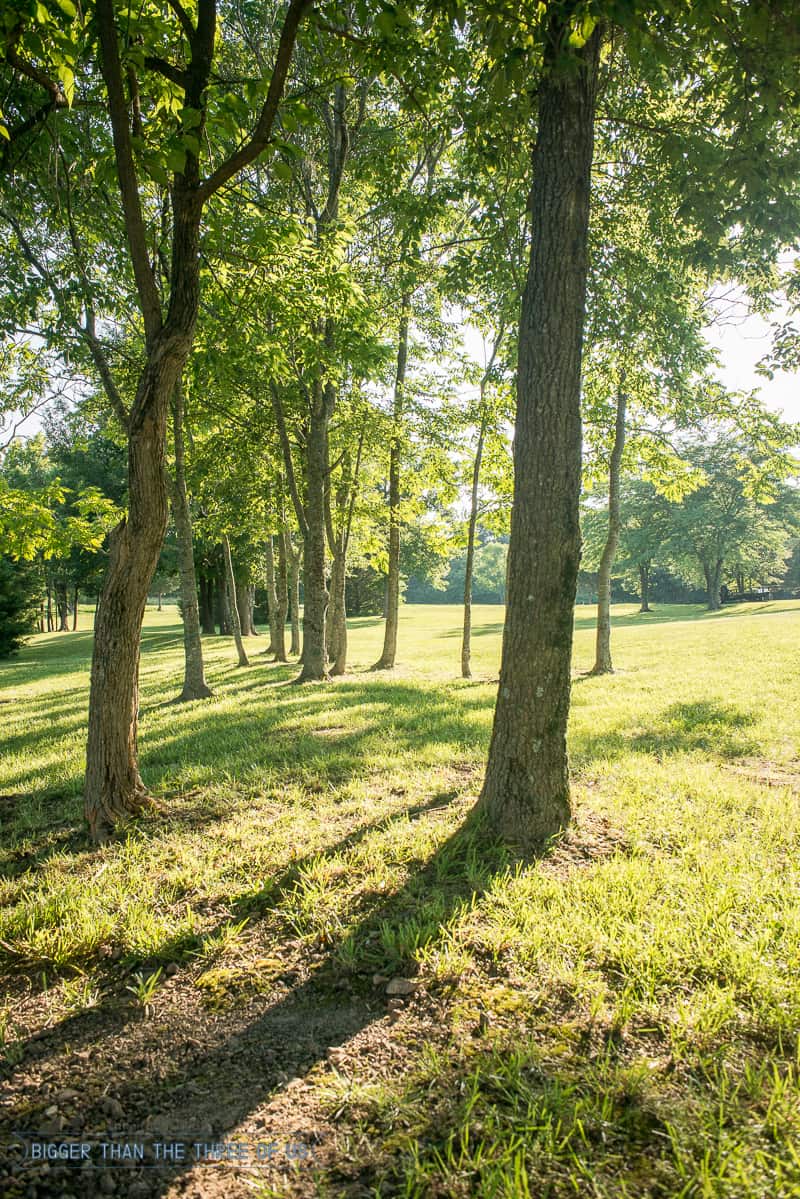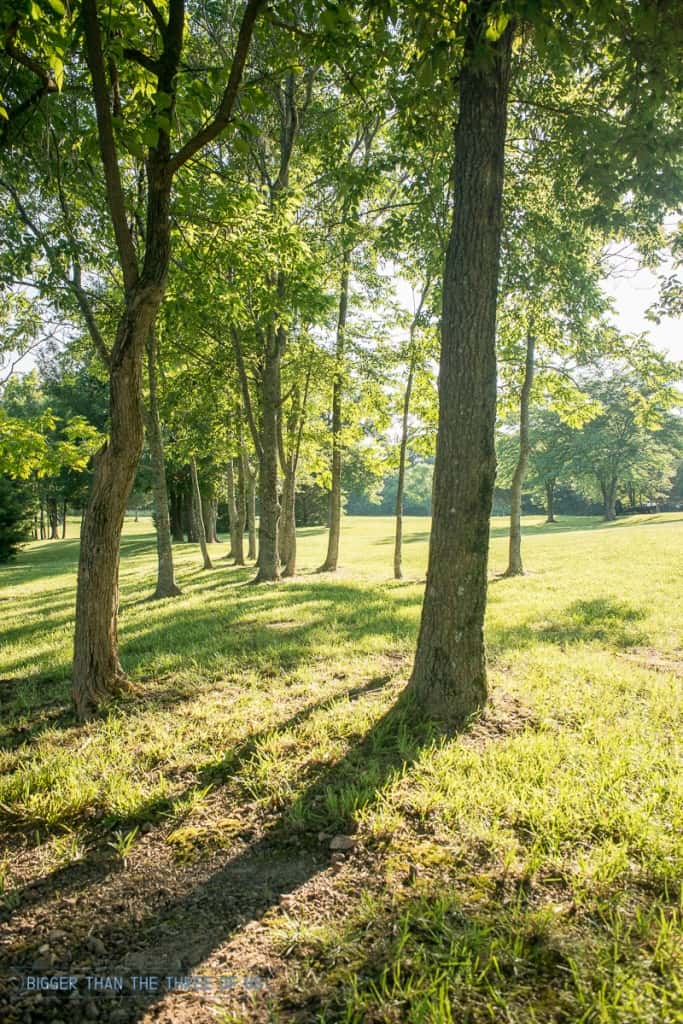 First thing you need to do is wrap the tree trunks with padding (carpet scrap or towel) to make sure you don't damage the bark.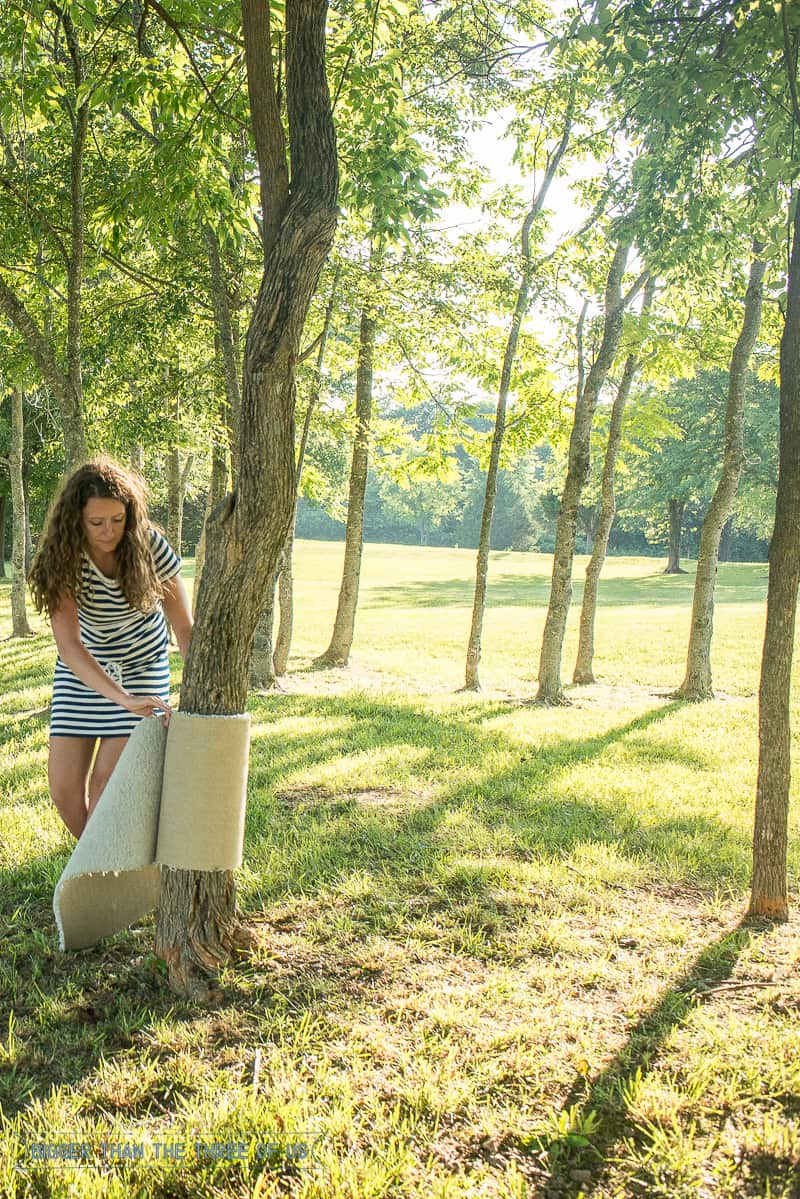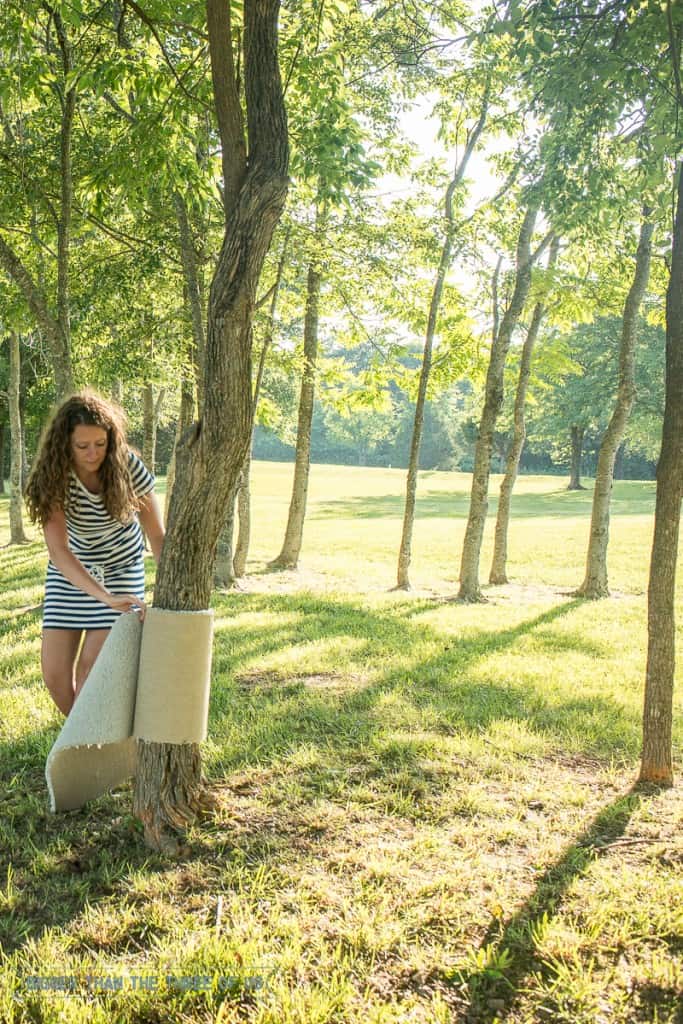 I started wrapping about 12 inches from the ground.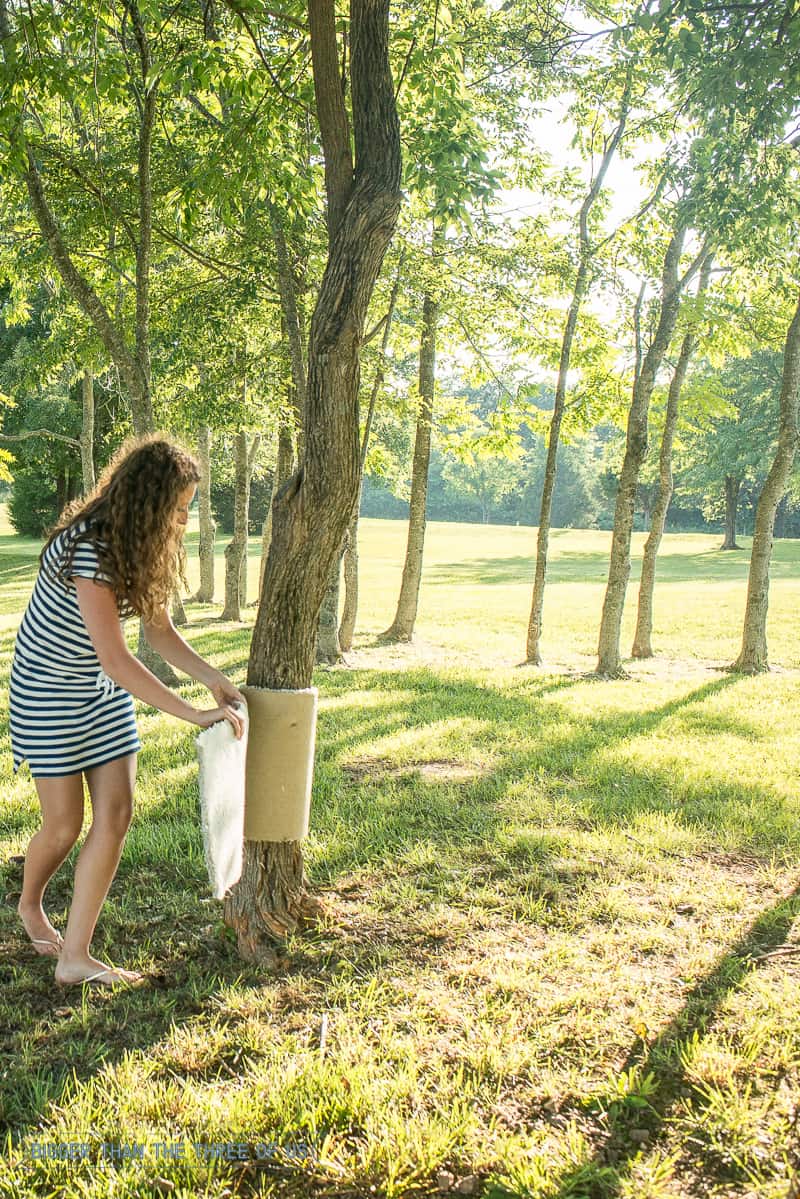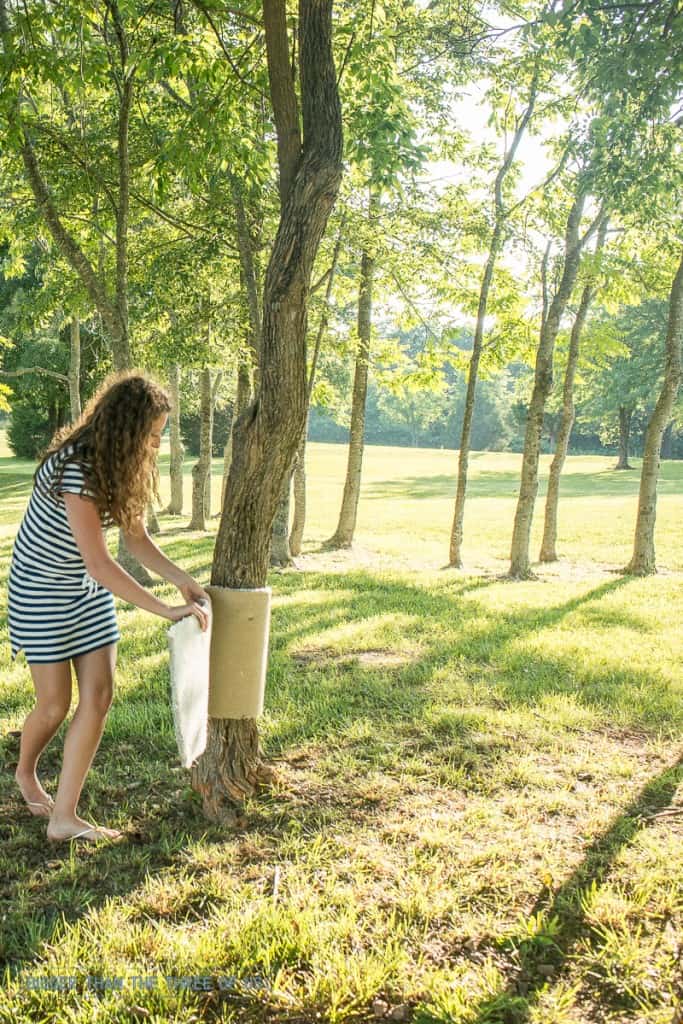 Once you finish wrapping the trunk, grab the ratchet strap end with the hook and run the cord through the hook (see below).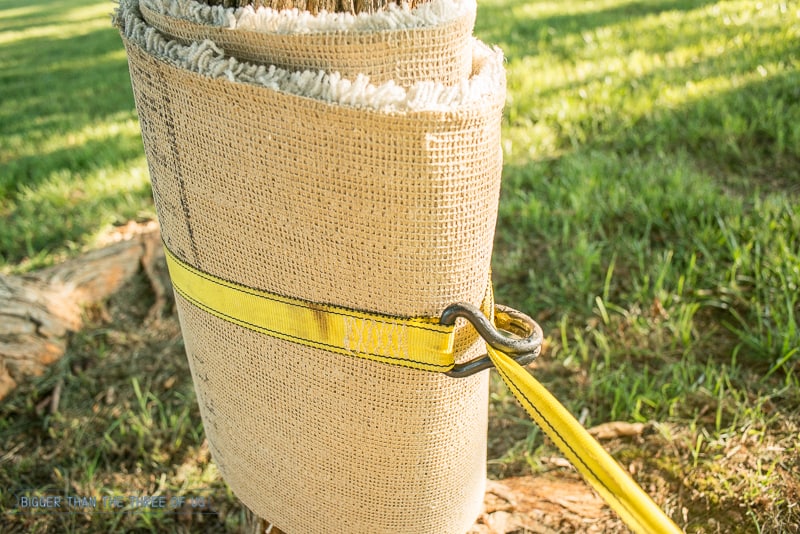 Pull tight. Wrap the other tree trunk and make a loop with the ratchet strap so that you can ratchet it tight. Ratchet the strap until it's tight.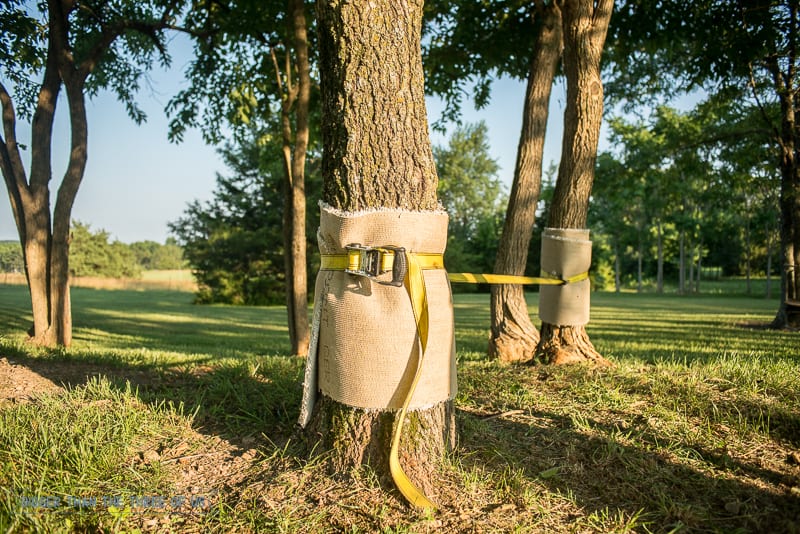 That's it. If you want to add a support rope for your hands you can, but we thought it was good without it.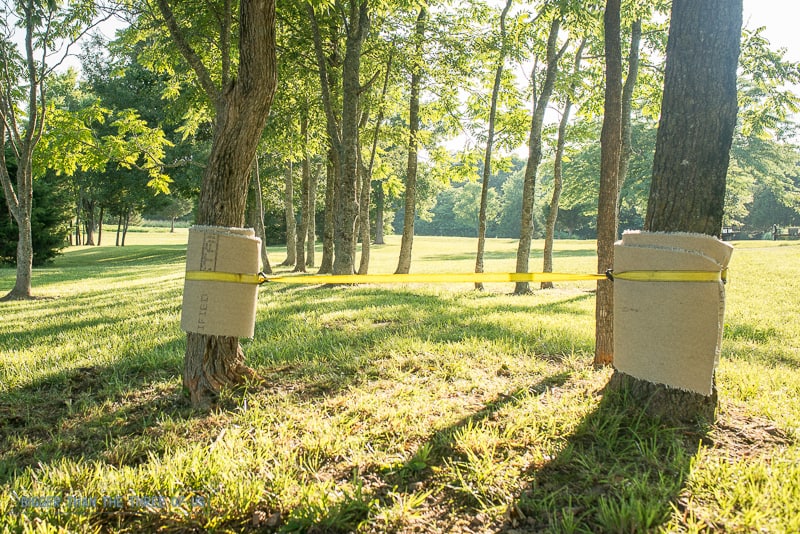 Greyson thought it was pretty difficult.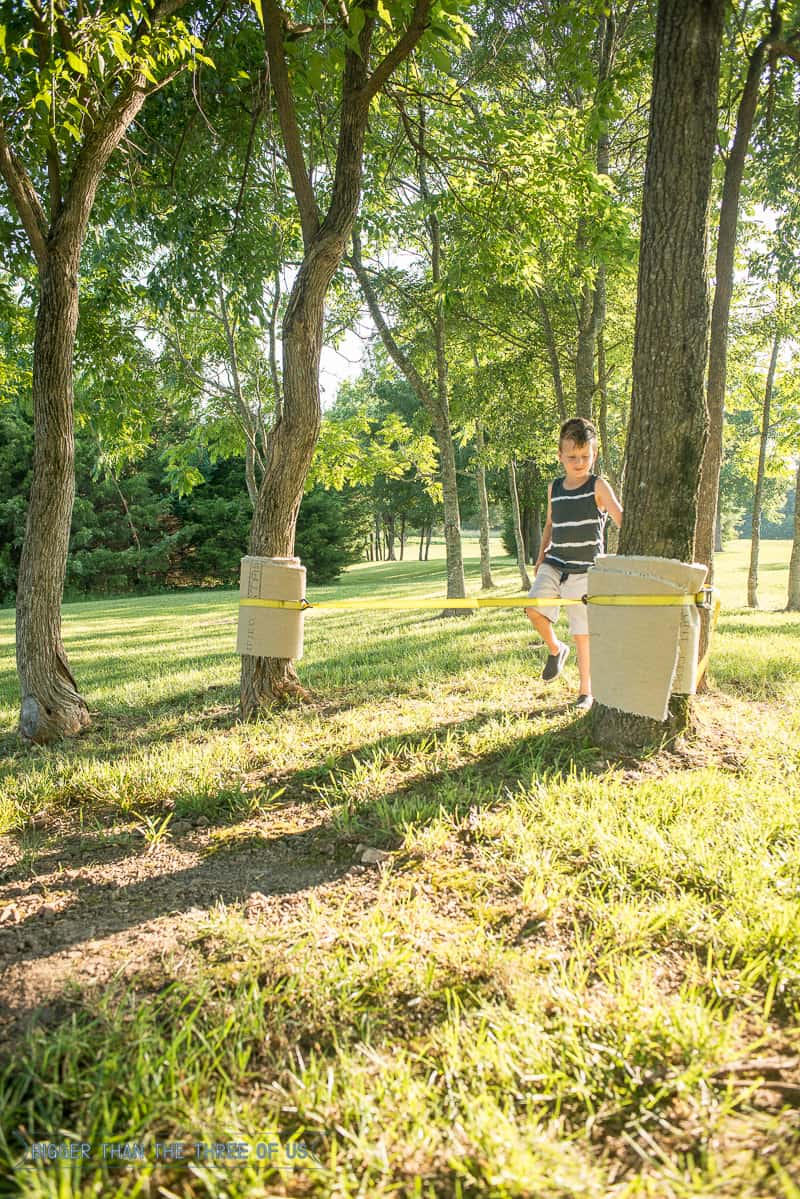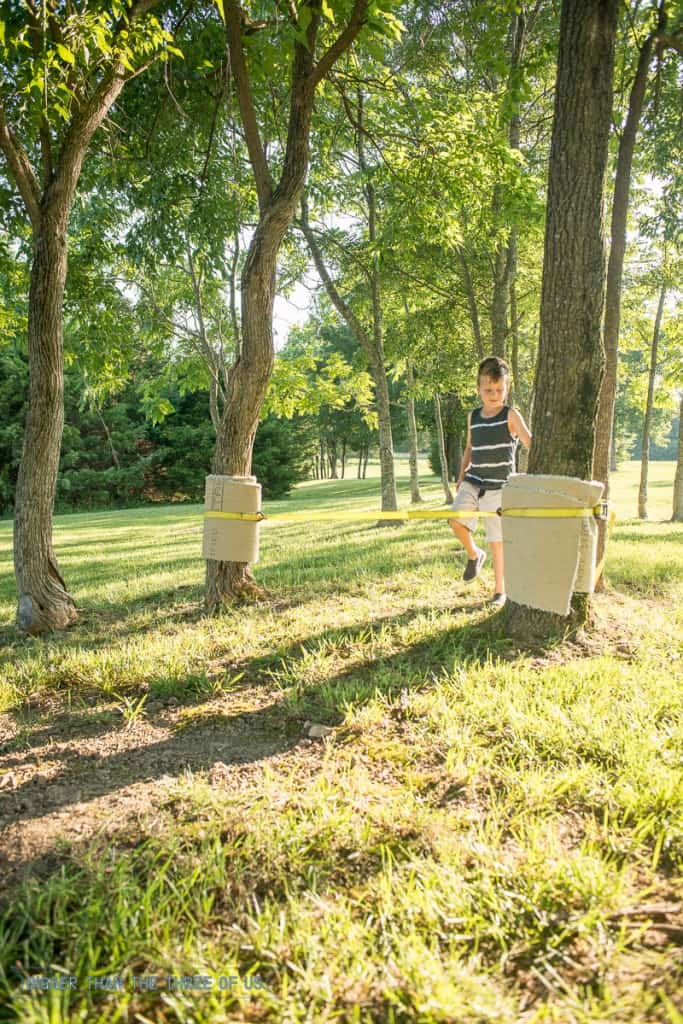 He wanted a support hand for the first few times.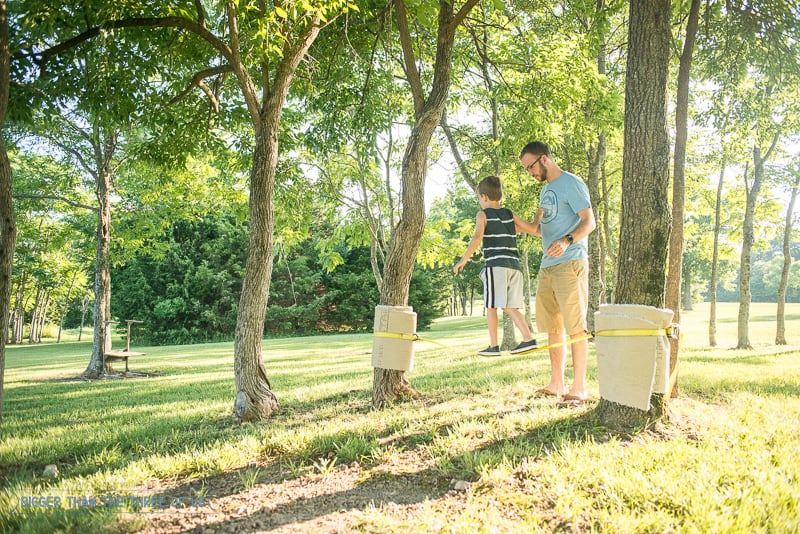 He finally seemed to get it after awhile but would definitely need to keep practicing to really be able to walk it.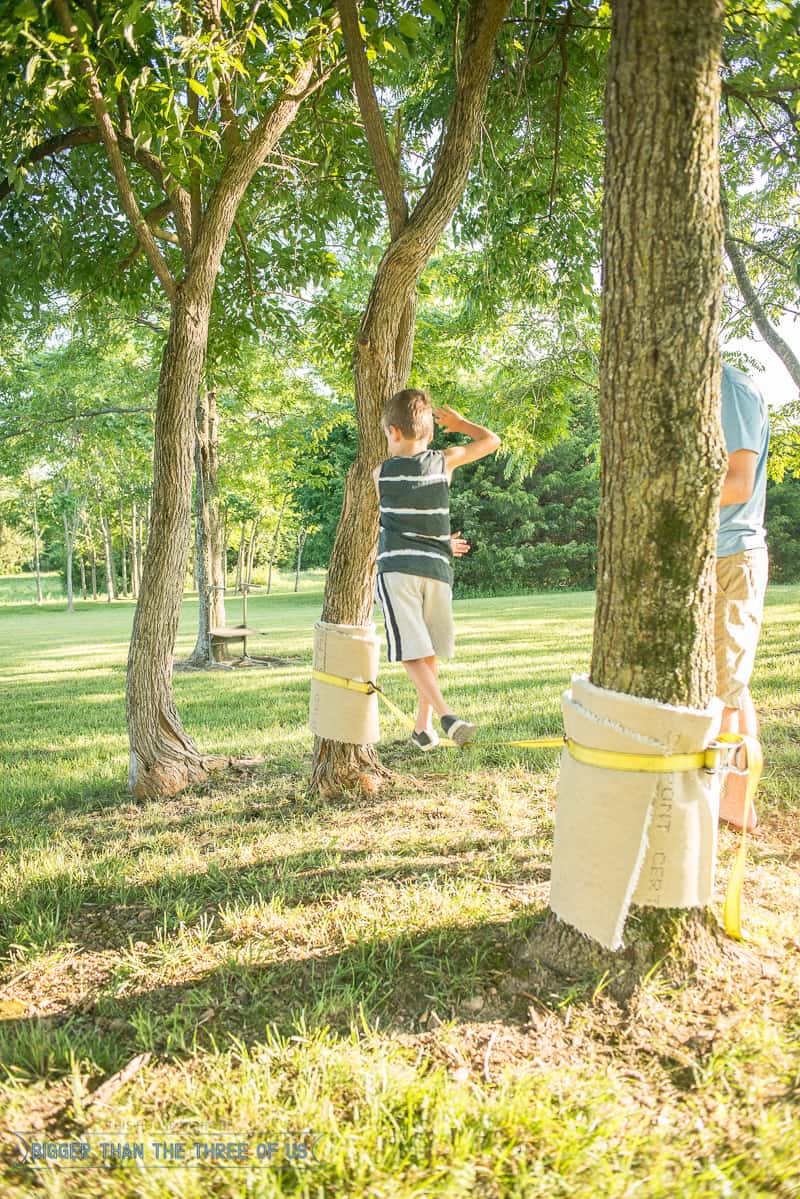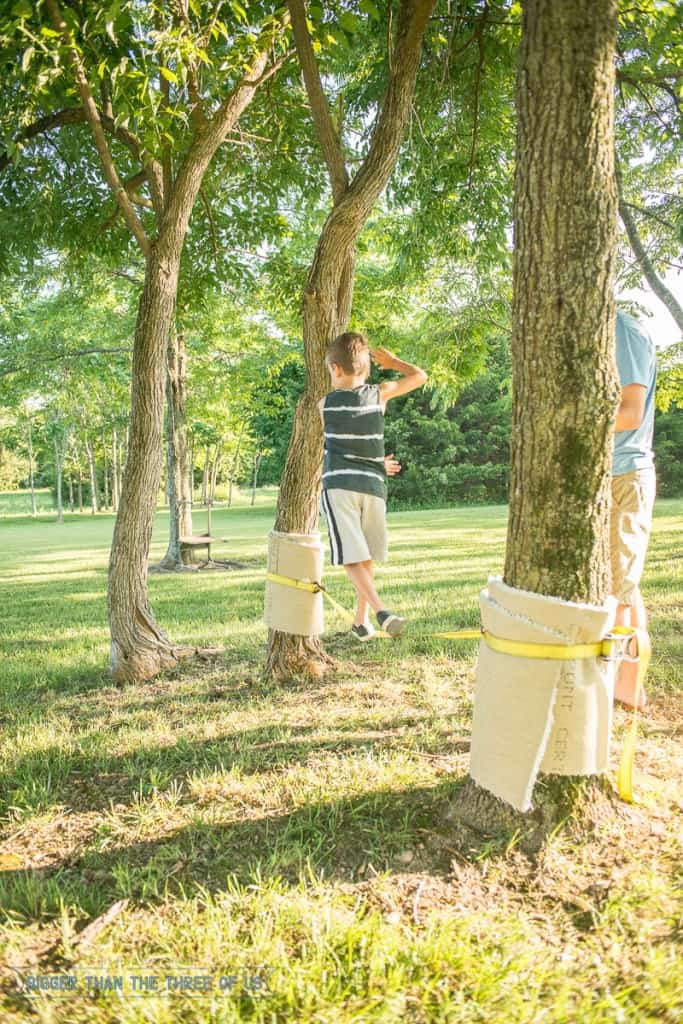 Oh, and in case you were wondering if it would hold an adult - yep! Luke and I both tried it. I have to say that I was better. I made it across a few times. It was actually kinda fun. I could totally see busting this out when we have friends over for a BBQ. The kids will try it first, then the adults will give it a go after a few drinks... a trip to the ER and a broken bone later... just kidding. =)
After looking into this, I found out that slacklining is actually a big deal and is pretty similar to this idea. So, if that's your thing or if you think your kiddos will love this and want more than a DIY version...
You can find tree protection sets as well as a slackline set.
Tell me the truth, would you ever try it or would you try to make one for the kiddos?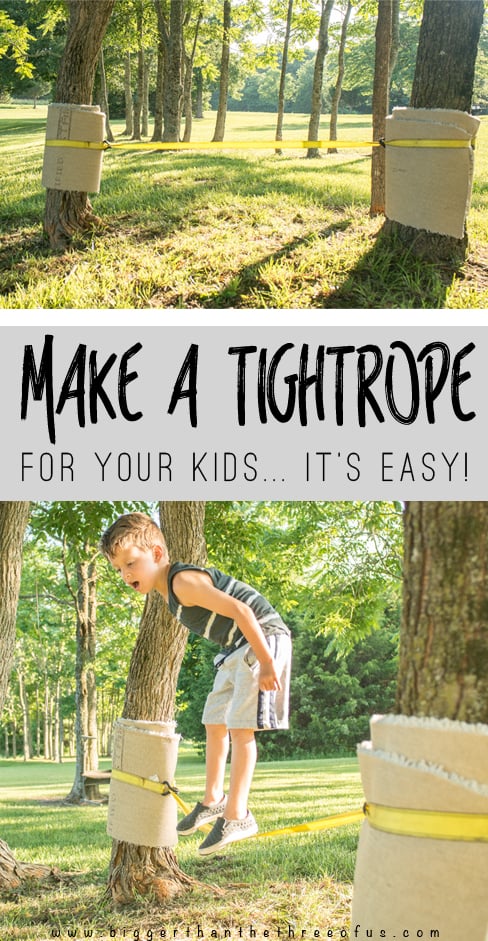 If you loved this post, then you might like:
How to Add a Bucket and Pulley to Your Playset