I don't think I've shared any details on this project. Partly because it's a bit boring and partly because it has taken forever to actually get somewhere with it. Well, I'm excited to say that for now we are finally finished with it, so I'll share. =)
Last year for Greyson's birthday, my family pitched in and bought him a wooden playset. His birthday is 12/29 and I wanted the playset to be up on his birthday and to be a surprise. Do you see where I'm going here? Hmm, who puts playsets in when the ground is frozen? Yep, that would be us. We had a slew of family members working to get it done and it barely got done. But, the way that it had to be done (to get it done) was leveling with railroad ties.
See my problem? I didn't mind the railroad ties supporting the rock wall, but I really minded the ones under the ladder and the slide. Everytime Greyson went up the stairs, I was scared he would slip and fall and crack his head on the corner of the railroad ties. Another thing is that it made the slide so tall that you zoomed off the end and no one wanted to use it. So, we did this: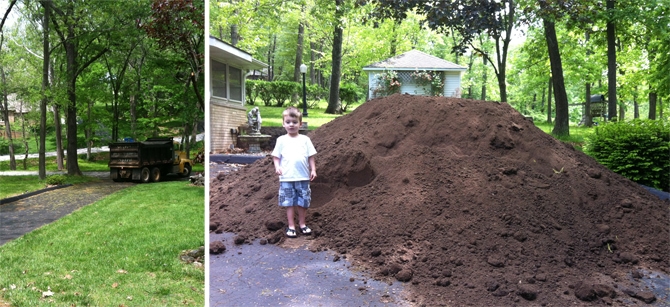 In June, we had a full dumptruck dump a load of dirt. It was $240 and we got a ton. You can't really tell from the picture but the pile was over 5ft tall and took up two car spots width-wise.
Our first step was to build up the sandbox area so that the sand couldn't escape underneath the front support beam.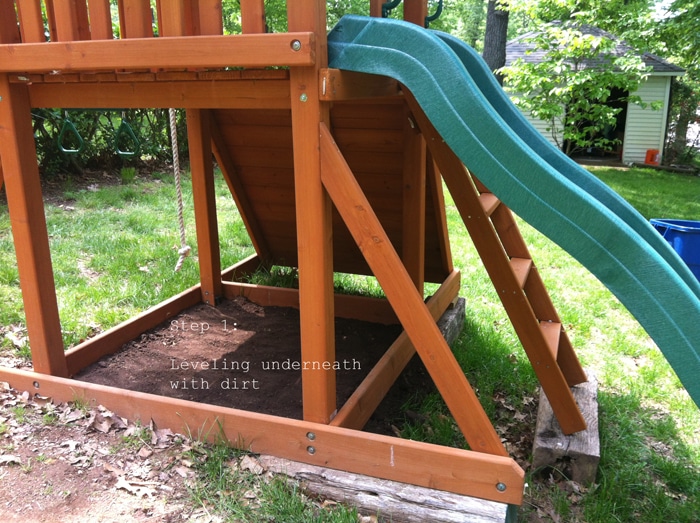 Once we had the the dirt in there, we packed it down and then added the sand on top. It probably took us two weekends to get that project done. With lawn mowing, a toddler and having one shovel and wheelbarrow...we are definitely slow moving.
Next up, we started moving dirt to the play area to help flatten out the slope. One small wheel barrow load at a time.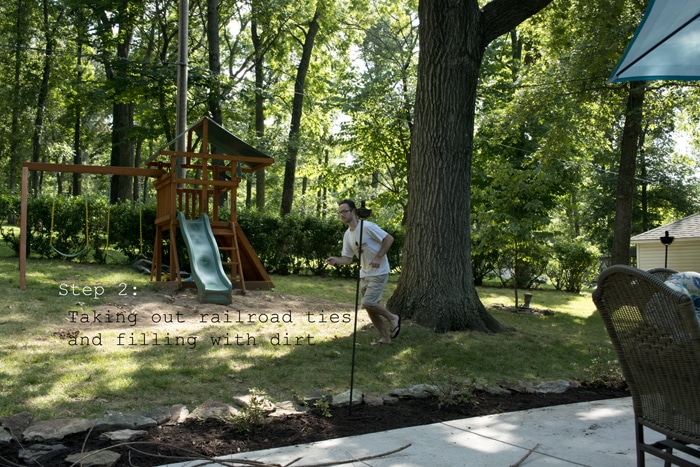 (on a side note, I don't know what Luke's doing here but it's the only picture I could find of the level area...lol)
We would almost get done moving dirt and then it would pour for a few days. Some of the dirt would wash away and we would have to start again. This happened throughout June and July. By the time we got finished and had the dirt packed down it was too late for sod.
A few weeks ago, we got all of our stuff together to seed the yard.
Our process for seeding the lawn was:
1. Loosen the soil
2. Spread seed
3. Top lightly with peat moss (not hay)
4. Water twice daily for two weeks
We were both surprised to hear that the recommendation was not to put hay over the seed. We've always seen that done around here, but our supply store said to only do that if we were expecting to get a torrential downpour. They said that when you put hay down then you are constantly fighting hay sprouts.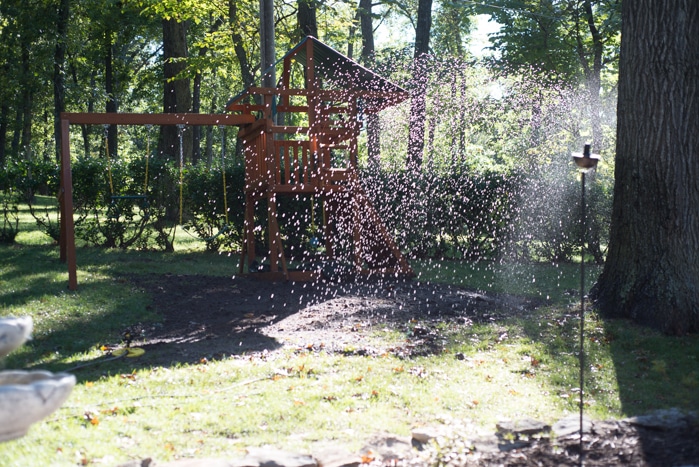 Before: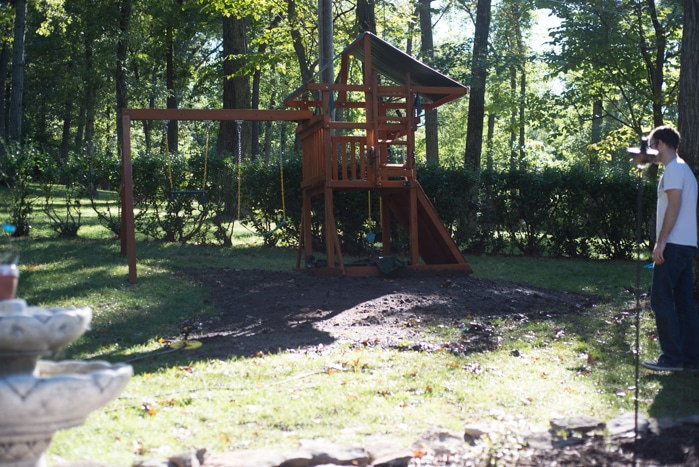 After: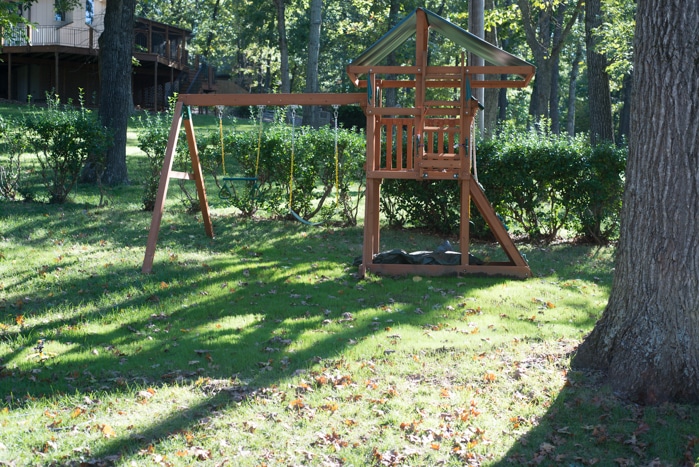 Can you believe that it could grow like that in less than two weeks'?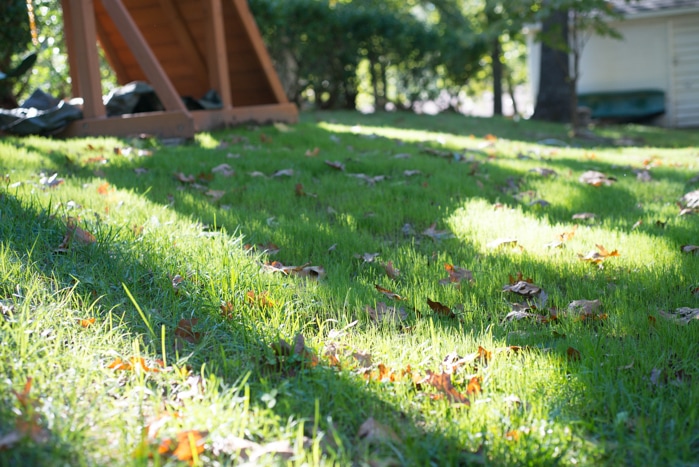 It looks great and now that we know what we are doing, we will probably try to overseed the whole yard next fall.
Oh, and in case you're wondering how low the dirt pile is...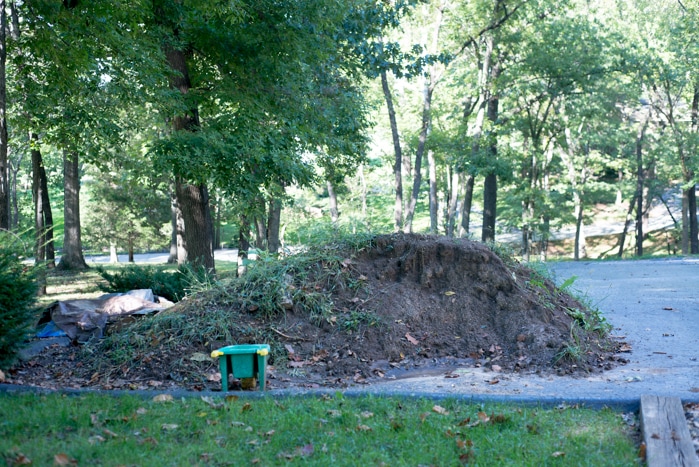 Yep, still quite a bit. I'm sure our neighbors love us for having a huge weed pile in our driveway for the last few months.
We actually have one small little project that we hope to accomplish with some of the dirt and then off to Craigslist it goes.