This post is brought to you by Coral Homes.
I recently shared a small update in our master bedroom that changed our space without spending money. Thinking about the budget isn't my favorite thing to do, but most of us have to consider what is in or out of our budget. As I was thinking about the master bedroom, it got me thinking about other things throughout the house that can give your home that nice and cozy feel. I haven't nailed this in all of our rooms, but I do feel like a few of them have that nice and cozy feel.
Let's take our kitchen for example: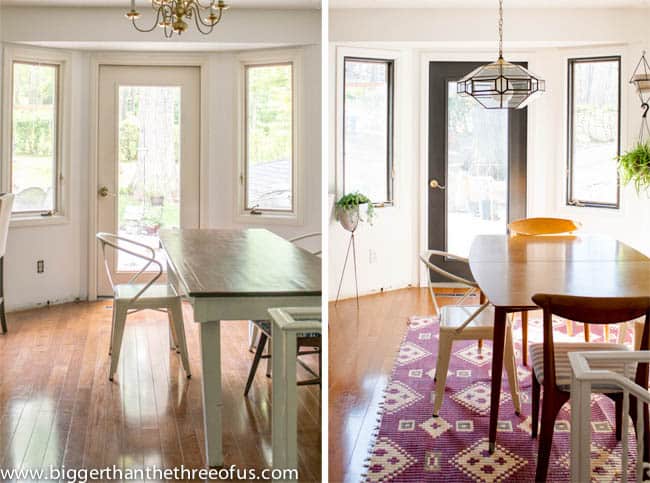 I'm still working on it and still adding layers, BUT look at the before and progress picture. Crazy difference right. That crazy difference doesn't have to cost a lot. The second picture gained quite a few thrifted items (rug, table, chairs and light). We painted the trim dark and shopped the house for the greenery. All of the purchases and changes came out to $165. Is it perfect? No, not even close. Does it feel homey? I think so.
Let's peek at one of the walls in our master bedroom: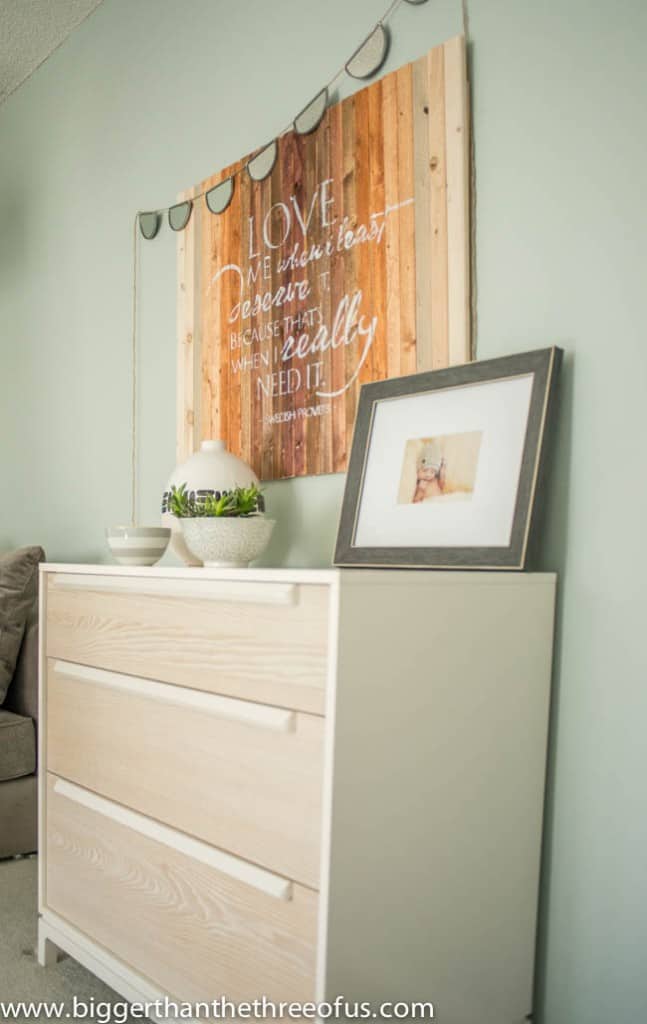 Our bedroom pulls off that cozy feel a bit more than the kitchen. I think it's because of the wall color (Rainwashed by Sherwin Williams). The wall color is soothing. Pair the wall color with a personal picture (in a thrifted frame), some greenery and a DIY ombre piece of art and you have something unique. Personal and unique items always work well when trying to achieve a homey feel.
How do you get the nice and cozy feel outside?
I think it's all about welcoming your guests. It can be as easy as having a planter and a wreath and making sure to sweep off your porch.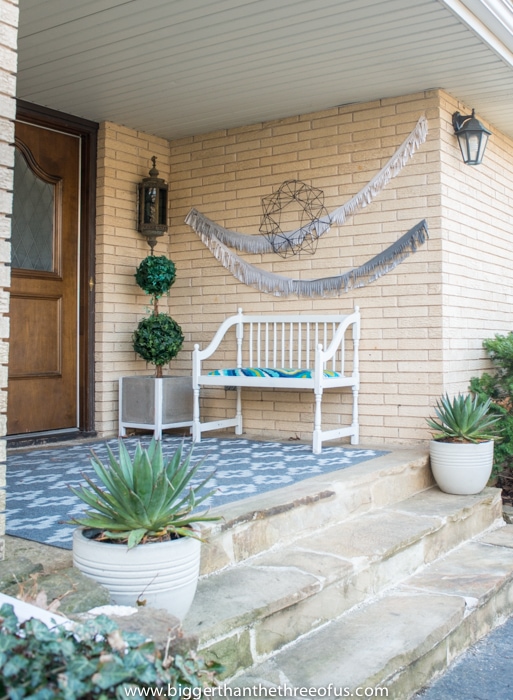 We updated an old bench, added DIY concrete pots, made a Himmeli wreath, DIY'd a rug and took some fabric and hung it as swag. I don't have the exact numbers, but the area cost no more than $100. Again, it doesn't have to cost a fortune to be cute! You just have to be creative.
Whether you have an old home (like us) you have to to work with what you have and add layers along the way. Alternatively, if you are getting a builder like Coral Homes to build a new home,  let them know that you are looking to have that cozy home appeal and they should be able to give you some helpful hints. My favorite ways to add layers (as seen in my house) are by thrifting and DIY'ing. I think both give you that bang for a buck. You might add layers by focusing on one room at a time and buying one piece for it as the budget allows. Or, you might be an awesome sale shopper and are able to dig through the not-so-good to find the amazing. Whatever it may be, take your time to pull it all together and you'll have a home that feels warm and basically "like home".