We are moving the paint stick light out of the living room to Greyson's room. When we made the paint stick light, I really loved it. It was better than what we had before (which was nothing - no light at all) and it fit the budget (under $10). After living with it for about a year, I see that it is making the living room come off cheap and young.
Note: The living room doesn't look like this anymore, but I was lazy and didn't want to get an updated picture. =)
I love the colors that we've picked in our house, but I do think that we need to up the sophistication because I feel like everything is a bit young. To be honest, I'm not even sure where to start. Luke and I have talked about this for a few months and we've come to the realization that it's hard to have a sophisticated space when you aren't mixing high-end pieces with thrifting/garage sale finds. I have added quite a few cute things to the living room (from Goodwill/Garage sales), but overall the space doesn't feel cohesive.
Anyways, we have a few ideas to make it more cohesive (next year: hardwood floors, arm chairs, curtains, and a low profile table to sit underneath the window with plants) but, for this year, all we are going to do is change out the lighting.
Ok, so back to the reason that we are changing out the lighting. We are currently working (hard!) on Greyson's big boy room and the paint stick light is going to go in there. So, we need to figure out what light we are going to put in the living room so we can make the change.
For the past few months', I've had my eye on this pendant light: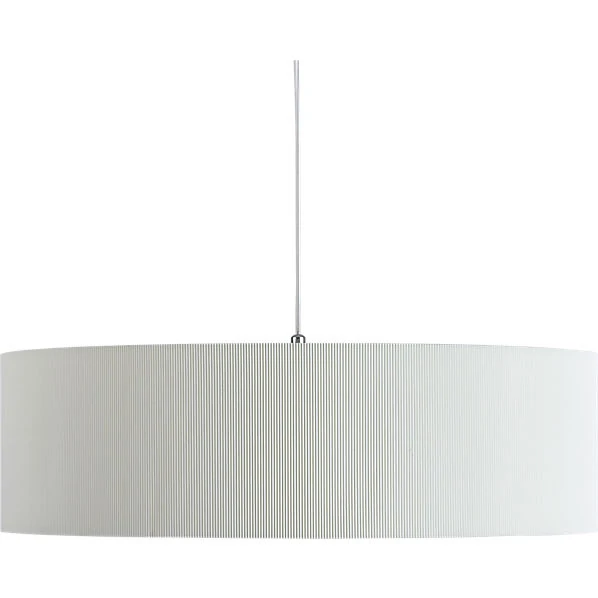 via CB2 $199
It's oversized and can be hung closer to the ceiling. You can get a better idea of the size from the next picture.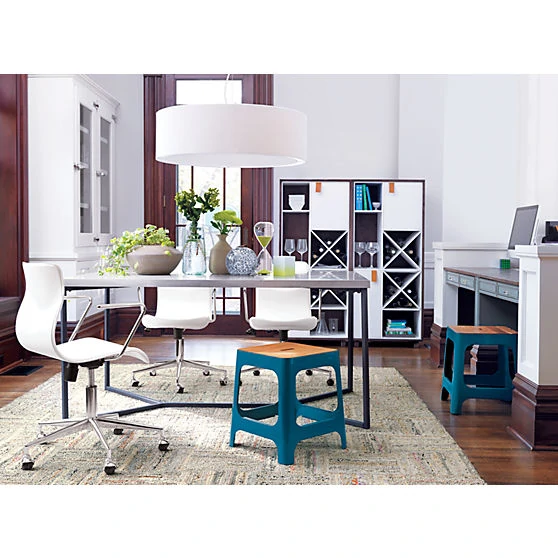 So, that was what I had in mind and I showed Luke and he really liked it. It's simple with clean lines and feels like us.
Then, something kept nagging at me. I love the above picture, but I really love more of an eclectic feel.
These next few images really speak to me.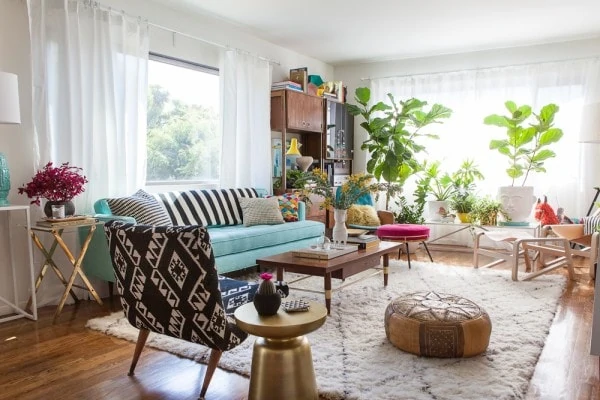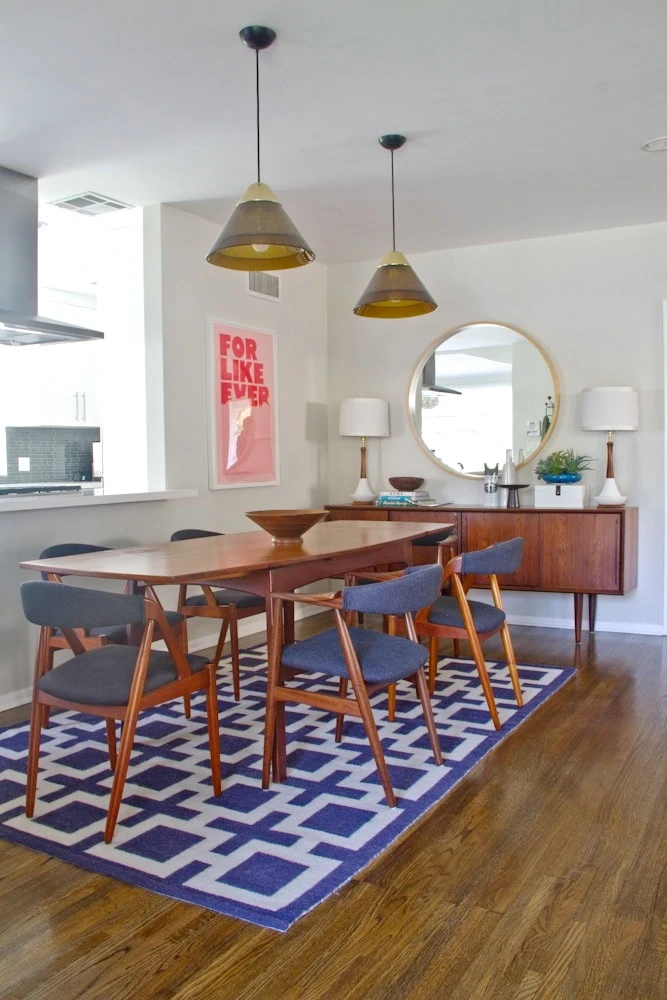 via Style by Emily Henderson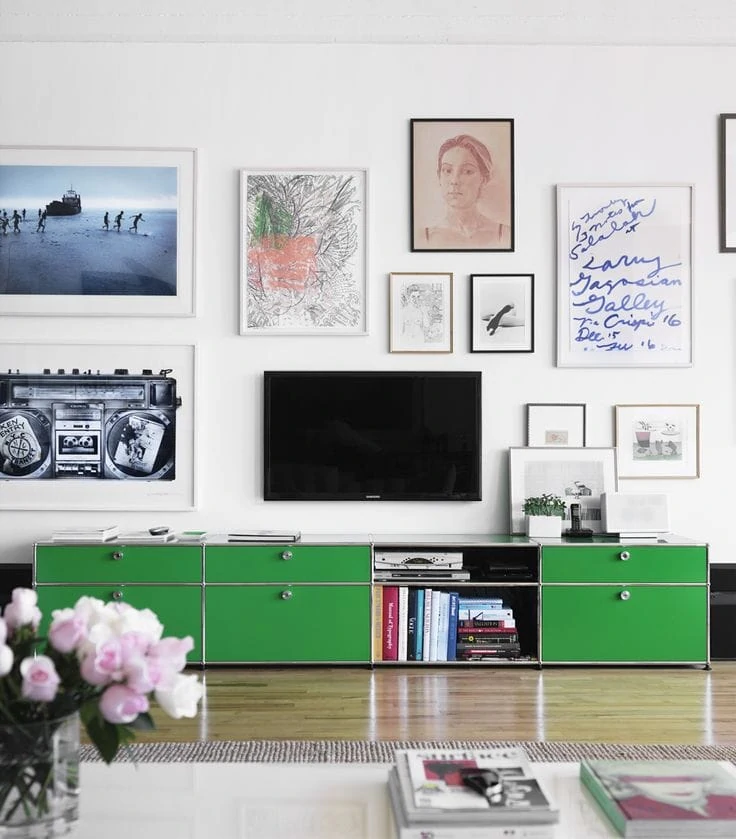 via Pinterest
All of the above images (to me) have an eclectic vibe. They have hardwood flooring, an awesome rug and a mix of high-end and cheaper pieces.
So, as I'm thinking of the light for my living room I'm trying to think past what the living room looks like now. I want to think about these images and what I want the living room to evolve in to.
A few years' ago, I saw this image on YHL: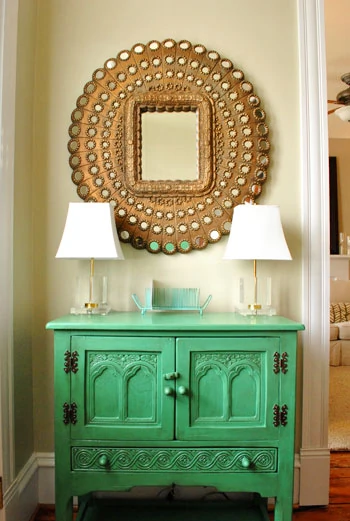 I have always loved this image. I love everything about it (lamps, dresser and mirror). I've seen that mirror over and over again and I still love it. I've never actually contemplated getting it, because of the gold. I know a ton of people are using gold in their houses, but I haven't jumped on board with that. I'm a bit nervous to do so, because we have an older house and I don't want the house to feel outdated, but I do feel like adding the gold to our mix would help create more of the eclectic feel that I'm looking for. In all of the above inspiration pictures, they used some gold. Hmm, am I on to something here?
Ok, so back to lighting. I found this light at Ballard Designs and love it: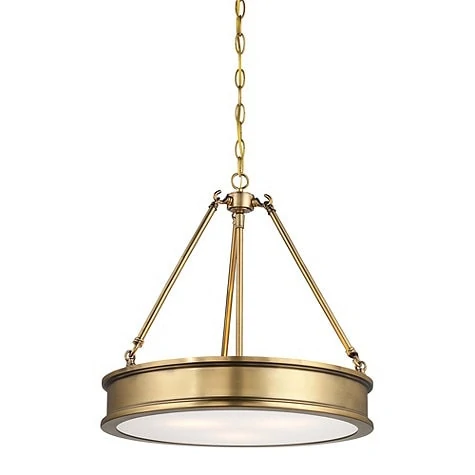 So, if I added this light and the peacock mirror...am I going in the right direction or am I just adding more hodgepodge to what I already have? I'm so confused! Help a girl out.