Did you guys have a great weekend? Ours went by pretty fast, but I also accomplished quite a bit so that was great. Anyways, I'm talking a bit about our master bedroom today. Our master bedroom reveal has definitely been our most well-liked project. It has been pinned and pinned (thank you!). We loved it when we finished it and still do, but it has never felt completely like us. I'm not sure how to explain it, but somehow it was just too bright and cold. It had none of the warm undertones, none of the bohemian extras, it was perfect but not perfect for us. We narrowed down some things about it that weren't our favorites and have slowly been relocating or selling those pieces.
One of the things that wasn't our favorite was this small white dresser.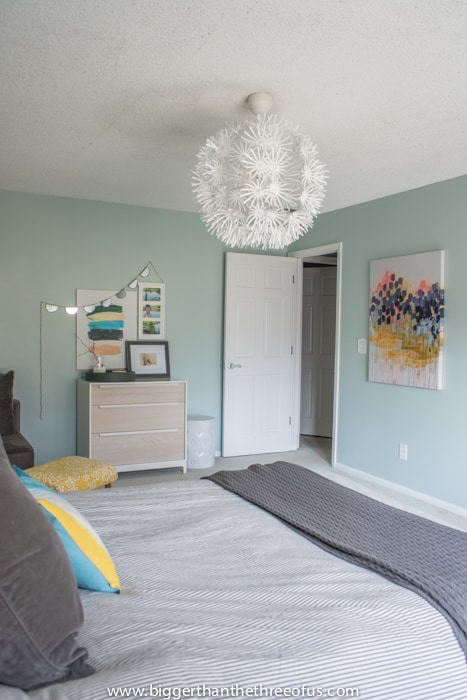 It was a clearance find at West Elm a few years ago and we still love it; just not for that particular spot. We relocated it to the guest bedroom and it's working great in there. That reminds me, I need to do a small update in the guest bedroom because we brought that dresser in and also put a rug in there. Now, we only need to upgrade the ceiling light and install hardwood flooring in there and it would be 100% done.
Back to the master bedroom. It's not in the budget to give the room an overhaul and it doesn't need it. But, I've got a small list of things that I want to change and a very small list of things I would like to purchase to make the room feel more like us. One of those things was a mid-century dresser. Here's the deal for the dresser though, I wanted it vintage and I wanted it at a great price. You can find lots of mid-century dressers around here that are pretty standard and people want $150 for them. That's not a bad price, but I wanted a deal.
Well, I got one! I scored this beauty for $50.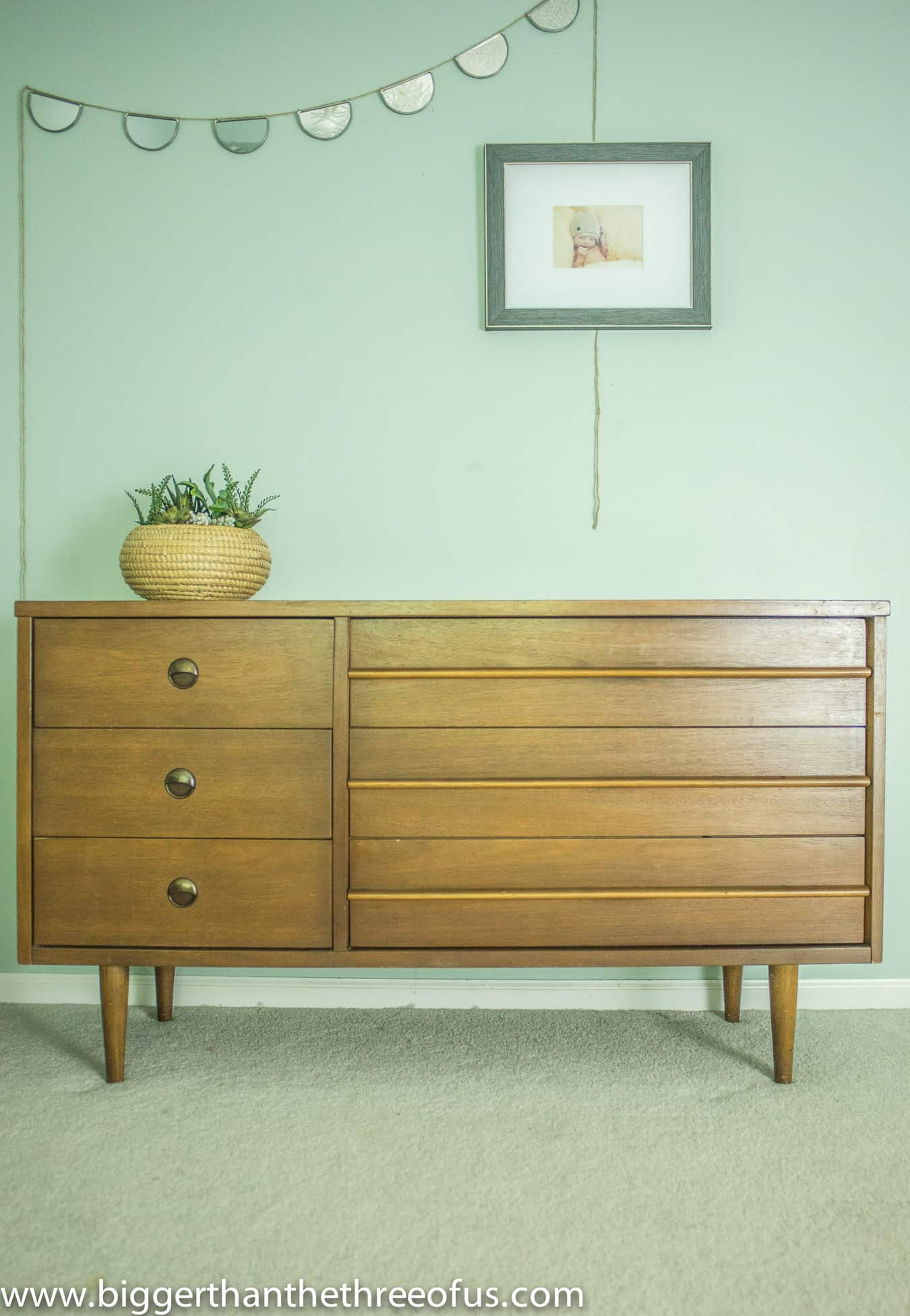 *On a side note, check out the difference in the wall color from the two previous photos? Isn't it great? The color of the room changes from season to season. When the leaves drop in the winter, the rooms becomes starker and brighter. The color is Rainwashed by Sherwin Williams and I can't recommend it enough!
Alright, back to the dresser.
Not only was it a steal but it's not just a plain jane, mid-century dresser. I adore the vintage hardware and, overall, the dresser is in great shape.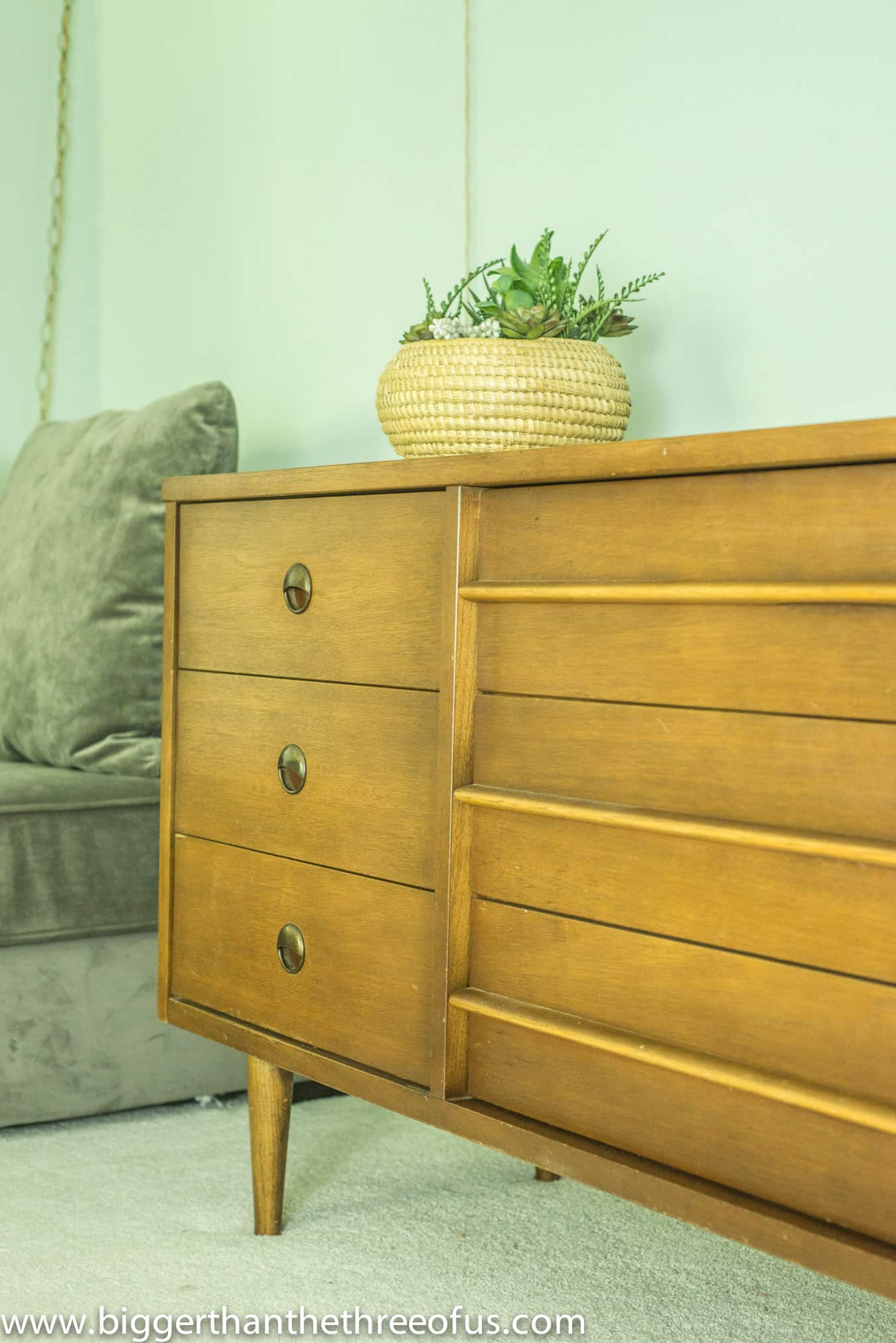 You can tell that it used to be in a house with a person who smoked and I've been working on getting all the smoke out. Over time, it will definitely air out even more.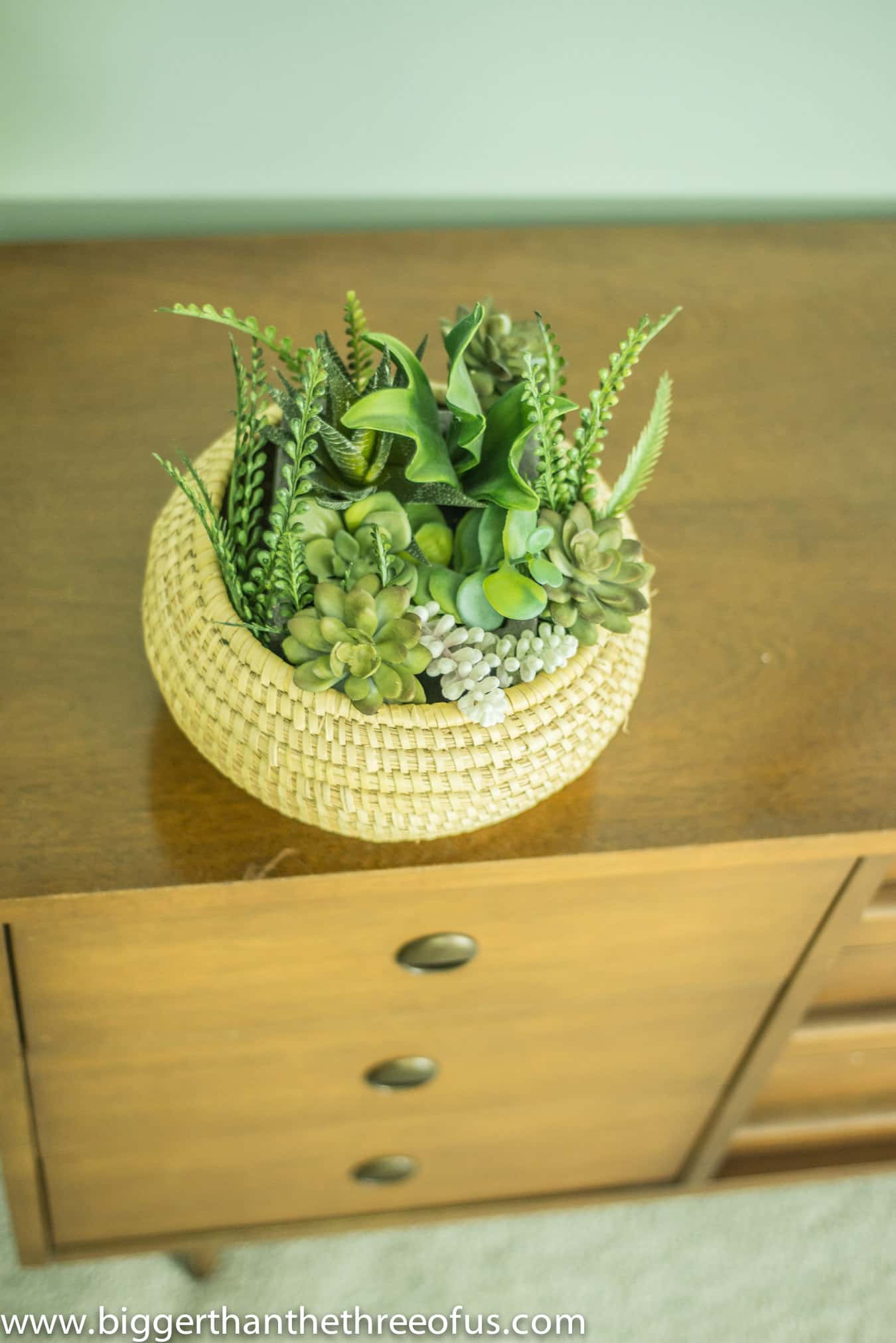 The dresser sparked me to put together a little planter for the space. Do you remember my Ugly Truths – Plants post? Hint – those succulents are fake. They look pretty good though, right?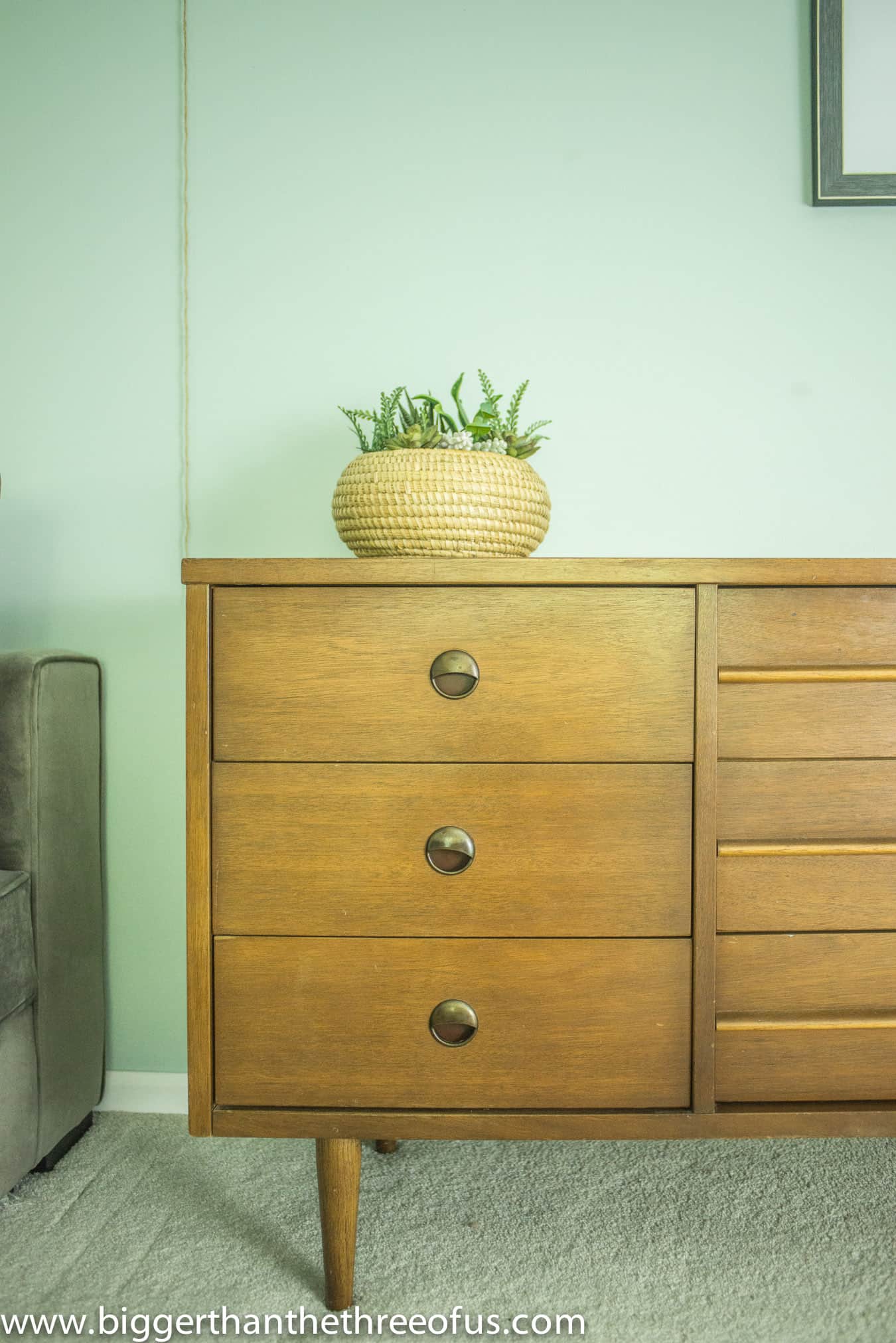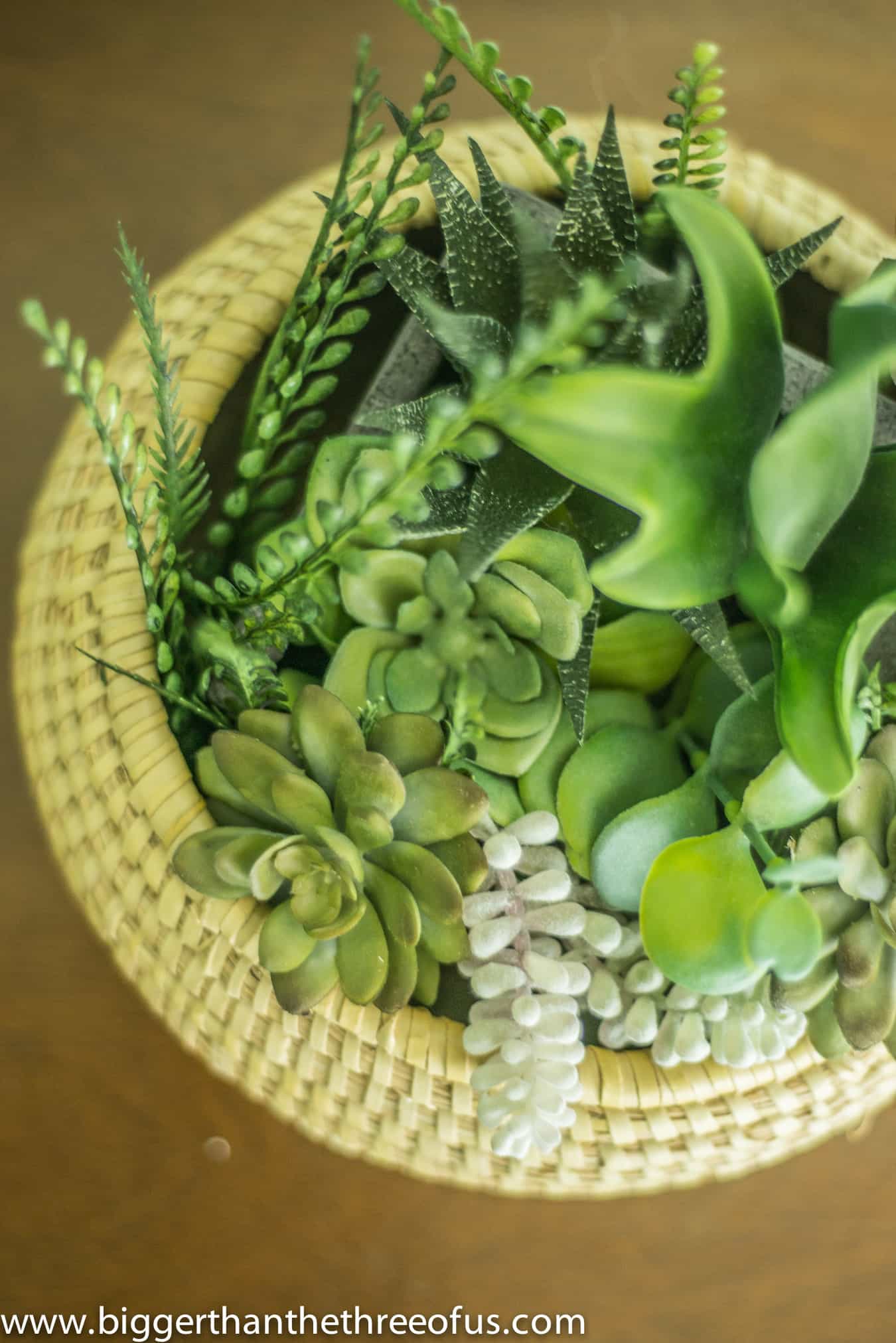 As far as other changes, I would like to add some texture to the wall and a new piece of art. I'm trying to motivate Luke to paint me a nude silhouette (not of me – just a woman) and provide a video tutorial for it. Wouldn't that be fun?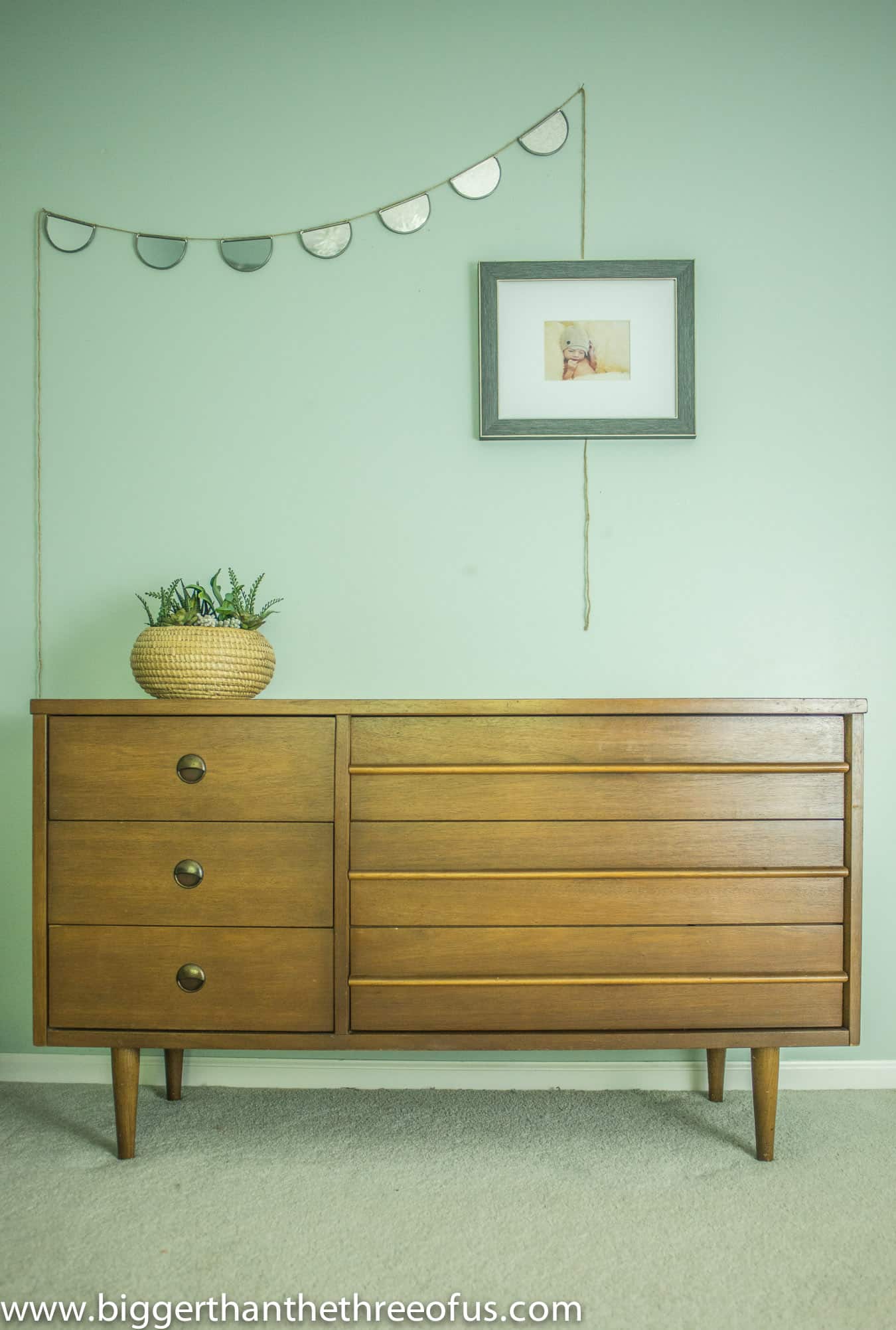 I'm excited that this space is slowly becoming more us but I'm not rushing anything. If I've learned anything from renovating, decorating and having this blog it's that if I try to rush the process then I don't like the end product. Have you ever decorated a space and then realized that it wasn't you? Tell me I'm not the only one.