Looking for a quick healthy breakfast idea for busy on-the-go mornings? Add a healthy breakfast smoothie to your weekly go-to!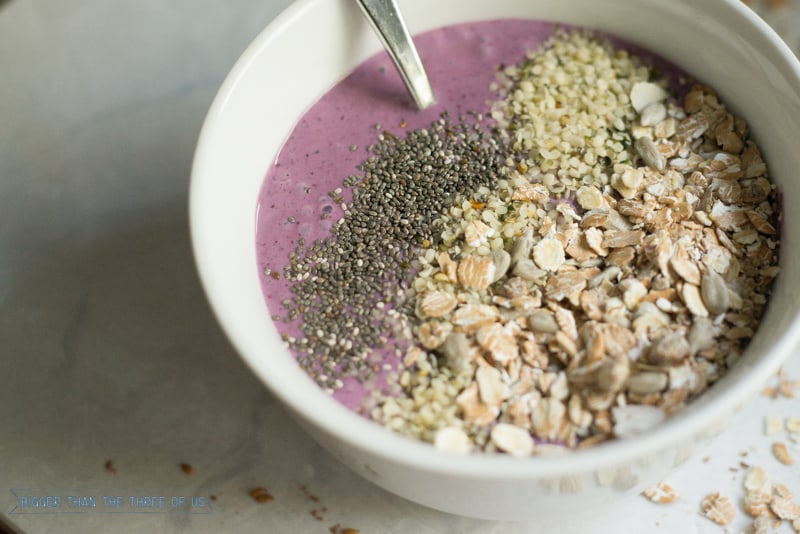 Breakfast is a focus over here. My son loves breakfast and there's something about the act of starting your day with five minutes of conversation at the table that just starts the day off well.
With breakfast being a favorite meal, we do quite a number of different things to make is smoother (easier!). One of my favorite things to do is make up a healthy breakfast smoothie to add to whatever else we have on hand.
I thought I'd share a few of our Healthy Fast Breakfast Ideas For School Days. Also, stick around if you need more tips because I'm linking to another post that will help you out with planning lunch.
Making A Quick Healthy Breakfast
I can eat smoothie bowls every morning and be thrilled with it. The mix-ins are so easy to change, and I feel like it's a clean-out-the-fruit-bin/lettuce-drawer type of meal and it's always good.
So, for a good smoothie, I start with Vanilla Greek Yogurt. I NEVER measure anything but I will try to give you an idea of measurements for today's post (recipe card at the bottom of the post).
To the yogurt, I add berries (fresh strawberries, blackberries, raspberries, etc.), mangos, bananas, etc. I add about ½ cup of fruit or more. Whatever mixture I have on hand is great. If I have spinach or leafy greens, I add a good handful of that FIRST. I blend the leafy greens and the yogurt together first so that it gets blended really well. Then, to the leafy greens, I add the fruit.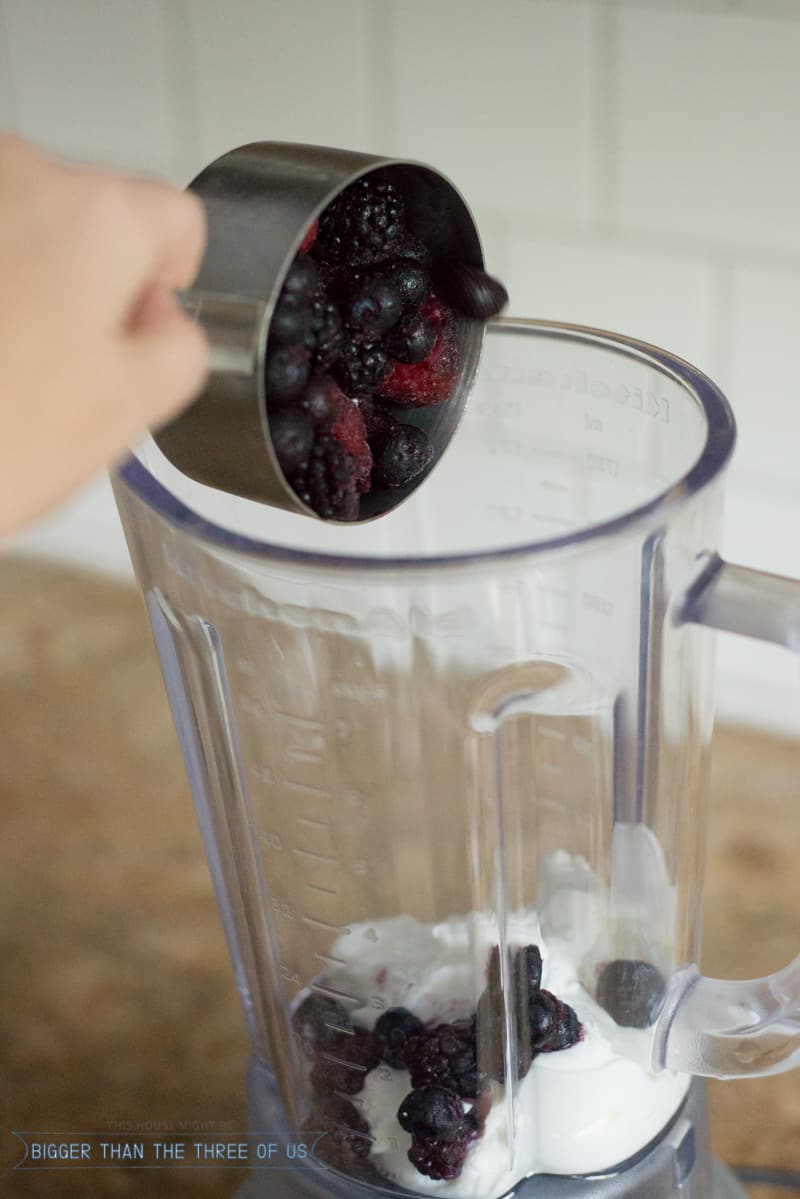 Next up, pour it in a bowl and let's add some toppings!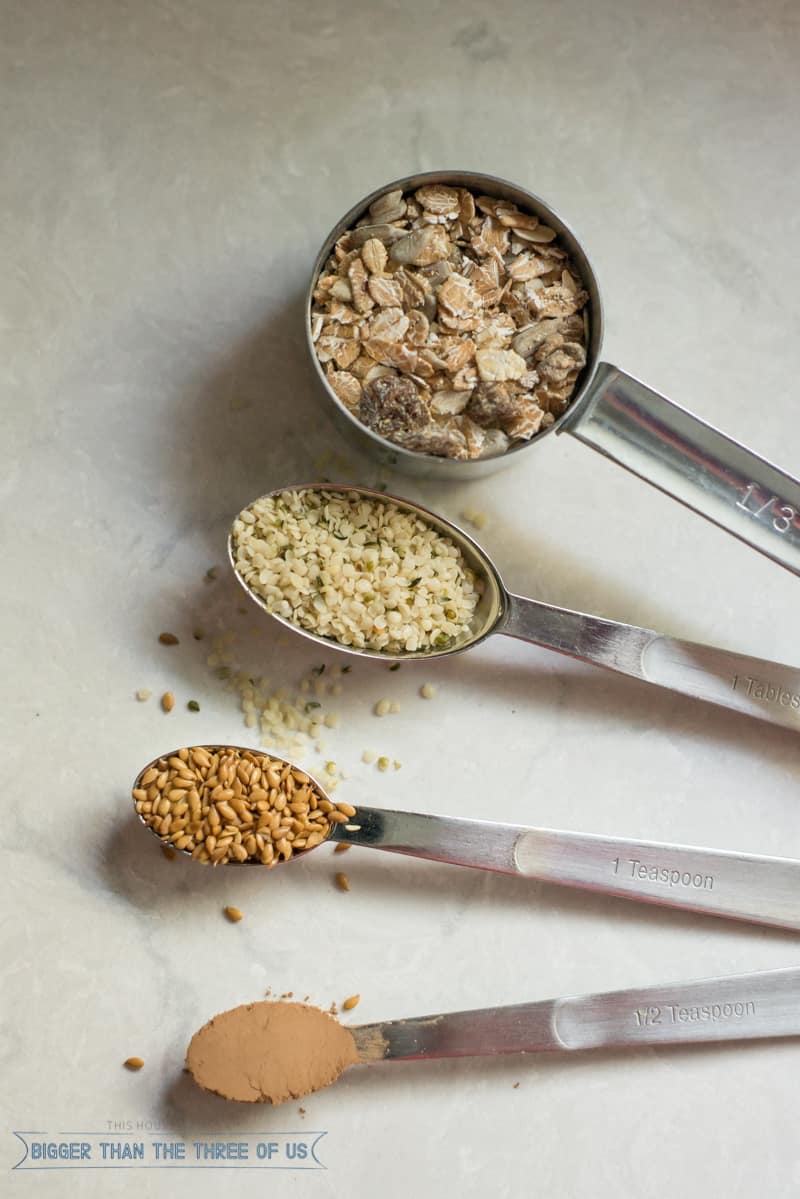 *Affiliate links below. Thanks for supporting this blog. Click to read my disclosure policy.
Smoothie Topping Ideas
Cacao Powder
Flaxseed
Hemp Seed
Museli
Chia Seeds

Yield: 2
Quick Healthy Breakfast : Smoothie with Toppings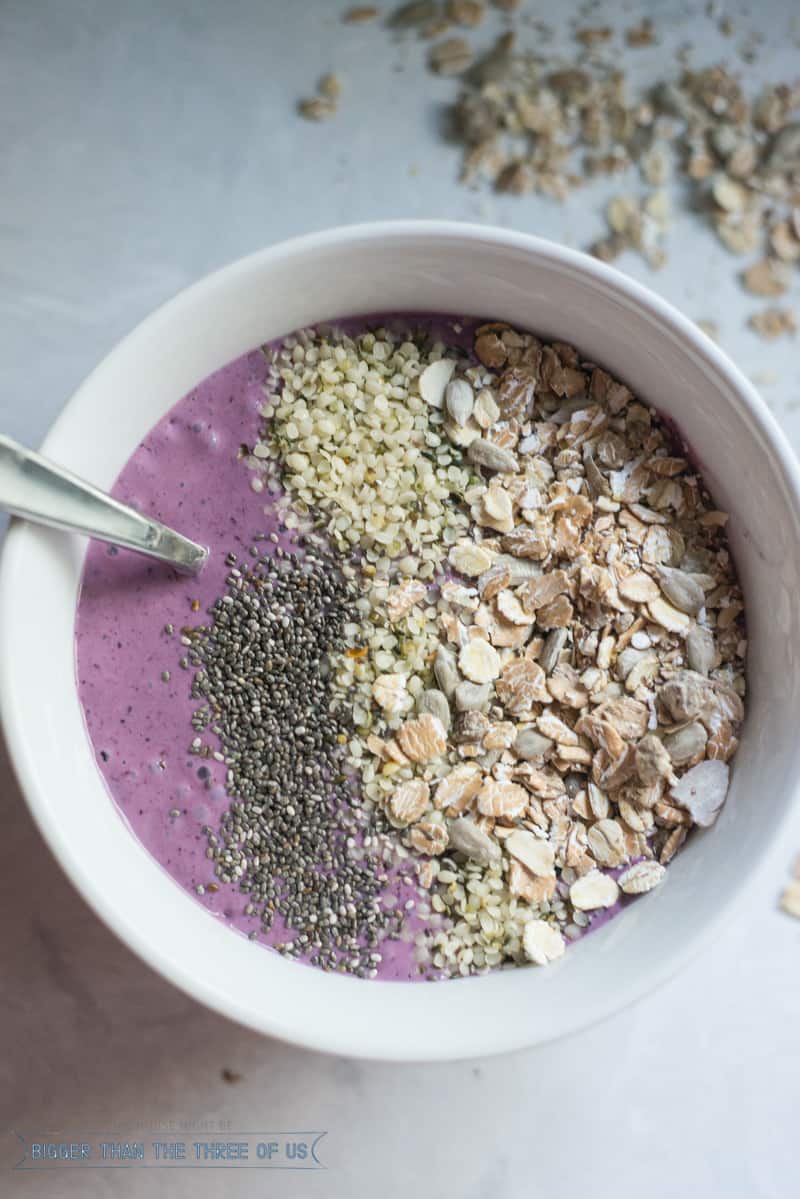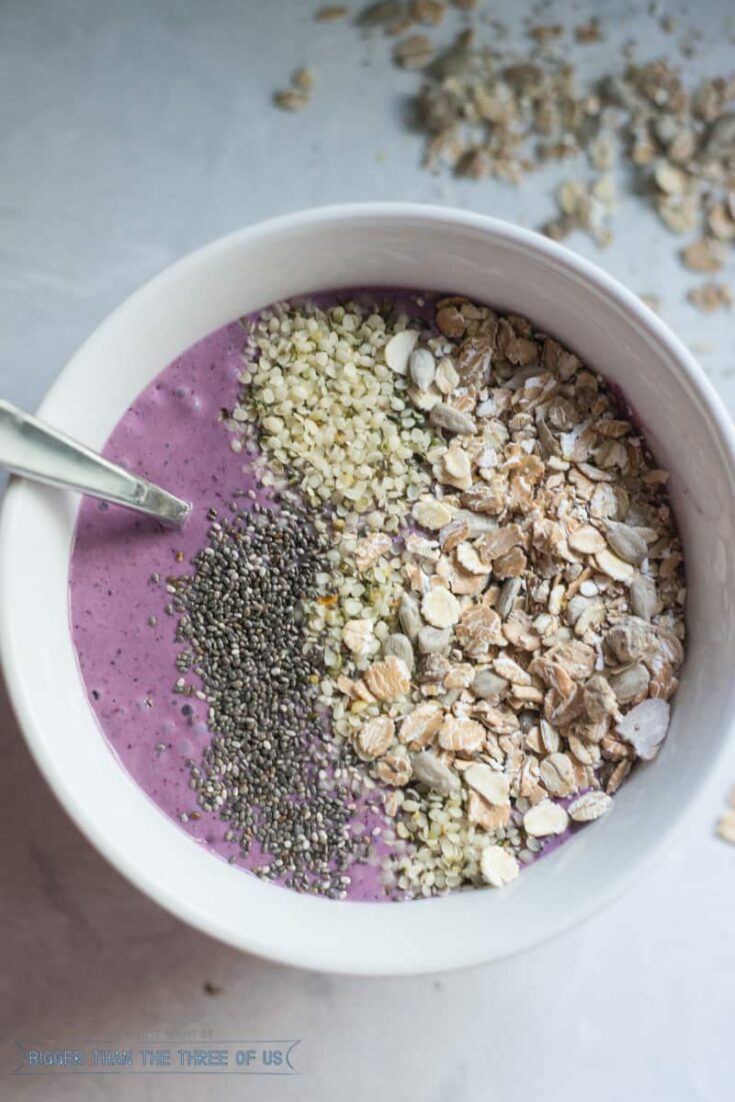 A Healthy Fast Breakfast Smoothie (or bowl) that can be customized to suit your taste!
Ingredients
½ cup Greek Yogurt (I prefer vanilla)
¼ cup milk (I love Almond Milk)
½ cup fruit
½ cup spinach
½ teaspoon Cocoa Powder
1 teaspoon Flaxseed
1 teaspoon Hempseed
⅓ cup museli (or other granola topping)
1 tablespoon Chia Seed
Instructions
Blend together spinach, yogurt and milk.
Add berries to the blended mixture. Add more milk for consistency if needed.
Pour in a bowl and add toppings.
A typical morning for Greyson might be a smoothie, a piece of toast and eggs.
Other ideas: Healthy Breakfast for Kids
Nut Butter and Yogurt Toast topped with Bananas and Chia Seeds. Basically you whip nut butter and yogurt together (for about 15 seconds and then spread on toast). This is super filling and tastes so good! You can even top this with cinnamon if you like!
Avocado Toast - We like this any way! We top with "Everything Seasoning" from Trader Joe's and Chia seeds.
Homemade Breakfast Burritos - I do a LARGE pan of roasted veggies (potatoes, peppers, onions, mushrooms, etc.) over the weekend. Then, I cook about a dozen eggs and a package of bacon. Add all of that to tortilla shells and top with salsa and cheese. Individually wrap and place in ziplock bags in the freezer. Take out one at a time and microwave in the morning.
Pancakes - Again, I cook these on the weekend and then we stick a large batch in the fridge for the week. We put them in the toaster in the morning and they are great! I usually serve pancakes with eggs and fruit.
Egg Cups - In a muffin tin, combine eggs (usually 10 eggs for a 12 pan tin), bacon, chopped spinach and cheese and bake. You can also fill the muffin tins with pie shell first and then bake! It's so good. My crew definitely prefers the pie shell situation over the plain.
Don't forget to pop over to Casa Watkins Living for a free lunch printable.
We joined ranks this week in hopefully helping all of you feel less stressed and more organized for your week!