The best old fashioned yeast rolls recipe that you'll come back to time and time again.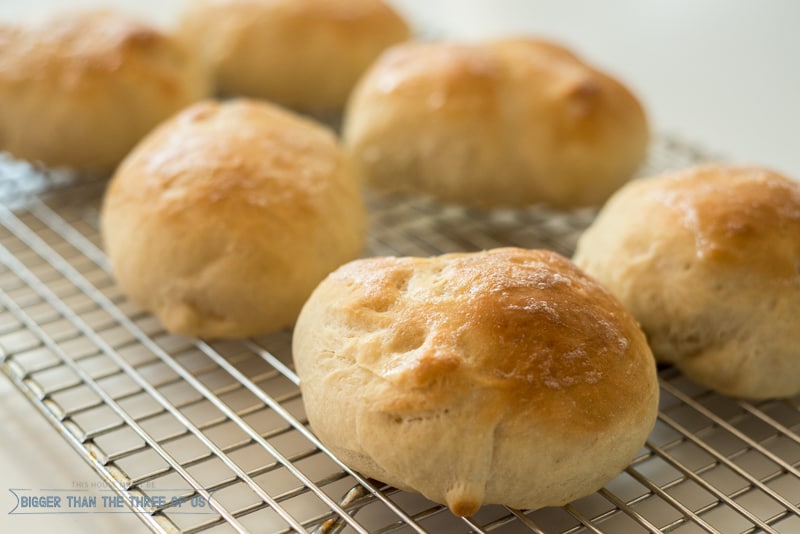 Grandma's Yeast Dinner Rolls
My grandma is like the best country-cooking cook you will ever meet. Seriously, Paula Deen ain't got nothin' on her. =)
Growing up for many years, we always did a family dinner after church on Sundays. It wasn't just a roast-in-the-oven-type dinner. It was two meats, two pies, fresh rolls (oh, the fresh rolls), multiple sides and amazing green beans.
Well, fast forward many years and we no longer do the family dinners on Sundays. My grandma still hosts a special birthday meal for each member of the family where that family member gets to set the whole menu. The menu still consists of everything homemade and it's still just as delicious as I remember it being when I was growing up.
The family has expanded. People have gotten married. There are some great grandkids now. So, we try to all contribute to help out. Let's just say that our family dinners aren't really family dinners if they don't have the most sacred part - the homemade dinner rolls. Seriously, they are just killer.
Years ago my grandma gave me the easy dinner roll recipe and, since then, I've made them a few times. The recipe isn't hard and it's no-knead! I hope you enjoy it just as much as I have.
Old Fashioned Yeast Rolls Recipe
Yield: 24
Old Fashioned Yeast Rolls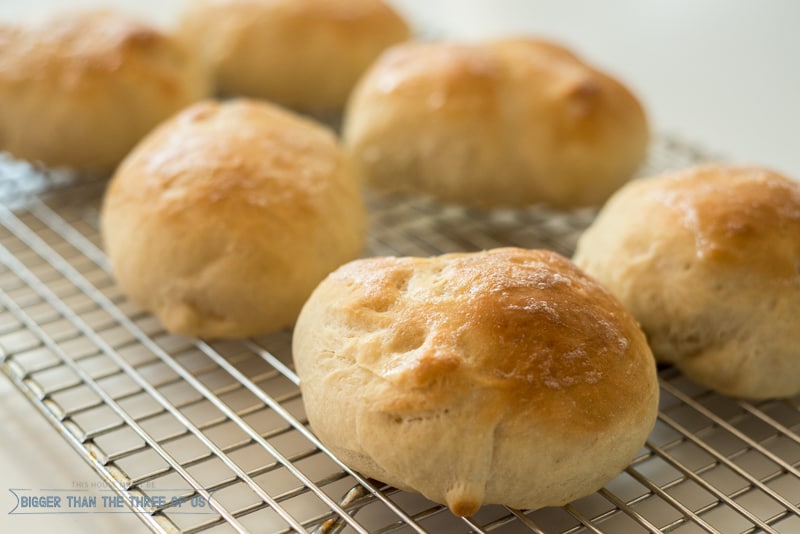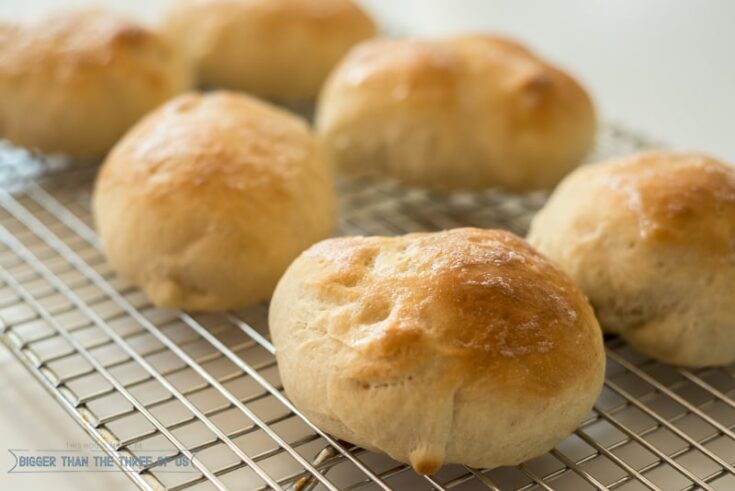 My grandma has been making these yeast dinner rolls my whole life and I just can't get enough. If you are looking for easy yeast rolls, this is the recipe!
Total Time
3 hours
26 minutes
Ingredients
2 cups warm water
2 packages yeast
½ cup sugar
2 teaspoons salt
¼ cup vegetable oil
1 egg
6 cups flour
4 tablespoons salted butter
Crisco
Instructions
Beat egg with a fork.
Mix ingredients with a mixer in this order: water, yeast, sugar, salt, oil, eggs, and ½ the flour.
Continue adding the flour until it's all incorporated.
Put a bit of Crisco on your hands and form the dough into a large ball.
Wipe Crisco around a mixing bowl and set the dough in the mixing bowl.
Cover and let rise until it has doubled in size (40 min -1.5 hours depending on house temperature).
Once the dough has doubled, make 24 individual balls with your hands.
Place on a greased baking sheet or pan.
Cover and let rise again.
Bake at 375 for 14-16 min or until lighlty browned.*
Immediately after taking them out of the oven, rub the top of each roll with butter.
Notes
I prefer my rolls slighly under-cooked so will take the pan out by 14 min.
Also, you can half the recipe to make a pan of 12 rolls. Just half the ingredient list but keep the egg to a full egg.
Looking for more recipes? I have a board on Pinterest called "Recipes I've tried and love" that you might love.
Or, here's a few more of our favorite recipes:
These easy dinner rolls are also the base for making my favorite cinnamon rolls and pizza rolls. I'll try to share those add-ons to these yeast dinner rolls, soon!